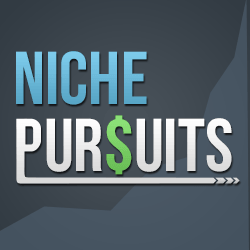 I am excited to present to you my first "official" podcast!  I have one previous Q&A recording right here, that I have listed on this site; but this will be the first podcast listed in iTunes officially.  (The iTunes page is not officially up, but will be very soon).
In this first podcast, I decided to just sit in front of the microphone and tell my story.  I'll share a little bit more of my background, education, and details including some of my early entrepreneurial efforts.   In addition, I'll dig in a little deeper on how I went from working full-time at a large bank, to becoming self-employed building niche websites.
I had worked many hours late at night or in the early morning on my business while I worked a separate full-time job.  So, when the day came that I was making more from my "side" business than my full-time job, I knew it was time to quit.  I officially left my job about 13 months ago.
Here's a quick overview of some of the topics in the Podcast:
Family life growing up
Why I got interested in business
My Educational and Career Background
How I got started building websites
How I finally became successful at Building Niche Websites
Importance of keyword research
My Income with Niche Websites
Creation of NichePursuits.com
Whats it like working from home?
Note: I recorded this podcast before my Adsense account was banned.  So, obviously I've had a major curve ball thrown at me since I recorded this.  However, I'm sure you will still find the podcast very informative and insightful into my process.   In addition, this "curveball" actually makes me very grateful that I have more going on in my business than just Google Adsense.   I discuss several of these businesses outside of niche sites that have been very helpful in diversifying my income.  I specifically discuss some of my existing business ventures as well as some planned for the near future.
Want To Build Smart & Relevant Internal Links...Quickly?
Link Whisper is a revolutionary tool that makes internal linking much faster, easier, and more effective.  It makes it simple to boost your site's authority in the eyes of Google. You can use Link Whisper to:
Bring out your orphaned content that isn't ranking

Create smart, relevant, and fast internal links

Simple yet effective internal links reporting: what has lots of links and what pages need more links? 
Click here to revolutionize your site's way of doing internal links
Here are some items discussed in the podcast:
NichePursuits.com – Discussion of why it was created ( hint: Primary reason was NOT to discuss niche websites)
Long Tail Pro – Keyword Research Tool I developed.
Niche Website Theme – Highly customizable theme for niche sites.
iPhone App Project – expected to be released mid-May!
This is the first of many Podcasts coming very soon!  I already have several interviews scheduled with some great internet entrepreneurs…so stayed tuned for more!
As always, I would love to hear your thoughts below…
Listen to the Podcast Here:
---