Beaver Builder Review: Is It The Best WordPress Page Builder?
When you buy something through one of the links on our site, we may earn an affiliate commission.
Building a website on WordPress without any design or coding experience can seem daunting. Often, those without the know-how can't even fathom where to begin. But really, all you need is an easy-to-use WordPress page builder. And in this Beaver Builder review we'll dive into this popular page builder plugin.
And we'll show you, why this simple landing page builder just might be the one for you.
Get a Copy of Beaver Builder Right Here!
Design Beautiful WordPress Pages Using Beaver Builder Here
---
Beaver Builder Overview
Ease of Use -

95

Stability -

100

Customer Service -

90

Price -

95
Summary
Beaver Builder is simply one of the best WordPress landing page builders in the market. It's easy-to-use, stable and secure, and has a very intuitive UI that makes designing pages a breeze even for non-designers. Get Beaver Builder Right Here!
Pros
Simple pricing fee that lets you use Beaver Builder on unlimited sites
No traces of shortcodes even after uninstalling the plugin.
No history of security issues or breaches – it's as stable as they come!
Cons
Beaver Builder does not offer a free version – you can only try out the plugin using the demo version from the site
Could use more modules and layout templates
Undo action not available if you make mistakes on your design while editing
Beaver Builder Review: Quick Intro
Beaver Builder is a very popular page builder. It is favored by WordPress developers and designers for its simplicity, reliability, and powerful features.
Through Beaver Builder, users are able to make their own sites from scratch or through one of the many templates they offer. And that's just scratching the surface!
Features of Beaver Builder
Beaver Builder has exceptional features amateur designers would love. It's able to address all the common concerns WordPress users have. Here are features their customers have grown to love with Beaver Builder.
Drag-and-drop – Move and edit text or images in a snap.
No coding – No need for HTML and CSS knowledge.
Templates – Use one of Beaver Builder's 30 built-in templates.
Beaver Builder theme – Use this theme builder to gain access to a wider range of predefined styles. The perfect option if starting from scratch.
Mobile-optimized – Pages will be optimized for mobile devices.
No short codes – Meaning users will not experience any issue should they decide to move out of the Beaver Builder infrastructure. More on this later.
Works on any WordPress theme – You can edit the one you're currently using and it should come out fine.
Why go for Beaver Builder when there are so many page building tools available?
Yes, there are other page builders for WordPress. Tools like Divi, WPBakery, Elementor, and SiteOrigin instantly come to mind.
There you could also drag and drop elements where needed and make changes as you see fit. They too are easy to use and should get you ready to launch within a few hours.
But Beaver Builder gets one thing right.
When you make changes to your site, the code that's being developed in the backend remains clean. The architecture will not mess with you down the road.
Should you decide to leave Beaver Builder, you won't experience any issues.
Chris Lema found out the hard way that switching from Divi to a new theme was not as easy. His content was replaced with seemingly endless lines of code.
Another advantage of using Beaver Builder is how seamless it works with other WordPress themes. Say your current theme does not have columns and you'd like to add some. You can use Beaver Builder to do just that. These types of changes would normally require some change to the CSS or HTML.
You can't say the same thing about all of Beaver Builder's competition.
Also, Beaver Builder feels safer to use. So far, there are no reports of the site being compromised. Elementor, one of Beaver Builder's competition, allegedly suffered a major security issue. This caused logged in users unrestricted access to Elementor-specific backend functions.
This is the kind of security blunder you'd want to avoid.
In the end, what sets Beaver Builder apart the most is stability. Developers and marketers have been able to rely on the company to deliver on what they have promised. The technology behind Beaver Builder is pretty solid. Save for the few exceptions, there aren't that many reports of bugs that slow down production.
The software team behind the company has been praised for their ability to deliver solutions. When their customers run into issues, they are there to find answers.
What's the difference between Beaver Builder and sites like Squarespace?
True, both offer drag-and-drop functionality and they both cater to people who don't know how to code. But Beaver Builder is a WordPress page builder plugin. Meaning your site will still run off WordPress.
Squarespace (and others like it) are different CMS altogether. They are more like a one-stop shop for building a website. They can take care of domain registration, they handle hosting, and everything else that they can offer customers.
If you'd like to stick to WordPress, you'll need to stick to using WordPress plugins and themes.
How to build a killer landing page builder using Beaver Builder
Creating a unique landing page through Beaver Builder is fast and easy. Once installed, you must simply give yourself a few minutes to get used to the controls and you'll be good to go.
Getting started

To start, pick a theme. If you bought the Pro version of Beaver Builder, you'd have access to the company's Beaver Builder theme. If you went for the Standard version, find a suitable theme in the WordPress gallery.

Once that's settled, head on over to your Pages menu and add a new page. From there you'll find two tabs. The Text Editor lets you edit the page as you normally would on a WordPress site. The other tab, Page Builder, lets you edit the page with Beaver Builder Page Builder.

[page builder.jpg]

Clicking on Page Builder will bring you to the editing page. This will be your main workspace.
The Basics
Like in most other page builders, you'll be working with rows, columns, and modules. Each row can have a set of columns, and columns contain modules.
If you wish to add another section to your homepage, for example, you'll need to insert a new row (learn more about how to edit your homepage in WordPress). An entire row can be dedicated to one image or block of text. Or it can be split into different sections.
When you hover over your workspace, you'll notice blue or grey boxes pop up. Blue boxes mean you're hovering over a module that you can edit. Grey boxes are the rows that the modules belong to.
If you want to make changes to either a row or a module, you click on the wrench icon. This would bring up the options menu.
To recap, Beaver Builder works by:
Adding rows and modules
Editing row and modules to suit your needs
Move rows or modules around by dragging them
Updating the content and media files as needed
Save your rows if you plan on using them in the future
Save your entire page as a draft or publish right away when you're done
On the upper left-hand side of the workspace, you'll find a drop-down menu. Here you'll find tools and options that will help streamline the entire process.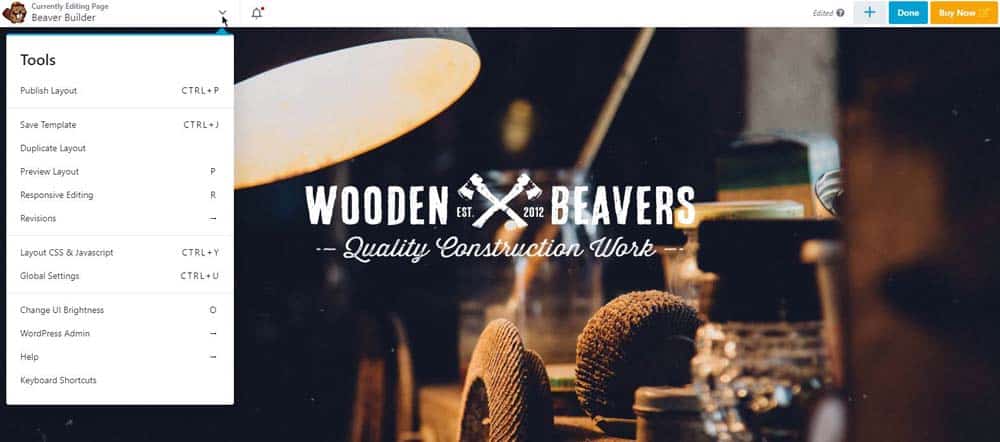 On the opposite side lies a plus icon. Clicking that brings down a set of other options. It is here you'll find all the modules and rows you can add to your pages. You can also browse through the templates section and use that instead of building from scratch.
The Saved tab houses all the previous module and row combinations you've saved and used in the past. A useful feature especially for those working on multiple projects at a given time.
Templates
The Templates section makes it even easier to start with a responsive design. These had already been prepopulated with placeholder text. All you have to do is edit the text and images.
You will find that the templates are categorized as landing pages or content pages.
You want to use landing pages for marketing-heavy sites. These pages are designed to sell. And on most occasions, each page is geared towards a single product. In some case, these are used to push webinars, give away discounts, and gather email leads.
So these are better suited to sales teams.
The content pages section contain templates of common pages found in a website. Use the templates to help you build your Contact page, About Us, and others. They are ideal for use if you're looking to start a company website or start a blog.
Rows
The Rows tab will contain layout options for the page. You select one, drag it to the page, and drop it where it's needed.
Only the most popular row options are displayed by default. However, you can use the drop-down menu under Group > Prebuilt Rows to find more options.
They have row-module combinations for popular landing page applications. These include content, FAQs, lead generation, and more.
Modules
The module contains elements you can insert to your page. Want to add a button? Use the Button module. You can add headings, photos, videos, and even maps and testimonials. Only the most basic modules are shown by default but there other modules available.
I suggest using the search bar to find modules faster.
Making edits to text is easy. Click on any block of text to bring up the Text Editor. Here you can revise the text and make formatting changes. The Style tab lets you change the font, font color, and font size.
You can put text in blockquotes and choose the alignment. You can add links to any or all of the copy. You call the shots.
The Advanced tab gives you even more control over spacing and animation. If you've worked with word processors, you'd feel right at home.
Updating media files is just as simple. Click on the media module you want to edit. A new window will then pop up with different media options you can tinker with. Here you can replace the image file, add a caption, or insert a link.
Style-wise, you can crop images a number of ways. You have landscape, panorama, portrait, square, or circle.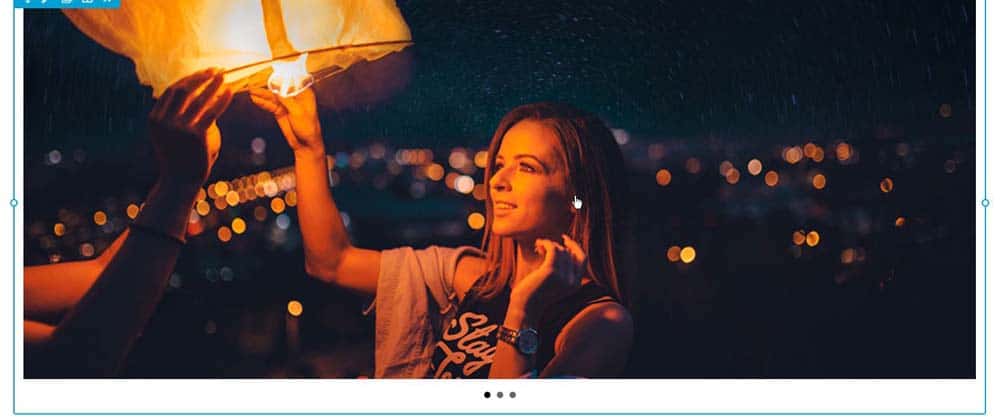 Other notable modules include the Content Slider module. This is perfect for adding slideshows to your pages. If you're building a photography website, this module would come in handy.
There are many other modules you can play with to see which ones would bring you closer to your dream website.
Does Beaver Builder leave behind a lot of shortcodes after uninstalling it?
We've briefly touched upon this topic earlier. Other website builders cause users some issues when switching themes or unsubscribing from the service.
So what are shortcodes exactly? Does Beaver Builder make use of shortcodes?
Shortcodes are small lines of code that performs a specific function. It's a WordPress site feature that gives you additional functionality that may not be available out of the box. You can add audio, galleries, and other forms of content.
So in theory, shortcodes are great. However, some website builders produce an error when users decide to switch to another theme or discontinue using the service they're using.
Old page builders relied heavily on shortcodes to the point that content is locked behind the shortcodes. When users uninstall the page builder, the content would disappear. And all you're left with are the shortcodes.
The good news is that Beaver Builder users will not have that problem. In fact, it's one of the main reasons why it was developed. When you decide that you no longer want Beaver Builder, your content will remain on your site.
How much does Beaver Builder cost?
Beaver Builder has three pricing tiers. The Standard version is sold at $99 and includes all the basic features. You can create an unlimited number of pages, gain access to the page builder tool, get one-year support, and get to use their premium modules and templates.
The Pro version is $199 and has all the features from the Standard version. But on top of that, you also get access to the Beaver Builder theme. You will also get multisite support for WordPress multisite network installations.
The Agency version can be purchased at $399. It has all the features that the Pro version has, plus an option to white label pages for working on client sites. To be honest, white labeling won't be an issue for most people.
So there's a good chance that your choice will boil down to Pro or Standard. And the only real difference between the two is the inclusion of the Beaver Builder theme. If that's worth the extra $100 to you, then you should go with that.
However, Beaver Builder works with most WordPress themes. For most people, the Standard version should be enough.
The Beaver Builder add-ons
The Beaver Builder plugin, by itself, is a pretty powerful tool. But there are add-ons you can purchase that'll even improve your site-building experience.
Beaver Themer ($147) – Create layouts for archived pages, make a template out of an entire post type, perform 404, and create headers and footers.
Ultimate Addons for Beaver Builder (starts at $69) – Gives you custom modules like row separators, modal popup, and advanced posts grid. Also adds more than 200 row sections and more than 100 page templates.
Powerpack (starts at $99) – Has 50+ custom modules, 150+ page templates, and 200+ section templates. The page templates are cover various business niche.
These add-ons are by no means necessary purchases. You'll do just fine without them. But if you're going to heavily invest in the Beaver Builder architecture, these add-ons might be worth a look.
Beaver Builder Review: Pros and Cons
Let's take a look at some of the things Beaver Builder does well and the areas they could improve on.
Pros
Create fresh and exciting sites – Whether you start from scratch or use any of the stunning templates, you can be sure to come up with something amazing with Beaver Builder.
Easy to use – Drag and drop elements onto the page at will. It doesn't get any easier than that!
You need only pay a one-time annual fee for unlimited sites – Regardless of the plan you use, you can install the premium Beaver Builder plugins in as many sites you want.
Drag and drop builder, front-end editing – Feel like a professional designer by choosing from different modules and placing them anywhere on the page without any design experience.
No shortcode issues if uninstalled – Shortcodes sucks. That's why Beaver Builder doesn't have them.
Has reputation for being reliable – No news of any security breaches to the tool so far. And Beaver Builder intends to keep it that way.
WooCommerce Store integration – Create beautiful landing pages for your WooCommerce-powered online store using Beaver Builder.
Cons
No free version – You can try out the demo version of Beaver Builder (more on this later). But it's better to try out the page builder plugin on your site.
Not updated as frequently – Updates and new stuff about the Beaver Builder plugin don't come as often.
Resizing images can be an issue – Hard to manipulate image sizes using the plugin.
Beaver Builder theme not included in the Standard plan – The page builder plugin works best with the Beaver Builder theme. Too much you have to shell out extra to get it.
Could use more modules and templates – More choices for elements and Beaver Builder templates could help users create a variety of landing page layouts and responsive designs.
Could also use an undo action button – If you mistakenly messed up the layout or design using Beaver Builder, you have to manually resolve and fix the issue to restore the design.
Who is Beaver Builder for?
Beaver Builder would most likely appeal to anyone who'd wish to cut the middleman and design their websites themselves. It's also an ideal solution for designers and developers looking to do business and get more clients.
This product will work fabulously in either case. Users can use the drag-and-drop feature to produce new pages at a fast pace. It does not require coding skills although having some knowledge will only make it easier.
Developers with tons of clients will be able to generate better pages. And if they use the saved templates feature correctly, they can build new pages with some consistency. With the Beaver Builder Theme and Beaver Builder plugin working together, building new sites can be done fast.
A recent study stated that as many as 29% of small businesses have not created a professional website. Entrepreneurs are totally missing out. And Beaver Builder makes it that much easier to capitalize on it.
Beaver Builder is for anyone who wishes to have a site but has little capital to spend on hiring designers.
The Beaver Builder Demo Page
Beaver Builder does not offer a free version. However, they do have a demo page where users can play with their page builder. This gives you a chance to see if Beaver Builder is the right tool for you.
Now, there will be limitations. But most of the features should be there.
You can check out the page builder itself or play with the Theme Customizer. They also run a demo (again instead of a free version) on one of their other products, the Beaver Theme.
If you're having second thoughts about making the purchase, maybe the demo can soothe you over.
But if you want to use the page builder plugin on your site to test, you can download and install the Lite version from the WordPress plugin repository. It lets you use the plugin on your site but it gives you limited access to modules and templates
Nonetheless, this is the best way for you to use the plugin on your site. If you like what you're seeing from the Lite version, only then can you purchase the paid version.
Knowledge Base
Beaver Builder is easy to use. But there's no doubt you'll have questions at some point. And while they do offer support, the Beaver Builder Knowledge Base is a good place to start. Here you'll find Q&As as well as guides on how to go about doing things in Beaver Builder.
It's packed full of articles you can read to learn more about the product. If you have any particular concern prior to purchase, you could find the answer here.
Article topics include general questions, the Beaver Builder plugin, the Beaver Builder theme, and more. It's definitely worth a look if you have the time.
How do you choose which page builder is the right one for you?
A good page builder makes the process feel seamless from start to finish. That means giving you the tools to make edits on the fly. Users should not feel overwhelmed while using the builder.
Of course, that's only the tip of the iceberg. A good landing page builder should have features that separate it from the rest of the pack.
Here are some features you want to look out for:
WordPress integration
WordPress powers 26% of the web. Chances are, your site will be built using the same CMS platform. If that is the case, then you definitely want to use a builder that's compatible with WordPress.
Template selection
When looking for a landing page builder, you want to have a vast selection of pre-made templates. Templates get you up and running in minutes. They also prevent users from accidentally making poor design choices.
Intuitive UI
Creating a landing page is troublesome enough as it is. A clunky user interface (UI) can make the process even more downright frustrating.
You want a builder that holds your hand through the process. Each step should be logical and feel natural.
Usability is an important factor to consider. When a software stops making sense as you're using it, the experience takes a blow. And in most cases, it drives customers away and causes them to look for alternatives.
No coding required
Learning how to code is not as difficult as it once was. And there are tons of resources online to guide you. But not everyone has the time. There are people who simply want to crank out as many pages as they can in as little time as possible.
Having a drag-and-drop feature would be a better alternative to coding, especially for beginners.
Beaver Builder Review: Is It Worth It?
Yes. Even veteran web designers have said nothing but praise. Sure, they may have minor gripes about the product. But at the end of the day, they'd rather use Beaver Builder over other page builders.
So is it the best WordPress page builder plugin? It's certainly one of them, and if you're looking for a solid page builder with an equally solid reputation, Beaver Builder is the one for you.
Design Beautiful WordPress Pages Using Beaver Builder Here
Want to learn step-by-step how I built my Niche Site Empire up to a full-time income?
Yes! I Love to Learn
Learn How I Built My Niche Site Empire to a Full-time Income
How to Pick the Right Keywords at the START, and avoid the losers
How to Scale and Outsource 90% of the Work, Allowing Your Empire to GROW Without You
How to Build a Site That Gets REAL TRAFFIC FROM GOOGLE (every. single. day.)
Subscribe to the Niche Pursuits Newsletter delivered with value 3X per week