All in One SEO vs Yoast SEO: Which Plugin Fits In With Your SEO Strategy?
When you buy something through one of the links on our site, we may earn an affiliate commission.
When deciding between All in One SEO vs Yoast SEO, two of the top WordPress plugins, there are some key differences that are important to understand.
Choose the wrong WordPress SEO plugin for your needs, and you might find yourself not getting the desired results while wasting a lot of time setting up the app.
What is an SEO Plugin?
On a basic level, a WordPress SEO plugin makes it easy to alter your website's code so that search engines can more easily crawl and index the information on your website.
These plugins operate by providing an interface for easily performing basic tasks such as:
Editing meta sescriptions
Editing SEO title tags
Creating XML sitemaps
That said, SEO plugins such as Yoast SEO and All in One SEO have evolved to do more advanced tasks as well. Many of these plugins have become one-stop solutions for everything from link management to finding and fixing 404s.
Although a WordPress SEO plugin doesn't handle everything, they make it easier to automate many tasks that used to require getting into the code of your WordPress website.
All in One SEO vs Yoast SEO: Which Is the Best SEO Plugin?
Having used both All in One SEO and Yoast SEO, both have their advantages and disadvantages.
Personally, I prefer the interface that Yoast provides. Everything is streamlined and easy to locate, so you aren't left wondering where specific settings are located.
While All in One SEO is also laid out in an easy-to-use way, I find the interface to be a bit plain and less appealing.
The Benefits of All in One SEO vs Yoast SEO
Both Yoast SEO and All in One SEO have some pretty solid benefits. For one, they allow you to offload tons of different plugins. Some of the major tasks that both plugins perform include:
404 detection and redirection
Content optimization tips
Structured data
Each of these tasks has numerous plugins that you can choose from. Thankfully, you can narrow these down to a single plugin using either Yoast SEO or All in One SEO.
Another benefit is all of the data you can pull about your WordPress website. Both plugins have analytics, letting you know how well your content and website's SEO are optimized.
Using these tools can help you to streamline your SEO process and cut down on a lot of time you'd normally spend editing on the backend.
The Disadvantages of All in One SEO vs Yoast SEO
While the above benefits are all well and good, you should understand a few downsides about All in One SEO and Yoast SEO.
It may sound contradictory, but one of the major downsides to SEO plugins is how easy they are to use. Users that don't have a solid foundation in SEO can become over-reliant on the plugin, completely forgetting or never learning the basics.
This can lead to an obsession with getting perfect marks using SEO plugins, which is no guarantee that you will rank. Instead, plugins only address a small part of your overall SEO strategy.
One other disadvantage is that using a plugin will ultimately lead to a certain level of extra code which can affect your performance. This can be mitigated but is something to be considered.
Installation and Setup
Installation with All in One SEO vs Yoast SEO is quite similar, meant to be straightforward using each plugin's setup wizard.
Upon launch of both plugins, the configuration wizard will launch, helping you to understand each of the features and proper setup.
One of the helpful aspects of these wizards is that they help different types of users set up the plugin based on their needs.
Some examples of this include users running eCommerce stores, users optimizing for local SEO, and bloggers. The wizard offers different setup advice for each user to help get the most out of the plugin.
Winner: Draw (both SEO plugins offer a configuration wizard to help you properly set up the plugin)
Day to Day SEO Tasks
One of the great things about SEO plugins like Yoast and AIOS is quickly managing everyday SEO tasks. These can include but are not limited to:
Editing meta descriptions
Editing title tags
Content optimization (keywords, readability, etc.)
Edit social media sharing information
Both AIOS and Yoast SEO make this possible through an intuitive back-end manager located on each page and post.
The Yoast SEO interface provides you with everything you need to manage day-to-day related tasks:
All in One SEO also makes managing common SEO tasks simple and intuitive, though as noted above, the interface is a bit plain:
Winner: Draw (both plugins make it easy to manage the day-to-day tasks using a simple interface)
Schema Support
Schema is structured data that helps search engines' web crawlers to understand better what a website is about and other details.
While it may seem complex, managing schema on your website is simpler using plugins like All in One SEO and Yoast SEO.
Both plugins make it easy to manage schema through an intuitive drag-and-drop interface located on each post and page.
Yoast SEO has their schema editor located under the schema section of the back-end interface on each post and page:
The same applies to All in One SEO, which also has a dedicated schema editor under their back-end interface:
Winner: Draw (both SEO plugins have a similar schema editor located on each page and post)
Ecommerce Support
E-commerce presents a few challenges in terms of SEO that must be addressed differently through your SEO plugins.
Thankfully, both Yoast SEO and All in One SEO are made to integrate with WooCommerce to address your eCommerce needs.
The primary difference is in how the two plugins integrate. With Yoast SEO, you need to purchase a specialized plugin intended specifically for WooCommerce.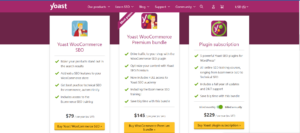 This is one area where All in One SEO has the advantage. Instead of needing a separate plugin, AIOS provides a handy guide to help you optimize the plugin for eCommerce websites.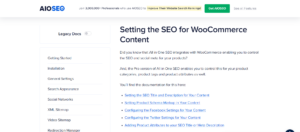 Winner: All in One SEO (Yoast SEO requires the purchase of a separate plugin to manage eCommerce websites)
Additional Tools
Both All in One SEO and Yoast SEO come with plenty of extra tools to make managing your website's SEO processes easier. These range from local SEO tools to bulk editing features and more.
Yoast extra tools:
All in One extra tools:
As with eCommerce, this is another area that All in One SEO wins out. With Yoast SEO, you need to pay extra for some features, such as local SEO, which is a separate plugin.
All in One SEO, on the other hand, offers everything with their pro version without the need to purchase separate plugins.
Winner: All in One SEO (no need for extra plugins for some of the extra tools to work)
XML Sitemap
XML sitemaps are files that map out all of the pages on your website, helping search engine crawlers to find every post and page without missing anything.
This is essential to get right if you want search engines like Google to easily find content and index everything on your website to then rank.
Yoast SEO and All in One SEO both offer XML sitemap tools to make sure all of your pages and posts are added. These tools also make it easy to exclude any post types you don't want to be included in your sitemaps.
One downside is that Yoast SEO makes you install separate plugins for managing your image and video sitemaps. All in One SEO, on the other hand, provides this included in the premium version of the plugin.
Winner: All in One SEO (all sitemap types included in the premium version with no extra plugins needed)
Robots.txt
Robots.txt is a file on your website that lets the search engines' crawlers know which links should be indexed and which ones should be excluded.
It's essential to get this right, or you can cause harm to your website and search engine rankings. Plugins like All in One SEO and Yoast SEO make it easier to edit the Robots.txt file without messing things up.
Yoast SEO allows you to manage your Robots.txt file through the file editor tool. This can be accessed from the dashboard under SEO and tools:
For All in One SEO, editing the Robots.txt file is similar to Yoast. You can find the editor under the tools section under AIOS in the WordPress dashboard:
Winner: Draw (both plugins make it simple to edit your Robots.txt file in a similar fashion)
Indexing
Making sure all of your content is indexable is essential if you ever want articles and pages to rank in search engines like Google.
At the same time, making it easy to NoIndex pages you don't want to be discovered can help you shape what the search engines see about your website.
Both Yoast SEO and All in One SEO allow you to set indexing rules either globally or on each page or post.
Yoast SEO has this setting under the Advanced section of the backend editor:
All in One SEO makes it possible to change these settings under the Advanced settings as well, except with this plugin, it's located under the Robots Setting section:
Winner: Draw (both make it easy to index or no index pages on-page or globally)
Canonical URL Setup
Canonical URLs ensure that search engine crawlers don't get confused when there are multiple URLs pointing to the same page or post.
An example of this would be a single blog post nested under multiple categories:
 https://nichepursuits.com/seoplugins/yoast_seo_review/
 https://nichepursuits.com/wordpress_plugins/yoast_seo_review/
Designating a canonical URL ensures the search engines' crawlers don't mistake the above links as duplicate articles.
Both Yoast SEO and All in One SEO plugins handle canonicals in a similar way. You can set the canonical for each page or post under the advanced section for both plugins.
Yoast SEO canonical setting:
All in One SEO canonical setting:
Winner: Tie (both make handling canonical URLs simple)
URL Setting
How your URL appears can affect both search engine optimization as well as user experience. Longer URLs tend to be harder for users to remember and can affect how they share your content.
At the same time, you want each of your URLs to have the primary keyword and to be descriptive of the page or post it leads to. This is where easy URL editing comes in handy, something offered by both Yoast SEO and All in One SEO.
Yoast conveniently lets you edit the URL for each article in the back-end user interface:
All In One WP also makes it easy to change the URL for each of your posts and pages to be user-friendly and SEO optimized:
Winner: Draw (both offer a simple way to edit the URL slug for each post or page)
Redirects
Handling redirects is usually a task done by separate plugins. This is one advantage to using an SEO plugin like All in One SEO or Yoast SEO.
Both of these plugins allow you to handle 301 redirects from pages you've moved or removed. This can be handy when combining content or redoing site structure, such as creating silos.
Yoast SEO comes with a built-in redirect manager available to users who subscribe to the plugin's premium version.
All in One SEO also has a redirects manager tool that makes it easy to take care of any post or page redirects.
It comes with a handy 404 log to ensure visitors to your website aren't running into issues when looking for a specific page.
Winner: Draw (both SEO plugins give you a robust redirects manager with the premium version)
Breadcrumbs
Breadcrumbs allow users on your site to more easily understand site structure and where they are, improving user experience.
These have the double benefit of also appearing in Google sometimes when indexed properly. This means making sure they are implemented correctly is crucial.
For site owners who want to implement breadcrumbs on their pages, Yoast and All in One provide the option.
Yoast provides a way to edit breadcrumbs from the search appearances section on the WordPress dashboard:
All in One SEO similarly has global breadcrumb settings but is instead tucked under the general settings menu on the main WordPress dashboard: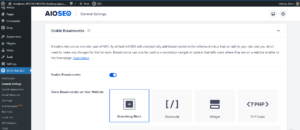 Winner: Draw (both SEO plugins let you add breadcrumbs through global settings)
OnPage Content Analysis and Optimization
A huge part of a successful search engine optimization strategy is having content that is optimized for both search and user experience.
This is one area where both Yoast SEO and All in One SEO can help you. Both plugins offer content optimization tips in each post.
Each WordPress SEO plugin also has a readability score that helps you ensure your content is easy to read, flows well, and is user-friendly.
Yoast SEO looks at factors such as:
Keyword density
Word count
SEO title
Image alt attributes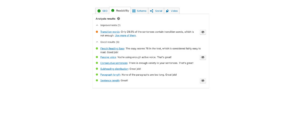 Yoast's readability score looks at some of the following factors:
Paragraph and sentence length
Passive voice
Reading ease
Subheading distribution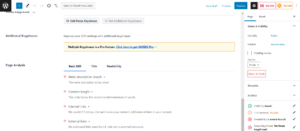 All in One SEO looks at many of the same factors and, like with Yoast SEO, provides both an SEO score for content as well as a readability score.
Winner: Draw (both tools provide readability and content optimization suggestions)
Customer Support
You want to know if something goes wrong that it's going to be easy to find a solution, especially when dealing with premium WordPress plugins.
Fortunately, both All in One SEO and Yoast SEO provide you with solid support channels to get answers in a timely manner.
Support for Free Versions
Support for the free versions of both plugins is a bit more limited than if you are paying for a premium license. However, that doesn't mean you're going to be left out in the cold.
Yoast SEO Free Support
With the free version of Yoast SEO, you have a few different ways to get help when you're facing issues. These include:
Help center
Free support forums
All in One SEO Free Support
All in One SEO has fewer methods of support for users on the free plan. Instead of offering support forums and courses, you can find answers in their documentation and FAQs.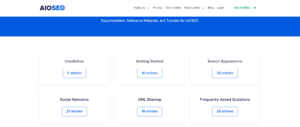 Keep in mind that with both Yoast SEO and All in One SEO, there are numerous articles and videos from third-party sources that you can also glean information from.
Support for Paid Versions
With both search engine optimization plugins, you get premium levels of support to expedite answering any questions you may have.
Yoast SEO Premium Support
The premium support for Yoast SEO gives you 24/7 access to Yoast representatives that can help address any issues you may have.
Other options when it comes to premium support include:
Help center for Yoast SEO Premium
Yoast SEO Academy for Premium
FAQs for Yoast SEO Premium
Premium email support
All in One SEO Premium Support
As with the support options for the free version of All in One SEO, the premium options are a bit lacking when compared to Yoast.
With All in One SEO Premium, you get access to a support ticket system. They typically do respond to support tickets in a timely manner, so you shouldn't be waiting too long for help.
Winner: Yoast SEO (more support methods than you get with All in One SEO)
All in One SEO vs Yoast SEO Pricing
Yoast SEO and All in One SEO both offer extensive free versions that can handle most basic search engine optimization-related tasks.
For more advanced functionality, you can upgrade to the premium versions of each plugin to get the most out of your website.
Yoast SEO offers the most simplistic pricing structure. You can purchase a single license either through a flat yearly fee or as a monthly or yearly fee for their full plugin subscription.
All in One SEO gives you four different pricing models beginning with their basic plan up to the feature-rich elite plan.
You can also contact the company about custom plans if you need more than the 100 licenses offered in the elite plan.
Winner: Depends (Yoast SEO has less complicated pricing, but All in One SEO offers multiple licenses)
Transferring settings from the All in One SEO Pack to Yoast SEO
If you are currently with All in One SEO and decide that it's time to go with Yoast SEO instead, don't fret, as you can easily move from one WordPress SEO plugin to the other.
Yoast SEO provides a migration tool to make it easier for users of AIOS to make the transition without losing settings.
This is essential so as not to lose rankings. You can access the migration tool from the WordPress dashboard and under the tools section.
You can get the file for importing from All in One SEO by going to the import/export settings under the tools section: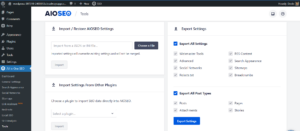 Transferring Settings from Yoast SEO to All in One SEO Pack
Thankfully, All in One SEO makes it just as easy to transfer settings into the plugin as it does to transfer out.
If you want to move from Yoast SEO to All in One SEO, you need to transfer your files into the AIOS back-end in the same area that you transferred files out in the above step.
To get the files you need from Yoast SEO, go to the same screen on the tools section and click on the export settings.
Once you have the file from Yoast, you can take it to the All in One SEO importer to easily transfer your documents.
Which WordPress SEO plugin Is Easier for a Beginner to Work With?
When comparing All in One SEO vs Yoast SEO from a beginner's standpoint, it's important to make clear that both plugins will have a similar learning curve.
While the purpose of both plugins is to make it easier to manage your SEO process, it's still up to you to set everything correctly.
This means that each WordPress SEO plugin is only going to work to the level of your understanding of each feature and how to get the most out of it.
In this regard, Yoast SEO is the better option for beginners owing to the extensive amount of support materials offered.
The Yoast SEO Academy provides a place to learn about search engine optimization and how this relates to each feature in Yoast's suite of SEO tools.
Because of these support and learning materials, along with the more intuitive interface, Yoast SEO may be a better option for new niche and authority website owners and even beginner eCommerce and small business WordPress site owners.
All in One SEO vs Yoast SEO: Which One is Better?
It's an extremely close call when comparing All in One SEO vs Yoast SEO. Both search engine optimization plugins come with many of the same features and have a similar layout.
The answer to which one of these WordPress SEO plugins is actually better is that it depends. Yoast SEO is a more expensive option but maybe better for beginners that need more instruction.
With Yoast SEO, you have to purchase more add-ons that come native with All in One SEO. However, there is also more support via courses, FAQs, and other documentation to help new users.
All in One SEO, on the other hand, is a little bit less intuitive in terms of the interface and has less in the way of learning options. That said, the premium version comes with more features out of the box, making it cheaper for more experienced users.
Ultimately, I prefer to use Yoast SEO. I think it has a cleaner-looking interface and provides a suitable WordPress SEO plugin for most users. But All in One SEO is still a good option for handling the SEO of your WordPress site.
If you're a beginner looking for an intuitive SEO plugin with plenty of documentation in support, you can try out Yoast SEO.
Check Out Yoast SEO
On the other hand, if you're a bit more comfortable managing the SEO of your WordPress website through a plugin, you may want to try out All in One SEO:
Check Out All in One SEO
Want to learn step-by-step how I built my Niche Site Empire up to a full-time income?
Yes! I Love to Learn
Learn How I Built My Niche Site Empire to a Full-time Income
How to Pick the Right Keywords at the START, and avoid the losers
How to Scale and Outsource 90% of the Work, Allowing Your Empire to GROW Without You
How to Build a Site That Gets REAL TRAFFIC FROM GOOGLE (every. single. day.)
Subscribe to the Niche Pursuits Newsletter delivered with value 3X per week