17 Best Sites For Selling Used Items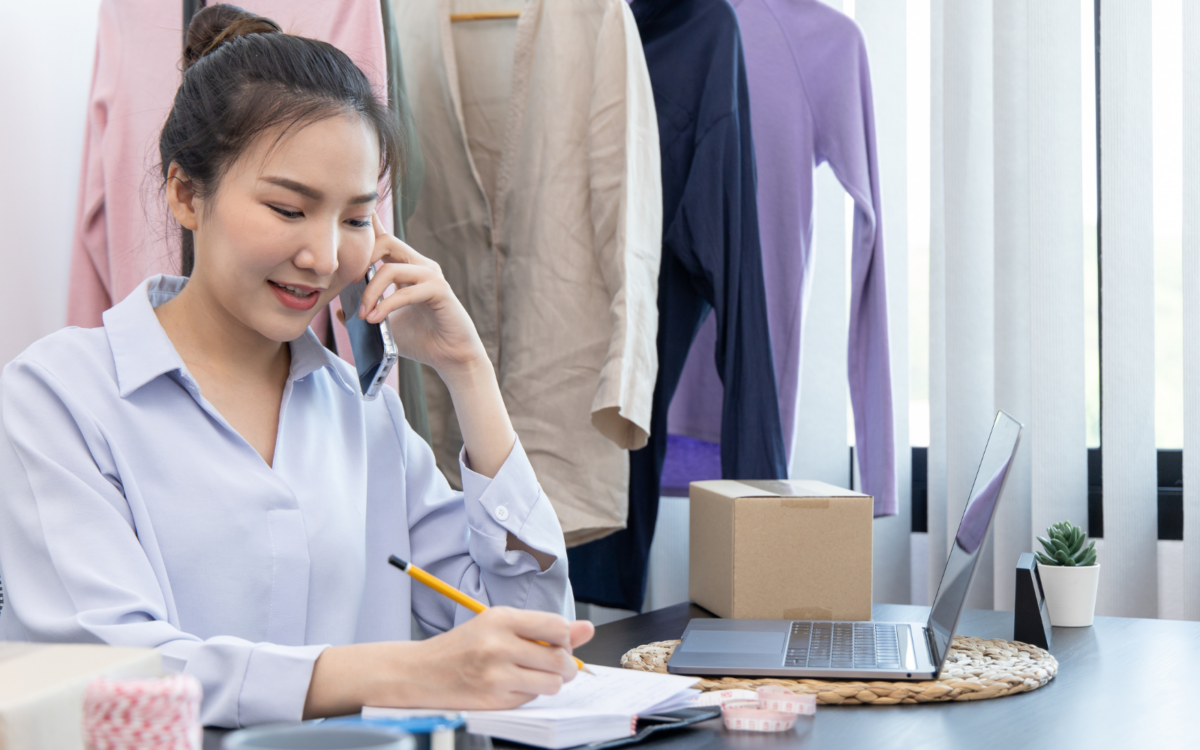 When you buy something through one of the links on our site, we may earn an affiliate commission.
Today, we're lucky to live in the internet era, where there are so many great sites for selling used items. Whether you want to clear out your clutter for spring cleaning or raise some cash by selling your household extras, there's going to be a website or app that can help.
In 2020, 80 per cent of global consumers shopped online.
While there are plenty of options to sell in-person, the perks of online selling are far superior:
Flexibility
Convenience
Saves money
Easy
Now, anybody who has access to an internet connection has the option of selling online.
It's flexible and convenient. Jump on your phone or laptop and start selling, rather than getting in your car and spending money on gas to drive someplace where you hope to sell your items.
Online selling is easy, the options feel endless and it saves you time and money.
Plus, it's more convenient for consumers to shop online too.
In a rush?
If you're going with the godfather of sites for selling used items (eBay) then you should definitely look into Zik Analytics. You get a full suite of eBay analytics tools to help you grow your business by knowing WHICH products will sell and at WHAT price!
Try Zik Analytics Here
17 Best Sites for Selling Used Items Online
Whatever you need to sell, from aged appliances to used furniture, electronics to baby toys, you will be able to find the right place to quickly and efficiently sell.
Here are 17 of the best places where to sell items online:
1. eBay
eBay is one of the top online marketplaces where you can sell almost anything.
eBay began as an auction website where buyers would bid on an item and the highest bidder would win. While that's still in effect today, there are other selling options, like fixed final sale price auctions and combination auction/buy-it-now product listings, which is a hybrid of the two.
eBay is free to join for both buyers and sellers.
For selling stuff online, click the 'Sell' button and go through the product listing process. The process will lead you through listing specifics like:
Picking a product category
Adding photos
Writing a product description
Setting up your shipping details
Adding a product's selling price
Setting your product listing type
The process may feel overwhelming the first time you use the service as a buyer, but the more active you are on eBay, the easier it will feel. And you can use a tool like Zik Analytics to know exactly which products sell best!
Check It Out Here
To list an item on eBay, there is a flat fee that you must pay upfront. eBay also gets a percentage of your sale once the process has been completed.
Click here to learn more about selling on eBay
2. Amazon
Amazon is a marketplace similar to eBay where you can sell items in a fixed selling price format. While there is not an auction option on Amazon, the website is very user-friendly for sellers to use.
First, join Amazon as a seller and open a selling account.
There are two selling plans available:
Individual selling plan $0.99 per item sold
Professional selling plan $39.99 per month
You can look at the differences between the two selling plans to figure out which one is best for you.
Once your account is set up and you're ready to start listing products on Amazon, you can begin adding products and building each product listing.
Finally, you publish your listing. Once your sales start coming in, you'll get the shipping costs and information for the customer and you fulfill the orders.
What's Amazon FBA?
Amazon's FBA (fulfillment by Amazon) program is for Amazon sellers that want Amazon to do their fulfillment.
This means that you will ship your goods to an Amazon warehouse and they'll be responsible for picking, packing, and shipping orders to customers when you make a sale.
To start with Amazon FBA, login to Seller Central after setting up your seller account and set up FBA. Add your product listings, prep your products, and then ship to Amazon.
Read more about how Amazon FBA works here.
What's Amazon Handmade?
Amazon Handmade is the spot to sell your unique handmade items. Sell in categories like jewelry, home decor, and beauty.
To start selling your handmade goods, you must have a professional selling account. Note, this account costs $39.99 per month, and Amazon Handmade takes a 15% transaction fee on your sales.
Ready to join?
First, open your Amazon Seller Central account and then apply to be an artisan. List your products and start selling online.
Visit Amazon Handmade to get started
Click here to visit Amazon
3. Poshmark
Poshmark is an app and website that lets you buy and sell fashion apparel, home decor, beauty products, and other goods.
You can join for free and start listing your items for sale instantly.
A great feature about Poshmark is its social selling element.
In addition to listing products for sale, you can follow your favorite users and sellers. They also have "parties," which are sale events that you can participate in and host.
Selling on Poshmark is only available on their app, which you can get in the Apple App Store or Google Play Store, and if you're considering it you'll definitely want to check out our guide about whether or not Poshmark is legit. The app is easy to use, and you can add product listings to their marketplace in minutes.
When your items sell, you'll get a notification with the customer's shipping label. The last step is shipping your product to your new customer.
Visit Poshmark to learn more
4. OfferUp
OfferUp is the website and app to buy and sell locally. Think of it as a Facebook marketplace without a Facebook account.
You can join OfferUp for free as a buyer or seller and is one of the best classified sites for selling used items.
For sellers, you will need to download the OfferUp app to list your items for sale.
Through the app, you can add and manage your product listings, talk to buyers via messages, scope out the competition, and review their inventory, badges, rating and transaction history.
OfferUp claims the item posting process takes less than 30 seconds.
All you need to do is snap a photo of what you're selling and add it to their marketplace. They're one of the largest online marketplaces for local buying and selling, home to an audience of millions that visit their site and app.
Visit OfferUp to get started
5. Facebook Marketplace
Facebook Marketplace is for local buying and selling, like OfferUp.
If you have a Facebook account, just navigate to the Marketplace and click 'Create New Listing' in the left navigation bar to add your items.
Facebook Marketplace vs Facebook Shop
Facebook Marketplace is not the same as having a Facebook Shop, which is more similar to having an e-commerce page for selling globally through Facebook.
Instead, Facebook's Marketplace is designed for consumers to buy and sell stuff locally. The Facebook Marketplace will allow you to chat with buyers and then arrange to meet in person so they can inspect the item and pay you on the spot!
You can sell:
Items (like clothes, home goods, etc.)
Vehicles
Homes for sale and rent
The product listing form is easy to navigate and you even have the option of hiding the listing from friends and boosting it to turn it into an ad for more visibility.
Visit Facebook Marketplace to get started
6. Mercari
On Mercari, you can browse the website or app to buy and sell goods online or locally. They serve up a bunch of different product categories, such as:
Women
Men
Kids
Toys
Electronics
Sports
Beauty
You can join for free and once you're registered you'll be able to begin listing your items for sale.
One unique feature about Mercari is their 'See What's Selling' page, which tells you what customers are actively buying (and we dug around to find out if Mercari is legit which you'll probably want to check out).
This is helpful for people who pursue flipping items as a side hustle or full business. They'll now know what products are trending and what Mercari customers are interested in (check out our Mercari review).
Visit Mercari here
7. Decluttr
If you need to sell your tech items, such as cell phones, DVDs, CDs, games and game consoles, books, Decluttr is for you. To get started on the site, you can search for your specific item to get an instant monetary valuation, which is good for 28 days.
Notably, their app has a barcode scanner, making it even easier to get your product's valuation.
Next, Decluttr will send you a welcome kit with a shipping label. You'll attach the label to your product box and ship your item to Decluttr.
After your package arrives at Decluttr, they'll send next-day payment.
Decluttr is different from other sites for selling used items in this list because you won't have to wait to get a customer before selling items and getting paid. Decluttr will buy from you on the spot and give you instructions for sending your goods to them.
Click here to visit Decluttr
8. Gazelle
Gazelle is one of the top sites for selling used items. It helps you buy and sell used electronics like cell phones, tablets and laptops.
First, you can get an offer for your item. Next, you will ship it to Gazelle for free for inspection, and then once approved, they pay you!
Right now Gazelle is accepting:
Apple iPhones
Samsung phones
Google phones
Apple iPads
Apple MacBooks
Visit Gazelle to get started
9. Etsy
Etsy is a marketplace where sellers can sell a variety of homemade items in categories like:
Jewelry and accessories
Clothing and shoes
Home and living
Collectibles
Craft supplies
Art
Selling on Etsy works well for both selling only a few handmade items or using Etsy as a long-term shop for consistent online sales. For example, former Etsy shop Three Bird Nest made $65,000 per month with their Etsy shop.
Opening an Etsy shop is free. You'll be able to create a custom-designed storefront complete with a banner and profile image. You can add items to your shop, write a description, upload photos and publish it to Etsy.
When a customer buys your item, you'll get a notification so you can pack and ship the order.
Learn more about Etsy
10. Swappa
Swappa is one of the top user-to-user online marketplaces for buying and selling used cell phones, laptops, cameras, watches, and other tech products. Instead of selling your used tech to Swappa, you sell to Swappa buyers.
First, you search Swappa's library to find the item you're selling.
Next, you create a listing where you upload product photos, write a description and set your price. Lastly, when your item sells, you'll get paid via PayPal. As a bonus, you get paid before even shipping out the item.
Visit Swappa to get started
11. VarageSale
VarageSale is like a virtual garage sale for buying and selling both new and used items locally and is certainly one of the best sites for selling used items online.
To get started selling, you'll sign up to join for free. When you sign up, you'll pick a community to join in your area. You must be local to the area to join a community.
Once you have registered, you can start selling your stuff online by clicking the 'Post Items' button and start listing the items you want to sell.
Click here to visit VarageSale
12. Bonanza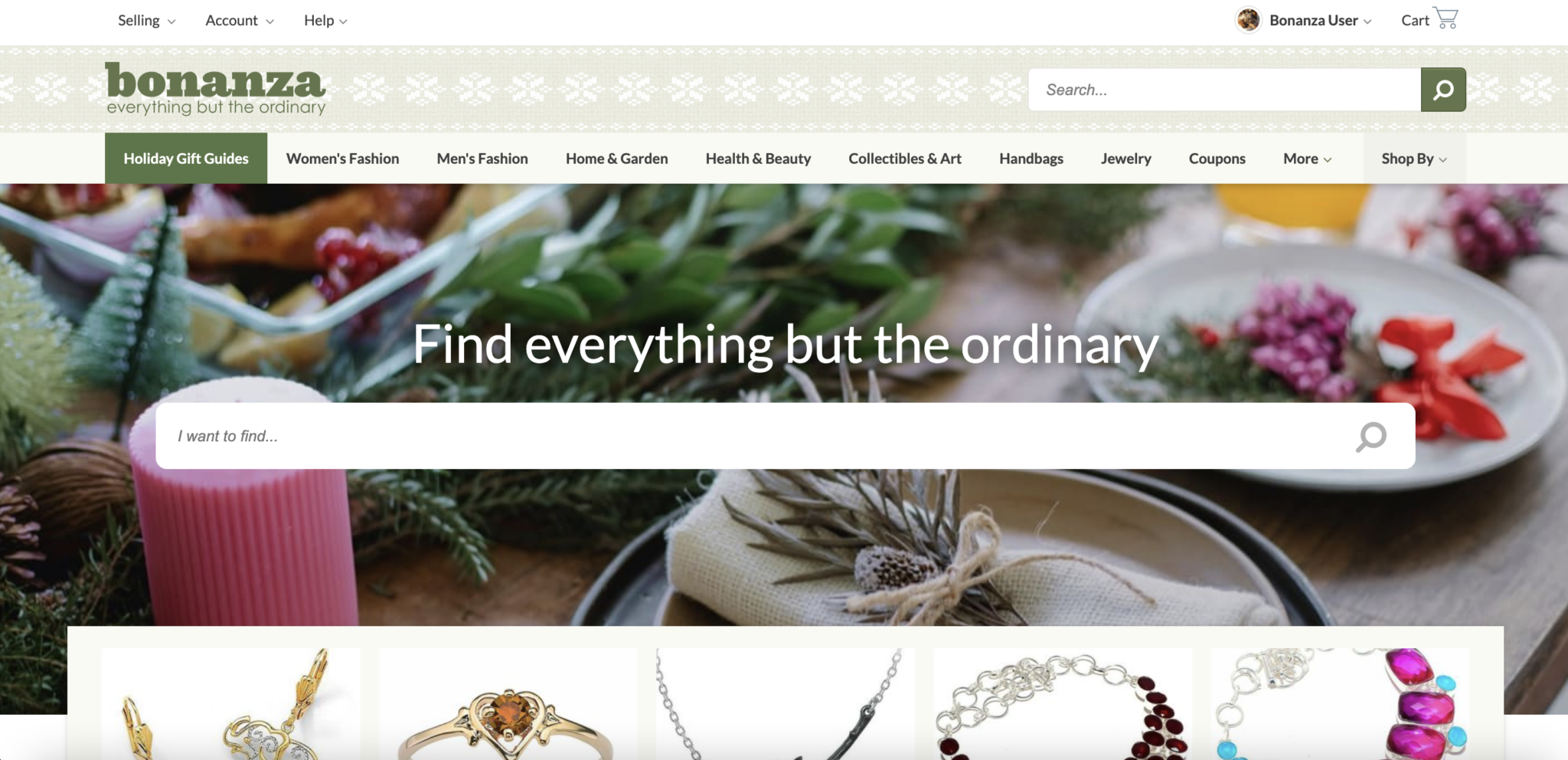 Bonanza is an online shopping mall known for buying and selling extraordinary items in categories like fashion, home decor and collectibles.
You'll start by clicking the 'Become a Seller' button where you can start the process of listing your items on Bonanza for sale.
Setting up your account is free. Your storefront is called a booth and this is where all your listed products online will be housed on Bonanza.
A booth is similar to Etsy's storefront or Ebay's shop feature.
Bonanza lets you import your items from other websites like Amazon, eBay, Etsy and Shopify. You can also import your items from an import file.
There are no upfront fees to sell on Bonanza but you do pay a success fee when your item sells, based on the final offer value (FOV). The minimum fee you'll pay is $0.50.
If you want more visibility for your items, you can take advantage of Bonanza's advertising. Advertising fees are paid based on the final offer value of your item. It ranges from 9% to 30% of the FOV.
Learn more about Bonanza
13. Shopify
Shopify is an e-commerce platform where you can open your own shop and sell your items to the public. This platform is used by big brands like Kylie Cosmetics, Gymshark, Fitbit, and Hyatt Hotels to name a few.
Whether you have one product or multiple to sell, Shopify can help you build a professional online store to sell your stuff.
To get started, you will pick a Shopify plan.
There's a 14-day free trial with all pricing plans, and the online store option starts at $29 per month after the trial period.
The Shopify plan will get you:
Access to over 70 different store themes
The ability to use custom domain and,
Design access for your own online store using their drag-and-drop builder
Shopify Lite lets you add products to any website or blog and accept payments for $9 per month.
Shopify Enterprise is for large enterprise-level stores and to get more information about it, including pricing, you can contact Shopify.
Click here to start your 14-day free trial at Shopify
14. Ruby Lane: One of the Top Sites for Selling Used Items
Ruby Lane is geared toward buying and selling antiques and collectibles, including items like rugs, lamps, fashion, dolls and jewelry.
After you register to Ruby Lane, you can start listing your items for sale in your own shop. There are requirements for operating a shop on Ruby Lane:
Must have at least 10 items listed always
Items must be able to be legally sold
Must keep your account in good standing
You can read all the requirements here.
There are no listing fees or setup fees with Ruby Lane. You must have at least 15 items during the month to operate your shop for free. If you have less than 15 items, there's a $25 monthly fee.
There is also a service fee of 9.9% based on the purchase order total.
If you have antiques and collectibles, Ruby Lane is an option to sell stuff online.
Visit Ruby Lane to get started
15. Handshake
Handshake is a wholesale marketplace available to U.S. businesses on Shopify. It's available to Shopify sellers that have made at least $1,000 in sales.
The products you sell on Handshake must comply to their guidelines, including if you sell CBD (cannabidiol) products.
All you need to do to get access to Handshake is install the Handshake sales channel on your Shopify store. There are no listing fees for selling on Handshake.
Click here to learn more about Handshake
16. Creative Market
Creative Market is a marketplace where you can sell your creative projects like fonts, graphics and website themes. Sellers are having success selling their projects on Creative Market like this seller who made over $23,000 within six months of joining the platform.
To start selling on Creative Market, click 'Open a Shop' and go through the process of registering to sell on Creative Market and opening your own shop on the marketplace. If you have a Dribbble Pro account, you can open a Creative Market account instantly.
Like some of the other websites in this article, Creative Market will give you a lot of flexibility with your shop. On your shop you have options, such as:
Setting your own prices
Revenue splitting
Revenue-boosting tools to track sales, analytics, etc.
There are no listing fees for Creative Market, but you will incur a revenue split when your items sell.
Join Creative Market here
17. Depop
Depop is a fashion marketplace where you can sell your new and used fashion including beauty products, and jewelry.
Selling on Depop is easy to do from their app. All you do is list your stuff for sale. There are zero listing fees and a 10% fee on the successful sale of your item.
Click here to learn more about Depop
Best Sites For Selling Used Items for free?
There are tons of websites you can sell your stuff for free on including Depop, Bonanza, and Creative Market. These sites will let you list your products for free, and you only pay a fee or sales tax when your item sells.
It's risk free to start using the site and listing your stuff.
Where can I sell my stuff online fast?
The places where you can sell the fastest are the websites where you sell to the site directly instead of having a buyer purchase directly from you.
This cuts out a lot of time waiting for a potential buyer to buy your items.
These sites include Gazelle and Decluttr.
Find the item you're selling from their catalog, follow their instructions to ship it to them and get paid!
most popular sites For selling Used Items online?
The most popular and top-selling sites and marketplaces to sell online include many on our list, such as:
Amazon
Ebay
Handshake
Etsy
Ruby Lane
Swappa
Shopify
These online selling sites have sold over 2.6 trillion dollars in 2020, according to this source.
How can I sell things online for cash?
If you want to sell things online for cash, look to marketplace sites where you can sell locally.
Some examples include:
Facebook Marketplace
VarageSale
OfferUp
These marketplaces will allow you and the buyer to come to an agreement on the price and after you meet in person to conduct the transaction, the buyer can pay you cash in hand.
Final Word on Best Sites For Selling Used Items
This roundup of the best places to sell items online has something for everyone.
If you have tech and electronics to sell, there are sites for accepting those items.
For people that want to sell online for cash, there are places for that. If you have entrepreneurial spirit and you're considering starting a business by selling your stuff, there are websites for that too!
Whatever you want to sell, you can find a site to fit your needs.
What site will you be selling on?
Want to learn step-by-step how I built my Niche Site Empire up to a full-time income?
Yes! I Love to Learn
Learn How I Built My Niche Site Empire to a Full-time Income
How to Pick the Right Keywords at the START, and avoid the losers
How to Scale and Outsource 90% of the Work, Allowing Your Empire to GROW Without You
How to Build a Site That Gets REAL TRAFFIC FROM GOOGLE (every. single. day.)
Subscribe to the Niche Pursuits Newsletter delivered with value 3X per week