How to Sell On Poshmark and Start Making Money Online Today
When you buy something through one of the links on our site, we may earn an affiliate commission.
Poshmark is an app and marketplace where users can come together, network, and buy and sell used clothes and accessories. Learning how to sell on Poshmark is simple and it doesn't cost anything to get started. 
Poshmark is one of the biggest reseller marketplaces out there today. Reselling used goods online is a lucrative and exciting way to make money online. 
If you want to learn how to become a Poshmark seller, this article will teach you how.
We're covering: 
How Poshmark works
How to sell on Poshmark
Successful seller stories and tips ($1m+ sellers)
And so much more. This platform is easy for anyone to start selling for free. And after reading this article, you can easily get started today.
What is Poshmark? 
Poshmark describes itself as a "social marketplace" – and that's exactly what it is. 
A marketplace and social network combined, Poshmark is an app and website for selling used items like clothes, shoes, and accessories, and there is a very social feel to the platform (and we dug around even deeper to find out if Poshmark is legit).
Poshmark members, or Poshers, can create profiles and list items for sale as well as share them to events and parties. Poshers can also:
Add friends
Follow people
"Like" items listed for sale
Share items, and more.
Poshmark is one of the leading apps and marketplaces for those looking for how to sell used clothes, shoes, and accessories. 
What Can You Sell on Poshmark? 
Poshmark is a marketplace for gently used fashion items like women's, kids', and men's clothing, shoes, accessories, and more. 
You can also sell:
New personal care products
Certain home goods
Select pet items, and
Certain electronics, too.
Pre-owned items for sale on Poshmark should be gently used, clean, and in good condition. 
Makeup and personal care products can be sold on the platform as long as they are brand new and never used – not even swatched as is popular with makeup testing.
This platform is great for avid thrifters and entrepreneurs who want to make money from selling used clothes online. 
What Can't You Sell on Poshmark? 
Sellers on Poshmark are prohibited from selling the following: 
Furs from extinct or threatened animals
Medical products
Used personal care items
Bootleg products
Repurposed designer products
Anything that cannot be shipped via USPS like aerosols, alcohols, nail polish, perfumes, etc. 
There are a few other prohibited items, but you get the general idea. 
Pros and Cons of Selling on Poshmark
Poshmark Selling Pros
Easy Shipping Paid by Customer: Poshmark shipping is incredibly easy for sellers. Everything is shipped via USPS Priority Mail and the customer pays for shipping. The price is added to their total purchase. All you have to do as a seller is print out the label and drop the item off at your nearest post office. 
Large Market: Poshmark has a huge market of active users. As of January 2021, there were over 7.7 million active monthly users. 
No Listing Fees: You can sign up and get started listing products on Poshmark for free immediately.
Low or No-Cost to Get Started: Everyone has clothes in their closet they could stand to get rid of. You can start selling your own used clothes for free or take a trip to your local thrift store and get started today.
Poshmark has over 7 million active monthly users. Selling on Poshmark gives you access to a large and active buyers market. Reselling on this app can be a lucrative venture with time and dedication.
Poshmark Selling Cons
Time Investment: Taking photos and sharing your listings every day can take a lot of time, especially if you have a lot of stuff to sell. And going to the post office all the time can be a chore, too. 
Poshmark Fees: there are no fees to list your items, but Poshmark keeps a chunk of your profits. For items under $15, Poshmark charges $2.95. For any sale over $15, Poshmark keeps 20%.
Inventory Space: If you plan to sell on a large scale, you need to have plenty of space for storing, labeling, organizing, and packing your inventory for shipping, like a spare bedroom or garage. 
Selling used clothes online is also referred to as "flipping" or "reselling". Spencer (the founder of Niche Pursuits) tried selling clothes online himself. Here's what he learned: 
How to Sell Used Clothes Online
How Much Does it Cost to Sell on Poshmark?
Although there are no fees to list your items for sale on Poshmark, sellers do end up paying the platform in other ways. 
Poshmark keeps a flat rate or a percentage of all sales made through the platform. 
For sales that are under $15 total, Poshmark keeps a flat-rate fee of $2.95. This means if you sell an item for $3.00, you only get to keep $0.05. 
For all sales over $15, Poshmark takes 20% of the total sale price.
Many Poshmark sellers note the fees as one of the biggest disadvantages to selling on Poshmark. But when you think about getting money for your used clothes, any payment is a positive. 
Most people take their used clothes to a thrift store or a dumpster, so the ability to earn money from them is an obvious pro.
How to Sell on Poshmark
Setting up to sell used clothes, shoes, and accessories on Poshmark is incredibly easy.
Download the Poshmark App
Set up your profile
Tap the "sell" button in the app 
Take photos of your items or upload them from your camera roll
Fill in the item title, description, and every category that you can. 
After filling out all your info, hit "Next", choose where else to share your listing, and hit "List".
It's really easy and intuitive to create a Poshmark listing. But the reality is that selling on Poshmark is much more nuanced than simply making a listing. 
Once your item is listed, buyers can choose to make you an offer or purchase it for your listing price. 
As the seller, you have the opportunity to:
Accept offers
Make counter-offers, and
Offer discounts and bundles to people who like your listings but don't make an offer.
All of these tactics will help you encourage shoppers to purchase your products on the app. 
There are a couple of major tactics to help your items be found by buyers scrolling your Poshmark feed: writing keyword-rich descriptions and titles and sharing often.
Poshmark has a feed for users' homepages and search pages. Listings in the Poshmark feed are sorted by the time they were last shared or updated and product relevancy, and this is where keywords come into play. 
As a seller on Poshmark, your items can receive shares in two ways: self-shares and community shares.
Self-shares are when you share your items with your followers and into Poshmark parties. 
Community shares are when other Poshers share your items to their followers or in parties. 
Poshmark parties happen every day and are a great way to get more exposure for your listings, but you have to share often.
I personally shop frequently on Poshmark, and the only items I ever see in my feed are items that were shared in the last 1 minute – 1 hour. 
Selling on Poshmark is competitive, but if you can share your listings consistently, you have a better chance at making sales.
So, how many times a day can you share your listings? 10,000. But according to the team at SuperPosher, sellers shouldn't share their listings more than 5,000 times a day to avoid penalties. 
Where to Find Items to Sell on Poshmark
Once you've exhausted your own closet, where can you find items to sell on Poshmark? 
There are tons of places to score used clothes and accessories for low prices that you can resell on Poshmark. Here are a few ideas: 
eBay
Estate sales
Thrift stores
Garage and yard sales
Facebook Marketplace
Clothing consignment shops
Discount stores like Ross and TJMaxx
Upscale thrift stores like Plato's Closet, Buffalo Exchange, etc.
Clearance racks at major department stores
Family and friends
If you get creative with your thinking, there are tons of places to find clothes to sell for profit on Poshmark.
How to Prepare Your Inventory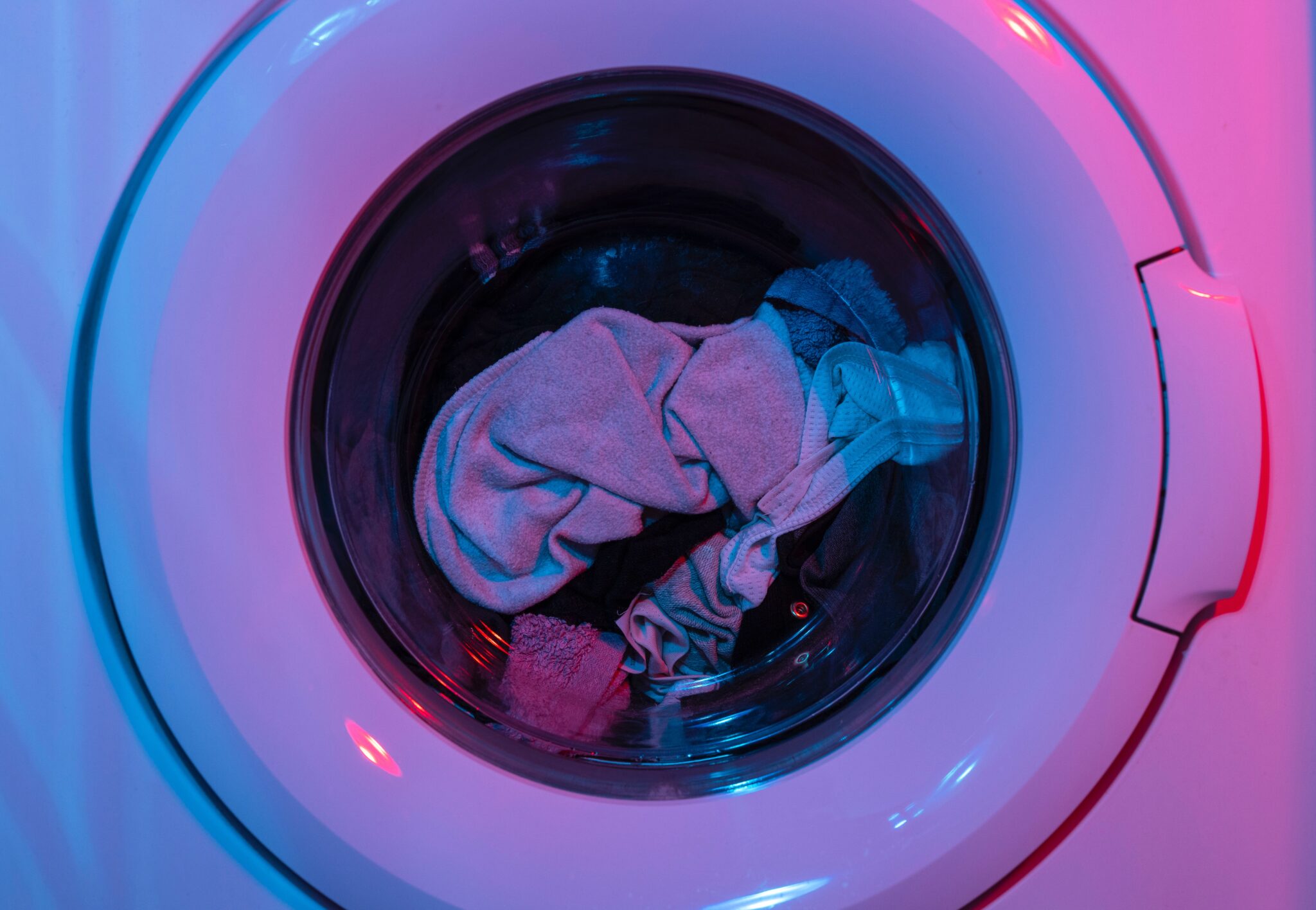 Per the Poshmark website, sellers can sell gently-used and clean clothing, shoes, and accessories. If you've got a pile ready to sell, here's how to prepare your inventory. 
Properly clean your products
Repair any defects or damage to the best of your ability
Be sure your items are free of dirt, odor, and wrinkles
You should make every effort to clean your items and iron out any wrinkles or creases. 
However, if your item is damaged, you aren't required to repair it. You can sell damaged items as long as they are still functional and you fully disclose the damage. 
Mention the damage in your listing: i.e. rip in right arm seam, scuff on left heel, etc. 
In addition, make sure to take a photo of the damage and include it in the listing. This shows your customer that you are being fully transparent and allows them to assess the damage for themselves and decide if they want to purchase.
You can also offer discounts for damaged items as a way to try and get your inventory sold faster. 
How to Price Your Items
Learning how to price your items to maximize both your earnings and selling potential might be one of the biggest learning curves of learning how to sell on Poshmark. 
Poshmark offers sellers many tools to help you figure out how to price your items on the app. 
In general, here are the steps to take when trying to determine what to price an item: 
Look at similar previously sold items on the Poshmark app to see what the selling price was. 
Look at the current listings and see what they're listed for and price yours slightly lower. 
Take into account the current and upcoming seasons and adjust your pricing based on seasonality and demand. 
If you have a rare or vintage item, you can easily get away with higher prices.
Ultimately, you should price your items higher than your bottom line. 
Pricing your items like this will give you wiggle room and allow you to still make a profit when selling at a discount or to Poshmark shoppers who make a lower offer. 
You can also:
Take advantage of Poshmark promotions
Hold a closet clear-out event and mark down all of your items
Send offers to people who like your listings, and more.
Poshmark has a handy merchandising guide for sellers here. 
Product Photography
Product photography can easily make or break a listing for a potential buyer. 
Personally, when I am searching for items on the Poshmark app, I will not purchase anything that has photos with bad lighting. 
Bad lighting cannot accurately portray the product for sale and can cause misleading color representation. It can also hide or obscure damage, it does not accurately represent product texture, etc.
You do not have to have professional product photography to be a successful Poshmark seller. 
However, you should take care to make sure your product is accurately represented in photos. 
This includes having great lighting (indirect natural lighting is best) and photographing all angles of the product. Adding videos is also a bonus that customers love to see.
Title, Brand, Size, and Description
Learning how to sell on Poshmark incorporates an SEO aspect when it comes to listing your items for sale. 
SEO stands for "search engine optimization", and it's what brands and bloggers use to rank their pages in Google.
Writing product descriptions that show up in the search results on Poshmark is very similar to what businesses do for Google. 
The key here is using the right keywords for your products. Keywords are the words and phrases that people are using to find products on the app.
Since these are the words people are using to find products, they can include:
The item type (shirt, tank top, coat, jacket, etc)
Brand name
Item size
Style of item
Item color
"Vintage", etc. 
Keywords can also be phrases, like "green faux fur bolero jacket". 
When listing your items, search for similar items to get ideas for the keywords and keyphrases other sellers are using. Try to get into the head of your customer and use keywords and phrases that they might type in to find your items.
Item Measurements
Including item measurements is totally optional, but it's very helpful when listing items for sale on Poshmark. 
When you list an item, Poshmark requires you to select a size. 
But as many people know, sizing is not universal. A medium in one brand might fit like a small, and a medium in another brand may fit like a large. 
Listing the item measurements in your product description isn't required, but your customers will appreciate it.
Tips to Sell More on Poshmark
As you've learned by now, Poshmark is much more than just a used item marketplace. There is a very social aspect to Poshmark and taking advantage of that will help you be more successful when selling on the platform. 
Here are some of the top tips from successful Poshmark sellers for having success on the platform.
Check Comps and Price Competitively
"Comps" stands for competition and if you want to stand out among your competition, you need to price your items competitively. 
A great strategy for selling your item before your competitors is to price your item lower than they do – even if it's just a few cents.
Check the recently sold similar items to get a good idea of what the items are actually selling for. 
Then, look at what is currently listed and make a note of the current price. 
Your "sweet spot" lies between what similar items are currently listed at and what previous similar items actually sold for.
Disclose All Damage
As we mentioned before, be upfront about any damage your product has. Always do your best to disclose damage in your product description as well as in the product photos. 
If the damage is something that can't be photographed, like a button that doesn't snap, make every effort to make it obvious to the buyer.
Don't hide the damage at the end of your product description – place it towards the beginning. Many people won't read the whole thing, so make every effort to disclose it to them. 
Good Photo Quality and Lighting
You don't need to invest in a professional camera or lightbox for your products, but you should take care to take nice photos. 
Here are some tips for getting great photos with your smartphone camera.
Use indirect natural lighting, like sunlight filtered through a sheer white sheet or curtain
Keep your camera still for clear, non-blurry photos
Take photos of every angle of the product
If possible, take a photo wearing the product or with a model or mannequin wearing it for scale
Sharing can be the key to success on Poshmark, but there comes a time when the time-drain is less trouble than it's worth. 
At minimum, you should aim to share your closet once per day, and if you have time you can share more often.
If you don't have time to share your items, consider hiring a Poshmark virtual assistant or using a service like SuperPosher  to help you out.
Send Offers and Bundles to Likers
Follow your likers and offer discounts when people like your items. Sending offers and creating bundles for likers can encourage people to buy your item. 
When someone "likes" your item in their feed, they're either saving it for later, doing research, or want to keep an eye on it and see if the price drops. 
If you send a discount to a liker after they've expressed interest in your item, it's highly likely that they will purchase it for the right price.
This feature allows you to send private discounts that are only available for 24 hours and only to the person who liked your item.
Participate in Events and Parties
Poshmark parties are real-time discounted virtual shopping events where Poshmark sellers share and discount their items. 
Poshmark holds four parties a day in different themes and categories. 
Sharing items to Posh parties can help you make more sales, but the major benefit is attracting new likers and followers. Growing your following is a good strategy for overall selling success.
Poshmark also holds events, like the Closet Clear Out event, where you can choose to discount all your items. When you participate in this event, the app will notify all of your likers about your limited-time discounts to encourage them to buy. 
Create Bundles
As a Poshmark seller, you can create bundles in your closet to offer to buyers on the platform.
Bundles can consist of several items. A popular type of bundle is to create an entire look and offer it for sale at a discount.
Top-Seller Shawna Conway sold over 400 items in her first three months. She swears by creating look Bundles and offering discounts to boost her sales. 
Successful Poshmark Sellers
Jenna N of @emptyhanger: Six Figure Poshmark Earner
Jenna N, or @emptyhanger on Poshmark, earns six figures a year selling items on the Poshmark app. 
In an interview with Style Blueprint, Jenna gave these tips: 
Start with your own closet. 
Make sure your items are in great condition. 
Do plenty of research when pricing your items. 
Take it slow and gradually build up.
Now, Jenna has a YouTube channel where she helps teach others how to make a living selling on apps like Poshmark.
Suzanne Canon of @scanon: $1m+ in Poshmark Sales 
Posh Ambassador Suzanne started her Poshmark side hustle in 2012 when she wanted to get rid of some old clothes she no longer wore. 
Fast forward five years and she became the first Poshmark seller to cross the $1 million threshold in sales.
Suzanne has since created her own clothing line that she sells through the app called Infinity Raine. 
Is Selling on Poshmark Profitable?
With the right product research and pricing, selling on Poshmark can be very profitable. There are no start-up fees and you can start selling immediately.
Many Poshmark resellers have turned their Poshmark side hustles into full-time jobs. 
Some, like Suzanne Canon, have branched out and started entire businesses based on their Poshmark success. 
Who Pays for Shipping on Poshmark?
Shipping on Poshmark is incredibly easy for sellers. The customer pays for shipping at the time of purchase. As soon as your item sells, Poshmark sends you a pre-paid USPS shipping label to print out and ship your item.
Poshmark also covers damages and lost mail, so there's no risk as a seller to use the pre-paid Poshmark labels.
What Sells Best on Poshmark?
According to the latest Poshmark trend report, here are the hottest sellers on the platform right now. 
Brands: 
lululemon athletica
Nike
Free People
J Crew
American Eagle
UGG
Michael Kors
Categories: 
Leggings
Sweatshirts and Hoodies
Sneakers
Skinny jeans
Ankle boots
Cardigans
Mini dresses
Upcoming Categories:
Wallets
Slippers
Rings
Gloves
Varsity Jackets
Robes
Cosmetic Bags
Poshmark publishes seasonal trend reports so sellers can stay up-to-date on the hottest selling trends of the moment and season.
How Getting Paid Works
Once you sell an item, you're probably wondering: how do I get paid from Poshmark? Poshmark will pay you via direct deposit or check within 3 days of delivery.
You won't receive payment as soon as you sell an item. You'll get paid 3 days after your customer receives the order.
Are There Poshmark Alternatives?
Poshmark is a great place for resellers, but it's not the only one. 
Here are some Poshmark alternatives if you want to try your hand at other reselling marketplaces. 
ThredUp
Mercari
DePop
eBay
Tradesy
Vinted
Facebook Marketplace
LetGo
Summary: Make Money Selling Clothes on Poshmark
As you now know, selling on Poshmark is super straightforward. However, becoming a successful and profitable seller will take time and experience! 
The good news is you can easily learn from the pros. And who knows, maybe you'll be the next top seller.
You can start selling on Poshmark immediately. Go through your closet and pick out the stuff you don't wear anymore, take great photos of them, and list them on the app today!
Want to learn step-by-step how I built my Niche Site Empire up to a full-time income?
Yes! I Love to Learn
Learn How I Built My Niche Site Empire to a Full-time Income
How to Pick the Right Keywords at the START, and avoid the losers
How to Scale and Outsource 90% of the Work, Allowing Your Empire to GROW Without You
How to Build a Site That Gets REAL TRAFFIC FROM GOOGLE (every. single. day.)
Subscribe to the Niche Pursuits Newsletter delivered with value 3X per week