Is Mercari Legit? We Investigated The Online Marketplace to Find Out
When you buy something through one of the links on our site, we may earn an affiliate commission.
If you want to buy and sell items using your phone, chances are that you may have already heard of Mercari. Boasting an easy-to-use platform that is more streamlined than sites like eBay, buyers and sellers alike flock to this app. However, it leaves many people wondering whether Mercari is legit and if it's safe to buy and sell here.
In this blog post, we'll cover whether Mercari is safe and worth your time. Sit back, relax, and learn more about the world of Mercari!
About Mercari
Mercari is an online marketplace like eBay that makes buying and selling simple, convenient, and fun. Launched in 2013, Mercari has become one of the fastest-growing marketplaces in the world, with millions of users in the US, UK, and Japan.
Mercari offers a wide range of products, from fashion and beauty to electronics and home goods (check out our full Mercari review here).
Unlike some marketplaces, Mercari does not charge sellers any listing fees. This makes Mercari an ideal platform for both buyers and sellers looking for a great deal.
So whether you're looking for your next fashion find or wanting to declutter your home, Mercari could be an excellent option for you.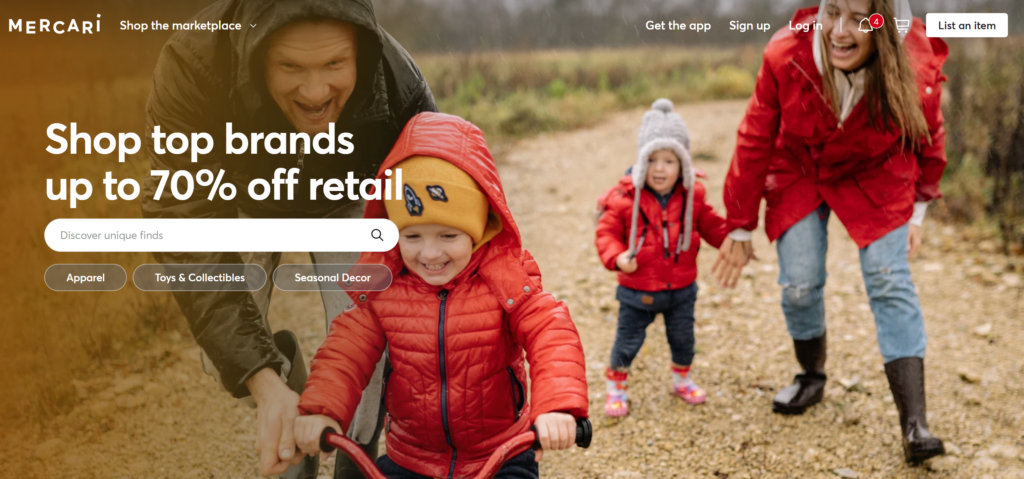 How Does Mercari Work?
Simply download the app, create an account, and start listing your items for sale.
Mercari takes a 10% commission on each sale.
Once you've listed your items, buyers can browse through your listings and purchase the items they want.
Payments are processed through Mercari, and you'll receive the money directly into your account. They also have some reduced-cost deals with shipping providers, so you can get your items shipped cheaply and quickly using Mercari's prepaid label.
Mercari's online marketplace makes it easy to declutter your home and make some extra cash at the same time!
Is Mercari Legit?
So, is Mercari reliable? Not only is Mercari a legit company with headquarters in Tokyo, Japan, but it is also a secure place to buy and sell items.
The company takes measures to protect users of its online platform, including offering buyer protection and secure payment methods.
In addition, Mercari offers customer support via its extensive help section on the website, which will route you through to personalized help if your question isn't covered.
If you're looking for a secure and easy way to buy or sell items, check out Mercari!
Mercari as a Seller
Mercari is one of the hottest online marketplaces, and for good reason - it's easy to use, convenient, and you can find just about anything on there. But what's it like to be a Mercari seller?
How much does it cost to sell on Mercari?
Like many other online marketplaces, there are no listing fees for selling items. Merari takes a 10% cut when an item sells, along with a 2.9% + $0.50 payment processing fee on completed transactions based on the final price.
Dispatch Options
When you sell on Mercari, you can buy their prepaid label and purchase insurance. We highly recommend using their prepaid label to ship items for its simplicity and guaranteed payment in case of loss or damage during transit.
If you choose to purchase insurance, you would need to file a claim with Mercari if your item is lost or damaged, and it's important to note that the insurance coverage is limited to a maximum value of $200.
How do you get paid on Mercari?
There are two options to cash out on Mercari:
Direct deposit to your bank account, which can take up to 5 days and is exempt from charges for $10 or over
Instant Pay, which is a same-day payment with a $2 flat fee
What do Mercari reviews from actual sellers say?
Mercari is a great way to declutter and make some extra money on the side. It's also a great place to find good deals on things you may be interested in. But what do those who use Mercari regularly think of it? We took a look at actual seller feedback to get an idea.
Mercari has a Trustpilot customer rating of 3.1 from over 18,000 reviews, which is "average", with 72% of reviewers giving a 4- or 5-star rating.
The reviews are mixed, with some people loving it and others hating it. However, based on our findings, it seems Mercari is generally a positive experience for those who take the time to fully understand how it works.

Some negative seller reviews mention there is no opportunity to respond to a buyer claim that the item received wasn't as described. Others mention being charged unexpected processing fees.
But overall, most users seem to enjoy using Mercari, leave positive reviews, and would recommend it to others.
Mercari as a Buyer
For buyers, Mercari offers a great way to find deals on gently used items.
Can you get your money back from Mercari?
Mercari does not release payment until the buyer confirms that they have received the item and it is as described in the listing. If the buyer receives an item that is not as described, they have 3 days to request a full refund.
What do Mercari reviews from actual shoppers say?
Mercari is a great way to get rid of stuff you don't want anymore, and it's also a great way to make some extra money. But what do Mercari reviews from buyers say?
It turns out that most people are happy customers who have had positive experiences, but there are a few complaints.
The most common complaints are that the item was not as described in the listing or that the buyer never received the item at all. Overall, though, people seem to be happy with their Mercari purchases.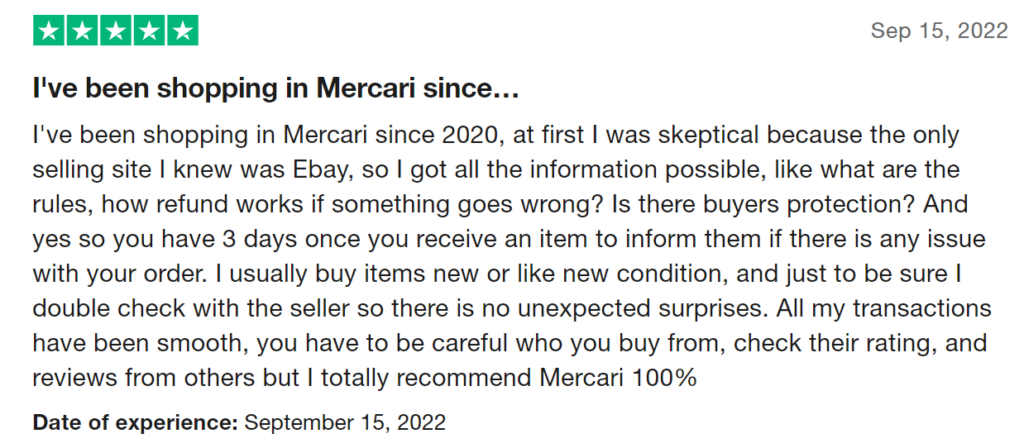 Mercari Alternatives
Mercari is one of the most popular selling apps, but it's not the only platform out there. If you're looking for Mercari alternatives, there are multiple marketplaces that are worth considering for buying and selling. 
Tradesy
If you're looking for alternatives to Mercari, Tradesy is a great option. Tradesy specializes in designer fashion, so if you're looking for high-end brands like Louis Vuitton or Gucci, Tradesy is definitely worth checking out. 
Poshmark
Mercari is a great place to buy and sell used items, but Poshmark is another reliable platform and a great choice if you're looking to buy or sell new or gently used clothing and accessories. The platform is easy to use and perfect for finding good deals on fashion items, homewares, electronics, and more. Plus, there's a community aspect to Poshmark that makes it fun and engaging (check out our article with more details on how to sell on Poshmark).
If you're looking for the best Mercari alternative, then Poshmark is definitely worth checking out!
ThredUP
Secondhand clothing has come a long way in recent years. No longer confined to dusty thrift stores and musty attics, used clothing is now chic, stylish, and affordable. Thanks to online consignment stores like ThredUP, it's easier than ever to find gently-worn clothes that fit both your budget and your sense of style.
Whether you're looking for a new party dress or a pair of jeans that won't break the bank, ThredUP is a great place to start your search.

Summary
Yes, Mercari is legit, with lots of great deals. But as with other platforms, common sense dictates that if something looks too good to be true on Mercari, it probably is.
So, if a high-demand item is being sold for less than the retail price, it's important to be cautious. Do some research and due diligence on the seller's profile before making a purchase to trade safely and steer clear of common Mercari scams.
Although there is a profile verification system in place to prevent scammers from creating Mercari accounts, sometimes accounts get hacked.
That said, selling on Mercari is a great option if you're looking to declutter and make some extra cash. It's easy to use, and there are no listing fees. With Mercari, you can sell your unwanted items online with just a few clicks and use the money to buy what you really want.
So why not declutter your life and trade in your old stuff for something new? Mercari is simple and profitable, so it may surprise you!
Want to learn step-by-step how I built my Niche Site Empire up to a full-time income?
Yes! I Love to Learn
Learn How I Built My Niche Site Empire to a Full-time Income
How to Pick the Right Keywords at the START, and avoid the losers
How to Scale and Outsource 90% of the Work, Allowing Your Empire to GROW Without You
How to Build a Site That Gets REAL TRAFFIC FROM GOOGLE (every. single. day.)
Subscribe to the Niche Pursuits Newsletter delivered with value 3X per week