Thrive Architect vs Elementor: Which Page Builder Comes Out on Top?
When you buy something through one of the links on our site, we may earn an affiliate commission.
If you're considering Thrive Architect vs Elementor for your WordPress website, then you're doing yourself a huge favor!
Why?
Well, there's a reason why these are two of the most popular page builders available for WordPress: They're both top-notch solutions to build stunning websites without having to code or even learn the backend of WordPress!
In this post, I'm going to delve into the details and compare Thrive Architect vs Elementor.
In the end, I think you'll see that both of them are worthwhile – the question we really need to answer is, which of the two page builders is the better choice for your online business?
Let's find out!
Give Thrive Architect a Try
OR
Try Elementor for FREE!
---
What is a Visual Page Builder?
Forgive me if you're already familiar with visual page builders – if you are, you can totally skip to the next section of our Thrive Architect vs Elementor review!
For everyone else, the idea behind a visual page builder is that you're able to make changes to the front end of your WordPress site in real-time – without having to write ANY code!
Basically, these editors allow you to see exactly how your page or post will look to your visitors as you're building it. And behind the scenes, it's generating all the code FOR you, making web designers of all of us.
Pretty convenient!
I have nothing against professional coding, but I personally don't have the time or money to go with a hand-coded website these days. It's just not needed! These page builders help you avoid a lot of redundancy in terms of development time for features like opt-in forms and buttons – and the end product is definitely high-quality enough for most of us.
In my opinion, if you're an affiliate marketer or content site owner, the Thrive Architect or Elementor WordPress will be the perfect way to get a professional-grade website going in a fraction of the time for your online business!
What is Thrive Architect?
The first page builder we're looking at in this post is Thrive Architect, a WordPress plugin included with the Thrive Themes suite. Formerly known as Thrive Content Builder, this popular tool is also available as a standalone plugin – you can purchase a single lifetime license of Thrive Architect for a one-time fee of just $67.
(You can also get access to Thrive Architect as part of the full Thrive Themes membership for $19/mo.)
Here's why Thrive Architect might be the better choice for your online business: it's designed from the ground up for marketing and conversions. As important as it is to have a nice-looking website, the whole point of building a website is to support your business.
Here are some of the conversion-focused features of Thrive Architect:
Make sales directly with an ecommerce store
Get opt-ins for your email list
Encourage visitors to contact you (ie for a sales call)
Earn social media shares
Receive a review or customer feedback
Build up engagement through reader comments
Get clicks on your affiliate links
All of these goals (and more!) are measurable with conversions. Fortunately, Thrive Themes is billed as a "conversion-focused WordPress theme and plugin" suite. If you get Thrive Architect as part of your Thrive Themes membership, you'll also get access to a suite of other valuable plugins like Thrive Leads, Thrive Quiz Builder, Thrive Theme Builder, Thrive Ultimatum, Thrive Apprentice, and more!
Remember, your conversions depend on how you present your content, and Thrive is specifically built to help you do this in a way where you achieve your website goals.
This is true for your main pages, and the same thing applies to your blog posts. If you're getting organic traffic, you want your blog content to look as appealing as possible. The last thing anyone wants is questionable design to keep visitors from sticking around, engaging with your content, and converting.
Thrive Architect offers a series of customizable conversion elements – both landing page templates and specific sections called blocks. These streamline the process of creating content that converts!
Thrive Architect also features native integration with a ton of top marketing tools and platforms out there, from Constant Contact to Google to SendOwl. It specifically integrates with all major email marketing and webinar providers.
You can learn more about in our full Thrive Architect review. If you're ready to give it a try, check out Thrive Architect right here.
Give Thrive Architect a Try
What is Elementor?
Our second option is the popular drag-and-drop page builder Elementor, a WordPress plugin with both free and paid versions that have become hugely successful in just a couple of years!
Unlike Thrive Architect, which is associated with an entire theme of its own, Elementor WordPress page builder is only offered as a plugin, not a theme. This means that, as good as Elementor is, you'll still need to find a theme to go with it. I'll go into that more later in this post.
One huge element in favor of Elementor page builder is that it offers a FREE version, which is completely unlimited. You can use it on as many sites as you want, and it's totally professional – I'll admit, it's hard to beat being able to make a beautiful and responsive website without paying a dime for your page builder.
Yer while the free version of Elementor is solid, it lacks the features you'd get with Thrive Architect. That's why, for the purposes of this comparison, I'll be focusing on Elementor Pro.
The pro version of Elementor includes a lot of the premium elements you would need for conversions, including the price list, reviews, flip box, forms, and login.
Elementor Pro is available in multiple plans: Personal, Plus, and Expert. But don't let that throw you! The only difference between them is how many sites you can install Elementor Pro on: one, three, and 1000, respectively.
If you want to learn more about Elementor, check out our full Elementor review. Or are you interested in giving Elementor a go? Try Elementor for free! 
Test Drive Elementor for free!
Thrive Architect vs Elementor: A Quick Overview
Before we get too deep into the weeds with these page builder plugins, I want to provide a quick overview so you understand how they stack up.
First, I've put together this head-to-head feature comparison chart for Thrive Architect vs Elementor. This should give you a sense of what they both offer at a glance!
| | | |
| --- | --- | --- |
| | THRIVE ARCHITECT | ELEMENTOR PRO |
| Free Version | No | Yes |
| Pricing | $67 for a single license (lifetime) | $49 for a single license (per year) |
| One-time fee option | Yes, with lifetime updates included | No, requires ongoing subscription |
| Multi-site Use | Yes, with multi-license purchase or a Thrive Themes subscription | Yes, 3 or 1,000 sites with the more expensive Plus or Expert plans |
| Visual Builder | Yes | Yes |
| Inline Editing | Yes | Yes |
| Easy to Use | Yes | Yes, but has a learning curve |
| Theme Builder | Not as of this writing | Yes |
| Built-in A/B Testing | Yes | No |
| Third-party module support | No | Yes |
| Education | Yes, Thrive University | Yes, an Elementor wiki |
| Free Trial | No, but there's a 30-day money back guarantee – Try Thrive here! | Not for Pro option, but FREE version is unlimited – Try Elementor here! |
Okay, so what's the takeaway so far? Well, in terms of pricing:
Elementor Free < Elementor Pro for 1 year < Thrive Architect for life < Elementor Pro for 1+ years
That's not the end of the story, though! You're potentially missing out on all that Thrive Architect has to offer if you don't grab some of the other premium plugins in the Thrive family. These plugins extend the functionality to include opt-in forms, quizzes, timed campaigns, online courses, and more.
The value of Thrive Themes as a whole is that these plugins are designed to work with each other, so it's less of a patchwork than you might get with Elementor, plus a bunch of additional third-party solutions.
Of course, almost any WordPress site will have extra plugins from outside its theme, so this isn't necessarily a problem – but you might run into fewer issues with Thrive Themes, particularly if your focus is on building sales funnels and increasing conversions. And to be fair, if we're just comparing Thrive Architect itself (not Thrive Themes) to Elementor Pro, a lot of those additional features aren't there.
As for Elementor, it's a little more broad in its application. Its builder is supposed to be versatile enough for doing pretty much everything. In fact, you can use Elementor Canvas to build special pages like landing pages, coming soon pages, and anything where you need to customize the design of the whole page.
I'll go deeper into the features, but aside from price, this might come down to whether you need a conversion-focused theme/plugin, or an easy-to-use plugin for a broader content site.
Thrive Architect Features
Thrive Architect is a great WordPress page builder plugin! To get started, it's as simple as downloading the plugin from the member dashboard, uploading it to your site by hitting "Add New" under plugins, and activating your license key.
Once you get it all set up, Thrive Architect is easy to use right out of the box. If you have any experience with Elementor, you might notice some similarities in how the process works – but technically, Thrive Architect came out first!
Drag and Drop Elements
In the Thrive Architect user interface, you can just drag an element from the Editor Sidebar to the center of the page with just a few clicks. Your two content options are:
Foundations. The foundation elements are your most basic ones, such as text, buttons, and images.
Building Blocks. Building block elements consists of the more advanced ones, such as tables, countdown, progress bar, and testimonials.
It's also possible to "pin" your favorite element to the top of the Editor Sidebar.
In terms of building pages in Thrive Architect, all you have to do is grab an element from the sidebar and drag it to the center of the page.
There are multiple drop zones above and below or to the side of an element you've placed, which makes it easy to create columns by just dropping a new element there. You can also directly resize columns on your page to get the exact look you want.
Content Block Templates
One of the coolest features in Thrive is the Content Block templates.
Technically its own element, the Content Block, is a handy design feature that makes it easy to customize your page for a truly professional look.
You have some great Blocks to choose from, such as Pros and Cons, Steps, Quote, Call to Action, and Product Rating. These are handy for all types of pages and blog posts!
Thrive Landing Pages
In addition to Blocks for your existing pages, Thrive Architect comes with more than 300 landing page templates, all professionally designed with conversions in mind!
Remember that every element on your page is serving some kind of function, whether you know it or not – so Thrive Architect's landing pages streamline the process of organizing your elements and writing copy to achieve your goals. You'll be able to access these layouts for different types of pages, such as the home page, confirmation page, download page, and landing pages.
In addition to these templates, Thrive Architect makes it easy to connect your particular email marketing service to your website through the API, which allows you to set up email forms directly within WordPress.
Thrive Themes Membership
It's impossible to talk about Thrive Architect without touching on its whole happy family of plugins.
The full Thrive Themes membership costs just $19/mo and comes with several additional premium plugins to expand your website's functionality, including:
Thrive Leads – Build professional opt-in forms to grow your email list.
Thrive Ultimatum – Create evergreen countdown campaigns to boost your sales.
Thrive Quiz Builder – Make quizzes to survey your target audience and increase engagement.
These all work beautifully with Thrive Architect to help you achieve your business goals. Even better, there are several more quality plugins included with Thrive Themes.
And if you don't need all of them, you can always just purchase the specific plugins you want for a one-time fee, like with Thrive Architect!
Want to find out all there is to know? Check out our full Thrive Themes review – or give the Thrive Themes membership a try today!
Check out Thrive Themes membership!
Elementor Features
Like Thrive Architect, Elementor is a page builder plugin that's compatible with pretty much any theme. Unlike Thrive, however, Elementor doesn't have an accompanying theme of its own.
This means you can – and should – find another quality WordPress theme to go with it. We like Astra Theme, a WordPress theme with both free and paid versions that were built to work well with page builders like Elementor.
With that said, let's take a look at some of Elementor's features so you can see how it works!
The Sidebar
If you just got through reading about Thrive Architect, this will look familiar!
Let's just say, you're going to be looking to the left a lot with Elementor – like with Thrive, there's a permanent sidebar affixed there with all your page builder elements.
This sidebar is where you get access to your different elements, adjust your styles, and more.
Main Page
If the sidebar is your toolbox, the main page is where your project comes to life. You can either drag a widget right to the section, hit the folder button to load a template, or hit the + button to create a new section.
Each section can be subdivided into one or more columns of various widths, so Elementor has you pick the structure that works best.
Once you've chosen the structure for a section, you'll have a bunch of blank columns that you can add your widgets to and start creating content for the page.
As a reminder, this is how content is broken down in Elementor:
Sections. Containers for columns and widgets.
Columns. Sections that contain widgets.
Widgets. The individual elements for page content, like text, buttons, icon lists, and Google Maps (see Google Maps SEO).
As simple as all of that may seem, it's really ALL you need to start making your website! Everything else increases your customization options, but even Elementor Free gives you a lot to work with.
Elementor Templates
Ready to kick things up a notch?
Elementor comes with over 150 professional page layouts, so you'll pretty much never have to start building a page from scratch if you don't want to!
It also comes with blocks that you can insert onto your existing pages, such as Price, FAQS, Testimonials, and Footers. Best of all, Elementor is great about letting you save your work as a "global element" (at least with Pro), which means you can easily access your saved Blocks for use on other pages.
Elementor Theme Builder
Elementor has a powerful feature called the Theme Builder. It's only available in the paid version, and as of this writing, there isn't a comparable theme builder feature in Thrive.
So, what does the theme builder do? Basically, if you want a totally custom page that stands apart from your theme, it's a lot easier to make it. You have an easy way to visually customize elements like headers, footers, posts, and archive pages.
The theme builder also introduces dynamic content as an option – basically, you can use this to change content on the fly. Rather than using a static image element, for example, you can add a dynamic image element that can be placed wherever you want, and it will change based on conditions you set.
The theme builder is definitely a standout feature in Elementor Pro. Between Elementor's page builder and its theme builder (check out Divi vs Elementor), you have more flexibility than ever before to make a custom website without a single line of code!
Try Elementor for FREE!
Thrive Architect vs Elementor Pricing
Thrive Architect Pricing
Okay, bear with me here… There are a few different ways you can get Thrive Architect onto your WordPress website.
First of all, Thrive Architect is a standalone plugin that you can purchase directly. It's sold in units of one, five, or fifteen licenses, with a one-time payment that gives you both lifetime access and lifetime free updates.
However, you have another option entirely. Rather than buying the Thrive Architect page builder a la carte as a plugin, you can purchase a monthly subscription to Thrive Themes for $19/mo. This gets you not just Thrive Architect but more than a dozen other premium plugins at the same time!
The Thrive Themes membership page looks like this:
When you pay annually, you get an affordable monthly price of $19 for an individual (or $49/mo for an agency, which lets you use Thrive for up to 50 of yours and your clients' websites).
Which option is right for you? If you're a die-hard fan of the Thrive suite of tools, I think you're going to get more mileage out of a full Thrive membership. I know it's tempting to pay for Thrive Architect plugin once and be done with it – especially considering a Thrive suite membership will surpass the cost of a single Thrive Architect plugin license after just four months – but there's so much more functionality to be gained with all of the other Thrive tools.
For a motivated online marketer or entrepreneur, the Thrive suite of tools is one of the best values on the web, hands-down.
Elementor Pricing
In case you forgot, yes, Elementor offers a FREE version of its visual builder that comes with pretty much any feature you need to make your website.
If you spring for Elementor Pro, you get a bunch of handy premium features – such as a theme builder or global elements. These make your website more effective, but especially when you're first starting out, it might be worth it to skip Pro until you find yourself really missing those extras!
On the other hand, if you want something that stacks up against Thrive Architect, Elementor Pro really does have a lot to offer.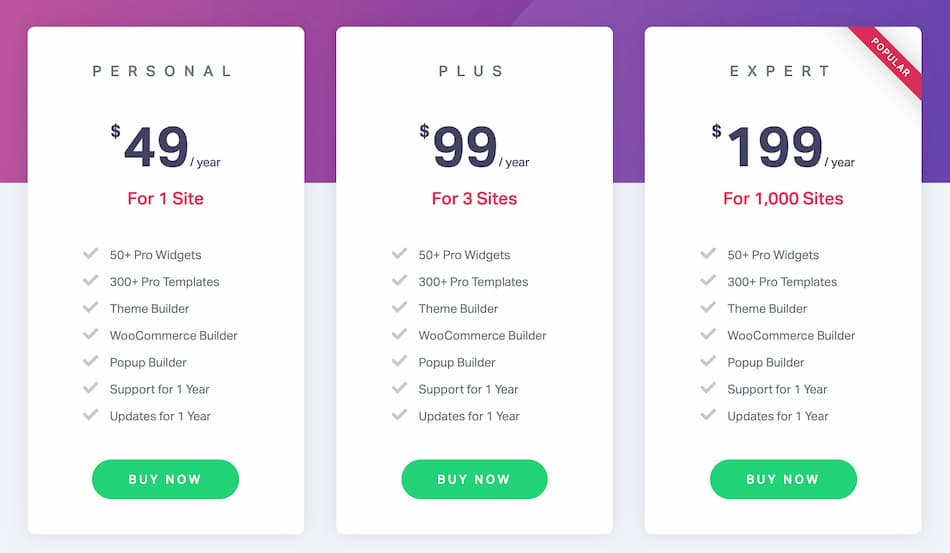 In terms of the paid versions of Elementor Pro, the plans offer all the same features. Your only difference is how many licenses you're purchasing at once.
With Personal, you get access to Elementor Pro for $49 per year.
With Plus, you get access to Elementor Pro on 3 sites for $99 per year.
And on Expert, you get access to Elementor Pro on a whopping 1000 sites (whoa!) for $199 per year.
Which one is right for you? I wouldn't opt for the Expert plan unless you have a TON of website projects planned. Realistically, Plus is probably the best value for most of us, but only if you're looking to build and maintain more than one website with Elementor Pro within the next year.
Thrive Architect Pros and Cons
Thrive Architect is an awesome WordPress page builder, especially if you consider yourself a marketer or niche pursuer!
There are a lot of page builders out there, but Thrive Architect is unique among them with its clear focus on conversions. This is nothing to scoff at, because in addition to creating professional-looking pages, the builder also comes with more than 100 templates to pick from that were designed for a high conversion rate!
Basically, without having to figure out all the user experience and conversion rate optimization stuff from scratch, you can swap out your content for a head start. It's truly a HUGE benefit to have proven templates and a bunch of drag-and-drop elements that were deliberately provided to help you get more conversions.
PROS
Highly intuitive page builder tool
Conversion-focused page templates and blocks
Advanced marketing features are built-in
Attractive pricing options (either $67 for lifetime or $20/mo as part of full Thrive membership)
Plays nicely with the rest of the tools in the Thrive Themes suite
CONS
There is no free version or free trial available
Customer support is only included for the first year – it requires a nominal fee to renew support each year
Doesn't include blog templates yet
Elementor Pros and Cons
Why would you choose Elementor?
Well, first of all, free is free! If you're not looking to spend a lot right now, you're not going to find a better free WordPress page builder plugin on the market than Elementor. They do hold back quite a few useful features for the Pro version, as you might expect, but you're not missing anything you absolutely NEED with Elementor Free.
As far as the Pro version? Once you go with Elementor Pro, you've unlocked access to one of the most flexible and feature-packed page builders available. There's virtually nothing you can't do here, thanks to Elementor's theme builder, dynamic content, and a whole host of premium widgets.
It's probably worth considering Elementor unless you're sure you'll want a lot of the marketing-centric features in Thrive Architect!
Elementor PROS
You can use the free version forever
Fairly user friendly and very versatile
Pro version packs valuable features like a theme builder and premium widgets
It's hard to beat the value of the Personal plan at $49/yr
Lightweight builder that maximizes site speed
Compatible with most WordPress themes
Elementor CONS
Customer support doesn't offer live chat or phone options
The free version is missing some fundamental quality-of-life features found in Pro, especially global elements
Third party modules can be nice, but may cause issues
A little harder to use than Thrive Architect
Thrive Architect vs Elementor Wrap-up
So, did you get all of that? I hope so!
Obviously, Thrive Architect and Elementor are both fantastic page builders with reliable customer support, intuitive tools, and tons of great features. But unfortunately, you can't really have BOTH of them on your website, so now is when we have to make a tough choice between Thrive Architect vs Elementor! (Technically, you could install both, but it's both cheaper and less confusing to pick just one.)
I would say that price is probably Elementor's best and worst feature. As nice as the free version is, it's not going to compare to Thrive Architect in terms of functionality. And once you go Pro, it doesn't take very long for Elementor's $49/yr price to overtake the one-time $67 payment for lifetime access to Thrive Architect.
And what if you intend to manage more than one website? Elementor's $199/yr plan doesn't hold a candle to Thrive's lifetime 15-license pack of Thrive Architect for a one-time payment of $147 – unless you're planning to run WAY more than 15 websites!
If you need my bottom line, I'd definitely suggest Thrive Architect or the full Thrive Themes membership, because Thrive Architect makes a more professional tool for anyone with a focus on marketing and e-commerce. That's what Thrive Architect was specifically made for, so why would you want to reinvent the wheel with Elementor?
Give Thrive Architect a Try
With that said, you may not be the ideal customer for Thrive. Here's my set of recommendations, broken down based on where you might be at in your online journey.
A Newbie Looking to Just Get Started
The free version of Elementor is the right page builder for you if you're still new to the e-commerce space and trying to get your sea legs. You'll have enough functionality to get your hands dirty, and if you ever need more, you can hunt down third-party plugins, upgrade to Elementor Pro, or make the switch to Thrive Architect.
An Intermediate Marketer Looking for the Next Step
Elementor Pro would be a better page builder if you're not quite sure where your project is headed just yet, but you're determined to see it come to fruition – you can get a year of professional features for just $49. That'll give you enough time to decide if you like Elementor Pro, while also making progress on your business and seeing where it's at before it's time to decide which tool you'll use in a year.
A Pro Looking for Ecommerce Functionality
If you're looking for the MOST value for your money as a professional marketer, either go with Thrive Architect as a one-time purchase or grab an ongoing Thrive Themes membership to access the full Thrive suite of products. You're going to get a LOT of value there for your online business – not only do these tools all work together, but they're an affordable way to get an incredible amount of functionality for virtually any type of content or e-commerce site you want to build. Plus, your membership continues to get more valuable as Thrive Themes adds new templates and features!
Do you agree with my verdict? Why or why not? Let me know in the comments!
Want to learn step-by-step how I built my Niche Site Empire up to a full-time income?
Yes! I Love to Learn
Learn How I Built My Niche Site Empire to a Full-time Income
How to Pick the Right Keywords at the START, and avoid the losers
How to Scale and Outsource 90% of the Work, Allowing Your Empire to GROW Without You
How to Build a Site That Gets REAL TRAFFIC FROM GOOGLE (every. single. day.)
Subscribe to the Niche Pursuits Newsletter delivered with value 3X per week