Divi vs Elementor (Which WordPress Page Builder Is Best For You?)
When you buy something through one of the links on our site, we may earn an affiliate commission.
David vs Goliath. Yankees vs Red Sox. Divi vs Elementor.
Some rivalries are as old as time itself. In the world of WordPress page builders though, two reign supreme: Divi and Elementor.
Both claim to make your life easier by providing a visual interface to design websites.
They both claim to be quick and search engine-friendly.
Both of them also have their legions of devoted fans, claiming that their page builder is the best.
But, objectively speaking, which one of them is actually the better option?
Although the ultimate answer to that question will depend on the individual, there are certain advantages that each one has over the other.
What are Page Builders?
Just like the name implies, a "page builder" is an application that allows an end user to build out a website. You can build an entire website, individual pages, or certain sections in a fraction of the time it would take you to accomplish the same thing via code.
Before page builders came around, web developers usually needed years of experience learning how to manipulate HTML/CSS applications. The process was long and arduous and, most importantly, required a huge learning curve.
Most page builders utilize a drag-and-drop functionality that lets you add images and text in minutes. You can also take advantage of pre-built templates, which shorten the development time even more.
Do I Need a Page Builder?
To be fair, not everyone will use a page builder plugin. Purists will insist that the only way to have real control over your website is to forget using WordPress page builders and build the entire thing by hand.
Full-stack developers are able to create magnificent websites that are also functional and fast. For those people, page builder plugins offer an unnecessary shortcut.
For the rest of us, though, these frameworks are a lifesaver. Here's why.
Cheap
Compared to using a professional designer, the cost involved in using a page builder is minimal, at best (and if you're interested, check out these minimalist WordPress themes). With the exception of subscription fees, page builder plugins cost you virtually nothing to use.
There may be extra costs associated with certain premium plugins, but those aren't required in order to develop a good WordPress theme for your site.
Along with the cost of developing the website comes maintenance (and we have a full guide to website maintenance cost if you're interested). WordPress developers can cost anywhere from $30-$200 an hour. If you can create your own website — while learning the ins and outs of the page builder plugin — you can work on your own site for free.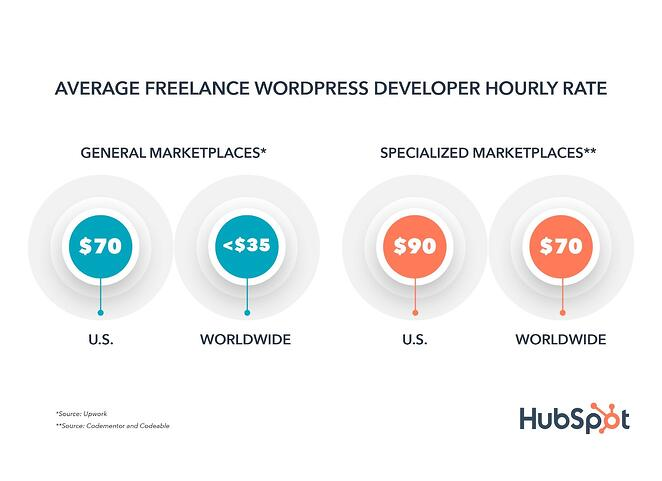 Additionally, most page builders have a slew of free templates for you to use. While you may have to pay for commercial-free images and copywriting services, the bulk of the website can be modified for nothing.
Flexible
One of the biggest hurdles when it comes to developing a website from scratch is the lack of customization. Once the site is built, it requires going in and changing the code line-by-line to make it look the way you want.
This usually isn't a problem if you're making wholesale changes to a site, but adding other things like contact forms and pop-ups can be frustrating.
With a page builder, you simply add a block and make it look how you want. No need to add custom CSS for what should be a two-minute job.
Furthermore, if you do need to make changes to your website — such as updating staff photos or changing your location — you simply log into the page builder and make the change.
Fast
When you factor in the amount of time it takes to learn how to code websites, as well as actually designing one, the lead time for a regular site is months, at least.
With a page builder, you could theoretically turn around a single-page, static website in less than three hours.
This is a gold mine for affiliate marketers who want to create a portfolio of niche websites. It also helps agencies who want to cut down on man hours and increase the quantity of their workload.
Since many website builders also come equipped with a lot of functionality built-in, even if you do have a regular WordPress website, you don't have to install so many plugins.
The level of quality on sites built with page builder plugins is on par with some professional designs. If you matched up a dozen side-by-side, you'd be hard-pressed to tell the difference. The only difference is one was built in a fraction of the time as the other one.
What Do I Need to Consider in a Page Builder?
Not all page builder plugins are created equal, though. While they all promise to revolutionize your agency operations, it's worth doing research on each one to determine which one is right for you.
The two options that we'll be discussing in this article are Elementor and Divi, but there are several more to investigate. If you do decide to look into other options, there are a few things to look at, specifically.
Ease of use
What's easy for one user isn't necessarily easy for the other one. Look for one that has the drag-and-drop feature, as well as an editing tool where you can make quick changes.
Look inside the interface of each visual builder as well. Is it intuitive, or will you need to spend several hours watching videos just to learn how to move a text block?
Are you able to upload the type of images and resources you want, or will you have to pay for additional functionality?
Ability to Scale
Some page builder plugins will have caps on the amount of websites that you can build under a specific license. Some may offer unlimited websites, while others may only let you build a few hundred.
This shouldn't matter too much if you're an independent website builder that just builds a few a year, but if you're an agency, that number can fill up in a hurry (and you may be interested in checking out these AI website builders). Check the fine print to see if it's worth it on a per-site basis.
Also, look into the availability of templates. Both Elementor and Divi have hundreds of templates for you to choose from, so it's unlikely you'll have to repeat the same theme multiple times.
If you choose a page builder that doesn't have many options though, you'll have to increase the customization level to make each site look different than the previous one.
SEO-Ready
While website builders can be fantastic to work with to design a great-looking website, ultimately, you want to rank. That means that before you decide on one page builder or another, you need to look at its built-in SEO features.
Make sure that whatever page builder you select has sections where you can adjust the page's meta description, URL, and tags.
While you can always use a plugin to modify these later, there could be a disagreement between the page builder and the plugin. It's always better if some of these features are built-in beforehand.
Divi Vs Elementor Introductions
Now that the preliminary information is out of the way let's dive into these two well-respected page builder plugin options.
Divi Builder and Elementor are very similar in a lot of respects, and truthfully, you can't really go wrong with either one. Ultimately, it boils down to comfort level, so after reading this article, pick one that you think works best for you and commit.
Divi Introduction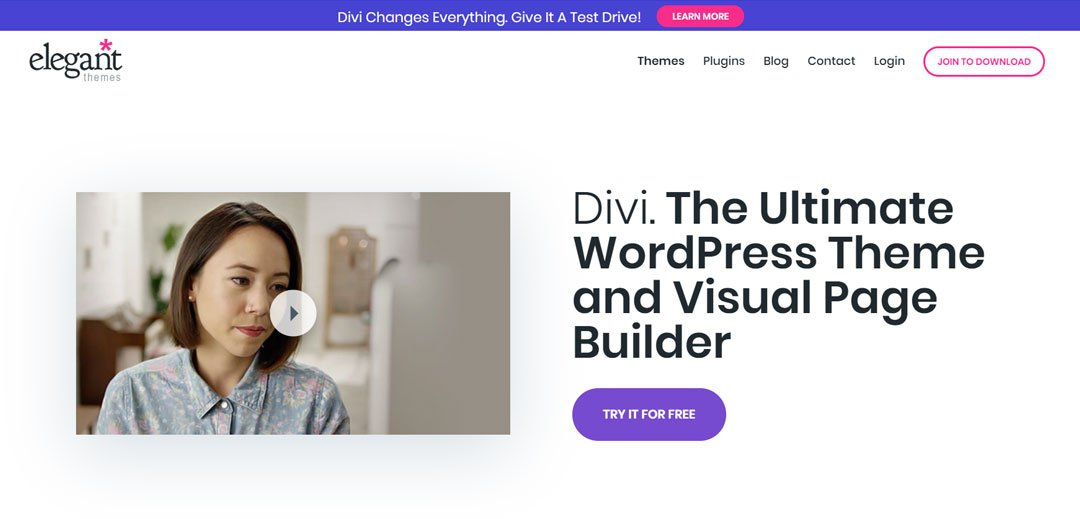 Built in 2008 by Elegant Themes, Divi claims to be the most popular page builder on the market today. With over 700,000 customers (not websites), Divi certainly is a popular choice for those who want a cost-efficient way to grow their website business.
Divi Builder is currently on the fourth iteration of their trademark software (Divi 4.0), and offers a subscription-based pricing structure. If you want, Divi also sells a lifetime license, which includes all upgrades.
Elementor Introduction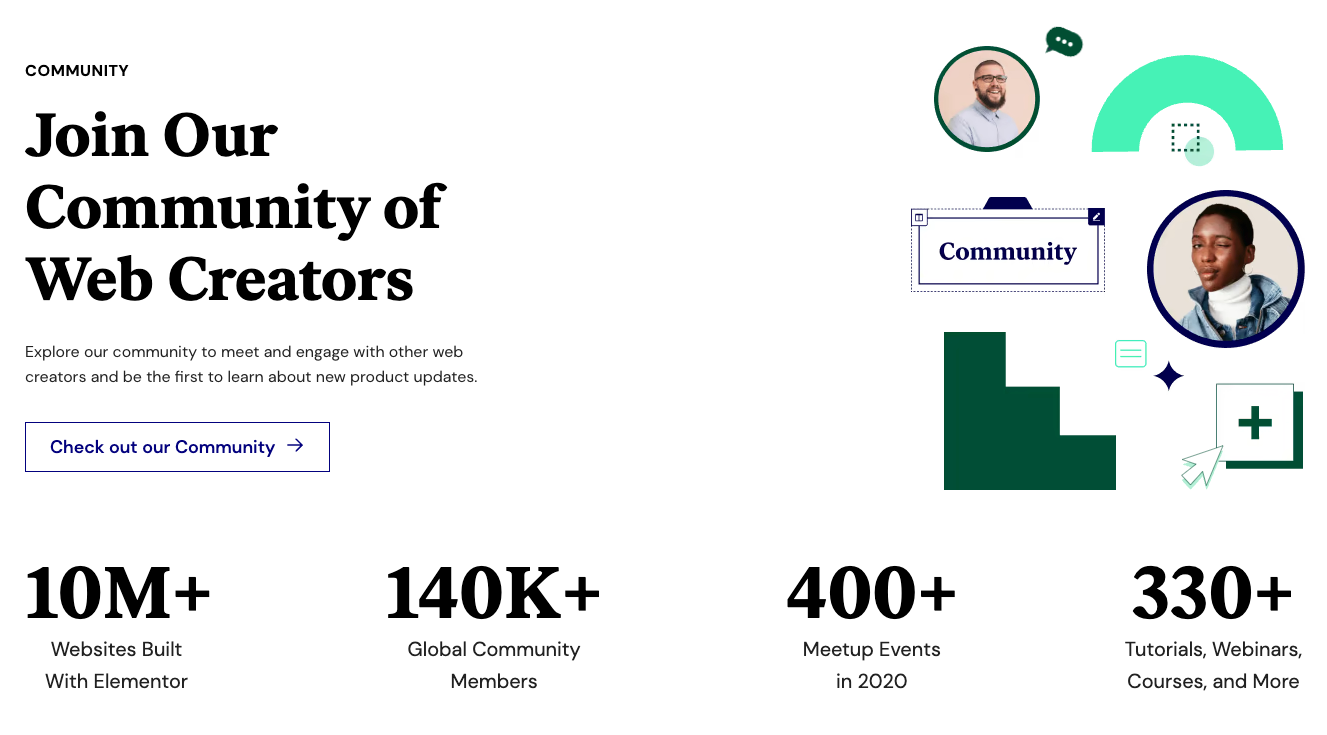 A relative newcomer when it comes to page builders, Elementor was created in 2016 to cater to both designers and developers. It tries to marry robust development software with a design aesthetic that can be appreciated by everyone.
The fact that it's less than 10 years old doesn't mean it's not widely used. Over 10 million websites have been built with Elementor, and more than 300 tutorials have been created to walk users through its software.
It boasts an extremely active community that encourages development and tests new features.
Divi vs Elementor Feature List
Trying to enumerate the differences between these two page builder plugin options is like trying to decide on your favorite flavor of vanilla ice cream. There are minor nuances that separate the two, but also a ton of overlap.
For instance, both Elementor and Divi utilize a drag-and-drop visual builder (discussed below). Both of them also have responsive design settings, which means that you can adjust how the page will look on desktop and mobile devices.
You can also create individual modules that can be mapped across your current site and other sites. This is especially handy if you work inside of a single niche and want to create similar elements.
So, if there are so many similarities, what are the differences?
Divi Features
There are two major features that set Divi apart from Elementor.
The first is its built-in A/B testing on modules within the website itself. If you're unsure about which type of helmet would work better in a given location, you can set A/B testing to show different versions of the module to different users.
Over time, you'll be able to decide which one works better for your website and set it accordingly.
The second is role editors for certain users. If you only want an individual, such as a designer or developer, to be able to control certain parts of your website, you can disable the rest of the website for them.
This is particularly handy for site owners who hire out development help from time to time. As intuitive as Divi is, you'll invariably want somebody to make tweaks here and there. Creating a single permission level for developers gives you peace of mind.
Check Out Divi
Elementor features
In addition to the aforementioned features common to both, Elementor users enjoy an increased level of efficient customization on their sites. Not only are you able to add SVG shapes anywhere on your website, but you can also embed shortcodes and widgets anywhere as well.
One of the biggest advantages over Divi is the ability to create custom pop-ups in the visual editor. Instead of adding a separate plugin, Elementor gives you the option to create email opt-ins, CTAs, and login forms for your website with ease.
Divi offers something similar called Bloom, but it's not technically drag-and-drop, so it's a little more cumbersome to work with.
The feature that users of Elementor love the most is its clean code. Elementor sites are much more lightweight than other page builder plugin options and, perhaps just as importantly, don't automatically fail once the Elementor plugin is disabled.
Once you build it, it's mostly there regardless of what happens.
Check Out Elementor
Divi vs Elementor Visual Builder
We can talk about all the native features we want, but the rubber really meets the road in each platform's visual builder. For many website developers, this is usually the only thing that matters.
Divi Builder Interface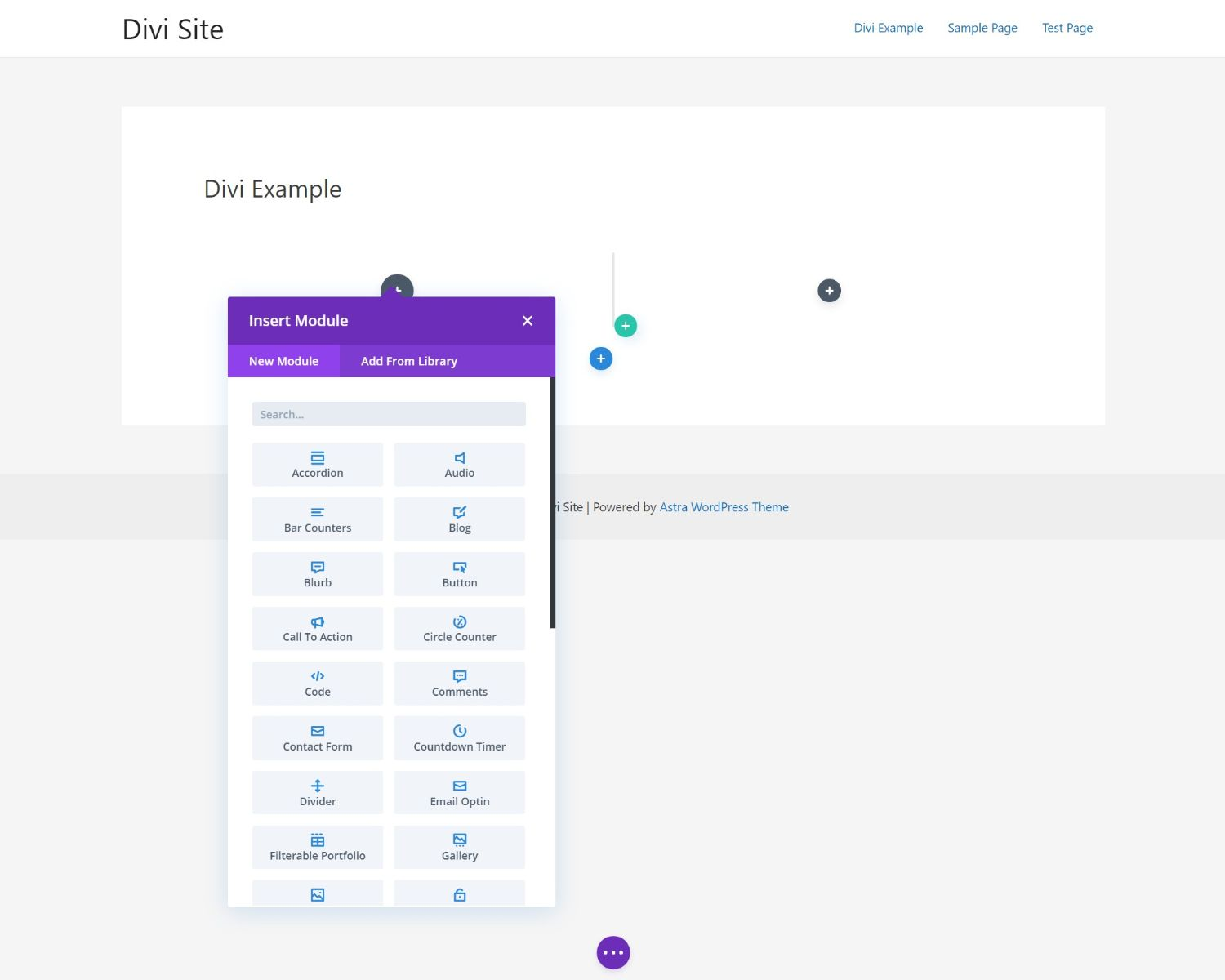 Divi is unique in that it doesn't just offer one visual builder but two. The first is located inside the WordPress page editor itself. It utilizes a "stack" design, which allows you to build blocks on top of each other and lay out the structure of the page.
The second is the visual editor on Divi's front end. Like Elementor, Divi's visual editor is a "live" interface, which means that the page itself is adjusted as you make the changes. To cement these new positions in place, just click submit.
Divi's visual editor is full-screen; in order to change a module, you have to tap on the module and then edit it manually. If you want, you can create a fixed editor on the left side of the page. This makes it slightly more organized.
To populate your webpage, you have nearly 50 modules to choose from: image, text box, heading, and forms, among others. All of these can be customized (to a certain degree) and dragged across the screen where you would like them to be.
Elementor Builder Interface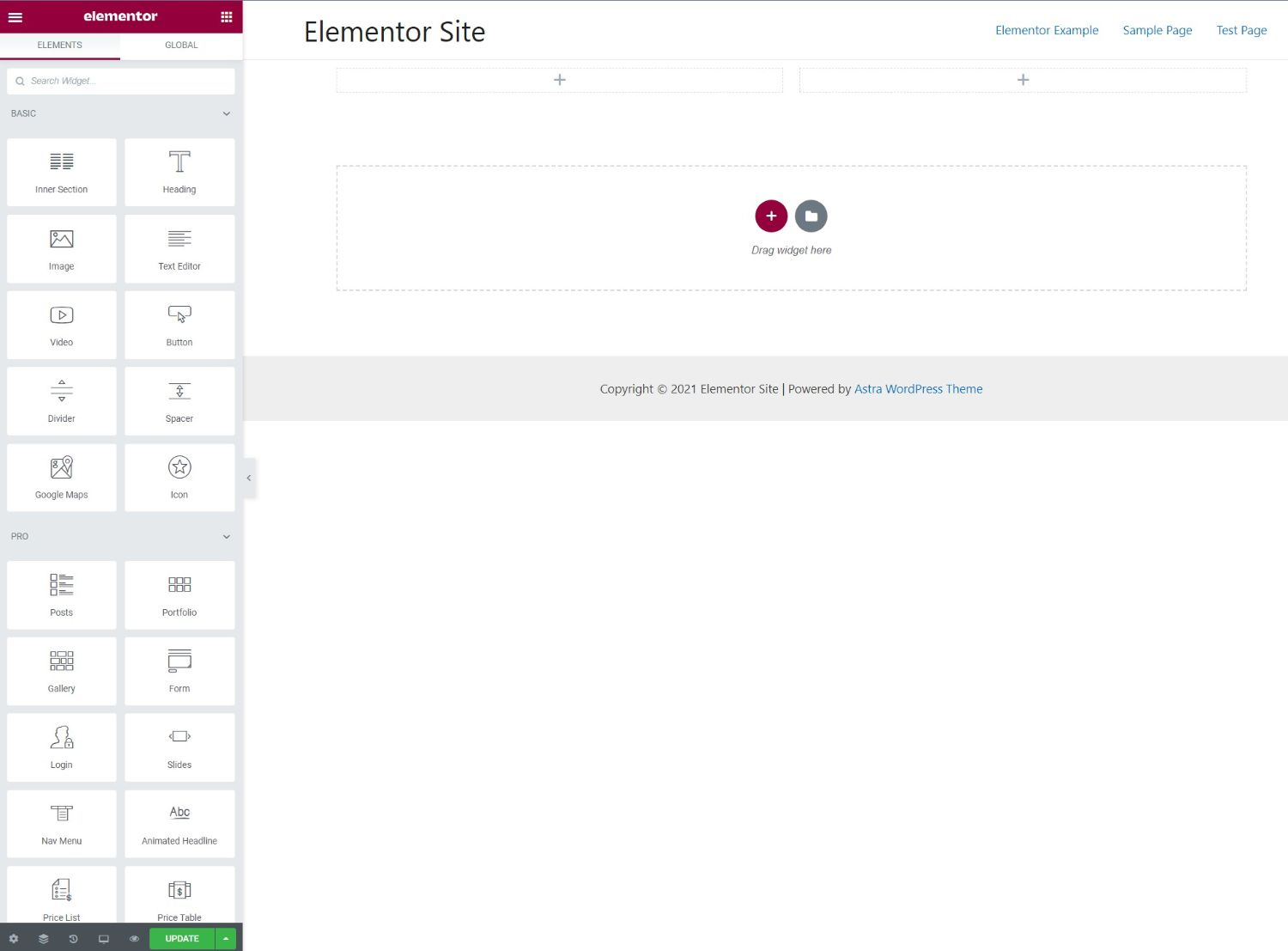 Elementor offers just one visual editor on the front end of the website. It has a fixed screen on the left side but also a floating navigator if you want to tackle certain parts of the website from a structural perspective.
Like Divi, Elementor has modules that you can insert onto the screen. Unlike Divi, though, Elementor has nearly 100 of them.
It's worth mentioning that both Divi and Elementor have premium plugins that offer lots more modules to choose from, so you're not limited to what comes straight from the developer.
In addition to the visual builder, Elementor also offers a few options at the bottom that are especially handy. The first is a revision history, so you can roll back to previous versions of your site easily.
Another is the responsive page element, which allows you to switch between desktop, tablet, and mobile devices without going back to the main screen.
Divi vs Elementor Performance
The one complaint that many website developers have against page builder plugin options is their performance. According to them, page builders load the site down with additional coding and scripts that make it load substantially slower than a fully custom site.
And since page speed is one of the possible ranking factors for search engine optimization, it stands to reason that the faster a page will load, the higher it will rank.
Here's a breakdown of each site's performance, as well as a speed test from the two page builder plugin options on an identical site.
Performance Comparison
Compared to Elementor, Divi packs a whole lot of features in the box, most of which are not used by everybody.
One of those features is a code modification feature that combines CSS and JavaScript. You don't need another plugin to accomplish this; Divi does this automatically.
As a result, you should have fewer HTTP requests from a site that only has Divi.
That being said, anecdotal evidence suggests that Elementor is actually much faster than its Divi counterpart. One of the reasons for that is that the page sizes are significantly smaller, which results in a higher performance score.

When you match these two page builder plugin options against each other in a speed report, however, the edge seems to go to Divi. On an identical example site, Divi page builder recorded a load time more than one second faster. And in the world of Internet marketing, that one second can make all the difference.
Here's Divi's load time on an example site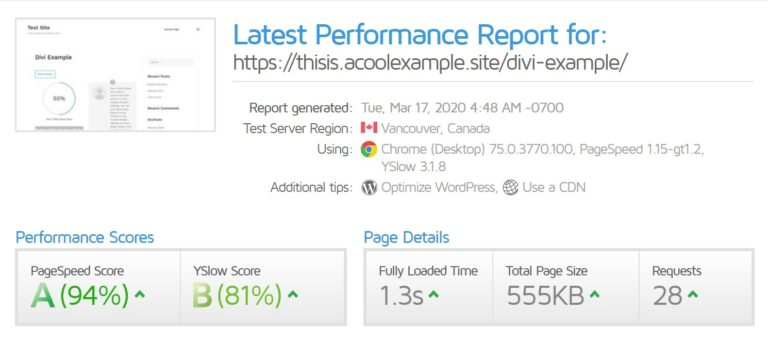 Here's the same site built with the Elementor page builder plugin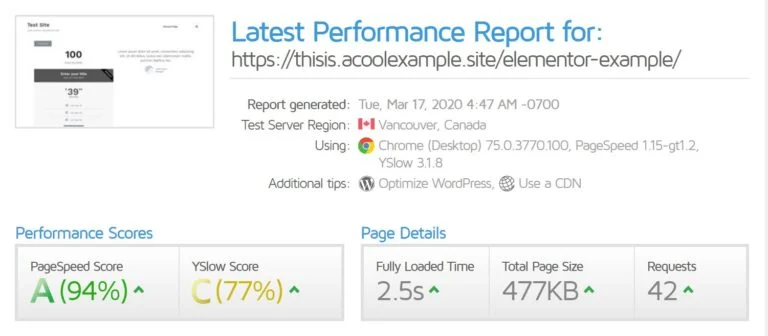 While the winner may be obvious, the reality is a little bit more convoluted. On the one hand, Elementor's page size and other important performance metrics are better. In terms of pure speed, Divi wins hands down.
So which page builder actually performs better? That depends on personal preference.
Since the Divi theme has more built-in features, a large site with lots of content will almost invariably slow down over time. Elementor is built to be leaner and faster, which makes it ideal for sites with heavy content.
Moreover, if you choose to use one of their native themes, such as the DV builder or the "Hello" theme for Elementor, the speed advantage may be minimized. Like Elementor itself, the "Hello" theme has minimal coding.
Web developers who rely on Elementor build nearly all their designs on it, since it acts as a blank canvas.
One other thing to consider is additional speed plugins. Even though Divi builder performed better on the naked speed test, when you pair Elementor with a speed plugin like AutoOptimize or WPRocket, the gap closes. You should consider using one if you decide to build with Elementor.
When it comes down to it though, both website builders offer a lot to the end-user. The performance can be enhanced on either page builder, so it boils down to which one you enjoy working with the most.
Divi Vs Elementor Support
For novice web developers, customer support is a big issue. Hosting platforms can only do so much and will oftentimes pass the buck to the page-building software to receive direct assistance.
As such, it's worth a closer look into which software offers better customer support. While we'll refer to this primarily with online assistance, resources, and tutorials will also be considered as well.
Both page builders offer numerous support options, but one thing that both of them have in common is their inability to answer any questions relating to third-party plugins and themes.
They also don't offer general WordPress support, either. For both of those, you'll either have to contact the developer or hire additional support to handle the issue.
Divi Support
No matter which subscription package you've purchased, all users of Elegant Themes get free 24/7 support.
As anyone who's ever purchased in theme online will testify, getting support from the theme builders is often just as important as the features of the theme itself.
There are several ways you can access support. Live chat is always an option, although the answers may be delayed by a day or two.
Or, if you prefer to take a full hands-off approach, you can leave a message for customer support to handle the issue themselves. By enabling the remote access option inside of Divi's admin panel, you can grant permission for Elegant Themes to work inside of your dashboard.
While this doesn't allow you to actually learn how the problem was solved, it can be a massive advantage for those who don't have the time to deal with it themselves.
In addition to the online chat support, Divi also has a forum that is no longer active but still has answers to many common questions. If you can't find your answer there, check their official Facebook group that has over 70,000 members.
Elementor Support
Elementor doesn't have the "white glove" customer support option that Divi does, but it still has several options for reaching their support staff.
The standard email support team is available for all subscribers, regardless of subscription license. Their average wait time is one day, though most users report receiving a response within several hours.
Agency and enterprise clients have an additional option. Instead of waiting a full day for response, the VIP Premium Support connects you to a support team member inside of 30 minutes. This priority response will cost you significantly more than the average subscription, but for those agencies that have clients on a deadline, it's invaluable.
Like Divi, Elementor also has an elaborate knowledge base with answers to virtually all the questions you could ever ask about their software. If you still don't find anything there, their official Facebook group has over 130k members and counting.
If you still, still can't find the answers you're looking for, or you have a very specific question, there are also offshoot groups to look into. Looking for "Elementor + a certain theme" or "Elementor + some other keyword" should yield smaller subgroups for you should be able to find someone who can answer your question.
Divi Vs Elementor Templates
If you've already decided that a page builder is right for you, then it only makes sense to go the extra step and use a pre-made template. For those not design-oriented (like myself), templates offer a head start on all web design projects. The only thing you need to do is modify it to your liking.
Fortunately, both of these paid builders have extensive pre-made templates that you can choose from. They're built to accommodate several niches, but most all of them can be customized to meet a variety of different industries.
Divi Template Library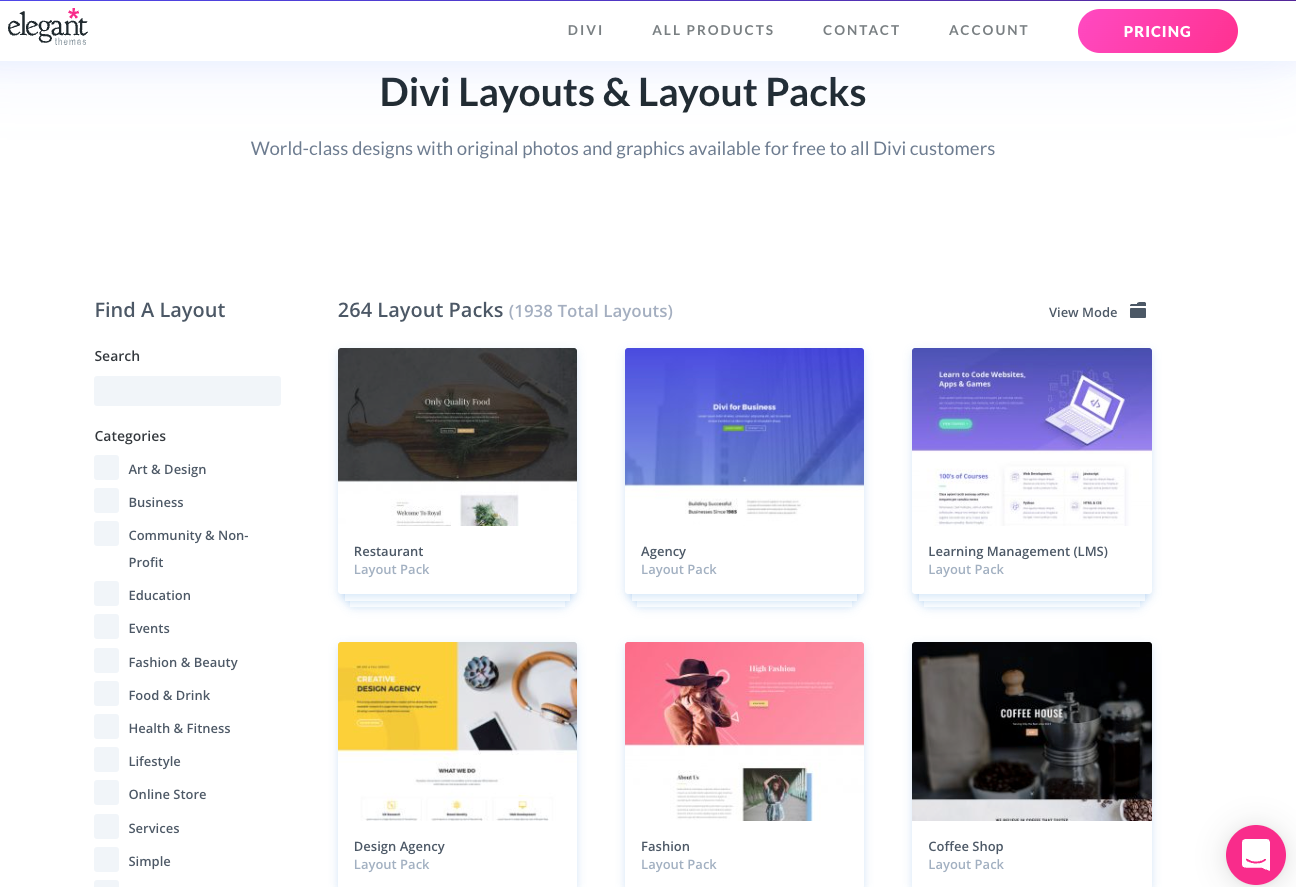 Instead of calling them templates, Divi prefers to refer to their pre-made websites as "layout packs."
There is virtually no difference between that and a template though, except that layout packs are designed to be utilized for the entire website. Some layout packs have every single page you can imagine on a website, while others only have a home and contact page.
This is especially handy if you're looking to utilize certain elements from a template, but not the entire website. Divi builder allows you to select a single page from a single layout pack and put it on your own website if that's what you want to do.
With over 250 designs to choose from, it's virtually guaranteed that you'll find something you can build with.
Elementor Templates
Elementor also prefers to call their selection of pre-made templates a different name; in this case, they're called "kits." They operate the same way though, offering entire website mockups that you can mix and match to create your ideal website.
As of the time of this writing, Elementor has over 100 different kits available to download. Apparently, Elementor has learned the value of these kits because they've added the bulk of those within the last two years.
Still, for those who want to start completely fresh with a lightweight theme, it's hard to beat the native "Hello" theme. Sleek, fast, and free from unnecessary coding, "Hello" is a favorite among many Elementor developers.
Alongside the dozens of kits are smaller sections called blocks. These are individual pieces of the page that you can patch together to build a site from scratch. It includes headers, footers, image grids, and more.
Divi vs Elementor Pricing
Despite what most people think, pricing is not nearly as clear-cut as it may look on the surface. Both of these page builders operate on subscription plans, but in order to find the best option, consider how much you will be using it.
For instance, how many websites do you plan on building? Will you still be building websites 10 years from now, or is this more of a short-term venture? What level of technical support will you require?
Also, what additional plugins and subscriptions will you need to buy in order to bring your site up where it needs to be? Don't forget to factor in these recurring subscriptions into your final price.
Finally, pay attention to sales. Both platforms offer different promotions at different times of the year, so if you're able to squeak by with a lower package, you should be able to upgrade for relatively cheap.
Divi Pricing
Of the two, Divi is the only one that doesn't offer a free subscription. A one-year subscription starts at $89, but that number applies no matter how many websites you build with it.
On the other hand, Divi builder also offers a lifetime subscription for $249. Both subscriptions allow you to use it on personal and client websites, for as long as your subscription is active.
For that price, you'll get the Divi theme itself, as well as the necessary builder plugin and starter templates. The Bloom plugin, that helps with email list building, as well as the social sharing Monarch plugin, come standard as well.
Elementor Pricing
Elementor offers a lot more flexibility when it comes to pricing. There are four different plan levels, with the cheapest starting at $49 for a single site. Three sites will cost you $100 a year, 25 sites will cost $200, and a thousand sites will cost $1,000.
As you can see, the price point per site goes down with higher plan packages. At the highest plan level, you also get VIP support, which is much faster than their premium support level.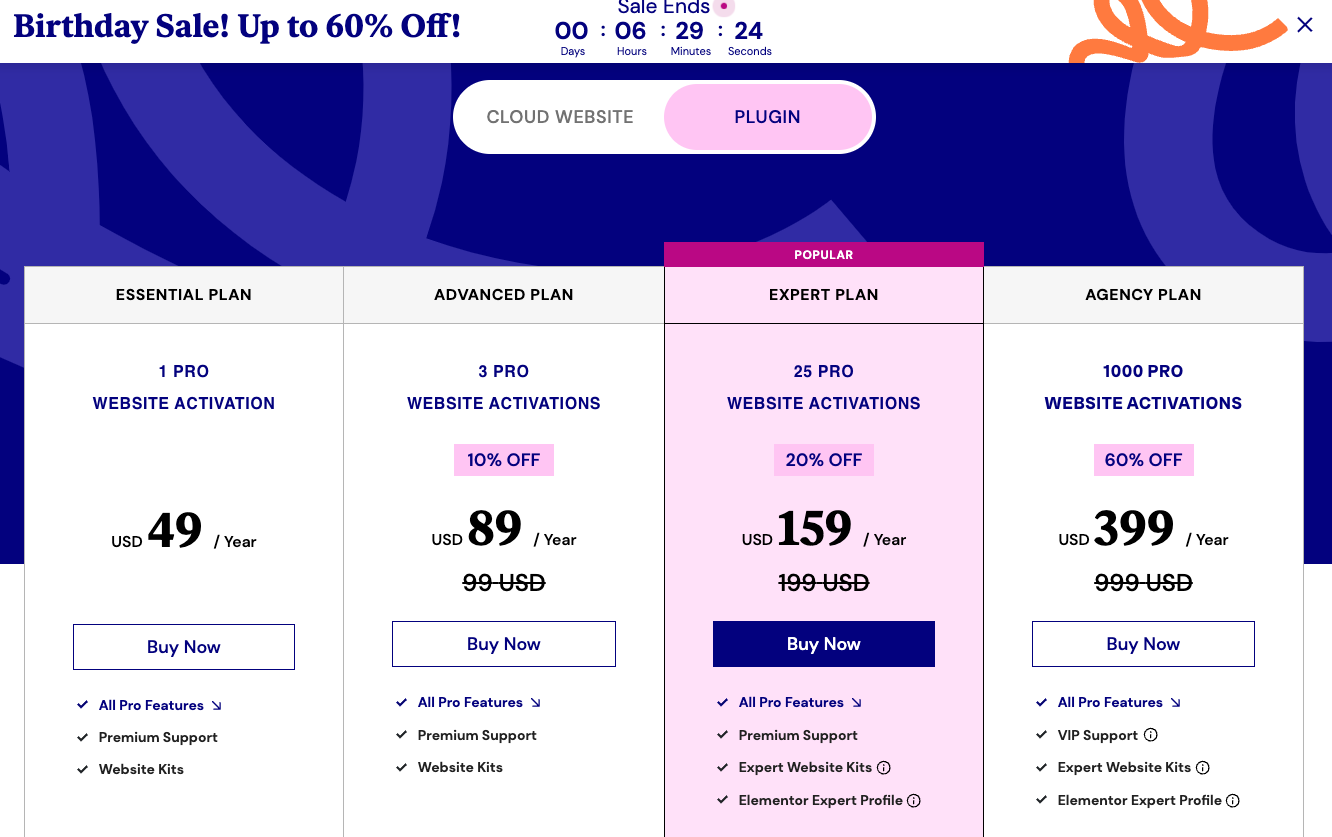 While all of the Elementor Pro packages cost money, there is a free version of Elementor. It doesn't nearly have all the bells and whistles that you get at the pro level, but it does allow you to get a feel for the interface before committing financially.
Recently, Elementor has also released an entire hosting and website-building package. For $100 a year, you not only get the Elementor Pro package on a single website but also hosting, SSL, and the "Hello" theme. It runs off the cloud, so you'll be able to manage it anywhere.
Frequently Asked Questions
Anytime you make a financial commitment in your business, there are lots of things to consider. Here are a few of the most common questions surrounding the never-ending Elementor vs Divi debate.
Is Divi Compatible With Elementor?
If one page builder is great, then two are even better, right?
Not exactly. Both of these page builders accomplish the exact same task, so using them both on the same website will create serious complications. Two plugins that do the same thing, for example, usually end up working against each other. Sites can take forever to load if they do it all.
Furthermore, there's no real reason to have two page builders on the same website anyway. There's virtually no difference in what they can technically accomplish, and there's no discernment in the page builder as to which part of the sites you're actually working on.
If you activate Divi builder to work on one page, disabling it will only bring that page down. You have to either reactivate it or rebuild that page in Elementor.
Could you have both of them on the same site, with one of them deactivated? Sure, but doing so leaves you open to hacking and phishing attacks. It's much better to pick one and run with it.
Which Page Builder Has the Strongest Community?
Both Elementor and Divi builder have extremely strong communities supporting them. Whether that's by way of Facebook groups, forums, or third-party developers, both of them have very passionate fans.
Because of this, both website builders have a lot of add-ons that you can bolt onto your site.
For Elementor users, WPAstra provides hundreds of additional starter templates that you can choose from and modify. Divi users have the Divi Booster plugin that gives a developer a lot more customization options.
Are There Any Competing Page Builders?
Although Divi and Elementor remain the two page building juggernauts, other page builders have entered the market lately.
Beaver Builder is one option, as are Visual Composer and Oxygen. All of these page builders have their own pros and cons, so if you're dead set against either Elementor or Divi, it's worth looking into these as well.
Which Page Builder is Right For You?
We're finally at the end! In the great Divi vs Elementor debate, who reigns supreme? Who deserves your money, and more importantly, who deserves your trust moving forward into the online marketing space?
Unfortunately, the question of which is the best WordPress page builder can only be answered by you. Each one of these platforms provides their own set of features, but realistically speaking, there's so much overlap that going with either option will suit you just fine.
This is purely a matter of personal preference, and while I personally prefer Elementor, there are lots of other people that swear by Divi.
Try Elementor
Do your own research, examine your business goals, and make the selection that's right for you.
Want to learn step-by-step how I built my Niche Site Empire up to a full-time income?
Yes! I Love to Learn
Learn How I Built My Niche Site Empire to a Full-time Income
How to Pick the Right Keywords at the START, and avoid the losers
How to Scale and Outsource 90% of the Work, Allowing Your Empire to GROW Without You
How to Build a Site That Gets REAL TRAFFIC FROM GOOGLE (every. single. day.)
Subscribe to the Niche Pursuits Newsletter delivered with value 3X per week