12 Sites Like eBay You'll Be Happy to Know About: The Ultimate Guide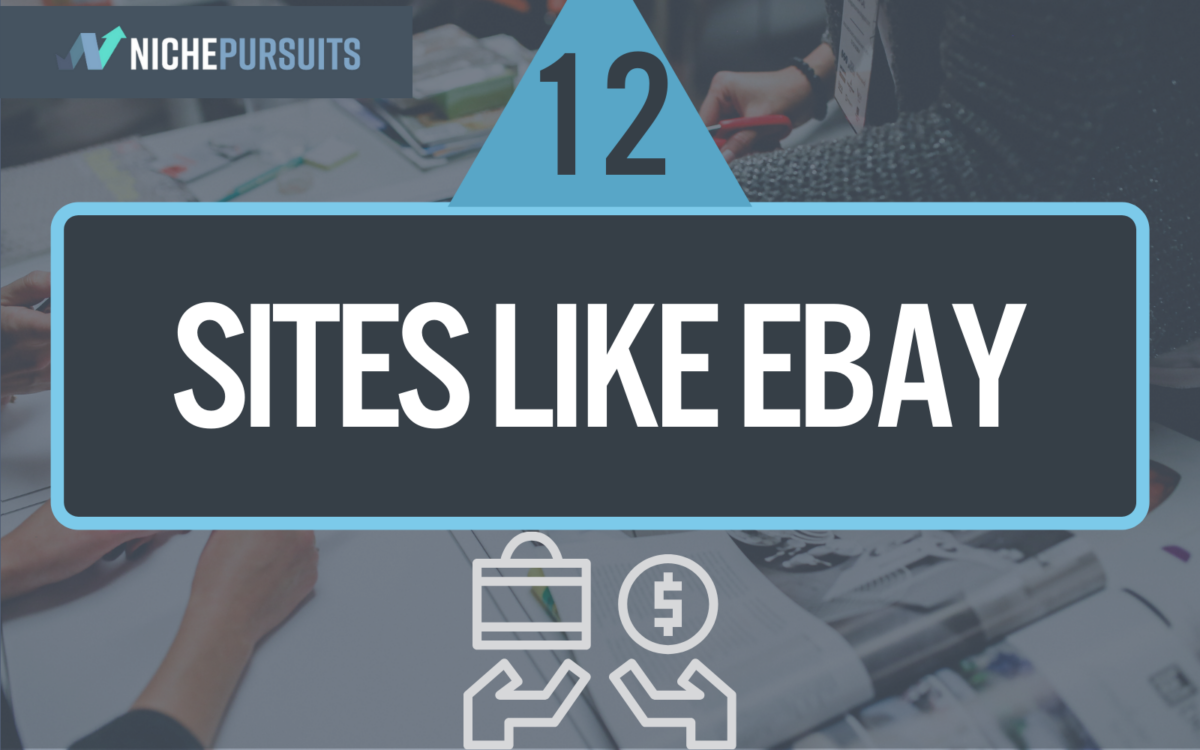 When you buy something through one of the links on our site, we may earn an affiliate commission.
Since its inception in 1995, eBay has grown into one of the biggest online marketplaces in the world. Gigantic sites like eBay have made money for thousands of hobbyists and at-home businesses.
However, the competition is brutal, and eBay's recent policy changes have spurred online entrepreneurs to seek alternatives.
Thankfully, there are many other ways you can sell online. We've compiled a list of 12 of the best alternatives to eBay we could find.
These are business-to-consumer (B2C) sites, classified advertisement sites, and auction sites. We'll let you know:
What each site is best for
How they compare with eBay, and
Their pros and cons.
Let's jump in!
Amazon
When you're searching for where to sell items online, Amazon is where many people start. Amazon began in 1994 as an online bookstore, and today, its customer base is around 310 million with over 350 million products for sale.
It earns its place as the world's largest eCommerce website in the world and eBay's biggest competitor.
Sites like eBay are chiefly online auction houses, whereas Amazon is a traditional retail setup, and sales are instant with fixed prices.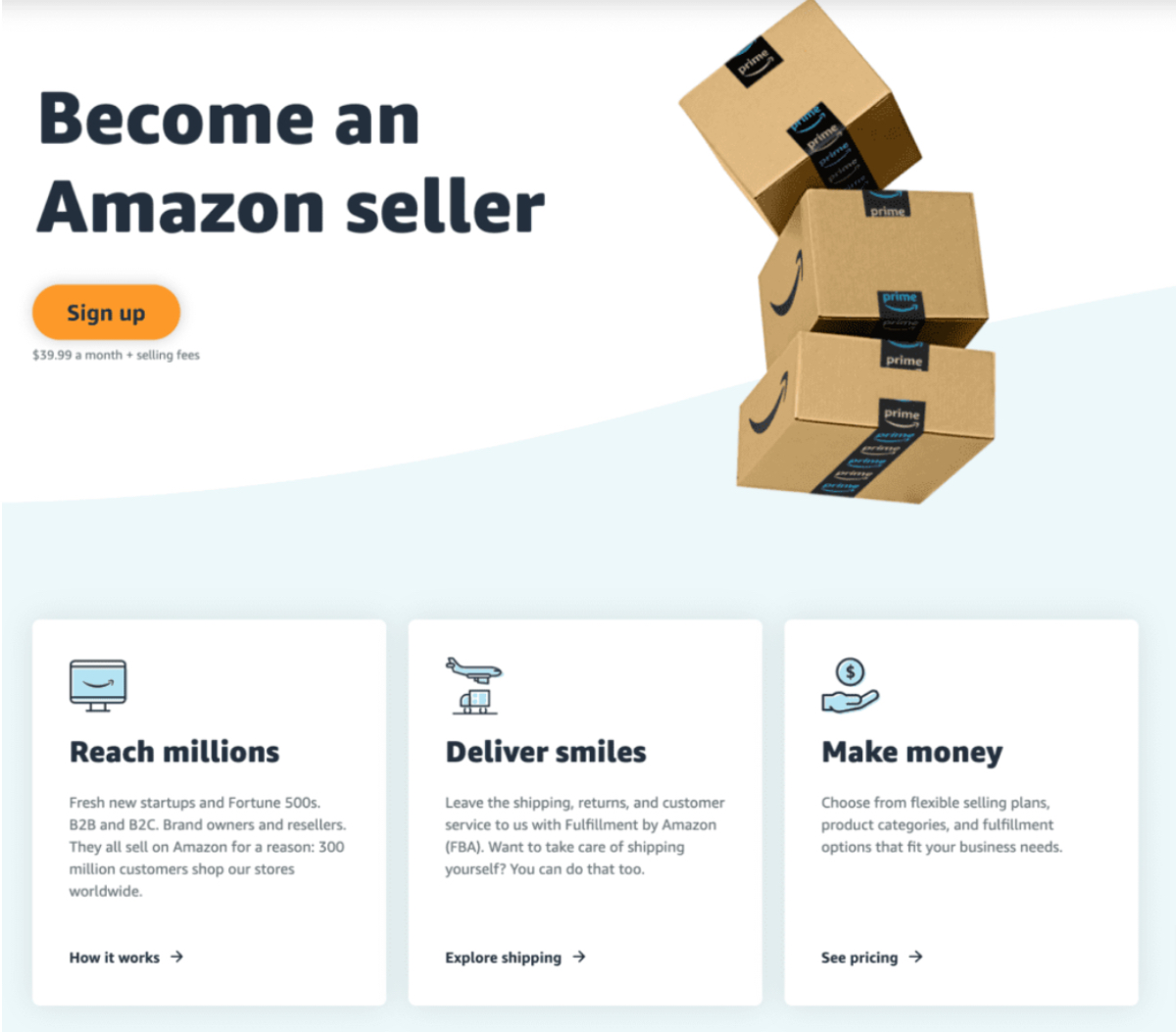 There are an estimated 2.5 million active sellers such as brands, resellers, and individuals registered with Amazon. According to Marketplace Pulse, nearly 2,000 new sellers join every day.
Amazon has three types of seller fees:
Referral fees
Minimum referral fees, and
Closing fees.
The fees vary depending on your item category and selling price, so getting accurate information on your specific costs will require research. If you need ideas, check out our post on what to sell on Amazon.
Amazon keeps prices as low as possible for the buyer. That can mean that the prices of products can change many times, even in a single day.
A simple way to grow your Amazon profits is to use a repricing program that automatically updates your prices to what your competition is charging.
With Fulfillment by Amazon (FBA), you can store your products in Amazon's fulfillment centers, and they pick, pack, ship, and provide customer service for your products. FBA can assist you in scaling your business and reaching more customers.
Finally, Amazon Associates is one of the most popular affiliate programs on the market. If your application is approved, you can sell any product from the platform using your affiliate link, and it's free to become an Amazon Associate.
The customer must purchase within 24 hours or add an item to their cart and purchase it within 89 days. Commissions are typically 1% to 3% of the purchase price, minus shipping, taxes, and fees.
Pros and Cons
Pros:
The customer base is huge
Consumers trust Amazon
It has excellent website performance
Operations are simple
With Amazon FBA, you do not have to keep inventory
Excellent affiliate program
Cons:
The competition is massive
Customer service rules generally favor the customer
Price wars can undercut all seller profits
Multiple sellers can sell the same product
Affiliate commission is low compared to other sites
Etsy
Etsy is the biggest global flea market, with over 81.8 million shoppers flocking to buy rare and unique items like antiques and handmade goods.
It began in 2005 in an apartment in Brooklyn, New York, as an online community for crafters, artists, and vintage goods enthusiasts. It has over 4.8 million active sellers and is also the top choice for profitability after sites like eBay and Amazon.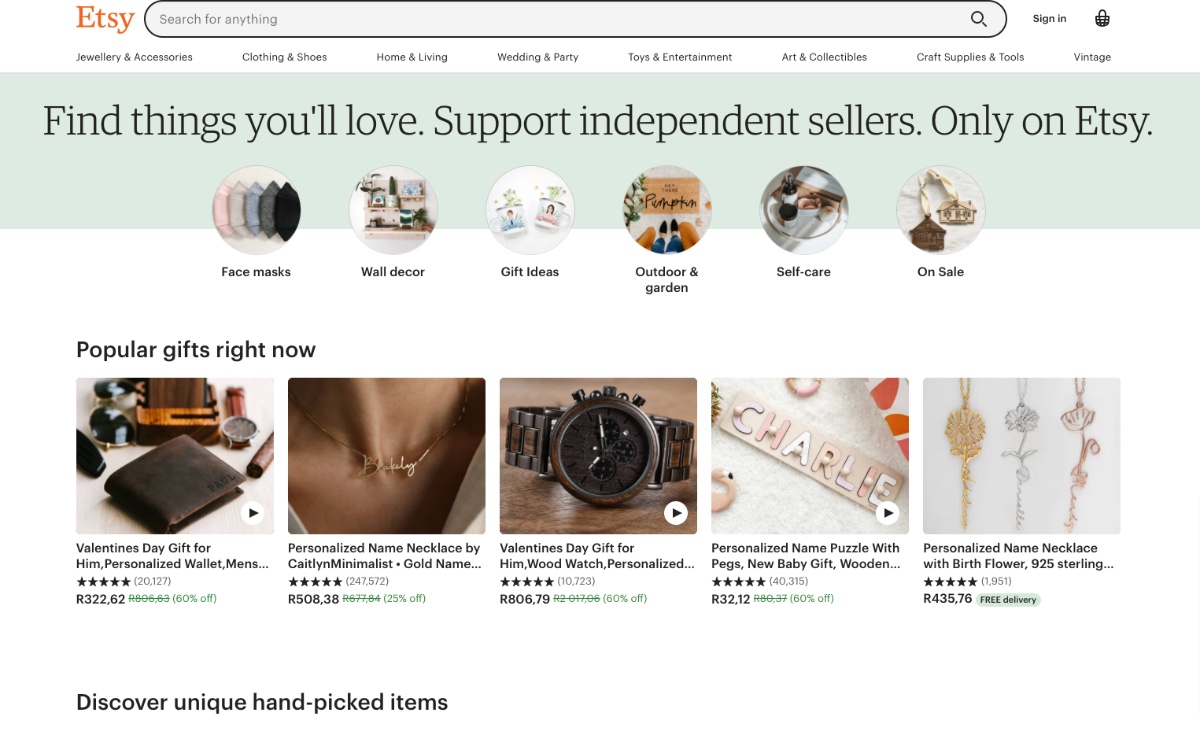 Etsy drives billions in sales, and it's the quickest and easiest way to get your items sold.
You can advertise handmade goods or items older than 20 years, and the multi-vendor platform has a creative vibe attracting the type of buyer who is likely to own unique items.
Etsy is one of the best eBay alternatives where you won't be competing against mass-produced items with buyers looking for the lowest price. We have a guide to things to sell on Etsy that you can check out as well.
There is no setup fee to open an Etsy shop, and sellers can set up a customized online shop with full eCommerce capabilities.
However, sellers must pay a listing fee of $0.20 per item, plus a 5% transaction fee and a credit card fee (either through Etsy Direct Checkout or PayPal). Any shipping costs, personalization, and gift-wrapping charges should also be taken into consideration when selling your goods.
Etsy will pay to promote sellers' products on major sites like Google, Pinterest, and Facebook. In exchange, they only pay when the ad leads to a sale.
Sellers don't control what gets advertised, where, or how often. Etsy handles all of it.
Pros and Cons
Pros:
It's super simple to set up
Etsy does not charge startup fees
Greater control over your storefront
There is no limit on the number of items a seller can post
Established customer trust and reliability
Cons:
Fees, when added up, are considerable
Each new item costs $0.20 to list
The online marketplace for similar goods has become saturated
Etsy has total control over what gets advertised, where, and when
No ownership of data collection
Check Out What You Can Sell On Etsy
Bonanza
Created in 2007, Bonanza began after a failed Seattle garage sale. The next logical move by the seller was to try and get his goods sold online.
Although it's not nearly as big as sites like eBay, the platform has grown to become a highly successful online marketplace in nearly every country worldwide.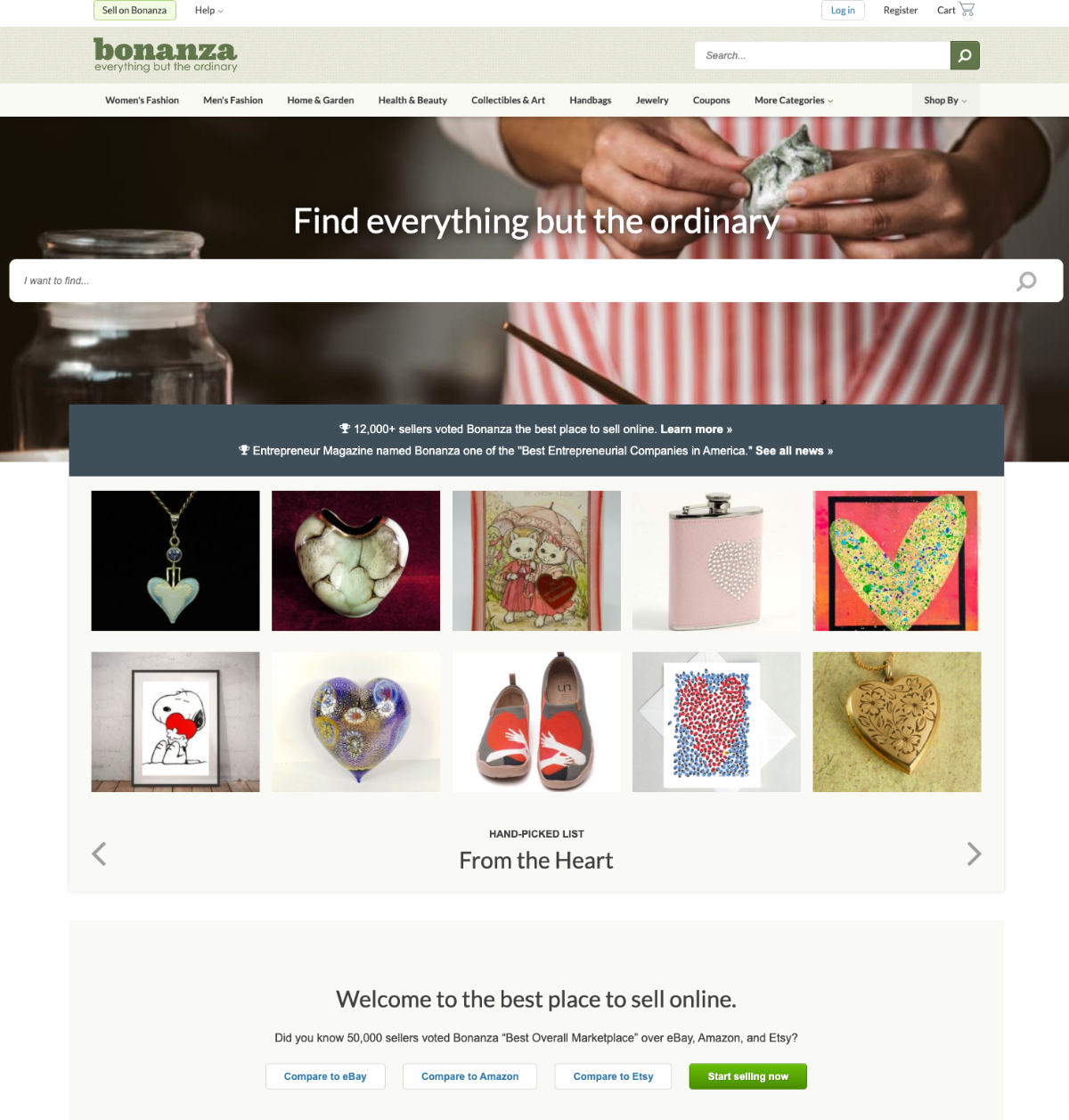 More than 40,000 sellers offer over 22 million products such as antiques, handmade and vintage goods, books, entertainment memorabilia, clothing, shoes and accessories, coins, collectibles, movies, and jewelry.
Bonanza is like a shopping mall with two options for setting up your store on the platform. You can choose the "booth" option as a store within the mall. Or you can select a webstore which is more like a department store within the mall.
Bonanza will send your goods to Google Shopping within a day of any item change. If you haven't added anything, they will be resent to Google every two weeks as a refresher.
Listing is free for sellers, but they have to pay a 3.5% fee for sales less than $500. For sales over $500, Bonanza charges 3.5% plus 1.5% on the balance of $500.
The customers bear shipping costs. Sellers may spend a significant percentage of their profits on additional advertising to attract traffic to their shops.
Bonanza is widespread, with buyers and sellers using the platform in significant numbers.
Pros and Cons
Pros
Listing is free
Listings are sent to Google Shopping automatically
Simple import features for sellers to list on multiple platforms
Good customer service
Cons
Layouts for specific listings have limited choices for customizing
Bonanza does very little advertising
Low brand name recognition
eBid
eBid is a British company created in 1998 and consistently rates among the world's top 5 online auction and fixed price sites. eBid is a worldwide marketplace with over 4 million listings, around 15 million visitors per year, thousands of categories, and nine languages.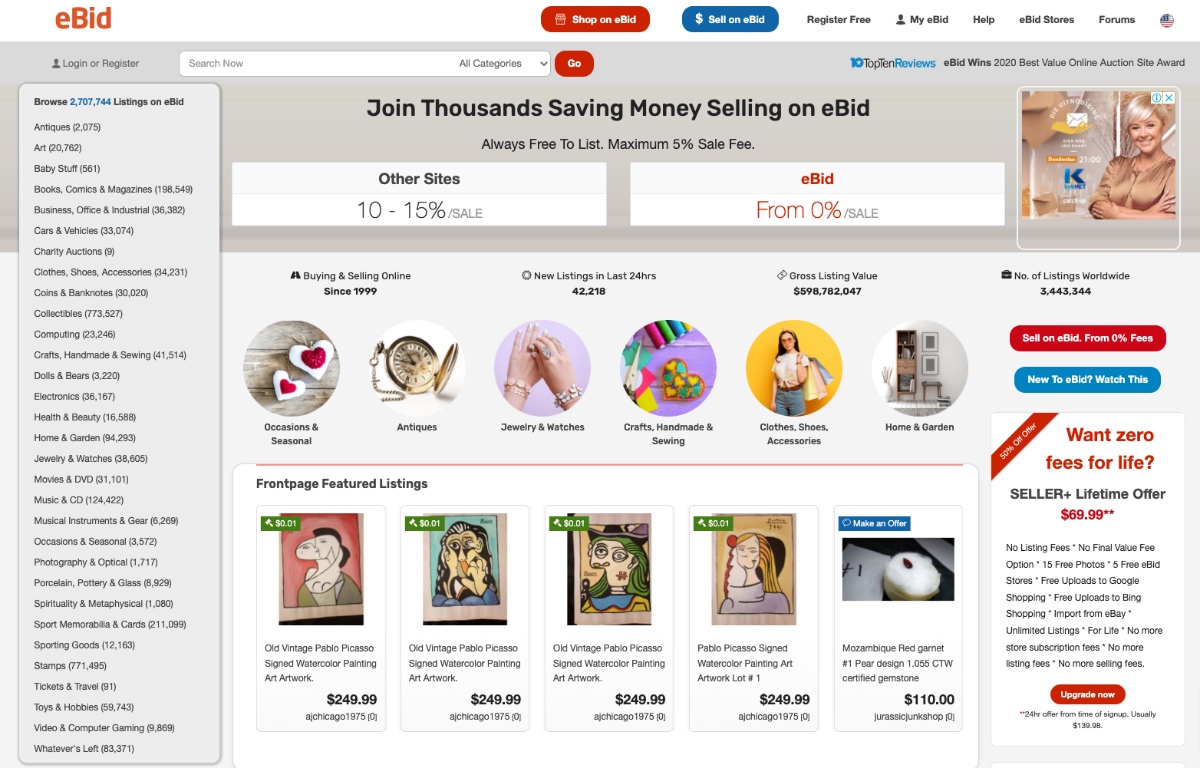 You can sell just about anything on eBid (the exceptions, of course, are items like bombs, firearms, and so on). And, unlike sites like eBay, there is an "adult" section on the platform.
eBid is easy to use, and it could be considered one of the best eBay alternatives since maintaining the store is relatively easy, with consistent rules and regulations.
Listing on eBid is free, and it takes a comparatively low 5% fee cap on the Final Value Fee (FVF).
You can also choose to pay $99.98 as a one-off fee for a Seller+ account, and you pay a 0% or 2% FVF, depending on the listing type.
Shipping costs are bound to the rules of the courier service selected by the seller.
eBid is perfect for someone who wants to try their luck selling online. Any products you list are uploaded to Google Shopping which will undoubtedly increase your exposure.
eBid is a great site and a perfect choice for sellers who want to make a profit without giving it all away on fees.
Pros and Cons
Pros
One of the top 5 online auction and fixed price sites in the world
Low-risk market
No charge for listing items
Transactional fees are capped at 3%
Listed products are uploaded to Google Shopping automatically
Cons
Buyers prefer "buy now" options, so bidding wars are few and far between
Comparatively low traffic
There is no option for store analytics
eCrater
eCrater began in 2004 as a web store and online marketplace. Sellers looking to make money on everything from collectibles, vintage goods, sports memorabilia, crafts, clothing & shoes, camera & photo, and many other categories use the site.
There are only about 2.5 million visits to the site and around 65,000 active stores in any month.
Most sellers find it best to list on sites like Etsy and use eCrater as a backup marketplace.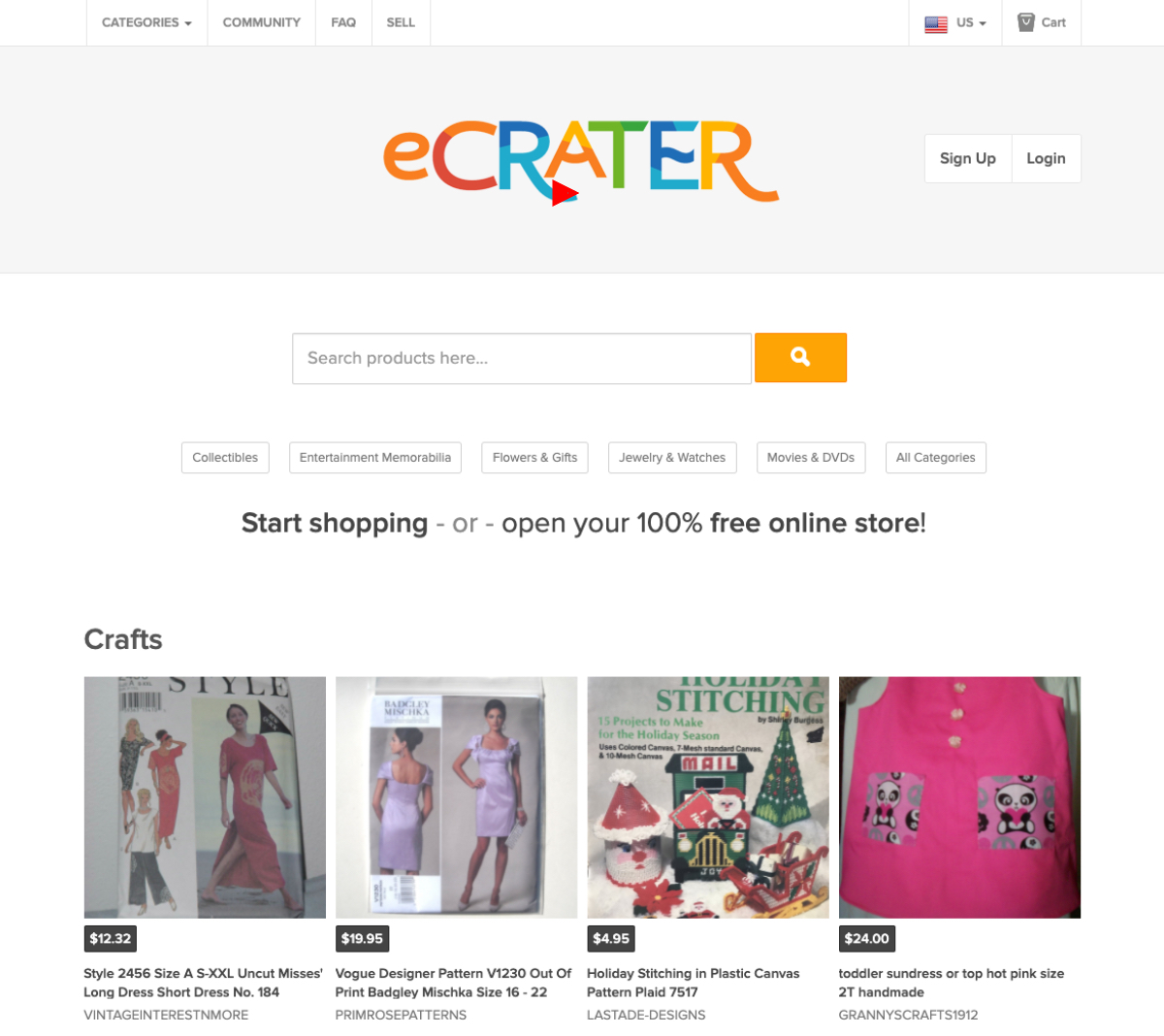 You may need to spend plenty of time and effort to promote your goods if you want to make a profit.
eCrater is a bit like having your own website with built-in assistance. The user interface is simple, seller registration and webstore creation are easy, and there's an automatic connection to Google Shopping.
Unlike sites like eBay, there are no monthly fees to open a store. There are also no final value fees unless eCrater helps you receive a sale through the main marketplace. In that case, you pay a 2.9% fee.
eCrater spends time and money to drive buyers to their central marketplace.
Shipping costs within the U.S. are competitive, but international buyers must use courier services to get their goods, which can be costly.
Management has a hands-off approach, and independent small sellers have the freedom to run their shops the way they want to.
Pros and Cons
Pros
Buyers do not have to register before making a purchase
Flexible payment options
Plenty of great templates to design your store
Fees are low
Goods are uploaded to Google Shopping automatically
Cons
Low traffic to the site
You would lose the money you saved on fees promoting your store
You must drive traffic to your store
Does not offer tools or information for seller success
Facebook Marketplace
Facebook introduced its marketplace in 2016 specifically for people in local communities to find, buy, and sell goods. It's a relatively new online marketplace, but it's not to be ignored with over 2.8 billion users worldwide.
Individuals and businesses use Facebook Marketplace to sell furniture, kids' clothing, toys, books, sports equipment, arts and crafts, property, and even cars.
Anyone can build a local store and develop a buyer base and Facebook Marketplace does not charge fees to list items on the site.
If you sell something with shipping costs, you can choose who pays the shipping cost at listing setup. When you set up your listing, you decide if the buyer pays for shipping on Facebook, or you, the seller.
If you've selected to pay the shipping costs, the costs are deducted from your payout.
Facebook marketplace shipping is currently only available in the U.S. Shipping costs are 5% per shipment or a flat fee of $0.40 for shipments of $8.00 or less.
If you use the Shipping Service for a product you sell through a Seller Commerce Feature, Facebook will email you a link to the shipping label, which you can print and attach to the container you're using to ship the item.
Facebook Marketplace is an excellent option for sellers who don't want to register on sites like eBay yet but want to see what it's like to sell online.
Pros and Cons
Pros:
Local community
Listing is free
You can communicate with buyers to build your brand
Cons
No built-in payment options and methods
No buyer or seller protection
Serious safety concerns
Mainly used by individuals
Ruby Lane
Ruby Lane launched in 1998 with a single server and a few computers. The site aimed to bring buyers and sellers of high-quality antiques, art, jewelry, and collectibles together.
Sellers have frequently commended Ruby Lane's success in keeping fakes and reproductions off its marketplace.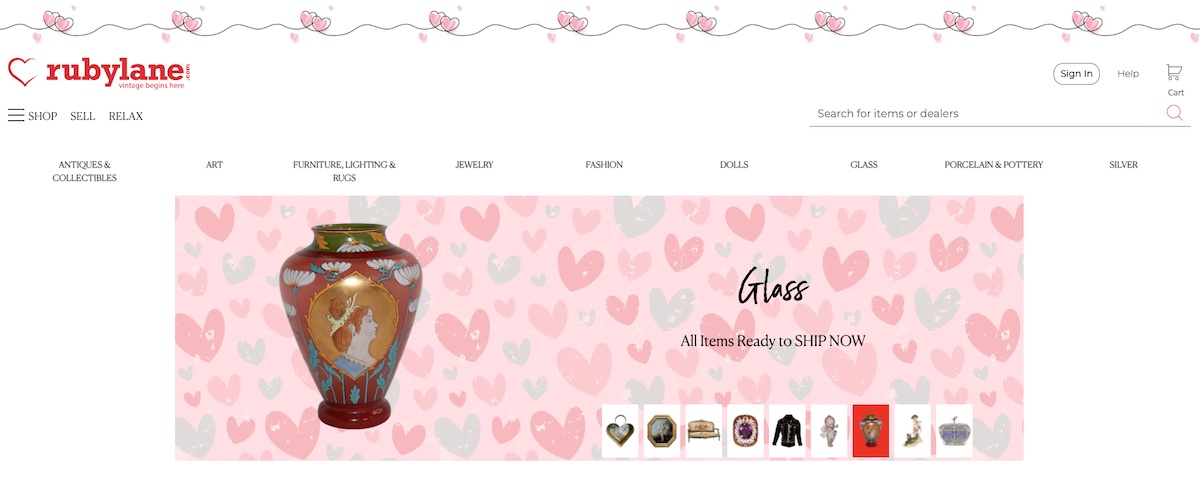 Ruby Lane attracts buyers who are willing to pay for quality goods. There are strict quality controls to prevent sellers from listing junk or cheap reproductions.
All items must be 20 years and older unless artisan-made; however, there has been a slight policy change lately where Ruby Lane allows listings of newer jewelry.
Unlike sites like eBay, Ruby Lane is a niche marketplace, but its global reach is nevertheless impressive. Over one million visitors view over 15 million products monthly, and over $125,000 worth of goods are sold by over 2,000 active shop owners – daily.
All listed items are uploaded to Google Shopping automatically.
Ruby Lane is a fixed-price marketplace. The seller Service Fee is 3.75% of the item totals + shipping/handling on all finalized orders, rounded up to the nearest 25 cents.
The minimum monthly cost of maintaining a shop with up to 50 items is $54. The minimum monthly cost for a shop with 80 items is $63. The one-time Listing Fee is 19 cents per item.
Ruby Lane strongly suggests ensuring shipped items which can make shipping costs high for the customer.
Pros and Cons
Pros:
Trusted platform for selling antiques, art, jewelry, and vintage collectibles
Massive global reach
Classy and elegant site
It has received good rankings among similar sites such as worthpoint.com, 1stdibs.com, and liveauctioneers.com
Cons:
The overall fees and additional costs are high
The latest increases in fees and sales taxes decrease seller profits
Categories on the site are saturated
Many competing sites are cheaper and well established
Rakuten
Rakuten began in 1997 in Japan purely as an online marketplace designed to save consumers money.
It is Japan's answer to Amazon, one of the best alternatives to sites like eBay, and it's enormous! Rakuten boasts over 1.2 billion members worldwide!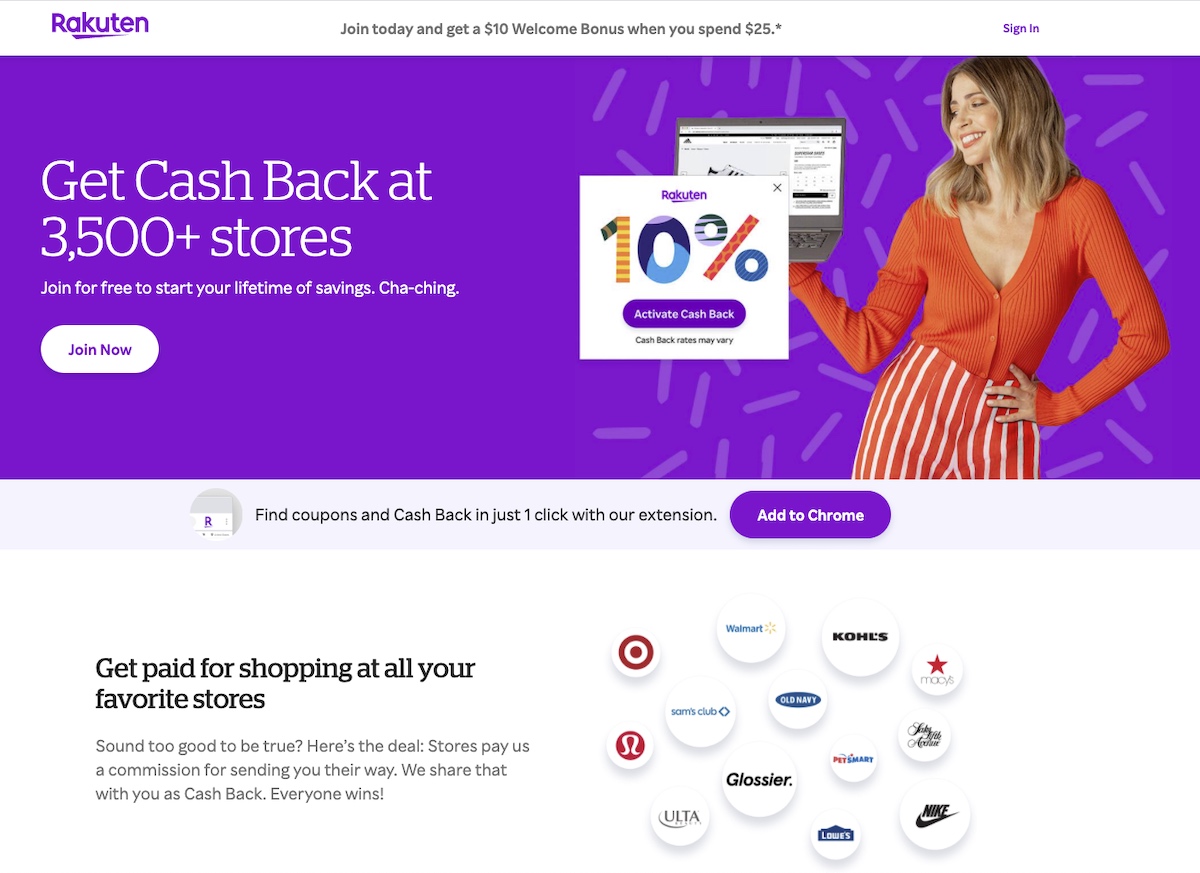 Shoppers register with an email address, Google account, or Facebook account, install the Rakuten browser extension, and start shopping right away.
Members can find links to their favorite online stores and marketplaces on the website or app. If a customer buys something, the store pays a customer referral fee to Rakuten.
The buyer will get an additional 3% cashback on the card, with all other purchases receiving 1% cashback.
Rakuten's cashback program has over 10 million registered members, and Rakuten has issued more than $800 million in cashback payments, which is driving traffic to the site.
Store plans start at $33 per month, with commissions from 8% to 15%, plus a $.99 per item fee.
Rakuten is considered the world leader in affiliate marketing, and merchants are paid well for new and returning shoppers.
Pros and Cons
Pros:
Stores can customize their storefronts more than most sites allow
Stores get weekly payments – which helps with cash flow
Rakuten offers training and resources to assist merchants
Loyalty points and cashback programs encourage customers returns
Huge customer base
Cons
The fees are high
Complex process to become a seller outside the U.S. or Japan
Approval is not automatic, and the waiting time can be lengthy
They don't display the EPC (Earnings Per Click) for any affiliate merchants' programs
Payment to affiliates is slow
Mercari
Mercari is a Japanese eCommerce company that sells your items using a mobile app. It was founded in 2013 and has grown with millions of transactions carried out globally.
Mercari is one of the sites like eBay with a diverse list of items for sale, from household items to clothes, electronics, and much more (find out if Mercari is legit).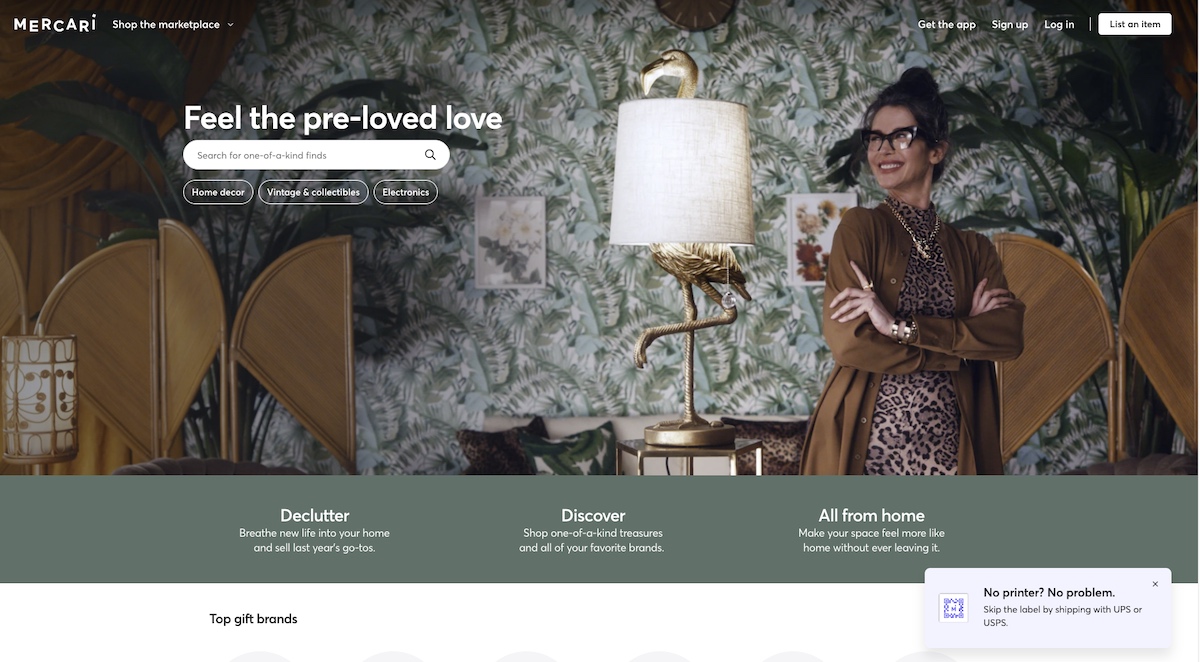 Listing an item on the website is free, but Mercari charges a payment processing fee of 2.9% plus $0.30 for every payment the seller receives from a buyer.
Mercari will also charge a cancellation fee of 5% of the item's price if the seller cannot fulfill or cancel the order.
Mercari is beginner-friendly, simple in terms of seller and shipping costs and rules, and growing in popularity exponentially (learn more in our full Mercari review).
Pros and Cons
Pros
Listing your items is free
Seller fees are low
The site is simple and easy to use for sellers
Mercari provides a prepaid shipping label with insurance worth up to $200
Sellers get paid within three days of the buyer receiving the item
Cons
Returns are allowed, and some buyers try and use this chance to rip off sellers
The dashboard is not user-friendly
No Automatic uploads to Google Shopping
Craigslist
Founded in the mid-'90s, Craigslist is a great platform to sell items online to local communities. If you're looking for one of the best eBay alternatives, Craigslist gets over 30 million visits a month – almost as much traffic as sites like eBay, and it's free to use.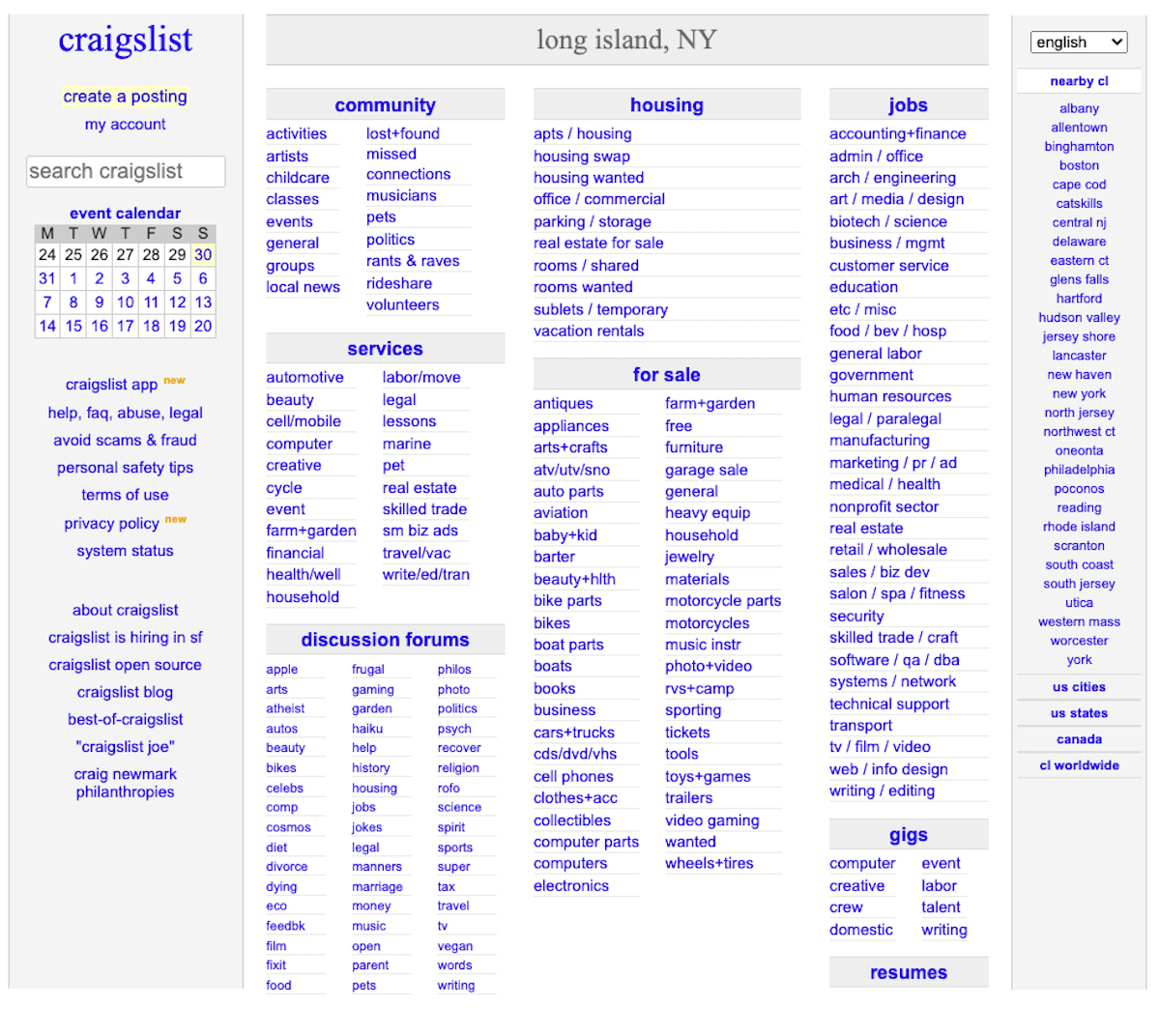 Sellers can list new, used, or valuable items like home goods, electronics, furniture, tickets, gym equipment, etc.
No account is required to list, but it's useful when you want to relist something that didn't sell and unlike sites like eBay, relisting is also free.
The buyer and seller agree upon shipping costs. The site is quite messy and looks like it belongs to another century, but it's popular and ideal for first-time sellers to test the waters.
Pros and Cons
Pros:
It's free with no setup or monthly costs
Your listing remains active for 30 days
It's quick and easy to list your goods
Anonymous posting gives sellers identity protection
Cons:
No automated posting
Some categories are not free
There is a lack of enforcement for buyers to pay
Spam filters – too many listings can get your account blocked
OpenSky
OpenSky began with the aim to empower the world's entrepreneurs. Now it's owned by the Chinese giant Alibaba, an international version of Amazon and one of the best eBay alternatives.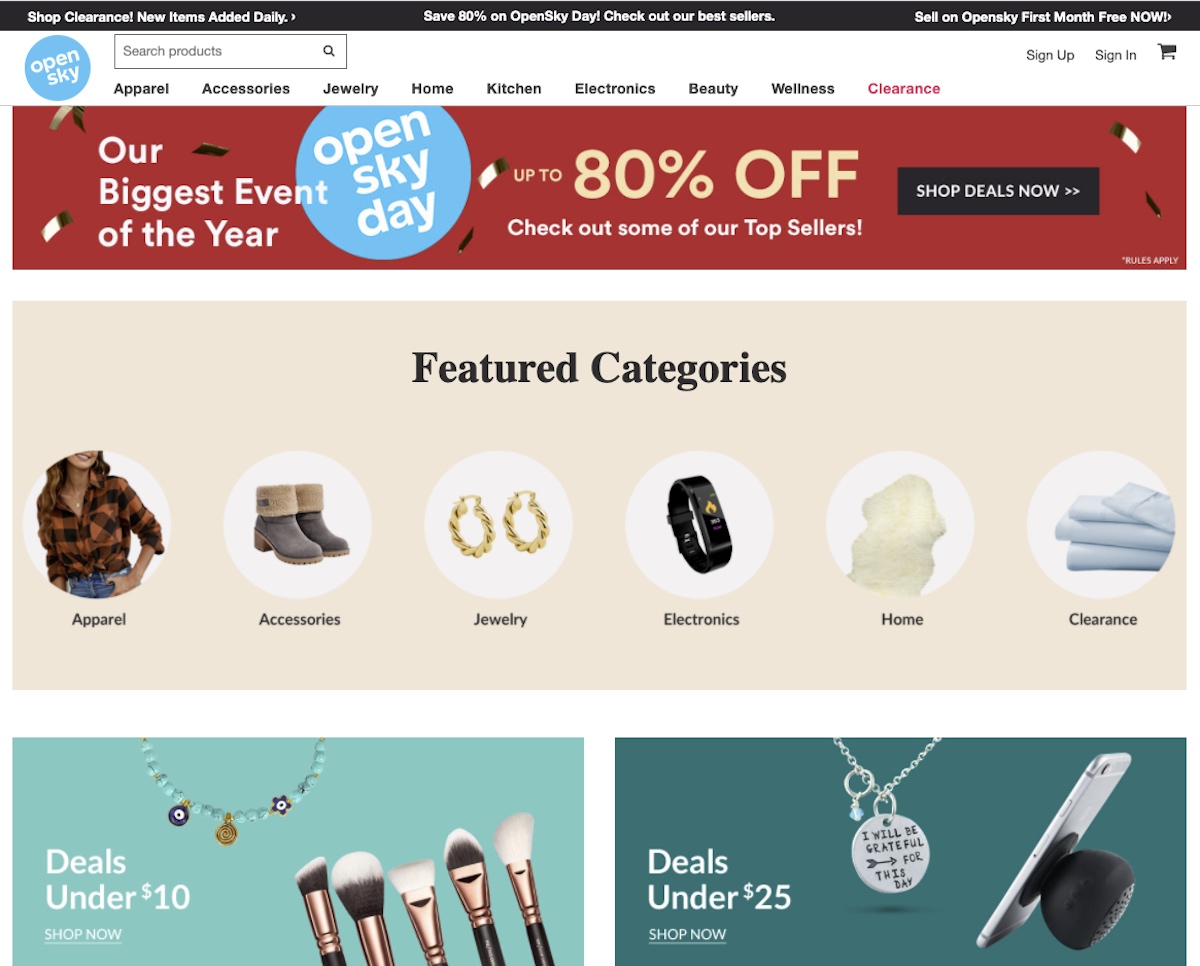 With over 20 million shoppers worldwide, OpenSky is one of the fastest-growing eCommerce websites. OpenSky brings sellers who offer a wide variety of new items like women's clothing, accessories, jewelry, beauty, home, kitchen, and consumer electronics.
There are over 100,000 independent merchants on the site. OpenSky features merchants' goods on more than 200 ad channels and social channels like Facebook, Pinterest, and Google Shopping.
Sellers pay a 15% transaction fee plus a 3% credit card processing fee on every sale. OpenSky takes care of shipping costs for orders over $125.
Pros and Cons
Pros:
Sellers are featured on more than 200 ad and social channels for free
Also, sellers can be featured on OpenSky's email retargeting campaigns but have to pay fees calculated per item
Sellers can have unlimited product listings
Cons:
The fees are high
Brand visibility is negligible
Very little information for prospective sellers on Google
BetterWorldBooks
In 2002, a couple of students at the University of Notre Dame in Indiana started selling books online for extra cash. It wasn't long before they noticed how many tons of books went into landfills and how many millions of people worldwide needed books.
And so, they created BetterWorldBooks! BetterWorldBooks is one of the best eBay alternatives.
BetterWorldBooks is an American online bookseller of used and new books with a mission to promote literacy. It's simple and free to sell on BetterWorldBooks. You send them the books you want to sell, and they pay you once you sell the book.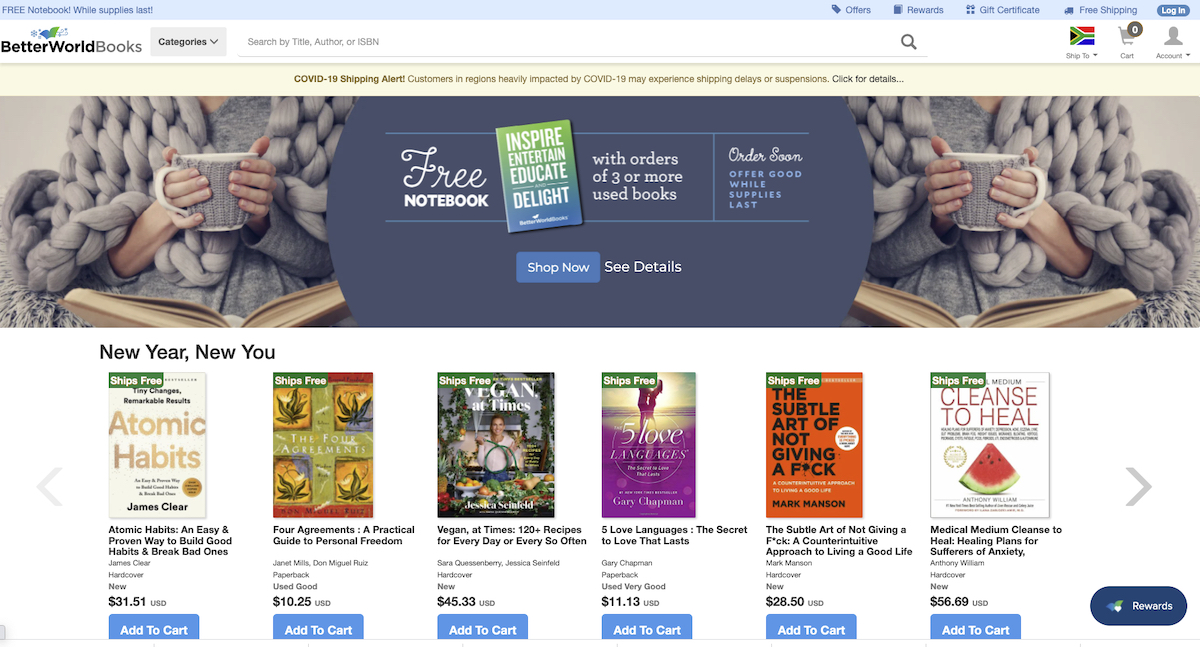 BetterWorldBooks collects books destined for landfills from libraries, bookstores, college campuses through the community, etc. It makes its money by selling these books and contributes a portion of the revenue on each sale to support literacy, libraries, and education.
Over 73,000 tons of books have been diverted from landfills, and $19 million raised to fund literacy and library projects.
BetterWorldBooks is a great place to sell books, and they support worthy causes; you can choose to benefit a non-profit literacy partner with each sale.
Pros and Cons
Pros:
No shipping costs
No charge to sell your books
Each buyer order is carbon balanced with Green-e Climate certified offsets
You can be part of supporting worthy causes
Cons
Some books can take time to be sold; sellers need patience
Not as much traffic as eBay
Make the Right Choice for Your Business
While we have listed great eBay alternatives, the choice is yours and other options are always available such as Light in the Box. If you decide to switch, there will be several points to consider before making your choice:
What types of products are you selling?
How big is your inventory?
Who is your target market?
How much are you prepared to pay in fees?
How much work are you ready to put in to promote your store or booth?
It's not likely that just one of the alternatives can replace eBay all on its own. It may be worth establishing a multi-channel strategy that incorporates eBay but doesn't make you totally reliant on it.
You can use eBay's high traffic and support network while establishing your identity and exploring other marketplaces.
Check Out eBay Now
Want to learn step-by-step how I built my Niche Site Empire up to a full-time income?
Yes! I Love to Learn
Learn How I Built My Niche Site Empire to a Full-time Income
How to Pick the Right Keywords at the START, and avoid the losers
How to Scale and Outsource 90% of the Work, Allowing Your Empire to GROW Without You
How to Build a Site That Gets REAL TRAFFIC FROM GOOGLE (every. single. day.)
Subscribe to the Niche Pursuits Newsletter delivered with value 3X per week