Oxygen Builder vs Elementor Pro: Which WordPress Site Builder Is Better For Your Needs?
When you buy something through one of the links on our site, we may earn an affiliate commission.
Picking between Oxygen vs Elementor builder can be a tough decision. Both are highly rated and used by millions worldwide. However, choosing the wrong one could leave you struggling to complete your website.
I've set up a testing site for both builders comparing Oxygen builder to Elementor on their core differences to make the decision easier.
In a rush?
Our choice for a site builder that balances ease of use while providing advanced functionality even a beginner can make use of is Elementor!
Check Out Their Plans Here
Oxygen vs Elementor: My Quick Pick For The Best WordPress Page Builder Plugin
Again, for those who don't want to wait to read about the nitty gritty details, I recommend Elementor as the page builder plugin of choice. However, this comes with a caveat.
The Oxygen site builder is super fast and typically performs better during tests, as you will see if you read on. However, it is much more technically complex and better for an experienced WordPress developer or an expert web designer.
Elementor, on the other hand, is more intuitive for beginners and offers a robust solution for creating an entire website. Combined with plenty of great-looking starter templates and individual page templates, it ends up being a better option for most people.
Get Elementor Now
What is Elementor?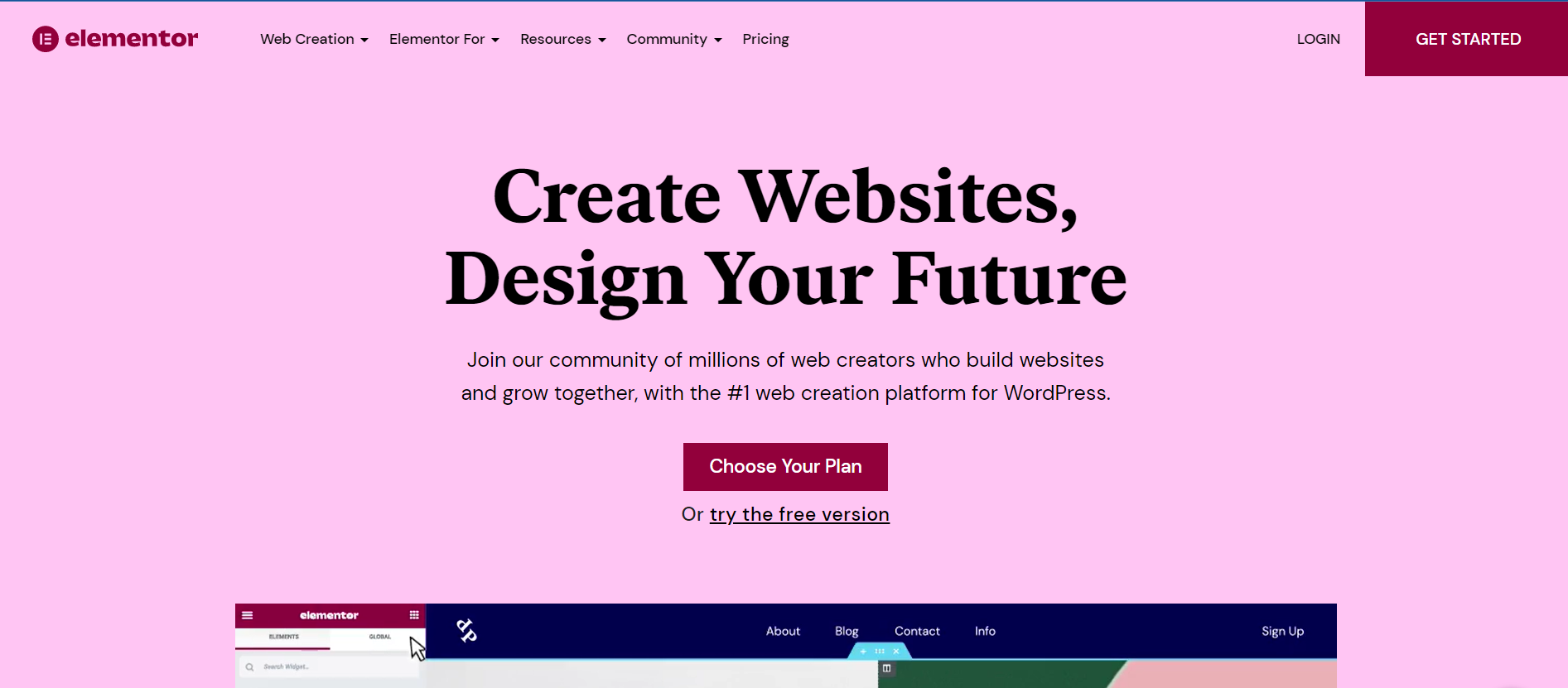 Elementor is a freemium drag-and-drop style website builder plugin for WordPress. The builder comes with a robust free version for basic websites with the option to upgrade for more elements.
An expanded ecosystem of plugins also exists to support Elementor. Numerous third party theme elements have been created for add-on elements allowing Elementor users to accomplish more. The builder also integrates with popular CMSs, LMSs, email marketing tools, and more.
As of 2020, the builder had over 5 million active installs, making it the most-used WordPress builder ever and one of the most installed plugins.
What is Oxygen ?
While called Oxygen Builder, the plugin isn't quite a builder in the same way as Elementor. Instead, Oxygen is a hybrid theme and drag-and-drop builder.
Oxygen overrides your theme, giving you more control over the entire process. While this is great for developers who want faster build-outs and for experienced web designers, it can be a bit overwhelming for new users.
As with Elementor, Oxygen Builder integrates with top marketing and sales tools, making it easier to build numerous website types. There are also quite a few professional templates to get you started.
Oxygen vs Elementor – The Overview
As noted above, Elementor is a pure drag-and-drop WordPress builder, whereas Oxygen is a hybrid theme and drag-and-drop builder.
This allows Oxygen to be consistently faster out of the box than Elementor. However, it's also what makes Oxygen more complex for beginner users.
Elementor has been created with web designers in mind, making it easier to get high-quality websites faster. However, more optimization is required to speed up the websites (you may want to check out our list of WordPress speed optimization services). On the other hand, Oxygen has developers who want to speed up turnaround time on website builds in mind.
Oxygen vs Elementor – The Key Features
Since the two WordPress page builders are targeting different users, it's essential to understand the key features of each to see if it's what you need.
With the Elementor page builder plugin, the features focus heavily on premade elements allowing you to build your site quickly. On the other hand, Oxygen's page builder focuses more on customization and flexibility for developers.
Elementor Features
Elementor comes with over 90 widgets to make designing your perfect website easier. Around 30 are given free in the basic version with the rest requiring you to update to Elementor Pro.
Aside from the many widgets, Elementor gives you over 300 premade templates, a theme editor, and a WooCommerce builder. Most of these features are available in the pro package.
All elements are responsive, and the front-end editor makes it easy to design your website exactly to your specifications. No coding is required, but custom CSS exists for all widgets with a global custom CSS feature for the technically savvy.
Oxygen Features
Oxygen Builder comes fully equipped with over 30 basic and advanced widgets. Other blocks can be added through premium add-ons and third party theme elements and add-ons.
The builder also comes with a powerful theme builder that gives you complete control over your entire website. This overrides your site's active theme.
Developers will be happy with the class system that allows you to make mass edits to particular objects. You can also easily add display conditions without code and create custom conditions using the API.
While making it more powerful for developers, these features make Oxygen Builder more complex and confusing for newer users.
Oxygen vs Elementor – Ease of Use
Ease of use varies greatly between the two builder plugins. While both are built using a drag-and-drop format, each is laid out differently.
Oxygen Builder is marketed as a drag-and-drop builder for developers who hate drag-and-drop builders. Elementor, on the other hand, is geared more towards newer users.
Oxygen Ease of Use
Oxygen Builder gets low marks in this area. It isn't necessarily more complex to use so much as it's not made for beginner users.
Because Oxygen Builder has been made with developers and high-level designers in mind, the layout and ease of use come at the expense of new WordPress users. The user interface is designed to provide a more granular level of control which can be confusing to the uninitiated.
Experienced WordPress developers will find the WordPress page builder plugin easier to use and more intuitive than other builders. However, for the vast majority of users, the learning curve with Oxygen Builder will be much steeper.
Elementor Ease of Use
Compared to Oxygen Builder, Elementor is much easier to use for most users. While it doesn't provide as much control over the design, you still have plenty of options for customization and taking advantage of individual page templates if needed.
One thing that sets Elementor apart from Oxygen in terms of ease of use is the premade templates. While both builders have these, Elementor has a more extensive design library.
These many premade designs make it easier to get a great-looking website up and running. You can then use the hundreds of basic and advanced elements to get the template looking exactly how you want.
Oxygen vs Elementor – Page Speed
Previously, Oxygen was the obvious winner of the page speed competition. While it still takes the lead, Elementor has been closing the gap.
A lot of work has been put in by the Elementor team to reduce code bloat and improve page speed. Though this is a drag-and-drop builder made for beginners, it's still slower out of the box and will need a bit of optimization.
*Note: The below tests were conducted using fresh WordPress installs on a Cloudways digital ocean server (check out our full Cloudways review). Lower quality hosting will negatively affect your site speed.
Oxygen Page Speed
Out of the box, Oxygen is a few points faster than Elementor when run through Google's Page Speed. The below screenshot shows a blank WordPress installation with only Oxygen Builder.
Compare this to the same Elementor screenshot below, and you can see that Oxygen beats out Elementor by a few points.
However, blank installs will usually be fast with any builder. Here is a screenshot of a page speed test after loading a predesigned template. I've used the Freelancer Template for this test and tested the homepage.
As you can see, the page gets solid marks for both mobile and desktop. This is before any optimization is done or any caching is applied.
Elementor Page Speed
The primary drawback of Elementor is that it is easy to use, which makes it easy to abuse. Out of the box, the builder is relatively fast. Even once a template has been installed, it still runs quickly before optimizing.
Here is a blank install of Elementor using the Hello theme. You can see that it only comes in a few points behind Oxygen.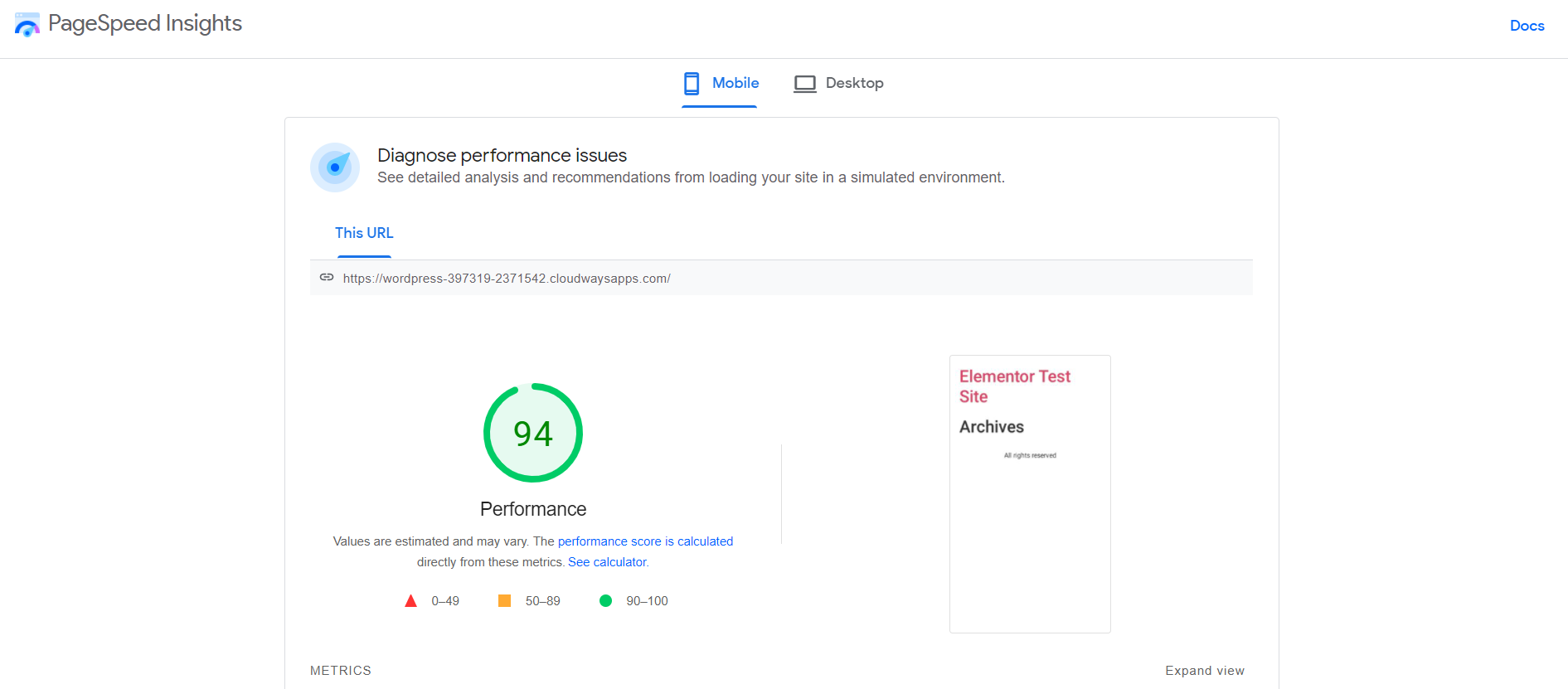 Now then, I've installed the Law Firm services template page and tested it (if you're interested, be sure to check out our law firm name ideas). While it comes in a few points behind Oxygen Builder for mobile, the speeds are comparable. A bit of optimization can ensure that Elementor gets near-perfect marks.
However, as noted above, it is pretty easy for less knowledgeable users to overuse the blocks and templates and over-design pages with Elementor. This is one of the primary culprits of slow websites using the builder.
To keep your page speeds optimized, ensure you follow design best principles. Also, make sure to use elements sparingly and add only what is necessary to each page of your website.
Winner: Oxygen (However, Elementor is catching up.)
Widgets
As drag-and-drop builders, Elementor and Oxygen come with a library of pre-made widgets used for styling websites.
These widgets range from the functional to the aesthetic and include text blocks, countdown timers, header blocks, and much more.
Elementor is the winner here, with many more widgets and more in the way of third-party add-ons. However, Oxygen still has everything needed for creating a visually appealing WordPress website.
Oxygen Widgets
Oxygen is a bit lacking in this area when compared to Elementor. The builder includes all necessary design elements such as text boxes, pricing tables, headers, and most other elements included in the basic version of Elementor.
Where Oxygen comes up short is the number of integration elements and other third-party connections. Many of these can be added through third-party plugins; however, out-of-the-box as a dedicated page builder plugin, Oxygen is behind Elementor.
It should be noted that this won't be an issue for more advanced developers. The API allows you to connect most other applications, and the element developer makes it possible to get what you need set up.
Elementor Widgets
Elementor comes equipped with a robust library of over 90 widgets, including:
Basic Widgets

Widgets
Elements

WooCommerce Widgets
These all come standard with the Elementor Pro install. Aside from these, you can select from numerous third-party widget add-ons. Some of the more popular providers include:
Essential Add-Ons

Ultimate Add-Ons

Premium Add-Ons

Happy Add-Ons

Mighty Add-Ons
There are many more, but these are some of the top providers. It should be noted that these are all premium add-ons, but many offer a free primary option.
One other benefit of Elementor is that you get a widget builder with the pro-version. This lets you build custom widgets to your specifications that can be saved in the cloud and reused on future websites.
Oxygen vs Elementor – User Interface Comparison
While Oxygen Builder and Elementor have similar interfaces, many people will note that Elementor is easier to use.
Again, as a byproduct of Oxygen being centered around developers, the interface flows in a way that is more natural from a developer's perspective. Elementor, on the other hand, has a brighter and cleaner interface that is a bit more user-friendly.
Oxygen User Interface
You immediately notice with the Oxygen user interface the number of customizability options. You are given complete control over everything on the page.
This makes the interface a bit cluttered if you aren't as familiar with WordPress development.
Another benefit for developers is the ease of editing the CSS. Every aspect of the page is customizable without going into theme style sheets as you would previously.
All of this makes it an excellent option for developers. The interface focuses less on being user-friendly for beginners and more on helping experienced users get the best results.
Elementor User Interface
With Elementor, the interface is almost the opposite of Oxygen Builder. The main similarity is that both have their element panels on the left side.
Aside from this, Elementor is much cleaner and more stripped down. Everything is done from the left panel, which centralizes all customization options. The focus is on making it as easy as possible to add new elements and edit those individually.
The interface is also brighter, and the element icons larger, making it easier on the eye. While the customization options are fewer than with Oxygen, the interface is easier to get started using for the vast majority of users.
Oxygen vs Elementor – Support Quality
Both Elementor and Oxygen Builder provide a solid support for paid users. However, you are getting a better deal because Oxygen Builder is purchased as a lifetime license for unlimited websites.
Elementor requires you to keep purchasing a new license each year for active support. So Oxygen is the cheaper option in the long run with more consistent support for users.
Oxygen Support
As noted previously, Oxygen provides lifetime support when you purchase a license for unlimited websites. You have a few different options for getting help with problems, including:
Ticketing support system

Expert community

Tutorials

Documentation

FAQs
Their ticketing system is available to all paid users. The company promises to respond to all tickets within 24 to 48 hours. From my previous experience with their support team, they usually respond in less than a day.
The tutorials and documentation are also helpful and address the most common issues people face with Oxygen Builder. The company provides comprehensive video tutorials for beginner users to help them understand the layout and get started.
Elementor Support
Elementor provides excellent support as well. However, as noted above, you will have to keep paying for it every year. Support options for Elementor include:
Ticketing support system

User community

Video tutorials

Help center documentation

FAQs

Course academy
Only users with an active license will be able to access the Elementor Pro ticketing support system. Once your license expires, you will still have access to the other support methods.
Noticeable here is that Elementor offers more outlets to get your questions answered, including the course academy. This is quite helpful for the many free users of the tool and is one thing that makes Elementor functional for both free and paid users.
Requirement
This is one area where the Elementor page builder plugin and Oxygen Builder differ significantly. Elementor can be used with almost any theme that is regularly updated.
Oxygen, however, will actually override your active theme allowing you more customization options. This is an upside and drawback, depending on your level of expertise.
Oxygen Requirements
Oxygen Builder is both a drag-and-drop builder and a theme builder. For this reason, once you install it, the plugin will override your current theme so that you have full customization capabilities.
You can create templates that serve a similar purpose to themes. These templates have global styling options making it easier and faster to get everything set up.
The key benefit here is that you have complete control over how your website looks without needing to understand code. Oxygen Builder saves you from going into theme files and adding custom code for styling.
Elementor Requirements
Elementor can be used with almost any active and updated theme in the WordPress theme repository. The drag-and-drop WordPress builder also comes with a basic theme, Hello by Elementor.
Aside from the Hello theme, some of the most popular theme combinations to use with Elementor include:
Astra

Ocean WP

Generate Press

Phlox
Many other themes work with Elementor, so it will likely be fine with the builder if you have a personal preference. What's important is that the theme is regularly updated and coded according to the latest standards.
I recommend Astra owing to the free option. If you like the theme and don't mind paying for the premium version, you will also receive their Ultimate Add-Ons for Elementor.
Oxygen vs Elementor – WordPress Plugins Integrations
Both Elementor and Oxygen Builder integrate with a wide range of third-party apps. These include learning management systems, customer management systems, scheduling apps, email software, and more.
Third-party add-ons, such as Ultimate Add-Ons for Elementor or Oxy Toolbox, can also expand what each builder integrates with.
Oxygen Integrations
Oxygen offers integrations with leading tools in a majority of industries. Some of the most popular integration types include:
WooCommerce

Social Media (Facebook, Twitter, Tik Tok, etc.)

Apps (Airbnb)
Email Marketing (Mailchimp)

CRMs (Hubspot)

Payment Processors (Stripe, PayPal, etc.)
So many more integrations exist, but these are some of the more popular types. Many third-party solutions are available which provide even more integration options.
For developers, Oxygen Builder offers an API that can be used to easily create integrations to the products and services you need, a further reason developers use the builder.
Elementor Integrations
Elementor also offers a vast assortment of integrations with popular tools and services.
Because the plugin has become the most popular drag-and-drop WordPress builder, many apps have gone out of their way to integrate with the builder. Many more integrations are becoming available each year.
Out of the box, some of the most popular integrations include:
Marketing Tools
MailChimp

Drip

Hubspot and many more
WordPress Plugins
Social Networks
Facebook

Discord

Slack

Vimeo and more
Other Integrations
Adobe Fonts

Google Fonts

Custom Icons Library
As with Oxygen Builder, many third-party add-ons offer even more integrations. This list is continually growing, leading to Elementor being the clear winner in integrations.
Oxygen Vs Elementor – Pricing
In the short run, Elementor is cheaper than Oxygen Builder. Not only is there a free basic version, but the single site license price for Elementor Pro also comes in at around a third of the cost of Oxygen.
However, in the long run, Oxygen Builder ends up being cheaper. This is because Oxygen Builder is sold as a one-time lifetime deal. Elementor, on the other hand, is a yearly subscription to keep your site updated.
While your website will continue to work, you will stop receiving updates if you stop paying for Elementor Pro. Oxygen will continue to update as long as you have it installed.
Common Questions About
Here are answers to some of the most commonly asked questions about Oxygen vs Elementor to help you decide which WordPress site builder plugin is right for you.
Does Elementor make websites slow?
Elementor does make your website slow if misused. You want to avoid overusing elements which can slow down your website.
Instead, stick to only the elements you need and keep the design minimal and functional. It can also be good to disable Elementor on pages that don't use the plugin.
Is Elementor bad for SEO?
Elementor is not bad for SEO. However, if you overuse the app and create a slow website, this can contribute to negative search performance.
It is essential to provide a quality user experience that includes a website that loads quickly. Faster websites improve the user experience, contributing to better search rankings.
Is Oxygen fast?
Oxygen builder is one of the fastest out-of-the-box WordPress drag-and-drop builders. However, many novice users find the builder complex with a steep learning curve.
Other builders such as Elementor can be just as fast but will require work on the backend to ensure optimal performance.
Does Astra work with Oxygen?
Astra does not work with Oxygen. The Oxygen Builder is a hybrid drag-and-drop builder and theme builder.
The plugin will disable any active theme that you have, including Astra. You can then use the builder to develop your template exactly how you want it.
Is Oxygen a ?
Oxygen is not a theme. Instead, it is a hybrid drag-and-drop WordPress websites and theme builder. This means that it can be used to custom develop a theme, also known as a template, to your specifications. The plugin will disable your active theme upon activation.
Oxygen vs Elementor: The Final Verdict
While both Elementor and Oxygen builder are fantastic and there are other page builders you may want to check out, I would recommend most people use Elementor.
This is counter to the way I work, as I usually use a combination of Oxygen and Gutenberg for websites. Oxygen page builder plugin works well for the main pages and Gutenberg for posts to ensure optimal speeds.
However, Elementor page builder plugin is generally easier to use and has come a long way in speed and performance. The builder is intuitive and robust.
This, combined with the many integrations and numerous third-party plugins, make it better for most people looking to develop a niche and authority-type websites.
Get Elementor Now
***Bonus: As an Oxygen Builder and Elementor alternative, check out other page builders like Beaver Builder, Divi Builder, or the new kid on the block Bricks Builder.
Want to learn step-by-step how I built my Niche Site Empire up to a full-time income?
Yes! I Love to Learn
Learn How I Built My Niche Site Empire to a Full-time Income
How to Pick the Right Keywords at the START, and avoid the losers
How to Scale and Outsource 90% of the Work, Allowing Your Empire to GROW Without You
How to Build a Site That Gets REAL TRAFFIC FROM GOOGLE (every. single. day.)
Subscribe to the Niche Pursuits Newsletter delivered with value 3X per week