How to Increase Organic Traffic: 19 Fast & Easy Ways You'll Love
When you buy something through one of the links on our site, we may earn an affiliate commission.
You want to increase organic traffic to your website.
The question is: what will give you the best results in the shortest amount of time?
Well, in this article, we'll explore 19 ways to increase organic traffic, from the easiest to implement to more advanced strategies.
When you apply these techniques, your website will:
Achieve higher search rankings
Show up more often in Google
Give your audience a better experience
And more…
The best part?
Most of the tactics I share are free to carry out.
Let's dive right in.
What is Organic Traffic?
The definition of organic traffic is a visitor who lands on your website from the organic results in search engines via search engine optimization.
These include:
Google
Bing
Yahoo
DuckDuckGo
and more
When people type in search queries and phrases in search engines, and your website is optimized for SEO, your website will show up in the results.
The tips in this article help directly or indirectly increase the amount of keywords you show up for or improve their ranking positions.
Organic Traffic vs Direct Traffic vs Social Media vs Paid
Your website can receive traffic from different sources and can be tracked in tools like Google Analytics.
Other sources include direct, social, paid, and referral traffic.
I explained what organic traffic is in the last section. Here's how it differs from other traffic sources.
Direct Traffic
Direct traffic is counted when Google Analytics doesn't know where the visitor was referred from. This could be a visitor who types your website directly into a web browser or clicks on a saved bookmark.
It could also account for people who click links from PDF documents, Word documents, etc.
Social
This is simply website traffic from social media.
So, if someone clicks a link on Facebook, Twitter, or other social network, it'll show as social in Google Analytics.
As a side note, some links from social media can show up as referral traffic instead of social traffic. This is because some websites are using their own URL shorteners, for example, t.co for Twitter.
It's also important to note that there's a difference between organic social and paid social.
Paid social will only show in analytics reports when you run paid ads from social media sites, whereas organic social is all other social traffic.
You can get more accuracy in your Google Analytics data by making adjustments to your tracking or using a Google Analytics plugin for WordPress.
Paid
Paid traffic is anyone visiting your website from your own advertising campaigns on search platforms, such as Google or Bing.
This doesn't include paid traffic from social media.
19 Great Ways For How to Increase Organic Traffic
Here are the most effective ways you can increase organic traffic to your website.
Implementing these can have significant results. Try to apply as many as you can for an extra boost in traffic.
1. Make Your Website Readable
You could have the best content and a ton of backlinks, but if your website or articles are difficult to read, visitors won't stick around for long.
Apart from giving your readers a good experience, you want to send Google positive signals that your site's content is enjoyable to read.
And your website rankings can be negatively impacted if too many people click the back button.
Therefore, it's important to make your site aesthetically pleasing so that visitors stay for longer.
The following techniques will improve page readability and user experience.
When you apply these, visitors will read for longer and your site won't be negatively impacted in the search results.
Narrow page width
Really long lines of text are harder to read because it takes more effort. An ideal page width should stay within 600px to 800px.
Large font size
Marrying up page width, the right characters per line, and choosing the right font size is a fine art.
But, bigger font is recommended. No one wants to be squinting at the screen.
Experts suggest anything between 14px and 18px is a good starting place.
High contrast text and background color
Again, you don't want people squinting at your writing because the contract between font and background color is too low.
Choose contrasting colors so that your font stands out. Go with black and white if you get stuck.
Line-height
A good place to aim for line-height is between 1.2 and 1.4 points or 24px. There's no hard and fast rule though, so make your decision based on the variables above.
---
2. Update existing content
According to a study conducted by Backlino, the number 1 position in Google receives 31.7% of all clicks.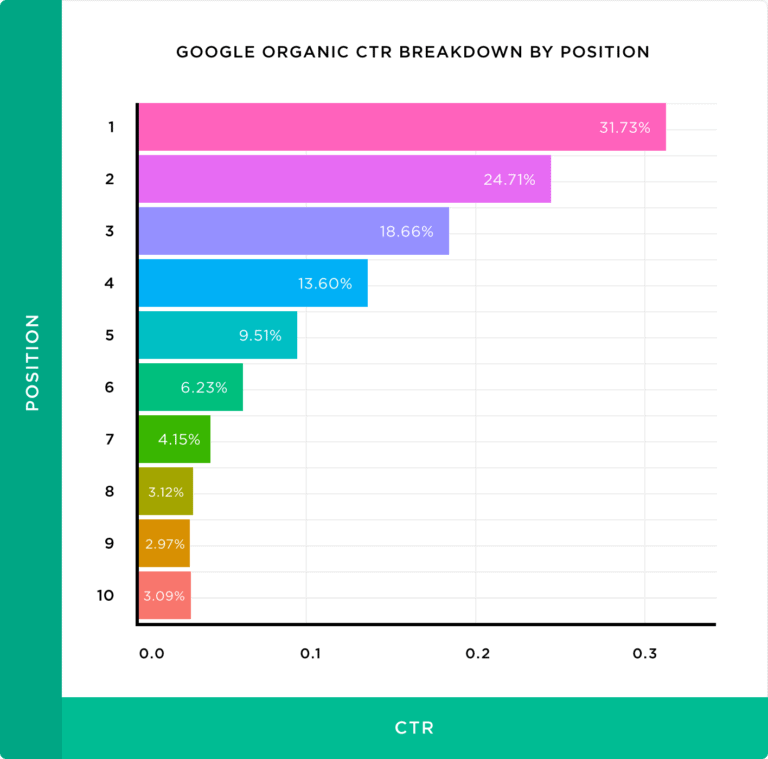 Looking at position 3 in the chart above shows an almost 50% reduced click through rate (CTR) than the top position.
This is why updating existing content across your site has huge potential for a quick traffic boost.
Moving up just one spot can improve CTR by 30%.
The best part?
Moving up one position via search engine optimization can increase CTR by 30%, but the traffic increase can be much higher.
That's because one article can rank for multiple long tail keywords in each position.
Let me explain:
Imagine one of your articles is ranking for 50 keywords in position 8 and the total volume potential of these keywords is 6,000.
In position 8, your traffic would equate to 62 visits per month, according to the chart above.
If you update this article and it ranks for those keywords in position 3, that would be a potential increase of 373 visits per month. That's an increase in organic traffic of over 500%.
And that's not all.
There's the potential increase of your other keywords ranking positions. This is how you can increase organic traffic exponentially overnight.
How to find the right content to update Via Google Search Console
First, head over to Google Search Console and click on Performance.
Second, click Export > Google Sheets on the top right. Third, right click the first row in the spreadsheet and hover over "View more row actions" and click Freeze up to row 1:
Third, click Data > Create a filter:
Finally, click the filter icon in the position column, and filter the condition to display keywords between 5 and 12, then click OK:
You'll now have a list of all the keywords your website ranks for between positions 5 and 12.
You can note down the articles these keywords match with and make them your priority to update.
If you use a keyword tool like KWFinder, this process is even easier with their built-in filter tools.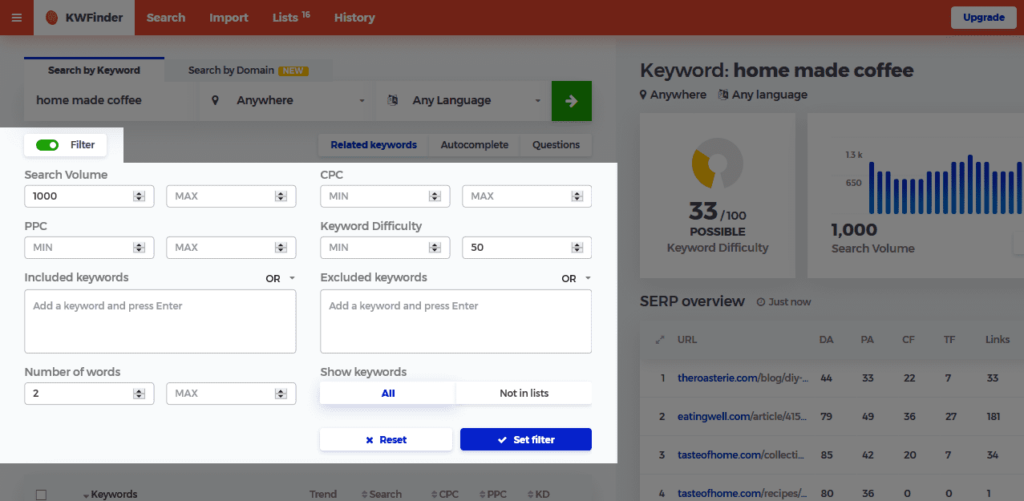 Save Time with KWFinder
---
3. Use an AI Optimization Tool
The popularity of AI optimization tools has blown up recently, and for good reason.
They help you optimize your content by analyzing the top 10 Google results.
For example, SurferSEO will suggest other terms related to the article you're writing based on on-page search engine optimization best practices.
And tools like Jasper will even write the content for you.
The best article generator software will help you improve on-page SEO and add more value to the article.
Doing this process manually requires reading the top 10 results, so AI tools will save you a ton of time.
---
4. Improve Page Speed
According to a Google study, as a web page load speed increases from 1 to 3 seconds, the probability of someone leaving your site increases by 32%.
And 90% after 5 seconds:
That means it's essential that your website loads fast. If lots of people leave your site, it can have a negative impact on your rankings.
Fortunately, speeding up WordPress is an easy fix.
Here's how.
Before optimizing your site speed, make sure you meet the essentials: reliable web hosting and a lightweight theme (and then later you can check out our list of WordPress speed optimization services).
Reliable web hosting: If you're using cheap or shared web hosting, your website speed will suffer. Switch to a faster host like Cloudways or BigScoots for optimal performance (don't miss our full Cloudways review).
Lightweight theme: Changing themes can be a daunting task, but it's vital if the theme you're using is old and clunky. Consider switching to one of the best WordPress themes for an instant speed boost.
Now onto the speed optimization tips to maximize your organic traffic efforts.
Lazy load
When you turn on lazy loading, your website will stop loading all the images on your page all at once.
Instead, it will only load the image once it's visible on the screen, which loads the rest of the page faster.
You can use a WordPress plugin like Optimole to lazy load images and optimize them too.
The LazyLoad plugin by WP Rocket is a completely free lazy load plugin but doesn't optimize images.
Optimize images
Optimizing images as you upload them to WordPress is one of the best ways to reduce page load speeds.
Optimole is one of the few image optimization plugins that includes lazy loading and offers a free plan of 5000 monthly visits.
ShortPixel is another great optimization tool for your images without lazy loading, but you could pair it with The LazyLoad Plugin by WP Rocket to get full benefits.
Page caching
Page caching stores a static copy of your website on the server and delivers this to your visitors, instead of loading the live version every time.
The best page caching plugin for WordPress is WPRocket. It's super easy to use and comes with tons of other optimization features, like HTML, JS, and CSS minimization.
Alternatively, WP Fastest Cache is a good free option.
Use a CDN
A CDN is another way to significantly speed up your website's performance and optimize your chances for more organic traffic to your website.
It works by taking a static copy of your website (similar to caching) and storing it on multiple servers around the world.
Then, the CDN will display the version of your site from the server that is closest to your visitor's location.
An excellent CDN that is reasonably priced is Bunny.net or you can go with CloudFlare as a free option.
---
5. Refine Your Keyword Research Strategy
Keyword research can be difficult.
But instead of targeting anything and hoping for the best, you can try a different approach.
This approach is centered around content marketing where you create content for every area of the funnel.
Here's why: people seek information to move away from discomfort or to find comfort.
In content marketing, this places people in one of three different positions. A person's position influences what they want to read.
You can visualize their positions as a funnel.
Top of the funnel
People at the top of the funnel aren't aware of their problem. Because they don't know a problem exists or they don't understand it well enough.
They will ask questions that start with "why."
For example: Why does my back hurt?
They're in pain, and they think the problem is the pain. There is something causing the pain that they are unaware of. For example, it might be caused by bad posture.
Middle of the funnel
People in the middle of the funnel are seeking ways to overcome a problem.
They will ask questions that start with "how."
For example: How do I fix my posture?
They've educated themselves about the cause of their back pain and now understand that it's because they have bad posture.
They are seeking a solution, but haven't found a product that can help yet.
Bottom of the funnel
The bottom of the funnel is where a person knows of specific products that can help them overcome the pain they're in.
They will ask questions with the words "best," "review," or "vs."
For example: what's the best posture corrector?
At this stage, they know that a posture corrector will help them ease their back pain, but they don't know which one to buy.
They are in research mode and as soon as they are satisfied with a trusted recommendation, they will buy.
So, how does this fit into your keyword strategy?
Well, you want to think of your blog as a massive book, instead of a bunch of loosely related articles.
Each article forms a chapter of your book which helps your audience achieve their overall goal.
If you implement this strategy with hundreds of articles, you are guaranteed to increase organic traffic.
---
6. Write Better Meta Tags
It's true that higher positions in search results get more clicks.
But if you appear in position 5 with a more enticing title than the positions above it, it could give you a traffic boost and even bump you up the SERPs.
That's why you want to optimize your meta title and meta description tags using SEO copywriting for a potential increase in CTR (Click Through Rate).
To do this, use an SEO plugin like RankMath or Yoast in WordPress and follow these simple guidelines:
Use power words to evoke emotion such as mistake, painful, amazing, perfect, seductive, brutal, instantly, and secret.
Adding the year to the end of titles can dramatically improve CTR in SEO.
Using odd numbers has been proven to gain more clicks than even numbers because psychology states that odd numbers are less convenient, so they seem more legit.
---
7. Add Supporting Content
Supporting content that adds topical relevance will help more competitive articles rank higher.
For example, if you only have one recipe on your food blog, it could be tough to rank for anything.
However, writing 10 articles on the same topic will boost your authority on the subject and give your rankings a boost.
---
8. Optimize Your Internal Linking Strategy
Most people treat internal linking as an afterthought. They publish a new article and build a couple of internal links between existing articles.
But, there's a more effective approach.
Plan your internal links in advance.
When you plan internal links, especially with the help of internal linking tools, it's more intentional and helps you determine the content you want to write about.
And when you have highly relevant internal links between hyper relevant articles, you benefit in a few ways.
It improves topical relevance within clusters of highly relevant topics.
It's also effective for domain authority, because it equally passes link equity around your site.
There's a higher chance visitors will read more than one piece of your content.
So instead of trying to game Google by only linking to new articles from others with the most backlinks, you plan internal links based on how it provides the best experience for the user.
Then, you're not constantly governed by the Google Algorithm. Instead, you proactively plan internal links to make your blog content strategy the best that exists on the internet.
If you want a hands off approach of adding internal links that are highly relevant, you'll like LinkWhisper.
It's a WordPress plugin that automates the internal linking process to save you time and improve rankings.
Get Link Whisper Here
---
9. Focus on Long-tail Keywords
High-volume keywords aren't always the best ones to go after. Especially if you're launching a new blog.
That's because they are more competitive and require a more established website with high domain authority.
Instead, focus on long-tail keywords.
These keywords are much lower in search volume so fewer websites target them.
And fewer websites targeting long-tail keywords means there's more chance you'll rank for them.
Here's how to find them.
In any keyword ideas tool, type in a seed keyword to get a list of related terms. I'm using Serpstat:
Then, using filters, narrow down the results to only show keywords with a Google search volume between 10 – 90.
You could also include a filter to only show keywords that contain another word in it:
In a couple of minutes, I found thousands of long-tail keywords.
They usually contain more words (5-10) and have lower search volume.
Create content based on these keywords and you'll rank for these terms faster than more competitive ones.
---
10. Avoid Keyword Cannibalization
Keyword cannibalization is when you have multiple pieces of content that rank for the same keyword.
Why is this a problem?
Well, if Google struggles to determine which article deserves the ranking, they may choose to rank neither.
It can also confuse the searcher if they see more than one result. To resolve the issue, find any duplicate pages that rank for the same terms.
Then, either combine them or delete one of them.
Keep the highest performing piece and merge the other into this one. If the lesser performing piece isn't relevant, then consider deleting it.
But, how do you prevent keyword cannibalization from happening?
It's about search intent.
Every piece of content you publish needs to have a clear intention and purpose. If they are too closely related, it can cause keyword cannibalization.
---
11. Add New Content
Adding new content to your site will almost always increase organic traffic.
Content marketing is a powerful way to generate more organic search traffic, but your traffic won't increase unless you add more content.
Whether you sell a product, offer a service, or monetize your site with ads or affiliate marketing, new and optimized content is an effective strategy to increase organic traffic.
---
12. Steal the Featured Snippet
A featured snippet is the result you sometimes see at the top of Google.
They contain information taken from the website and directly answer the searcher's query.
The format varies from a straightforward paragraph to a bulleted list.
If you optimize the structure of your content well, you can land in this position and beat higher authority sites.
The best way to increase your chance of landing a featured snippet is to structure your articles or pages with H2 and H3 tags.
When you make your content clear to understand because of its structure, Google will more easily be able to use the data as a snippet.
---
13. Add FAQs to Your Post and Pages
Adding frequently asked questions to articles or product pages is great for helping it rank for more related terms.
The easiest way to find questions people ask based on your target keyword is to use Google.
First, Google search for your keyword. Then scroll down to the section titled, "People also ask."
Expanding one of these questions will open up more questions.
Add the questions with your answer to the page to boost its chances of increased traffic.
---
14. Build Backlinks
It's no secret that backlinks help increase organic rankings. They act as a "vote of confidence" from one website to another.
The more quality backlinks you have, the more of a positive signal that other sites value your content.
There are a ton of ways to build backlinks. I go into further detail later on in this article.
But, here are some common backlinking strategies you can look into.
The Skyscraper Technique
This technique was created by Backlinko founder, Brian Dean. You create a list post that's bigger than the top ranking list posts.
Then you perform outreach and asks bloggers to link to it.
HARO Link Building
Help A Reporter Out is a service that connects journalists and bloggers together.
You receive emails where you can offer your expert opinion and if they link it, it can be published on a high authority site.
Broken Link Building
Broken link building is where you find relevant articles that point to content that is no longer active or online.
Then you reach out to the website owner and ask if they want to link to your similar piece instead.
---
15. Remove Thin Content
Google wants to show people the best content available.
And if your website is full of pages that don't provide any value, it can negatively impact your Google search rankings.
Google calls these pages thin content. And, if you have too much thin content, it can affect your entire site.
Removing these web pages from your site can boost the performance of your other pages.
To find thin content or pages that offer no value to your audience, you can use a tool like the Moz bar to see which pages have zero backlinks.
Then check your Google Analytics stats to see which search engine results pages get zero traffic or conversions.
These are the pages you can delete from your site. Also make sure you remove internal links pointing to those pages.
---
16. Perform Blogger Outreach
Performing outreach within your niche is a great way to build relationships with other bloggers.
It can also help you gain some backlinks and increase organic traffic gradually.
A simple strategy it to link to external sources from your articles, then reach out to the owner of that content telling them you linked to them.
They will appreciate the link and may even share your article with their social media following.
Through the power of reciprocity, the bloggers you build relationships with will start linking to your articles when they publish new content.
---
17. Leverage Social Media
Developing a social media following won't directly impact or drive organic search traffic and rankings, but it can make a positive difference indirectly.
Through brand recognition, when people see your tweets or notice other users sharing your content, it can get more people searching for you in Google.
In turn, this can send a positive signal to Google that your brand offers value and that people trust you.
Growing a social media following and gaining more shares can also signal that your content is valuable and worth reading.
---
18. Create a Content Hub
A content hub is an exhaustive group of informational content that educates readers on a specific topic.
While your blog increases awareness of problems in your niche and converts readers into buyers, content hubs aim to educate readers on an entire topic.
Here's how your site can benefit from content hubs:
Attract backlinks
Internal linking opportunities
Topical authority
All of these will help you get more organic traffic.
To develop your own content hub, decide which topics you want to cover and start by producing a pillar article.
A pillar article can be a long-form piece of quality content that covers the whole topic broadly, then links to topic clusters.
These clusters will expand on the topic to educate readers in more detail.
---
19. Perform Guest Blogging
As I mentioned earlier, backlinks are extremely powerful for SEO.
That's because they signal search engines that your content is valuable and worth linking to.
And guest blogging has been a method for building backlinks for years.
There's a lot of debate whether guest posts are still effective, however, this blogger seems to confirm it's a viable strategy.
Here's how to start guest blogging yourself.
1. Search for guest blogging opportunities in your niche
Use special keywords (also known as "search operators") in Google to find guest blogging opportunities.
These keywords will look like:
Keyword + "write for us"
Keyword + "guest post"
You type your keyword along with the plus symbol and text in the quotation marks to find blogs who accept guest posts.
2. Pitch your guest post ideas
Find the blog's email using a service like Hunter.io and send your pitch (don't miss our Hunter.io review to learn what this powerful tool can do).
Wait for the blog owners to reply and accept your guest post request.
3. Write the article
When you get your guest post requests accepted, it's time to write the article.
Use Google Docs so you can share the finished article with them once it's done.
You might also need to adhere to their guidelines, so make sure you follow them to avoid delays in the article being published.
Add a link to one of your articles or home page to the guest post. Make sure you okay this with the blog owner first. Some guest post guidelines only allow links in the author bio.
Also, only link to one of your articles that relates to and adds value to the guest post you're writing.
4. Send it to be published
Once it's done and you've edited and checked it for grammar and spelling mistakes, email the blog owner to let them know it's finished.
Then it's just a case of waiting for them to publish your post.
Develop a consistent guest blogging strategy to maintain a decent flow of backlinks to your website.
Conclusion: How to Increase Organic Traffic
There you have it! Using these tips will bring you more organic traffic and boost leads and sales.
Which one will you try first?
Make sure you add a Google Analytics plugin to track your results.
Want to learn step-by-step how I built my Niche Site Empire up to a full-time income?
Yes! I Love to Learn
Learn How I Built My Niche Site Empire to a Full-time Income
How to Pick the Right Keywords at the START, and avoid the losers
How to Scale and Outsource 90% of the Work, Allowing Your Empire to GROW Without You
How to Build a Site That Gets REAL TRAFFIC FROM GOOGLE (every. single. day.)
Subscribe to the Niche Pursuits Newsletter delivered with value 3X per week