An effective free social media scheduler will not only free up more time in your day, but it'll also help you stress less about being present on social media at all waking hours of the day. 
That even sounds exhausting. 
However, using your social media platforms to their fullest potential has never been more critical for your business. 
Don't believe me? Check this out.
Over half of the world's population uses at least one social media platform. The average user spends 2 hours and 27 minutes on social media daily.
Neglecting social media in your marketing strategy would be a massive mistake with this kind of engagement. But it can be overwhelming to juggle multiple social media posts at one time. 
So, why not let a free social media scheduler do it for you? 
We'll share the top 12 free social media scheduling tools that will help you streamline your posting schedule.
You'll never worry about missing a post again!
Social media schedulers are all about automating your posting schedule, so you have more time to focus on the things that matter.
These free social media schedulers will make your life easier and keep you from spending more time on social media marketing than necessary.  
Also, if you're willing to splurge on a premium plan, all of these apps also offer upgrades for a price. 
With the premium upgrades, you will have access to even more features such as in-depth analytics, social media strategy guidance, and tips on how to build a social media following.  
Buffer
Buffer helps you build your audience and grow your brand on social media by helping you plan, schedule, and post high-quality content. 
Offering both paid and free versions, Buffer is one of the best free social media schedulers out there because of its simplicity.  
Buffer offers free scheduled posting across the top social media platforms, including:
Instagram 

Facebook

LinkedIn

Twitter

Pinterest 
Buffer's free social media scheduler features:
One-user management 

Schedule up to 10 posts in advance 

Manage 3 social media accounts at one time 

Buffer's Chrome extension 
When scheduling posts with Buffer, you can create posts and schedule their release for each social network independently. 
Simply upload the content (compatible with Google Drive, Canva, OneDrive, and Dropbox) and set the date and time for publishing. Buffer will handle the rest! 
The app's calendar lets you easily view your content across all social channels, so you always know what's posting and when. 
A neat bonus feature of Buffer is access to their free chrome extension. The extension integrates directly into various websites and allows you to share content with the click of a button!
Hootsuite
Hootsuite is one of the most popular tools for social media management. It's trusted by over 18 million social media marketers.
Hootsuite's free social media scheduler allows you to do more in less time while publishing engaging content on the most popular social media platforms. 
With Hootsuite you can schedule content on the following platforms:
Instagram

Facebook

LinkedIn

Twitter

Pinterest

YouTube
Hootsuite's free social media scheduler features:
One-user management 

Manage two social media accounts 

Schedule 5 posts at a time

User-friendly dashboard

Calendar view by week or month 
Hootsuite's free plan is an excellent option if you only use one or two social media platforms and don't post too frequently on your channels. 
If you need more premium features for your social media marketing needs, Hootsuite also has multiple premium plans!
Zoho Social
Zoho Social is a mighty social media scheduling tool that offers more specific features for free users.
Doing things a little differently than the other social media schedulers, Zoho Social helps you schedule posts for up to 7 social channels at a time. 
Zoho Social's supported social networks are: 
Facebook Page

Facebook Group 

Twitter Profile

Instagram Business Profile 

Google My Business Listing 

LinkedIn Profile 

LinkedIn Company Page 
Get Zoho Social
A benefit of Zoho Social's scheduler is that you can set up automatic postings in a Facebook Group. Facebook Groups are a great way to stay connected to your community and customers. Discover how to create a Facebook Group that will thrive, and bring in more business!
Zoho Social's free social media scheduler features:
One-user management 

One brand

Easily schedule posts on seven social media channels

zShare Chrome extension 
A nice bonus to the free plan is access to Zoho Social's browser extension, zShare.
With zShare, you can plan and post content to multiple platforms while browsing the internet. A single click lets you share articles, websites, and blogs as you come across them! 
The chrome extension is handy for the social media marketer who always has ideas in their back pocket.
Later
The all-in-one social media scheduling tool, Later, helps you plan a month's worth of content in minutes with their drag and drop integration! 
The app started as an Instagram scheduling tool, but after some quick success, they introduced more networks.
You can now schedule content on these platforms with Later:
Instagram 

Facebook

LinkedIn

Twitter

Pinterest

TikTok
Later's free social media scheduler includes:
Choose one account per social media platform

Schedule 30 posts per social profile at one time

Basic analytics

Pre-made templates 

Saved captions
Later also has a bunch of ready-to-use templates for your Instagram story, carousels, videos, and saved captions, so you'll never have to start from scratch. 
This social media scheduling tool is best for you if Instagram is your go-to social network.
Use the Later Google Chrome Extension to find and save images for your next Instagram post easily. 
Later and Instagram go together like peanut and jelly. 
SocialOomph

Promising to boost your productivity with its advanced post-scheduling tools, SocialOomph may just be what your socials need. 
They allow you to plan, schedule, and publish your content on any date and time from their simplistic dashboard. 
Keep in mind that they are mainly known as a Twitter automation tool and do not support some popular social media platforms such as Instagram, YouTube, and TikTok. 
SocialOomph offers social media scheduling on these platforms:
Twitter

Facebook

LinkedIn

Pinterest

Reddit

Discord

StockTwits

Mastodon
SocialOomph's free plan allows you to:
Connect one social profile of your choosing 

Unlimited scheduled posts

Maximum of three posts per hour. 
A perk of using SocialOomph is that they offer free scheduling to some unique social networks such as Reddit, StockTwits, Discord, and Mastodon. 
TweetDeck
Twitter enthusiasts, look no further for a social media management tool than TweetDeck! 
With TweetDeck, you can manage multiple Twitter accounts in one place with countless features to help you easily track conversations, accounts you're following, and updates. 
There is no paid version of TweetDeck, meaning all features are entirely free to use and unlimited. All you need is to do is sign up with your Twitter account, and you're ready to go. 
TweetDeck's social media scheduling perks:
Customizable dashboard on web, Chrome, and desktop app

Send & receive tweet updates instantly

Unlimited tweets and updates 

Track multiple conversations at once 
If you solely use Twitter in your social media marketing plan, then TweetDeck is the free social media scheduler for you.
Crowdfire
Crowdfire is a social media management tool trusted by 19 million social media marketers to plan, prioritize, and schedule posts. 
The Crowdfire free plan supports four of the major social media networks:
Instagram

Facebook

LinkedIn

Twitter 
Pinterest is available with all of Crowdfire's paid premium plans. 
Crowdfire's free social media scheduler features: 
Ability to link three social media accounts at one time

Ten scheduled posts per account 

Hashtag recommendations 

One day of social analytics data
The hashtag recommendations feature is a massive plus for social media marketers. Hashtags help get your content in front of more people by targeting keywords related to your business.
Therefore, Crowdfire helps get your content in front of more possible customers! 
Plus, it's very rare to see a free version of a social media scheduler offer analytics.
Creator Studio
Creator Studio is Facebook's free content management tool that helps you create and schedule content for Facebook or Instagram. 
If you use Facebook and/or Instagram for most of your social media marketing, Creator Studio could be the best option for you because you have access to all you need within the app! 
All you have to do is create content as usual in Creator Studio. Then, set up the date and time you would like for your content to go live. 
However, scheduling isn't the only thing Creator Studio has to offer. 
Creator Studio's free social media marketing tool features:
Free social media scheduler

Social media analytics (engagement, growth, views, audience demographics)

Ability to monetize your videos through ad revenue and views

Create and schedule posts from IGTV

Customizable dashboard 
The next time you plan a social media post for Facebook or Instagram, make sure you download the Creator Studio app first!
Tailwind
Tailwind automates the challenging parts of your social media marketing plan for Pinterest and Instagram, so you can focus on growing your business.
Trusted by over one million small businesses and large companies alike, they realize that doing everything yourself is difficult. 
So, Tailwind's got your back. 
Because Tailwind only supports two platforms, there are a few nice additions that you don't see with other social media schedulers. 
Tailwind's free social media scheduler features: 
One-user management 

One Pinterest profile

One Instagram profile 

20 scheduled posts per month 

Bulk upload posts with drag and drop feature

Basic analytics 

Access to five Tailwind communities where you can connect with other Pinterest creators
Creators and marketers alike love Tailwind's smart scheduling tool, where you can schedule hundreds of pins in a matter of minutes. 
Say goodbye to staring at your computer screen for hours on end, and say hello to your new pal, Tailwind! 
Get Tailwind
Combin
Another ultimate scheduling tool for Instagrammers, Combin is all you need for your Instagram-worthy posts.
Their drag and drop interface allows creators and businesses to play around with how their content will appear on their feed. This way, you can organize your content based on which posts will look good next to each other. 
The Combin Instagram scheduling tool is entirely free. With that said, you will need to upgrade your plan to add more accounts and access some growth opportunities. 
Combin's free social media scheduler includes: 
Manage up to 15 Instagram accounts 

Unlimited scheduled posts

Option to post immediately or schedule for specific date and time

Bulk image upload

Edit image size before posting

User & location tagging 
You'll notice that Later and Combin have similar structures and offer about the same features.
However, Combin may be best if you want the freedom to schedule an unlimited number of posts. Later only allows you to schedule up to 30 posts at one time. 
It's possible to plan an entire year of content in just one day with Combin's unlimited scheduled posts and bulk upload! 
Friends+Me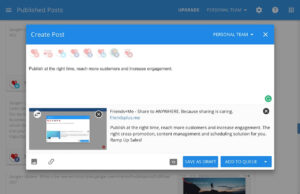 Friends+Me is a great free option for scheduling and automating your social media posts, so you always post at the right time to reach most of your followers. 
This tool supports the following networks:
Facebook

LinkedIn 

Twitter 

Tumblr
Like the other free social media scheduling tools, Friends+Me has multiple premium products (which include Pinterest scheduling).
However, their freemium product may be exactly what you need. 
The Friends+Me free social media scheduler offers:
One-user management 

Choice of two social media platforms (queues)

Five scheduled posts per queue (10 altogether)

Link shortening 

Zapier

integration 

Schedule as you discover with the browser extension, web app, and mobile app
Also, their dashboard is very clean, simple, and easy to use. 
Social Champ
Social Champ is an excellent social media marketing tool for people interested in growing their online business.
Schedule posts, grid view your posts in a calendar, and access sentiment analytics for your live posts, all within one app!
With Social Champ's free version, you have the option of seven social networks to schedule your posts. 
Social Champ's supported social networks:  
Instagram 

Facebook 

LinkedIn 

Twitter

Pinterest 

YouTube 

Google Business Profiles 
A nice bonus if you're a social media manager is Social Champ's client organization tool. With the tool, you can organize clients' social accounts in two separate workspaces, so you don't have to worry about mixing up their content.
Social Champ's free social media scheduler includes: 
One-user management 

Connect up to 3 social media accounts at once 

Unlimited scheduled posts 

Two workspaces for separate account organization 

Bulk schedule up to 50 posts at a time 

In-depth analytics 

Hashtag suggestions
For a free social media scheduler, Social Champ comes jam-packed with everything you need to see success with your social media content. 
---
As you can see, there are some pretty amazing free social media schedulers at your fingertips! 
The one you choose for your social media needs depends on the platform you use most, and how many posts you would like to schedule at one time. Otherwise, all of these get the job done. 
Starting off with a free social media scheduler is great to get your socials off the ground. However, once you begin to monetize more aspects of your business, you can upgrade to a premium plan that will give you more features. 
If you decide to eventually upgrade to a premium plan, another option you have is the Canva social media scheduler.  Canva's scheduler is perfect for marketers and content creators because you can create and post within one app! 
Get Canva
Happy posting!
---