23 Great Discord Alternatives For Better Group Chats and Efficiency
When you buy something through one of the links on our site, we may earn an affiliate commission.
More and more teams are moving to remote work and so having a great messaging system to stay in touch and discuss ongoing projects is integral for success. As a result, many people have turned to Discord for easy messaging, audio calls, and the handy mobile app to always be connected, even on the go. Originally designed for gamers, some people find Discord's lack of professionalism off-putting. But these Discord alternatives offer the same ease of use (maybe even easier) and a host of features to keep team communication at its best.
The Best Discord Alternatives to Boost productivity and Team Bonding
Pumble
For happy Discord users simply looking for a more professional alternative, there's Pumble. If you like the look and feel of Discord, Pumble offers much of the same but with a few key changes to make it a more suitable platform for business.
Highlights include:
24/7 web support
Free unlimited chat history
Text, voice, and video chat
User and workspace administration features
Productive collaboration
Mobile app
Plus, Pumble is free to use, so you don't need to invest in any additional software. Simply download their mobile or desktop app and get started.
---
Chanty
Another great alternative to Discord with a very similar setup is Chanty. This collaboration software is free to use and is the platform of choice for big brands like NASA, Nike, and Oracle.
Asides from the usual chat tools you would expect to find, Chanty also includes a project management workflow that allows you to create, discuss, and view specific tasks in Kanban view.
In addition, Chanty integrates seamlessly with all the other tools you use to get the job done. From MailChimp and Trello to Dropbox and Zendesk—you can manage all your operations from one place.
Some highlights worth noting:
Teambook to manage all chats, calls, tasks, and file sharing
Code snippets with dev-friendly formatting
Administration controls
24/7 support
Mobile app
However, Chanty doesn't offer some key features that Discord does, such as the ability to set your availability status ("away from desk" or "in a meeting"), and you can't mute channels in the app.
---
Slack
Initially designed with team communication in mind, Slack is one of the better-known Discord alternatives for business.
Unlike Discord which is often avoided by businesses for its lack of security, Slack offers enterprise-grade data protection, including identity and device management. This means that only certain people and approved devices can access your company through Slack, so there is less risk of data leaks.
Other highlights include:
Channels to stay organized
Team "huddles" for real-time collaboration
Accessibility features
Workflow builder
App integrations
Slack is free to try for as long as you want, but you are slightly limited. The free version only gives you 90 days of chat history and 10 integrations. Plus, you can only host a 1-to-1 voice chat or video call. However, their paid plans are affordable, starting at as little as $7.25/month for small team collaboration.
---
nTask
nTask is one of the best Discord alternatives for non-gamers that are looking for a more professional platform to boost communication. nTask more closely resembles a high-powered version of Trello or Asana.
The software offers a flexible task management feature to stay on top of ongoing projects and deadlines and interactive Gantt charts that allow you to track progress.
Another stand-out feature that some of the other Discord alternatives don't offer is their timesheet which allows users to input time spent on a task. These can be used to monitor productivity and also plan completion dates.
More highlights include:
Issue tracking
Risk management
Kanban board
Group chat
Like most Discord alternatives, you can take advantage of nTask's basic plan (for up to 5 users) for free. However, if you want to use any of their premium features or expand your team, you'll have to sign up for a subscription which starts at around $15/month.
---
TeamSpeak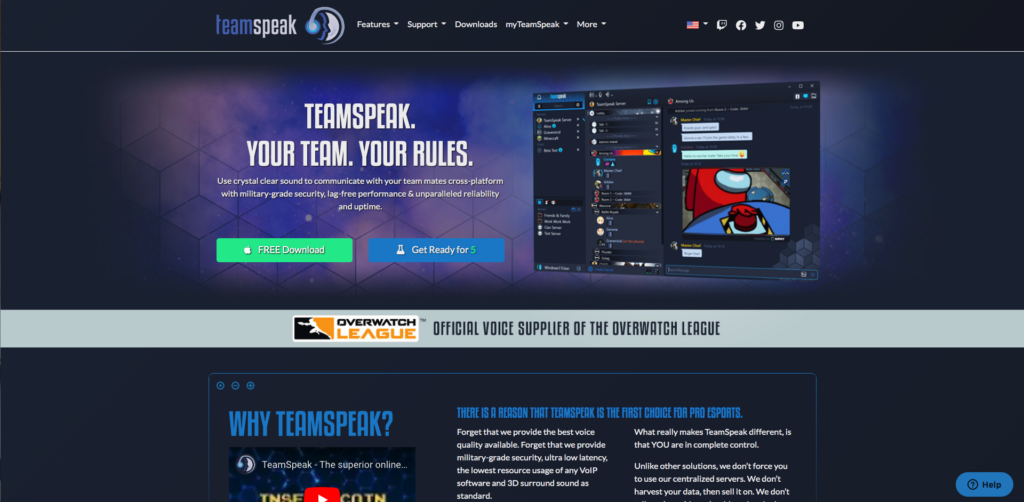 Simlar to Discord, TeamSpeak was built for gamers. However, that's not all they do. As its name suggests, TeamSpeak is best known for crystal clear voice quality and lag-free communication while on a voice call.
Suppose you are primarily concerned with choosing communication software for your business is the ability to host an audio call. In that case, TeamSpeak is easily one of the best options on the market. You won't get all the fancy project management tools that other Discord alternatives offer, but you can expect military-grade security and the ability to sync preferences across multiple devices.
Highlights include:
Automatic mic volume adjustment and background noise reduction
Advanced permission controls
Built-in privacy settings
Unlimited file sharing
Mobile app
If you aren't a fan of the Discord server, you'll also be happy to know you get your own private server with TeamSpeak. While this voice chat solution isn't free, it is still affordable, with prices starting at $55/year for one virtual server with 64 slots.
---
Flock
With instant messaging, task management, file sharing, video communication, and more, Flock is an all-in-one collaboration hub for small and large businesses.
In a similar style to Discord, you can organize your group chat into channels and pin important messages. You can also take advantage of the integrated search function, so you don't miss anything important.
More features that Flock offers include:
Hosted on Amazon's AWS servers with 99.99% uptime record
Advanced data security
Administration controls for privacy and security
Third-party app integrations
Flock is available for desktop or mobile and is free for teams of up to 20 people. If you want to take advantage of their advanced video conferencing features, have multiple team admins, or increase your storage, you'll need to upgrade your plan starting at $4.50/month per user.
---
Wire
Boasting super secure instant messaging with end-to-end encryption, Wire is the go-to Discord alternative for secure team collaboration.
It's the only alternative on the list that features crisis collaboration and response planning. This feature lets users bypass silent mode and alert team members of an ongoing crisis. In addition, Wire is fully compliant with government regulations allowing you to store and record communications in a customer-chosen location inaccessible to third parties.
More highlights include:
Roles and permissions to manage users
Pings, self-deleting messages, and location sharing in group chat
Internal and external instant messaging
Voice communication
Video chat
Wire is easily the most security-driven of the Discord alternatives, even offering a special government plan for organizations that need the highest level of data security. It also has some neat features for encouraging communication both internally and externally.
You can use Wire Basic for free for up to 5 users. After that, you'll need to pay for an enterprise plan that starts at $7.65/month.
---
Rocket.Chat
Rocket.chat offers a range of customization options so you can make this collaboration tool your own. It's also one of the biggest and most reliable open-source chat platforms available.
The advantages of being an open source solution include better security and data privacy, transparency, and reliability.
Plus, Rocket.chat allows you to connect with external partners in-app even if your partner is using a different chat platform like Slack or Microsoft Teams.
Some of Rocket.chat's other highlights include:
Unlimited chat history
Seamless integration with external productivity tools
Automation protocols
Your choice between cloud or self-hosted
Voice chat
This is a great alternative for businesses that are focused on increasing overall communication. The community version is free to use with some limitations. Comparatively, once your team has grown to a minimum of 25 users, you can look at their enterprise plans which start at $7/month for each user.
---
Microsoft Teams
Often seen as the go-to professional Discord alternative, Microsoft Teams is well known in the office space. Most big businesses are using or have used Teams at some stage. It's a fairly simple chat/calling platform to stay in touch with your colleagues and coordinate where necessary.
To get the most out of Teams as a collaboration tool, you'll probably want to use it alongside some of its apps or workflow automation features. However, Teams is a great alternative to Discord if you need a clean and professional platform for instant messaging and quick calls.
The free version of Teams offers:
Unlimited 1-to-1 meetings up to 30 hours long
Group video conferencing up to 60 minutes long
Live captions in English meetings
File sharing
Group chat
Data encryption
For most small businesses, the free version of Teams will suffice. Basic plans for bigger teams or more storage start at $4/month per user.
---
HeySpace
HeySpace is a fantastic collaboration tool for any business, from task management to team communications.
HeySpace allows you to organize your projects and communication into separate "spaces" and then features several overwatch features so you don't miss anything.
With HeySpace you can chat in real-time with your colleagues and even convert messages into tasks. You can also set up a voice or video call through Google Hangouts integration.
More features of this chat platform include:
Kanban boards
Add-ons and integrations
Guest role to collaborate with external clients
Calendar and timeline view
For up to 5 users, HeySpace is completely free, which makes it a great option for small teams. You can also add up to 5 additional guest roles for free. Comparatively, premium plans start at $5/month per user, or you can pay the annual rate of $45/year per user and save 25%.
---
Confluence
Part of Atlassian, Confluence has been around since as far back as 2004. Since it is part of the Atlassian platform, you can seamlessly integrate with other software, such as Jira, to enhance your workflow and collaboration.
You can chat with your team, post announcements or blogs, and simultaneously work on projects with other members.
Features include:
Real-time editing
Built-in best-practice templates
Permissions
Enterprise-grade security
It is worth mentioning that Confluence is one of the more expensive Discord alternatives. The free version is only suitable for ten or fewer users, and you are restricted by a 2GB storage cap. Standard plans start at $5.50/month per user.
---
Element
Previously known as Riot, think Skype but hyper-secure and open source. Element is the best app for encrypted messaging, voice and video calls.
Element offers users:
Quick file sharing
Instant messaging
Group chat room
Voice and video calls
Decentralized server
Users will also be happy to note that Elements has no ads and does not track or mine your data.
---
Ryver
A collaboration tool that is quickly becoming more and more popular is Ryver. Think Slack and Trello merged into a single app. You have team communication as well as task management in one place.
Additionally, Ryver offers:
Unlimited search
File sharing
Third-party integrations
Secure log-in methods
It's worth noting that at the time of writing, the voice and video call feature on Ryver is still in its beta phase, and you can only add up to 5 users to a call.
Starter plans for up to 12 users are $69/month with an annual discount of 12 months for the price of 10 if you sign for a full year.
---
Ventrilio
This gamer-focused VoIP software uses the minimum amount of CPU resources so that hosting a call doesn't interfere with the gaming (or working!) you're doing on your computer simultaneously. This makes Ventrilo a great option for those collaborating on large files or projects that use a lot of CPU power at any given time. It means your call won't lag or drop just because you're trying to do two things at once.
Additionally, Ventrilo offers:
Lightweight user interface
Constant encryption
Local storage
Desktop and Android support
You can't get Ventrilo on your iOS device, but there is support for both Windows and Mac.
---
WhatsApp
Sometimes it's easier to use an app for work that you may already use in your personal life. WhatsApp is one of those apps that just about everyone already has on their phone.
WhatsApp supports:
Group chat
Voice calls
Video calls
Media and file sharing
WhatsApp for Business allows you to communicate with your clients and generate automatic replies.
However, be aware that since Meta (Facebook) took over the company years ago, there has been some privacy issues.
---
Tox
If staying away from digital surveillance and keeping your data private is crucial, Tox is the best Discord alternative out there. The free-forever software provides popular apps' basic instant messaging features with advanced encryption.
Tox has all the usual features such as:
Voice calls
Text chat
Video calls
File sharing
Screen sharing
Group chat
However, the software is separated from apps like Discord because of its commitment to providing a secure environment with absolutely no tracking, censoring, or ads.
---
Google Chat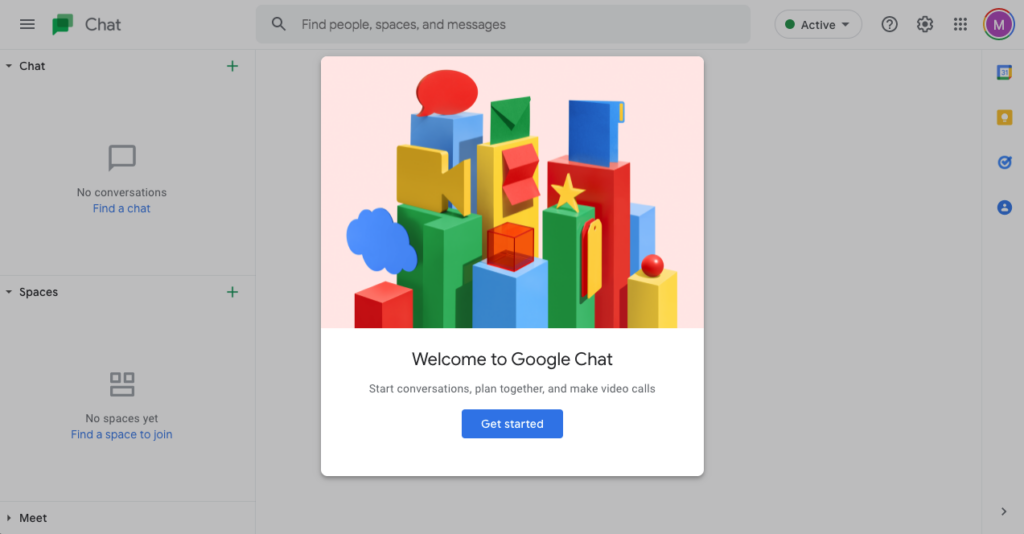 Google Chat is a Discord alternative that was designed with businesses in mind. Originally a workplace app, it has since become available to the general public and replaced Google Hangouts.
The key difference between the two is the focus on improving opportunities for collaboration with Google Chat. Along with the usual voice, video, and text chat capabilities, Google chat also offers:
Smart replies
@mentions
Side-by-side real-time editing
Dedicated spaces for topic organization
Although still not a fully-fledged project management tool, Google Chat has a dedicated app that makes it easy to keep in touch on the go.
Google has a lot of useful tools that small business owners can take advantage of (usually for free). Take a look at the most popular Google apps for business.
---
Telegram
Telegram is another dedicated messaging app that features voice and video calling. Their "claim to fame" is the fastest messaging app on the market. They primarily focus on delivering speed and security to their users.
Other features Telegram offers include:
Encrypted chat
Self-deleting texts
Sync across all devices
Unlimited media size
Open API and source code
However, Telegram lacks business-specific tools as it is primarily a social app. And you can host groups with up to 200,000 members, so it might be the software for you if you're looking for large-scale communication.
---
Skype
Most people are fairly familiar with Skype. It's been used in workplaces and long-distance relationships for years to communicate between parties. You can use Skype on your desktop or mobile device.
The software has all the basic features such as:
Instant messaging
Video conferencing
Voice calls
File sharing
Screen sharing
However, Skype does have two standout features worth mentioning. One is that with Skype you can get a local phone number to answer calls in a different country or region. You can also use Skype to call a landline number, so you don't need to rely on the second party downloading and using the software.
Secondly, Skype has a live subtitle feature for voice or video calls making it a great accessible alternative for some teams.
---
Mumble
Both free and open source, Mumble was one of the first VoIP apps to offer true lag-free calls. Like Discord, it was originally developed with gamers in mind but does offer features worthy of the workplace too.
Highlights include:
User permissions system
End-to-end encryption
Ability to self-host
Text and voice communication
Customer chat commands
Mumble is best suited for work teams looking for clear audio that can accommodate several speakers. Since Mumble boasts low-latency calls, you don't run into issues like speaking over each other.
---
MatterMost
Mattermost is another open-source collaboration tool that provides flexibility and deep customization for your team.
You can choose between running the app on your mobile or desktop. You can also run it in a browser window. The big difference between Mattermost and other options, like Slack, is that you can host it on your own infrastructure for better security. The Enterprise version of Mattermost allows you to generate compliance reports and offers advanced security features.
In addition, Mattermost offers:
Free version
Unlimited users
Searchable chat history
Developer-focused workflow (multi-language code syntax highlighting)
Kanban boards
Open APIs for deep integration options
Unfortunately, Mattermost doesn't at this time support built-in video calls, though support for that may likely come in the near future.
---
Troop Messenger
A chat and collaboration Troop Messenger has a lot in common with Slack. This makes it a good Discord alternative for those looking for a more professional feel while still maintaining the ease of use that Discord offers.
With Troop, you cannot only take advantage of group chat and audio or video calls but also record audio messages. These are great ways to quickly leave a detailed note and record it for future reference.
Another time-saving feature that Troop offers is the "read receipt" button. When you send a message, the receiver can click the blue icon to acknowledge that they have seen and properly read the message.
More great features Troop offers include:
Jointly-code editor (so users can work on code together)
Screen sharing
File sharing
Private chat window
Ability to assign roles
Multi-factor authentication, including biometric log-in
Troop is also continuously adding new features with one of the next updates to include branding options so you can customize Troop for your company and make it a true workplace tool.
---
Viber
Arguably one of WhatsApp's biggest competitors, Viber has been around since the end of 2010. With roughly 800 million users, it is a well-known and widely used platform for instant messaging, voice calls, and video calls.
For users that like the convenience of the Discord app, Viber might be one of the best Discord alternatives. You can download Viber for your mobile phone or desktop and use it to stay in touch and share updates.
When it comes to text chat, you also have a few extra features with Viber, such as:
Hidden-number chats
Self-deleting messages
Ability to hide chat from the conversation list
Adjust online status for certain contacts
Plus, Viber boasts end-to-end encryption, and you can be confident that nothing you send is ever stored on Viber's servers.
---
Discord Alternatives to Use for your Business
You're really spoilt for choice when it comes to looking for Discord alternatives for your business. There are many high-powered, secure options out there that allow you to boost communication with your team and manage projects effectively.
It's also worth looking at the different ways you can make money on Discord and how you can use other alternative platforms to do the same.
Want to learn step-by-step how I built my Niche Site Empire up to a full-time income?
Yes! I Love to Learn
Learn How I Built My Niche Site Empire to a Full-time Income
How to Pick the Right Keywords at the START, and avoid the losers
How to Scale and Outsource 90% of the Work, Allowing Your Empire to GROW Without You
How to Build a Site That Gets REAL TRAFFIC FROM GOOGLE (every. single. day.)
Subscribe to the Niche Pursuits Newsletter delivered with value 3X per week