13 Top Social Media Platforms You Can Use To Grow Your Business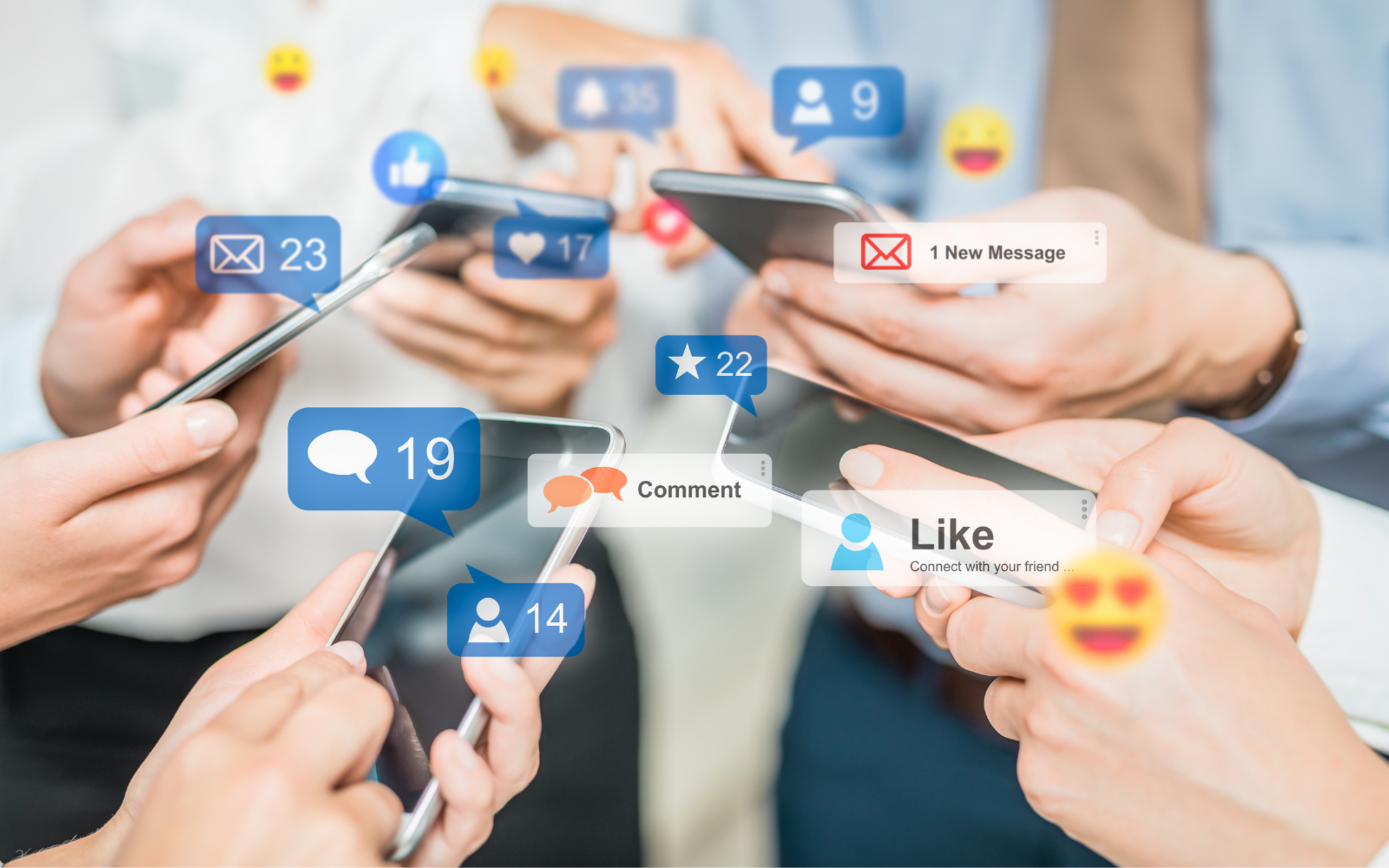 Wondering what the top social media platforms are? With so many social networks on the internet, it's hard to know which platforms can be best for your business.
Instead of getting overwhelmed and stressed out trying to figure out the best social media platform on your own, we will make it easy for you.
We've highlighted 13 of the top social media networks based on the number of users.
Let's go!
13 Top Social Media Platforms
What are the top social media platforms? How do they work? What can you use them for?
We've reviewed the 13 largest social media platforms (by monthly active users) in the world to reveal these answers for you.
Let's go!
1. Facebook
Is it any surprise that Facebook is in the top spot? Facebook ranks #1 among the top social media platforms, with its network of 2.96 billion users globally.
Facebook is one of the best social media channels for business (and it's also one of the best social media platforms for authors). Founded in 2004, Facebook is a social network developed to connect with your friends and family.
Facebook Marketplace: People can buy and sell goods and services in their local community, like clothing, electronics, furniture, etc.
Business Pages: Businesses can create a free page for their company. It's a business profile for Facebook. Through that page, they can post company announcements, share promotions, and connect with customers.
Facebook Groups: User-generated communities created by Facebook users. People can connect around shared interests like hobbies, sports, public causes, etc.
Facebook Messenger: This is Facebook's instant messenger tool. You can send text messages to other people.
Gaming: The gaming platform is available to watch and play games like Fortnite, Among Us, and Minecraft, to name a few.
Watch: The video streaming platform offers original video content like TV shows, documentaries, live events like concerts, and more.
Events: Create, share, and join events with friends and family. For example, use Facebook Events to announce a baby shower or birthday party.
Overall, Facebook is a great social network choice for your business. It's a top social media platform for businesses to manage and grow their companies.
2. YouTube
YouTube is a video-based social network home to creators who produce short-form and long-form videos. For the top social media platforms on video, YouTube wins!
YouTube users create various content on everything from how-to tutorials on how to play a board game to learning how to perform a yoga pose or behind-the-scenes daily vlogs.
Help customers discover your brand
Share your company's mission, goals, and what drives you to run your company
Film a tutorial explaining a how-to
Answer frequently asked questions
Overall, YouTube is a great video platform to join. It's free, and you can upload unlimited videos to the platform. This video marketing tool is an opportunity you want to take advantage of to grow your audience!
3. WhatsApp
WhatsApp is different from other social apps/networks in this list. It's an instant messaging app. WhatsApp users can connect with one another through text messages, voice messages, photos, and videos.
It's used by 180 countries and by over 2 billion users worldwide.
Companies can use WhatsApp for a variety of purposes:
Customer service
Sales
Marketing
Internal communication
Additionally, companies have a tool available called WhatsApp Business.
WhatsApp Business is the business version of WhatsApp, created for companies to communicate with their customers.
In WhatsApp Business, companies have access to features like:
Quick replies
Automated messages
The ability to send updates and promotions
Businesses can also view their metrics, like message delivery and response rates. It's a great way for companies to connect with customers and provide customer service.
4. Instagram
Instagram, founded in 2010, is one of the world's most popular photo and video-based social networks.
Companies use Instagram to build brand awareness and connect and engage with customers through photos and videos. They can also explore Instagram ads, where they set up paid campaigns to enhance their reach on the platform.
There are plenty of ways to make money with Instagram.
Overall, it's an excellent way to reach your target audience, drive traffic and drive sales to your business.

5. WeChat
WeChat was founded in 2011 and quickly rose in popularity, becoming one of China's most popular social networking apps.
It's a multi-purpose messaging app with features to:
Message others through text, voice, and video
Use social media and,
Send payments
WeChat also has a built-in messaging application to send text, voice, and video messages. WeChat Pay allows users to make transactions, sending payments to others.
6. Tik Tok
Tik Tok is a popular social media platform founded by the media company, ByteDance and released globally in 2018. It's one of the largest top social media platforms for short-form videos.
This short-form video app lets you pair music and filters to create entertaining short videos you can share online.
The app is easy-to-use and is widely used by all age groups, growing in popularity because of its adoption by younger users, mainly Gen Z.
Surprisingly, Tik Tok works incredibly well for business.
Attract customers organically
Use Tik Tok ads to drive brand awareness
Monetize your Tik Tok account as a creator with the Tik Tok Creator Fund
TikTok is excellent for organic reach right now.
Some people call it the new video king!
7. Pinterest
Pinterest started in 2011. This visual social network uses photo-based social media posts called pins. Pinterest pins create a collage that users can browse through to learn about their interests and passions. Kinda similar to Flipboard.
For business, companies can set up a free Pinterest business account. Then, they can start creating content to attract their target audience.
Businesses also have access to:
Built-in analytics to review metrics
Business tools to learn about your audience
The ability to run ads
Pinterest also offers video pins, which were introduced in 2016.
8. Telegram
Telegram, with over 500 million users, launched in 2013. It's a messaging-based app for users to send messages, photos, and videos to others in group chats.
Businesses use Telegram for communication with customers and internally within their organization. Another tool is Telegram's group chat.
The group chat feature is perfect for collaborating and connecting with groups of people for:
Socializing
Community building
Marketing
Promotions, and
Customer support
Generally, companies use Telegram for communication. It can be a place to offer customer support and create customer engagement, too.
9. Twitter
Launched in 2006, Twitter is a social media network where users can socialize, interact, and network with short messages called "tweets." Tweets can include text, photos, videos, and links.
Twitter users are on Twitter to share information, network, build an online reputation, entertain, discuss, and debate.
Businesses use Twitter to engage with customers, build their brands, and promote their products and services. Another way companies can use Twitter is for market research purposes.
The social media network has over 450 billion monthly active users.
10. Reddit
Reddit is a social platform built on user-generated social communities called subreddits. Any Reddit user can create a subreddit revolving around any topic they choose. It works similarly to how Facebook users can create Facebook groups.
Their AMA "Ask Me Anything" user threads are popular (and so too can these Instagram threads ideas ;). AMA's are posted by experts in their field who offer the community their ear to ask them any question.
This is another way to build your reputation and status on the platform.
Reddit is often described as "the front page of the internet." Launched in 2005, Reddit has 1.6 billion monthly active users as of 2023.

11. LinkedIn
LinkedIn is often known as the career networking social network, focusing mainly on career development and networking. When you join LinkedIn, you'll have an opportunity to build your profile, adding information like:
Education
Work experience
Professional skills
LinkedIn users can:
Join groups
Mingle and network with others
Search for jobs
Share articles and news and also,
Showcase their expertise on the platform
As a career-focused social network, companies can use LinkedIn in plenty of ways.
First, LinkedIn is excellent for recruitment. If you need to staff your company, use LinkedIn to find job candidates.
Next, LinkedIn is an ideal place to mingle and network with thought leaders. You can also share your own expertise as a thought leader yourself. Another way to build your online reputation is by sharing valuable, industry-related content.
Lastly, use LinkedIn for marketing and sales. It's a lead-generation tool and a significant sales driver if done correctly.
LinkedIn launched in 2002 and has 900 million global users as of 2022.
12. Quora
Quora, built in 2009, is a question-and-answer social network. Users can join the platform to ask and answer questions from the community.
It has grown to become one of the most popular question-and-answer websites online.
Quora is an excellent business tool for building your company's online reputation. Another way to use Quora is for lead generation (take a look at our guide how to earn from Quora).
Answer industry-related questions
Share helpful content
Network
Collaborate with others and also share value-driven information
But don't take our word for it. Try Quora yourself. It's free to join and very easy to use.
Overall, Quora offers many opportunities for businesses to build their expertise and gain new business.
Quora has over 300 million users as of 2023.
13. Discord
Discord is a voice-based and text-based social network, unlike others on the list. It's not based on photos and videos like many of the social networks in existence, such as Instagram and TikTok.
Instead, it's set up like a forum.
Basically, Discord was primarily used by gamers to communicate. With its growth in popularity, it has become a virtual space for anyone to join and collaborate with others in a group setting.
Businesses use Discord for community building, customer service, collaboration, communication, and also influencer marketing.
Discord launched in 2015. It is one of the largest chat platforms in the world. It has 514 million registered users as of 2023.
The six most common types of social media are:
Social networking websites: This is about social networking, where users connect with one another. Users can post messages, talk in real-time, and also video call, among other features, depending on the network. Examples include top social media platforms, Facebook, and LinkedIn.
Microblogging sites: Microblogging sites are another social media type. These are Social platforms where users can communicate via short, concise messages. Twitter and Tumblr are examples.
Photo-sharing sites: These are websites that promote social sharing through photos. Some of these sites also offer video-sharing. Instagram is an example.
Video-sharing sites: These websites promote social sharing through video. Some video-sharing sites also offer photo-sharing. TikTok and YouTube are examples.
Forums and message boards: Online chat rooms where users can collaborate with others with similar interests. Examples include Discord and Reddit.
Review sites: Websites where users publish reviews, like Trip Advisor or Google Reviews.
Each social media type is used for digital marketing. They each have their pros and cons.
Feel free to try out multiple social platforms rather than make a decision without testing. Some may work well for your business while others may not.
Don't be afraid to experiment. Test out each social media platform type to see which works best for your company and target audience.
When choosing your social platform, consider your needs, goals, and audience.
First, think about your goals. What do you hope to accomplish from social media?
Build your online reputation
Share content
Increase brand awareness
Next, consider the type of content you'll be creating.
Also, look at your target audience and where they hang out online. You can use tools like Google Analytics for this.
Additionally, consider your audience's demographics and where those people socialize online.
Lastly, look at your personal resources. Some social networks are easier to manage and maintain than others.
Ultimately, the decision will be based on your unique needs and personal situation. The choice is yours.
Which of these top social media platforms are you using?
Want to learn step-by-step how I built my Niche Site Empire up to a full-time income?
Yes! I Love to Learn
Learn How I Built My Niche Site Empire to a Full-time Income
How to Pick the Right Keywords at the START, and avoid the losers
How to Scale and Outsource 90% of the Work, Allowing Your Empire to GROW Without You
How to Build a Site That Gets REAL TRAFFIC FROM GOOGLE (every. single. day.)
Subscribe to the Niche Pursuits Newsletter delivered with value 3X per week