Complete Tailwind Review and Tutorial | Best Pinterest Marketing Tool?
When you buy something through one of the links on our site, we may earn an affiliate commission.
This is not yet another Tailwind review, but a guide on how to get the best out of Pinterest using Tailwind.
Let me guess…
You want more targeted traffic to your blog.
You've heard about Pinterest and how lots of people are driving an avalanche of traffic to their blogs via the platform.
And you're now wondering how they're doing it. Perhaps, you've been using Pinterest for a long time now with nothing to show for it.
Well, the secret to breaking the bank with Pinterest is by regularly posting good images.
If you can make it a habit too;
Pin a few dozen, high-quality images per day
Pin images that are colorful
Images that have interesting text
Contain beautiful scenes
Images that are vertical in orientation
Join group boards
And keep the vast majority of your pins to be that of others such that your activity does not look like a self-promoting love fest.
Then with time, your traffic will grow, and your income will skyrocket (we hope!).
But here's the problem:
Pinning these images to Pinterest can be tedious.
Adding your favorite recipe on its own can be manageable.
But when you decide to use Pinterest as a marketing tool to generate traffic for your blog, then you can't do it alone – you need help.
My Tailwind review focuses on the benefits of Tailwind, and how you can use it to grow your Pinterest accounts.
Try Tailwind For Free Right Here
Get a Tailwind Free Trial Here
---
Tailwind Review
Ease of Use -

100

Stability -

98

Customer Service -

95

Price -

97
Summary
Tailwind is an excellent Instagram and Pinterest marketing toolkit for serious bloggers and small businesses. Use it to discover content, schedule Pins, and grow your audience. Try Tailwind for Free Now.
Pros
You can easily upload new content from different sources including Dropbox and iOS
The Smart Queue helps you to pin at the optimal times
Tailwind lets you create multiple posts at once from any page on the internet with the web Browser Extension
It helps you to quickly schedule pins with Board Lists
You can join like-minded people in your Tribes to share helpful content and grow your audience
Cons
No image cropping and editing
No interval scheduling (the ability to schedule images at set intervals like every 5 minutes).
Tailwind Review | What's the Tool All About?
Tailwind is a scheduling tool that is usually considered to be one of the best in the industry. This amazing Pinterest tool has ample functions that let you go in and schedule pins in bulk to be published over a set pinning calendar.
It's similar to tools like Buffer, but it's set up in overdrive in such a way that you can easily pin from the web, secret boards, from your own boards, and a lot more via the use of a simple toolbar add-on.
With Tailwind, you can:
Easily upload images
Schedule your pins at the best time
Measure and analyze the performance of your pins
Reach new audiences via Tailwind Tribes
Additionally, there are three basic things we love about Tailwind:
You can group themed boards into global boards for one-time, multi-board pinning: This feature lets you pin to one global board, and it'll also go to lots of other individual boards assigned to it with one click. Thus, the global boards through Tailwind will be titled "boards" to distinguish them from standard Pinterest boards.
The ability to space out those group pins in your chosen intervals to prevent redundancy: In this case, if you have 7 boards in a global board, the same pin can be pinned over a certain period of once a day, once every other day, etc.
Your pin deck can be shuffled around while keeping the interval pins above locked in place at a given time: This feature allows you to upload up to 1,000 pins into your queue, click a button to randomize all of them, but still keep the interval pins in the bullet above locked in your chosen schedule.
Finally, it's worth mentioning that although Tailwind now has Instagram scheduling and publishing feature, most of the features are channeled towards Pinterest, and that's the network we'll focus more on for this Tailwind review and tutorial.
That said, let's get started.
Scheduling and Publishing on Pinterest
Tailwind scheduling and publishing features are a big time-saver. With this feature, you can upload all your content in bulk instead of pinning one pin at a time, and then use the Tailwind scheduler to spread your posts.
Uploading images
The first thing to do is to upload your content into Tailwind. With the useful web browser extension, you can easily save images from anywhere on the internet. For example, if you're reading a blog post and decide to share it on Pinterest, you could simply save the image to Tailwind instead of pinning it to Pinterest.
So how can you save the most time with tailwind for Pinterest?
Here's the thing;
When you pin an image on Pinterest, you will likely post it to a few boards, and that also includes group boards, which means that you'll have to repeat the pinning process many times. On the other hand, Tailwind allows you to do all of it once.
Furthermore, you could just save it to your drafts folder and revisit it later. Or you could instantly pin it straight to many boards. Alternatively, you could schedule it to pin to several boards over multiple days.
Let's quickly look at a scenario:
I'm reading a post on a Healthy Hair blog – Hair Loss in Children (Major Causes and Treatments) – and decided to share the post on Pinterest.
But I have many Pinterest boards where this would fit including Beauty, hair loss advice, thinning hair tips, etc (get tons of Pinterest board ideas here).
In all, I could share it on up 11 boards. And that's without talking about Tribes (more on that later).
Now let's compare the two options we have:
I can share it on Pinterest using the standard social sharing button:
But if I decided to share it on all 11 boards, that should include a minimum of 41 clicks. As scheduling isn't involved, the image would be shared 11 times in quick sequence. And that might look a little spammy.
Second option: Using Tailwind
Alternatively, I can save the image straight to Tailwind using Tailwind web browser extension:
If I choose the "Save for Later" option, the image will be saved in my Drafts folder. This is another cool time-saver as it enables you to have a dedicated Pinterest scheduling session whenever you decide what and when you'll be pinning for the coming week.
On the other hand, if I choose the "Schedule Now" option, I can then select which boards I wish to publish on:
Additionally, the "Schedule Now" option equally allows me to specify a minimum time interval ranging between 10-minutes to 90-days between each post:
The Tailwind web browser extension is simply one method of uploading images into the platform. But aside from that, you can also bulk upload images directly from your computer into Tailwind, or create pins from Dropbox automatically, or schedule repins straight from Pinterest.
Tailwind Tutorial | Defining Your Schedule
Once you've uploaded and saved your images to Tailwind, the next step is to work on your publishing schedule.
Tailwind has a feature known as "Smart Scheduler," which allows you to specify the days and times your pins will be published, and you can also have as many time-slots as you want each day:
Interestingly, Tailwind will also give you suggestions on the best publishing times, based on their evaluation of when your audience are most active on Pinterest.
As shown on the screenshot above, the "dotted time-slots" are good suggestions from Tailwind – these are great recommendations and very useful when you're just starting, as you'll likely not be aware of what times will work best.
When you choose Tailwind's suggested time-slot, it will turn green. And you can equally add your own time-slots, while will be colored gray.
Aside from that, you can also change your schedule whenever you want, by increasing or decreasing your content posting frequency. As time goes on, you will be able to regenerate a new smart schedule from your Tailwind data.
How to View Your Pinterest Scheduled Pins on Tailwind
In the above illustration, you'll either add an image to the schedule or save it as a draft. You can see we have 25 Draft Pin and 86 Scheduled Pins at the top of the screen:
Beneath the header is also a list of the Scheduled Pins. And each row shows the uploaded image and the Pinterest board that it'll be pinned on. The padlock symbol signifies that the Pin is locked into that time-slot. But you can also unlock and move it you so desire.
On the right-hand side, you'll see a consolidated calendar view of all your schedules – and if you wish to reorder them, you can unlock the padlock, then drag-and-drop the pin to your desired new time-slot.
Tailwind Board Lists
This is one of the things I so much love about Tailwind. But what exactly is Tailwind "board list"?
To be precise, a board list is simply a group of boards in the same category you schedule the same pin with a single click; example, "Hair Loss."
In the example above I didn't have to select seven separate hair loss related boards. Using my Hair Loss Tips list, I scheduled the pin to seven 'hair loss related' boards in a single click:
Tailwind Analytics and Reporting
Tailwind successfully built an incredible Pinterest analytics into its dashboard using the official Pinterest API. This feature allows you to measure and accurately analyze your performance on the app. It also lets you track trends at the profile, board, as well as individual pin level.
Profile Performance
The top-level displays your weekly totals for Pins, Repins, Followers, and Comments:
Below it, you can analyze "Engagement and Virality levels" overtime to make sure that your Pins are resonating with your audience. These results tell you your current scores, your 30-day high and your 30-day average:
Tailwind Board Insights
Tailwind Board Insights tab gives you similar details at Pinterest board level. There are filters to select from between individual, private, and group boards. It shows you the Total and Last seven days insights for Followers, Pins, and Repins as well as the Virality and Engagement scores.
It also provides you an option to sort the data by each column. However, sorting by Engagement puts the usual board Cloud Storage and Backup at the top. You also have the option to see the board on Pinterest from each board or find similar content:
Tailwind Pin Inspector
The Pin Inspector on Tailwind allows you to properly evaluate the performance of individual pins and displays the data in table format.
The table shows you all the things you've ever pinned:
To sort your pins as you wish, simply click on any of the columns (Board, Pin, Repins, Comments, and Date Pinned).
Using the search bar at the top, you can search for any pin from the various pins stored in the table:
Tailwind also offers you a set of filters to help narrow your search by board, category, or your website:
There's equally a filter by date period, which is most helpful as the table contains all your pins since when you started using Pinterest:
The right-hand column of the table offers you 3 possible actions for each pin, which includes:
Reschedule the pin using Tailwind scheduler
Add it to one of your Tribes (as shown below)
Find similar content (as shown above with the Board Insights)
Weekly Email Reports
Apart from the Tailwind dashboard, you equally get a high-level performance summary sent to your inbox on a weekly basis:
The analytics and reporting functionality in Tailwind make it super easy to understand the performance of your Pinterest content. Plus you have the chance to take instant action by repinning your best performing content or adding more of the same content.
Pinterest Monitoring
By connecting Tailwind account to your Google Analytics account, you can easily monitor your domain to enable you track the organic performance of your content on Pinterest.
Insights
The Insights tab on Tailwind shows you the average of Pins and Pinners from the last seven days:
Organic activity
The Organic report displays the performance of all your latest pins. Clicking on the Repin and Comment buttons take you to Pinterest:
Another advantageous feature is the "Word Cloud," which recognizes the common topics and keywords used with your content and helps with your Pinterest optimization:
Referral Traffic
The Referral Traffic report displays the daily average of Visits, Pageviews, Visitors, and Revenue:

Tailwind Tribes
Tailwind Tribes was created to encourage a friendly, supportive, spam-free, and collaborative community where like-minded individuals share each other's content.
With more than 4,000 Tailwind Tribes to select from, it's easy to connect with new influencers in your niche and collaborate to activate your community.
Additionally, Tailwind Tribes tackles the two major challenges faced by bloggers and marketers every day:
Discovering a steady supply of good content to share
Getting your content to the eyes of the right people
Finding a Tribe
The key to succeeding with Tailwind Tribes is by finding excellent Tribes for every topic you write about. But how do you add a pin to a tailwind tribe?
Before talking of posting on tailwind tribes, you have to first join some relevant tribes based on your industry.
The "Find a Tribe" tab lets you search for Tailwind Tribes by tag, keyword, and category:
For example, enter the term "beauty," and you have 344 tribes to choose from:
Now, before requesting to join a Tribe, you can check if it's really a good match by first checking a few things such as:
The Tribe rules
The content of the Tribe
The number of re-shares on posts posted on the Tribe
The total number of Tribemates
According to Alisa Meredith, Tailwind's Content Marketing Manager: "Always aim to join at least one strong Tribe for each topic you constantly create a post on."
This will enable you to find content, build relationships, and connect to new and receptive audiences in your industry.
Furthermore, you also have the ability to create your own Tribe on any topic that's vital to you by clicking on the "Create New Tribe" as seen in the screenshot above:
Inside a Tailwind Tribe
After you're accepted into any Tribe, you can see the pins already shared on the tribe and the Tribe members:
Adding content to Tribes
As we discussed earlier, the "Tailwind web browser extension" makes it very easy to schedule Pins from the internet. Interestingly, you can equally use the extension to add the same content to your Tribes: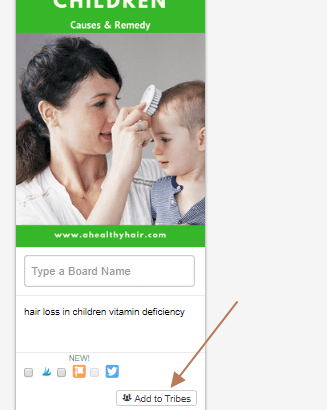 You'll see a warning sign if the pin has already been added to one of your tribes before.
Tailwind will send you a Tribes Weekly Digest every week, which provides you with a performance overview of you and your tribes.
How much is Tailwind? | Tailwind Pricing
Tailwind is meant for both Bloggers and Small Business that has up to 100 employees. The price starts at $9.99 per month for their Plus Package and $799.99 per month for Professional Package.
According to their website, the Plus Package ($9.99/month), you'll get:
Smart Scheduling
Measure Post Success
Unlimited Scheduling
Basic Profile (& Board) Metrics
Basic Website Insights
30-Day History Archive
Multi-Account Capability
1 Account Included
5 Tailwind Tribes Membership
30 Monthly Tribe Submissions
250 Active SmartLoop Posts
While the Professional package ($799.99/month) gives you:
Full Profile & Board Reporting
Optimize Content Strategy
Pinterest Brand Monitoring
Measure Pinterest ROI
Benchmark vs. Competitors
1-Year History Archive
Multi-Account Capability
5 Collaborators
Export Data
But apart from these two packages, they also have the Enterprise Package, which also comes with lots of juicy features. But you have to contact them for the Enterprise price.
Tailwind also offers a "forever free plan." And with their free plan, you're allowed to schedule up to 30 posts on Instagram, and up to 100 pins on Pinterest for free before making up your mind if a paid plan is right for you or not.
Tailwind Review | Frequently Asked Questions [FAQ]
1. Is Tailwind free?
No! Tailwind is a premium tool, although they have a free account which allows you to schedule up to 100 pins on Pinterest.
2. Can you schedule Pinterest posts?
Yes, Tailwind allows you to schedule unlimited pins on Pinterest with their premium account, while the free account lets you schedule up to 100 pins.
3. What is a Pinterest tribe?
There's nothing like Pinterest tribe – what we have is Tailwind Tribes, which is similar to Pinterest Group Boards. Tailwind Tribe is a group of people in the same industry or with common interests. When you join a tribe on Tailwind, you're able to submit your pins to the tribe.
4. Who should use Tailwind?
The Tailwind app is recommended for anyone using Pinterest and Instagram, but it is mainly a tool for people using these social media platforms to promote their products and services.
With Tailwind, you will easily gain popularity on social media platforms by assisting you to post during peak hours so that you get the most exposure for your posts.
We all know that frequently posting high-quality content is also critical to social media growth, and as a social media scheduler, Tailwind does that for you with ease.
5. How do you join a group board on Pinterest?
To join a group board on Pinterest, comment on any pin of the group board owner you want to join and ask for an invite. You can also find the owner's website link on their Pinterest profile, and use the website's contact form to connect.
Also, scroll through the list of current board contributors – and if you recognize anyone there, just ask them to include you on the group board.
6. Will Tailwind Improve your Pinterest Reach?
Just like other social media platforms, growth on Pinterest takes a lot of time. However, Tailwind will help you speed up the growth process, as this Tailwind review illustrates above.
7. Should you invest in Tailwind?
Absolutely. Except you're not really serious with your Pinterest and Instagram marketing efforts, Tailwind is worth investing in.
Tailwind for Pinterest Review | Conclusion
As I said above, Tailwind is only designed for serious Pinterest marketers, so I'll urge you to give it a try immediately if you're not using it yet. From my own experience, it makes running my Pinterest account much easier and effortless as I'm able to be more strategic and productive in my Pinterest marketing efforts and it saves me a bunch of time!
Obviously, not every pin you post will go viral, but if you can boost the performance of your average pins, that will consequently result in substantial increases in followers and traffic, which can result in more chances of your pins going viral.
So I can comfortably manage all my Pinterest publishing, content creation, analytics and reporting in one dashboard and to achieve hours of Pinterest marketing in less time, the affordable monthly fee is more than worth it. You can choose the free plan for a start, and then upgrade once you're convinced (of course, a trial will convince you).
Try Tailwind For Free Right Here
Get a Tailwind Free Trial Here
Finally, I'll love to hear from you. Do you use tailwind app for your Pinterest marketing? Let's discuss on the comment section. And if you enjoyed this post, kindly tweet and share it with your friends.
Want to learn step-by-step how I built my Niche Site Empire up to a full-time income?
Yes! I Love to Learn
Learn How I Built My Niche Site Empire to a Full-time Income
How to Pick the Right Keywords at the START, and avoid the losers
How to Scale and Outsource 90% of the Work, Allowing Your Empire to GROW Without You
How to Build a Site That Gets REAL TRAFFIC FROM GOOGLE (every. single. day.)
Subscribe to the Niche Pursuits Newsletter delivered with value 3X per week