Costs Associated with Niche Sites: The Total Investment Spent on Niche Site Project 4
When you buy something through one of the links on our site, we may earn an affiliate commission.
I have a small confession to make. 
I've started hundreds of blogs (or niche websites) in the past 10 years.
So, how much does it cost to start a website?
The cost can be as low as $10 per year for a domain name.  (I recommend NameCheap to register domains).  Then an additional cost of $5ish dollars a month for hosting.  (I recommend either Bluehost or SiteGround if you are just getting started out…or BigScoots Hosting if your site is a bit more established).
You can install WordPress for free and there are lots of great free WordPress Themes out there to make your site look great.  I recommend GeneratePress as a WordPress theme.  Although, I do personally spring for the Premium version of GeneratePress.
So, you can technically start a blog or website for peanuts.  However, running a successful site could be a different matter.
If you do EVERYTHING yourself, you can still keep your costs extremely low.  If you do all the writing, editing, graphics/images, link building, and more…you can get away with just a large time investment and a small amount of money.
However, today I'm going to share exactly how much I've spent on my most recent niche blog for Niche Site Project 4. 
You can either do everything yourself and start a blog for under $100 or you can outsource or hire people to do everything for you, like I've done, and the investment is more significant.
Let's dive into what it costs to build a site where you spend very little of your own time.
First a Quick Income Update
I started my Niche Site Project 4 site about 7.5 months ago.  The growth at first was extremely slow…as expected.  I thought it would take about 6 months for the site to really start getting much traffic from Google and that was the case.
However, over the last month and a half, the site is getting more and more traffic from Google and the earnings continue to grow rapidly.  While these earnings are nice, they are only the beginning of what I hope and expect will be a much larger site.
I'm looking 2 years down the road when this site is earning several thousand dollars a month (hopefully!).
Earnings Through April 15th
In the first 15 days of April, my site has earned more than double what it did in March!
Overall, I'm happy with the earnings trend!  At this rate, my site could get real close to breaking the $500 mark for the month of April.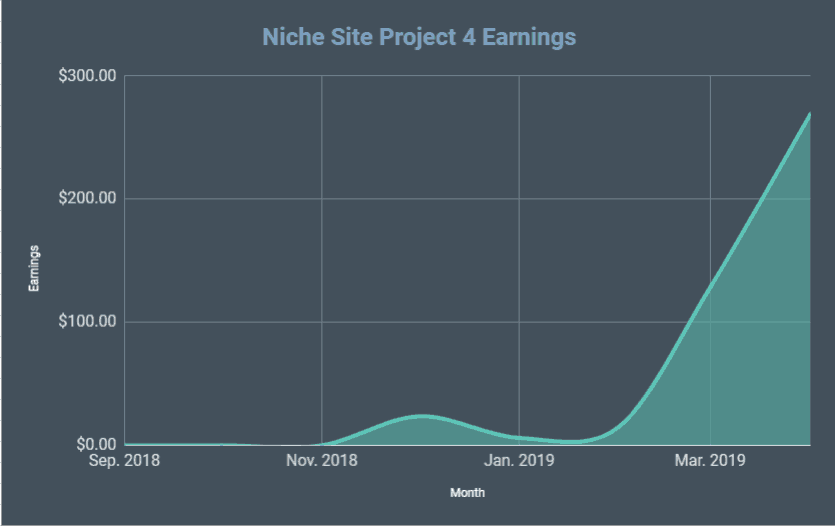 I've shared step by step how I've gone about producing these results in all my updates here.
However, seeing the earnings is one thing…what about the costs?  What does it take to build a site from scratch that has over 100 articles published and is starting to ramp up its earnings?
The Costs of Building a Niche Website
What I'm about to share with you might make you think I'm crazy…or maybe brilliant.  I'll confess that the costs are high and if my site was only making $500 a month for the foreseeable future, it would be crazy.
However, what if I keep these costs and my site down the road is making $5,000 or $10,000 or more each month?  Well, then perhaps it would be considered a genius business plan.
Only time will tell which end of the crazy to brilliant spectrum my plan really falls.
Profit and Loss for My Niche Website
I went through all the history of everything I've done on my site and tallied up all the costs.  Below is the Profit and Loss statement for everything done on the Niche Site Project 4 Site.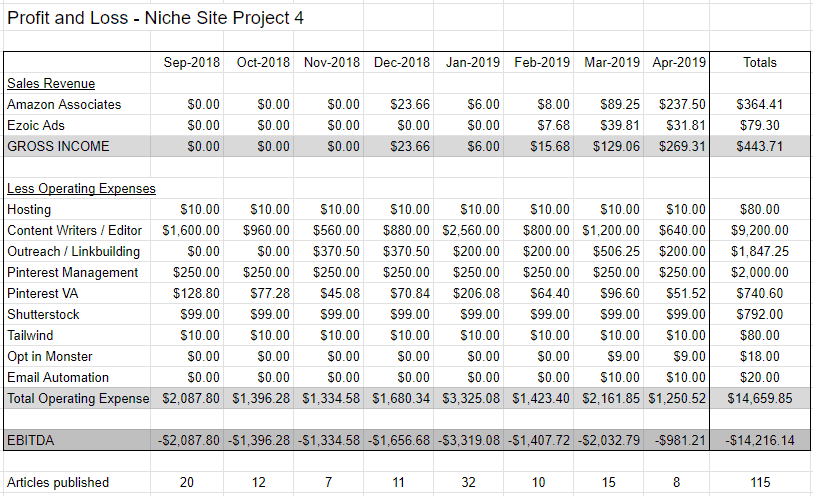 I've done my best to include everything and I believe it's fairly accurate.  As mentioned, I am outsourcing almost everything, so I put very little of my own time into this site.  Most weeks I only put 1 to 2 hours into the site.
Now I want to take some time and go through each line item and provide a brief explanation.
Amazon Associates
I insert Amazon affiliate links in my posts and make money.   I use the following tools to help me insert my links: AAWP, AmalinksPro, and Table Labs.  I also use the Amazon sitestripe a little and Amazon Native ads.
Ezoic Ads
Ezoic is a display ad network similar to Google Adsense. (Many of the ads come from the Google ad network).  
Hosting
For this site, I'm technically using BigScoots (which I highly recommend).  I share the cost of BigScoots across several sites.  However, this site could also be hosted on Bluehost or SiteGround for less than $10 a month.
Content Writers/Editor
This is the bulk of the cost of the site as you can see. (This number would be zero if you write all the content for your site).  I haven't written any articles on this site.  For some of the articles (maybe half?) I've used an editor once the author is done with the article to review and format.  Then all I do is basically hit publish.  However, my authors are trained so well, that I may not need an editor anymore.  
The average cost per article has come out to $80.  I like to use hourly writers.  I've found a couple of young US based writers that do great work for $10 to $15 an hour.  Some of my articles were much more expensive in the beginning – $200+ each.  However, I've found cheaper authors with just as good a quality and now my average cost per article has come down.
You also have to consider that some of my articles are only 1,500 words and so might only take 2 or 3 hours ($30 to $45).  Other articles are 3,000 to 4,000 words and might cost $80 to $150.
Outreach / Link Building
I've spent about $1,850 total here.  These expenses include the time a VA spent doing some blog comments for me, the time an outreach specialist has spent finding, writing, and posting guest posts for me, and finally links from services like The Hoth and Authority Builders.
I will likely keep the budget at somewhere around $500 to $1,000 a month for outreach and link building efforts for the next few months.
Pinterest Management
I use a company to manage Pinterest for me.  My Pinterest workflow goes like this:
As soon as a blog post gets published, my Pinterest VA (a different person than Pinterest management company) creates 2 pins in Canva and then uploads the images to Pinterest and writes the Pinterest description and hashtags.
The Pinterest Management company then schedules the pins in Tailwind.
The Pinterest Management company also interacts with Tailwind tribes and shares images there.
Overall, the Pinterest Management company also offers suggestions, notifies me of issues, keeps my board active and increases my Pinterest followers.
Over the past month or so my Pinterest growth has been pretty stagnant while my SEO efforts are really starting to take off.  I'm strongly considering just eliminating the Pinterest Management company and the VA and doing it myself.  If I can find a couple of hours a week, I think I can replace the work they do and save myself close $400 a month.
Pinterest VA
I explained above what this person does: creates pins and pins to Pinterest including hashtags and descriptions. 
Shutterstock
I am using Shutterstock to get all the featured images for my posts, roundup image type posts, and for my Pinterest pins.  I technically use this account for one of my other sites, but I am still attributing the $99 cost to this site.
I like using Shutterstock because I don't have to worry about whether I'm allowed to use the image and they have a HUGE database of images. 
Tailwind
The Tailwind App is an essential tool if you plan to do well on Pinterest.  Tailwind allows you to schedule pins, which is the biggest function.  However, you can also grow your account with Tailwind Tribes.  In addition, Tailwind provides good stats to help you better understand your Pinterest accounts and Tribe activity.
Opt In Monster
I just started using Opt In Monster on this site a couple months ago (been using Opt In Monster much longer on other sites).  I have a pop-up to collect emails.
Email Automation
I put a cost of $10 a month for an email autoresponder.  I share a ConvertKit account with several of my sites, so technically I'm not paying anything extra by adding this site.  Even though I haven't gotten aggressive with email yet for this site, I'm building the list and plan to start sending more emails soon.
Is This a Good Investment?
Overall, I have spent a total of $14,656 on the site and it's earned a total of $443.  I'm down over $14,000!
Sure, that's a big investment, but will it be a good investment?  Obviously, if you can only see the present, it doesn't look like a good investment.  However, if you can see the future (at least the future I hope for), then it's an incredibly good investment.
In addition, I do expect that some of my costs will actually go down over time on the site.  As mentioned, I may just do the Pinterest stuff myself (would have eliminated about $3,000 in costs).
In addition, Jon Dykstra has made a good argument that content costs should not be considered when selling a site and Empire Flippers have agreed.  In other words, when I look to sell the site the P&L will look more favorable without the content costs and the Pinterest costs.
I would expect my expenses that would be counted if I were to go sell the site to be around $500 a month going forward. (hosting, tools, a few other minor expenses).
So, revenue of $2,000 a month, should be a net profit of about $1,500 a month when I go to sell (just a rough estimate).  This ongoing expenses number could obviously grow if the site really takes off (over $10,000 a month), but I just wanted to give you an idea of my estimates.
How Much Can I Sell it For?
So, judging whether this is a good investment comes down to 2 things:
how much do I think I can get the monthly revenue to
how much can I sell the site for.
Obviously, I'm hoping that over time the site will reach a level where it's making $5,000, $10,000, or more each month.  I've interviewed people on the Niche Pursuits podcast that are making $20,000 a month, or $40,000 a month, or $100,000 a month with their sites.  
The ceiling is pretty high with these types of blogs.
So, let's do some math.
A "white hat" blog or content site is a pretty hot commodity in the marketplace.  These types of sites are easy to run and buyers and investors LOVE them.  (Especially sites that are hands off like mine that are completely outsourced by the way).
A 3x annual multiple is not out of the question.  However, just to play it "safe" let's do our calculations with a 34x MONTHLY multiple.  
So, if the site has a net income of $500, it could sell for $500 x 34 = $17,000.
Here's some more numbers for fun to look at:
Potential Sale Price at a 34x Monthly Multiple

Monthly Income
Sale Price
$250
$8,500
$500
$17,000
$1,000
$34,000
$2,000
$68,000
$3,000
$102,000
$4,000
$136,000
$5,000
$170,000
$7,500
$255,000
$10,000
$340,000
$15,000
$510,000
$20,000
$680,000
$40,000
$1,360,000
$50,000
$1,700,000
$100,000
$3,400,000
So, am I crazy for investing so much money in a "niche site"?  Well, if the site never makes more than $1,000 a month I might be.  But if the site even gets to $2,000 a month I will have a nice return on my hands.
But if the site gets to $3k, $5k, or $15k+ a month then my plan might be considered genius, right?! 
Final Thoughts
Overall, I hope you've enjoyed diving into some of the numbers for my Niche Site Project 4 site. So, how much does it cost to start a blog or content site?  Well, that number can vary wildly.
It can cost as little as $5 a month for hosting if you put in all of the work yourself.
Or it can cost $15,000 over 7 months if you outsource pretty much everything (like I've done).  And to be honest, some sites spend WAY more to get their business off the ground than I have.  
The right answer is that costs all depends on a few factors:
How much money are you willing to risk?
How much time and desire do you have to work on your own site?
How big do you expect your site to grow?
How long are you willing to wait before you want a return on your money?
I've been in the website building, buying, and selling game for several years now and this is what I'm comfortable investing.   If I personally had more time, I would likely invest less money and do more of the day to day work on the site.
Alas, I'm an entrepreneur with lots of sites to operate and new ideas to pursue!  So, I'm "forced" to spend a bit more money because I lack the time.
I would love to hear your thoughts in the comments below!
Want to learn step-by-step how I built my Niche Site Empire up to a full-time income?
Yes! I Love to Learn
Learn How I Built My Niche Site Empire to a Full-time Income
How to Pick the Right Keywords at the START, and avoid the losers
How to Scale and Outsource 90% of the Work, Allowing Your Empire to GROW Without You
How to Build a Site That Gets REAL TRAFFIC FROM GOOGLE (every. single. day.)
Subscribe to the Niche Pursuits Newsletter delivered with value 3X per week