8x Earnings Growth for March 2019! Niche Site Project 4 Monthly Report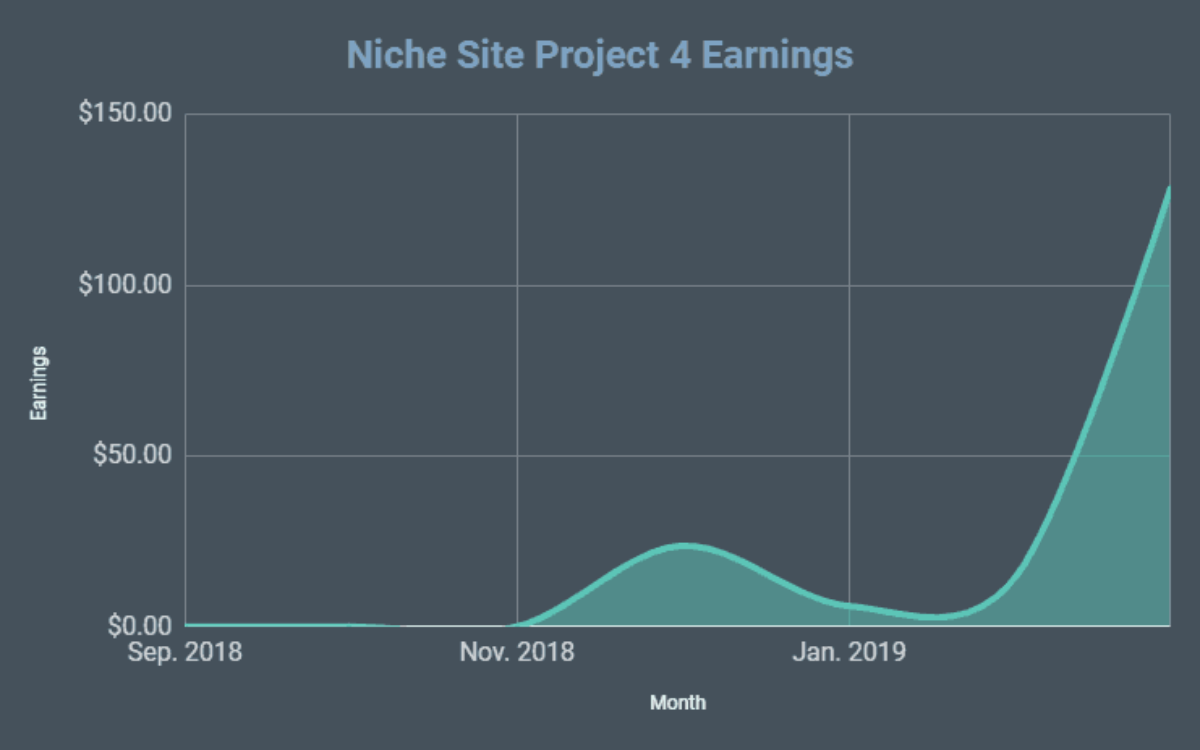 When you buy something through one of the links on our site, we may earn an affiliate commission.
I'm excited to share that REALLY good things are starting to happen for my Niche Site Project 4 site!
The last few monthly results have felt pretty…lame.  Even though that is to be expected for a brand new site, I still don't like posting results that are so unimpressive.
However, I feel like my site turned a corner during the month of March and I'm quite happy with the results.  And perhaps even more interesting is the results that I've seen in the first 7 days of April.
I've got lots to cover: earnings and traffic report, what I did that helped, link building strategies, reports from other participants, and more.  
Earnings Report for March 2019
In order to keep things in perspective, at the end of March, the site was about 7 months old.  
I've always said from the beginning that it typically takes about 6 months for a site to really start showing signs of life in Google, and that appears to be the case for my site.  Google has finally found my site and the site is growing rapidly in terms of Google traffic.
Also to keep things in perspective, my site earned just $15.51 in February.
However, in March the site earned $128.41! An 8x growth in earnings!
Here's the earnings screenshots so you can see where the revenue came from.
A conversion rate of just 3.62% is not that great; however, I'm happy with the earnings of $89.25.   Overall, the clicks from my site to Amazon continue to increase and that's what I'm focusing on right now.
The early signs in April are good that the conversion rate is increasing (more people that go to Amazon are buying products).

The above screenshot is from Ezoic Ads.  I'm using Ezoic for display ads on my site.   Many of my articles are informational and so the only way to make any money from them from display ads.
I'm not super happy with the earnings per visitor from Ezoic, but for now, it's the best option I have.   As soon as my site is getting enough traffic, I will be switching over to Mediavine ads.  I expect the earnings per visitor to go up at least 3x as soon as I switch to Mediavine.  (This is based on my own experience with other sites I have that use Mediavine).
So, with $39.81 in earnings from Ezoic Ads and $89.25 in earnings from Amazon Associates, my niche site project 4 site earned a total of $128.41!
I'm VERY happy with those results on a site about 7 months old.  But I'm even happier with the growth trajectory that I'm starting to see.
And here is the overall raw data for both earnings and number of articles added each month to the site:
Traffic Report
At the end of February was when my site finally started to show some signs of life in Google.   My rankings and traffic from Google just continued to increase with each passing week during the month of March.
All the hard work and foundation I've laid is starting to show that it's working!  The site is still young, so most of my excitement comes when I think about where the site can be in another 6 months or a year.
However, I think it's important to celebrate the growth trends that are starting to occur; especially when it comes to traffic and rankings in Google.
Here's a screenshot showing the massive growth in Google Organic traffic:
The spike in traffic is so high that you can barely tell that each previous month was increasing in Google organic traffic as well.  Each week is setting a new record high over the previous week in terms of Google traffic.  And that includes the first week of April (highest Google traffic week so far).
Social Media Traffic
The traffic from social media sources continues to grow.   Pinterest is the only social media platform that I've focused on and for that reason, most of the social traffic is from Pinterest.
As you can see, the traffic from Pinterest continues to grow at a nice rate.  However, Google traffic is growing faster and it's very possible that the amount of traffic coming from Google will eclipse the amount of traffic coming from Pinterest in the month of April.
Total Sessions (all sources) for the month of March was: 6,527
What Changes Were Made During March?
Now I want to jump into what work was actually put into the site during the month of March.
In total, I published 15 new articles on the site.  Most of the articles published in March were affiliate keywords ("best xyx product").  The growth of the site in March did not come from these new articles I published but is clearly coming from the old articles I published a few months ago starting to rank better and better in Google.
New content tends to take a few months to rank.
Monetization Changes
I went back through all my old articles and added a Table Labs chart to each article.  I added the charts under the introduction paragraph and listed the top 3 picks for that particular category.
In theory, some people just want to quickly see what the best product is and they will happily click through to Amazon without reading the entire article.  I set up a special Amazon tracking id for my Table Labs tables, so I can now see that roughly a third of all the Amazon associates clicks on my site are generated from those new tables.
You can get Table Labs here, the easiest way to set up great looking Amazon product comparison tables.
In addition, I added Amazon "Related Product" native ads in the middle or at the bottom of each of my articles.  I simply used the Ad Inserter plugin to quickly do that across my entire site.
I'm not seeing much earnings activity on these related product widgets, but it doesn't appear to be hurting my traffic either, so I'll keep it for now.
Email List
I actually created an opt in form during the month of February, but I forgot to report on it last month.  So, for the entire month of March I've had a popup that appears after 5 seconds and I'm building an email list.
I'm using Opt-in Monster to collect the emails. And I'm using ConvertKit to send the emails.
My email list size is now 51 people.  
I wish I could say I've done more with the list, but I haven't yet.  I just have 1 autoresponder email that goes out.  In the next month, I plan on writing out a longer email series that will drive people back to my site where they can read articles and hopefully click on my affiliate links.
I also found another 50 keywords and have started assigning those out to my authors.  This next set of 50 keywords are all Amazon affiliate focused keywords, and many of them are higher priced items.
Link Building Strategies
I tried a few different things in the month of March that led to several great links and clear movements in the SERPS.
First, I gained a few more links through "Link Swaps" as I explained last month here.  Basically, I asked for a link and in exchange, I gave them a link from a different site of mine.  This strategy has worked pretty well, but I plan on no longer pursuing these links for the foreseeable future.
I simply don't want my link profile to be too heavy with these types of links.
In total, I have about 10 links from this "Link Swap" strategy…most of them gained during the month of February, but a couple were in March.
Guest Posts Through Outreach
During the month of March, I had one of my authors reach out to a total of 134 sites and we were able to complete 3 guest posts.  The links we got were from sites that were just decent in terms of authority; however, they are all extremely relevant.
I plan to have my author continue to reach out to additional sites during April, and I hope to land another 5 to 10 guest posts.
Guest Posting Services
I also tried a couple of guest posting services to get links to my site during March.
First was Authority Builders founded by Matt Diggity.   I acquired 7 guest post links through Authority Builders and the results were pretty impressive.
I had 3 articles/keywords that I was hoping to rank in google for and so I documented the rank before the links started and I can see what kind of movement the links created.  Here's my results:
As you can see, my first keyword went from ranking #32 to #6 in Google after getting 2 links!  Keyword 2 went from ranking #19 to #10 (although it was #8 for a little while) after getting 2 links.
My final keyword is a difficult to rank for keyword and it still hasn't cracked the top 100 after a couple of links from Authority Builders.   It likely needs several more links to see much movement.  In addition, it's a more difficult to rank for keyword than I like to typically go after, so I may not put much more effort behind it.
Overall, I'm SUPER happy with the results achieved by the links received through Authority Builders!
The Authority Builders platform is pretty unique in that you login to your account and then basically pick what websites you want links from.  So, the price you pay depends on the type of link that you want.
You can view what sort of link opportunities Authority Builders has for free right here.
The Hoth
I also tried getting some links through The Hoth.  The Hoth is a link building company that has been around for a long time and they sort of have the reputation of not getting very good links.  However, I wanted to give them a shot.
So, I selected just 1 keyword I was hoping to rank a bit better for and bought a 3 link package of guest posts (DA 30+ links).
I ordered the links on March 6th, but those links have still not been built yet.  So, I have no results to share since the Hoth is still working on it!
However, I can say that the keyword I was targeting has gone from position 19 to position 14 all on it's own.  So, we'll see what happens when the Hoth finally gets around to adding their links (I'm not impressed with how long it takes obviously).  I'll keep you posted as soon as I get the links…
Going forward, I am going to continue to do some manual outreach for guest posts and will likely go back to Authority Builders for some more links.  If I decide to try any additional strategies or services for link building, I will let you know.
What's Next? (And April Earnings So Far…)
As always, I like to end these monthly reports with what my plans are next for the site.  In a nutshell, here's a summary of what my plans are:
Continue to post 10 to 20 articles a month.
Build out a longer email autoresponder series so I can start monetizing my email list (that is slowly growing).
Build another 5 to 10 guest post links a month.
Continue to monitor and tweak Ads and Amazon links to optimize earnings.
Apply to Mediavine as soon as I'm able to.
As exciting as the growth in March was (8x earnings from previous month!), the first week in April has been even better!  Through the first 7 days of April my site has earned just shy of $100!  Yep, in the first week of April, the site has earned nearly as much as the entire month of March!
Good things are going to happen over the next few months with this project…
In fact, I'm starting to think about when I should reveal the site publicly.  After all, this is a PUBLIC niche site project, which means that I will at some point reveal the domain for you to see.  My original plan was to wait until it was earnings between $500 to $1000 a month in order to show that the site was built without the "help" of Niche Pursuits.
However, I could be convinced to reveal the site sooner rather than later to keep the project interesting.  What do you think…when should I reveal the site?
Niche Site Project 4 Participants
As a reminder, this project is not just about my own site.  There are hundreds of people that have decided to build a niche site right along with mine.  You can read the reports from other participants below!
If you want to join the project and start reporting on your own niche site, you can join Niche Site Project 4 here.
Real Name or Nickname
Number of articles TOTAL published on your site since inception?
Number of Total "Sessions" your site received in March 2019?
Earnings for March 2019?

What was accomplished in March 2019 for your site?

Brandon
19
998
10.47

I was more focused on publishing new articles and promoting the existing ones. Traffic from Google has increased but I'm still struggling with social media. Link to my site – https://www.optiux.com

Jesse
59
1340
22.95

Got a few more articles published, optimized a bunch of older posts that are starting to get traffic, total sessions doubled since last month, revenue increased by about 50%.

Shafi Khan
20
668
5

Getting clicks but not much sales. Hopefully, April will be a huge month.

Kutluay
5
11395
123.94

http://pinterestmakesrich.com/ for all the details…

jac
0
695
3.64

Increase Social media followers

Jae Jun
0
722
1929.33

Reworking website to increase readability, reduce bounce rate and to improve conversion. One of the product pages has been greatly improved already. You can see the new format is a long sales page. https://www.gorillaroi.com/amazon-seller-central-to-google-sheets-integration/

Rather than just trying to make sales, been focusing a lot on reducing negative factors related to the product. Reduced churn rate and bounce rate. Avg revenue per customer is trending up and so is the lifetime value of the customer.

Now working on finishing the site refresh and publishing the email content as blog posts to create "pillar" content for better SEO.

Dave Clifton
25
160
0

Not a great month. Been so busy with work. Need more content.

Krista
4
149
0

my website is https://stereosight.com
I launched the site right at the end of February, so it has only been around for a month. I'm writing all the articles myself so I only have four articles so far. I joined a couple of affiliate programs but have no traction with those yet. I got good engagement from stereographers on facebook and also got a little bit of traffic from reddit. Additionally, as a direct result of this site I got recruited to write for another more established site, www.3Dor2D.com. So, even if I haven't gotten any monetary gains from my site yet, I have already gotten a lot of networking gains. Next month I plan to make my first pillar/skyscraper article and to focus a bit on link building.

Chelle
16
1847
29.11

Published one post. Steady as she goes.

Andrew Courtney
98
32395
321.9
Justin
5
68
0

Built out site more and added more content. Also tried a small Facebook boost campaign, ready to start promoting site more.
www.backpackinginaustralia.com

Kevin
26
300
8.28

2 guestposts, social signals and web2.0s

Chris
11
0
0

One new post published. Issues with Google Analytics. Showing 0 sessions but google webmaster tools showing impressions and clicks so need to trouble shoot. other things took up time so behind on posting.

Arun
18
28
0

Adding new content everyday. Its a competitive niche. Link building is not yet started.

Rohan Bhardwaj
5
23
0

I folded my earlier niche website – because of the topic burnout…And it not going anywhere. Although I was passionate about it.

So I created new website with almost never ending topic for me to write – so that's it for now

Matt_gn
15
1322
24

3 new articles got published and some outreaching was done

smshs
35
428
0
na
Mouad Real
31
732
10

just adding 1 post and get some backlink

Ben Doyle
53
5093
24.56

Published 5 articles – all 3,000 words+ and finally set up a a facebook page.

Don Modekali
30
323
4.9

Details available here: https://www.nichesitevault.com/niche-site-project-ep2/

Steve Allen
20
207
0

Practically zero progress as I have prioritised another project which is very nearly finished. You can learn more about this project and my niche site progress on my blog coffeeshopblogger.com

David S
31
278
18.61

Nothing too busy doing Tax Returns

Ryan Faucher
100
3074
100.46

Connected with a highly respected industry figure. Guest posted on his site. Interviewed him on mine. Another great month! Full Details: https://bit.ly/2ODFC6E

Jobe
50
1278
138

Traffic increases by 102% and earnings hit the three figures :). Working on different link building strategies but it's really hard as people often ask for money for publishing on their sites, what a shame! I aim to publish 50 articles in the next 3 months and build at least 10 links per month if God helps me 🙂

Hassane
12
50
0

I have added a few articles and made modifications on some older ones. I haven't seen an improvement in the visits yet, but I am starting to see that the rankings are improving

Towfiq
45
1682
125

I was expecting regular sell from the site as traffics are increasing. Got more clicks but the sell is not increasing. Content publishing is slower than February.
standard
building-niche-sites
Array
standard
building-niche-sites
Array
Want to learn step-by-step how I built my Niche Site Empire up to a full-time income?
Yes! I Love to Learn
Learn How I Built My Niche Site Empire to a Full-time Income
How to Pick the Right Keywords at the START, and avoid the losers
How to Scale and Outsource 90% of the Work, Allowing Your Empire to GROW Without You
How to Build a Site That Gets REAL TRAFFIC FROM GOOGLE (every. single. day.)
Subscribe to the Niche Pursuits Newsletter delivered with value 3X per week