Which is The Best Online Marketing Course for You? 17 to Choose From!
When you buy something through one of the links on our site, we may earn an affiliate commission.
Which is the best online marketing course for you? It wasn't so long ago that there were very few online marketing courses available to increase our knowledge and improve our digital marketing skills. However, today there are a ton of good courses that are presented by the best in the business.
There's no one 'right way' to do online marketing – everyone does it slightly differently, and many, many people have a lot of success doing it. All of these online course teachers have different styles of building links, creating content, monetizing websites, and running online businesses.
It's a good idea to follow a few of these online marketing gurus to try and figure out whose approach you like best and want to emulate. We've interviewed most of the course creators below, and have reviewed many of the courses. We share links to where you can find out more about the course and the teacher so that you can make an informed decision.
The first 8 or 9 courses that I list here are among my favorite as they're specifically made for building and growing authority niche websites. We also know and trust the course creators and have evidence of their success, as many (if not all) have public niche sites.
Here are 17 of the best online marketing courses for beginners and old hands alike.
The Authority Site System
If you're more into leveraging digital marketing to make money to replace your day job, then The Authority Site System (TASS) is for you.
This course aims to help you build a site that generates a monthly income in the five digits. To get to this level, as the title suggests, you need to create an authority site that is well-known and respected in the market.
Obviously, that's easier said than done because you must put in the time and effort to make it happen. But with this course, all you must do is follow the over-the-shoulder videos and step-by-step lessons to create your authority site in time.
The course is taught by Gael Breton and Mark Webster, both of whom helm Authority Hacker. They turned their success in getting the most out of websites in a short period led to the creation of TASS.
Currently, the course is composed of five in-depth modules containing 120+ video lessons and 70,000 words of content. It guides through the perils of building a profitable website, starting with market research down to web analytics.
Also included are real-life case studies, site building to-do lists, and copy/paste templates to help remove the guesswork of creating an authority site. Check out our complete Authority Site System review here.
---
Authority Hacker Pro
Authority Hacker Pro is Gael and Mark's complete set of online marketing courses, including TASS.
It's pitched as being for more experienced marketers, but really anyone can join and benefit from it. Especially because you also get access to the introductory courses. It doesn't cost all that much more so in a sense you may as well pay to get access to the greater even if you're not going to use it immediately – though always consider your budget for training first.
It comes with courses on the following topics:
Core Web Vitals Blueprint
On Page SEO Blueprint 
Suite Speed Blueprint
Growth Hacking Tips And Tricks
Editorial System Blueprint
Building Your Content Team Blueprint
The Keyword Research Blueprint
The Guest Posting Blueprint
Editorial Links With HARO Blueprint
The Shotgun Skyscraper Blueprint
Evergreen Funnels Blueprint
Selling Your Site Blueprint
Lead Magnet Creation Blueprint
Giveaways Blueprint
Content Promotion Blueprint
Affiliate Marketing Blueprint
Email Marketing Blueprint
Many of these courses include templates and other resources for streamlining processes and growing your site faster. Gael and Mark have done very well with their niche sites, and they're sharing the latest tactics that are working for them.
The course cannot be joined at any time but is only opened for new members once or twice a year. Check out our full Authority Hacker Pro review here.
---
Fat Stacks Course Bundle
Jon Dykstra is making over $100K per month from display advertising on his niche websites.
Jon also runs the popular Fat Stacks blog and podcast through which he shares his online marketing tips and tricks. You can read, watch, or listen to him share more about how he does what he does in this podcast on how to make a living blogging.
Jon also sells the Fat Stacks Course bundle where he shows step-by-step how he makes over $100K per month.
The bundle includes the following courses:
Facebook Magnate: How 

Jon

gets 350K plus free Facebook visitors per month
Site Speed Magnate: How he improved his sites' speed and scores
Website Selling Magnate: Everything he learned selling niche sites for a cash windfall
Pinterest Magnate: Learn precisely how 

Jon

is driving massive (300,000 views +) with Pinterest each month
Long Tail Deep Dive: How 

Jon

makes a living blogging with long-tail keywords
Content Site Autopilot: How to create systems and processes for putting your content creation on autopilot
Natural Link Building Formula: Learn how to attract links naturally with your blog post.
Display Ads Deep Dive: Your ultimate guide to monetizing niche sites and blogs with passive income display ads
On-Site SEO Deep Dive: Learn everything 

Jon

does for on-site SEO (structure, schema, etc.) for ranking content
Niche Exponential: The ultimate guide to building specialty blogs such as recurring commission niche sites and others
Jon is very well respected in the online business community and is a good teacher. His method of focusing on making money from advertising also sets him apart from other marketers – he does not focus on affiliate marketing.
---
MoneyLab Pro
MoneyLab Pro is a good online marketing course for beginners.
Matt Giovanisci is another successful online marketer who has cracked the code and now shares how he does it through an online course. His course covers the range of skills needed to run an online business, from SEO to YouTube for bloggers.
YouTube is one area in particular that Matt excels at. He has a number of highly viewed channels that are very entertaining and informative. Check out the Swim University YouTube Channel, for example.
Here are all the courses inside of MoneyLab Pro
SEO for Bloggers – an SEO course that works
Affiliate Marketing Course – A course on how to monetize
Asana for Bloggers – How to manage a content process effectively
PageSpeed for Bloggers – Make your site blazing fast
YouTube for Bloggers – How to make exceptional videos
When you sign up, you also get access to Carbonate – Matt's fast WordPress theme which he uses on all his sites. For more info check out our MoneyLab Pro review here.
---
Nick Loper's Traffic Course
Who knows more about side hustles than basically anyone else?
Nick Loper from Side Hustle Nation, of course!
The Side Hustle Nation blog has grown massively over the last few years, and the podcast is currently getting an incredible 10,000 downloads per day. In this recent interview on the podcast, we talked about how he's grown both these arms of the business and how they're making money today.
Nick is a pro on keyword research, SEO strategy, and getting traffic to websites – and pretty much everything else blogging-related.  He has also put together a course on how to get more traffic to your website – it's called The Traffic Course.
Here's what the course covers:
How to Make Google Love You—Or At Least Stop Ignoring Your Texts
The Hidden Traffic Opportunities Right Under Your Nose
Easy Ways to Optimize Existing Content
The "Unsung" Search Engines You Might Be Overlooking
How to Create New Content That's a Hit–Without Wasting Time
It's a very affordable course, costing less than $100, and includes about 10 hours of video content. It's basically a guide to how he gets traffic to his sites – something he's proven good at.
---
Matt Diggity's Affiliate Lab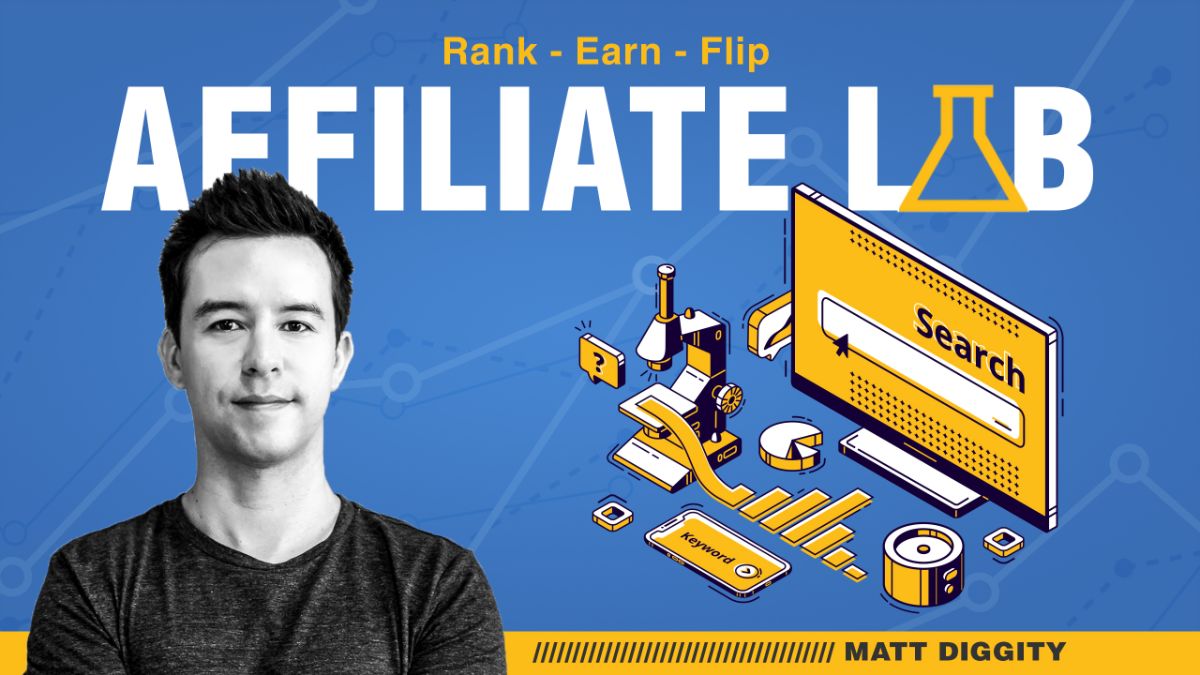 Matt Diggity is well known in the online marketing space, and as you'd expect, he also has an online marketing course.
Affiliate Lab focuses on SEO, but really it gets into everything you need to know to successfully run an affiliate marketing business. The homepage states, "Get a proven, test-backed blueprint for ranking, monetizing, and flipping high-competition affiliate websites."
The Affiliate Lab Training covers beginner level SEO and affiliate site topics but also gets into the more advanced stuff too. For example, there's a conversion rate optimization masterclass, and website flipping masterclass, and a featured snippets masterclass.
When you sign up, you will also gain access to the exclusive Affiliate Lab Facebook Group. Check out our recent interview on running SEO Tests with Matt Diggity for more info!
---
EasyWins.io
EasyWins.io is not an online marketing course per se, but it is an online marketing HELP!
It's run by Musfiq Sarker, and he created systematic processes of "easy wins." These easy wins are tasks, or site improvements often overlooked but take relatively little time to complete and can provide a big impact.
It's a collection of 120+ battle-tested strategies applied to 175 websites over 12 years to increase website valuations.
Mushfiq actually did a bit of a "website teardown" on the podcast interview for the Niche Pursuits public niche site, Own The Yard. He found several ways that the site could increase earnings.
A range of these easy wins has now been implemented on Own The Yard, including:
Introducing a sticky sidebar ad – this keeps one of the most valuable ad spaces in front of the reader
Making the featured image smaller – allows visitors to see some content above the fold, improving their experience
Changing the wording on Amazon CTA buttons – Asking visitors to "Check Price on Amazon" or similar wording can have a big impact compared to just telling them to "Buy Now"
You too can get access to this list of quick and easy things you can do to help your website increase it's rankings, traffic, and earnings.
---
Doug Cunnington's HARO Course
Doug Cunnington used to hate the thought of HARO link-building and didn't believe it was a good way to grow a site.
But he decided to give it a try. He researched, tested, and asked for tips.
After really trying it out, he changed his mind. He discovered that HARO is a powerful and unique way to build authoritative links to niche sites, and has now become something of an expert.
When it comes to link building, I'm not a fan of sending out mass emails in hopes of a link. I'm sure manual outreach works for many, but it's just not something I'm interested in doing myself. For link building to truly work well, something of value needs to be exchanged.
​
That is where HARO comes in, and makes the link-building process a little more approachable.
We did an interview with Doug Cunnington where he shared an example of one of his podcast listeners landing 9 links after sending 40 pitches. One of those links had a DA of 92!​
Here are a few of his tricks to increase your HARO success rate:
Follow instructions from the reporter. You'd be shocked by how many people don't follow clear instructions.
Don't try to link anything but your homepage. Reporters are hesitant to link to the inner pages of your website.
Reply fast! Reporters will use an answer that's good enough as soon as they have it. 
Monitor your site's new links and set up a Google Alert for your brand name and your name. Sometimes reporters forget to let you know they used the quote and linked to your site.
If you're interested in mastering HARO as part of your online marketing skillset, Doug is the man to learn from.
---
Making Sense of Affiliate Marketing School
Similar to The Authority Site System, The Making Sense of Affiliate Marketing School is about turning your digital marketing knowledge into creating a profitable website.
The focus of the course is primarily on affiliate marketing, which refers to selling products and services of affiliate programs you've joined. For every sale you make on your site, you earn a commission. The goal is to sell as many as you can to maximize your earnings, something that this course will show you how to do.
Instructor Michelle Schroeder-Gardner is known for her personal finance website Making Sense of Cents. From the site and through affiliate marketing, she was able to earn an excess $100,000 a month, an amount that most marketers could only dream of making.
But through her course, Michelle takes everything she's learned as a blogger and affiliate marketer so you could replicate her success on your website.
The course teaches you how to find affiliate programs that are right for you, how to convert visitors into buyers, and advanced strategies to promote your affiliate links and increase your conversions even more. There are also worksheets you can use to help you take action of the steps and keep better track of things.
The course is sold at $197, but you can choose the two-month payment plan for $105/month.
---
ClickMinded Digital Marketing Course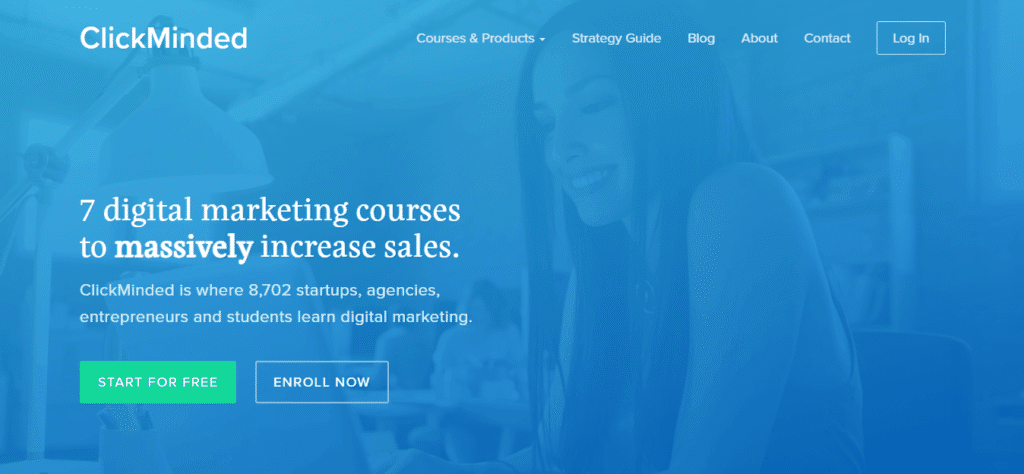 The goal of ClickMinded is to create digital marketing courses geared to help business owners maximize their earnings from online channels. It believes that the last thing these people need is hackneyed advice from a Forbes blog post published three years ago.
With its Digital Marketing Course Bundle, members receive the best, most updated, practical, and actionable advice on how to grow their business in the ever-evolving digital landscape.
Of course, it's good to learn from the best, including Tommy Griffith, SEO specialist, and the brains behind ClickMinded. He helped Airbnb achieve the success and popularity it reached nowadays. And through the online courses offered at ClickMinded, you can turn your startup into an online sensation if you follow the advice to a tee.
There are seven courses included in the bundle and the industry experts who will be teaching each:
Social Media Marketing – Jasmine Atherton, Head of Social, Airbnb
Content Marketing – Sophie Tahran, Content Strategist, Lyft
Email Marketing – Lucas Chevillard, Email Strategist, Airbnb
Paid Advertising – Lucas Lee-Tyson, Founder, GrowthCave
Sales Funnel – Jim Huffman, Growth Mentor, Techstars
Google Analytics – Chris Prahl, Data Engineer, Trakken
Search Engine Optimization – Tommy Griffith
You can purchase each course individually at a one-time payment of $497. But if you buy all seven courses together, you only have to pay $997 for unlimited lifetime access and free updates for life.
---
Google Fundamentals of Digital Marketing Course
If you have little to no knowledge about digital marketing, then Google Digital Garage is the best place to start.
In particular, the Fundamentals of Digital Marketing course will help you gain a better appreciation of the role digital marketing plays in generating better engagement and sales with your target audience.
The course is accredited by The Open University and the Interactive Advertising Bureau Europe. You can be sure that you're learning the best and most widely accepted digital marketing practices.
Fundamentals of Digital Marketing contains 26 modules, each with multiple video lessons that span a total of between 20 to 55 minutes. Also, each module is taught by Google trainers and contains exercises at the end to help you apply your newly acquired knowledge in real-world examples.
After finishing the course, you need to take and pass a 40-question exam to see how much of the course you understood. Once you pass, you will receive a certification that shows you have completed it. You can use the certificate to help you get better jobs and to prove to employers that you are knowledgeable about digital marketing.
Best of all, the course is free. You can register for an account and take the course at your own pace.
---
EDX MicroMasters Program in Marketing in a Digital World
The digital world is a blessing in disguise for brands. While it's another batch of channels to worry about, it's also one of the best ways to communicate their message. The ability to launch highly targeted and measurable campaigns allows you to maximize your spending and results simultaneously.
To fully take advantage of the digital channels made available to us, edX offers the Marketing in a Digital World course. Its goal is to provide course takers with the necessary marketing training to implement an actionable digital marketing strategy for their clients.
The course is developed by MicroMasters, an organization that offers higher-level programs from leading universities to professionals. In this case, instructors from Curtin University help people navigate through the program materials that consist of five online courses spread across 4-12 weeks' worth of work.
Completing a MicroMasters course guarantees to elevate their portfolio in the job market to qualify for better and higher-paying jobs.
The program costs $795 and is geared towards marketers and communications professionals.
---
Coursera Marketing in a Digital World
This course not only has the same name as the program from edX, but it only tackles pretty much the same concepts as the previous course.
Marketing in a Digital World is one of the best digital marketing courses available on Coursera. It currently holds a 4.7-star rating (out of 5.0) from almost 9,000 people and has over 2,000 glowing reviews from people who completed it.
The course is offered as part of the iMBA program at the University of Illinois. Instructor Aric Rindfleisch, John M. Jones Professor of Marketing, guides you through the basic concepts tackled in the next four weeks, each week taking between 6-8 hours of video to complete.
The course is the first part of seven courses in the Digital Marketing Specialization program, which you can also take after finishing this one.
You can sign up for a free trial of this course. After the trial period ends, you will have to pay $79/month. The cost includes the other courses in the program.
---
Reliablesoft Digital Marketing Full Course Bundle
If you don't have the cash to belt out for ClickMinded, then Reliablesoft may be for you.
At a very generous $119, you get the complete bundle of courses ranging from social media marketing to email marketing. On top of that, you get lifetime access to the course complete with updates. Now, if you're not happy with the bundle, you have a 60-day window to cancel your subscription and get your money back, no questions asked.
Now, don't think for a second that Reliablesoft isn't as good compared to the premium courses for digital marketing featured here due to its price.
But judging from the scope and level of detail discussed in the courses, Reliablesoft delivers the most bang for your buck. Here's a screenshot of its search engine optimization course: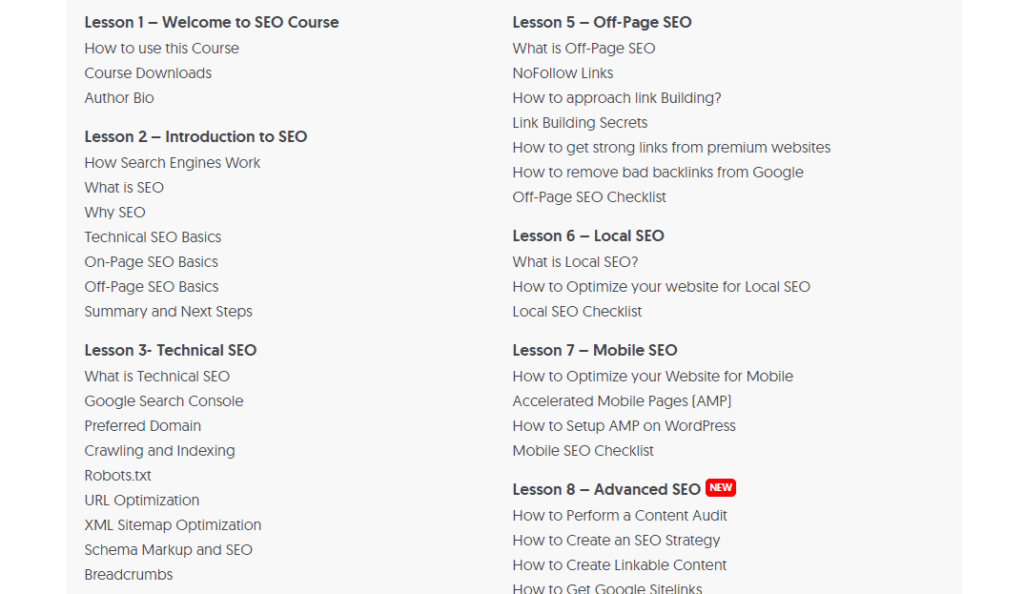 Instructor and Reliablesoft founder Alex Chris has 18 years of digital marketing experience under his belt. He launched Reliablesoft in 2002 and has kept up with the times.
And if your business can withstand the volatile digital marketing industry through the years, then you know that you're in good hands with that business. Fortunately for you, Reliablesoft is that business that you want to teach you the ropes.
---
Simplilearn's Digital Marketing Specialist Program
Simplilearn's Digital Marketing Specialist course is one of the most expensive ones in this list at $1499. People without deep pockets may want to try out other digital marketing courses featured here. But for those who are serious in making a profitable career out of digital marketing, keep reading.
The program consists of six courses that you can schedule to take during the weekends on fixed dates. The modules include video training and knowledge checks to make sure that you understood the lessons.
Simplilearn also uses Mimic Pro by Stukent. It's software that simulates digital marketing in action. Students are given a budget to implement their marketing strategies on different channels.
By applying the teachings in the program on Mimic Pro, they can learn faster and prepare them in real-world situations involving digital marketing.
There are four program advisors who will help you through the courses:
Paul Lewis – Member of the University of Westminster's Alumni Student Mentor
Brad Geddes – Expert PPC Marketer
Stéphane Hamel – Google Product Strategy Expert
Matt Bailey – President of SiteLogic
Upon completion, students will receive the Online Marketing Certified Professional (OMCP) Certification worth $395. OMCP is a globally recognized certification granted to people with the knowledge and skills in online digital marketing concepts and strategies.
The certificate is valid for 12 months. Once it expires, they have to take the course again to be eligible for it.
---
HubSpot Academy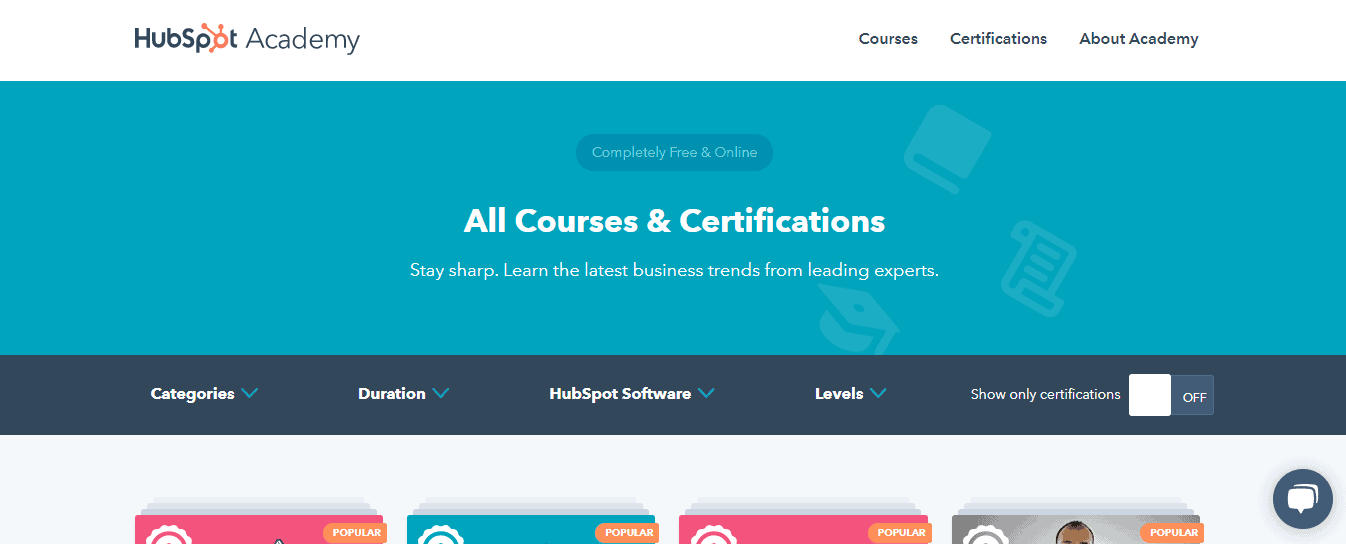 The best things in the world are free: air, free will, and Hubspot Academy.
This course is great for beginners who are new to digital marketing but don't have the cash to pick up any of the paid digital marketing courses above.
Hubspot is one of the best and most popular marketing tools in the industry. Using it, you can attract website traffic, generate business leads, score them from least to most likely into becoming your clients, and send them emails to convert them into customers.
Of course, doing all these is no walk in the park. There are different steps and factors involved to ensure that you apply the tactics properly and guarantee the success of your campaigns.
Hubspot Academy attempts to cover all the basics of online digital marketing so you have a general idea of how it works (see more about whether a HubSpot certification is worth it).
The great thing about the academy is you can filter the course according to different variables like duration, levels, and whether or not the course hands you a certificate upon completion.

Below are some of the most popular courses you should consider taking from Hubspot Academy:
Social Media Marketing Certification Course – 9 lessons, 4:10 hours
Inbound – 7 lessons, 1:54 hours
Inbound Marketing – 10 lessons, 4:12 hours
Content Marketing – 14 lessons, 6:08 hours
Inbound Sales – 5 lessons, 2:11 hours
Search Engine Optimization Training Course: 3 lessons, 1:00 hour
Email Marketing – 11 lessons, 3:18 hours
Each course is taught by multiple instructors and experts like Sujan Patel (content marketing), Crystal King (social media), and Matthew-Howells Barby (SEO), to name a few.
To take any of the courses here, sign up for a free Hubspot account.
---
Udemy the Complete Digital Marketing Course
Udemy is your one-stop-shop for online courses on different topics. So, it shouldn't come as a surprise to see a digital marketing course here, and a very good one at that.
With a rating of 4.4 stars (out of 5.0) from over 100,000+ users and over 450,000 enrollees since its launch, The Complete Digital Marketing Course is arguably one of the most thorough digital marketing courses and it's probably not even close.
Clocking in at a whopping 23.5 hours spread across 256 in-demand videos, there's something for everything with this course. There's a focus on search engine optimization and Facebook Ads as there's a combined nine hours dedicated to both.
Instructors Rob Percival of Codestars and Daragh Walsh offer unique insights from their experiences in the digital marketing field. Rob is a web developer at heart and loves to create courses that explain how to build functional online properties in the easiest way possible. On the other hand, Daragh is a Google Certified Marketer who owns and runs different online businesses.
With their heads put together in creating one of the best-selling courses on Udemy (currently at $13.99 as of writing), you can apply the teachings to get yourself a better job or build a money-making site yourself.
---
LinkedIn Online Marketing Foundations
LinkedIn is a social networking platform geared toward professionals (and don't miss out on LinkedIn alternatives too). Therefore, it makes sense for the platform to launch a course teaching people how to leverage marketing as part of their skill set.
In this 13-module course, you will learn the best ways to effectively promote your online digital business by understanding who your potential customers are and reaching out to them. The course will run through the different channels where you can engage the right people with your business.
The beauty of online marketing is scalability. You can launch campaigns and measure the results to help you identify the good and not-so-good things about your campaign. Using the data, you can tweak your strategy to improve the results. And you'll learn how to do this as you progress with the course.
The course instructor is Brad Batesole, Partner at Madecraft, Instructor at LinkedIn Learning, and a recognized thought leader. He has worked with top brands like Staples, LegalZoom, Urban Outfitters, and others as a growth consultant and startup advisor. With his resume, you can expect to learn everything there is to learn about digital marketing from Brad. 
The Online Marketing Foundations course is part of the many courses offered at LinkedIn Learning. You can sign up for an account and enjoy a free 1-month trial. Once the period is over, you will have to pay $29.99/month. Besides this course, you have access to other courses to add to your knowledge of digital marketing.
---
Which are the Best Online Marketing Courses?
With so many digital marketing courses to choose from, it can get challenging to decide which one is the best for you.
First, you have to determine what level your knowledge of digital marketing is at. For beginners, you should take the free webinar over at The Authority Site System before deciding whether or not it's right for you.
If you're low on cash, you can't go wrong with The Fat Stacks Course Bundle – it's an excellent course that should probably be priced higher than it is!
However, if you have money to invest, I suggest you go straight to taking Authority Hacker Pro – though you will need to wait for the next intake. Almost all of these courses offer lifetime updates and only require a one-time payment from you. Therefore, you can be sure to get the best and latest tactics and strategies to use for your websites.
If you want to be your own boss and make money from your websites, then the TASS and Affiliate Lab are both courses you should consider getting. TASS is more appropriate for beginners without a website yet. But for those who are already making money with their sites but want to boost their affiliate earnings, then Matt Digity's course is for you.
Finally, those who want to use digital marketing to get better jobs or use it for higher education can take the courses from Simplilearn, Coursera, and edX. Finishing any of the aforementioned courses will give them a competitive edge in the market starved for great digital marketers.
There are our favorite online marketing courses for finding a niche and starting an online business right now. And continue your learning with the best SEO blogs!
Want to learn step-by-step how I built my Niche Site Empire up to a full-time income?
Yes! I Love to Learn
Learn How I Built My Niche Site Empire to a Full-time Income
How to Pick the Right Keywords at the START, and avoid the losers
How to Scale and Outsource 90% of the Work, Allowing Your Empire to GROW Without You
How to Build a Site That Gets REAL TRAFFIC FROM GOOGLE (every. single. day.)
Subscribe to the Niche Pursuits Newsletter delivered with value 3X per week