MoneyLab PRO Review: Learn To Earn Like Matt Giovinisci!
When you buy something through one of the links on our site, we may earn an affiliate commission.
MoneyLab Pro is Matt Giovanisci's latest and greatest venture which we're excited to share with you.
For those who don't know Matt, he's an online marketer, designer, developer, and all-around great content creator from way back.
He has been on the Niche Pursuits podcast twice before. First in 2018, where the conversation focused on his massively successful pool affiliate site Swim University. He returned in 2019 to talk about Lasso, his affiliate link manager and optimizer plugin.
In this post, it's all about MoneyLab Pro – Matt's online business courses and community where he shares everything he knows – and he knows a lot!

BLITZ DEAL: 50% OFF MONEYLAB PRO - ANNUAL PLAN ONLY
Courses, Tools, and Community to Make Money on the Internet:
YouTube for Bloggers: Learn how to make money with a YouTube channel
SEO For Bloggers: Learn how to get traffic from Google in 12 months or less without building backlinks!
Asana For Bloggers: Get organized and better at managing your blog.
PageSpeed for Bloggers: Optimize your WordPress blog to load in under 1 second.
Affiliate Marketing For Bloggers: Find out everything MoneyLab has to know about making money with affiliate marketing.
Carbonate WordPress Theme: The WordPress theme MoneyLab uses for all their websites.
Why Listen To Matt?
We mentioned Swim University but didn't share any of the metrics with you.
This site gets more than 200,000 visitors per month, generates a crazy amount of revenue, and is a true authority in the niche. Besides the blog, the brand has a huge YouTube following and also does very well on social media.
Alongside Swim University, Matt has built many successful affiliate sites that are earning him in excess of $500,000 per year. This includes Brew Cabin, a niche site dedicated to home brewing, and a coffee website, which he sold back in 2018.
He's been hugely successful in online business and is particularly talented at creating compelling content that converts. His YouTube videos are funny, engaging, and just downright entertaining.
Whether he's talking about the science of homebrewing, how to stop your spa from freezing, or SEO trends, he's sure to capture your attention.
Take a few minutes to watch Matt build his home brewery over the course of 40 days (and don't skip 8:05 – 9:52).
There's a lot to learn from this guy!
What Is MoneyLab?
Whatever Matt touches becomes a bit of a beast, and MoneyLab is no exception.
Primarily it is a blog, podcast, and YouTube Channel that covers topics like online marketing, website management, and building online businesses.
However, there is more to it than that – MoneyLab Pro!
MoneyLab Pro is an online community and series of courses that will teach you how to make money online.
Matt has half a dozen standalone courses (with more on the way) that can be purchased at price points from $99 – $499. But, by joining MoneyLab Pro, you instantly gain access to all of the courses, and the online community.
We're going to take a deeper look at MoneyLab Pro in this review to determine whether or not it's right for you.
What Is MoneyLab PRO?
If you want to start or grow an affiliate site, you need to:
Invest in your education – learn more about what you're doing.
Surround yourself with like-minded people – it's motivational and inspiring!
MoneyLab Pro will help you to achieve both of these goals.
Currently, there are 5 courses inside MoneyLab Pro:
Affiliate Marketing For Bloggers
SEO For Bloggers
PageSpeed For Bloggers
YouTube For Bloggers
Asana For Bloggers
And we don't need to tell you, given that Matt is a video expert, that all of the content is exceptionally well produced.
The video and audio quality is A-grade, and as with the brewing video we shared above, it's always entertaining. All that to say these are not boring courses that are difficult to watch!
You also get access to the theme Matt created and uses on all his sites: Carbonate WordPress Theme For Bloggers.
Let's take a closer look at each of the courses one-by-one.
Affiliate Marketing For Bloggers
This course can be purchased separately for $199, or you can gain access to it by joining MoneyLab Pro with our 50% OFF discount.
The course covers:
Affiliate marketing fundamentals
Building an affiliate marketing website
Growing your affiliate marketing website
Building an online course in 30 days
Recommended tools and general advice
You can see a further breakdown of the course here.
All up, this course is delivered over 5 and a half hours of video content, which is quite short given the ground it covers.
Those who have already chosen a niche and built a site will recognize that this course can't be super comprehensive, and that is the case.
For example, the 11 minutes of video for 'setting up your site right' and 'install these WordPress plugins' are basically all the info given on building a site. It's very concise!
For those who are totally new to affiliate marketing and building websites, it's probably not going to be enough to take you from zero to hero.
This course isn't an 'over-the-shoulder, watch me build a site from scratch' type of thing. It is Matt showing what he has done and the products he has used to find success. Valuable none-the-less!
The section of this course 'building an online course in 30 days' could perhaps be a course in itself, as it is quite extensive.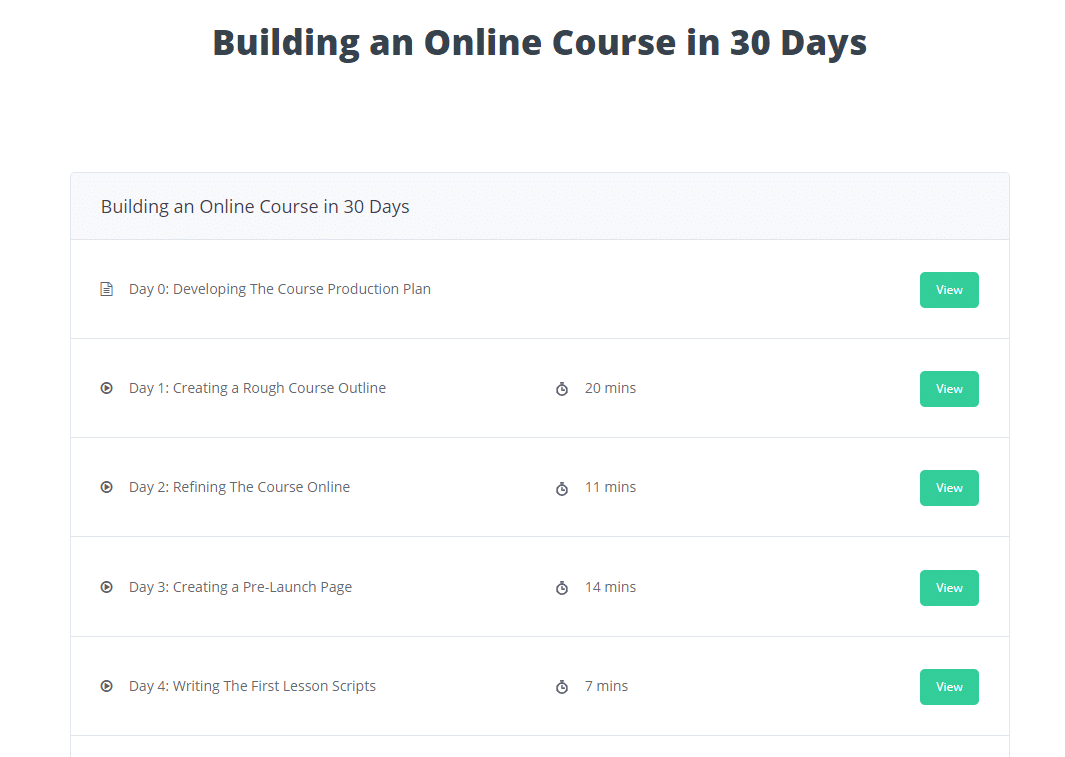 Not everyone starting an affiliate site has the desire or aspiration to create an online course, but for those who do, you'll want to check it out.
This is a helpful and detailed module that not only has video content but also includes access to many text guides.
Overall, this course would be most helpful for those who simply want to learn how Matt has done what he has done. And when you look at the success of sites like Swim University, you should be driven to find out more.
It's not the ideal course for those new to WordPress who want to learn how to build a niche site from scratch (for that, you'll probably want to check out our list of the best WordPress courses).
SEO For Bloggers

The next MoneyLab Pro course we'll take a look at is titled Search Engine Optimization For Bloggers.
Matt has obviously done well on his sites with both on-page and off-page SEO, and he shares his tactics in the course.
The broad course outline:
Intro to SEO
SEO site structure
Keyword and content research
SEO growth
Audits
SEO blueprints
Bonus content
Or take a look at the complete outline here.
This SEO course is best for newbies as it is only really covering the basics and not getting into many advanced SEO strategies. As always, it's interesting to learn how Matt does things, even if it is as simple as a content audit!
There is a bit here for experienced online marketers as well. For example, the 'behind the scenes look' at Swim University, Roasty Coffee, and Brew Cabin would fascinate anyone who loves SEO.
PageSpeed For Bloggers
Next up in the MoneyLab Pro course list is PageSpeed For Bloggers, which details how to make your site load in under 1 second!
The course includes:
Page speed fundamentals
Fast website setup
Speed settings and improvements
Case studies
It also comes with a ton of priceless code snippets that will make your site load faster. Check out the full contents here.
To see if Matt Giovinisci knows what he's talking about when it comes to page speed, why don't we just run a test on Swim University?
The results from GTMetrix:
It doesn't get much better than that!
This course has the basics like 'choosing a good host' and 'setting up your site with Cloudflare', but it also has more advanced, technical sections like 'how to fine-tune the WordPress database.'
Some parts of the PageSpeed course assume or require that you will be using Matt's lightweight theme Carbonate. We'll cover this a bit more below.
Nevertheless, this section of MoneyLab Pro is a valuable resource for anyone at any stage who wants to speed up their website.
YouTube For Bloggers
Perhaps the most valuable portion of MoneyLab Pro is the YouTube For Bloggers course. If you're looking at purchasing it separately it is the most costly standalone product Matt sells at $499.
As with everything we've covered so far, the proof is in the pudding. Matt has been very successful across multiple different YouTube channels – you only have to watch a couple to recognize he knows what he's doing!
This course covers:
Channel strategy
Video production
Monetizing and marketing
Channel and video optimization
Interviews with other successful YouTubers
Bonus resources
See the extensive outline here.
YouTube For Bloggers is a must-watch for anyone starting out or wanting to double-down on YouTube.
Over the course of 53 videos, Matt takes you from developing a winning YouTube strategy to uploading completed videos to the platform. It covers keyword research for YouTube, video style selection, developing a template, and everything else you need to know.
Some of the less ordinary videos:
how to record a voiceover remotely
how to create animated videos in ScreenFlow
using email marketing to boost views and sale
Or, what has got to be one of the best videos in the course, 'how to make your own music for YouTube videos'… Does he really know anything about that? Check out Swim U's first viral video from 2013!
If you're looking to get into YouTube for your niche site (which you should be) joining MoneyLab Pro would be a wise move.
You can pay $499 for this course on its own, or with the Niche Pursuits discount get access to all the courses and the community for only $249.
Asana For Bloggers
The next course you will gain access to if you join MoneyLab Pro is Asana For Bloggers.
Asana is a web and mobile app designed to help teams organize, track, and manage their work. It has been an invaluable tool for Matt, enabling him to efficiently run at least 3 different sites with multiple staff.
While this course might sound more than a little boring, it's something that serious online marketers need to consider.
Here's what it covers:
Asana fundamentals
Blog editorial and marketing management
Blog growth and revenue management
Advanced tactics and workflows
Behind the scenes of SU and Roasty
Spreadsheets and templates
Find out more about the Asana course here.
Again, this is probably not a course most people will get excited about, but its value is EXTREME!
Carbonate WordPress Theme

Carbonate is the theme Matt Giovinisci built (or 'invented,' as he sometimes likes to put it) himself.
MoneyLab Pro grants access to use this theme on unlimited sites and contains a video on how to best implement it.
Matt uses Carbonate for all his sites, so if you've been admiring Swim U and Brew Cabin, you might want to consider it for your blog. The pagespeed results speak for themselves!
The MoneyLab Pro Community
Lastly, signing up to MoneyLab Pro is the only way to get access to the community.
But what is the community and why should you be interested?!
It's a solid group of online business owners (including Matt!) who help and support one another forward. It's a place to ask questions, to discover opportunities, to collaborate, and to learn from group discussions.
One of the big benefits of being a part of the group is the weekly 'office hour.'
This is a group Zoom call hosted by Matt each Wednesday. During this time members can ask questions, get feedback on their sites and strategies, or just plain chill!
Times like this are always really motivational and will no doubt lead to some real breakthroughs in your business.
MoneyLab Pro Review
MoneyLab Pro has a lot going for it, whatever stage you're at.
Those who are fresh to online business will learn a lot and get a good grounding in where to start.
While the affiliate marketing part of the course might not be sufficient to teach the beginner all that they need to know, it's really helpful for the basics. The inside scoop on Matt's 6 figure per year niche sites is certainly worth paying for!
The SEO content contains a lot of great tidbits and is fantastic for beginners. However, experienced SEOs are probably not going to learn a whole lot.
The SiteSpeed and YouTube courses are extremely valuable for those wanting to learn more in those areas. Matt has obviously excelled here and you can't learn it from anyone better.
Everyone should do the Asana course (groan). Matt has figured out how to keep a lot of balls spinning in the air at one time using this tool. There must be something to it.
And the community is growing in number and will only grow in value. Get in now and establish yourself as a valuable member, build connections, and grow your business together with other driven entrepreneurs.
MoneyLab Pro has a 100% risk-free, 30-day, money-back guarantee, with no questions asked.
What have you got to lose?
Want to learn step-by-step how I built my Niche Site Empire up to a full-time income?
Yes! I Love to Learn
Learn How I Built My Niche Site Empire to a Full-time Income
How to Pick the Right Keywords at the START, and avoid the losers
How to Scale and Outsource 90% of the Work, Allowing Your Empire to GROW Without You
How to Build a Site That Gets REAL TRAFFIC FROM GOOGLE (every. single. day.)
Subscribe to the Niche Pursuits Newsletter delivered with value 3X per week