Authority Hacker Pro Review: Can It Put Rocket Fuel On Your Online Business?
Building a website is a challenging, rewarding experience that can change your life forever.
With enough time and energy, you could stop working at the job you hate. You could work from home or from Thailand. You could quit working before noon. You might even start to love what you do for a living.
And even though the first dollar online might be the most exciting, it's all the dollars after that make the biggest difference.
In this Authority Hacker Pro review, we're going to ask whether this course can help you go from your first dollar online to all of the other ones. We'll look at who it's best for, who it's not, and what you can get out of it.
If you want to take a look at Authority Hacker Pro, you can try it out risk free.
Take your site from good to great with Authority Hacker Pro
Let's get rolling.
Authority Hacker Pro Review
Ease of Use -

100

Breadth of Information -

95

Case Studies & Templates -

100

Price -

90
Pros
Lots of case studies, templates, and real life examples to follow
Filled with advanced tactics
Tons of content – you can spend months learning and applying
Cons
Not a course for newbies (for that, look at The Authority Site System)
Authority Hacker Pro: The Good Stuff
Let's talk about some of the pros of Authority Hacker Pro (AH Pro). After we talk about the good stuff, we'll move on to some of the cons.
Lots of Case Studies, Templates, & Real Life Examples
My favorite part about AH Pro is that it's created by guys who know what they're talking about. Gael and Mark run a portfolio of very large websites. They show plenty of examples of what they're doing that is (and isn't) working.
This course is packed with case studies. And with case studies come one of my favorite things: templates.
You'll get templates for content, templates for VAs, templates for email marketing sequences, templates for building backlinks, templates for cold emails… the list goes on and on.
Gael and Mark use over-the-shoulder videos to build right in front of you. You'll see them build opt in boxes, Pinterest accounts, do their own keyword research, and set up link-building funnels.
AH Pro is packed with real life examples done by experts in their field.
Filled With Advanced Tactics
AH Pro has tons of very advanced tactics. I've been doing internet marketing for several years now and I still learn a lot from Gael and Mark.
The more advanced tactics include things like growing a large social media account, mastering opt in boxes, having a solid email series set up, list segmentation, keyword research for large sites, link building at scale, monetizing your site better, organic content promotion, and selling your site.
This isn't stuff that you find with a quick Google search. Gael and Mark bring their own experience with huge sites and show real examples. This is the kind of stuff that you'll need to know to go from 4 figures per month to 5, 6, or more per month.
This is the kind of stuff that takes your website from a side hobby to a valuable business in its own right.
Tons of Content
I'd be willing to bet that AH Pro has as much or more content than any course I've ever seen. Lessons are divided into blueprints and there are 18 different blueprints. Each one of these could be sold as its own course and many would still have more content than other courses out there.
(some of the AH Pro blueprints were sold as their own course in the past)
Here's some quick math that I did:
Let's say that each blueprint has an average of 10 video lessons (most blueprints have more, some have less). Each video lesson is 10 minutes (plenty are much, much longer. A few are shorter). There are a total of 18 different blueprints.
That means that AH Pro holds a whopping 1800 minutes worth of video lessons. That's 30 hours worth of content.
Once you count the time that you spend implementing their tactics, you're going to get months or years worth of use out of AH Pro. There is a lot here.
Authority Hacker Pro: The Not So Good
Now let's talk about the cons of Authority Hacker Pro. Don't get too worried, there's only one:
Not A Course For Newbies
Not sure what internet marketing means? Do you think a skyscraper is just a building? Are you pretty sure that TF-IDF is a song by Dua Lipa?
You aren't ready for AH Pro.
This course isn't a great pick for beginner niche site builders (for that, check out The Authority Site System review). AH Pro is a tool you can use to take your site from good to great.
I would recommend AH Pro if you have a site making more than $1,000 per month. This course will help you get from $1,000 to $10,000+.
But if you aren't at a place where your site is already providing significant earnings, I would head to The Authority Site System.
Authority Hacker Pro is not a course designed for newbies.
But if you're already earning from your site and want to take it to the next level, I don't think you can find a better course than Authority Hacker Pro. Click here to take your site from good to great with Authority Hacker Pro.
Master internet marketing with real tactics in Authority Hacker Pro
Authority Hacker Pro Review
Authority Hacker Pro is kind of like The Authority Site System's (TASS) older brother. If TASS teaches you how to start a site and get it to 4 or 5 figures per month, Authority Hacker Pro (AH Pro) teaches you how to take your site to six figures per month.
And this isn't a wild claim; Authority Hacker shows you their own sites that are earning 6+ figures per month.
If TASS helps you become someone who can make income internet marketing, AH Pro helps you become a master of your craft. You will learn things like:
How to produce and publish ultra high quality content
The best methods for doing keyword research
How to run organic content promotion
Crafting a link building skyscraper funnel
How to use guest posts for outreach
Building and managing content hubs
Running better email marketing campaigns
Building high converting lead magnets
Growing email lists with viral content
Creating high converting pop ups and opt in boxes
Content upgrades and list segmentation
Lead magnet Facebook retargeting
How to get thousands of clicks per day from Pinterest
How to find, market, and profit from affiliate programs
How to make more from display ads without sacrificing user experience
Info product creation and marketing
How to set up an evergreen funnel to sell products
Selling your site for maximum profit
In short, TASS helps you get your best online business started. AH Pro helps you take your online business to the next level. It's not for the faint of heart or for the person who loves to watch videos and doesn't love to execute.
Let's take a look at what you'll learn with AH Pro.
Course Overview
AH Pro has a few pieces to it. When you go to the home page, you'll see something like this: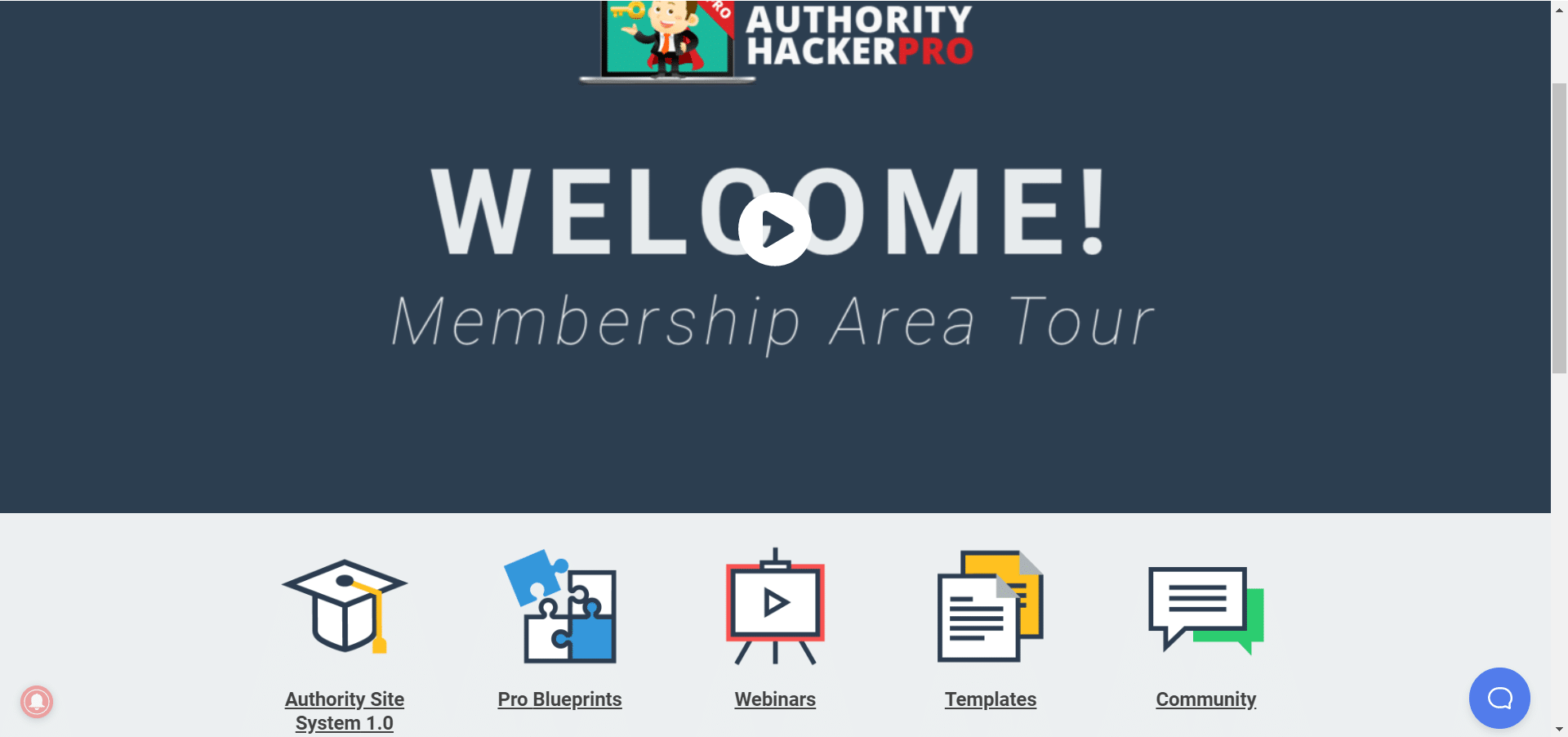 Similar to TASS, you get a welcome video that shows you around.
AH Pro includes a TASS membership, so you can access that on the front page where it says Authority Site System 1.0.
The bulk of the AH Pro value is in the Pro Blueprints. These are lessons similar to TASS (check out our Authority Site System review) where you learn all of the things that we outlined above. Each lesson has over-the-shoulder video instructions with show notes, resources, and templates for you to use. The blueprints are very similar to the modules in TASS except there are a lot of them.
As with TASS, the blueprints all include video instructions, notes, and a list of helpful resources. One thing I should say here is that each blueprint is massive. I think that almost all of the 18 could be sold as their own course.
I'll give a more detailed analysis of the blueprints in a moment since this is where the bulk of AH Pro's value lies.
If you buy a premium version of AH Pro, you also get access to monthly webinars. I can't testify as to how good these are, but I know that Gael and Mark have always impressed me. I'd be very surprised if the webinars weren't worth paying for.
AH Pro gives you all of the templates that they use in the course. It's an understatement to say that there are a lot of these:
And then you get access to a member's-only community on Facebook. It's a cool place to ask successful people questions, get feedback, and connect with Gael and Mark.
Now with the overview done, let's take a look at the separate blueprints inside of AH Pro. These compose the bulk of your learning. Since there are so many blueprints (18 at time of writing), I'm not going to give each one a detailed analysis. There are instead 5 "sections" that have multiple blueprints each and we'll take a look at each section.
Let's get started.
Section #1: Content Marketing And SEO
This section is all about producing better content and getting better results from search engines. It has 6 blueprints:
Producing and outsourcing top content
Keyword research
Promoting content organically
Building a link building skyscraper funnel
Guest posting for more than links
New content hub blueprint
Each of these blueprints are pretty long; at least as long as the average TASS module. This is one of the few blueprints that I think can hold a lot of benefit for the beginner internet marketer.
The blueprint on producing and outsourcing top content alone has 13 video lessons spanning topics from creating an editorial calendar to hiring awesome and affordable writers to post templates.
This might sound similar to some stuff that we cover in TASS. The topic is similar, but AH Pro goes into an enormous level of depth. They provide 4 more templates that you don't get in TASS and talk a lot more about scaling your content production.
The other blueprints are similar: depth, depth, depth.
I have to say that I'm really surprised how much time that Gael and Mark spent on these blueprints. This section has a lot of case study type content and includes a lot of templates for you to follow. The main gist of this blueprint is to start scaling your content production, SEO, and natural social shares.
Here is a screenshot of just a few of the lessons you'll get in this section:
And again, these are just a few of the lessons. There are almost 100 video lessons in this section alone.
Section #2: Email Marketing
This section is a bit of a beast and for good reason: email marketing changes the game of income generating websites. You can acquire repeat visitors, build up a list of immediate customers, and develop a relationship with your audience.
I would pass on link building to run an incredible email marketing campaign any day of the week. This is where the money lies in online marketing.
This section includes 6 blueprints:
The email marketing blueprint
Building high converting lead magnets
Growing your email list with viral contests
Creating high-converting opt-in pop ups
Content upgrades and segmentation
Lead magnet Facebook retargeting
As you can tell, there's a bit more going on here than just "have a pop up, collect emails, send emails". This is the module I've spent the most time in, and I can say that it's pretty awesome.
It starts with a blueprint titled "the email marketing blueprint". Sounds pretty simple. How complex can that be?
More so than you'd imagine. This blueprint isn't about collecting email addresses and sending emails either. It covers list segmentation, tags, building a broadcast email, tricks to improve your conversions, and templates. Oh the templates. There are so many templates that I had to zoom out to grab them all in one screenshot:
Pretty wild.
And the other blueprints bring similar levels of value. The templates where I've spent most of my time all involve building good lead magnets. The AH Pro guys show you the two kinds of lead magnets and help you pick which one is best for your situation.
You'll also get lessons on how to use these lead magnets to collect email addresses.
I think there are two very cool blueprints in this section. One deals with collecting emails through viral contests like giveaways. Authority Hacker does this very well each year when they release AH Pro and they show you the secret sauce.
The other cool blueprint has to do with Facebook retargeting. This will affect you more if you sell your own products, but it's a great way to get cheap leads who you know are interested.
Here is a screenshot of some of the blueprints you'll get in this section:
Section #3: Social Media
Social media marketing used to mean that you publish like mad to Facebook and Twitter.
It doesn't mean that any more.
Facebook is pay-to-play and you'd get more traffic by standing on the side of the road holding up a sign than you would by posting on Twitter.
What's the new social media marketing then?
Try Pinterest.
This whole section is about getting traffic from Pinterest. To be specific, the only blueprint inside this section is named "1000+ hits/day from Pinterest".
1000+ per day sounds pretty nice to me. The Authority Hacker crew gives us a case study of their own site that is getting 1000+ views per day from Pinterest. Then they show how to replicate it.
I appreciate how the blueprint here acts as if we're complete Pinterest newbies. It shows how to gain initial follows, explains what we should be pinning to start out, talks about setting up boards, and shows how to do rudimentary keyword research on Pinterest to target our pins.
Once we've set the basics, AH Pro shows us how to scale our Pinterest operation. You'll be using an app called Tailwind to pin faster and more often. You'll be joining group boards to gain exposure to more people. You can create your own infographics or use the infographics of other people to present amazing and useful content.
All in all, this serves as a very in-depth look at gaining followers using Pinterest. Here is a screenshot of some of the lessons in this blueprint:
Section #4: Monetization
Now it's time to start adding rocket fuel to our income. This section is all about taking your income and making it better.
AH Pro talks about quite a bit in this section. There are 4 blueprints in this section:
Affiliate marketing
Display ads
Info product creation
Evergreen scarcity funnel
The affiliate marketing and display ads blueprints don't offer anything that will be new to an expert internet marketer. But they do offer a lot of things that will move the needle.
The blueprint on affiliate marketing talks about finding more affiliate programs to diversify your income away from Amazon (or whoever). It shows you how to go about finding new programs and running your own tracking. After that, AH Pro gives you a step-by-step guide to boosting affiliate earnings using a case study of their own.
The blueprint for display ads is pretty neat. The Authority Hacker team gives plenty of examples of great display ad networks to use. You'll also get some ideas for maximizing ad earnings and a handy ad-earning calculator.
The other two blueprints are also very interesting, but won't work for every website. You learn how to create an info product and how to build an evergreen scarcity funnel.
Many people would be surprised to learn how well an info product would work in their niche; a paintball site could publish paintball training videos. An animal site could do animal training videos. A health site could do a weight loss course.
It's surprising just how well an info product will work in various niches. AH Pro shows you how to build your course.
And then it's just a matter of marketing.
You might want to consider an evergreen scarcity funnel. AH Pro shows you a step by step guide to getting these right and not coming off as spammy. No one wants to be "that internet marketing guy" so don't be him (or her). There's a right and a wrong way to build these types of funnels and AH Pro helps you get it right.
Here is a screenshot of some of the things you'll learn inside of the monetization section:
Section #5: Selling Your Site
This section has 1 blueprint that is about selling your website. It's a guest blueprint, so it's not led by Gael or Mark. Instead, Justin and Joe from Empire Flippers take us through the buying and selling process.
This blueprint is interesting and for me, it's the end goal of my site. Justin and Joe say that the average white hat content site sells for about a 38x multiple off of its monthly profit. So if a website is earning $1,000 per month, it is worth a whopping $38,000.
If you could get a content site to $5,000 per month profit, you'd be looking at an asset worth $190,000.
Justin and Joe walk us through the process of listing a site to sell. They talk about preparing your site for the sale, valuing your site, negotiating a sale, and the transfer process.
Overall, this is a pretty cool section. It won't have an immediate impact on your site today unless you decide that it's high time you start selling. But it is something to keep an open mind towards. Website exits can be very lucrative.
Here is a screenshot of the lessons in this section:
Who Is Authority Hacker Pro Best For?
Authority Hacker Pro (AH Pro) is not the course for you if you're a beginner internet marketer. I'm going to say that if your site is making less than $1,000 per month, I would stick with The Authority Site System (TASS).
TASS is a great guide for getting an income-generating website started. AH Pro is a great guide for adding rocket fuel to your income and taking your site to the moon. I'd recommend AH Pro if you're in any of the following situations:
You have a successful site but don't know where to go from here
You want to learn advanced tactics like gaining social media traffic, email marketing, course creation, diversifying income, building backlinks, and more
You want to increase your income without increasing your hours worked
You want templates, case studies, and over-the-shoulder video lessons to grow your business
You want to outsource more of your work load so you can work less
In short, AH Pro can help you to grow your income without growing your time. I recommend it for the experienced internet marketer who wants to grow his or her existing, successful business.
You can click here to grow your income without growing your time in Authority Hacker Pro
Build a true authority site with Authority Hacker Pro
Frequently Asked Questions
Now let's talk about some things you might be asking yourself.
I'm a complete beginner. Is this course right for me?
Taking this course as a beginner would be a lot like drinking straight from a fire hydrant.
AH Pro offers some very high-level tactics, templates, and actions to take your website from 4 figures per month to higher. It skips over a lot of the more beginner stuff like basic SEO, branding your site, setting your site up, etc.
I wouldn't recommend AH Pro for you if you're a complete beginner. I would say that AH Pro is a good option if your site is already past the $1,000 per month mark.
If you aren't there, I would take a look at The Authority Site System. It's more suited for beginners.
I have some SEO and internet marketing knowledge. Is this course right for me?
That depends. How much are you earning from your site?
If you are earning less than $1,000 per month, I think that The Authority Site System is a better fit for you. AH Pro is a little more advanced.
If you're earning more than $1,000 per month from your website, Authority Hacker Pro will help you to boost your income, collect more leads, and sell more things online. It's a great way to put rocket fuel on your already-successful business.
This is a good course for you if you're earning more than 4 figures per month from your website.
Will I need to spend money on other tools?
It depends what tools you're already using. If you're already using a keyword research service, something to help you find backlinks, a lead gen service, and an email provider, you might not have to spend anything extra.
If you're not using any of that and somehow got your site to the 4 figures per month mark, then you can expect to have to reinvest.
My guess is that if you're doing well enough to cross 4 figures per month, you're already spending a bit on tools. You might be able to go through the whole course without paying an extra dime.
Will this course be updated? If so, will I have to pay?
AH Pro gets pretty frequent updates. It's in Authority Hacker's best interest to ensure that the course is up to date, so you can expect it to be modern.
New blueprints are added pretty often as well. In 2019, Gael and Mark released a blueprint about link building called "the shotgun skyscraper blueprint". Non-AH Pro members were able to purchase the shotgun skyscraper blueprint for $1,000.
AH Pro members got it for free.
So the course does get updates and you won't have to pay.
Putting Rocket Fuel On Your Authority Site
AH Pro is an awesome way to boost your online income, lead generation, and sales. It's not a great course for the absolute beginner who doesn't have a successful website.
If you want to turn your website from good to great, then I think that AH Pro is a great option for you. It's not available year-round, but you can click here to see if it's open for registration.
Take your website from side hobby to online authority with Authority Hacker Pro
If you're not rocking with a website already and need some help getting started, check out my Authority Site System review. It'll help you go from zero to hero.
Let us know in the comments: what's your biggest challenge with your website?
Want to learn step-by-step how I built my Niche Site Empire up to a full-time income?
Yes! I Love to Learn
Learn How I Built My Niche Site Empire to a Full-time Income
How to Pick the Right Keywords at the START, and avoid the losers
How to Scale and Outsource 90% of the Work, Allowing Your Empire to GROW Without You
How to Build a Site That Gets REAL TRAFFIC FROM GOOGLE (every. single. day.)