The Authority Site System Review: Why Authority Hacker's TASS Is Worth It
When you buy something through one of the links on our site, we may earn an affiliate commission.
You got the itch to build authority sites, huh? That's okay. It's a good itch. And in this Authority Site System review, you'll see why the Authority Hacker course is one of the very best in the world at teaching you the best ways for making money online.
We're going to dive in and highlight why their latest version, Authority Site System 3.0 is really all you'll need to build and grow, or at the very least start a successful authority site. So let's get into it.
If you want to check out the Authority Site System, you can go here.
---
Authority Site System Review
Ease of Use -

100

Breadth of Information -

90

Case Studies & Templates -

100

Price -

90
Summary
The Authority Site System is the best course on the market today for building and growing profitable websites. It's not the best course if you're already making over $1,000 per month from your websites, but it will help you get to the 4 figure per month mark if you haven't reached it yet. Click here to build and grow your own successful authority website
Pros
Helps you start a site from zero
Helps you master fundamental skills even if you're experienced
Has real life case studies, templates, and a support group
Access to an extremely helpful private Facebook group
No subscription fee
Updates for life
40% off the course using our link
Cons
Not for the internet marketing master
The Authority Site System Pros
Let's talk about some things that The Authority Site System (TASS) does well. After this, we'll move onto the cons.
Helps You Start A Site From Zero
The main benefit of the authority site system training is that it helps you go from zero to hero in starting an affiliate-based online abusiness. Gael and Mark (the founders of Authority Hacker and the coaches for TASS) use over-the-shoulder videos to help you get to a fully functioning authority site off the ground.
This affiliate marketing course shows every step via video making it very easy to follow along with.
This course explains the basics of affiliate marketing, talks about how authority sites make money, how to rank high on search engines, and then guides you step-by-step as you build your own site.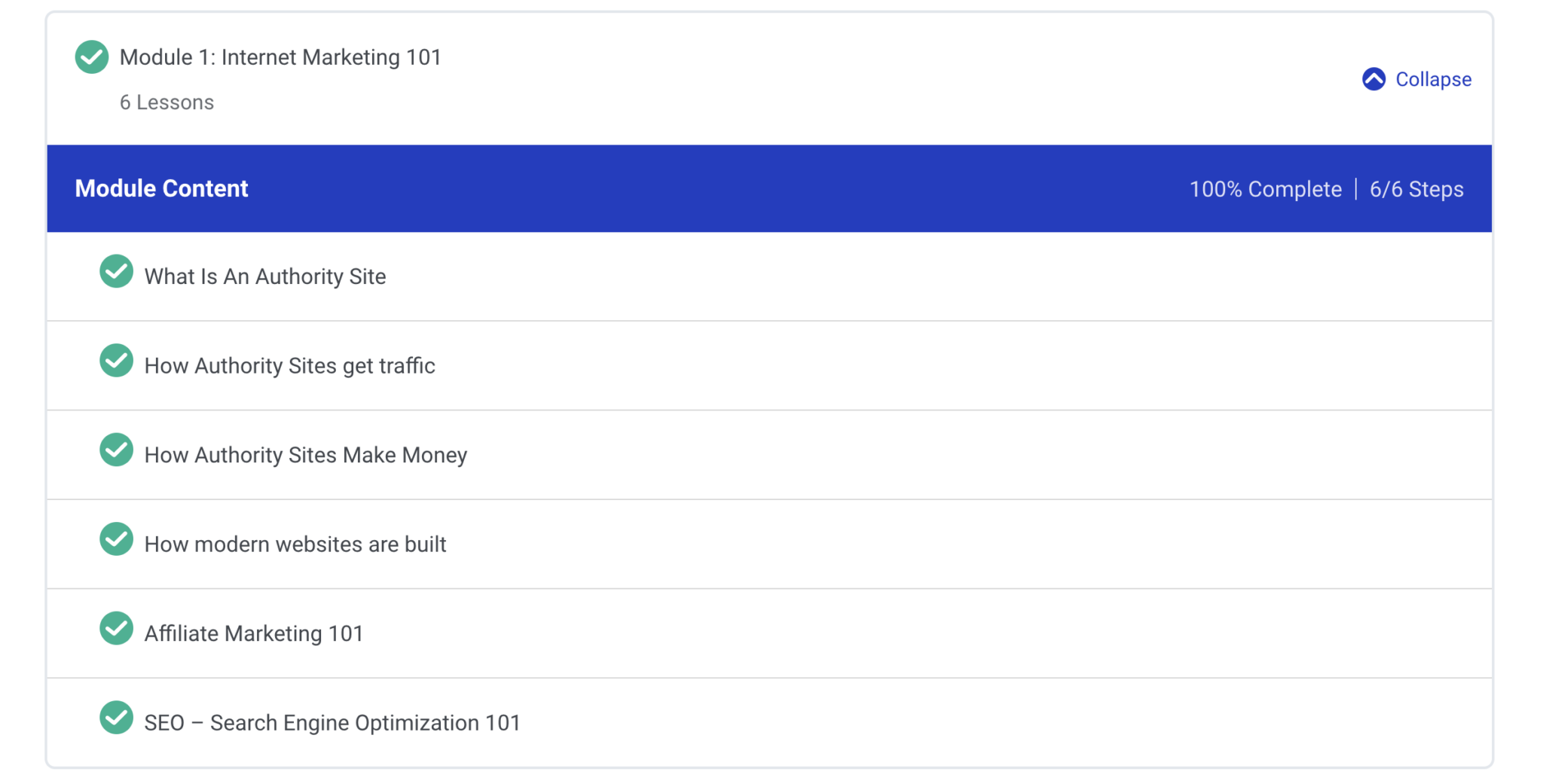 Once you've got the basics down, Gael and Mark walk you through every step of the way.
The Authority Hacker course (TASS) is very beginner-friendly course with video walkthroughs, show notes, recommended resources, and a Facebook community of people who want to help and support each other. And all of the videos include some of the highest quality production of any affiliate marketing training courses on the market.
For a true beginner to affiliate marketing this support is incredibly helpful if not outright crucial.
Helps You Learn The Fundamentals
This course is marketed towards beginners, but I think that there are a lot of experienced affiliate marketers who can benefit from it, as well. The authority site system is great at explaining the fundamentals of successful authority sites and how to make money online.
The more advanced lessons can be used by not only true beginners but also those website owners with limited success with an authority website up to this point.
The Authority Site System includes several videos on branding, advanced site design, monetizing using affiliate content, and initial link building.
So even if you aren't a beginner Internet marketer, the Authority Hacker course can help you to be better at your craft building an authority website.
Lots of Case Studies, Templates, & Real Life Help
Another thing I love about TASS is that it is filled with Authority Hacker's own case study. Mark and Gael use their own course to build a site right in front of you.
Those over-the-shoulder videos that I mentioned earlier are almost always of Mark or Gael building their case study site.
You can access this case study site at any time to take a look.
TASS is also filled with templates that the Authority Hacker team uses themselves. You get templates for producing quality content, templates for outreach, and templates for website design. These templates are made to be easy for you or your writers to use, so I've been very impressed.
And then every member of TASS also gets access to the member-only Authority Hacker Facebook community. I've been a part of the group for a while now and it is pretty neat. People in the group are friendly, helpful, and supportive.
Mark and Gael chime in often and are active in the community. It's nice to see.
You can click here to get started with TASS if you want to grow a site from $0 to 4 figures per month
Skip the rookie mistakes and fire your boss with authority sites 
Authority Site System Cons
Now let's talk about some things that TASS could be doing a bit better.
There's only one major weakness here:
Maybe Not For The Super Experienced Internet Marketer
TASS is an awesome course and it's great at helping the newbie go from zero to hero. But if you've mastered content production, building links, and branding, then the Authority Site System may not have much to offer you.
You won't learn about driving social media traffic, or setting up funnels. There are no advanced strategies for building authority sites once you have all the basics down.
TASS's goal is to help you build an authority site to 4 figures per month and all of its affiliate marketing training will get you there. But you'll likely need Authority Site System alternatives such as Authority Hacker Pro to create a highly profitable authority site.
TASS won't help you much once you have mastered the basics and have systems in place to run your authority website.
This is definitely an awesome course for the beginner.
While the community is great and most Internet marketers find it useful to step back and review solid basics once in a while, the Authority Site system course just isn't the best course for the experienced internet marketer.
Authority Hacker Pro
The Authority Site System is just the beginning in your affiliate marketing journey. There may come a time when you're making 4 figures a month and want to take the site to the next level.
For that, I would recommend that you take a look at Authority Hacker Pro.
Authority Hacker Pro is the right affiliate marketing course for experienced online business owners and advanced marketers. The entire course includes TASS plus tons of information even the most seasoned vets in affiliate marketing can benefit from.
In general, it's safe to say all Authority Hacker courses are stellar and great for improving your online marketing efforts.
The Authority Site System Review
The Authority Site System (TASS) is Authority Hacker's starter product. If you have a site making less than $1,000 per month, TASS is the product that will help you get there.
Authority Hacker covers quite a few things in this course. You'll learn:
The basics of search engine optimization (SEO)
The growth curve of a website
Online marketing basics
How to select your niche and do competitor research
How to make a plan for your site
Step by step guide for how to set up your site
Establishing branding
How to set your site up for future success from day 1
Content creation roadmap (includes templates for writing content)
How to build links (includes templates)
All in all, there's a pretty hefty chunk of information here. This course was established with the absolute beginner in mind and does a good job going from zero to hero.
It's divided into 5 different modules, so we will take a look at each of these.
Before these modules begin, there is a "module 0" that's about budgeting and setting expectations for the future.
Now let's get into the course itself.
TASS & Module Overview
When you first enter the Authority Site System 3.0, you get a neat welcome video. Below the video, you have helpful links for getting around the course:
I scrolled down a bit so you can see it all. The video tells us a bit about Gael and Mark (founders of Authority Hacker) and they talk a little about the Authority Hacker website and the things you'll learn in the course.
It's below the video that I think is so cool. You can see that we have 6 links. Here's what those do:
The Case Study Site takes us to a site that Gael and Mark built for this course. You can see this site live (and I just checked – it is ranking for keywords!)
New Site Todo System takes us to a Trello board where you can mark tasks complete/incomplete. Once you finish all the tasks, you'll have a site with 50+ articles and several inbound links
Facebook Community takes us to a private Facebook group where TASS members chat, hang out, and ask questions
Toolbox where you can quickly access all of the curated tools you'll need to build your authority websites.
Update Log shows us where updates have been made to the course. I've been a member for a few months now and they've made several significant updates to the course, often adding videos
Templates gives you instance access to ready-to-use templates for link building, market research & site setup, and content creation.
And then to the bottom right, you have a chat button where you can get in touch with support 🙂
Below this introduction video and these helpful links you can access all 15 modules.
Each of these modules has several video lessons to go through. These are over-the-shoulder videos where you can watch Gael and Mark build their own authority site.
All the videos are screen captures, so you're watching as the experts work and can follow along.
Each lesson has a video with notes below. You get a goal for each lesson:
A section telling you what you'll learn, and some show notes from the lesson you can read if you'd like:
The lesson notes end up working as a short blog post about the lesson. They cover everything that's in the video, so they are great to read if you can't listen.
I also like to read the video notes to help drive home the things I saw in the video part of the lesson.
Sometimes, the notes will be an extension of the lesson. So the video might be about branding your site and talk about the importance of good branding.
The show notes would then have supplemental videos on choosing brand colors, buying a logo, etc.
It is never necessary to read the show notes or watch the supplemental videos. But Gael and Mark do an amazing job of covering every possible question that you might have after watching the video.
And then we have a section where Authority Hacker links to resources mentioned in the video and notes:
Now that we've gotten an overview, let's get into some of the different modules so you can get a better idea of what's in store for you.
Module 1: Internet Marketing 101
TASS Module 1 will help you to understand the basics of authority websites and the authority site business model. It lays the groundwork for everything you'll be doing, but there's not much to do in this module other than take notes.
Gael goes over the definition of authority sites, how they make money, and you learn the basics of SEO to rank on search engines.
Here is a list of all the things you'll cover in the module:
One thing I like about module 1 is that it allows true beginners to get started building authority sites.
The Authority Site System model is explained in a way that makes it easy for a true beginner to build their own authority website by simply following the steps and putting in the work.
You can be greener than summer grass and still learn how to make this whole thing work.
Module 2: Brainstorming Niches
This is the biggest and most complex of all the modules. But it's the one that if done right, will benefit your site for years to come.
If you have to get one module right in the authority site system, it's this one.
Lucky for us, Gael spent a lot of time recording videos for this module.
He shows us how to choose a niche and plan at least our first 50 pieces of content using a keyword research tool (Ahrefs). It's about as time-consuming as it sounds, but every minute spent here will save you an hour of heartbreak later on.
You'll brainstorm niche ideas, which I always think is a blast. After you have your niche ideas, it's time to get into competitor research.
You look for big sites in that niche, small sites, available keywords, consider future income, and more.
Gael gives us access to an incredible spreadsheet that I still use to this day:
I didn't include all of it in the screenshot, but you can get a copy inside of TASS by clicking here 🙂
This spreadsheet gives you an objective analysis of whether a niche is good. It gives you a point value for your niche based on your response to yes/no questions.
It takes out the guesswork and emotional touchy-feely response we give when choosing our niche.
After choosing your niche (a process spanning hours worth of video), you learn keyword research to plan your commercial content (topics to target for buying guides, reviews, etc. each centered around an affiliate link) and then you plan your content.
Gael also provides us with a spreadsheet to plan all of our future quality content. I've gotta say, Authority Hacker went above and beyond other affiliate marketing courses here. They include tons of spreadsheets, resources to use, and in general the course is stellar here.
After this module there are modules about qualifying niches with 16 lessons, then planning your site with 7 lessons. It's extensive but they do an excellent job of providing a detailed walkthrough that is foolproof.
Then we get to Module 5 where the fun starts.
Module 5-6: Setting Up Your Site & Branding Your Site
Now it's time to start building your authority website. Module 5 starts with picking a domain name and goes from there. You learn the things to look for in a great domain name, domain names to avoid, setting up WordPress, WordPress basics, and then we get into building our site.
I like how Gael helps with the technical aspect and the design side of things here. Whatever your weakness (mine is design), you're given the tools you need to succeed.
Gael walks us through the annoying technical stuff and then we learn how to build an incredible looking website.
Gael doesn't build our site for us, but he does show some good design tips. And Authority Hacker goes above and beyond here.
They've got videos showing:
How to pick your brand fonts
How to figure out your brand colors
And how to get a logo
After that, you're led through a tutorial of Elementor (check out my Elementor review). In an example of how thoughtful the Authority Hacker guys are, they also added a GeneratePress tutorial in the interest of building the most lightweight and fast affiliate site possible.
After this, you're well branded and your website is set up.
Now you put on the finishing touches: privacy policies, About pages, contact pages, and miscellaneous plugins.
There are lots of awesome modules that follow that truly teach you new and transferrable skills including all things writing and site maintenance.
Module 9: Writing Content
Once your site setup is complete, it's time to start publishing content. This module is only 14 lessons and is pretty extensive. And it's what separates the success stories from those who tried and failed.
Mark takes over for Gael here and we spend time learning how to create awesome content for our site. One thing I love about this module is that Mark gives us the content creation templates that Authority Hacker uses for their own sites.
There are 3 different kinds of articles that we get templates for:
Info articles are for articles addressing questions, how-to guides, etc. "How to break up a broody hen"
Roundup reviews are for buying guides. "What is the best lawnmower for hills?"
Single product reviews are for reviewing one product. "Elementor review"
You'll notice that two of the three article types can be monetized. That's because the majority of articles that Gael and Mark recommend for new sites are affiliate articles that are easily monetized.
The templates they provide are pretty good.
Here's a screenshot of one:
You replace everything with your own information. This template includes actual examples as well as instructions for the article.
These templates are written with outsourcing in mind, so they work well for handing to your writers if you plan on buying content.
This is also where you learn some miscellaneous facts. Tips for hiring writers, most of the things you need to know about the Amazon Associates program (check out our Amazon Associates program review), some more profitable affiliate programs, and several writing guidelines for success on the internet.
Module 11: Initial Link Building
Once you have your first 10 articles published, you can move on to this module. It's time to start building links to your site.
Long term followers of Niche Pursuits know that Spencer isn't a big fan of link building. And as his student, well, you can guess my position 🙂
But if you're going to invest in link building instead of content, Gael and Mark might be two of the best link builders in the whole industry. They teach you their tactic called the Shotgun Skyscraper blueprint (or method).
If you've heard of Brian Dean's skyscraper, then this works as skyscraper at scale.
And if you're going to do skyscraper, I think that this is the way to do it.
The module starts out by helping you set up a couple of helpful tools. One is free and Authority Hacker negotiated a 50% discount on the other tool, so the course pays for itself a bit here.
One thing I want to note is that using Gael and Mark's method, you can get links for a fraction of the cost of link building services.
Buying links may cost $150 or more each. But if you're the worst link builder in the world, you can build them for under $20 each. If you outsource everything, you could build them for under $50 or so.
Gael and Mark build their links for about $5-6 each. So even if you're horrible, you'll still come out better than buying your links.
Mark teaches you how to set your tools up, find your outreach prospects, follow up if you don't get a response, negotiate a link placement, and how to turn every link into an additional guest post.
I think that Mark does an awesome job at presenting the best method of link building here.
And there are 23 lessons that go over each kind of link building you can use to grow your site and the best practices of each.
And after this module there are still 4 more modules to teach you everything you need to reach success.
The Authority Site System Price
The Authority Site System sells for $997.
(A little secret – if you click through and watch the webinar first, you get a massive 40% discount off the Authority Site System)
But the real question is whether this course is worth it.
As someone who floundered in internet marketing for a few years, I wish that I had known a mentor who could teach me about keyword research, branding, link building, and managing writers.
I didn't have that mentor. I don't think it's a coincidence that I struggled for a few years before learning how to rank an article and get traffic to a website.
Take the Easy Approach to Freedom
The Authority Site System can serve as your mentor. They cover the basics about internet marketing and help you avoid the pitfalls that I fell in to.
I was hunting for a quick buck and never learned some very valuable concepts before I began working on a website.
That's a recipe for failure.
I think that TASS is worth it because this one small investment could set you on the path to making 4 figures or more per month.
In total there are 15 modules with tons of lessons in each.
It's a ton of bang for your buck and in terms of learning online business, truly an excellent investment.
Even though I had been working in internet marketing for a few years, I still learned new things and got some amazing templates when I bought TASS.
I recommend it for you too.
Click here to build your authority site and fire your boss with TASS
Who Is The Authority Site System Best For?
The Authority Site System (TASS) is the 1st of Authority Hacker's two products. The other is Authority Hacker Pro.
I'd recommend TASS to you if you are more of a beginner. Here are a few situations in which I think TASS could help you and your business:
You've never built a website before
You've built websites that never amounted to much
You need to learn more about niche selection, content production, or link building
You feel that you can never get your site just right
Your site is producing less than $1,000 per month in income
If you're in any of these stages, I think that TASS could offer valuable insight. It does a great job of showing you what to do, but also telling you why to do it like that.
So you won't just be doing the right things: you'll be learning why those are the right things.
In short, I recommend this course for anyone who isn't already seeing blazing success with websites. It might be a little basic for an experienced Internet marketer, but the average user will get a ton of mileage out of TASS.
This course is not a good fit if you're a lazy money hunter. It's not a magic button to bring you wealth and glory forever and ever. It's not a quick solution.
Authority Hacker Review In Short
Authority sites take time, often as much as a year or more just to get to decent income levels. Not necessarily even full time income.
But I think that if you're willing to put in the time and effort, this course can change your life.
If you'd like to get started building your own authority sites, I recommend The Authority Site System for you.
Skip the rookie mistakes and build income generating sites with The Authority Site System
If you already have a website and it's making over $1,000 per month, I recommend looking at my Authority Hacker Pro review
Authority Hacker Review: Frequently Asked Questions
Now let's talk about some things that you might be asking yourself about this authority site system course or even the authority site model in general.
I'm a complete beginner. Is The Authority Site System for me?
Yes! TASS was designed with the complete beginner in mind. You will be learning about search engine optimization (SEO), how affiliate websites make money, why websites can be a lucrative business model, and more.
The lessons are created with over-the-shoulder videos that help you see what's going on. You can watch as Gael and Mark create a new website from the ground up.
They provide templates for you to follow and there's a helpful Facebook group.
I think that the beginner will feel very much at home with TASS.
I have some basic SEO knowledge. Will the Authority Site System Teach me anything new?
That depends. How much are you earning from your site?
If you're earning more than $1,000 per month from your website, I think there are better options out there than TASS. Look into Authority Hacker Pro to boost your income.
If you are earning less than $1,000 per month, TASS will help you get there. If nothing else, the templates and case study site are super valuable on their own.
This is a good course for you if you're earning less than 4 figures per month from your website.
Will I need to spend money or pay for other tools?
It depends on how much you plan on working yourself. Anyone on an extreme budget might be able to get by while spending less than $100 on tools that are mentioned throughout the course.
This will cover your niche and keyword research as well as your branding.
If you have some more money to invest, about $200-$300 worth of tools could make your life easier.
Does the course get updated? If so, do I have to pay?
Yes, and pretty often. I've been a member of TASS since 2018. In yearly updates since, they redid almost every video in the course, created a new member area, and started a new case study affiliate site.
Each update to a new version is pretty much a 100% overhaul of the existing course.
And all updates are free for existing members and without a doubt Authority Site System 3.0 is the best yet. When you factor everything in, the Authority site system cost is actually an amazing deal.
How much time should I dedicate to be successful?
Authority Hacker recommends that you spend about an hour each weekday for 6 months to a year if you want to see significant results building an affiliate site that makes money online.
But the more time you're willing to put in up front, the more return you'll see on your investment and the sooner you'll see it.
Start Building Your Authority Site Today
If you've never built an affiliate site to $1,000 per month or more, than the authority site system course can change your life.
I wish that I had purchased it before I started failing at websites. It would have saved me years of trouble. So I hope this Authority Hacker review of their authority site system has been helpful. I'm a huge fan of the course and have no doubt it can help you build highly profitable authority sites that bring you a return on your investment many times over.
Skip the years of rookie mistakes and generate 4 figures per month with The Authority Site System
Fire your boss and work from your laptop by building authority websites
Want to learn step-by-step how I built my Niche Site Empire up to a full-time income?
Yes! I Love to Learn
Learn How I Built My Niche Site Empire to a Full-time Income
How to Pick the Right Keywords at the START, and avoid the losers
How to Scale and Outsource 90% of the Work, Allowing Your Empire to GROW Without You
How to Build a Site That Gets REAL TRAFFIC FROM GOOGLE (every. single. day.)
Subscribe to the Niche Pursuits Newsletter delivered with value 3X per week