How to Use Keywords Everywhere: Simplify Keyword Research to Boost Your SEO
When you buy something through one of the links on our site, we may earn an affiliate commission.
Keywords Everywhere is a great app for any blogger or niche website owner looking to improve their SEO score and increase traffic using target keywords. 
Keyword research is one of the fundamentals of good SEO. Unfortunately, the whole keyword research process can be incredibly time-consuming. Enter, Keywords Everywhere, one of the best SEO tools for viewing data right on your search page.
Let's take a look at how you can use this SEO tool to improve your keyword research process and reap the benefits.
What is the Keywords Everywhere Extension?
Whether you're already running an established blog or are new to the industry—you know the importance of keyword research and the impact it can have on where you rank on the search engine result pages (SERPs). 
Keywords Everywhere is a freemium Chrome extension to help simplify keyword research. The browser extension allows you to view trend data like trending keywords and things like keyword search volume directly on your Google search page.
Proper keyword research means you can prioritize low competition keywords to boost your rank or determine what kind of content is in demand with your audience to plan out future posts. 
Keywords Everywhere is available as a browser extension for both Google Chrome and Mozilla Firefox. The tool allows you to pull:
Competition data
Trend data
Cost per click (CPC data)
Search volume data
Best of all, you can use this keyword research tool for with more than just Google search. Keywords Everywhere works with:
Google
Amazon
Etsy
YouTube
eBay
Keywords Everywhere used to be entirely free. However, as of 2019 the developers decided to make some features of the app available for premium users only.
Regardless, the tool is still pretty affordable considering $10 will allow you to properly research 100,000 keywords—but we'll get into that more a little later. 
Keyword research is an absolutely integral part of building a successful niche site. If you're totally new to the idea then you can read more about what keyword research is and why finding the right keywords is important before deciding if this is the right keyword tool for you. 
Check out How to Build a Niche Website for a full overview on keyword research and other tips on building a successful niche site. 
Let's take a look at how the browser extension works and how you can use it to take your keyword research to the next level. 
How to Use Keywords Everywhere
For keyword search volume, CPC, competition, and trend data, Keywords Everywhere is one of the best free keyword research tools on the market (see also our Keywordtool.io review). 
Install the Keywords Everywhere Extension
The first step to getting started with Keywords Everywhere is downloading and installing the extension. 
Get Keywords Everywhere For Chrome
Get Keywords Everywhere For Firefox
If you're only looking to take advantage of the free keyword research tools that you get with Keywords Everywhere then that's all you have to do. A quick two-second job and you're ready to go. 
However, if you're looking for volume data like monthly search volume CPC or historical search volume—you'll probably want to consider buying credits to gain access to premium features.
So before we jump into the next steps, let's take a look at whether or not you're going to use Keywords Everywhere's free features, or want to upgrade with premium credits. 
Keywords Everywhere: Free Version
One of the best things about Keywords Everywhere is the fact that you can get started for free. For lots of people just starting out with their niche website, your budget can be a big concern. Finding reliable free keyword tools is instrumental to early success. 
With the free version of Keywords Everywhere you get access to a lot of sweet search metrics. The free Chrome extension gives you:
Keyword Widgets: These appear as little boxes on the right-hand side of the page when you perform a Google search with the Keywords Everywhere browser extension installed. You'll see SEO difficulty metrics and other keyword metrics displayed at the top. You'll also be able to see global trend data (you'll need to buy credit to view exact search volume), related keywords, people also search for (PASF), and long tail keywords.  
Trend Charts
Moz Link Metrics
YouTube Metrics
Traffic Metrics
On-Page Analysis
Competitor Gap Analysis
Keywords Everywhere: Paid Version
Once you purchase credits with Keywords Everywhere you gain access to additional features. Primarily, accurate metrics such as volume, CPC, competition data, and 12-month trend data. 
This means you get all the benefits included in the free tool, like the search insights widget, keyword suggestions, and keyword difficulty.
In addition, the paid version means you get access to search volume data for:
Google Properties: including Google Search, Google Search Console, Google Analytics, Google Keyword Planner, and Google trends
eCommerce Websites: such as Amazon, eBay, and Etsy
Multiple SEO Tools: Keyword Shitter, Soovle, and Answer the Public
As well as historical search volume information:
Included in the trend charts for Google and YouTube
Obtained in bulk using Bulk Trends feature
Plus, you can import your keywords to view monthly search volume, CPC, and competition data. 
Once you purchase credits they are valid for one year, after which they expire. 
The good news is the paid version of Keywords Everywhere is still really affordable. Essentially, one credit equals one keyword. 
You can buy credits in $10, $50, or $100 packages. $1 is the equivalent of 10,000 credits/keywords. 
Set Up Your Keywords Everywhere Account
If you want to purchase credits and take advantage of Keywords Everywhere's additional features, then you'll need to set up an account with them.
On their website, you'll find an option to "Get an API Key" in their header menu. Just click on it and put in your email address. 
In a few minutes, you'll receive an email with a link to your API key. 
Click the link to view your unique key. If you don't click the link your account will be deleted in seven days. 
Next, click on the icon for the Keywords Everywhere extension in your browser and select "Settings" in the top right corner. 
Right at the top of the settings page, you can put in your new API key. Make sure not to share your API key with anyone else as all of your purchases will be directly linked to this key. 
Now, when you click back on the icon in your browser you'll see an option in the bottom right to "Purchase Additional Credits."
There's no "discount" for buying more credits at once so my advice is to buy in smaller increments. Most people will take six months or more to get through the minimum purchase amount which is 100,000 credits for $10.
Since your credits will expire after one year it's best to pay as you go. 
Start Using Keywords Everywhere With Google Search
Now that you're all set up you can start using Keywords Everywhere to view accurate metrics and keyword data as well as find keyword suggestions and new keyword ideas. 
To get started, type your seed keyword into Google search. 
On the right hand side of your Google search engine results page you'll see the search insights widget. 
Below that, you'll see information about the particular keyword you've searched. This includes related keyword suggestions and keyword ideas that people also search for. Finally, there is also a box with long tail keyword suggestions.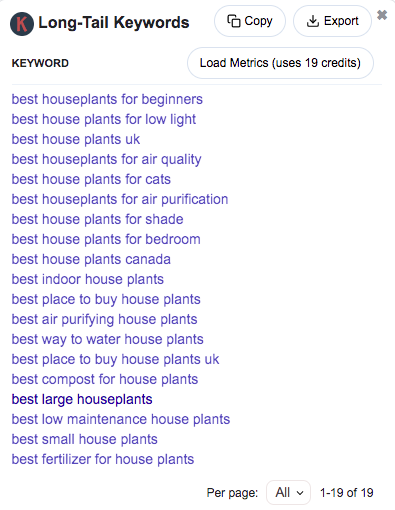 The keyword data is a really helpful way to find keywords that people in your audience are searching for and can help you narrow down the best keywords to target. 
The free version of Keywords Everywhere also includes a trend chart, though the main difference between the free and paid versions is that the free trend chart doesn't have monthly search volume data. 
However, the free trend chart can still give you a good idea of the popularity of a particular keyword and whether or not it is growing. 
Traffic Metrics
To view search traffic metrics, hover to the right of the URL you're interested in. This will bring up another box with information like estimated organic traffic per month for the specific page as well as for the domain in general. 
You'll also see competition data like how many keywords that URL or domain ranks for.
With credits, you can also view estimated traffic, search volume, CPC, competition, and trend data.
On Page and Competitor Gap Analysis
To use the on page analysis feature simply click the icon in your browser and select "Analyze Page Content."
You'll see a total word count for the page plus an analysis of keyword density. 
This free tool allows you to get keyword ideas directly from your competitors and analyze their approach. If the page is ranking well, you can find out how to do the same with your own website. 
You can use the on page analysis in conjunction with the competitor gap analysis tool to really start taking. on the competition. 
Navigate back to the Keywords Everywhere menu by clicking on the icon in your browser. Select "Competitor Gap Analysis" and you'll be brought to a page where you can put in your own domain as well as up to five competitors. 
You'll see a list of exact keywords that your competitors are using and can use that as a way to identify the best keywords to target. You can consider keyword difficulty to determine if it's a good idea to go after the same keyword or look for keyword gaps to come up with new keyword ideas. 
YouTube Metrics
The extensions works the same in YouTube as it does in Google search. Simply put your exact keyword into the search bar on YouTube and the search insights widget will pull up any relevant data. 
On YouTube it looks like this:
Below, there is also a tags widget that shares the most popular YouTube tags related to your particular keyword.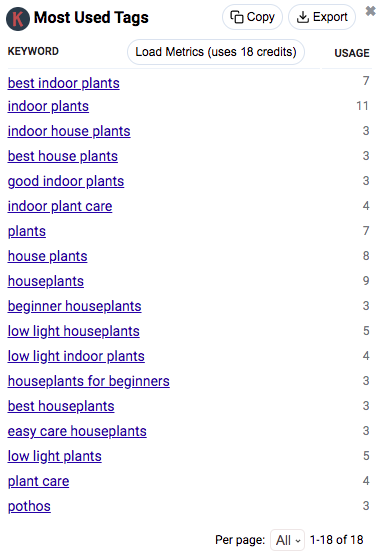 If you click on a video, you'll be able to view more specific insights as well as a tag widget for just that video. 
If you've purchased credits you'll also be able to view exact search volume data related to each video and search. 
Should You Use Keywords Everywhere?
The highlight of using Keywords Everywhere is you don't have to tab back and forth between Google Keyword Planner, Google search, and your website plus whatever other SEO tools you're using. 
The free features are incredibly powerful and accurate and premium features are still budget-friendly. All in all the extension is really accessible for all niche website owners.
In particular, the ability to use keyword data from Keywords Everywhere to target low-competition keywords is a vital tool. 
There isn't really a downside to using the extension since you can opt to stick with the free version. The only concern worth mentioning is that the accuracy of the data can vary.
Overall, it integrates really well with Google trends and is outstandingly accurate when it comes to Google search results. 
However, there were some discrepancies between the information that Keywords Everywhere pulled up for other websites like Amazon or eBay in comparison to other paid SEO tools. With that said, it's still a great starting point for developing your keyword strategies. 
Conclusion
Finding the right keywords to target can really make or break your SEO campaign. It's important to thoroughly conduct keyword research in order to find the best keywords to go after based on your audience and website goals. 
With this in mind, finding a great keyword research tool is invaluable. Keywords Everywhere is free, easy to set up, and user friendly even for beginners to digest. The tool simplifies the keyword research process to save you time and effort so you can spend it on other things. 
Want to learn step-by-step how I built my Niche Site Empire up to a full-time income?
Yes! I Love to Learn
Learn How I Built My Niche Site Empire to a Full-time Income
How to Pick the Right Keywords at the START, and avoid the losers
How to Scale and Outsource 90% of the Work, Allowing Your Empire to GROW Without You
How to Build a Site That Gets REAL TRAFFIC FROM GOOGLE (every. single. day.)
Subscribe to the Niche Pursuits Newsletter delivered with value 3X per week