Is AliExpress Legit? It Can Be If You Follow These Best Practices
When you buy something through one of the links on our site, we may earn an affiliate commission.
The question "is AliExpress legit" gets thrown around a lot and not without reason.
It's one of the most popular marketplaces for dropshippers looking for products to sell in their online stores.
But unfortunately, just because many buyers visit and purchase from an online marketplace doesn't mean it's always trustworthy.
In fact, thousands of buyers have strong feelings against AliExpress.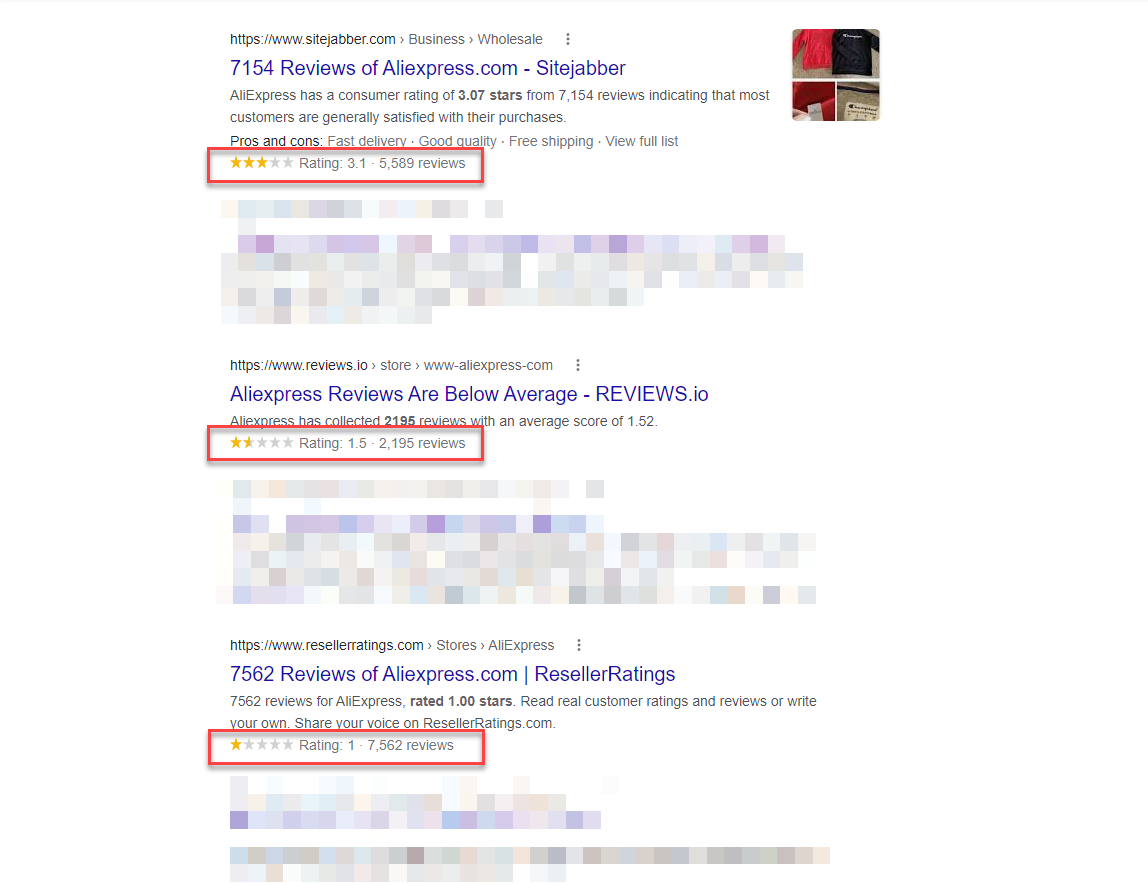 If you're new to dropshipping and planning to make bulk purchases on AliExpress, you're in luck.
In this post, we'll discuss how legit AliExpress truly is and how you can use it to jumpstart your dropshipping company correctly. And you'll soon be able to decide for yourself whether the AliExpress platform is really what people make it out to be.
Is It Safe to Buy on AliExpress?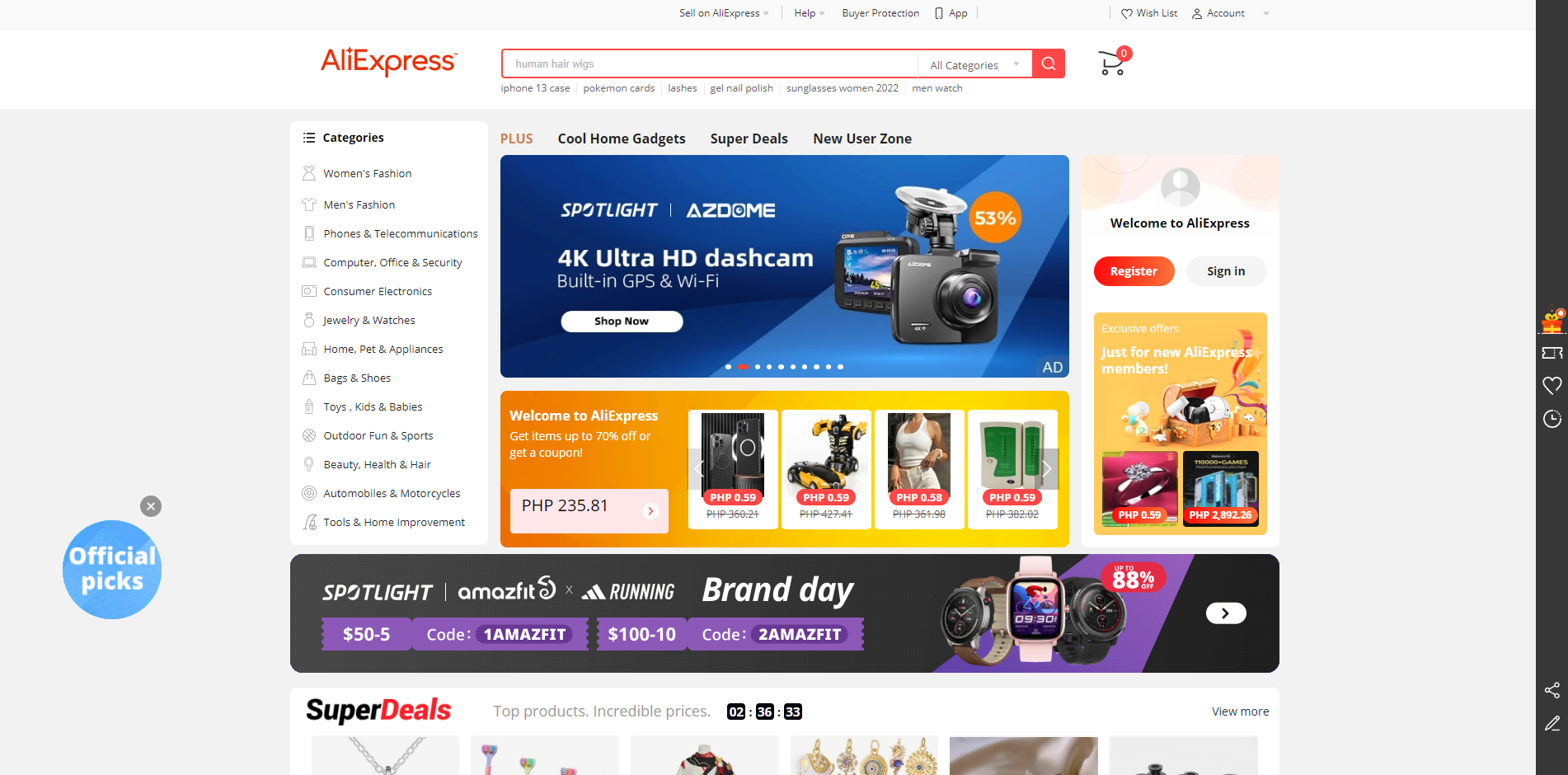 Short answer: Yes, it is safe to buy from AliExpress, but it comes with risk, which we'll get into shortly.
For now, let's talk about the things that make AliExpress safe.
Payment Processing
AliExpress serves as the middleman between individual customers and Chinese manufacturers.
That's why, instead of directly paying AliExpress sellers, consumers will pay them through the platform.
AliExpress is responsible for ensuring the success of all transactions—sellers get their payment, and customers receive their orders as intended. This also renders the possibility of buyer protection (more on this later).
When customers order a product, they must enter their bank account information. This shows that AliExpress doesn't store your payment details, adding an extra layer of security to your transactions.
Suppose they don't want to keep entering your payment information but keep their details secure. In that case, they can use their AliPay account as a payment method since AliExpress is part of the Alibaba group. It will use your credit or debit card in your account for the payment.
Buyer Protection Program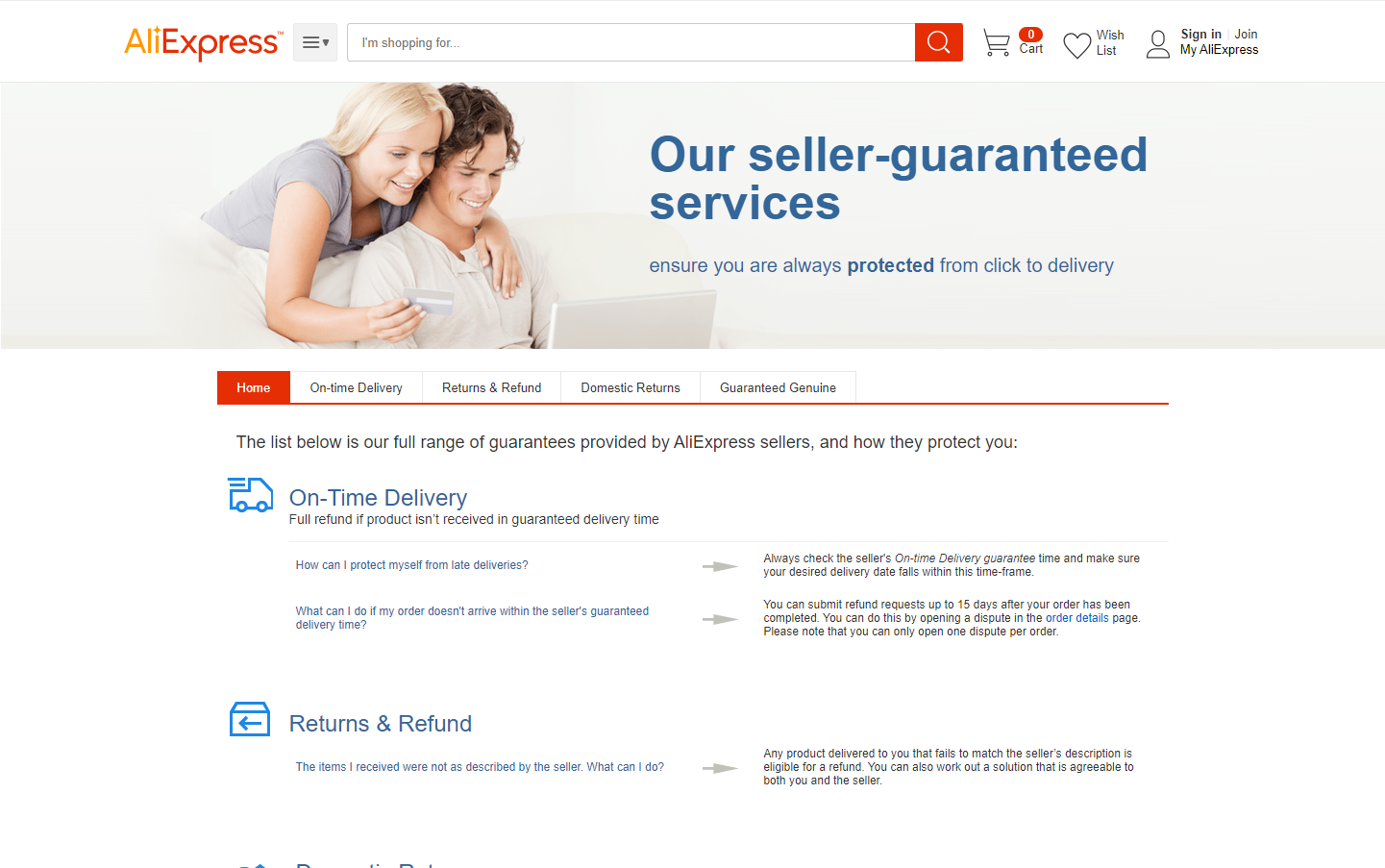 AliExpress offers buyer protection to consumers by granting them a full refund if they receive unsatisfactory, counterfeit, or defective goods from an AliExpress seller.
Before this happens, the customer must file a dispute against the seller. Both parties will try to come to a compromise regarding the issue.
If both can't arrive at a resolution after 15 days, the online store will intervene to deliberate on the best course of action.
Customers whose orders take too long to arrive must wait for their buyer protection period of 75 days to expire. Only then can they initiate the refund request, which could take up to 15 days to process.
Why Don't People Find AliExpress Reliable?
It is generally safe to buy from AliExpress, given the reasons above. But people have a strong opinion about the online store being a scam, mainly due to the following reasons:
Long Order Shipping Time
The AliExpress standard shipping can take between 20-50 days, depending on your location. This is unlike Amazon, which has premium shipping options such as same-day delivery.
If you live farther away from China, which most sellers in AliExpress are from, expect to wait a bit longer for your package to arrive.
As mentioned in the previous section, you have buyer protection for 75 days after placing your order. So you have two and a half months before receiving your order.
Ironically, this is the price you must pay when buying from, AliExpress. The prices are much lower than the rest, but you must wait a bit longer to get your product.
Inaccurate Estimated Delivery Time
Customers can log in to their AliExpress account to see when they can expect to receive their orders. But the tracking number isn't regularly updated even after the product is on its way to its destination.
From here, buyers won't know if they'll receive the product soon or if it's lost in transit. Worse, they can only file for a dispute after the 75-day delivery window has elapsed.
Questionable Buyer Protection
Some customers complain about AliExpress's buyer protection not being buyer-friendly.
For instance, there was a case when the online platform intervened because the buyer disputed a full refund for an unusable product from the seller. Despite the seller not responding to the dispute, AliExpress decided on a 50% refund.
Worse, if the buyer wanted a full refund, the company said s/he has to bring it to China personally.
While this may be an isolated incident, you don't want to experience anything remotely close to this.
How to Buy Safely From Aliexpress
Shopping on AliExpress provides you with a certain level of security. But as seen above, you still have to use your judgment when making purchases on the platform.
If you're not careful—and this applies to all marketplaces—you will end up wasting money on counterfeit goods and time waiting to get your money back (if not a partial refund).
Below are ways to ensure you don't get duped by unscrupulous sellers:
Find Reputable Sellers
Only buy from sellers with lots of followers and positive feedback from customers. You can see these if you check on the product's seller.

Make sure to read the review to see if customers left genuine reviews about the product.
Another way to confirm if sellers are reputable is if you reach out to them with your questions about the product, and they respond to you at the soonest. If they don't reply days after you send the message, it's best to buy from someone else.
Only Transact Through AliExpress
If the seller wants you to send the payment straight to their account instead of through AliExpress, don't do it! There's a possibility they want to get your card details and use this information for nefarious purposes.
As mentioned, keeping transactions within AliExpress allows you to protect your payment information from sellers and the platform itself.
Inspect Goods First Before Confirming Delivery
Before buying, you should reach out to the seller and ask for photos or videos of the product. This allows you to compare the product you'll receive and what they have displayed on the product page.
Avoid Fraudulent Deals
Following Murphy's Law, if the deal is too good to be true, it probably is. Compare the deal with other deals for the same product from other sellers and know why the seller offers much lower prices.
If the seller's price doesn't align with other sellers after doing your research, it's best to avoid the deal just to be safe. You may think you're getting a steal, but the product may be counterfeit or defective when it arrives at your doorstep.
AliExpress Alternatives
AliExpress can go either way—it ultimately depends on how you use your judgment when making purchases on the platform.
But if you're unconvinced that AliExpress is the right online marketplace for you, there are alternatives you can choose from.
Granted, AliExpress remains the best option if you're looking for a wide variety of goods at the lowest rates, which is ideal for dropshipping. But there's more to an online store than just products, which some of the marketplaces below have in spades:
Banggood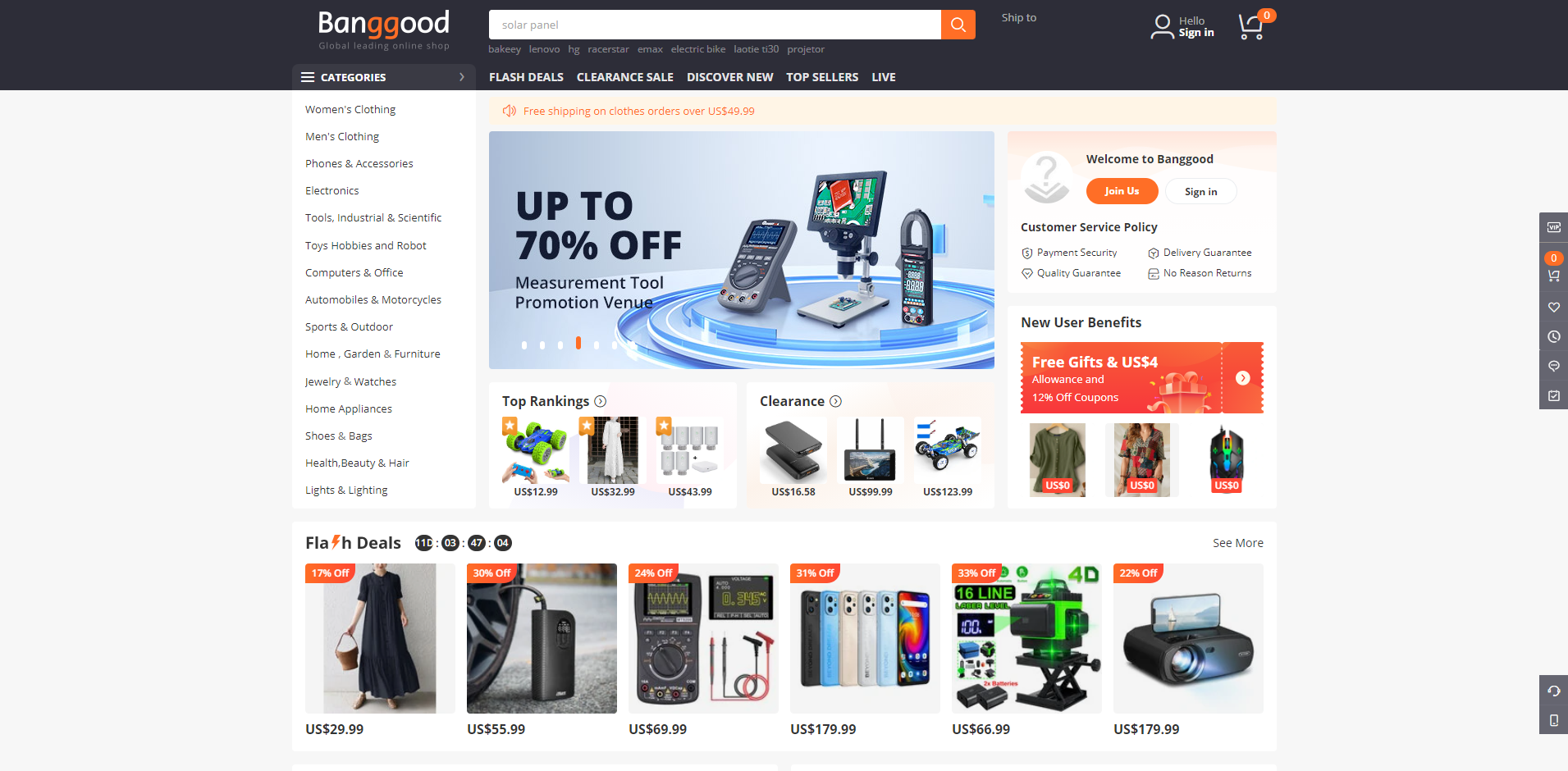 Banggood holds the advantage of being able to deliver orders faster than AliExpress. U.S. buyers, for example, can get their orders in 10-15 days via the Banggood Express. The platform also has a dropshipping program that lets you sell products from the site to your store or other online marketplaces.
On the downside, the company only accepts payments via PayPal from international customers.
---
DHGate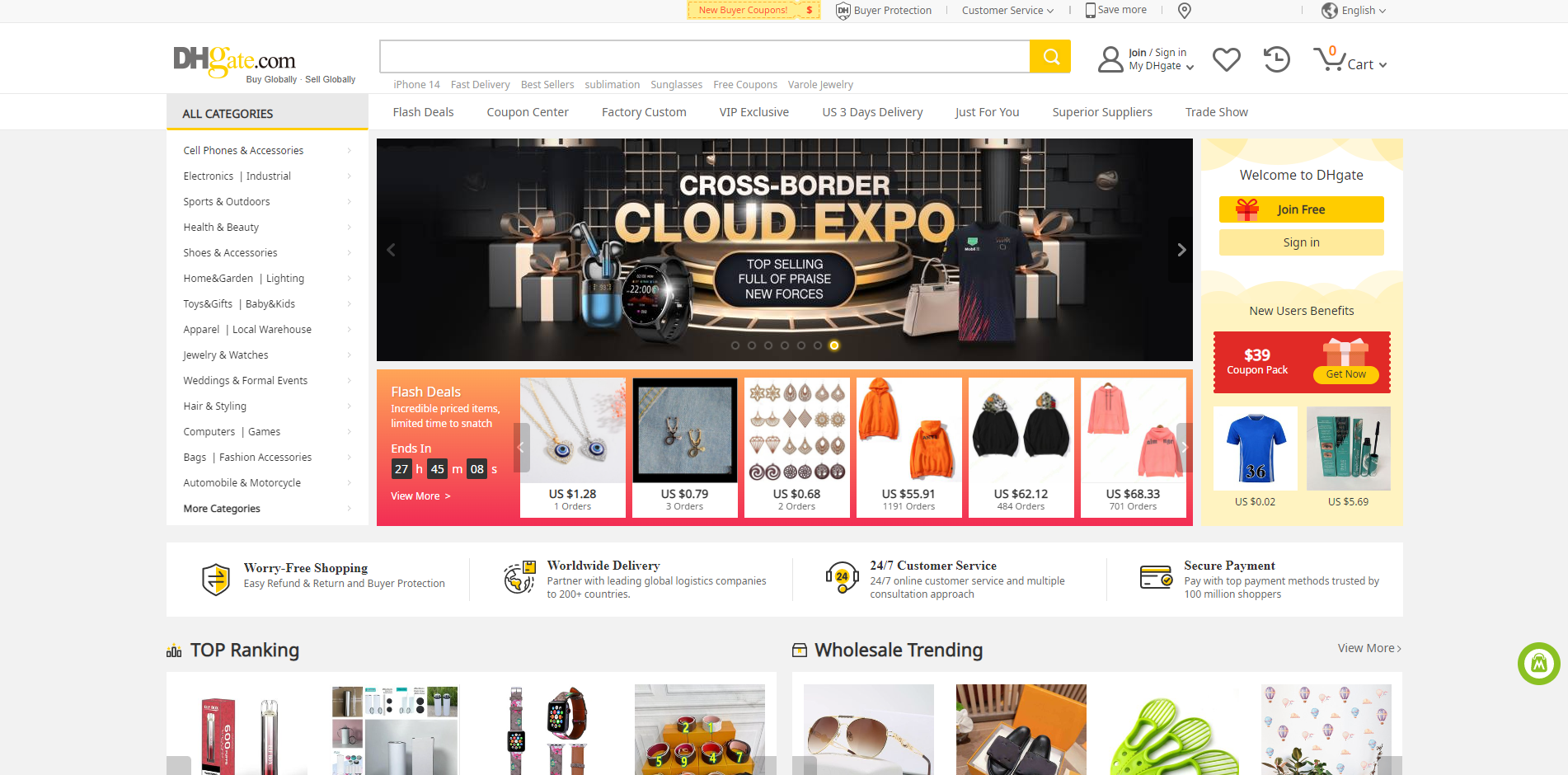 If you prioritize customer service, then DHGate is for you. The company offers different ways for you to reach out to them (toll-free number, phone, live chat) regarding products you want to buy to ensure you'll be guided accordingly.
Other benefits DHGate offers include an inspection service to prevent buyers from getting bad products and a Buyer's Coupon for new accounts to help them safe on their first purchase (get our full guide to DHGate here).
---
Gearbest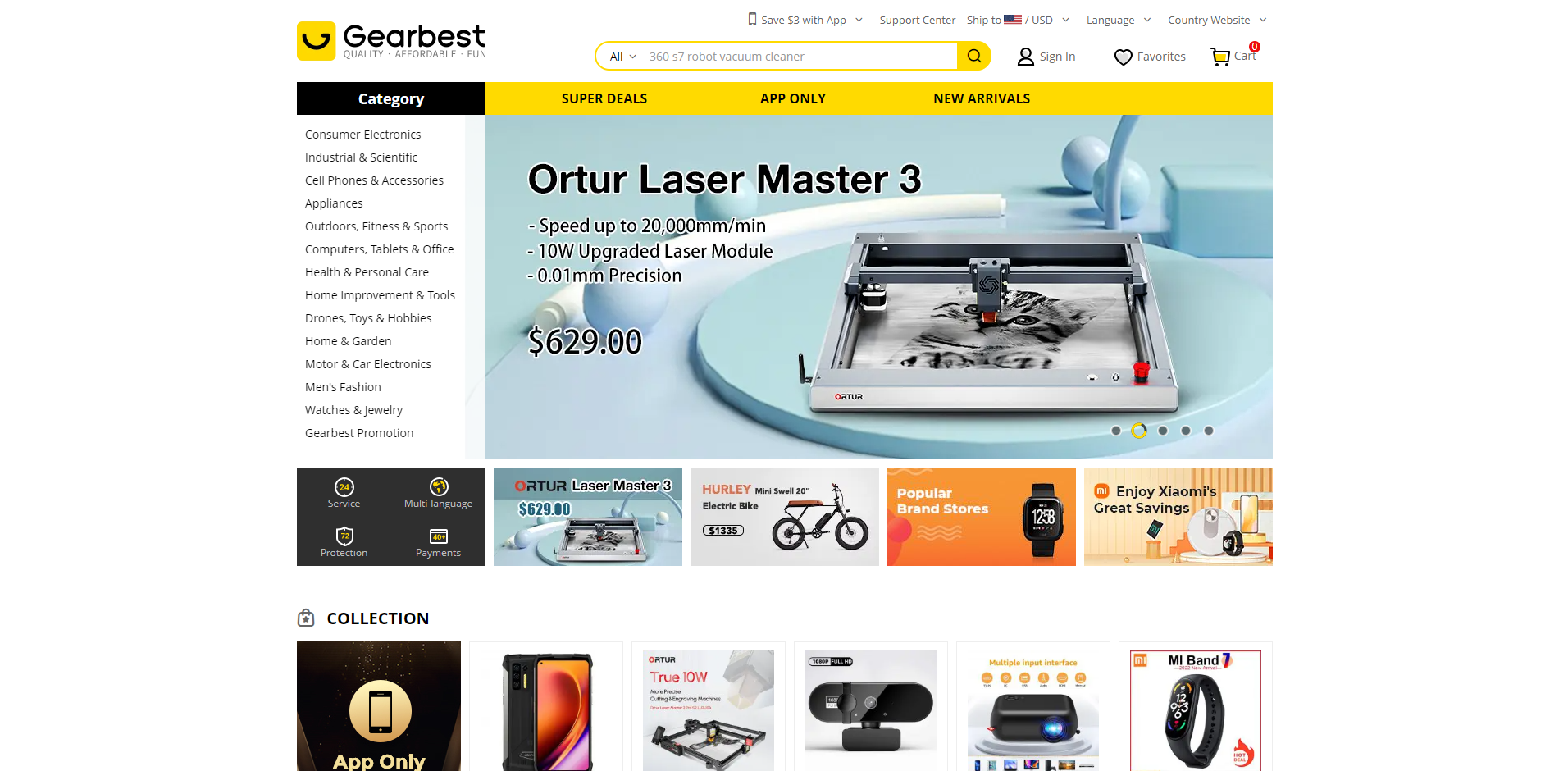 Gearbest has warehouses in U.S. and Europe, ensuring faster shipping and delivery in these parts of the world. It offers a 45-day return policy to buyers and a 1-year warranty for consumer electronics.
Gearbest also accommodates 40+ payment methods so more people can place their orders using their desired payment option.
The company's only slight is its lack of private labeling or custom packaging options.
---
So, Is AliExpress Legit or Not?
Let's face it: AliExpress is not the most perfect online marketplace.
It has security measures that protect buyers from fraudulent and defective products. But there's a slim chance you'll get your money back, even from questionable sellers and despite being in the right.
However, one thing that AliExpress isn't is a scam.
So, to answer the question:
Yes, AliExpress is legit!
Lots of people have made money as AliExpress dropshippers, and that's because they know what to expect from the platform.
The late delivery time and the risk of ordering the wrong products are always there—but it's all about managing these factors so you can order the best goods for your target audience in advance.
Knowing the best practices on how to source legitimate sellers and ensuring you receive the exact products as advertised will also help make your job much easier.
Want to learn step-by-step how I built my Niche Site Empire up to a full-time income?
Yes! I Love to Learn
Learn How I Built My Niche Site Empire to a Full-time Income
How to Pick the Right Keywords at the START, and avoid the losers
How to Scale and Outsource 90% of the Work, Allowing Your Empire to GROW Without You
How to Build a Site That Gets REAL TRAFFIC FROM GOOGLE (every. single. day.)
Subscribe to the Niche Pursuits Newsletter delivered with value 3X per week