22 Websites Like AliExpress: Alternative Websites To Source Dropshipping Products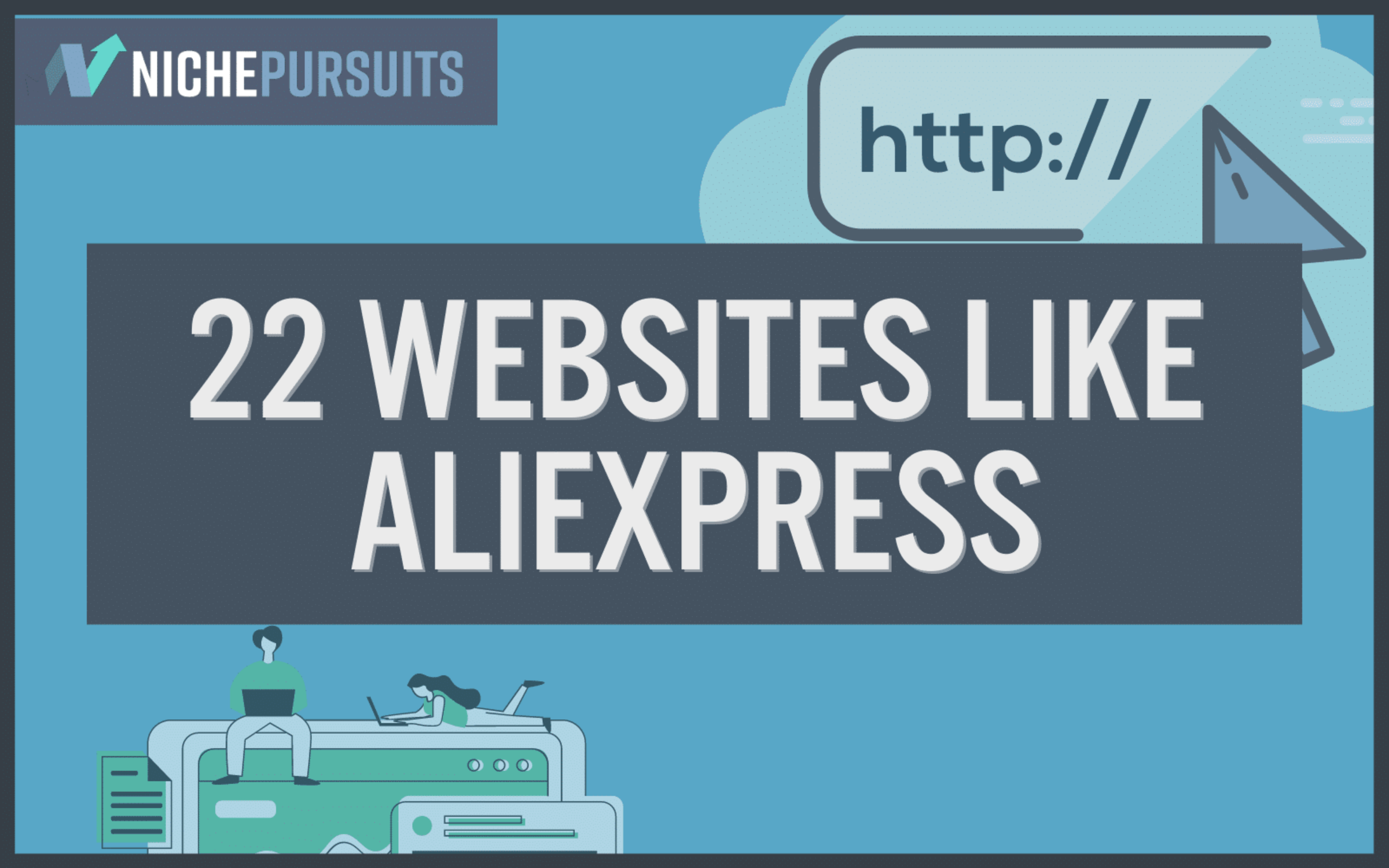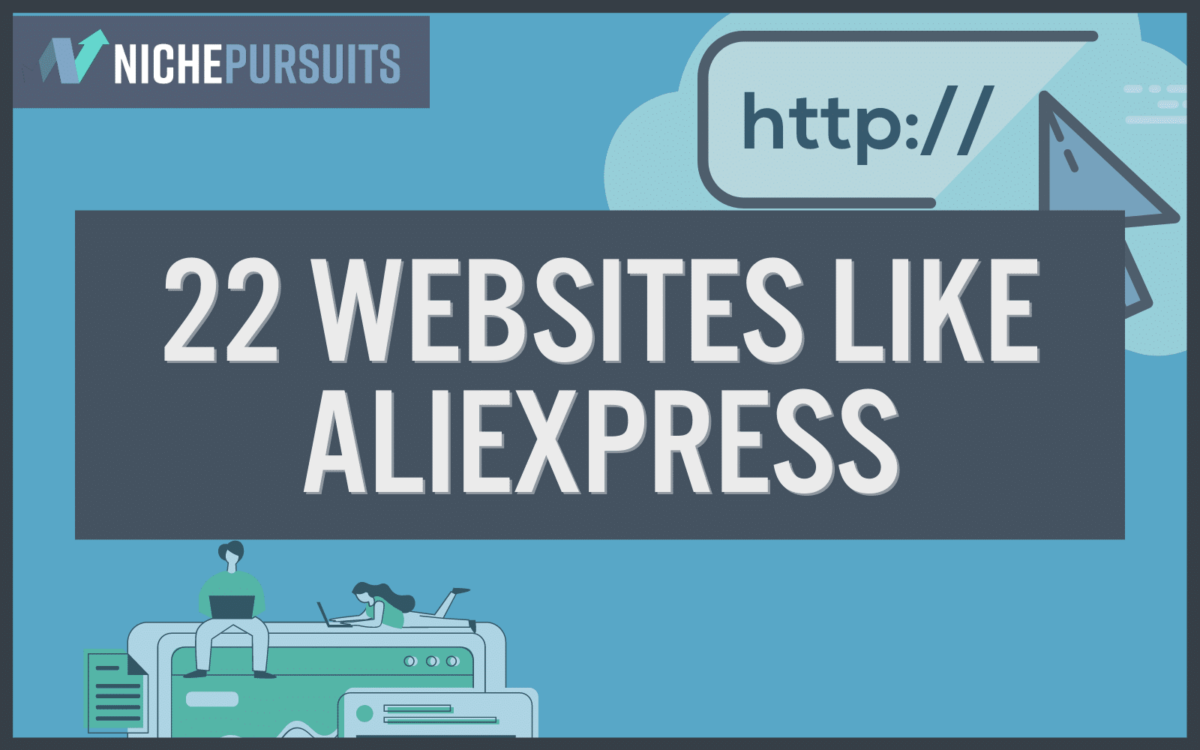 When you buy something through one of the links on our site, we may earn an affiliate commission.
AliExpress has risen to prominence to become one of the largest eCommerce websites in the world. However, they aren't the only game in town with many other websites like AliExpress on the internet.
Here is a comprehensive list of alternative websites to help you with everything from shopping online for sourcing dropshipping products to getting ideas for your next eCommerce online store.
Why buy from online stores like AliExpress?
The reasons for buying from eCommerce stores like AliExpress will vary for different people. In some cases, buying products may not be the priority, and instead, data mining could be the reason for visiting.
One of the primary uses for stores like AliExpress is for sourcing dropshipping products, as we wrote about in our guide on AliExpress dropshipping.
For the uninitiated, dropshipping is listing products from other manufacturers on your website, collecting the money, then forwarding the orders for the manufacturer to ship. Check out our post on what is dropshipping for more details.
The reason so many dropshippers like purchasing from AliExpress for their online store is the vast number of products available (find out more in our answer about whether or not AliExpress is legit).
Also, because you usually buy directly from manufacturers in China, prices are often much lower, allowing a higher profit margin.
Best Sites That Are Alternatives to Aliexpress for Cheap Online Shopping
While AliExpress is undoubtedly the go-to place for many when it comes to cheap products for dropshipping and eCommerce online stores, there are many other options to find cheap products.
Some of these other eCommerce options for shopping online may even prove to be a better option with better shopping times, more consistency, and in some cases, better prices.
1. DHGate
DHGate is primarily a business-to-business eCommerce platform that provides small- and medium-sized retailers with products. As of 2020, it was estimated the online store listed over 32 million different products from over 2 million sellers.
The website has a very similar interface to Alibaba and AliExpress, so understanding how to use the platform shouldn't be too difficult.
As with Alibaba and AliExpress, there are regular specials and discounts, helping to improve the margins of dropshippers and online retailers.
Pros of DHGate:
Over 32 million products to choose from
Easy-to-use interface similar to AliExpress
Local warehouses in over 15 countries
Buyer protection program
Cons of DHGate:
Known for sometimes having fake products
Check Out DHGate
---
2. Banggood
Banggood has been around since 2009 and quickly became known as a great alternative to websites like AliExpress for dropshippers.
This is partly due to the dropshipping center, which allows merchants to easily download images, among other perks.
The eCommerce platform has over one million products spread throughout 30+ categories.
While not quite as extensive as AliExpress or DHGate, there are many products on Banggood that you may not find on the two larger platforms.
Pros of Banggood:
Discount on products for dropshippers
Free shipping to some countries
Free use of images for dropshippers and retailers
Special wholesale prices and services for resellers/wholesalers
Cons of Banggood:
Sometimes long shipping times
Check Out Banggood
---
3. DealeXtreme
While quite similar in many ways to shopping online at AliExpress and DHGate, DealeXtreme markets itself as the go-to place for cool gadgets such as cell phone accessories, computer accessories, and other consumer electronics.
The company was founded in 2005 as one of the first direct-to-consumer eCommerce brands. As of 2020, the platform had over 300,000 products across over 40 different categories.
One of the primary benefits of the eCommerce platform is that they offer free worldwide shipping and bulk order discounts, a benefit for dropshippers and resellers.
Pros of DealeXtreme:
Worldwide free shipping
Large selection of consumer electronics and mobile phone accessories
Dedicated dropshipping program
Easy-to-use the affiliate program
Cons of DealeXtreme:
Generally poor reviews around customer service
Check Out DealeXtreme
---
4. Taobao
Taobao is a Chinese website where the local Chinese market shops when they are looking to order products online. It's estimated the eCommerce giant has over one billion product listings.
The mega eCommerce platform is China's answer to Amazon or eBay and caters primarily to the local market. That said, you can still order products and have them shipped to the United States or other countries worldwide.
One thing to be aware of is that the website does not have an English version, so you will need to rely on something like Google Translate if you can't read Simplified Chinese.
Pros of Taobao:
Tons of products to choose from
International shipping
Many different product categories
Products are quite cheap
Access to tons of Chinese manufacturers
Cons of Taobao:
No English version of the website
Check Out Taobao
---
5. LightInTheBox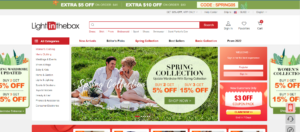 LightInTheBox is another of the mainland China-based eCommerce websites like AliExpress, this time with an emphasis on lifestyle products.
Founded in 2007, the platform has over a million items spread across 12 core categories. Product categories include men's and women's clothing, consumer electronics, weddings & events products, and more.
The company offers worldwide shipping and hosts regular specials and discounts for various products or entire product categories. Users can benefit from ordering through the site's mobile app, which offers a discount for all orders placed.
Pros of LightInTheBox:
Extensive range of product categories
Regular discounts and specials
Easy to use mobile app
Robust affiliate program
Cons of LightInTheBox:
Check Out LightInTheBox
---
6. Worldwide Brands
Worldwide Brands is quite different from the other eCommerce platforms discussed so far. The company isn't located in China and is instead headquartered in Florida, in the United States.
Instead of being a traditional eCommerce platform, Worldwide Brands is a platform that connects retailers and dropshippers with wholesale and dropship providers around the world.
This can often be a great way to source dropshipping or wholesale products locally, cutting down on the traditionally long shipping times, which pose a problem with Chinese eCommerce brands.
Pros of Worldwide Brands:
Direct access to wholesalers
Over 16 million certified products
Helpful support team
Good refund policy
Cons of Worldwide Brands:
Must pay for a lifetime membership
Check Out Worldwide Brands
---
7. Gearbest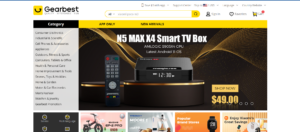 Gearbest is another of the China-based eCommerce websites like AliExpress specializing in consumer electronics, toys, sporting goods, and similar items.
The company was founded in 2013 and quickly grew to become one of the largest eCommerce platforms. However, they have since declined with the rise of competitors like AliExpress.
You can order products from Gearbest worldwide with a few exceptions, including countries such as South Sudan. One benefit for niche and authority website owners is the affiliate program.
One thing to note is the company went bankrupt in 2021 and was temporarily offline. Many customers complained of not receiving products, and affiliates mentioned they hadn't been paid.
The website is back online, and things have since returned to normal, for now.
Pros of Gearbest:
Ships products worldwide
Wide range of products to choose from
Robust affiliate program
Buyer protection
Cons of Gearbest:
Lots of bad reviews leading up to the bankruptcy
Check Out Gearbest
---
8. Wish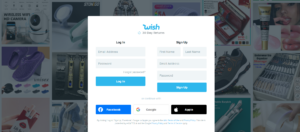 Wish is different from AliExpress and even other eCommerce platforms like Amazon or eBay. The platform works through an algorithm that customizes the shopping experience for users instead of the traditional search bar.
The site has over 300 million items available and boasts an impressive 100 million+ active users each month. It should be noted that most of the products on Wish are from Chinese manufacturers, but some are sourced locally.
For dropshippers, this likely isn't going to be the best eCommerce website to use. However, niche and authority site owners may find some use from the Wish affiliate program, which has a high acceptance rate.
Pros of Wish:
Shopping tailored to your preferences
Easy to apply for affiliate program
Over 300 million products are available
Lower prices due to direct-from-factory ordering
Cons of Using Wish:
Products often have longer shipping times
Check Out Wish
---
9. MiniInTheBox
MiniInTheBox is brought to you by the same company behind LightInTheBox. The difference is that MiniInTheBox is geared more towards lifestyle products such as cool gadgets, costumes and cosplay gear, and more.
The company has been around since 2006 and offers tens of thousands of items across 13 core categories.
One of the primary differences is the company claims all items are high-quality and sourced from top manufacturers, though this should be taken with a grain of salt.
There is a dedicated affiliate program for niche and authority website owners that is easy to sign up for. Dropshippers can also benefit from the lower prices.
Pros of MiniInTheBox:
Lower-cost items
Niche products such as cosplay gear
Dedicated affiliate program
Worldwide shipping
Cons of MiniInTheBox:
Less robust product selection
Check Out MiniInTheBox
---
10. Amazon
It goes without saying that for niche and authority website owners looking for an affiliate program, Amazon is one of the best alternatives to AliExpress.
With Amazon, you usually get fast shipping times and a higher quality product selection. There is also the added benefit of Amazon Prime, which can increase your conversion rate as visitors may prefer them over other eCommerce options.
This isn't the best alternative for dropshippers. Using Amazon to dropship products to eBay or other platforms is generally frowned upon.
It's also the case that items on Amazon have already been marked up, leaving little room for dropshippers to profit from.
Pros of Amazon:
Trusted brand throughout the world
Fast shipping
Many users have Amazon Prime
Solid return policy
Easy to use the affiliate program
Cons of Amazon:
Not a great option for dropshipping
Check Out Amazon
---
11. Target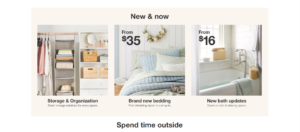 Like Amazon, niche and authority website owners may benefit from the Target affiliate program. Target is a well-known brick-and-mortar store in the United States with a solid eCommerce platform.
The brand benefits from a strong reputation and generally will offer higher quality merchandise than you will find on eCommerce platforms like AliExpress and Banggood.
As with Amazon, this isn't the best option if you have a dropshipping store looking for an alternative to AliExpress. Because Target is a retail platform, they aren't set up to offer dropshipping. Your packages will arrive with target branding, and you won't have much in the way of profits.
Pros of Target:
Trusted brand around the United States
Trustworthy suppliers
Higher-quality products than AliExpress
The affiliate program offers up to 8% commissions
Faster shipping times from local warehouses
Cons of Target:
Not a good choice for dropshippers
Check Out Target
---
12. Bonanza
Bonanza is another of the eCommerce websites like AliExpress headquartered in the United States, in Seattle, Washington.
The company advertises as being a place for out-of-the-ordinary products, primarily in the lifestyle category.
You can find products ranging from men's and women's clothing to jewelry and collectibles. Bonanza is a platform that focuses on high-quality products, so you don't have to worry about cheap knockoffs.
Like Amazon or eBay, Bonanza is a seller-oriented marketplace, which isn't the best option for sourcing dropshipping products. However, the platform offers an affiliate program that can be an excellent way to fill in the gaps in your niche or authority site.
Pros of Bonanza:
High-quality products from trusted sellers
Out-of-the-ordinary products
Good affiliate program
Faster shipping times in the United States
Cons of Bonanza:
Not a great option for sourcing dropshipping products
Check Out Bonanza
---
13. TomTop
TomTop is another of the eCommerce websites like AliExpress based in mainland China in Shenzhen. The website interface is similar to AliExpress, so you shouldn't have too much difficulty shopping on the platform.
The company advertises as a platform to buy toys, phones, home decor, and other consumer gadgets. As with AliExpress, a dedicated dropshipping program makes it easier to source product photos and add items to your website.
For niche and authority site owners, there is also an affiliate program. The downside to both is that shipping costs can be higher, and shipping times can be longer due to products shipping from mainland China.
Pros of TomTop:
Over one million products are available
Dedicated dropshipping center
Easy-to-use website
Tons of specials and flash deals
Cons of TomTop:
Potentially longer shipping times
Check Out TomTop
---
14. Chinabrands
Chinabrands is a bit different from the other eCommerce platforms on this list and focuses more on dropshippers and wholesalers.
The website makes it easier for dropshipping website owners like yourself to find quality products without the hassle of searching many different Chinese eCommerce websites.
One of the advantages of Chinabrands is they are focused on business-to-business transactions, and therefore pricing on their website is generally better for dropshippers. For international users, the website is offered in seven different languages.
Pros of Chinabrands:
Dedicated to dropshipping and wholesalers
18 core product categories
Over 500,000 products are available
Lower prices allow for greater margins
Cons of Chinabrands:
Sometimes longer shipping times
Check Out Chinabrands
---
15. Overstock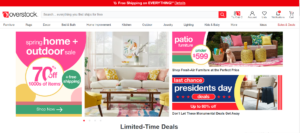 Overstock is one of the oldest eCommerce platforms in North America. Founded in 1999, the platform focuses primarily on furniture and home decor products. Other categories include health and beauty, jewelry, pet supplies, and sports & toys.
As the name implies, most of the merchandise on the website comes from overstock and liquidated inventory from big-box retailers. However, there are some new products sourced straight from manufacturers.
This likely isn't the best platform for dropshippers as product inventory is generally less consistent. However, niche and authority website owners can benefit from the affiliate program.
Pros of Overstock:
Faster shipping times in North America
Typically higher-quality merchandise
Prices cheaper than big-box retailers
Easy to sign up for affiliate program
Cons of Overstock:
Not the best option for dropshippers
Check Out Overstock
---
16. eBay
As with Amazon, eBay is an eCommerce platform that needs no introduction. Over 150 million people worldwide use eBay each year and counting.
While initially founded as an auction site, the platform has grown rapidly to include buy-now options from sellers. More people have been looking into eBay dropshipping.
One of the main upsides to the platform is that you can find out-of-the-ordinary products such as vintage goods, vehicles, and more.
We also have a guide on how to dropship from AliExpress to eBay.
While not the best option to source dropshipping products, eBay can be a good choice for filling in your affiliate offerings.
Pros of eBay:
Highly trusted platform
Out-of-the-ordinary products
Generally faster shipping
Easy to set up affiliate program
Cons of eBay:
Not a good choice for sourcing dropshipping merchandise
Check Out eBay
---
17. Geekbuying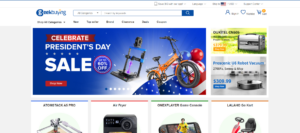 Geekbuying is another of the Chinese eCommerce websites like AliExpress headquartered in Shenzhen, China.
One benefit of the company is they have warehouses throughout the world, including in Europe and North America, making shipping faster for some products.
The platform offers over 20,000 products in categories such as consumer electronics, phones & accessories, wearable devices, computers and laptops, and more.
As with AliExpress, dropshippers will benefit from Geekbuying's dedicated dropshipping accounts that offer bulk buying discounts and easy-to-source images. There is also an affiliate program for bloggers and niche site owners.
Pros of Geekbuying:
Dedicated dropshipping program
Bulk discounts for dropshippers
Easy to get started affiliate program
Over 20,000 products to choose from
Cons of Geekbuying:
Potentially long shipping times
Check Out Geekbuying
---
18. Newegg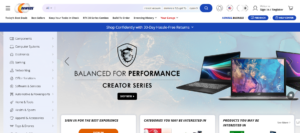 Newegg is an eCommerce platform specializing in electronics such as computer parts (check out other great places to recycle computer parts), gaming equipment, automotive and powersports gear, and more.
The platform was founded in 2001 and has since grown to become one of the largest eCommerce providers of electronics worldwide. As of 2021, Newegg had over 50,000 products available.
One of the significant benefits of using Newegg is the quick shipping of items, including a same-day delivery program in Southern California. While not the best option for sourcing dropshipping products, Newegg does have a good affiliate program.
Pros of Newegg:
Wide range of electronic products
A trusted brand in North America
Faster shipping than AliExpress
Affiliate program available
Cons of Newegg:
Low commission rate on the affiliate program
Check Out Newegg
---
19. Alibaba
Alibaba is the precursor to AliExpress, founded in 1999 by Jack Ma and a large team of co-founders. Whereas AliExpress is focused on business-to-consumer sales, Alibaba is focused on wholesale, business-to-business transactions.
If you are looking to move up from small orders, or if you want to transition from dropshipping to traditional eCommerce, then Alibaba can be a good option. You will find better deals with bulk orders on many of the same products you can find on AliExpress.
It's important to note that you will be responsible for shipping and, depending on what you are ordering, this could be quite a bit. So, make sure to run all of your numbers before committing to anything.
Pros of Alibaba:
Many of the same products as AliExpress
Cheaper wholesale ordering
Ships products worldwide
Over 5,000 product categories
Cons of Alibaba:
Check Out Alibaba
---
20. Wiio
Wiio is a dedicated dropshipping platform that helps you source products from China and ships them faster.
One of the great things about the Wiio platform is that they handle everything for you, from sourcing the products to taking custom photos and shipping everything.
You log in and look through the various products on offer to get started. Once you've selected the products you're interested in, Wiio will provide you with a quote, including shipping. Once payment is made, they'll send out the products.
Pros of Wiio:
Get products cheaper than on AliExpress
Wiio provides custom product photos
Integrations with Shopify and WooCommerce
U.S.-based warehouse for faster shipping
Cons of Wiio:
Reports of problems with orders being messed up
Check Out Wiio
---
21. HyperSKU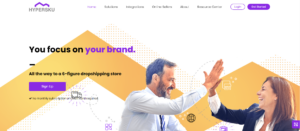 HyperSKU is a dropshipping platform that allows you to source products from suppliers worldwide. You can easily upload these items to your website through their integrations with Shopify and WooCommerce.
One of the benefits of using HyperSKU is their localized warehouses which allow you to source and store products for later fulfillment. If you are doing enough volume, this can help you fulfill orders faster for happier customers.
You can source products from over 15 categories with average shipping times between 7 and 12 days. Shipping is available to over 70 countries with other benefits such as private labeling and sync tracking.
Pros of HyperSKU:
Private label available
Ship to over 70 countries
Integrates with WooCommerce and Shopify
Localized fulfillment warehouses
Cons of HyperSKU:
Reports of some issues with integrations
Check Out HyperSKU
---
22. Spocket
Spocket is a premium application that makes it easier to source products from European and U.S. manufacturers and wholesalers.
The app integrates easily with Shopify, allowing you to add products and manage orders and inventory with ease. The Shopify app can also integrate with WooCommerce, Wix, and other popular platforms.
For dropshippers, the main benefit is that you can diversify your offerings away from just Chinese goods. This can help you offer higher-quality products and potentially increase revenue with the right audience.
Pros of Spocket:
Integrates with WooCommerce and Shopify
Products from Europe and North America
Automate product importing
Real-time order tracking
Cons of Spocket:
It doesn't integrate with Amazon and eBay
Check Out Spocket
Tips for Choosing Websites Like AliExpress
As with AliExpress, you will need to do your due diligence when sourcing products or setting up affiliate relationships with other eCommerce platforms.
The main thing you will need to look out for is who will be doing the actual selling. With websites like Newegg and Target, you don't have to worry as these are major retailers with longstanding affiliate programs.
However, when dropshipping, you always want to make sure the seller you plan to source products from has a proven track record. Try and look for sellers with many positive reviews and high order numbers.
This is especially true for other Chinese-based eCommerce platforms such as DHGate, as sellers may not be experienced or may sell fake goods (get informed with our full guide on whether DHGate is legit).
Check out what other reviewers are saying about the seller, and remember, there are plenty of options. So, if you have a bad feeling, try somewhere else.
Final Take on Websites Like AliExpress
AliExpress is convenient but shouldn't be your only source for dropshipping products or affiliate offers.
It's always a good option to diversify your offerings and suppliers to ensure you have redundancy built into your business.
Also, many other dropshippers are using AliExpress, so finding products from different platforms can help you differentiate your store.
While the list above isn't exhaustive, it should provide a good start if you're looking for websites like AliExpress.
Remember also that China isn't the only place to source products, and plenty of high-quality and interesting goods can be found all over the world if you're prepared to look.
Want to learn step-by-step how I built my Niche Site Empire up to a full-time income?
Yes! I Love to Learn
Learn How I Built My Niche Site Empire to a Full-time Income
How to Pick the Right Keywords at the START, and avoid the losers
How to Scale and Outsource 90% of the Work, Allowing Your Empire to GROW Without You
How to Build a Site That Gets REAL TRAFFIC FROM GOOGLE (every. single. day.)
Subscribe to the Niche Pursuits Newsletter delivered with value 3X per week