Is Etsy Legit? Here's What You Need To Know About The Popular Crafts Platform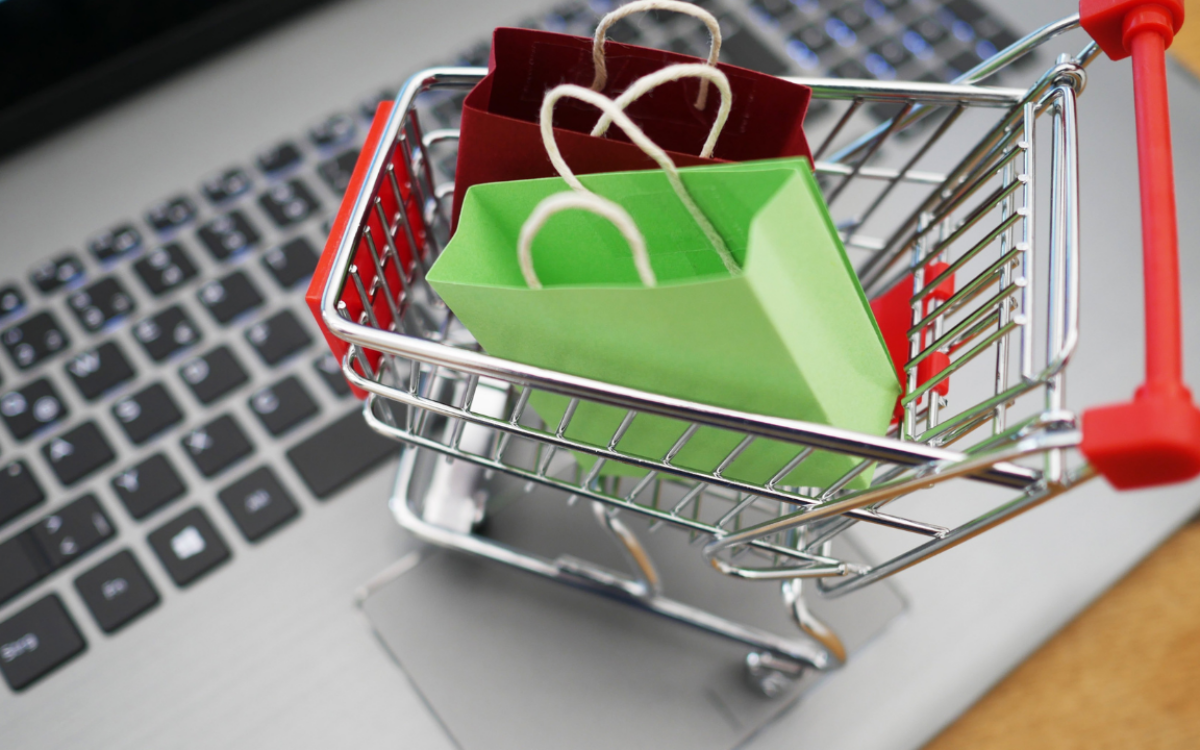 When you buy something through one of the links on our site, we may earn an affiliate commission.
From handmade products to vintage items, Etsy is a great platform for shopping online. When you're shopping for those creative, unique, handmade items, how do you know if Etsy is legit? We're here to help you determine which Etsy sellers are legitimate and give you tips for staying safe while spending money on the platform.
Can You Get Scammed on Etsy?
Etsy is a very safe online shopping platform! It's a large, publicly-traded company that's been around since 2005. This company is a widely popular platform for both entrepreneurs and online shoppers with a proven track record of trustworthy transactions.
However, despite all of this information, it is still possible to get scammed by an individual seller on Etsy.
The majority of complaints that arise on Etsy are in regards to their sellers. Because buyers have to pay for the item in full before the seller will ship it, there is the occasional possibility that you will get scammed on Etsy.
Potential negative scenarios an Etsy buyer can encounter include:
Paying for a product and not receiving the item
Receiving an item that's damaged
Ending up with a product that doesn't match the listing description or is of significantly lower quality than originally described
Having a package get lost in the mail on its way to you
Receiving an item outside of the allotted shipping window
In order to stay safe on Etsy, it's important to know a few best practices to help make sure you're making a safe purchase.
Closely review the Etsy seller's shop, including listing pictures, shop policies, reviews, and more.
Understand their refund policy before you make a purchase.
Never share your credit card information with a seller.
Do not initiate or complete a purchase off of the Etsy platform.
Etsy's Buyer Protection Program
Etsy has come up with a protection program for making buyers and sellers feel safe on the platform. If you do end up being the unfortunate victim of an Etsy scam, the platform's buyer protection program is here to help.
Etsy's buyer protection program was created to help give buyers peace of mind if orders go wrong.
Through this program, qualifying orders of up to $250 will be refunded if the item doesn't arrive, arrives damaged, or isn't as described in the listing.
This program helps Etsy buyers shop with confidence.
Is Etsy Safe for Credit Card Users?
Yes! Etsy is safe for credit card users.
Etsy sellers are required to use either Etsy Payments or PayPal in order to process payment from their buyers. This is great news for both sellers and buyers because it means that sellers do not have to handle payment information, and buyers can feel confident that their financial information is secure.
While they will receive your address for shipping, Etsy sellers will never have access to your credit card information. This is great because it means that no sellers on Etsy will ever have access to your credit card number.
Never give your credit card information to an Etsy seller.
Since Etsy sellers don't need your credit card information and are never shown it by the platform, this means that you should never give out your credit card information to them. They don't need it for anything.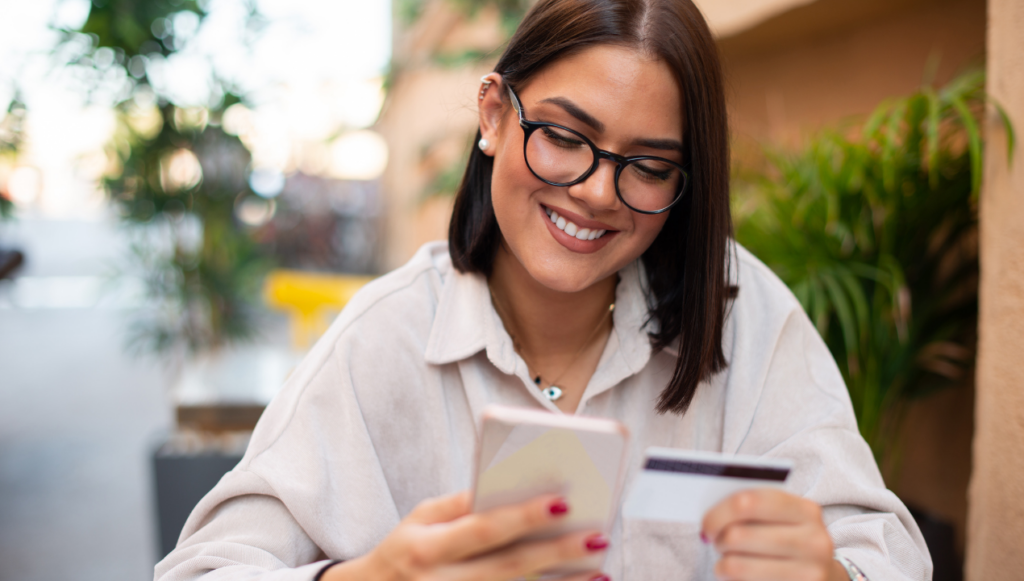 What Payment Methods Can I Use on Etsy?
If paying with a credit card on Etsy still makes you nervous, there are a variety of other payment options available to buyers. These payment options include:
Credit cards
Debit cards
Etsy gift cards
PayPal
Apple Pay
Google Pay
Klarna Financing (in the United States)
To learn more about the payment methods you can use based on your location, visit the Etsy Help Center.
Who Can Sell on Etsy?
From pottery makers to woodworkers, anyone can sell on Etsy. When researching where to sell items online, Etsy is one of the most popular choices for online sellers.
The majority of sellers are genuine entrepreneurs looking to grow their business. Understanding the people behind the Etsy shops can help you gain a better understanding of the vibe of the platform.
Sellers are not required to have a business license in order to sell on Etsy.
A few examples of Etsy seller personas include:
Stay-at-home parents looking to supplement their household's income with a fulfilling side-hustle
Full-time artisans who are an expert at their craft
Entrepreneurs trying to diversify their income streams
Everyday people looking to make a little bit of extra money from their hobbies
College students looking to supplement their income
Retirees who love to crochet
The Process to Becoming a Seller on Etsy
Etsy doesn't have a lengthy, complicated, or strongly vetted process for becoming a seller on the platform. This is great news for creatives looking to start selling online.
However, this also means that scammers can easily create an account.
The process of creating an Etsy shop is very straightforward. It simply entails creating an Etsy account, adding a profile picture and bio, setting up payment information, setting up your storefront, and adding listings. It's an easy, step-by-step process that Etsy walks each seller through.
When Does Etsy Close Down a Seller Account?
Even though anyone can sign up to sell on Etsy, that doesn't meant that they have the privilege of being a seller forever. If Etsy determines that a seller account is illegitimate, they will remove them from the platform.
Etsy will close down a seller account when the account:
Violates Etsy policies
Receives too many negative reviews
Has too many customer claims for fraudulent transactions
Consistently ships too many orders late
Receives copyright infringement or trademark violation claims
Has inaccurate personal information, like their location, in their profile
Runs up an unpaid Etsy bill for seller fees
How to Tell if a Seller is Legit on Etsy
How can you tell which sellers are legitimate and which ones are bad sellers? From looking through their profile to reading their reviews, there are a few ways you can determine if they're a star seller on Etsy.
These are our tips for how to tell is an Etsy seller is legit:
Look through their seller profile.
Check out their Etsy reviews.
Evaluate the quality of their listing photos.
Try out their customer service.
Look Through Their Seller Profile
The first thing you should do to determine the legitimacy of Etsy sellers is to thoroughly look through their profile. Thoroughly understanding each seller is especially important if you are looking at starting an Etsy affiliate program.
The things you should look for when analyzing their profile are:
If they're a star seller
How long they've been a seller on Etsy
The number of sales they have
Any shop announcements
Important shop policies, including their return policy
Information about the owner
are they a star seller?
If a shop has the "star seller" badge, a purple star icon, this means that they are an outstanding seller. Learning how to make money on Etsy is a process, and a star seller badge means they've mastered it. They provide exceptional customer service, consistently earn five-star reviews, ship their orders on time, and have prompt communication.
This important badge is another way sellers can build trust with their buyers. Buyers then also feel secure in the shop they're purchasing from. It means that the customer service claims they're making can be trusted because they've been proven by the many reviews and sales before them.

How Long They've Been a Seller on Etsy
How long the Etsy seller has been in business is an important aspect to consider. If they've been selling on Etsy for several years, it's more likely that they are going to be a legitimate seller.
While being a new seller isn't necessarily a bad thing, it's just one aspect to consider when determining whether the seller is legitimate.
Number of Sales
The number of sales that an Etsy seller has will give you an idea of whether or not they have a good track record on the platform. If they've been in business for over a year and only have 5 sales, it could potentially mean that the quality of their products did not inspire any return buyers.
On the other hand, if the seller has more than 100 sales combined with good reviews, they're most likely an extremely trustworthy shop.
However, keep in mind that a shop could also be new to the platform and that's why they have a low number of sales. It's all about taking this information into consideration with the rest of the information we've discussed.
Shop Announcements
Reading shop announcements on Etsy is important because this is where sellers can provide updates about their business.

Common shop announcements include:
Details on current sales or discounts
Updates on product availability and temporary shop closings
More information about the store and its products
Etsy shop announcements also give you a chance as a buyer to evaluate how active they are as a seller. If they have a carefully curated shop announcement, this sets the tone at the beginning for the positive experience you're going to have and how seriously they take their online business.
return policy
Knowing the return policy before you buy is an important part of staying safe on Etsy.
Before you make your purchase, knowing that the item is returnable can also help give you additional peace of mind. Knowing you can return your purchased item will help make you a more confident buyer.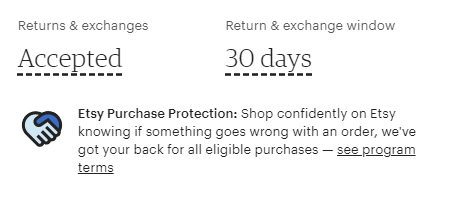 On the other hand, not offering returns doesn't mean that the seller is a scammer or that Etsy isn't legit. For example, sellers are typically not going to offer returns on an item that's been customized for you.
The seller's return policy is just another thing to consider when making your purchase.
Information About the Owner
Not all shops will include this, but being able to read extra information about the owner can make you feel even more confident when making your purchase. If they have a headshot and short bio written about them on their seller profile, this further proves their transparency and legitimacy.
Check Their Etsy Reviews
Is Etsy legit? Part of determining the legitimacy of an Etsy account is reading the seller's reviews.
Etsy buyers, and internet shoppers in general, have always been ruthlessly honest in their reviews. This means that the reviews Etsy buyers leave after their order experience can help you determine the legitimacy of the seller before you make a purchase.
Etsy's review system determines a shop's overall rating based on the average of the last 12 months of sales.
A buyer will be asked a series of questions when they go to leave a review for their recent transaction. Buyers also have to complete their review within a specific time window after they receive the product in order to make sure their experience is top of mind.
Etsy reviews include:
A rating based on if the product's quality matches what was described, if the product arrived on time, and if the buyer would do business again with this seller
Freeform text written by the buyer
Pictures taken by the buyer
Etsy store reviews are particularly helpful because they often include pictures. This gives you the chance to view the quality of the products the Etsy shop is offering.
In addition to reading positive customer reviews, it's also important to read negative reviews. Collecting positive customer reviews is one way that sellers on Etsy boost their store's visibility, so you'll want to read through several reviews before coming to a conclusion about the seller. This is where you can use your critical thinking skills to determine which reviews are authentic.
Etsy Reviews from the Seller's Perspective
The other side of the Etsy review system is the seller's side.
While some buyers are victim of scams on Etsy, some sellers are victim to unfair reviews. The Etsy website recognizes this, which is why they enables their sellers to file complaints regarding unfair reviews.
Sellers can address unfair reviews by:
Responding to reviews of 3 stars or less in order to publicly address the issue
Requesting reviews and photographs that violate Etsy's policies to be removed
Privately messaging the buyer to address the issue and try to calmly resolve it
Hiding photographs that inaccurately depict their products
An Etsy review violates the platform's policies if it:
Harasses the seller
Contains spam, obscenities, or racist remarks
Violates either the seller or buyer's privacy
Includes an advertisement
Is about the Etsy platform itself and not the individual seller
Enabling sellers to publicly respond to reviews of 3 stars or less is also a great way to for buyers to view how the seller communicates and ultimately handles their customer service. If a seller responds calmly, politely, and professionally to an irate customer, it shows that they take their business on Etsy seriously.
You can see firsthand how the seller resolves issues.
This will give you an idea of how they would potentially solve any issues you might have when purchasing from their shop.
Being aware of the capabilities sellers have to respond to negative reviews helps give buyers a full understanding of the Etsy review system. This means that you can use your best judgement when reading through positive and negative reviews, as well as the seller's responses.
Evaluate the Quality of Their Listing Photos
Another way to help you determine if Etsy is legit is to analyze the quality of sellers' listing photos.
If the pictures are low quality, blurry, or appear to be fake, it could potentially mean that they don't actually have the products available for sale that they say they do. They could potentially be pulling pictures from another internet source and just using them for their listing photos.
On the other hand, some sellers on Etsy might have lower quality pictures because they don't have a high quality camera or are inexperienced with taking pictures. Knowing what to sell on Etsy can be a difficult decision, and this seller might be inexperienced at taking pictures of the item.
Here are some questions to ask yourself when evaluating the listing photos of Etsy sellers:
Are the pictures blurry or low quality?
How many pictures does each listing have?
Do the pictures appear to be stock photos pulled from another source on the internet or are they using their own picture?
Does the product description match what's being shown in the listing photos?
While the quality of the listing photos doesn't always determine the legitimacy of the Etsy seller, it is an important piece of the puzzle when making your decision.
Try Out Their Customer Service
While you don't want to waste their time or ask unnecessary questions, sometimes the best way to determine if Etsy is legit is to test their customer service.
For example, if you have a specific product question that's not answered in the description or an inquiry about product availability, you could reach out and send them a message.
Trying out their customer service will tell you if there is a person behind the Etsy shop who is actively managing the account.
This will also give you an indication of how quickly they will actually ship your item. If they don't answer your message within 1-2 business days, they're probably not actively monitoring their Etsy seller account, and they probably won't ship your order very quickly either.
What you're really trying to find out is if they answer incoming messages from potential buyers.
Is Etsy Legit? How to Stay Safe on Etsy
As an online shopper, you're asking yourself whether Etsy is legit. The answer is yes, Etsy is legit and perfectly safe. Using the tips we discussed for staying safe while shopping on the platform, you can help protect yourself from potential scammers and have a positive shopping experience.
If you're thinking about starting an Etsy shop and want tips for new sellers, check out these most successful Etsy shops for inspiration!
Want to learn step-by-step how I built my Niche Site Empire up to a full-time income?
Yes! I Love to Learn
Learn How I Built My Niche Site Empire to a Full-time Income
How to Pick the Right Keywords at the START, and avoid the losers
How to Scale and Outsource 90% of the Work, Allowing Your Empire to GROW Without You
How to Build a Site That Gets REAL TRAFFIC FROM GOOGLE (every. single. day.)
Subscribe to the Niche Pursuits Newsletter delivered with value 3X per week