11 Free & Paid Patreon Alternatives to Help Monetize Your Work
When you buy something through one of the links on our site, we may earn an affiliate commission.
In this article, we're sharing some of the best Patreon alternatives around to help you find a platform that's the perfect fit for you and your audience.
Patreon is one of the most well-known ways for creators to receive support from their fans through recurring monthly subscriptions. However, depending on your brand and business type, there could be a better option out there for you.
We've selected some of our favorite options for you to choose from. Each of these alternatives has its own unique features, so no matter what type of content you produce, there should be something here for you.
Reasons to Consider These Patreon Alternatives
Whilst Patreon does have some excellent features, there are a few downsides that have led to the rise in people looking for Patreon alternatives. Here are just a few reasons you might want to consider using an alternative to Patreon:
Patreon has recently increased the commission cut it takes from creators to a whopping 8% on the Pro plan and 12% on the Premium plan. On top of that, you will pay a payment processing fee on every transaction. Ouch.
There are some strict restrictions on the type of content that creators can promote on the platform. This means political influencers and anyone promoting controversial or adult content could find their accounts suspended.
Patreon doesn't offer the option to accept one-off donations or crowdfunding from users.
For these reasons, many content creators would be better off paying a set monthly platform fee than giving away such a large percentage of their earnings.
Depending on the type of business you run, one of these Patreon alternatives might be a better option for you.
The Best Patreon Alternatives
The good news is that whether you've been a die-hard Patreon fan until now or you're just starting to look for ways to monetize your following, there are plenty of alternatives for you to explore. Let's take a look.
1. Podia
Podia is one of the best Patreon Alternatives available. It's an all-in-one platform that enables anyone to create and sell subscriptions, digital products, online courses, and paid memberships. It is very affordable and offers great support, so you will find it easy to hit the ground running, even as a beginner.
With a range of tools for those that are looking to expand their online offering to paid products and recurring subscriptions, Podia is a great option for anyone looking to earn money from their following.
Check out our full Podia review here to find out more about what this tool can do for you.
Podia Pros and Cons:
Free plan available
Affordable pricing structure
Email marketing software included
Support offered for video hosting
No sale transaction fees on paid plans
Email builder can be limited
Some features are only available on the higher-priced packages
Who Should Use It?
Podia is particularly useful for those looking to sell online memberships, coaching, and digital courses on a tight budget. Small businesses, online coaches, social media entrepreneurs, and start-up organizations are likely to find Podia the most useful.
Pricing:
Podia offers 4 pricing plans which means that there is something for everyone.
A Basic package is available for free, which allows you to create one digital product and one coaching product to sell to your community. You can also create free and paid membership communities on this plan to generate recurring income.
You'll need to upgrade to their Mover Package ($33/month) for things like unlimited downloads and full access to the course features, Nevertheless, this is still excellent value.
The Shaker Package ($75/month) offers affiliate options, and if you want to go for a package that offers things like priority support and onboarding calls, then their Earthquaker Package ($166/month) is likely the best choice.
---
2. Kajabi
Kajabi is an all-in-one, fully hosted digital marketing platform. It allows creators to promote and sell digital products online in the form of downloads, online courses, communities, and memberships.
It comes complete with its own mobile app too, which makes it one of the best options out there for creators who want to build courses and membership communities.
Kajabi Pros and Cons:
Easily create and monetize exclusive members-only content
Completely customizable to your own needs
Sell one-off products as well as recurring subscriptions
Simple self-contained course creation tools
Built-in email marketing
Fully hosted and maintained, this leaves you free to spend your time creating content
Professional technical support and live chat on hand whenever you need it
No free plan
Not suitable for selling physical products
Who Should Use It?
Kajabi is the ideal tool for anyone looking to make money from an online course or exclusive members-only content. With everything you need to build a professional-looking website using simple tools, it will appeal to creators and business owners of all types who want to create
Pricing:
Kajabi starts with the Basic plan priced at $149 per month with provision for 5 individual courses. The Growth plan costs $199/month, and the Pro plan costs $399/month. Discounts are offered if you pay yearly.
This is an all-inclusive fixed monthly fee, and no transaction fees are charged if you use the Kajabi payment system.
You can check out all of the plans and get a 14-day trial of Kajabi right here.
---
3. Ko-fi
If you're looking for a way for your followers to support you with smaller one-off payments, then giving them the option to buy you a cup of coffee could be the right option.
Although you can set up commissions and monthly support packages, people can also send you the equivalent of a cup of coffee at the click of a button. This makes it one of the best Patreon alternatives for creators who want to accept tips and one-time donations alongside recurring monthly subscriptions.
Ko-fi Pros and Cons:
Easy for people to log in and donate
People can donate as a one-off without needing to subscribe
Upgrade options such as setting up paywall content and membership packages.
Recurring donation options
Low monthly membership fees
Minimum donation amount $3
It doesn't come with any promotional help or marketing tools
Who Should Use It?
Ko-Fi is well loved by creatives, artists, writers, podcasters etc., because it gives followers the option to make a small donation as a token of their appreciation and we have a full Ko-fi review with lots of extra details.
Pricing:
Ko-Fi comes with a free option, which means that you just pay a transaction fee of 5% when people donate to you. They've also recently launched a Gold Package, which is just $6 a month and comes with no transaction fee on any donations you receive. This makes Ko-Fi one of the cheapest Patreon alternatives around.
---
4. HY.PAGE
Hy.Page is an all-in-one tool that enables creators and influencers to accept donations, sell memberships, and ensure that all of their online resources can be found quickly and easily.
It allows you to create a unique bio link that you can add to your social media platform bios. This means your followers can easily reach all of your content at the click of a button.
Not only does this make your content easy to find, but it cleverly links to the pages that sell your exclusive content and collect donations, ensuring you're making the most out of your monetizing options.
Hy.Page Pros and Cons:
Generous free plan with lots of options
Set up a custom domain
Easily sell digital products and recurring memberships
Fully customizable
A wide range of built-in link features
No commission to be paid
Who Should Use It?
Hy.Page is a great option for Instagram influencers of all niches. It's particularly good for those that want to create a membership experience with options for people to find their paid-for content easily.
Pricing:
Hy.Page has a fantastic free option that allows you to make use of their customization options and include 30 links per bio page. Upgrade to their Pro Plan ($19/month) to take advantage of multiple domain support and built-in payment processing to sell products. Their Enterprise Plan ($39/month) offers all of this, plus the option to build and sell membership and subscription packages.
---
5. Memberpress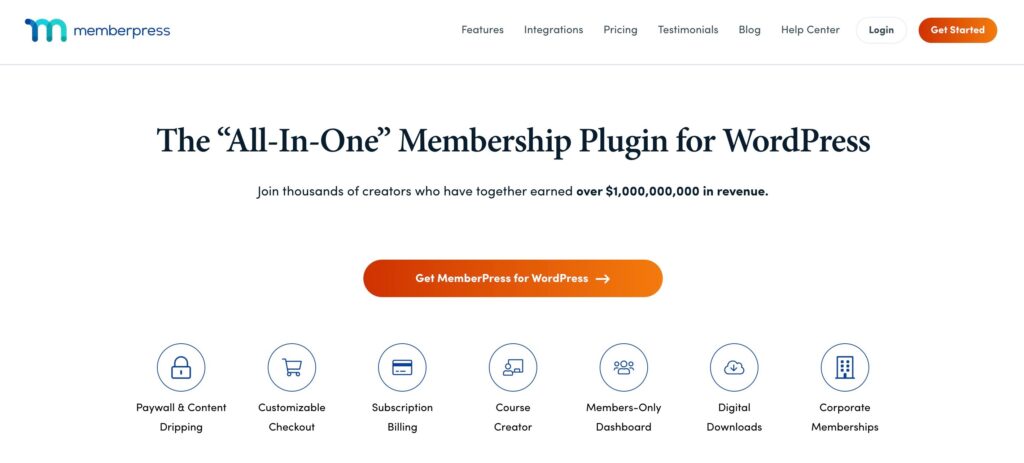 Memberpress is a WordPress plug-in that allows you to create member-only content on your WordPress site (don't miss our MemberPress review).
With the ability to have various membership tiers and to accept payments directly, it's a great option for those that are looking at different ways to monetize their website.
It allows you to do things such as host quizzes within your courses and integrates with a number of other plug-ins to make it as customizable as possible.
Memberpress Pros and Cons:
Can be added to your WordPress or used to host external content
Fully customizable
Easily offer different membership tiers
Integrates with Google Analytics, Active Campaign, and WooCommerce
It can be tricky to personalize forms
No lifetime purchase option
Who Should Use It?
Bloggers and business owners with a WordPress website who want to offer exclusive content to their audience for a monthly fee will love this Patreon alternative.
Pricing:
Payment for MemberPress is made annually, and they have three packages available. There are also often deals and discounts worth looking out for.
Basic ($179/year) is great for beginners, with features available to use on one site. This enables you to have unlimited members and create unlimited courses.
If you want to use it on two sites, then you'll need the Plus Package ($299/year), and the Pro Package ($399/year) gives you the option to use it on five sites.
---
6. Facebook Subscriptions
Facebook is a social media platform that pretty much everyone is familiar with, so if you already have a large following on Facebook, this is a great option for you.
Facebook Subscription allows you to set up private pages that are accessible by monthly subscribers only. Here you can offer things like personal interactions and exclusive content. You can check if you're eligible within Facebook's Creator Studio.
Facebook Subscriptions Pros and Cons:
Facebook is a that most people already know and trust
You can offer at different prices to members
Access to a range of built-in Facebook tools
Invite only

You will need to have an existing Facebook account

You will need to have high engagement to qualify for this feature
Who Should Use It?
Currently, Facebook Subscriptions is available on an invite-only basis. To qualify, you will need to have 10,000 followers and 50,000 post engagements over the last two months.
Pricing:
Pricing for Facebook Subscriptions varies depending on the size of your page and what you are monetizing. However, in general, package costs are between $4.99 and $29.99/month.
---
7. Youtube Channel Memberships
YouTube is another social media platform that is well-known amongst most internet users, which means that monetizing content here just makes sense.
You probably already know that YouTubers can monetize content through the YouTube partner program (but don't miss our guide on just how much money you can make on YouTube here). However, certain users can also qualify for the Channel Memberships feature, which allows viewers to pay a monthly fee to access exclusive members-only content on your channel.
YouTube Channel Memberships Pros and Cons:
Most people already have a YouTube account
Easy to sign up
An easy hands-off way for video creators to sell subscriptions to exclusive content
Commission can be as much as 30%
You need a minimum of 1,000 subscribers to qualify
Algorithms can make it hard for your content to be seen
YouTube decides how much your subscribers pay
Who Should Use It?
If you are already an established YouTuber, then looking at YouTube Channel Memberships as an option for further monetization your could be a great idea.
Pricing:
Although there is no cost for using YouTube Channel Memberships, it is worth remembering that the cut that YouTube takes can be as high as 30%.
---
8. Buy Me a Coffee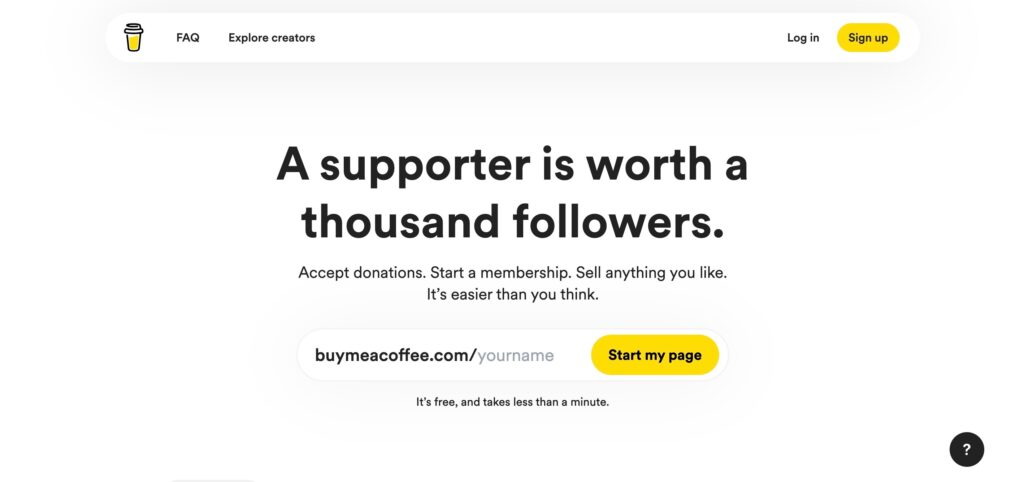 Buy Me a Coffee is a membership platform with a relaxed feel that enables your supporters to make regular donations, as well as one-off payments. The platform can enable revenue to be generated from sharing exclusive content and providing digital products and media for users to buy and download.
Buy Me a Coffee Pros and Cons:
The provision for one-off donations or tips in addition to regular payments or subscriptions.
24/7 live chat
Easily make money from exclusive members-only content
Instant payouts
Automatic payments deposit the revenue generated directly into your account
Not suitable for larger businesses or those looking to expand in the near future.
Who Should Use It?
Although small, the platform lends itself well to individual artists and creators in a wide range of fields. The key to success with Buy Me a Coffee is your site's ability to generate an audience for the products and exclusive content you offer.
Pricing:
Buy Me a Coffee's pricing structure is simple, with 5% transaction fees being the only direct charge. The platform operates without monthly fees. Of course, standard PayPal or Stripe payment processing fees will apply.
Although Buy Me a Coffee takes the same cut from your sales as Patreon, it offers better value overall thanks to its ability to accept one-off donations and sell digital products.
---
9. Kartra
Karta is an all-in-one marketing suite that has pretty much everything you need to make money from digital products, subscriptions, courses, and memberships.
It comes with the option to automate loads of your processes, so you can save time but also generate income by keeping in touch with your customers or audience on a much more regular basis. Contact customers when it matters, for example, if they have visited your site without making a purchase or watched a video but have not bought anything from you.
Kartra Pros and Cons:
Everything you need to make money online in one package
Good value for money
Easy to use
Automate processes such as customer welcome email sequences
No free plan available
No free trial
Who Should Use It?
Kartra is a great option for anyone looking to scale their digital product or membership business (but check out Kartra vs Kajabi to see how they compare). It's pricey, but the wide range of tools included means you won't need to spend money on any other software.
Pricing:
Their Starter Package allows you to process 2,500 leads for $99 a month. If you need more than this, then you can upgrade to their Silver Package for 12,500 leads for $199/month. Get up to 25,000 leads with their Gold Package for $299/month or go for their top package of $499 and have their Platinum package for 50,000 leads. You'll also get a discount on these prices if you pay annually rather than each month.
---
10. Substack
Substack is designed to enable publishers to make money by selling subscriptions to their content. With Substack, you can create free and paid subscriptions to your newsletter, podcast, blog content, or videos. Some people even say that Substack is the new blogging.
It's a great option for anyone with a high-value newsletter and an engaged audience. The only downside is you won't be able to use the same platform to sell other products if you decide to diversify your income.
Read our full Substack review for everything you need to know about this awesome platform.
Substack Pros and Cons:
Very easy to use
Substack has an internal network where it will promote your newsletter to help you grow your paid subscribers
They handle all aspects of payment processing and customer support
Create subscription podcasts, newsletters, posts, and videos
Build an active community by enabling comments and threads where you can interact with your subscribers
Substack takes 10% of the revenue you make
The minimum subscription fees are high, which may put people off subscribing
No option to sell other digital products
Who Should Use It?
Writers, bloggers, podcasters, coaches, and thought leaders who have unique value to share will love Substack.
Pricing:
Substack is free to use, but if you want to have paid subscriptions, Substack will take a 10% cut of your earnings. Stripe payment processing fees are also charged on top of this.
---
11. Kickstarter
Kickstarter is one of the original crowdfunding platforms. It allows creators snd entrepreneurs to ask for donations towards a set project or product idea.
It's a great way of allowing supporters to feel part of a project because their financial support literally goes towards bringing the idea to life.
Kickstarter Pros and Cons:
Trusted crowdfunding platform
Great for one-off projects and product ideas
Projects are vetted, so donors can feel confident in where their money is going
There is no guarantee your project idea will be accepted
It's all or nothing – you only get funding if you meet 100% of your target
You need to offer physical rewards to those donating.
Who Should Use It?
Kickstarter is ideal for creatives that have a one-off project they want to fund. It could be anything from a new product that is to be designed and developed to funding the publication of a new book.
Pricing:
You'll need to set a target when arranging the Kickstarter - if you don't meet this target, you get none of the funds but you also don't pay any fees. If you do meet the target, then you'll pay a small transaction fee per pledge made, 3-5% payment processing fees, and a Kickstarter fee of 5%.
---
The Verdict: Which is The Best Patreon Alternative?
When it comes to making the most out of your online presence and monetizing your content, there isn't a one-size-fits-all approach. You'll need to consider your target audience and the demographics of your followers because this could have a bearing on the donation platform they are most likely to respond to.
With that said, we've selected our top free and paid options from this list of Patreon alternatives to help you narrow it down.
Best Free Patreon Alternative
If you're looking for an easy-to-use platform where your followers can spot you the price of a cup of coffee, then Ko-Fi and Buy Me a Coffee are both great options.
Although you'll pay a small (5%) fee on any donations made, the options that come with no monthly subscription fee work well for plenty of online creators. Unlike Patreon, both of these allow you to accept one-off tips and donations.
For those looking to get started with selling online coaching and digital products, Podia has an excellent free package available. This is a great way to explore how it all works and get yourself started in the right direction. You can also use Podia's free plan to build paid communities and subscriptions with access to exclusive content.
Podia's free plan basically offers everything that Patreon's Pro plan has, plus the ability to sell a digital product and offer private coaching.
Best Premium Patreon Alternative
If you're happy to pay for your monetization platform, then there are lots of great options to choose from.
For starters, Podia, which we already mentioned as a great free option, has plenty of upgrades available to those that need a little more from their platform.
For Instagram and TikTok influencers, Hy.Page is a great Patreon alternative that allows you to get everything together in one place while monetizing it at the same time. You can add affiliate links, accept donations, sell digital products, create a membership, and even allow custom requests.
HyPage is currently offering an amazing lifetime deal on AppSumo, which is well worth jumping on!
Want to learn step-by-step how I built my Niche Site Empire up to a full-time income?
Yes! I Love to Learn
Learn How I Built My Niche Site Empire to a Full-time Income
How to Pick the Right Keywords at the START, and avoid the losers
How to Scale and Outsource 90% of the Work, Allowing Your Empire to GROW Without You
How to Build a Site That Gets REAL TRAFFIC FROM GOOGLE (every. single. day.)
Subscribe to the Niche Pursuits Newsletter delivered with value 3X per week