Tactical Arbitrage vs Oaxray: Which Is the Best Tool and Why?
When you buy something through one of the links on our site, we may earn an affiliate commission.
Before we get into checking Tactical Arbitrage vs Oaxray and trying to decide which one is best for your purposes, you may be questioning why you need to pay for online arbitrage (OA) tools and solutions in the first place.
Online arbitrage is a pretty straightforward way to earn money. All you have to do is some online sourcing, purchase items at a low cost from an online retailer, and then resell them for a profit as an Amazon seller or on another marketplace.
Right?
That may seem too fantastic to be true, and it is.
Online arbitrage is difficult. It is not a "get-rich-quick" plan, and many individuals who try it wind up broke with a lot of inventory they can't sell.
The key to profitable online arbitrage is to use tools, data, and a systematic strategy to discover the correct products, understand your revenue and margins, and sell your items at a profit.
While it is possible for Amazon sellers to run a semi-successful arbitrage business without the right online arbitrage tools, the correct online retail arbitrage software offers many advantages and helps you save time and increase your profit margin.
When it comes to choosing between Tactical Arbitrage vs Oaxray, it really comes down to what you want out of your software. In this article, we'll be showcasing the attributes of each and comparing the two.
What Exactly Are These Tools?
Tactical Arbitrage and Oaxray are online arbitrage softwares that allow Amazon sellers to look for potentially profitable items in online retail establishments. They both support several third-party sites, and both have distinct characteristics that make using them extremely helpful for an online arbitrage business wanting to increase potential profit margins.
Why Use These Tools at All?
There are millions of items for sale online, all at varying prices. Arbitrage strategies that involve manually obtaining and processing the information from online stores, then unearthing the rare, hidden inventory, take a significant amount of time and resources.
Product sourcing tools let you locate the most profitable products by automatically comparing prices across hundreds of online merchants.
Arbitrage tools continuously scan thousands of retail or online outlets for bargains and profitable products. And you can set the search filters so that only the types of goods you want to sell are sourced.
Entrepreneurs wanting to diversify their revenue streams should consider Amazon, which offers a simple, accessible, and likely profitable option to do so. Amazon is a potential market for anyone who wants to make money through eCommerce, with 200 million paying Prime members worldwide.
Each Amazon product is assigned a sales rank. This indicates how well it sells compared to other things in its category or subcategory.
The lower the number on the sales rank, the faster the product sells. This is also known as the Best Sellers Rank (BSR) and helps you quickly locate high-trending products with limited competition so you can spot potential for profitable deals.
Both arbitrage tools search Amazon sales ranks as well.
Tactical Arbitrage Review
Tactical Arbitrage (TA) is a powerful tool that scans a retailer's website for online sourcing of possible bargains to resell on Amazon as profitable deals.
It accomplishes this by monitoring almost 1,000 third-party retail websites and comparing their pricing to Amazon's, searching for buy-low, sell-high opportunities.
It is one of the most powerful online arbitrage and wholesale product research tools available to online sellers now.
TA works well for internet arbitrage, Amazon flips, and wholesale scanning. TA is a fantastic tool for starters since it offers simple search features and tools, including wholesale search and reverse lookup.
Tactical Arbitrage offers enough complicated functions to also satisfy full-time, experienced Amazon FBA (Fulfillment by Amazon) sellers with more advanced strategies wanting to enhance profit margins or identify new sources for their items.
With Amazon FBA, products are shipped to Amazon warehouses by sellers for order fulfillment. Until a consumer places an order, Amazon keeps the inventory. The order is then picked, packed, and shipped by Amazon.
What is Oaxray?
Oaxray is an online arbitrage tool that converts search results for 21 major eCommerce sites and online marketplaces into spreadsheets of data for easier identification of online arbitrage opportunities.
You find and buy profitable products, send them to the Amazon FBA service, and then sell them for a net profit.
Functionality and Features: Tactical Arbitrage vs Oaxray
Below is a simple explanation of the workings of two highly complicated tools. Still, the point is to demonstrate that, while comparable, each tool works significantly differently in obtaining the results to give you a competitive edge.
Tactical Arbitrage
Tactical Arbitrage is a database of retail shop search results. The user accesses the TA website and selects the retailer website or shop and category with their filters.
Then the TA research tool starts to work, searching the whole category and saving the findings in a file. TA offers:
An extensive database of scanning websites and countries
An Advanced Matching Algorithm to reduce mismatches
Live or cached functionality for speed and accuracy
The ability to analyze huge product lists from wholesale suppliers
A powerful Product Search Page with comprehensive search filters
Features to find Amazon flips quickly
Basic Views to shorten the learning curve
An "Always Be Scanning" feature to find profitable products on automation
The ability to locate Refillables using the View Inventory Page
Online sourcing with Reverse Search tools to locate suppliers for any product
Who is Tactical Arbitrage Best Suited For?
A user who has intermediate to advanced knowledge of online arbitrage
Those who regard themselves as technologically savvy
Users who like to scour the far reaches of the internet for offers on unusually sourced websites
People who want to be able to source with complex filters and settings
Users who like to do large-scale searches (100+ links)
Oaxray
You get quick results with Oaxray, one page at a time. Oaxray offers:
To find all the details you need for each product
The ability to set up alerts for nearly-completed transactions
A feature to look for dropshipping options
To take note of price matching
Locate used books to resell
Profitability hunting for Amazon and over 100 other online businesses
An offline link-based search tool that transforms the way users operate their products
Plus 20 more special features
Dropshipping is when you use a third-party seller who has warehouse space available to stock your merchandise. When a consumer buys from you, your supplier ships the goods directly to your customer.
Who Should Use Oaxray?
Sellers who are just getting started with online arbitrage or have less than two years of experience with OA software
People who would not consider themselves tech-savvy
Those who have a select set of stores they source from monthly but still want the ability to search other sites
Users who want to access a product search results page immediately and quickly make a purchasing decision
TA allows for 10 current searches and 10 more in the queue. Even with all these results pouring in at various times of the day and night, there are times when the VAs (virtual assistants) require additional searches to keep them active.
Oaxray is the ideal instrument for these situations. It's also useful for fast checking out a bargain that you weren't aware of in time rather than conducting a TA search.
To discover bargains, sourcing agents often use both Oaxray and TA. Both tools have proven to be essential components of the business.
Time Required for a Scan: Oaxray vs Tactical Arbitrage
Oaxray scans online shop pages one at a time; the length of the scan depends on the number of items on the page.
You can configure it to search many pages at the same time. People typically utilize Oaxray when they scan fewer articles and generate a smaller amount of data in a single sitting.
A Tactical Arbitrage scan allows you to set it up and walk away from it. The tool sends a '"scan completed" text message, so you don't have to keep checking the status.
The time it takes depends on how many items are in the category you're scanning and whether you're scanning a bulk list.
Can You Use a Virtual Assistant? Tactical Arbitrage vs Oaxray
You can use virtual assistants on both TA and Oaxray.
Training and Learning Curve: Oaxray vs Tactical Arbitrage
Even if you're a tech whiz, you'll need to watch all of the training videos to get a general understanding of all that Tactical Arbitrage lets you do. The tutorials do an excellent job of introducing the fundamentals of the tool, but there is still a lot to learn to grasp this software's capabilities completely.
Oaxray is an excellent tool for training a novice seller. It is less daunting than Tactical Arbitrage, allowing new users to build confidence in their ability to digest the outcomes more rapidly.
The more complicated functions necessitate more knowledge, but the system is quite simple to use overall. Because it's so easy to use, Oaxray has a significant advantage in the online arbitrage software market.
Both Tactical Arbitrage and Oaxray provide fantastic YouTube channels with lessons to help you get started with the Chrome extensions.
Pricing: Tactical Arbitrage vs Oaxray
How do Oaxray and Tactical Arbitrage compare when it comes to the cost? Let's compare prices…
Tactical Arbitrage pricing:
The Flip Pack is the most basic, with fewer features, and contains only the Amazon Flips and Library Search tools for locating books to flip on Amazon.
The only package that allows you to gain access to all of Tactical Arbitrage's capabilities, such as Product Search, Reverse Search, Wholesale, Amazon Flips, Library Search, and Always Be Scanning, is the full suite, and that's not cheap.
Oaxray's pricing is really quite similar for access to the same resources at the most basic plans; then, of course, there's a bit of a price difference as the plans offer more features.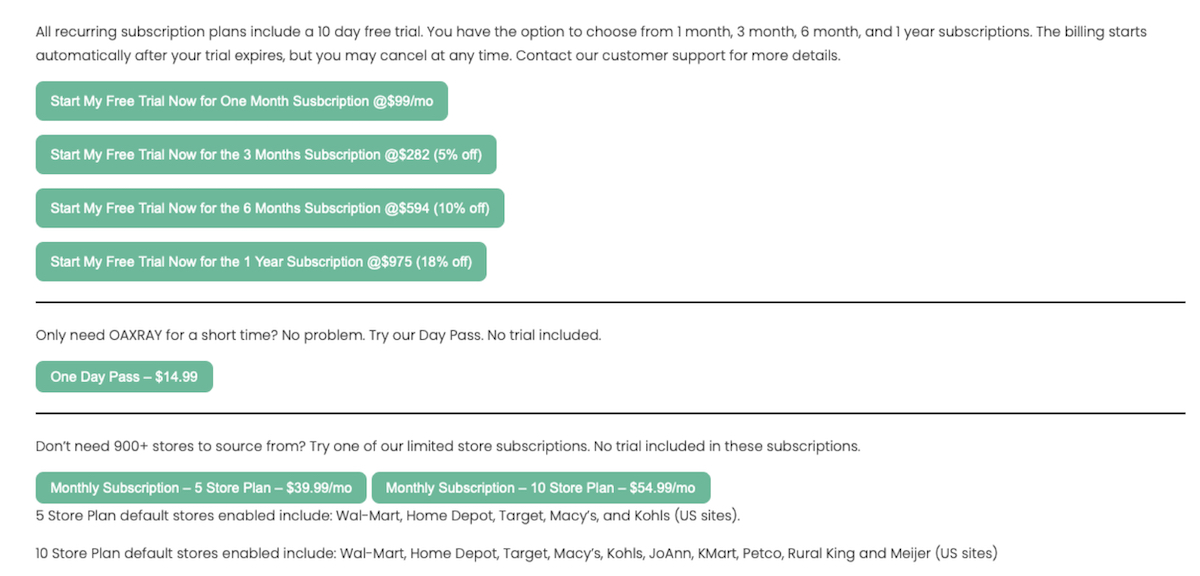 All recurring subscription plans include a 10-day free trial.
One x Month Subscription @$99/mo
Monthly Subscription – 5 Store Plan – $39.99/month
Monthly Subscription – 10 Store Plan – $54.99/month
The 5 Store Plan default stores enabled include Wal-Mart, Home Depot, Target, Macy's, and Kohls (US sites).
The 10 Store Plan default stores enabled include Wal-Mart, Home Depot, Target, Macy's, Kohls, JoAnn, KMart, Petco, Rural King, and Meijer (US sites).
Tactical Arbitrage Pros and Cons
Pros
The low-cost plan allows you to test the program
It reduces the amount of time spent on product search
Integrates with other retailers
Has a solid user rating
Membership grants access to over 100 pricing resources to find profitable inventory
Usability is good
The client service is excellent
Cons
Product searches are not available in all plans
Lower-cost plans have few features
The full features plan, which is what you would need, is expensive
You must have an Amazon Seller account even to use the free trial
Oaxray Pros and Cons
Pros
A low-cost plan allows you to test the program
Usability is easy
Client service is great
Allows for quick searches
Cost-effective
Cons
Limited search functionality
Not suitable for deep, long-range searches
Key Differences: Oaxray vs Tactical Arbitrage
Both tools have very similar features; however, the key difference is that Tactical Arbitrage includes the features set out below, and Oaxray does not.
Set Scan and Leave Computer
Incentives for fixing incorrect matches
Ability to add your own websites
CSV file Bulk Upload option (bulk upload and multi-site upload)
Uses Amazon flips
Oaxray uses AZ-AZ Deal Finder.
Conclusion
Online arbitrage is a fantastic business opportunity that allows you to profit from the world's largest eCommerce marketplace. Tactical Arbitrage and Oaxray are excellent weapons in your arsenal in this business.
The tools' automated technology-based features are a godsend for Amazon sellers because they save a lot of time and effort.
Tactical Arbitrage has a wide range of capabilities and an advanced configuration to meet any user's needs.
Is Tactical Arbitrage worth it? New sellers probably should start with Oaxray to understand how to use the software in its totality and then go on to Tactical Arbitrage for more advanced features.
Choosing the best of the two tools is a close battle, but Tactical Arbitrage comes out on top in the final analysis – as long as you have the patience to learn how to use its many excellent features.
Get a One-Week Free Trial of Tactical Arbitrage
The personalization of the searches you can perform with this software is exceptional, and the new capabilities creator and owner Alex Moss adds on just about every week are excellent.
Want to know more about online arbitrage? Be sure to read our article: Reselling on Amazon: How to Become a Reseller & Succeed in Retail Arbitrage.
If you are a complete novice then this article may be the best place to start: Retail Arbitrage Amazon – How to Sell on Amazon for Beginners [With Real Product Examples].
Want to learn step-by-step how I built my Niche Site Empire up to a full-time income?
Yes! I Love to Learn
Learn How I Built My Niche Site Empire to a Full-time Income
How to Pick the Right Keywords at the START, and avoid the losers
How to Scale and Outsource 90% of the Work, Allowing Your Empire to GROW Without You
How to Build a Site That Gets REAL TRAFFIC FROM GOOGLE (every. single. day.)
Subscribe to the Niche Pursuits Newsletter delivered with value 3X per week