How to Optimize Your Blog for Monetization: 16 Helpful Tips
When you buy something through one of the links on our site, we may earn an affiliate commission.
Want to know how to optimize your blog for monetization?
Whether you've already got a blog or want to start one.
The question is:
How do you increase your earning potential with the traffic you get?
Well, in this post, we share 16 tips to optimize your blog for monetization.
You'll learn:
Different monetization options
How to get more traffic
Ways to increase engagement
How to turn eyeballs into income
And much more.
Let's dive in.
If you want a deeper dive into blog monetization, you might consider The Affiliate Lab. This course by affiliate marketing expert, Matt Diggity, will guide you step-by-step to blogging success.
Know The Different Ways To Monetize A Blog
If you want to optimize your blog for monetization, you'll need to know the different blog monetization strategies available.
This will help you plan for optimal growth.
You might want to start with just one in the beginning, then add more as you gain traffic.
Later in the post, we'll explore how you can optimize these revenue streams to get the highest possible conversions.
For now, here's a quick overview of the most common ways to monetize your blog.
Affiliate Marketing
Affiliate marketing is one of the easiest ways to start monetizing your blog.
This is where you promote products on a site like Amazon and earn a commission when someone buys through your affiliate links.
One of the many advantages is that there are plenty of affiliate programs for beginners and you can start promoting products right away.
Then, you only need to focus on publishing high-quality content and driving traffic to your site.
The downside is the low commission rates. If you're only getting 3% - 6%, you'll need a decent amount of traffic or very high conversions to make a living.
Display Ads
Display ads are another low barrier to entry for monetization.
Google Adsense accepts new blogs, and even other ad networks like Ezoic have removed their 10,000 monthly pageview threshold.
Like affiliate marketing, applying is a simple process, and you can have ads on your site within a few days.
However, the disadvantage of ads is also similar to affiliate links. You'll need a lot of traffic before making a substantial ad revenue.
Online Courses
Online courses are one of the most attractive ways to monetize a blog.
That's because you can charge higher prices than the average affiliate product and you get to keep 100% of the revenue.
There are some drawbacks to using this method to optimize your blog for monetization. Creating an online course takes time, dedication, and more expensive courses will be harder to sell.
Digital Products
Digital products are similar to online courses, except they're downloaded to consume or have some kind of utility.
This can be an ebook, software, mobile apps, Notion or spreadsheet templates, NFTs, and more.
Like courses, you can sell digital products at whatever price point you like. This can bring in high amounts of revenue, with little traffic.
But, you'll need the right kind of traffic for the best results. More on this later.
Sponsored Posts
Sponsored content is where a company pays you to promote their products or services on your platform.
This can be a one-off payment or monthly recurring depending on a variety of factors.
The benefits of using this way to optimize your blog for monetization are the guaranteed income you'll get for the term of your contract. You can also gain brand awareness and attract other brands to sponsor you.
The downside is the reputation, credibility, and often traffic you need before brands will work with you.
Paid Membership
A paid membership comes in many shapes and sizes.
You can offer online courses with a paid subscription or start a paid community in a Facebook group or on Patreon.
The idea is that your audience wants closer access to you so pay you on an ongoing basis.
Paid memberships are often appealing because of the community aspect and support they receive.
How to Optimize Your Blog For Monetization (16 Expert Tips)
Knowing how to optimize your blog for monetization is all about growth marketing and conversion rate optimization.
You need a solid foundation to start with, a system to maintain growth, and tweaks to make improvements.
All are based on metrics that can be measured.
Here are 16 tips and strategies to optimize for blog revenue.
1. Understanding Your Target Audience
Imagine you have two blogs, both getting 50,000 visitors per month.
One of the blogs is making over $1,000 per month and the other is making $0.
What's the deal?
Sure, there are a lot of factors involved, but understanding your target audience is a critical one.
If you want to write engaging content that converts, start by learning what your readers' needs and wants are.
What are their struggles? What are their fears?
To find out, here are some steps to get you started.
Analyze your competitors: How do your competitors communicate with their audience? What pain points do they focus on? What solutions do they help solve?
Read what people share: In YouTube comments, social media posts, course or book reviews, and forums.
Get insights from keywords: When doing keyword research, question-related keywords will give you clues as to what people need help with.
Create a customer avatar: Lastly, create an avatar with all the data you've collected. Then, write for this one person in all of your blog content.
When you follow these tips, it will make a drastic impact on the connection you build with your audience, leading to higher conversions and more income.
2. Match Content With The Right Monetization
When writing content for your blog, always have in mind how it can be monetized. This also means pairing content with the right monetization strategy.
Is it affiliate related? If so, what would be the best type of affiliate product?
If the content is informational, how can you utilize display ads better?
How about sponsorships? If you're promoting a specific brand, you might be able to get a sponsorship deal by reaching out to them directly.
Lastly, depending on the intent of your content, it might convert better if you offered a consulting service instead of an affiliate product.
Paying attention to the intent of your content will help you find higher-converting offers and optimize your monetization strategy.
3. Use A High Quality Theme
The design and quality of your blog are vital. If the design is too cluttered, it'll distract visitors away from your offers.
And if the quality of the code is too heavy, it will slow down your site's performance.
Both of these will hurt engagement, generating leads, and converting sales.
If you're using WordPress, consider choosing a minimalist WordPress theme.
Two great options are Astra and Bloksy. Both offer free and premium versions and have tons of templates to choose from.
This means you can choose a design that fits your brand and that is optimized for monetization.
4. Optimize Your Page Speed
Choosing a fast theme is just the first step. Over time, the content, images, and extra plugins can start to slow things down.
And website speed is important for a couple of reasons.
First, it's necessary for better user experience and engagement. Studies show that 1 in 4 visitors leave a website if it takes more than 4 seconds to load.
Second, page speed is a Google ranking factor. That means your website's rankings will suffer if it's too slow.
So, how do you make sure your site is performing at its best?
Here are some guidelines to follow:
Choose fast web hosting such as Iridium Hosting
Check Core Web vitals in Google Search Console
Install a caching plugin like WPRocket
Optimize images with ShortPixel (check out our ShortPixel review)
Keep your theme and plugins up to date
Consider a CDN like Cloudflare
5. Focus On One Traffic Source at a Time
There are tons of ways to generate traffic to your blog. But the best way to optimize all of them is to focus on one at a time.
This gives you a better understanding of how each one works when you put all your efforts into one.
You're also able to accurately test the traffic source you're working on and develop systems for improvement.
Once you've gained mastery over one source of traffic, it becomes easier to maintain and doesn't need so much attention.
You can start experimenting with a new traffic source and dial that down to near perfection.
What are the best traffic sources for your blog and which should you focus on?
Every blog needs content, so it makes sense to optimize for search engine traffic. Once you've 50-100 articles, you could look into other traffic sources.
Pinterest has also been a great source of traffic for bloggers. It's also something you can do alongside content creation, as Pinterest traffic doesn't rely on a huge following.
Organic traffic from Facebook. This traffic source requires more attention than Pinterest, as you'll need to grow a following on your Facebook page. However, the growth potential is almost unlimited.
Paid traffic with social media ads. If you learn how to use social media ad platforms, sending paid traffic can be very lucrative. As long as your blog earns more than you spend, it's a winning strategy.
Check out our other post for more ways to increase blog traffic.
6. Turn Traffic into Email Subscribers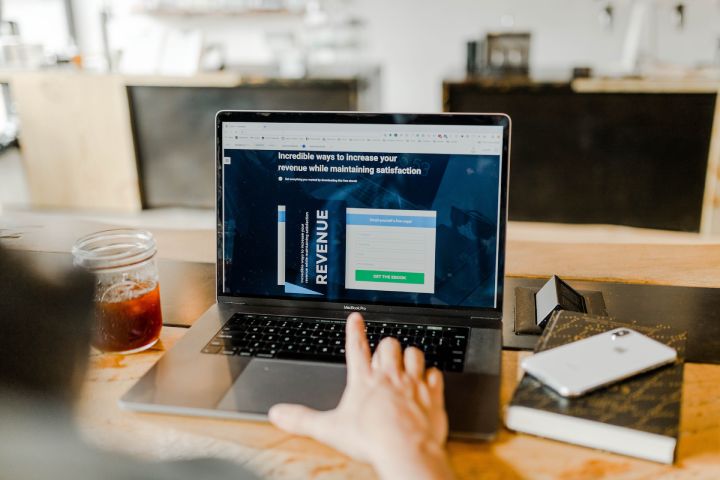 The most effective way to optimize your blog traffic is with an email list.
Why?
Because the average ROI on email marketing is 3600%. That's $36 made for every $1 spent. In contrast, SEO ROI is around 275% or $2.75 per $1 spent.
So it's a smart move to grow an email list so you can communicate with them directly and convert more sales.
Here are a few ways to collect more emails on your blog.
Place an opt-in form in visible places, like above the fold on the home page and blogroll
Offer a free lead magnet or email course to incentivize email subscribers
Add exit intent popups. These are less annoying popups that only show when a visitor is about to leave your site
Make your opt-in forms stand out with a striking headline, intriguing subheading, and a clear call to action
Lastly, track everything from impressions to CTR and even button color through AB testing
Try to add email marketing to your blogging journey as early as possible as this can propel your blog's growth exponentially.
7. Focus On One Offer Per Money Page
Many marketers make the mistake that offering more products will make them more money.
The truth is that it creates more decision fatigue or "choice overload", as discovered in the famous Jam study.
In 2000, psychologists carried out a study by offering 24 varieties of jam at an upscale food market.
On a different day, shoppers were shown only 6 varieties. The result of the study saw that people were 10 times more likely to buy jams with few options.
Hundreds of similar studies have been replicated over the years with similar results.
Less choice equals more sales.
And this is also the case for your blog content.
If you're recommending affiliate products, focus on promoting a single offer throughout the blog post.
Or if you're writing a roundup review, consider reviewing 5 products instead of 10.
You will almost always convert more sales when limiting the number of offers.
8. Write Search Engine Optimized Content
Search engine optimization is crucial for a winning blog.
If done right, the conversions can be much higher than most alternative traffic sources.
That's because people are specifically asking questions they need answers to into search engines.
The process is simple:
Find keywords with a keyword research tool like SEMRush
Check the current rankings for those keywords
Create a unique outline for each keyword that reflects the current rankings
Write the content and add an engaging title and introduction
Create internal links between related posts
Publish
If you're creating content for your blog anyway, it makes sense to optimize it for SEO.
When you increase organic traffic, you'll convert more sales and collect more emails as a result.
9. Create Content For Each Stage Of The Funnel
To master content marketing, you need to understand how the buyer's journey works.
The sales funnel is used to illustrate this because there are more people at the top than at the bottom.
People at the top of the funnel are unsure of the problems they are facing, but they are asking questions to figure it out.
The problem with many people at the top of the funnel is that many aren't committed to seeking a solution.
It can take years or even a whole lifetime to move to the bottom where they invest money to solve the problem.
The middle of the funnel is where people know the problem and want to learn how to solve it.
They aren't seeking to buy yet, they just want answers. To understand the causes and ways to prevent it in the future.
And the bottom of the funnel is where people are ready to buy, they're just looking for the "right" things to purchase.
Creating a blog content strategy for each stage will encapsulate the entire buyer's journey, keep people on your blog for longer, and build more trust.
For example, if you provide every piece of content, from raising the readers' awareness to knowing exactly what to buy, your conversion will go through the roof.
10. Optimize Internal Links
Internal links are essential for establishing topical relevance and achieving more rankings.
For search engines to find and index your content, they need to follow internal links on your site.
This can be easily achieved with the WordPress plugin Link Whisper.
Without Link Whisper, adding internal links manually can be a painstaking process.
All you have to do is add your content and Link Whisper recommends the most relevant articles to link to.
Then you add these links by selecting them and clicking a button.
Your user experience and search engine performance will improve as a result.
11. Make Your CTAs Stand Out
A call to action or CTAs tells your readers exactly what action to take. These are essential, as a lot of people will hesitate to take action or need to be encouraged.
CTAs can come in a variety of forms, such as buttons, text-based links, and even images.
Making your CTAs stand out will increase engagement and result in higher conversions.
Examples:
Let's get started
Try Link Whisper Today
Click Here to Save $10
They can be added multiple times throughout the content, in the sidebar, and popups.
Another expert tip is to make the button color a contrasting color to the rest of the site.
Use a color wheel and choose the opposite color of the wheel to your main color theme.
12. Optimize Ad Placements
When you signup for an ad network like Ezoic or Google Adsense, you'll be able to manually place where ads show up on your blog.
Technically, the more ad placements you have, the more impressions you'll get, and the more money you'll make.
But you don't want to overdo it, or you'll kill the user experience.
The best places to show ads are above the fold, in the sidebar, and at the top of the content.
This will ensure visitors start seeing ads as soon as they land on your site.
13. Promote Recurring Affiliate Programs
Another effective way to optimize your blog for monetization is to promote recurring affiliate programs.
These are affiliate programs that pay commissions every month that the customers you refer remain a customer.
Affiliate programs like Amazon are a one-time payout each time you sell a product and commissions are a low 3% on average.
But an affiliate program such as Aweber, pays 30% recurring and even increases after you refer 10 sales.
Prioritizing these types of offers will drastically increase your income.
14. Optimize Your Sales Process
This is a smart move if you sell a digital product, course, or membership subscription on your blog.
It involves making the sales process as seamless as possible.
First, it starts with engaging copy in your articles. Also using the previous tips such as focusing on one offer and displaying a clear CTA is key.
Second, limit the number of steps people go through on the checkout. A single page works best.
Lastly, make your checkout page minimal, provide enough details so they know exactly what they're buying, and share testimonials for social proof.
This can be set up easily on platforms like Gumroad or Payhip.
15. Hire A Team
It may not seem like an obvious way to optimize for monetization directly, but it's possibly the best move to make.
Hiring a team to manage all the parts of the blogging business model, has a ton of benefits.
First, it frees up your time so you're not overworked and creating bottlenecks in the business.
Second, it allows you to find more opportunities for growth and reach levels that are impossible by yourself.
And lastly, it will enable you to scale traffic a lot faster, which is the last tip on the list.
16. Scale Your Traffic
Scaling your traffic on multiple platforms is the goal for most bloggers.
This isn't a strategy you can implement until you have a solid foundation and established what works.
It's also advisable to have a team of writers, editors, and social media managers in place to go all in.
Then you can do what Spencer did to grow Niche Pursuits. Hire a bunch of writers and publish 800+ articles in 1 year.
This has grown his traffic to over 500,000 visitors per month:
Other bloggers focus on other means of traffic. For example, Hasib Alic is scaling his traffic with Facebook ads. His goal is $50K per month with a $50K budget.
FAQs
Here are some answers to frequently asked questions concerning ways to optimize a blog for monetization.
How Quickly Can You Monetize a Blog?
It's important to understand the question. Monetizing a blog doesn't mean actual income. It just means adding something to your blog that CAN make money online, like ads or affiliate links.
With that said, you can add several monetization methods immediately.
Google Adsense and affiliate marketing are just two methods. How much money you make will depend on things like traffic, content quality, and user engagement.
Using the tips in this article will help you earn more with your blog faster.
How Many Posts Do You Need To Monetize A Blog?
There is no specific minimum required to monetize your blog. A well-established blog will have 100 articles, but you can add monetization to a new blog with 10 articles if you like.
Create a solid foundation of 30 articles before even thinking about monetization. Keep adding more content and using the advice in the post, and you'll be successful at blogging.
How Do I Grow And Monetize My Blog?
Create blog content that is valuable to the reader, increase traffic with SEO, and add affiliate links and ads to your site.
This will give you tons of opportunities to grow and monetize your blog.
How Much Do Bloggers Make?
Blog income reports reveal how much bloggers make, which can be anywhere from a few hundred dollars per month to over $90,000 per month.
Optimize Your Blog for Monetization - Conclusion
That concludes this article on how to monetize your blog for monetization.
As you can see, there are many ways to increase your blog's income potential.
Many of these tips can be implemented once, like understanding your audience, adding an opt-in form, and improving page speed.
Whereas other methods of how to optimize your blog for monetization are more repeatable. Such as writing quality, search engine optimized content, adding clear CTAs and internal links, and focusing on one main offer per article.
Do you want a complete roadmap to make the most money with your blog? Check out Matt Diggity's course, The Affiliate Lab for more details.
Want to learn step-by-step how I built my Niche Site Empire up to a full-time income?
Yes! I Love to Learn
Learn How I Built My Niche Site Empire to a Full-time Income
How to Pick the Right Keywords at the START, and avoid the losers
How to Scale and Outsource 90% of the Work, Allowing Your Empire to GROW Without You
How to Build a Site That Gets REAL TRAFFIC FROM GOOGLE (every. single. day.)
Subscribe to the Niche Pursuits Newsletter delivered with value 3X per week