17 Of The Best Online Flea Markets for Buying and Selling Goods
When you buy something through one of the links on our site, we may earn an affiliate commission.
When it comes to finding great deals on used and pre-owned items, there's no need to hit up garage sales or thrift stores in your area. An online flea market offers a vast selection of inventory and great prices for any budget.
In this blog post, you'll learn about 17 of the best online flea markets and why you can trust them to provide quality products and great customer service.
---
vFlea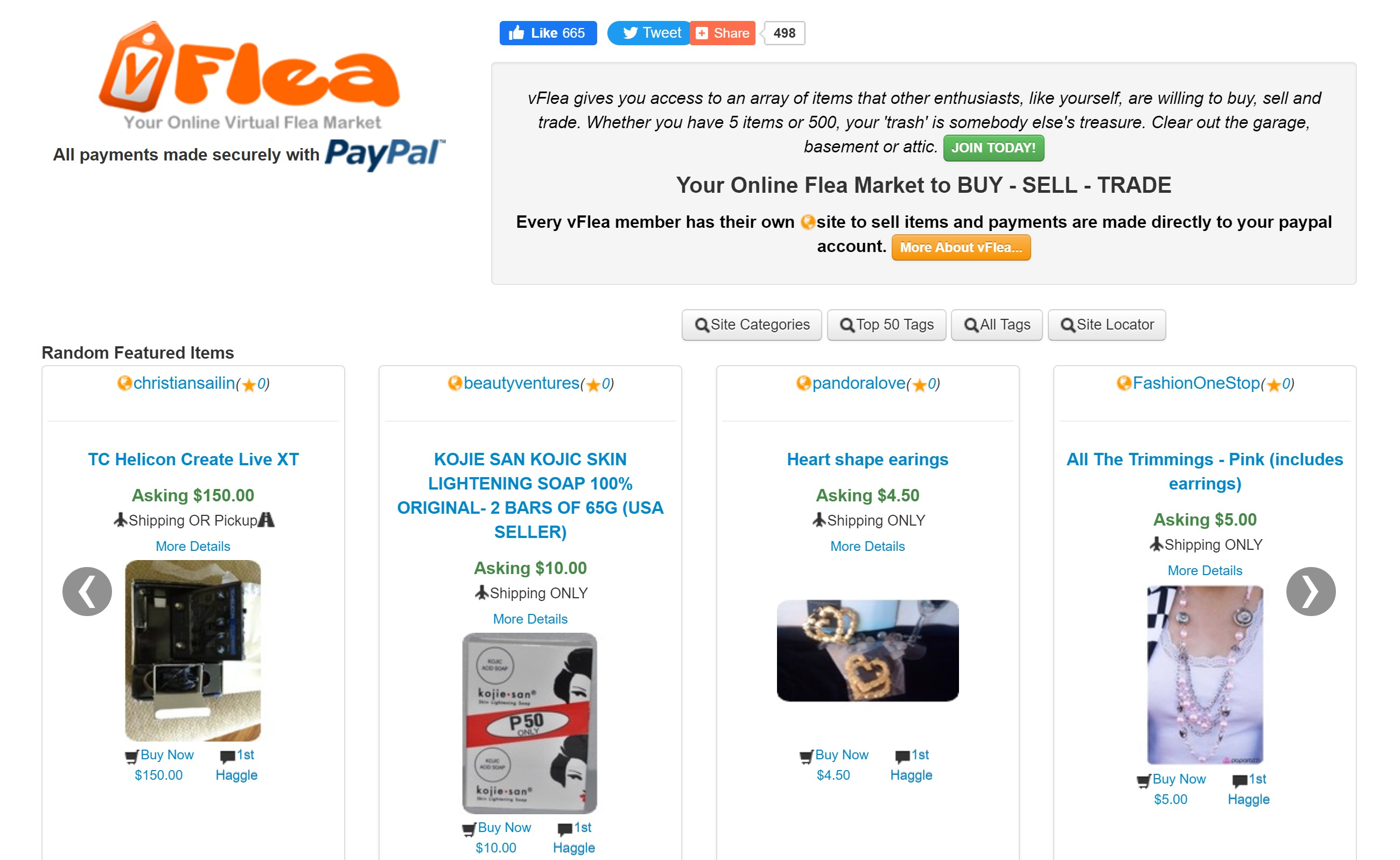 vFlea combines the elements of several online flea markets to make its own unique offering in the space. Sellers have more ownership over options for selling their items.
The platform is unique in that it has a haggle option as well as a barter option. A seller can choose to exchange their item for another item that someone else owns instead of exchanging money.
Buyers can choose to haggle several times with the seller instead of buying the item at face value.
Sellers can choose whether they offer shipping, local pickup only, or the convenience of both.
Unlike most online flea markets, it is well organized so you won't have any trouble finding the items you're looking for.
Pro Tip: Search vFlea using categories and tabs. Categories will give you broad selections while tags offer more detailed filtering.
---
Bonanza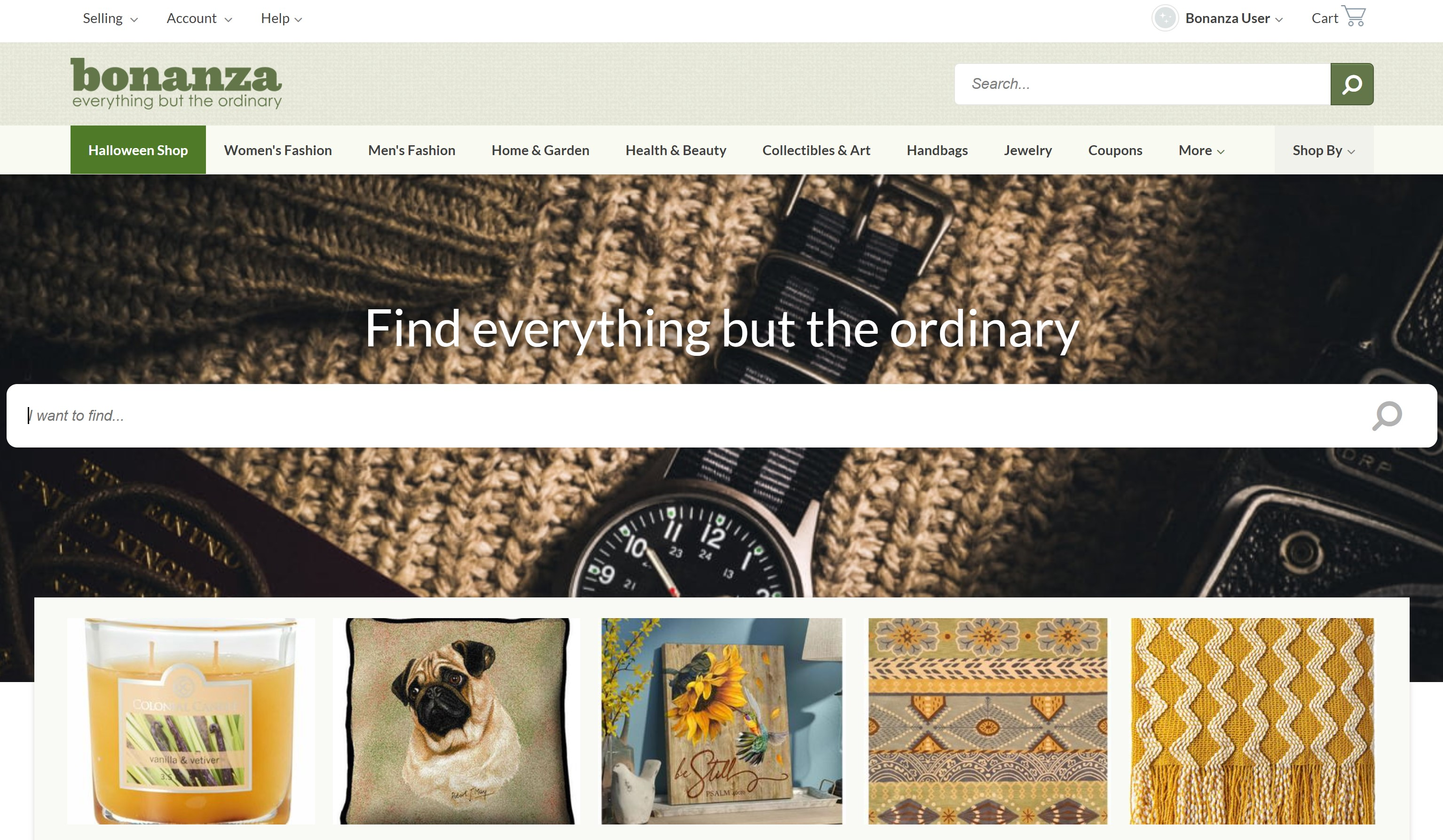 Bonanza is a lot like eBay in that it gives individuals who want to sell items a reliable place to set up an online storefront. You don't need any technical experience to create a store on Bonanza as the platform makes it easy for you.
The website walks you through the step-by-step process of setting up your store and listing items. You can also join Bonanza's affiliate program to earn money by referring other sellers and buyers to the platform.
Bonanza doesn't charge any listing fees, so it's free to list as many items as you want. The only time you'll pay a fee is when you make a sale. Bonanza charges a flat transaction fee of three percent and an additional two percent if you use PayPal.
Bonanza succeeds in bringing rare items to the online marketplace that you can't find anywhere else. Categories make it easy to search through items and there's even an "everything else" section for items that don't fit the confines of normal categories.
Pro Tip: Use the filtering tools on the left side menu when buying to find exactly what you're looking for.
---
eBay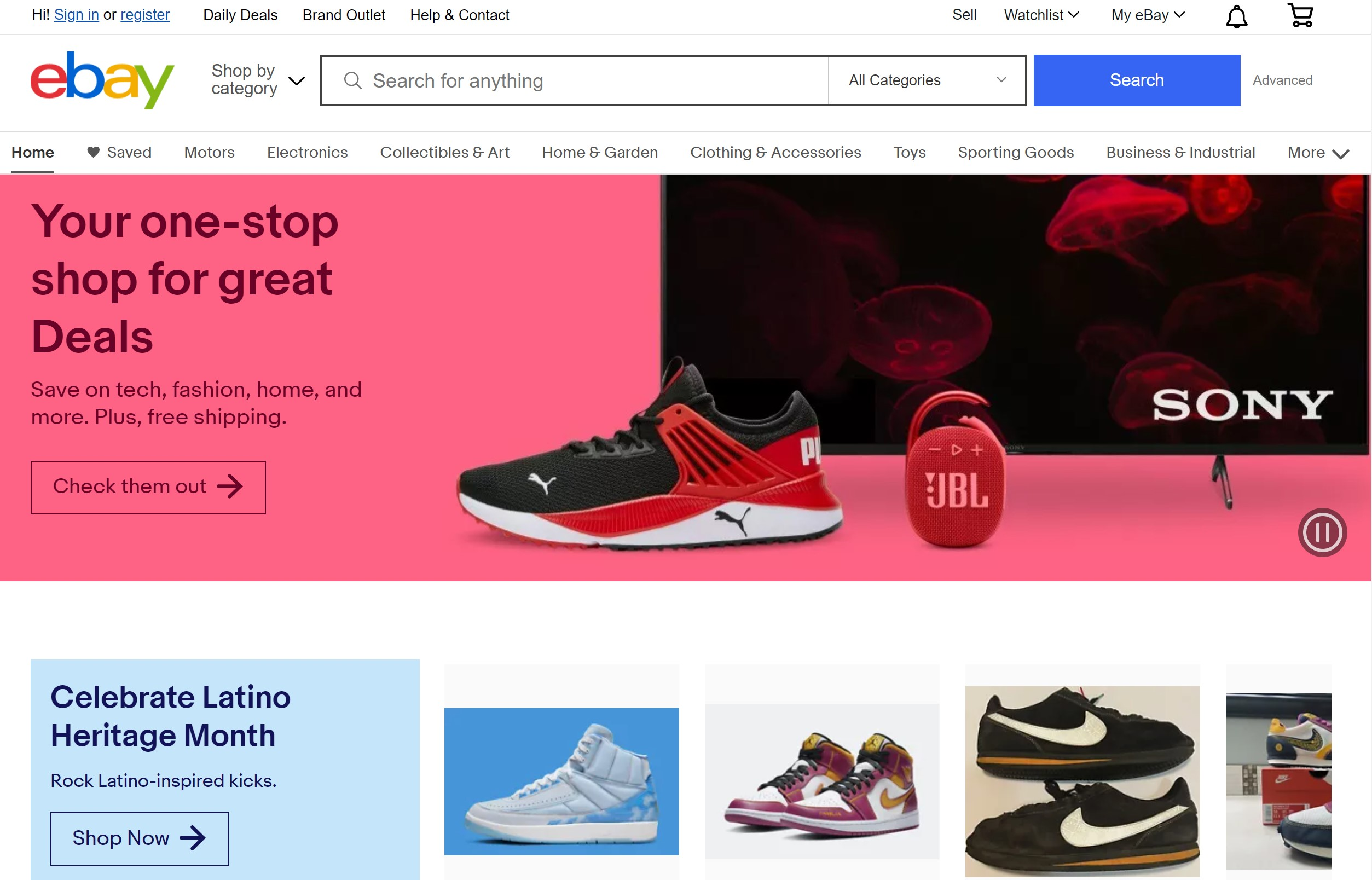 eBay is one of the longest-running online flea markets on the internet. People have been selling and buying items on eBay for over 20 years and it's still worth it to sell on eBay. There have been numerous eBay alternatives that have popped up, but this is the tried and true platform.
You can find just about anything you're looking for on eBay, from clothes and accessories to electronics and home goods.
Thanks to its ratings and feedback system, eBay has built up a reputation as a reliable place to buy and sell used items.
Items are put up for sale on the online auction site with a timeline the seller chooses, usually ranging from three to seven days. During that time period, any buyer can make an offer. If it's the highest bid when the time runs out, they get to purchase the item.
As a seller, once you set up a profile, you can start auctioning items to the highest bidder. Customers will leave feedback on your profile if you've provided a good service. Future potential customers can use this to get an idea of what type of seller you are.
Learn more about whether eBay is safe in our guide here.
Pro Tip: eBay charges a 10%-15% commission of the final value to all sellers. Sellers get up to 250 listings free and then there's a $0.35 fee per listing for any listings above that.
---
Etsy
Etsy is one of the online flea markets that specialize in unique craft items, vintage items, and handmade goods.
The online marketplace has become a go-to option for people looking for one-of-a-kind gifts or home decor items. And thanks to its ratings and feedback system, you can easily see which shops provide better service than others.
It's one of the more well-organized online flea markets with seasonal categories being added throughout the year. Once you start favoriting items, the Etsy algorithm will automatically show you similar items from different sellers you might like.
There is a bigger barrier to entry to become a seller on Etsy compared to other online flea markets. The competition is stiff to make money on Etsy, and you'll be selling among stores that are already established businesses. You'll need to worry just as much about branding and SEO on Etsy as you would selling an item from your own site.
Pro Tip: For every item you list on Etsy, there is a $0.20 listing fee and then Etsy takes a 6.5% transaction fee on top of a 3% + $0.25 payment processing fee. Normal taxes and shipping fees apply to buyers.
---
Craigslist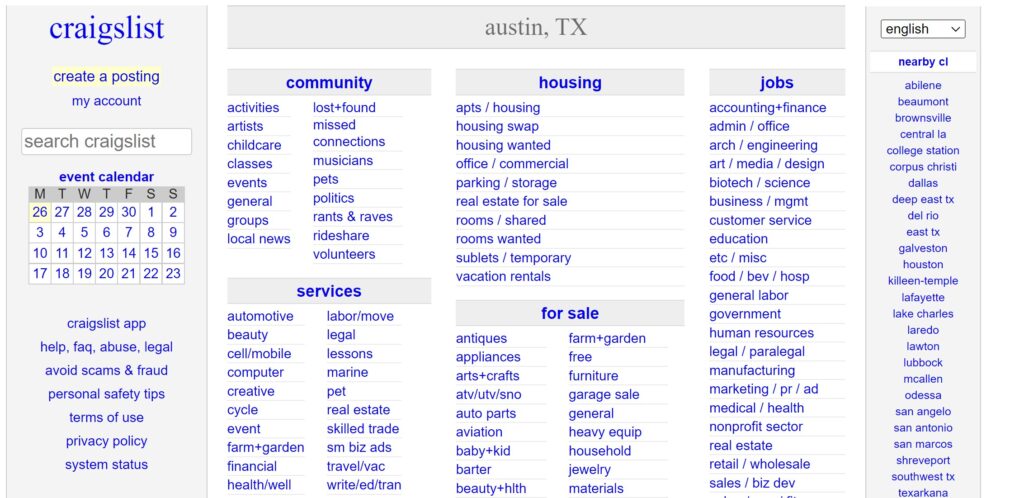 Craigslist is one of the longest-running online flea market sites and has been around since 1995. You'll find the platform works more like a traditional flea market than most others on this list.
Once you agree to purchase an item, you'll have to meet the person who owns the item in person to do an exchange. This makes the situation riskier, but you're able to find some of the best flea market deals on the most unique items using Craigslist.
The website is very straightforward and easy to use compared to a real flea market. Here are just a few of the types of items you can sell and buy with Craigslist:
Cars
Furniture
Electronics
Clothing
Homes
Boats
Computers
Cellphones
There are no listing fees to sell items on Craigslist, but there is a small fee for some categories like job postings or car listings. Overall, it's one of the better online flea market sites to buy or sell used items without spending money on fees.
Pro Tip: Be cautious when meeting up with strangers to complete a sale. It's always best to meet in a public place and bring a friend along for safety.
---
Nextdoor
Nextdoor isn't exactly an online flea market but it can be used as one. The app started as a way for local communities to discuss happenings and news in their area.
It quickly turned into a place where people could also buy and sell items to their neighbors. It's a great platform if you want to get rid of some old furniture or clothes but don't want to deal with the hassle of shipping them.
You can also find unique items for sale that you wouldn't find anywhere else like old prom dresses or grocery items.
Nextdoor is free to use and there are no listing fees. The only downside is that you can only sell to people who live in your neighborhood or a neighboring community. People who live in smaller towns might not even have access to a Nextdoor community.
Pro Tip: Get to know the people in your community before buying or selling anything. This will help build trust and make it more likely that you'll have a successful transaction.
---
Amazon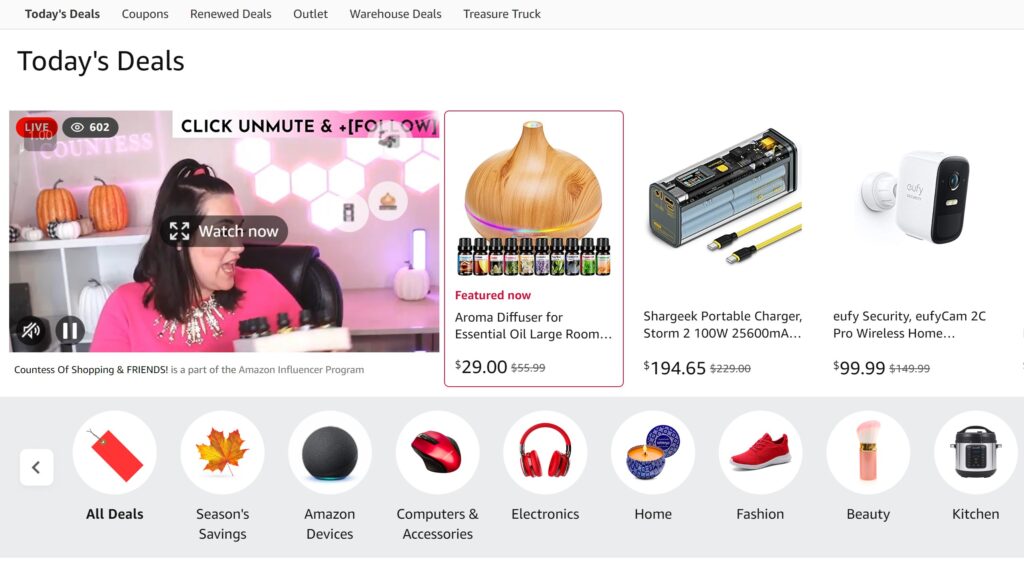 One of the largest online marketplaces in the entire world, Amazon allows anyone to sign up and start selling items. The Amazon Marketplace is a great place to buy or sell used items, especially if you're a Prime member and can take advantage of free two-day shipping.
As a seller on Amazon, you can list your items for sale in just a few minutes and start making money almost immediately.
The process is more involved than listing a product on sites like Craigslist or eBay.
Most sellers on Amazon are entrepreneurs who have created businesses and are now selling their items through the retailer. To have the full trust of customers and start making sales, you'll need to create a great online store that can stand up to the competition.
Pro Tip: Amazon has some of the highest selling fees of any online flea market. Unless you plan on selling items as a business like an Amazon FBA, it's best to use another platform.
---
Facebook Marketplace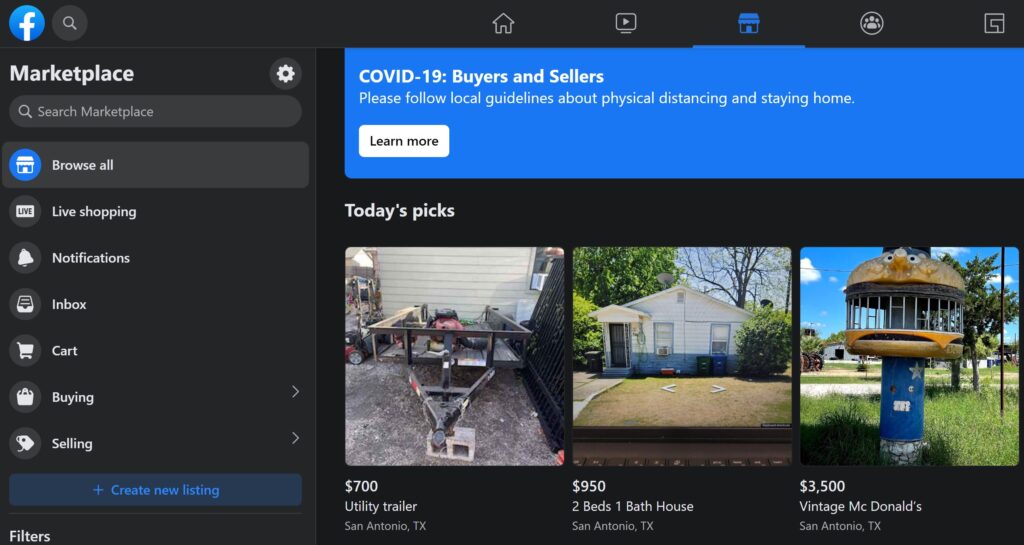 Although Facebook started as a social media platform, it's quickly become one of the best places online to recreate the atmosphere of a flea market.
In recent years, Facebook has made it easier to buy and sell items on Facebook with the introduction of the Facebook Marketplace. The feature allows anyone with a Facebook account to list items for sale in their local area. Buyers can browse through listings and message sellers to ask questions or arrange a meeting.
The best part about Facebook Marketplace is that it's free to use and there are no listing or selling fees. All sellers have Facebook profiles so you can always check someone's background if you feel cautious about meeting up (and go a step further by checking whether BeenVerified is legit).
Pro Tip: Items sell fast on the Facebook Marketplace and your best chance of finding the perfect item is checking the platform multiple times throughout the day.
---
Mercari
Simple and straightforward to use, Mercari makes it easy for anyone to buy and sell, regardless of their experience. The platform updated the concept of a flea market to the 21st century by creating an app that users can use on any device.
People can access Mercari from anywhere in the world and manage their listing while on the go (and we made sure to find out if Mercari is legit or 'too good to be true'). The platform is modern and easy to navigate compared to other options on this list.
You can put up however many items you want on Mercari with no extra cost, but you will pay a selling fee once the item is purchased.
You'll also pay a payment process fee and any shipping fees.
Buyers can get information on each seller and see all reviews easily. All payments are made through the platform so in-person meetings don't have to feel as risky.
Pro Tip: Haggling is accepted in Mercari. Before making a purchase, see if the seller is willing to come down on price.
---
OfferUp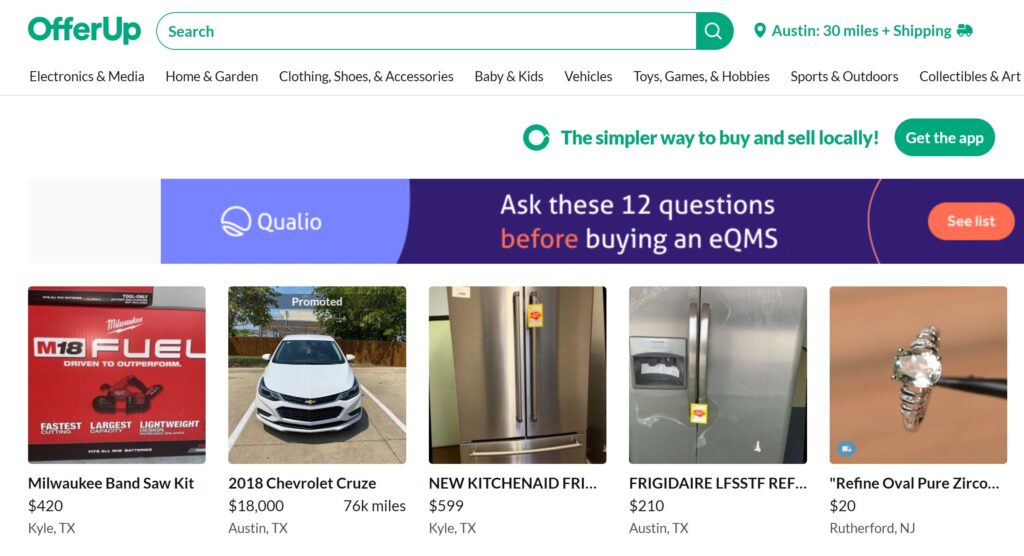 OfferUp is a no-frills marketplace that offers buying and selling of used items in local areas. The only difference to a platform like Craigslist is that OfferUp allows you to buy from any area, not just your local area.
Most people use OfferUp to get rid of clothes, furniture, and other home goods but the platform doesn't limit what you can sell. You can also find things like electronics and cars on OfferUp.
The platform even has an app that when downloaded, gives you access to manage buying and selling on the site using any device.
While most platforms require you to use your name and upload pictures of yourself, OfferUp allows you to remain anonymous.
This is helpful for sellers and buyers who don't want to share their information online but still want to participate. There are still ratings and reviews for all profiles so you can check the history of the buyer or seller before moving forward.
Pro Tip: If you are selling an item for a high price, OfferUp recommends that you request the buyer to pay with PayPal Goods and Services. This will give you protection against fraud.
---
Poshmark
Poshmark is an updated version of what you expect from online flea markets. The site is trendy and has a modern design that appeals to younger generations.
You can buy and sell new or gently used clothing, shoes, and accessories. Unlike some platforms that allow you to sell anything and everything, Poshmark has a focus on fashion (and we found out if Poshmark is legit). The site carries items for women, men, and kids of all ages.
There are multiple filtering options available including:
Size
Color
Style
Brand name
Occasion
The discounts on each item are shown clearly, and there is a buyer protection policy included with each item sold.
Poshmark also has a feature called Posh Parties where users can join in on virtual events to shop for specific items. This is helpful if you are looking for something very specific like a designer purse or a certain type of clothing.
Pro Tip: Poshmark allows sellers to create "stories" for their items. Use these to give your buyers a better idea of what they are getting.
---
The Internet Antique Shop
As the name might imply, this online flea market has been around since 1995 so it's a bit of an antique itself. One look at the site and you'll be able to tell it comes from another era.
Although it doesn't have the modern appeal of a platform like Mercari, you can still find some good deals on The Internet Antique Shop.
It's the closest thing to walking around a real flea market and finding a unique treasure in the midst of chaos.
There is a large list of categories you can choose from and each has its own subcategories. It may not be the easiest to navigate but it is organized.
No setup fee is charged to start a shop and each user is allowed unlimited listings with no fees. However, there is a $39.95 monthly fee all sellers must pay to use the platform.
Pro Tip: Buyers are able to ask a question to all sellers before buying. Use this feature to get more details from the seller.
---
Ruby Lane
Ruby Lane has a more classic and timeless appeal than some of the other platforms on this list. Buyers will find items that look antique but have a modern twist.
The online marketplace is updated for younger tastes and it's easy to navigate with the clear categories laid out. There are weekly and even daily new arrivals being highlighted so you'll never run out of things to browse.
Ruby Lane is one of the best online flea markets for buying and selling vintage items, art, and jewelry. The site also has a large selection of furniture for sale.
The marketplace has been around since 1998 and it pre-screens all the items that are listed.
There is a listing fee added to all stores with more than 15 items listed and a service fee of 9.9% for selling on Ruby Lane.
Pro Tip: Use the "Email Shop Owner" feature to negotiate a better price on an item you're interested in or ask more questions about the product.
---
5 Miles
Local sellers and buyers connect on this online flea market to buy and sell everything from clothes to cars. The 5 Miles app is available in most states with a few exceptions like Alaska, Hawaii, and Maine.
Since the platform is based on location, you'll be able to find things near you quickly and easily.
Listing an item is free but there is a service fee of $0.99 for items that sell for less than $15 and a flat rate of 10% for anything above that amount.
The dashboard of 5 Miles is addicting as new products are being bid on and updated in real-time to create urgency for the buyer.
Pro Tip: Pay attention to the "Time Left" feature on each listing. This is a countdown timer for when the listing will expire. If you see something you like, don't wait too long or someone else may get it first.
---
ThredUp
Instead of having to manage product listing, shipping, customer service, and payments, ThredUp takes care of the entire process for you. It's an online consignment and thrift store that only accepts and sells high-quality secondhand clothes.
If the clothes aren't accepted by the store, you have an option to have them returned to you or disposed of with no extra fee.
The site is easy to navigate and you can find clothing for the whole family, not just women's clothes. The prices are affordable and there are always sales and discounts available.
ThredUp is a great online flea market for people who want to declutter their closets and earn some extra cash. The consignment process is easy and the payout is typically within two weeks.
Pro Tip: Download the app to get exclusive discounts on clothes and seasonal items without having to log into the website.
---
Shpock
Buyers and sellers of used electronics and gaming equipment can use Shpock to find each other. This is a newer online virtual flea market but it's become quite popular in recent years.
The app is available for both Android and iOS devices which makes it easily accessible to potential buyers and sellers. Managing listings, handling customer service, and selling items from anywhere in the world is possible with the Shpock app.
The app has much more than electronics as people are able to trade:
Fashion
Home goods
Jewelry
Toys
Professional businesses are able to upgrade their account to use the platform to increase their visibility.
Shpock does not have any listing fees and they also don't take a commission on the items that are sold, making it one of the better online flea markets. There is, however, a small payment processing fee of £0.20 (around $0.22 USD) per transaction.
Pro Tip: Get Buyer Protection when purchasing an item. It might cost slightly more but helps to ensure that you'll receive the item as described by the seller.
---
Fleabay
If you are looking for online flea markets that work just like real ones but are translated for the internet, Fleabay is it. You'll have to search through the various ads that cloud the website but there is a search option right on the homepage.
The website is a bit dated and not as user-friendly as some of the other options on this list.
The listings are relatively low as well. There are several categories that simply don't have any items for sale. It's a bit like going to a flea market in a smaller town that just doesn't have enough items to be interesting.
Fleabay is one of those online flea markets perhaps best used as a fun online shopping experience where you don't quite know what you're going to get.
Pro Tip: If you are looking for a specific item, it's best to use another platform. Fleabay is only good for entertainment value, at best.
Best Online Flea Market to Make Quick Money
There is no shortage of online marketplaces that have the same energizing feel as a flea market. You can either get the traditional experience or use a platform that updates the experience to the modern era. Use the platforms listed above to buy and sell used items to make some quick money or get what you need at a discount.
And you may also want to check out our list of the best things to flip.
Want to learn step-by-step how I built my Niche Site Empire up to a full-time income?
Yes! I Love to Learn
Learn How I Built My Niche Site Empire to a Full-time Income
How to Pick the Right Keywords at the START, and avoid the losers
How to Scale and Outsource 90% of the Work, Allowing Your Empire to GROW Without You
How to Build a Site That Gets REAL TRAFFIC FROM GOOGLE (every. single. day.)
Subscribe to the Niche Pursuits Newsletter delivered with value 3X per week