Is BeenVerified Legit? Learn All About The Bizarre Background Check Business
When you buy something through one of the links on our site, we may earn an affiliate commission.
Since its inception in 2007, BeenVerified has been one of the leading background check companies in the United States, providing easy and affordable access to reports containing current and accurate information. But is BeenVerified legit?
The company has a wide variety of services offered to its clients, including seven different search tools to provide information on people, vehicles, and property. While there are many people who have had positive experiences with BeenVerified, there are also some people who have raised concerns about the legitimacy of the company.
In this article, we will take a closer look at BeenVerified and see if it is a legit business or not. Stay tuned!
About BeenVerified
Like most people, you probably don't spend a lot of time thinking about background checks. But the fact is, background checks are a vital part of our lives. They help us make sure that the people we're dealing with are who they say they are.
And that's where BeenVerified comes in.
Launched in 2007, BeenVerified is a public records search engine that allows users to access information about people and businesses. The company is headquartered in New York City and employs over 100 people. BeenVerified has been featured in major publications such as The New York Times and Forbes.
The website has received some positive reviews, with customers praising its ease of use and extensive database. However, some critics have raised concerns about the accuracy of the information provided by BeenVerified and the transparency of their pricing structure.
How Does BeenVerified Work?
There's no doubt that the internet has changed the way we live our lives. We can now do things that would have been impossible just a few years ago, and one of the most useful applications of this new technology is background checks.
Gone are the days when you had to rely on word-of-mouth or hope that the person you're dealing with is telling the truth about their past. Now, you can simply run a quick check online and get all the information you need.
But how does this process work?
BeenVerified is a website that offers a variety of public record search services. You can find out information about people, businesses, and properties. You can also use the site to run a background check on someone or to find out if there are any civil judgments against someone.
To use the site, you simply enter the name of the person or business you're interested in into the search bar. BeenVerified will then search through a variety of public records to provide you with the information you're looking for.
The site pulls data from a variety of sources, including state and county records, property records, and more.
Is BeenVerified Legit?
As anyone who has ever Googled themselves can attest, it is alarmingly easy to find out personal information about someone online. Whether you're looking up an old classmate or trying to find out more about a new neighbor, a simple search can turn up a surprising amount of data.
However, not all of this information is reliable, and it can be hard to determine which sources are trustworthy.
BeenVerified is arguably one of the most popular background check services available, and it's easy to see why (but you may also be curious to learn whether TruthFinder is legit). The process is simple and fast. To get started, create an account and sign up for a subscription. Then, you'll be asked to enter some basic information about the person you want to check up on.
Once you've done that, BeenVerified will run a search through billions of public records to find everything they can about your subject. In just a few minutes, BeenVerified gives you access to criminal records, employment history, social media profiles, and more.
So, is BeenVerified legit? In short, yes. BeenVerified is a safe and effective way to search for public records. The site has been featured in major publications like The New York Times and is operated by a reputable company. Added to that, all the information it provides is already in the public domain.
However, it's important to keep in mind that the information on BeenVerified is only as accurate as the public records it pulls from. That means that some of the information may be out of date or incomplete. Nevertheless, BeenVerified is a legitimate site that can be a valuable resource for anyone looking to run a background check.
BeenVerified Features
BeenVerified is a robust people search engine that can help you find anyone, anywhere. Access billions of public records and get the information you need to stay informed and protected in just a few clicks. Included features are covered below.
People Search
With BeenVerified, you can find just about anyone from anywhere in the world. Input a name into the search bar, and the site will scour billions of public records to find information about the person you're looking for.
Reverse Phone Lookup
Need to find out who owns a phone number? With reverse phone search, you can enter a phone number and get information about the owner, including their name, address, and more.
Reverse Email Lookup
With reverse email lookup, you can enter an email address and find out more about the owner.
Reverse Address Lookup
With reverse address lookup, you can enter an address and find out who owns the property. You can also get information about the property, including its value, square footage, and more.
Username Search
Want to find out who owns a social media account or email address? With username search, you can enter a username and find out more about the owner.
If you're interested in finding emails, you might want to consider Hunter.io, which you can learn all about in our full Hunter.io review.
Vehicle Search
With a VIN or numberplate search, you can enter a vehicle's identification number and get information about the car, including its make, model, year, and more.
Unclaimed Money Search
Did you know that there's over $40 billion in unclaimed money in the United States? With BeenVerified, you can search for unclaimed money that may be owed to you.
Property Records
Looking to buy a new home? BeenVerified can help you find out more about the property you're interested in. Simply enter an address, and the site will pull up the relevant property records.
Public records can give great detail about a home. They can show you the names and personal information of the current and previous owners, as well as the sale and foreclosure history of the property. You can also find out about the mortgage and loan information, as well as census data for the neighborhood.
Background Checks
If you need to run a background check, BeenVerified gives access to criminal records, employment history, social media profiles, and more.
FAQ
Where does BeenVerified get their info?
We've all been there. You're curious about someone new in your life and you want to do a little digging or maybe you're trying to reconnect with an old friend. Whatever the reason, you turn to the internet for answers.
Where do you start? If you're looking for a comprehensive people search, BeenVerified is a legit option.
But where does BeenVerified get their information?
Much of the data on BeenVerified comes from public records. This includes things like criminal records, marriage licenses, and property records. However, BeenVerified also relies on data from private sources. This could include anything from social media posts to marketing surveys.
By combining information from multiple sources, BeenVerified is able to provide its users with a comprehensive view of the people and businesses they're interested in.
Is BeenVerified reliable?
There are a lot of reasons why you might want background reports on someone. Maybe you're going on a first date with someone you met online, and you want to do a little digging to see if they're as single as they say they are. Whatever the reason, you want to know that the background check service you're using is reliable.
BeenVerified is a legit background check service that can provide accurate information about people's pasts.
It's important to understand how BeenVerified works. This website gathers public records from a variety of sources, including government agencies and private companies. The search results information is then compiled into easy to read reports that you can access for a fee.
While the process is completely legal, it is important to note that BeenVerified is not affiliated with any government agency.
Can someone tell if you look them up on BeenVerified?
Many scams have done the rounds offering to show "who looked you up on Facebook." We all want to know who's been snooping on us. The same goes for BeenVerified - can someone tell if you look them up on BeenVerified?
The short answer is no, the person you look up will not be notified. Overall, you can rest assured that your searches on BeenVerified are confidential.
Of course, it's important to remember that everyone is entitled to their privacy. So if you do decide to look someone up on BeenVerified, be sure to use the information wisely.
Limits to using BeenVerified data
There are some limitations to how you can use the information contained within BeenVerified reports.
It's important to consider the implications of using BeenVerified. This website gives you the ability to find out personal information about someone without their knowledge or consent. As such, it's important to use this power responsibly and only when absolutely necessary.
Remember that this is someone's life you're looking into, and mishandling this information could have disastrous consequences.
BeenVerified is not a private investigator service nor do they provide consumer reports per the Fair Credit Reporting Act. The site and service should not be used to make decisions regarding:
Employment
Admission
Consumer credit
Insurance
Tenant screening
Any other purpose that would require FCRA compliance
How much does BeenVerified cost?
Like most legit services, BeenVerified offers either a one-month membership at $26.89 or a three-month plan at $52.44, which works out to be $17.89/month. Both options include a maximum of 100 searches per month.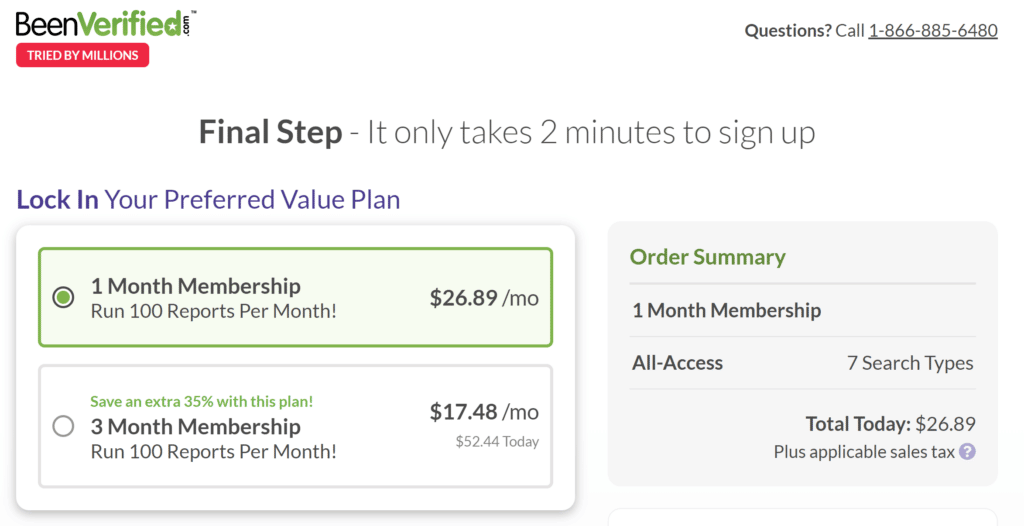 Could I find this info without using BeenVerified?
It is possible to find some of this information without using BeenVerified or any background check service, for that matter. However, these websites definitely make it easier to access a large amount of data from multiple sources in one place.
What are people saying about BeenVerified?
If you're considering using a service, it's always a good idea to check out reviews from other users first. After all, why take the word of the company when you can see what real people have to say? This is where things fall down rather spectacularly for BeenVerified.
Although there are glowing testimonials on the website from people happy with the service, BeenVerified's Trustpilot rating is just 1.7 and they have ongoing alerts on the Better Business Bureau website.
Doesn't this sound like a big red flag to you? The BBB is telling you that there are some warning signs here and they even show it in red typeface with an exclamation point for extra emphasis!
Obviously, something is not right with BeenVerified if they have such low ratings on Trustpilot and Better Business Bureau. Could it be that they are not living up to their promises? Or maybe their customer service is terrible?
Let's delve a bit deeper to discover what people are saying about whether BeenVerified is legit.
Payment Structure
One of the main complaints on BBB is the lack of transparency about their payment structure. While BeenVerified is legit, this is a major concern for many.
Customers have complained that they were not made aware that BeenVerified is a subscription service. They ordered a report only to find out later that they were being charged on a monthly basis.
Some have reported that canceling the service can also be difficult, with some customers saying they had to jump through hoops to end a subscription. Leaving so many customers feeling scammed is not a good way to do business and does not reflect well on BeenVerified.
Inaccurate Information
No one wants to pay for a service that provides them with inaccurate information. Is BeenVerified legit when it comes to gathering accurate information?
Some reviewers say that the information provided by the service is inaccurate and outdated, with some even saying that the reports they received from the site contained false information when they'd conducted searches on their own personal data.
This can be extremely frustrating, especially if you are paying for a service that you expect to be reliable. It seems that BeenVerified has some work to do in terms of sorting out its accuracy issues.
Addressing Customer Concerns
On the plus side, the company has responded to 100% of the negative reviews on Trustpilot, so it would appear they are trying to address customer concerns.
The service is supposed to be a quick and easy way to find out information about someone. Judging by the customer reviews, it seems that this is not always the case and some reviewers were disappointed by the "bait and switch" tactics of having to pay a subscription fee for information they thought would be free.
All in all, it seems that although they have some great testimonials on their website, external review sites show that BeenVerified is not quite living up to its promises.
BeenVerified Alternatives
When it comes to online background checks, there are a lot of options out there. While BeenVerified is one of the more popular choices, it's definitely not the only option worth considering. Here are three alternatives to BeenVerified that are definitely worth checking out.
Spokeo
Spokeo is a similar service to BeenVerified that provides access to public records and other data points. Spokeo offers:
People search
Reverse phone lookup
Email address search
Address lookup
Username search tools
You can use these tools to find someone's contact information, where they live, their family information, their work information, and any public records that are available about them.
"Spokeo tracks down hard-to-find data from high-quality sources to ensure that every one of your reports is as accurate as possible."
You may not have thought it possible, but their Trustpilot rating is even more dismal than BeenVerified, with a score of a paltry 1.3 stars. This seems at odds with their Customer Care Mission Statement.
Bearing in mind that the company has been around since 2009, you'd have thought they might have gotten their act together by now. But alas, it seems not. As with BeenVerified, the majority of complaints center around the inaccuracy of the information provided and difficulties obtaining refunds.
"We are passionate about our product, lead through service, and deliver enthusiasm and innovation to our customers."

Spokeo Customer Care
Ooof - Try harder, Spokeo!
Like BeenVerified, Spokeo also runs on a subscription basis, with a one month membership at $19.95 and 3 months at $44.85.
Intelius
Another option is Intelius. Intelius offers a wide range of services, from people searches to property records. Their people search reports include information like date of birth, aliases, and known relatives.
Intelius has a Trustpilot score of 2.9, so while it's not great, it's not as bad as the others. Comments from reviewers are much the same, with some people finding the service useful and others feeling ripped off.
It's not terribly easy or straightforward to find the pricing information on the Intelius website (there doesn't seem to be a direct link from the home page). However, it's more expensive than both BV and Spokeo, with plans at $42.25 for 60 days of membership or $24.86 for 30 days.
PeopleFinders
I had almost given up hope of finding a background check service with a decent Trustpilot score, but then I found PeopleFinders. With an amazing score of 4.7 stars and over 1,600 reviews, PeopleFinders is definitely the winner when it comes to customer satisfaction.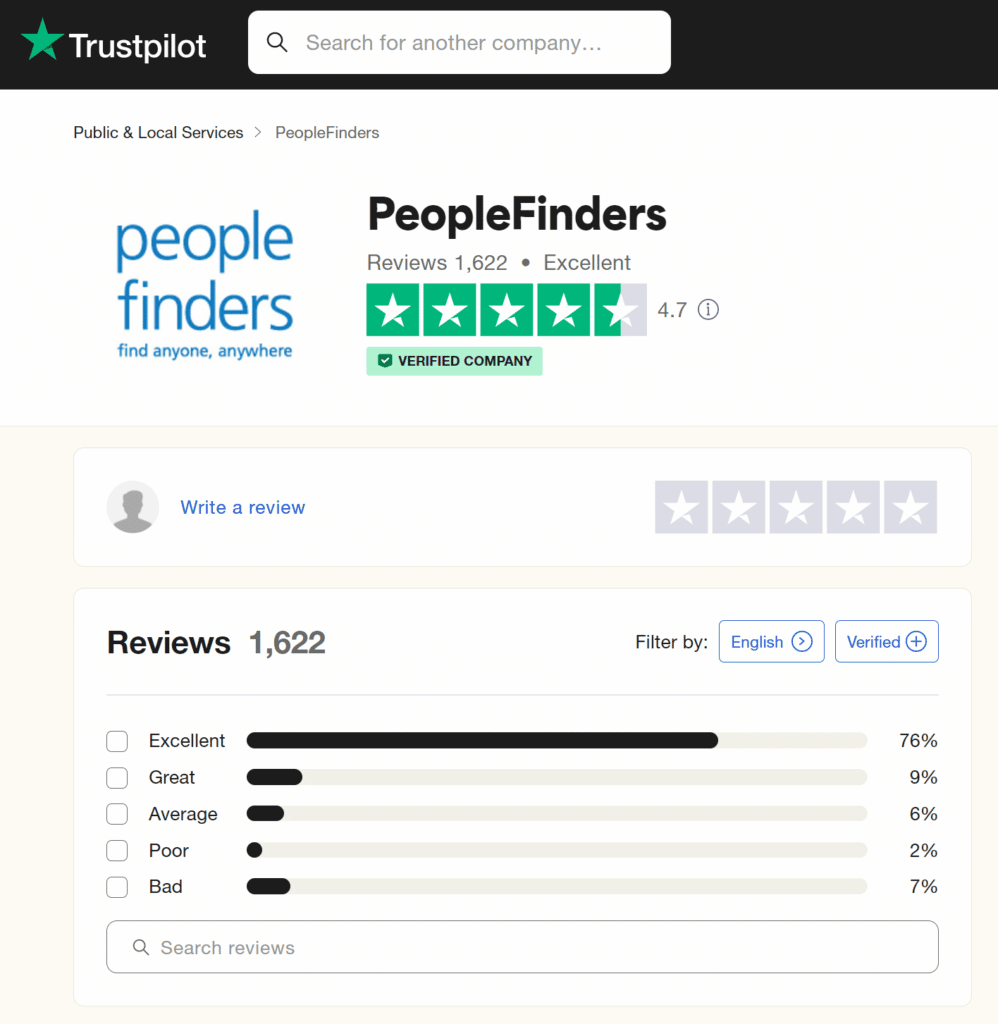 PeopleFinders offers similar services to BV and Spokeo, including people search, reverse phone lookup, and more. But their customer support is what makes them unique. PeopleFinders seems to be ahead in this space by being proactive about addressing customer concerns and offering refunds when needed.
They also have a dedicated customer care team that you can contact if you're not happy with your results.
Pricing for PeopleFinders is on par with the other services, with subscriptions starting at $24.95 per month. However, they also offer a discount in the first month, which brings the cost down to $9.95. If you can make do with a one-time search and cancel within the first month, PeopleFinders is definitely the way to go.
Is BeenVerified Legit? Final Thoughts
There are a lot of background check services out there providing easy, affordable access to data, and it can be tough to know which one to choose. They all access public records, making them all legit in a sense. Most have limitations with how you can use the information and all work on a subscription basis, so there are many similarities.
By taking a look at the customer satisfaction ratings for each of the services, you may be able to get a better idea of which one is right for you.
Background check services are a necessary part of life in the digital age, and are becoming more and more popular. But with any growth industry, there are shady businesses that will pop up that should be avoided.
It's important to do your research and choose the right service for your needs. Be sure to read the terms and conditions carefully so that you know what's included in your subscription. Most importantly, use the service wisely and be safe online!
Be sure to check out our other article, 19 Simple Ways to Get Scammed Online, to learn more about staying safe online.
Want to learn step-by-step how I built my Niche Site Empire up to a full-time income?
Yes! I Love to Learn
Learn How I Built My Niche Site Empire to a Full-time Income
How to Pick the Right Keywords at the START, and avoid the losers
How to Scale and Outsource 90% of the Work, Allowing Your Empire to GROW Without You
How to Build a Site That Gets REAL TRAFFIC FROM GOOGLE (every. single. day.)
Subscribe to the Niche Pursuits Newsletter delivered with value 3X per week