How Alli Hill Makes 6 Figures/Year as a Freelance Writer and Coach
When you buy something through one of the links on our site, we may earn an affiliate commission.
When Alli Hill was living her dream as a freelance writer, she never imagined it could lead to something even bigger. But after she participated as a speaker at an event for freelancers, people started seeking her out for advice.
That led her to create her coaching business and website, Fleurish Freelance, where she writes about and teaches others all about freelancing. She has been mentioned in TIME and Business Insider, and she currently brings home 6 figures per year between her coaching business and freelance writing clients.
Keep reading to learn more about:
Why she decided to start coaching others
Where her income comes from
How she's found success on Fiverr
Her tips for succeeding on that platform
Her unique marketing strategy
Her views on SEO
How she approaches keyword research and link building
The course she's created
The resources and tools she recommends
Her biggest challenge
Her greatest accomplishment
The main mistake she's made
Her advice for other entrepreneurs
Meet Alli Hill
I'm Alli, a freelance writer, content marketer, speaker, and freelance coach from the state of Georgia. I followed my childhood dreams of becoming a writer and now work with businesses around the world on improving their brands and increasing their digital footprints.
I've recently ventured into freelance coaching after having others ask for tips and advice on how to start freelancing or grow their one-person businesses.
When I'm not connecting with business owners, I love spending time with my husband and two children. We love exploring the sites and towns in the Blue Ridge mountains, hiking and kayaking, traveling to the beach, and watching scary movies.
Why She Created Fleurish Freelance
I became a freelance coach because it felt like the next logical step in my business.
Having found tremendous success as a freelance writer, I was invited to speak at an event in Florida for freelancers on self-promotion. My panel responded well, and others started asking me for advice.
I realized I had a lot of value to offer, so I planted the seeds of what would become my coaching brand. I started a blog on all things freelance, such as how to find clients, how to set rates, and how to deal with difficult clients – all things freelancers need to master to be successful. It's called Fleurish Freelance.
I extended my blog to LinkedIn to help more people, and things took off from there. Within the last year, I've earned multiple media mentions and feature stories, including TIME and Business Insider.
My blog has continued to flourish after a rebranding in July 2022, and I've reached countless other freelancers to help them improve their earnings potential.
How Much Alli is Making
Right now, I'm earning 6 figures a year. My main source of income is my freelance writing business. About half of this revenue comes from my Fiverr clients, while the other half comes from a couple of content agencies and a handful of direct clients.
I'm still building the coaching side of my business and brand. My income goal for 2023 is to generate more passive revenue through online courses and group coaching to reach $20k/month.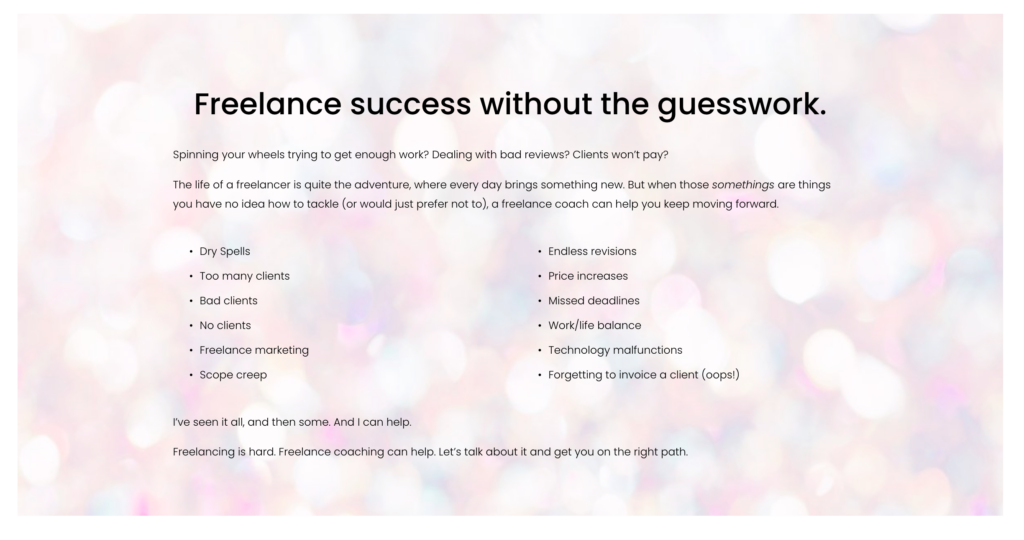 I didn't add Fiverr to the mix until I freelanced for about 2 years. I had previously used Fiverr to order a logo for my business.
At the time, I wasn't sure if Fiverr was a good fit for me as a seller. I thought it would be too competitive since I was starting from zero. The blog/article writing category was loaded with top-rated sellers who had been selling on Fiverr for a long time.
But as the desire to set my own rates and work directly with more clients grew, I decided to give it a try. In less than a year, I had earned Top-Rated Seller status. It completely changed the trajectory of my business.
Alli's Tips for Getting Started on Fiverr
The most important step is to just start. Don't set any hard expectations at first. There's a learning curve to Fiverr, and you probably won't get your first order overnight. In fact, it took me two weeks to get mine.
I will soon be launching a course for new Fiverr sellers on how to succeed on Fiverr. It will cover all my top tips for getting started, marketing yourself, creating a gig that works, and other tips and tricks.
Her Top Marketing Strategy
I invest very little money in traditional advertising, almost none. I have found that a better approach is to promote my brand and image, not just my services.
For example, I share my content on LinkedIn and reviews from my clients. This gives prospective clients a taste of what I do in a way that's not salesy or pressured.
I gained my first few freelance clients by replying to job board postings. When you're just starting out, I've found that it's easier to get hired by agencies looking to build teams of freelance writers vs. businesses that want to hire just one writer.
This method works, and many seasoned freelance writers still find clients this way. But in my opinion, pitching to job board postings isn't sustainable. It's a lot of manual labor with no guarantees. I prefer taking an inbound approach where clients come to me. This works for me because I'm an established writer with a blog, portfolio, and online presence.
Her Unique Marketing Strategy
Crowdsourcing has been super effective in driving traffic to my blog. Instead of only sharing my own ideas, I source insights from other freelancers to enrich my content.
I credit them in the articles and link to their websites, and giving them this exposure makes them more willing to return the favor. I also accept guest posts on my blog, which helps grow my blog traffic and share my brand with others.
One example of this is my post, "Why Freelance?"
The Importance of SEO
SEO was one of the first content writing skills I learned in my writing business. I think it's important for the clients I help (which is why I offer SEO services) and for myself.
There's so much noise online, and most people turn to Google to cut through it and find exactly what they need at that moment. You can't do well on search engine result pages if you don't take an SEO-first approach with your website and content, plain and simple.
I knew very little about SEO when I first started freelance writing. One of my first clients used WordPress with the Yoast plugin, so I learned a lot about SEO just by tweaking my articles until I got the Yoast "green light" (if you know, you know).
This gave me enough of a foundation to earn a spot on the writing team at an SEO agency, where I learned even more about SEO — both in content writing and the technical side. This agency also held annual conferences for their writers, one of which I was invited to attend as a speaker on marketing and branding.
My SEO strategy goes beyond keyword research. I use SEO tools to help create content outlines that fill in the gaps left behind by other top-ranking articles. This has helped me create more valuable content and give readers something more than what other writers have said.
Yoast is a big helper to show you some of the basics of SEO, but it's not the end-all solution. I also use UberSuggest to find high-volume, low-competition keywords and SurferSEO to help with content outlines.
Keyword Research
Typically, content creators want to choose the keywords with the highest possible traffic volume. And that's fine if you have a well-established brand already ranking well.
But I take a different approach. I start with the lowest-difficulty keywords that get at least a little bit of traffic. This is the lowest-hanging fruit, and it's usually off other creators' radars simply because these terms don't get much traffic.
But once you start ranking for some keywords (regardless of traffic), it's easier to start ranking for other keywords that are a little more difficult and have higher traffic figures.
I think of SEO with a snowball approach, where even the tiniest little movements can turn into massive results. 100 minimum monthly searches are the rule of thumb my former SEO agency partner lived by.
However, low difficulty is always more impactful than search volume. Grab those very low-hanging fruits to start ranking for something, even if it's only 10 searches per month. Once you start ranking for something, it's easier to rank for more keywords that are a little harder.
Link Building
I never pay for links. Instead, I generate my backlinks via a combination of guest blogging on other websites and contributing to round-up articles. I've noticed in the last couple of weeks that others are now linking to my site and blog posts organically, which is a huge form of flattery.
Alli's Content Creation Strategy
I use a combination of keyword research tools (UberSuggest is my go-to and SurferSEO), Answer the Public, and Google Alerts to inspire my blog topics and online courses. This helps me get inside the heads of people most likely to need my expertise and resources and allows me to create more valuable content for them.
I also have plans to create more online courses. My time-poor self just can't publish them fast enough.
I've been sitting on a course about how to sell on Fiverr for months. It's almost finished, just needs a few more details. I'm also developing a course on a new blogging strategy I've been testing all year (and it's working beautifully) that I think will revolutionize how bloggers build connections, generate traffic, and create low-lift content.
Achieving Current Revenue Levels
I started my business as a side hustle to go full-time. It took me about a year to quit my full-time job. Within three years, I was making six figures. My business continues to grow a little more each year.
Alli's Favorite Resources
I suggest spending some time on LinkedIn to see what people are talking about and what they're having trouble with. From there, you can position your business and services to directly address those needs. This is a great way to validate a business idea before you go all in.
Start with your LinkedIn feed. If you're using LinkedIn well, you'll already have connections in the niche/field you serve and can see what those contacts post, share, or, even better, complain about.
You can also join LinkedIn groups related to your business to see what problems your target audience is having. This is a great way to make new introductions and address their problems directly.
A connection of mine posted on LinkedIn that she didn't know how to "do" LinkedIn. She didn't know how to make connections or use it as a resource. Ironically, this was her most reshared post on LI!
People flooded the comment section with tips and advice. It helped her earn major connections and better understand how she could make LI work for her. So sometimes, it really is as simple as asking others for help.
Her Top Tools
I love UberSuggest to track my rankings and backlinks and for keyword research. As a business of one, it's affordable and gives me everything I need without overkill.
I have also recently purchased HelloWoofy to help me stay active on social media. I can schedule posts ahead of time and not think twice about it.
And there's my website, of course. It helps me create and build an online presence and gives me a way to connect with my writing and coaching clients.
I do not personally use WordPress, though I'm familiar with creating a blog post for a WP site. I use Squarespace because it's easy and cost-effective, and I can make it look how I want without specialized knowledge.
For social media, I'm using LinkedIn and Facebook at the moment. I'd love to expand to Twitter and Insta this year, one of my business resolutions for 2023.
Her Biggest Challenge
Time poverty has always been my biggest challenge. Being a business of one, I must be selective about the media interviews I accept, the clients I work with, and the content I create because I need to make the best use of my time.
Because I split my time between my brand and writing clients, I don't always devote the time I'd like to business growth.
All's Greatest Accomplishment
A major milestone in my business was the first time a client found me. I didn't have to chase down business or spend money on advertising. I've acquired many more clients through inbound outlets. I haven't pitched a client or performed outreach for new clients in years.
What She Wishes She Knew When She Started
I wish I had known how to define the value I bring to clients. When I started, I set my rates based on how much I wanted to make per hour.
Over time, I realized I was leaving a ton of money on the table because the value I provided clients was way more than what they were paying me. Learning your worth is a skill that needs to be developed over time – it's hard to get it right on your first try.
Her Greatest Mistake
My biggest mistake in building my business was neglecting too many opportunities to make my work more valuable to the client.
I feel that's why they hire me – they expect me to be the expert, and if I can improve their ideas, I need to do so instead of just being an order taker.
Alli's Advice for Other Entrepreneurs
Keep going. Learn by doing. Make mistakes. You can collect all the theoretical knowledge in the world, but it will not help you until you can make that knowledge work in ways you can understand and adapt.
Want to learn step-by-step how I built my Niche Site Empire up to a full-time income?
Yes! I Love to Learn
Learn How I Built My Niche Site Empire to a Full-time Income
How to Pick the Right Keywords at the START, and avoid the losers
How to Scale and Outsource 90% of the Work, Allowing Your Empire to GROW Without You
How to Build a Site That Gets REAL TRAFFIC FROM GOOGLE (every. single. day.)
Subscribe to the Niche Pursuits Newsletter delivered with value 3X per week