Spencer and Samara Call 4 for Niche Site Project 3
When you buy something through one of the links on our site, we may earn an affiliate commission.
Hey everyone, welcome back to another coaching call between Samara and I for Niche Site Project 3.
This call may be the most important call we've done so far.
During this call, we finally start our keyword research process! Remember, in previous calls, we were only looking at what niches or markets to go into, not really looking for specific keywords to target.
I always state that getting your keyword research done correctly is the most critical aspect of the process.  If you get started on the wrong path, it can delay earnings, and is likely to derail your entire project.
In addition, I took a survey of my readers a while back asking about people's biggest obstacles to starting a successful website, and the number one response by far from people was keyword research.
Well, in today's call I REALLY hope to clarify for you exactly how to do effective research so that you can find easy to rank for keywords in Google.  So, enjoy the call!
Samara's Summary
Hey everybody!
As we mentioned on this call, Spencer and I spoke privately about the potential markets I found and we finally picked one. All I can say to that is "woo hoo!" I'm more than ready to move forward and learn about the next step of the process.
I thought this coaching call was especially interesting, as Spencer went over the ins and outs of how to find low competition keywords while sharing boatloads of fascinating information, not to mention some awesome tips and tricks about brainstorming for seed keywords.
I would highlight two very important things I learned. First, traffic really doesn't matter, because even though a keyword has low traffic, you can potentially rank for many variations of that keyword, with the result that aggregate searches can really add up to a whole lotta traffic. How cool is that?
Second, you should always target the long tail phrase because not only do you have a good chance of ranking for several long tail variations, you might also end up ranking for the short tail keyword too. I think you guys will agree that's also pretty damn cool! If you focus only on the short tail, you miss out on all the long tail, so long tail is the way to go!
As for the process, it turns out you don't just find a bunch of relevant keywords with a low KC, throw some articles together, and blammo! You're ranking number one. The next step, which is so very important, is to analyze the competition, and by competition, that means the top ten results in Google. Not the sites on page 2 or page 200. The first page is all that matters.
Personally, I would love to have a cut-and-dry set of instructions for this process but, as luck would have it, the analysis just doesn't work like that. While there are definitely specific indicators of weak sites, it's not black and white, and as we looked at a few examples it became clear that there are a lot of different aspects to consider when deciding whether or not you can beat the competition. As Spencer says, "There's a little bit of an art form to keyword research."
After keyword research comes the articles, and when Spencer asked me if I could write 100 articles in six months, I may have replied "yes", but I was actually thinking "oh hell yeah". Although I've never written 100 articles about anything in my life, and it sounds daunting, and it's hard to gauge how easy or difficult it will be and how much time it will take, I am absolutely determined to make my site a raging success and I'll do whatever needs to be done to make that happen.
I thought this call was massively interesting, as there are several steps to the process of picking keywords and several things to bear in mind before pouring your heart and soul into article writing.
Speaking of which, I'm really eager to lean more about that process, and I have so many questions! What are the different types of articles I'll be writing? How long should they be? How do I decide which type of article to write for each keyword? Is there a specific order to follow for successful article writing?
But first things first: I have to find my low competition keywords. Looks like I have a hot date with Long Tail Pro!  See my full review here.
Watch the Coaching Call Here!
If you would rather just listen to the audio, you can download it here.
Slides from Coaching Call 4
Coaching Call 4: How to Find Low Competition Keywords
Project Overview
Brainstorm general market/niche ideas
Pick a niche through keyword sampling and site Doppelgangers
Begin In-depth keyword research (find hundreds of low competition keywords to create content on)
What problem is your site solving? How will your site stand out?
Domain, Theme, Logo, Voice, and more to help build a brand
Develop a long term content strategy
Writing and publishing content
Monetization strategy: short and long term (possible product ideas)
Getting noticed: Outreach, PR, and Linkable Assets
Social Media strategies
Maximizing revenue through list building
Paid traffic strategies
Long Term strategies to continue growing
Goal: Target Long Tail Keywords in Each Article on Your Site
Find 100 long tail keywords in the first 6 months
Write articles that target these keywords (1 primary keyword per article)

(We'll discuss how to include other secondary keywords in each article on another call).
Why Long Tail Keywords?
More Long Tail Searches than Short Tail Searches
Easier to Rank for
Usually people are further in the buying cycle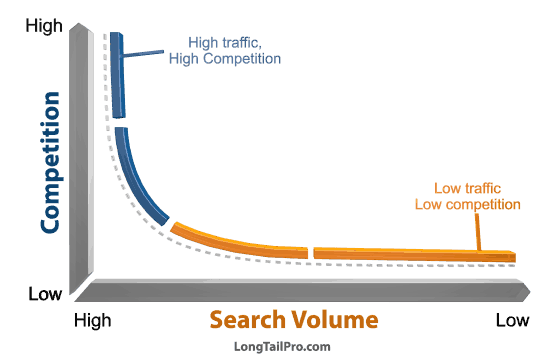 High Volume is Not Needed
Ways to Make Money from your website – 10 LMS
3,791 Unique Pageviews from Google Last Month
Keyword variations I rank for:

Ways to make money from website
Ways to make money from a website
How to earn money from website
How to make money on your website
Dozens of other variations…

Best ___________ ___________ (Example: Best Mouse Pad) – 50 LMS
Now ranking for "Mouse Pad"
Criteria of a Winning Keyword
Relevant
High Advertiser Competition
Search Volume over 1,000 for a few keywords, but not required on all.
Low Competition in Google
Similar Sites Ranking (Weak Doppelgangers/other niche sites)
Longer Phrases (3+ words) are usually easier to rank for
Examples of Low Competition Keywords
Best Survival Knife – 9,900 LMS, High Ad Competition, $0.25 CPC, KC of 25, weak sites ranking
Best Garden Shears – 110 LMS, High Ad Competition, $0.65 CPC, KC 27, weak site ranking
How to Find Low Competition Keywords?
Long Tail Pro
Input Seed Keywords from Various Sources
Start with your own brainstorm
Use Keyword Modifiers
Amazon and Ebay
Wikipedia
Niche Forums
Google auto-complete (Ubersuggest)
Google trends
Other Niche Sites
Keyword Modifiers to Consider
Fill in the Blanks with your niche/keywords
Best _________ _________ (Example, "Best Survival Knife")
_________ ________ Reviews ("Survival Knife Reviews")
________ vs. _________ ("Gerber vs. Kabar")
Best ________ Brands (Best Knife Brands)
Where to Buy _______ (Where to buy a survival knife)
_______ Under $________ (Survival Knife under $100)
How to Analyze the Competition
First Page of Google is Your Competition
Keyword Competitiveness (KC) of 30 or Less
Low Domain Authority AND Page Authority is preferred
At least 2 results that have under 30 PA and DA
Relevant Page Title/content? ("Spencer Likes Honeycombs", example)
Root Domain? Subpage is ideal (not required though)
Site Age Less than 1 year is ideal (not required though)
Under 30 Juice Page Links
This article is still relevant to analyzing competition: https://www.nichepursuits.com/how-to-analyze-the-top-10-google-competition-for-your-keyword/
Additional Tactics to Quickly Find Low Competition Keywords…
UberSuggest.org
Bulk Import Keywords into Long Tail Pro
SEM Rush
"Steal" keywords from your competitors (Doppelgangers!)
Assignment for Call 4
Find 20 Low Competition Keywords for Your Niche Website
Use the various methods discussed to input seed keywords
At least 3 keywords with search volume of 1,000 or more
Remaining 17, search volume doesn't matter
Wrapping Up
Overall, Samara is busy doing her keyword research, and I'm confident she is going to find some great low competition keywords!  I know others have been talking about their keyword research using Long Tail Pro in the private Niche Site Project 3 Facebook group here.  If you'd like to chat more with like minded niche site builders, you can join the Facebook group.
If you have an comments or questions, feel free to leave your thoughts below.  Thanks again!
Want to learn step-by-step how I built my Niche Site Empire up to a full-time income?
Yes! I Love to Learn
Learn How I Built My Niche Site Empire to a Full-time Income
How to Pick the Right Keywords at the START, and avoid the losers
How to Scale and Outsource 90% of the Work, Allowing Your Empire to GROW Without You
How to Build a Site That Gets REAL TRAFFIC FROM GOOGLE (every. single. day.)
Subscribe to the Niche Pursuits Newsletter delivered with value 3X per week