13 Jasper.ai Alternatives: Which One is Best for You?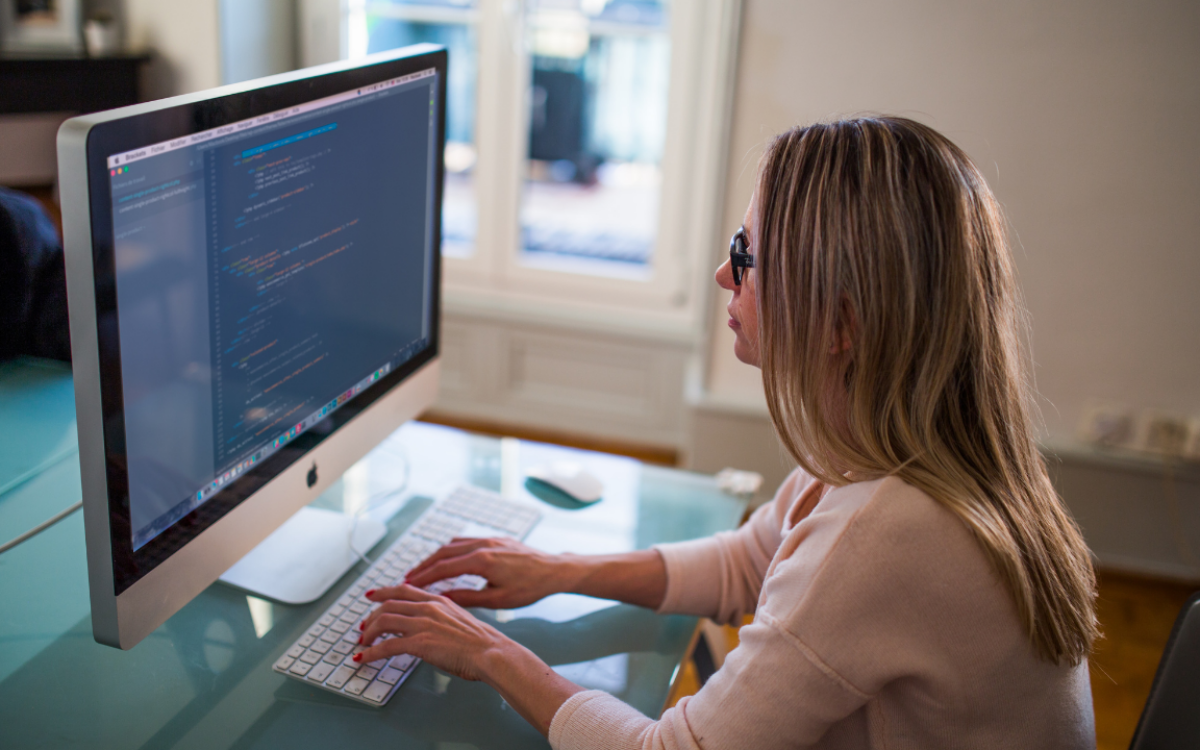 When you buy something through one of the links on our site, we may earn an affiliate commission.
Looking for Jasper.ai alternatives? After all, even if you've been using Jasper.ai and are generally content, you can still question if there is a more appropriate alternative. Or a cheaper one!
We have selected and reviewed 13 Jasper.ai alternatives for this article. You can use our suggestions as a starting point to contrast Jasper.ai with some of the most excellent AI-powered copywriting tools available right now.
Take a look - you may find another content-generating solution that better fits your needs.
What is Jasper.ai?
Jasper.ai (previously Jarvis ai) is a popular artificial intelligence writing tool. Jasper ai can quickly produce original content. Since its debut in January 2021, Jasper has experienced a strong development trajectory. It now supports over 75,000 paying subscribers. These range from small business teams to individual creatives.
Jasper.ai has a couple of interesting new additions. Jasper Art is a text-to-image feature where you describe the image you want, and Jasper creates it for you.
And the most recent development is a browser extension. This enables Jasper to run any textbox on almost any website.
Jasper's writing algorithm is very good. It can create fresh articles in any desired tone. This AI tool has been taught to generate articles depending on your subject and intended readership.
Simply put, Jasper AI allows you to write engaging and persuasive content. This can be for your blog entries, social media posts, and landing pages. It can also help you with advertising, marketing emails, and other types of material.
One of Jasper AI's restrictions is that the Starter plan is only for short-form content. To be able to write long-form, you must purchase the Boss Mode plan. And the content generated by Jasper can sometimes be repetitive. The problem is that the repetitive content will also cost you credits from your account for every word Jasper produces.
Jasper's Starter plan costs approximately $40/mo (depending on the number of words you choose to be able to generate). The Boss Mode plan costs about $82/mo.
13 Jasper.ai Alternatives
Jasper.ai may be a fantastic AI copywriting assistant, but it's not for everyone. This article is intended to help you make the best Jasper AI alternative decision possible. We'll show you what you'll get with each of them and the features that distinguish them from Jasper.ai.
Copy ai - A Great Alternative
Copy.ai, founded in 2020, has shot to the top of the AI content generation sector. It has an extensive toolkit and excellent GPT-3 powered content-generating capability.
It has over a million users, including marketers, copywriters, independent contractors, marketing companies, etc.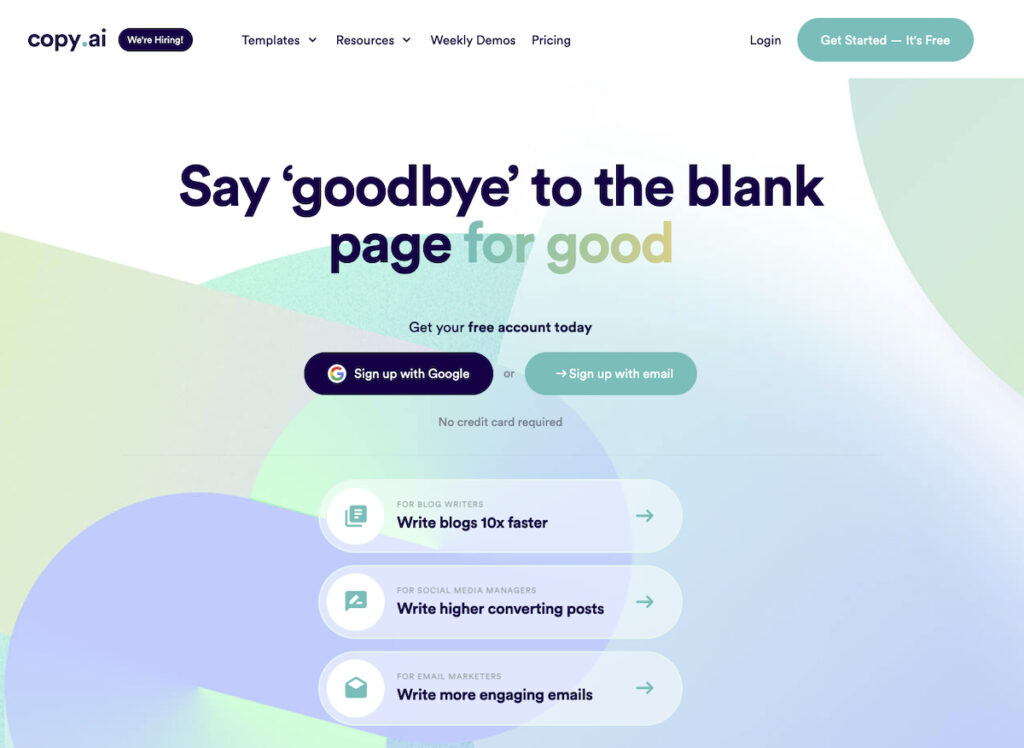 Some pundits say that Jasper.ai's main rival is now Copy.ai. And these two AI writing tools, Jasper ai vs. Copy.ai, perpetually battle it out for supremacy as the best AI copywriting software. This is one of the best Jasper.ai alternatives.
Copy.ai Key Features
Sentence Rephrasing
Grammar Checking
Sentence Formatting Assistance
Tone Checking and Autocorrect
It can also edit for consistency in stylistic norms like APA (American Psychological Association), MLA (Modern Language Association), and Chicago formatting. Stylistic norms are important, particularly for people who write more academic articles where sources and references need to be cited.
Copy.ai is probably the better tool for short-form content and stands out in this niche.
You'll likely use the templates most of the time because they are the best for producing good content. These include thank-you notes and business emails, templates for marketing strategies, online advertisements, cover letters (don't miss our list of cover letter generators), and more.
If you struggle with writer's block, Copy.ai is for you. Just enter the topic and specifics of the content you want to create. And the AI copywriting tool will generate ideas and content for you in seconds. However, the results are rarely ready for publication. It will always require tweaking, perhaps even more than its main rival Jasper.
For more information, read our Copy.ai review.
Copy.ai Pricing
Copy.AI has a free plan with some limits. You get 90+ ai copywriting templates and one seat. And you don't even have to surrender your credit card information to get started.
Their only subscription tier gives you unlimited content credits and more templates, but that's about it. It's pretty average pricing compared to its competitors and quite a bit cheaper than Jasper.ai.
If you like Copy.AI and you're ready to upgrade from its free plan, here's what you can expect to pay:
Pro: $49/month for 40k words. Offers five seats, 90+ ai copywriting tools, limitless projects, a Blog Wizard tool, and more. If you need more words in the month, you'll have to pay more.
Custom pricing applies for 300k plus words.
---
GrowthBar - Affordable SEO-Friendly Content
Use GrowthBar to produce SEO-friendly content that may rank on Google. GrowthBar, powered by Open AI, combines the strength of SEO tools with the speed of AI writing assistants. It's another useful Jasper AI Alternative.
The GrowthBarSeo long-form writing assistant is used by thousands of marketers, bloggers, and agencies. Long-form content is produced rapidly and at scale.
You can quickly create blog posts, develop ideas, and conduct keyword research. You can also create outlines and more with GrowthBar's artificial intelligence. And it assists you in ensuring that you're utilizing the ideal SEO techniques with tools like the site inspector - this provides you with basic details about a website (authority, estimated traffic per month, backlinks, and Google CPC data). Also included are a keyword research tool and GrowthBar's Rank tracker.
GrowthBar Key Features
Blog Posts on AI - Produce your blog post in minutes.
AI Content Outline for a blog. Use keywords, headlines, introductions, word counts, and readability to construct a content outline.
Content optimization. As you produce posts, you'll get SEO advice to help you raise the article's rating. Examples include the Flesch reading ease rating, the number of keywords and headlines, internal and external links needed, and more.
Keyword Research. Get access to keyword suggestions and long-tail keywords. You'll also get keyword difficulty scores, search volumes, and traffic projections.
Site inspector - gives details about a website (authority, estimated traffic per month, backlinks, and Google CPC data)
Rank tracker. You can enter a domain and a list of keywords to see where the domain stands for each one.
Competitor research - Find the most efficient method for promoting your own blog. Check paid traffic, organic traffic, Google Ad Words, and backlinks on competitor websites.
Google's search engine results page (SERP) is scanned daily by GrowthBar's keyword tracking and ranking tool.
Drag-and-Drop Feature - This lets you quickly move headlines and images around.
Export and Publish - To publish a blog post, you can either export it to Google Docs or paste it into WordPress.
To get to know the tool better, read our GrowthBar review.
GrowthBar Pricing
This software does not offer a free plan. But if you want to try it - choose any of the plans that interest you, and you can test it for five days free of charge.
Standard Plan at $29/month billed annually: Includes 25 AI content outlines and 200 AI paragraph generators. This tool can generate intros and social captions to your blog posts.
Pro Plan at $79/month billed annually – Includes 100 AI content outlines and 500 AI paragraph generators.
Agency Plan at $129/month billed annually – Includes 300 AI content outlines and 2,000 AI paragraph generators.
---
Scalenut - Cutting-Edge Technology
Scalenut is a cutting-edge AI-powered platform for content production. Its research capabilities enable users to produce high-ranking content. It is a hot contender for the best AI spot in the list of Jasper.ai alternatives.
Scalenut uses technological advancements like artificial intelligence (AI) and natural language processing (NLP). These help marketing professionals all around the world produce unique content.
Scalenut recently announced integration with SEMRush. To maximize their SEO efforts for a more significant ROI, customers may now make better use of already-existing tools like topic clusters and competitor research for SEO. You can quickly create scalable content with this AI writing tool. The biggest difference between Scalenut and Jasper.ai is that you get SEO content from Scalenut.
Scalenut Key Features
Content Planning: Produce content outlines with an SEO focus. Scalenut provides complete content reports. You get an SEO recipe every time based on your single chosen keyword.
Come up with new Ideas: Use them for blog posts, product descriptions, ad copy, email headers, blog introductions, and more.
Content Creation: Produce long-form content. The quick AI tool from Scalenut creates lengthy chunks of material. Use it to increase SEO, establish authority, and close deals.
Real-time content evaluation: In SEO Assistant, you can instantly receive comments on the caliber of your content. It informs you of the NLP terms you used (and left out), the readability rating, the word count, and many other things.
Collaborate with seasoned creators. Scalenut offers professional creators who have writing experience in your area. If you want help, a Scalenut Expert can provide it.
Want to know more about this new AI writer? Read our Scalenut review.
Scalenut Pricing
(Please note: The pricing in large text on the image below are Black Friday deals. Above the large numbers are the usual prices.)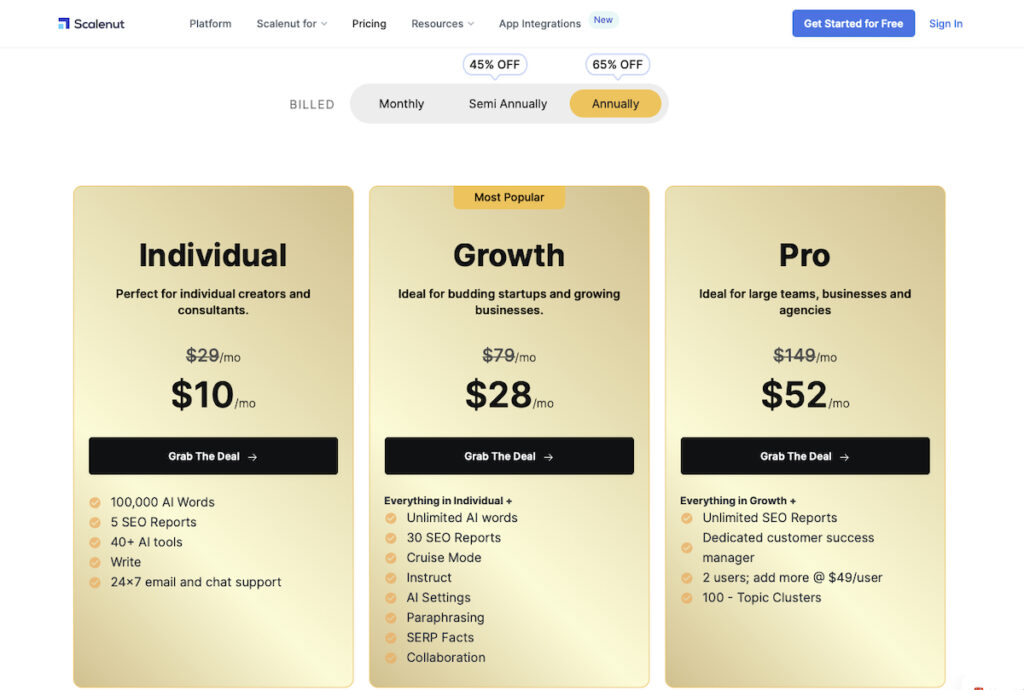 Individual Plan at $29/month: 100k words, 5 SEO reports, 40+ AI tools, and 24/7 email and chat support.
Growth Plan at $79/month. Unlimited words, 30 SEO reports, Paraphrasing, SERP Facts, and Collaboration tools.
Pro Plan at $149/month. Unlimited SEO reports, dedicated customer success manager, 100 Topic Clusters.
Comparing Jasper.ai and Scalenut costs shows that Scalenut offers better value for your money, considering the volume of words produced. Additionally, your generated material is optimized for SEO. But keep in mind that Scalenut only produces content in English.
---
Content at Scale - 1500 Words in Seconds
Many of the issues you could have with Jasper.ai alternatives may be resolved by Content at Scale. These include 1,500-word articles written in a matter of seconds. And you get automatic headings and bullet points to structure the content.
Typical AI writing tools help you generate AI content. Here your entire post is written for you by Content at Scale. You still need to do some editing. But compared to other AI copywriting tools, you save a lot more time.
Content At Scale Key Features
Creates long-form content from one long-tail keyword
Content is optimized for SEO
It scans for plagiarism
Produces human-quality output from three AI copywriting engines
Google Docs-style text editor
SEO checklist to improve ranking
Published to WordPress automatically
Content at Scale is still in early access/beta. It needs to resolve a few user interface issues within the platform to navigate more easily.
To find out if Content At Scale can replace your writers, read our Content At Scale review.
Content at Scale Pricing
There is no pricing page on the site; You'll need to supply your email address to get a quote. But plans start at $150/month. The costs typically vary according to your needs and can be between $0.01/word and $0.018/word.
---
Rytr - A Powerful Content Creator
Rytr made its AppSumo debut as a lifetime offer. It soon developed into one of the most potent copywriting tools with the aid of its early users. And it has become an excellent option in our list of Jasper.ai alternatives.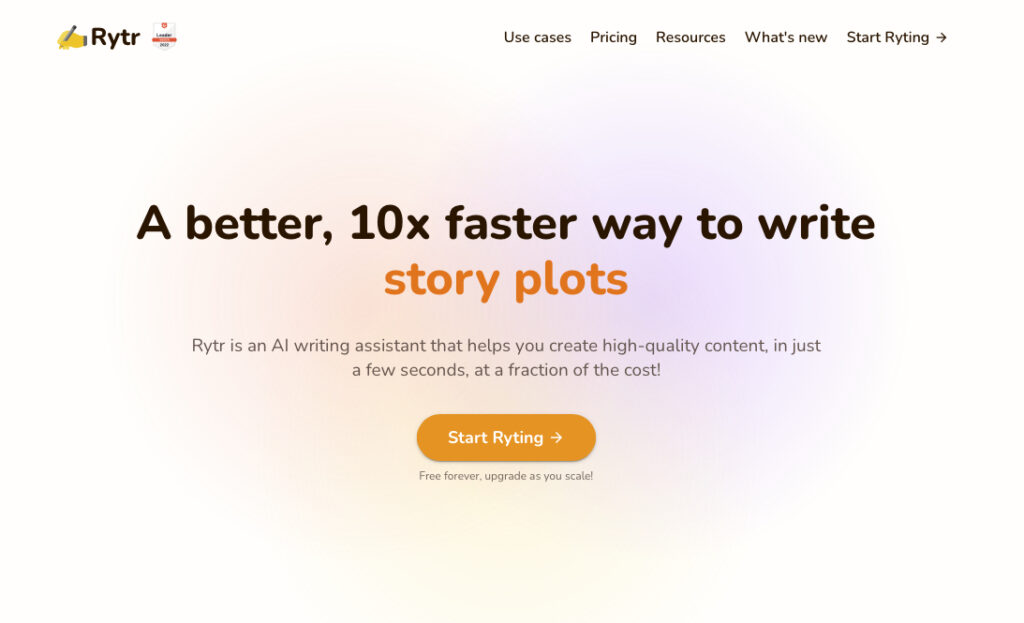 Rytr Key Features
State-of-the-Art AI. Rytr uses its proprietary AI and OpenAI's GPT-3 language model to create content. Together, these technologies improve the readability and general quality of the content.
Rytr lets you add members to your account for team management and collaboration.
Project management. Rytr offers an endless number of projects you can build.
30+ Use Cases. Rytr enables you to produce content for blogs, social media, ad copy, landing pages, and e-commerce websites. And you can select from more than 20 distinct speech tones.
Content Optimization Tools & Plagiarism Checker. Rytr provides a few content optimization tools. These include an expander, shortner, and rewriter. A strong text editor with a variety of formatting options is also available. Plus, an integrated grammar checker and a plagiarism detector.
Chrome Extension. Use Rytr's AI copywriting service on Gmail, Google Docs, Slack, Facebook, Twitter, Messenger, WordPress, and more.
Social media integration: Useful for writing digital advertisements.
Over 30 Languages are supported. Rytr is the only AI writer to support Hindi.
Rytr and Jasper are both excellent AI writing tools. But Rytr excels at writing short-form material like product descriptions, social media captions, Facebook ads, and meta descriptions. And Jasper is better suited to writing long-form content.
Our Rytr review will help you decide if this content generator is right for you.
Rytr Pricing
Free Forever Plan – Generate up to 5,000 characters.
Saver Plan at $9/month: Generate up to 50,000 characters per month. Access all Rytr's features and create your own use case for the platform.
Unlimited Plan at $29/month. Unlimited characters with priority support and a professional account manager.
---
Frase - For Great SEO Features
In Frase's opinion, the customer journey begins with a question rather than a keyword. Businesses and marketers must modify their content to reflect information usage and search changes. This is what motivates Frase's philosophy and concept of content creation. So the tool is designed accordingly.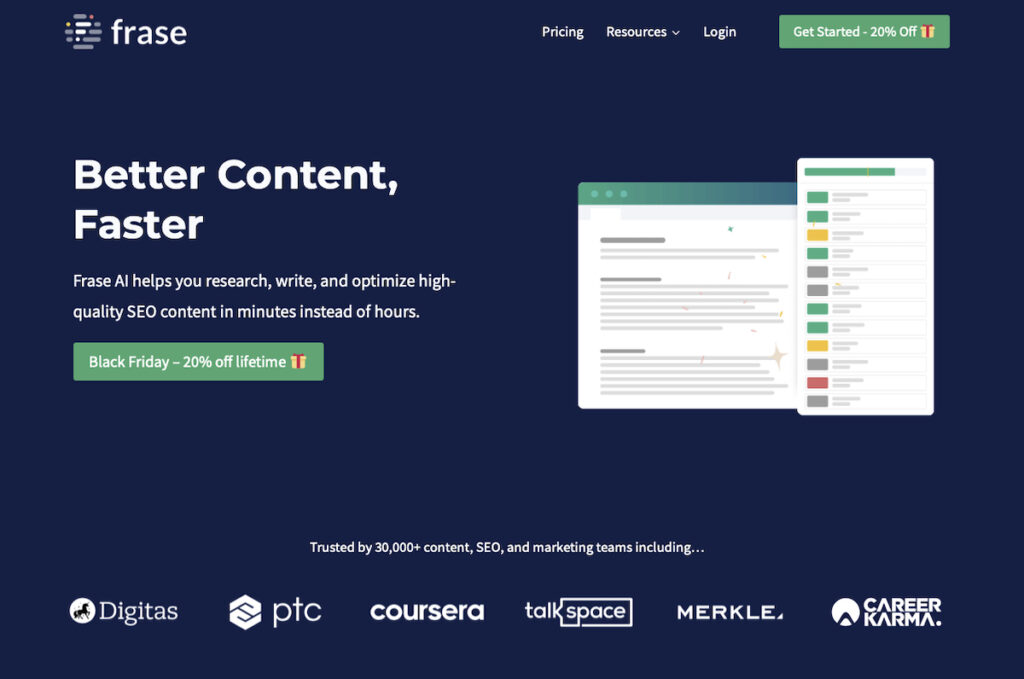 Despite going through a few iterations, Frase is dominant in content optimization and AI authoring. The main benefit of Frase is that it uses proprietary content writing technology, which frees it from the topic restrictions that typically apply to GPT3-based AI writers.
Frase provides a comprehensive range of SEO-friendly capabilities, setting it apart from other Jasper.ai alternatives.
Frase Key Features
An AI-powered listicle generator
Content scoring & editing tools
An automated content brief generator
A blog introduction generator
A blog outline generator
Access to SEO add-ons, which include full access to their AI authoring tool, keyword research, and SERP data enrichment, is available for an additional $35 per month.
Frase is frequently regarded as the best tool for producing SEO-focused content and a brilliant Jasper ai alternative.
Read all about this all-in-one content creation tool in our Frase review.
Frase Pricing
Solo at $14.99/month. For projects that need up to one article per week - write and optimize 4 articles per month. You get one user seat and 20K AI-generated characters per month.
Basic at $44.99/month. For bigger organizations. This plan includes all the Solo plan features plus 30 articles per month.
Team at $114.99/month. Comes with 3 seats (with the option to add more) and unlimited articles per month.
Unfortunately, Frase.io does not provide a free trial or a money-back guarantee. You have five days to cancel your subscription, but you won't get reimbursed for those days.
---
Outranking - SEO Grading and SERP Analysis
Outranking is one of the top AI writing assistants for boosting content return on investment. It enhances content writing processes. You also get SEO grading and SERP analysis. It's a great addition to our list of Jasper.ai alternatives.
Outranking offers detailed instructions for creating long-form content. A few examples include press releases, webinar pages, eCommerce, blogs, and recipes.
For every keyword, topic, or niche, its in-house ai content engine helps you write a first draft piece that is factually accurate. Outranking also offers plenty of automatic content creation and updating tools. Use them for writing copy that engages readers for long periods.
Outranking Key Features
Automated Web Research. This lets you extract and write key ideas and benefits and frequently asked questions (FAQs).
Blog Outlines - Quickly develop an outline for any topic or industry.
SEO Score Checker for Better Ranking - Use this function to track how well your writing performs for SEO.
SEO Metadata. AI-generated meta titles and meta descriptions. These get based on user intent, related keywords, and SERP data.
Seamless Collaboration. Discuss, share, and work together with everyone. Use it to fast-track the review, writing, and publishing processes.
Integrations. Simplify modifying and distributing your content. Outranking integrates with Grammarly, WordPress, and Google Docs.
SERP Analysis of On-Page Stats. This assists you in gathering comprehensive data about your competitor's websites. And then generates an automatic plan for outranking them.
Jasper has several features that make it a great option for content creators. But, Outranking provides a broader range of features that go beyond content creation.
Read our Outranking review to find out more about this tool.
Outranking Pricing
Pricing is higher than competitors but has excellent features, including helping you improve your organic ranking.
Solo Plan at $129/month: 250k words
Pro Plan at $229/month:500k words
Company Plan at $429/month: 1 million words
Enterprise Plan at $999/month: unlimited words
---
Anyword - For Sales
Anyword is a Jasper.ai alternative that emphasizes increasing conversions and sales. It generates copy and forecasts what will convert using advanced predictive analytics. This AI writing assistant combines optimization and content generation. And it gives you great content to publish.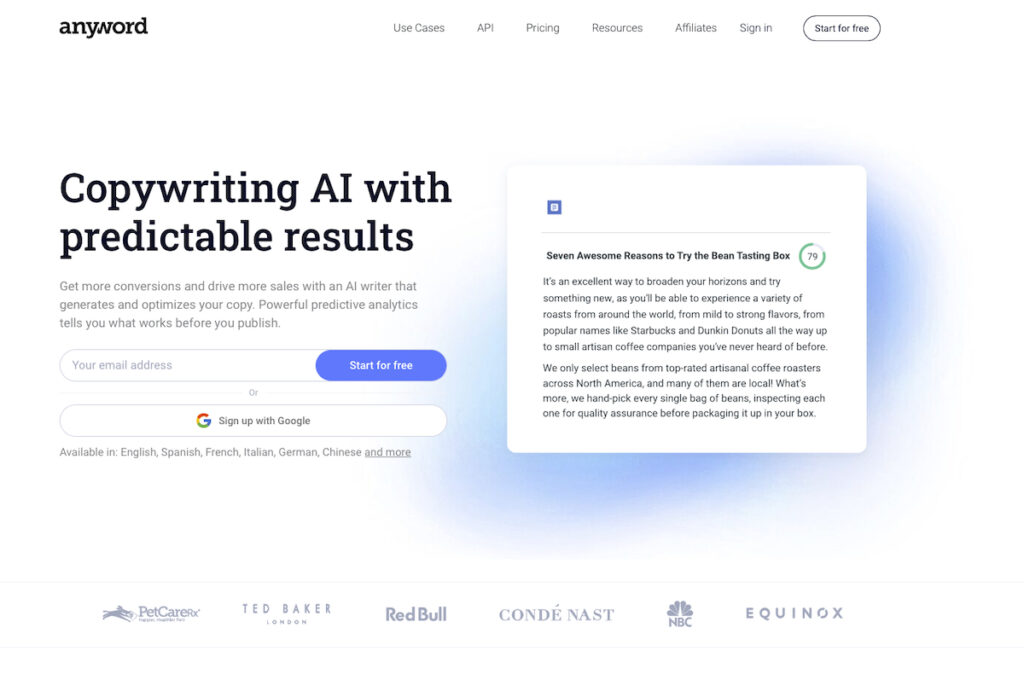 Anyword includes a target score, like Clearscope and Surfer (the closer to 100, the better). But, unlike those programs, it has an AI text generator that produces the copy for you. It also provides you with various options. It can develop client personas and audience segments. Then writes copy targeting these personas.
Anyword Key Features
Instagram Caption Generator
Meta Description Creator
Sentence Rewriter
Social Post Generator (LinkedIn)
Instagram Caption Writer
Generate Long-Form Blog Posts
Create Amazon Product Descriptions
Sales Oriented Copy (Landing pages, Google and Facebook ads)
Email Copywriting For Cold Outreach
Anyword and Jasper AI are fundamentally different: Anyword excels at generating conversion-driven posts as you can read all about in our Anyword review, whereas Jasper AI excels at writing blog posts.
Anyword Pricing
This tool has a great free plan. It gives you 1,000-word credits a month and access to the AI script generator tools, 200+ data-driven copywriting tools, a blog posting wizard, 100+ AI writing tools, and US English support. No time limit, and no credit card details are required.
Starter Plan $29/month: 20k word credits/month.
Data-driven plan $99/month: 30k word credits/month.
---
Copysmith - For eCommerce and Marketing
CopySmith is another one of the great Jasper.ai alternatives. And especially for clients running medium- to large-scale online retail or advertising firms. And it has an incredibly intuitive user interface.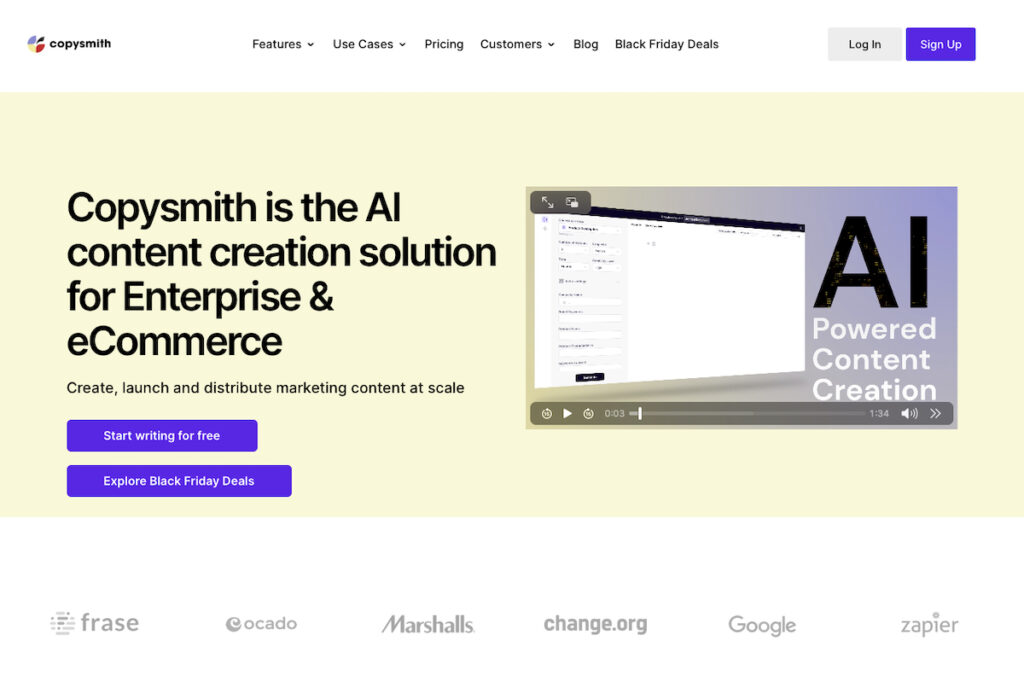 Copysmith ai is a great content-creation tool. It has a robust set of eCommerce and marketing-related functions.
Copysmith Key Features
Wide Selection of Templates: CopySmith provides over 20 marketing copy templates. These include templates for LinkedIn, Instagram, Google, and more. You can easily use these templates even without marketing or copywriting skills. Simply select the one you want to use, fill the boxes with your brand's or product's details, and enter the keywords. CopySmith will then create a copy that matches your description.
Blog Post Generator: CopySmith allows users to create engaging blog entries. Enter a few details about the content you wish to write. You only need to type the introduction, a few important phrases, and opening lines.
Original Content - Your copy is created word-for-word, meaning the content is unique and free of plagiarism.
Google Chrome extension: Users can easily and quickly log in to CopySmith from any website using any device. So, sharing your generated text on the websites of your choice is simple. This extension is available for download from the Chrome website.
Content creation in more than 60 different languages
Integrates with Google Docs, Google ads, HootSuite, WooCommerce, Frase, Zapier, and more.
Advanced team collaboration capabilities can help you reduce your time in meetings.
A bulk product description generator with a high SEO ranking. You can quickly and easily develop SEO-ranked text for your website by creating hundreds of different content versions from a single CSV file.
Export generated material in numerous file formats. (DOCX, TXT, and PDF.)
User-friendly UI.
Excellent customer service via email or Facebook.
Data security. Copyscape uses Google Firebase to guarantee user data protection.
To learn more about its long-form writing capabilities, read our CopySmith ai review.
Copysmith Pricing
Starter - $19/month. The Starter plan includes all of Copysmith's integrations and in-app support. You also get 75 credits (up to 40K words), 20 plagiarism checks per month, and limited bulk content creation
Professional $59/month. This plan comes with all the Starter features. Plus 400 credits (up to 260k words), limited bulk content creation, and 100 plagiarism checks per month.
Enterprise - custom quote from Copysmith's sales team. You get all features plus unlimited monthly words and plagiarism checks.
---
Unbounce Smart Copy (previously Snazzy ai) - For Ads And More
The Unbounce Smart Copy ai tool is great for writing text for advertisements, landing pages, product descriptions, and more.
This ai tool can produce excellent and engaging copy. Add your company's name, keywords, information about your target market, and a description of your service or product. It's among the best Jasper.ai alternatives when it comes to short-form content.
Unbounce Smart Copy Key Features
Generate precise human-like content: Users can rely on it to produce original copy. Unbounce uses cutting-edge technology to provide users with personalized, expert, and relatable material.
Templates. Several templates for developing product descriptions, blog post ideas, and headers are available. Also, selling points, advertisements, taglines, and more. Templates will generate content using the data you enter during onboarding. You can change the copy by using the "customize" button.
Content Extender and Remix choices. Transform simple sentences or bullet points into complex, creative content with Content Extender. You can also alter the length and tonality to create a copy appropriate for you. The Remix option enables users to produce several versions of their work.
Unbounce Smart Copy Pricing
Free Plan. You get 40 Credits / Month - 1 Project.
Essential Plan at $9/month. You get 200 Credits / Month – 3 projects
Unlimited Plan at $49/month. Unlimited use.
---
Writesonic - Combines AI and Creativity
The Writesonic AI is one of our other well-established Jasper.ai alternatives. Its writing platform combines AI and creativity. This combination assists users in improving the quality of their content creation.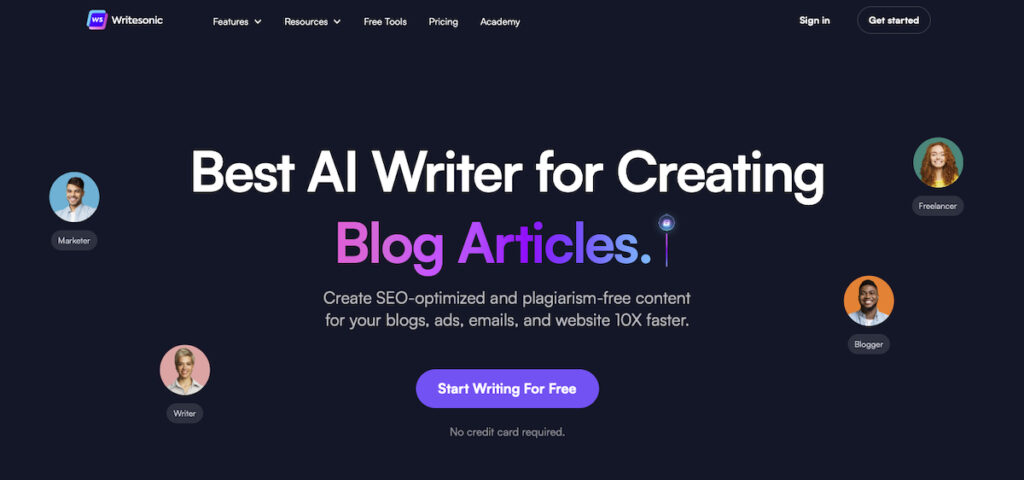 This tool assists in scaling content generation and output for independent contractors, authors, SEO writers, agencies, marketing teams, and business owners.
Writesonic Key Features
AI Article & Blog Writer. Provides topic suggestions, an outline, an introduction, and a 1500-word piece. This is entirely customizable - just add the topic, and Writesonic will do the rest.
Sonic Editor. Creates original content from your input. You can train it to create long-form, high-quality material of any length. Test it by feeding it 20 or more words.
Article Rewriter. Generates a new article for you. Add the URL of the article you want to rewrite, and Writesonic will generate a plagiarism-free article fast.
Bulk upload feature.
Automatic blog image creation. The software looks for images most relevant to the user's topic among the best Shutterstock alternatives.
Instant article writer. You can quickly compose a 1500-word blog post.
Generate content specifically for Google Ads, Quora answers, and Facebook Ads. Landing Page Generator.
Use Photosonic AI art generator if you need assistance creating visuals for your content.
Easy export to a WordPress website.
API – No need for Writesonic's web app to incorporate the API into your own system.
To find out more about Writesonic - read our Writesonic review.
Writesonic Pricing
Free Trial. You get 6250 words each month and access to more than 70 AI templates. Content and a landing page generator. Zapier integration. 1-click WordPress export. A Sonic Editor tool (like the Google Docs editor tool), and an AI writer tool for articles.
Short-form Plan. Starts at $10/month for 30,000 words and one user. Goes up to $26.67/month for 125K words and four users. It comes with all the free trial features except the AI article editor and the Sonic Editor tools.
Long-form Plan. Starts at $13/month for 47,500 words and one user. It goes up to $666/month for 5 million words and ten users. And you get the full suite of Writesonic features.
---
TextCortex - For Excellent Short-Form Copy
TextCortex AI automates content for product and YouTube descriptions. Plus, it generates email body copy and ad content that may expand your audience and increase sales. This is one of the Jasper.ai alternatives worth considering if your main objective is to produce short-form copy.

TextCortex Key Features
Email sales: Create an engaging email subject line.
Product Description – Create a product description that includes the name and brand of your product.
Shopify Integration – Link your Shopify store and have your descriptions automatically generated.
Youtube Description – Enter the title of your video, select your intended audience, and quickly write your description.
Facebook ads – Expand your audience by running Facebook ads.
Support emails – Address any issues raised by customers.
TextCortext Pricing
Free plan: Use all features on a daily limit of ten creations per day. It supports rewriting paraphrasing, text extender, and an email writer.
Pro Plan at $19.99/month: All features offered in the free plan plus unlimited creations, long-form posts, summarizer, and tone changer.
Business plan at $49.99/month: Everything in the Pro plan plus AI web text editor. Unlimited creations. Creation and translation in 10+ languages. 200+ words creations. 20+ Creation Templates and WebApp AI text editor.
---
ClosersCopy - For Advertising Copy
ClosersCopy can assist you if you need to gain expertise in writing advertising copy. It is also a good substitute for Jasper.ai. ClosersCopy makes it simple to produce original sales copies in seconds. And you have access to an AI editor with drag-and-drop capabilities.
ClosersCopy features a step-by-step copy wizard, 1000+ Power Words lookup, and help. It's the perfect tool for those in the sales or marketing industries. You can quickly write your material using the drag-and-drop AI copy editor.
It also has an insights feature. This gives you a detailed analysis of your content's readability, emotion, keyword density, and spam analysis. This report can significantly improve your content.
ClosersCopy is one of the prime Jasper.ai alternatives when it comes to copywriting.
ClosersCopy Key Features
Over 300 plug & play marketing frameworks
Over 30 plug & play marketing workflows
AI to assist your write blog posts and sales letters
Insights into your content
You can write your copy using the Wizard step-by-step.
Over 127 languages supported
Access to the template library
ClosersCopy Pricing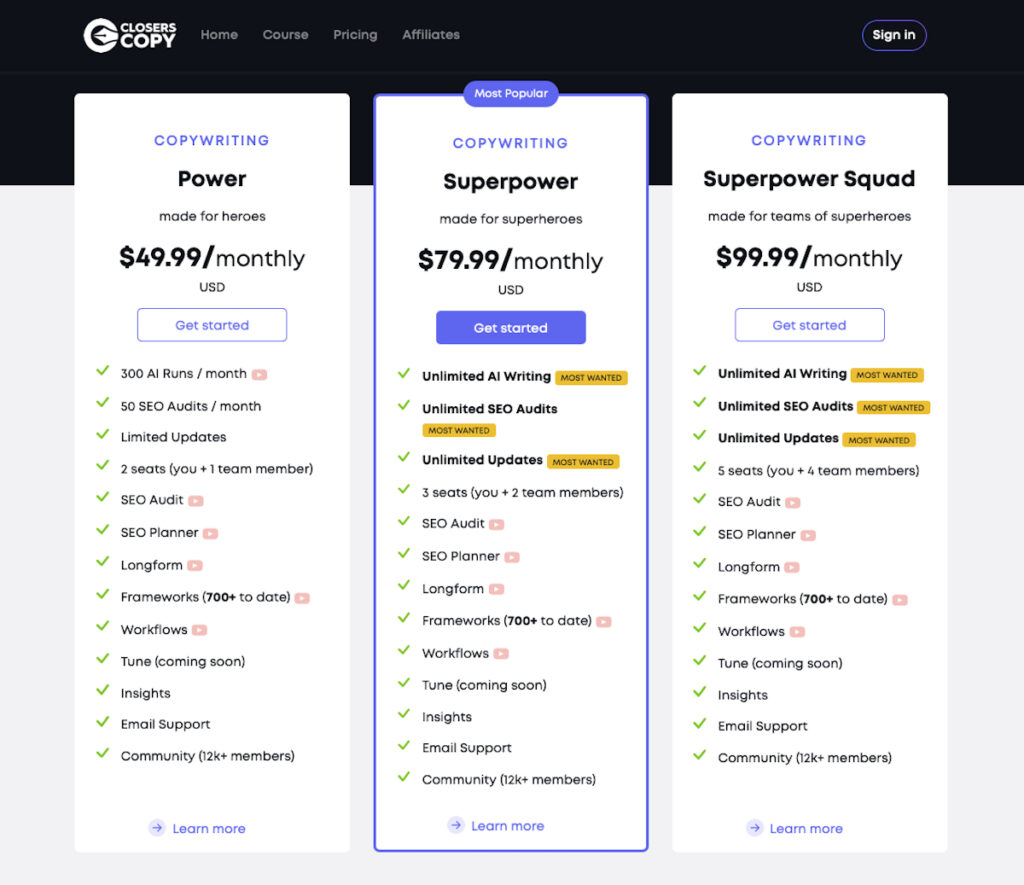 You get a 14 - day money-back guarantee, but unfortunately, no free trial.
Power plan at $49.99/month. 300 AI Runs/month. 50 SEO Audits/month. 2 seats (you + 1 team member)
Superpower Plan at $79.99/month. Unlimited AI Writing. Unlimited SEO Audits. Unlimited Updates. 3 seats (you + 2 team members)
Superpower Squad at $99.99/month. Unlimited AI writing, SEO audits, and updates - 5 seats (you + 4 team members)
---
Jasper.ai Alternatives: Which is The Best?
So, which one is the best of our listed Jasper.ai alternatives? The answer comes down to preference and required features.
Jasper ai is unquestionably a great tool, but that doesn't mean everyone should use it.
Thankfully, the market is flooded with rival products; the best Jasper.ai alternatives are listed in this article. Below is a quick recap of each tool.
Copy ai
Copy ai is an excellent tool for short-form content. It's best for marketers, email marketers, and social media managers. These writers have to come up with subject lines and copy constantly.
GrowthBar
GrowthBar might be a better option than Jasper.ai if you want to generate AI-optimized SEO content. This tool provides a wide range of SEO features, but its article generator feature gives it the upper hand.
Scalenut
Currently, I'd argue that Scalenut is even better than Jasper in terms of content quality, NLP terms, SEO features, and pricing.
Content at Scale
Jasper's output tends to be repetitive and needs editing. Content at Scale reviewers all agree that the output from Content at Scale, on the other hand, requires less editing.
Rytr
If you're looking for an easier-to-use and more affordable AI writing tool than Jasper.ai, Rytr is a great choice.
Frase
With Frase, users may select from a variety of AI tools to generate outlines and content automatically. Users can also develop their own unique, need-specific templates. Frase is frequently cited as the ideal tool for producing SEO-focused content and as an alternative to Jasper.ai.
Outranking
Outranking is a better option if you require a full range of functions that go beyond content creation.
Anyword
Anyword, an AI writer that develops and improves your posts to help you gain more conversions and sales. It's a good Jasper.ai alternative. It's also supported by an effective system of predictive analytics that can tell you what will work before you publish it.
Copysmith
Copysmith is best for businesses and companies that want to create content at scale while working and collaborating with multiple people on a team.
Unbounce (Snazzy)
Unbounce (Snazzy) works better than Jasper.ai for teams. It was specifically built for the teams that need to scale content.
Writesonic
Writesonic is best-suited to automate website text and marketing copy. It also has paraphrase and bulk content generation features which Jasper.ai currently does not offer.
TextCortex
There is no denying that Jasper.ai is a fantastic tool for generating content more quickly and that it leads the market in this area. But TextCortex's well-structured, adaptable, and use-case module-trained algorithms assist you in producing high-quality long-form content.
ClosersCopy
While Jasper.ai works well for all types of writing, ClosersCopy is better suited for writing sales copy.
Wrapping Up Jasper.ai Alternatives
Now is the best time to begin exploring your alternatives for AI writing tools. Because fierce industry competition is fueling a wealth of innovation, you have many great choices.
There is a tool out there for every budget and use case. Experiment with as many AI writing programs as you can to see which output you like. You'll soon find the best Jasper ai alternative that suits your needs.
Have fun experimenting with the list of Jasper.ai alternatives, and take your time!
Want to learn step-by-step how I built my Niche Site Empire up to a full-time income?
Yes! I Love to Learn
Learn How I Built My Niche Site Empire to a Full-time Income
How to Pick the Right Keywords at the START, and avoid the losers
How to Scale and Outsource 90% of the Work, Allowing Your Empire to GROW Without You
How to Build a Site That Gets REAL TRAFFIC FROM GOOGLE (every. single. day.)
Subscribe to the Niche Pursuits Newsletter delivered with value 3X per week