GrowthBar Review: Is This Affordable AI Content and SEO Tool Any Good?
When you buy something through one of the links on our site, we may earn an affiliate commission.
GrowthBar is one of the newer AI tools on the block. It's surprisingly affordable, with a huge range of useful features to help bloggers and content teams optimize their content, but is it actually any good? I've been testing GrowthBar for a few months now, so in this GrowthBar review, I'll give you my honest opinion on this tool.
I'll talk you through the features and the pros and cons of using this SEO tool so you can decide for yourself if it's right for you.
Let's jump in!
---
GrowthBar Review
Ease of Use

Stability

Customer Service

Price
Summary
GrowthBar is one of the most affordable AI writing and content optimization tools currently available. It's super user-friendly, with everything you need to create great content in one place. It even includes a Chrome extension which makes it easy to write and optimize your content within WordPress. Try GrowthBar here!
Pros
Easy to use

The basic plan is very affordable

5-day free trial

Suggests relevant images for your content

Chrome extension

Write and Optimize content within WordPress

Support for analyzing both Facebook and Google ads
Cons
Doesn't work well with Safari

The keyword research features are basic

The AI content generation isn't as good as Jasper
GrowthBar Review [TL;DR]
In a rush? Don't worry! Here's what you need to know.
GrowthBar is a fantastic all-around AI content creation and comprehensive SEO tool at a very affordable price point. The Chrome extension makes optimizing your content easily within WordPress, which is a huge time-saver.
It's similar to Surfer when it comes to content optimization, but with the added benefit of being able to generate AI content.
For anyone on a tight budget, it's a no-brainer. You will get insane value out of this tool. Read the full GrowthBar review for everything you need to know!
That being said, GrowthBar doesn't have the 'Recipes' and 'command' features you will find on Jasper. So, if you've got a larger budget, I would still recommend Jasper for AI content generation, and a separate content optimization tool like Surfer.
What is GrowthBar?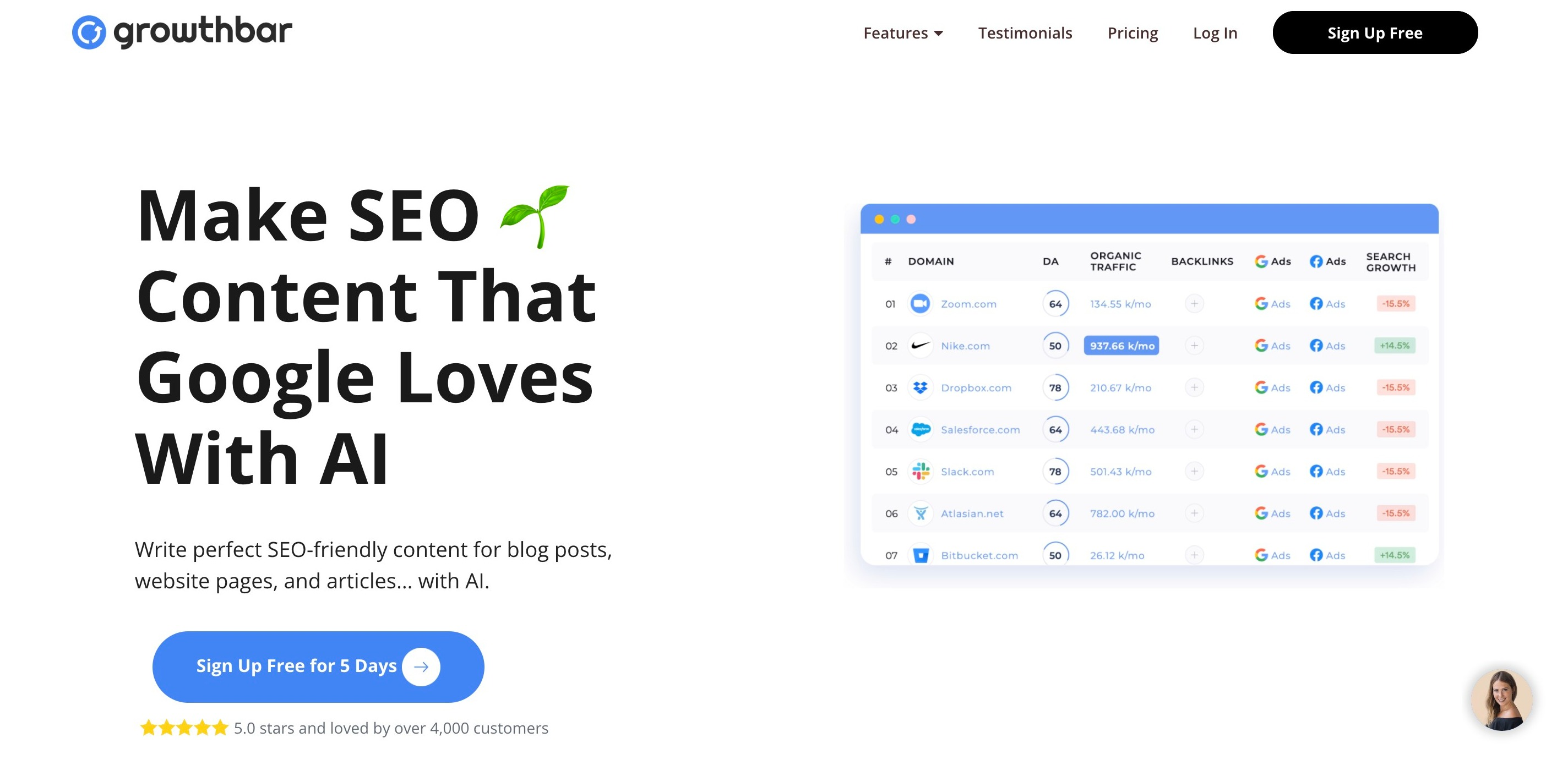 GrowthBar is an all-in-one AI writing tool designed to help marketers, bloggers, and content teams create SEO-friendly content, blog posts, promotional website content, and much more.
As well as being an AI writing tool, it has a range of content optimization features included. This helps you create content that has the best possible chance of being ranked in search engines.
It has a wide range of features built-in, including:
AI Writing Tool
Paragraph Rewriter
Blog Outlines
AI Meta Description
Keyword Research Tool
Blog Topic Generator
Competitor Research Tool
Rank Tracking
And as mentioned above, it has a great Chrome extension. This means you can take advantage of all the features through the app, in Google Docs, and even right in WordPress.
Best of all, it's one of the most affordable SEO writing tools available right now, making it a great choice for anyone just starting out who wants to hit the ground running (and you may also be interested in these affordable SEO services).
GrowthBar Review: AI Writing Tools
Some AI writing tools have a reputation for writing content that doesn't quite make sense or fails to convey the sentiment behind the text created. However, while that might have been the case a couple of years ago, there have been some great advancements over recent years.
Now software tools like GrowthBar offer a range of AI writing tools that can be relied on consistently. Here's a quick look at some of the features that GrowthBar offers in terms of content writing.
Content Generator
As the name Content Generator suggests, this is an SEO tool that helps you when it comes to generating long-form content such as blog posts and web pages.
The dashboard makes it easy to get started. Simply put a rough topic or title idea into the 'create content' bar and click to get started.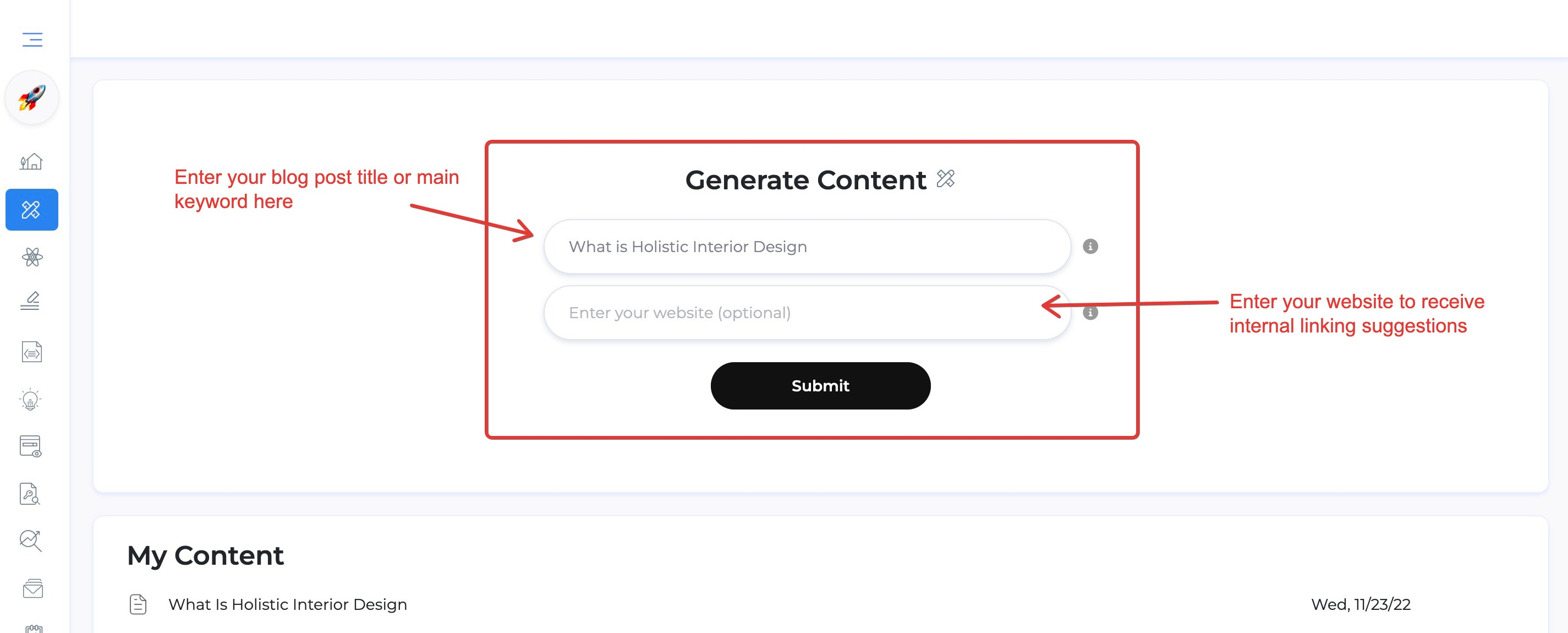 You will be given a suggested title and opening paragraph. If you're happy with these, click the tick, and if not, click the 'shuffle' icon for another suggestion.
On the right-hand side, you will see a selection of H2, and H3 headers from your competitors. You can drag and drop the ones you like into your article, make any changes if you wish, or leave them as they are.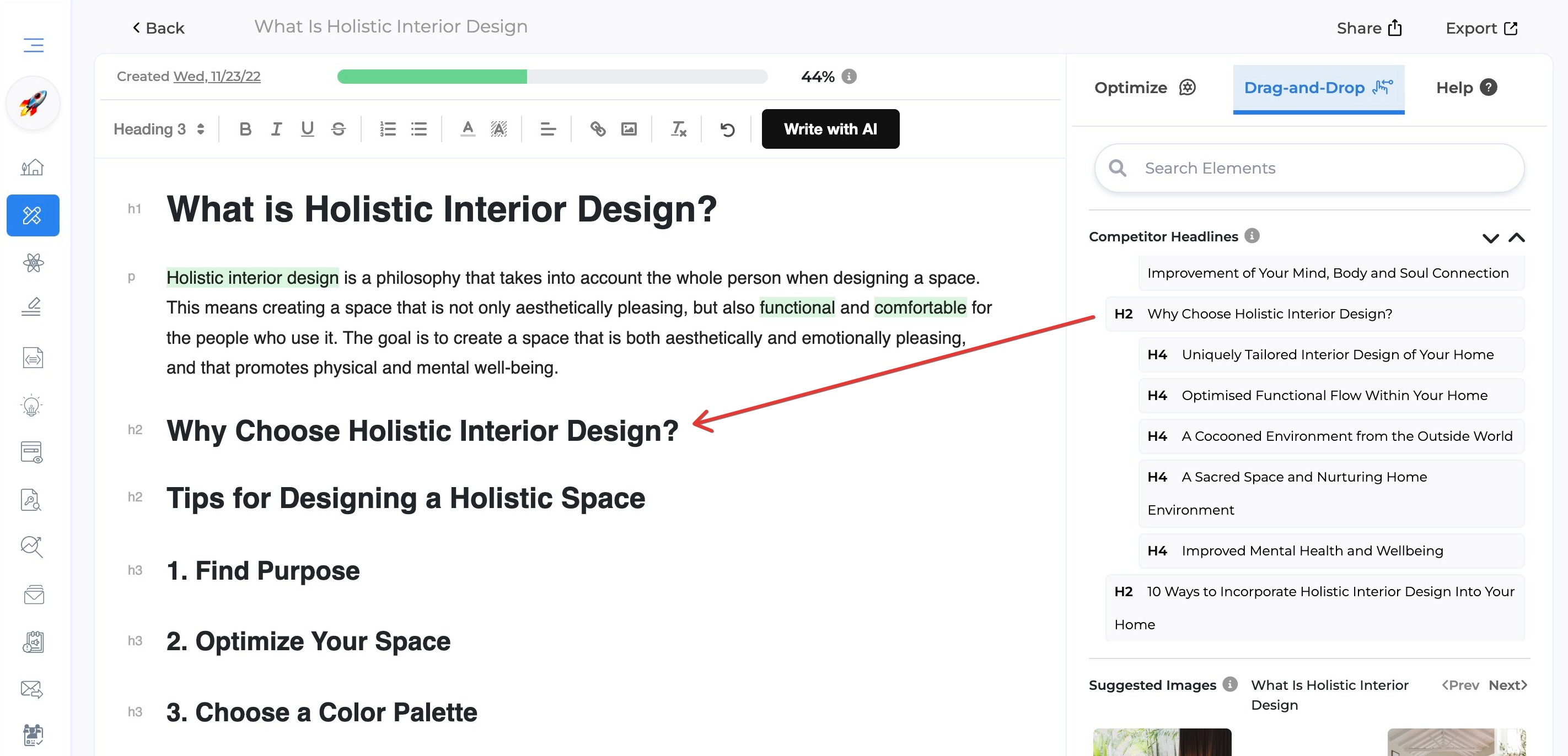 Once you've chosen your headers, you can generate more content. Hit the 'Write with AI' button under each H2 or H3 heading, and the AI will generate a paragraph for you based on the heading.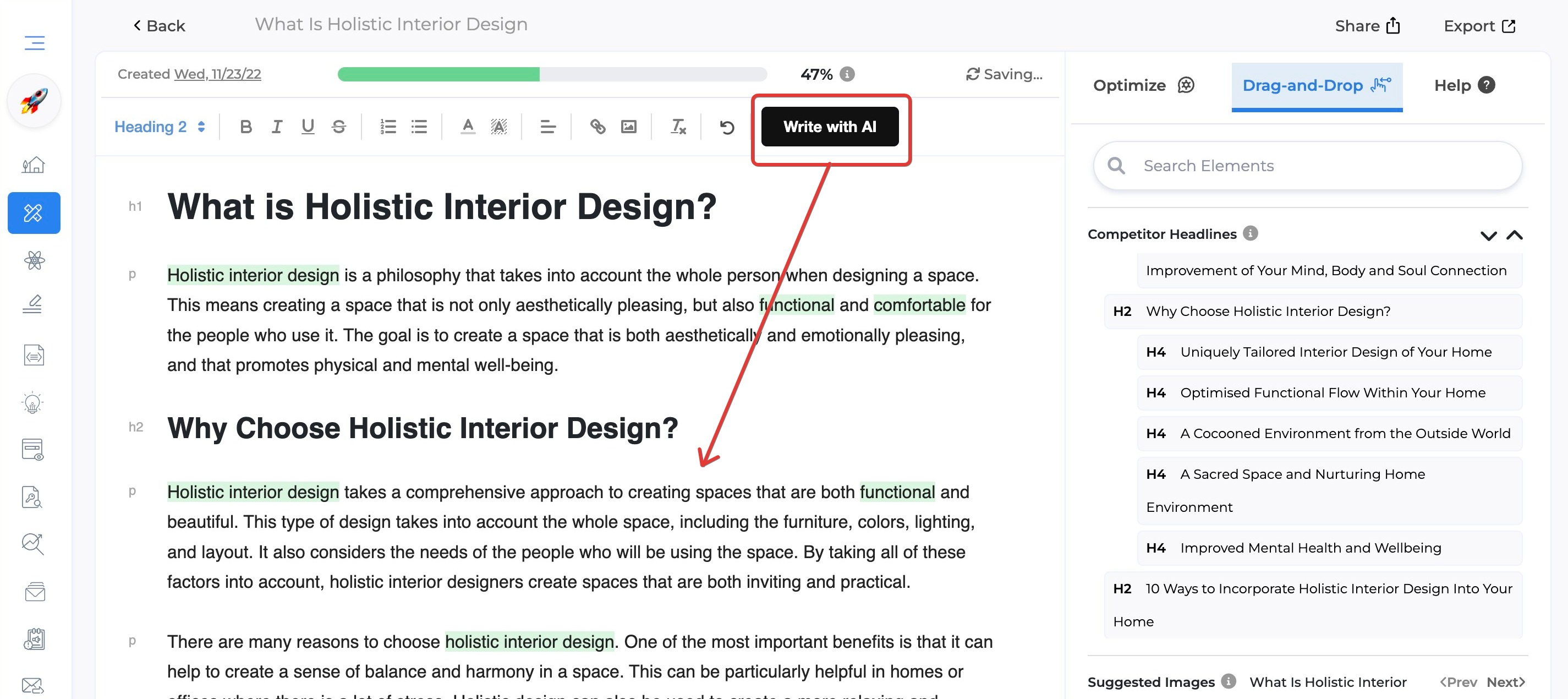 You can then select certain sentences and/or paragraphs and 'shuffle' content if you want to change certain sections of what has been created.
It even includes suggested images for your article based on your chosen keywords. If you see an image you like, simply drag and drop it into your article.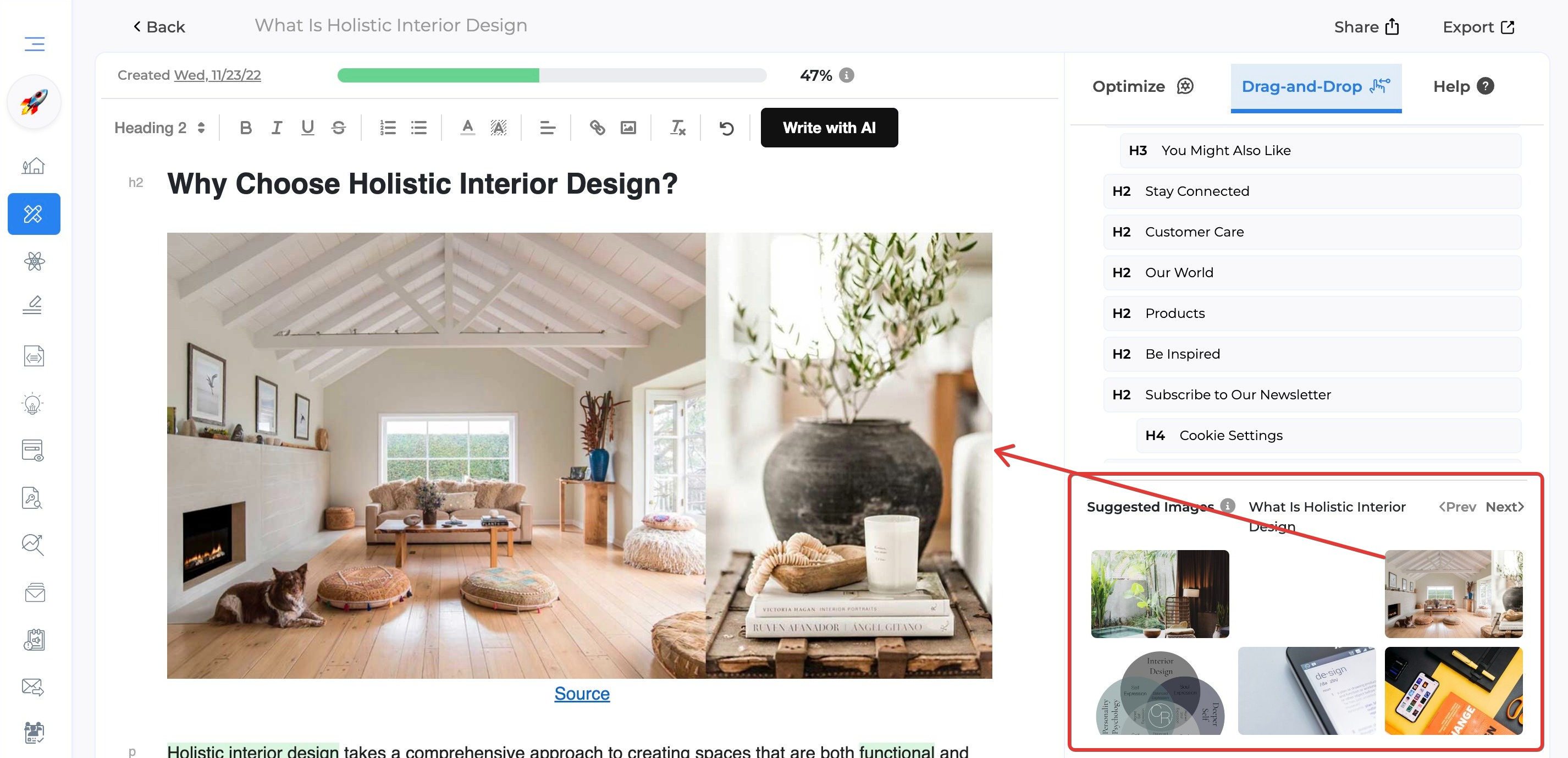 The source of the image is included in a link underneath, which is a huge time saver. This feature also includes the content optimization tool, which we will discuss later in this GrowthBar review.
Paragraph Generator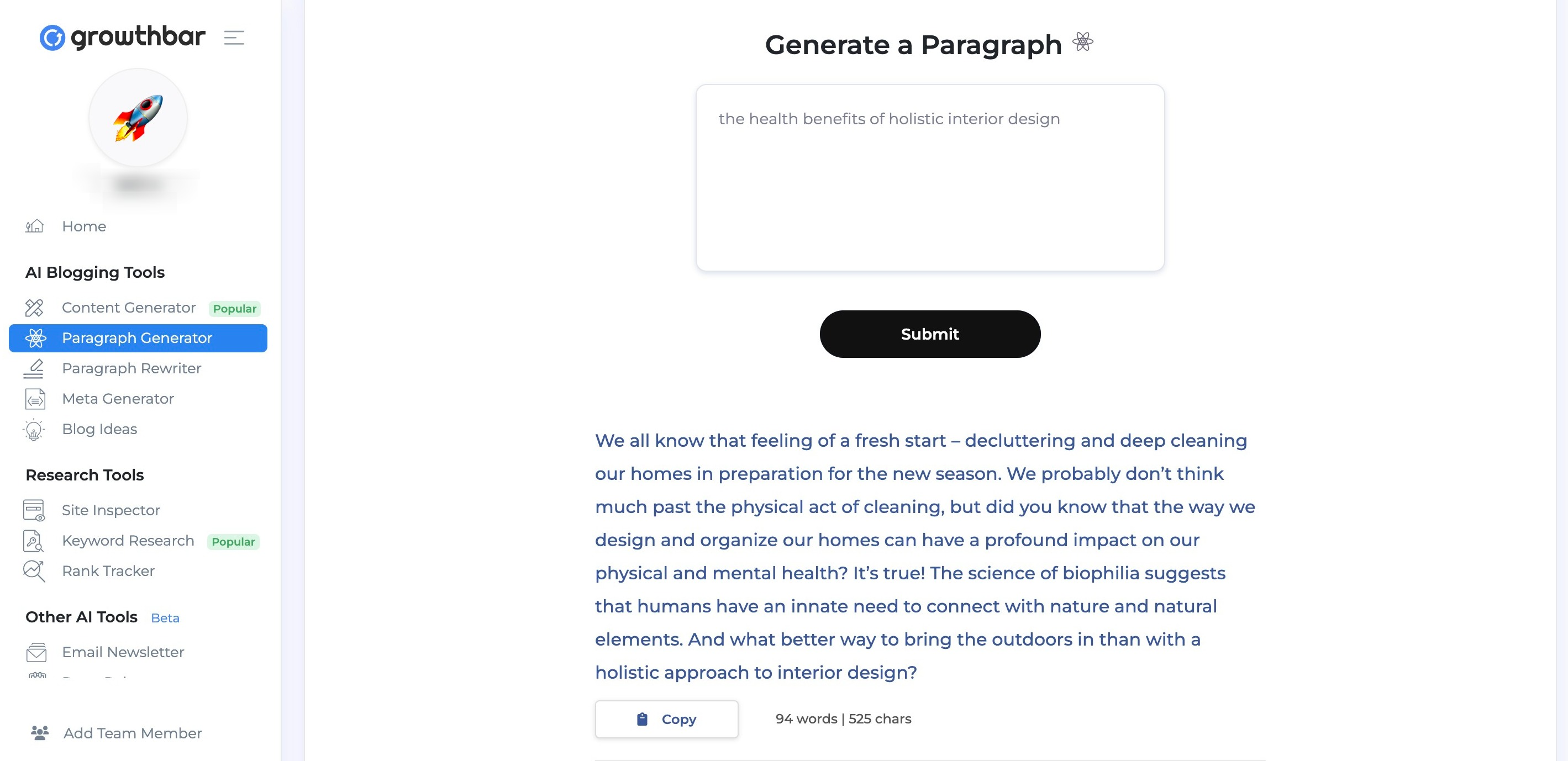 This works independently of the content generator tool. However, many users feel that the two should work together, so that's hopefully something that will change in a future update.
That being said, it's still a great feature. The idea is that it helps you generate a single paragraph. Write a few words about what you want your paragraph to be about and shuffle sections of the text around if you want any changes to be made.
Paragraph Rewriter
Sometimes you can have an idea of what you want to say, but you feel as though the text you have put together doesn't quite hit the spot. The paragraph rewriter tool within GrowthBar is perfect because it allows you to change how a piece of text reads, and you can edit it until you are happy with the content.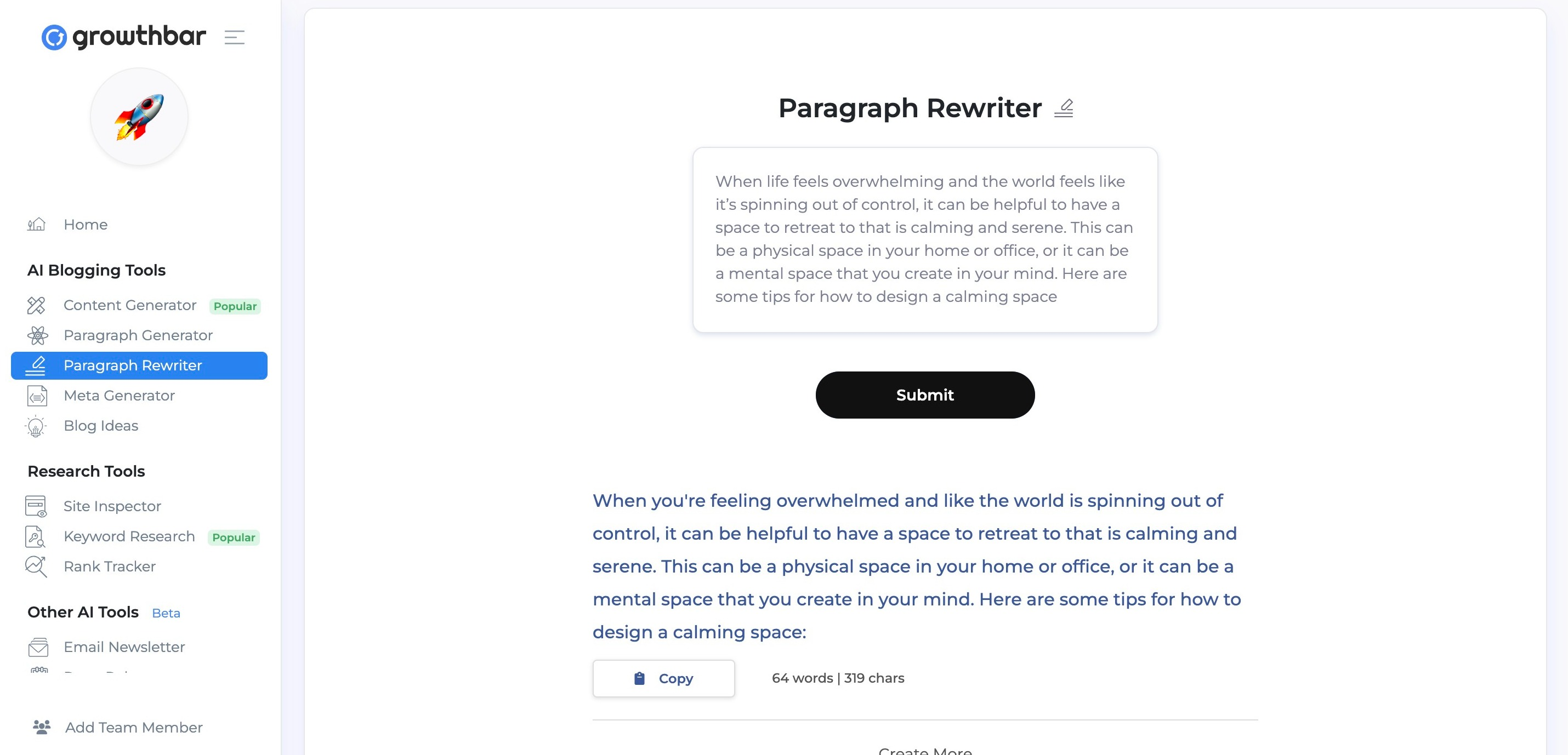 I found this tool to be hit-and-miss. Sometimes it would do a great job, and other times it would only rewrite a few words out of the whole paragraph. However, this can be pretty standard for rewriter tools.
Meta Descriptions Generator
Although there are several elements of SEO that need to be paid attention to, generating an effective Meta description definitely helps. However, it can be hard to know exactly what to write.
With GrowthBar, you can enter a short description of your page or post, and it will use AI software to generate an effective Meta description for you. This is a great time-saver for anyone who spends too long mulling over meta descriptions.
Content Optimization
Writing great content is all well and good, but if you're writing online content, it needs to do more than just read well.
Optimizing content for search engines is a must if you want your website to be successful.
As well as providing you with a list of keywords to include, GrowthBar also shows you:
The optimal number of headings
Target word count range
The number of images you should include
External links
The optimal number of paragraphs for your content
Readability score
The readability score is particularly useful and is something that is not included in all content optimization tools.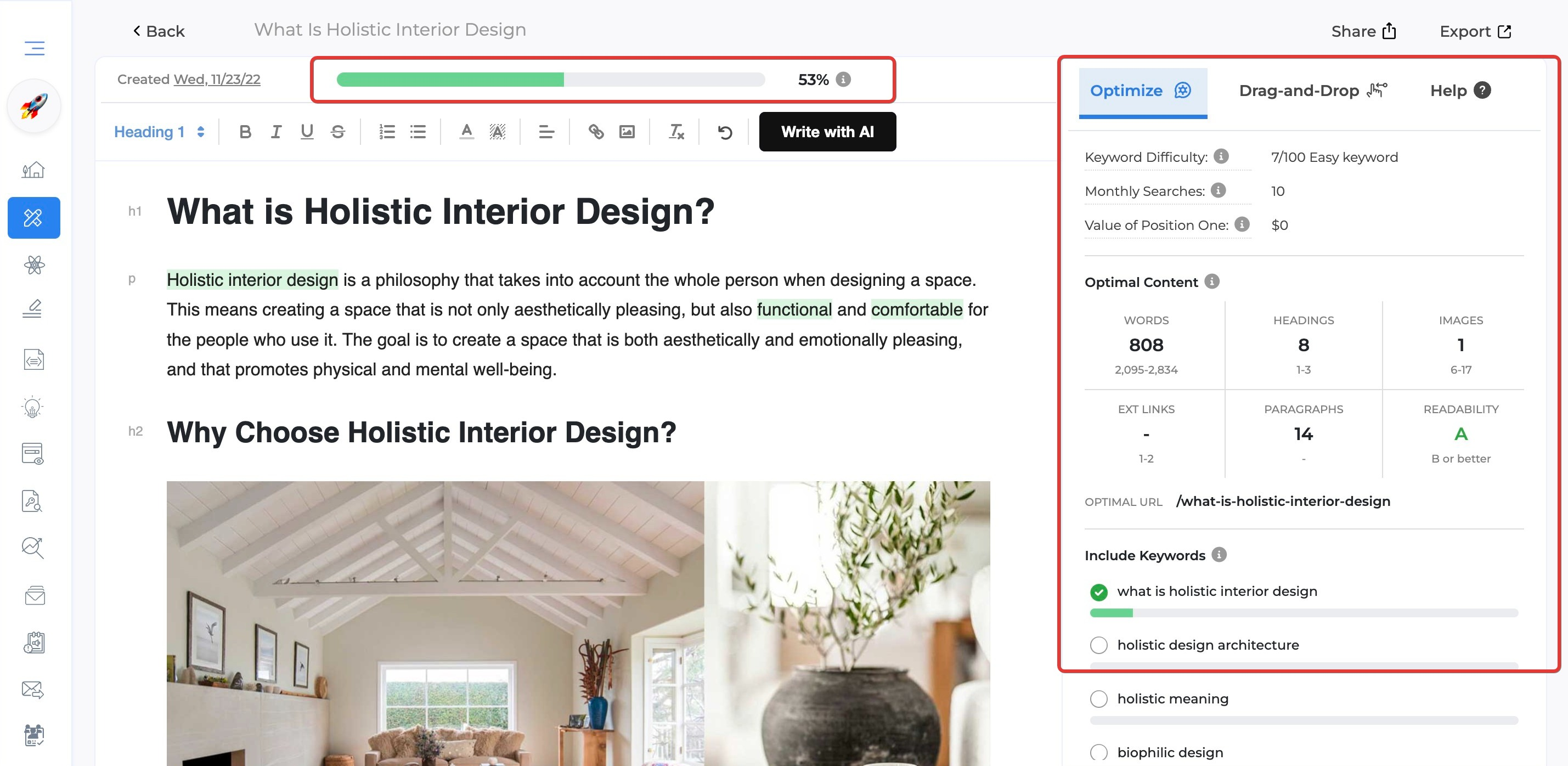 Best of all, you can use the Chrome extension to optimize your content within WordPress. This is super handy for going back and optimizing older content too!
The only downside I can see in this area is that it doesn't give your competitors a content score or grade in the same way as tools as MarketMuse and Surfer do. Instead, it suggests that you focus on your own content optimization score and aim for 75% or higher.
Keyword Research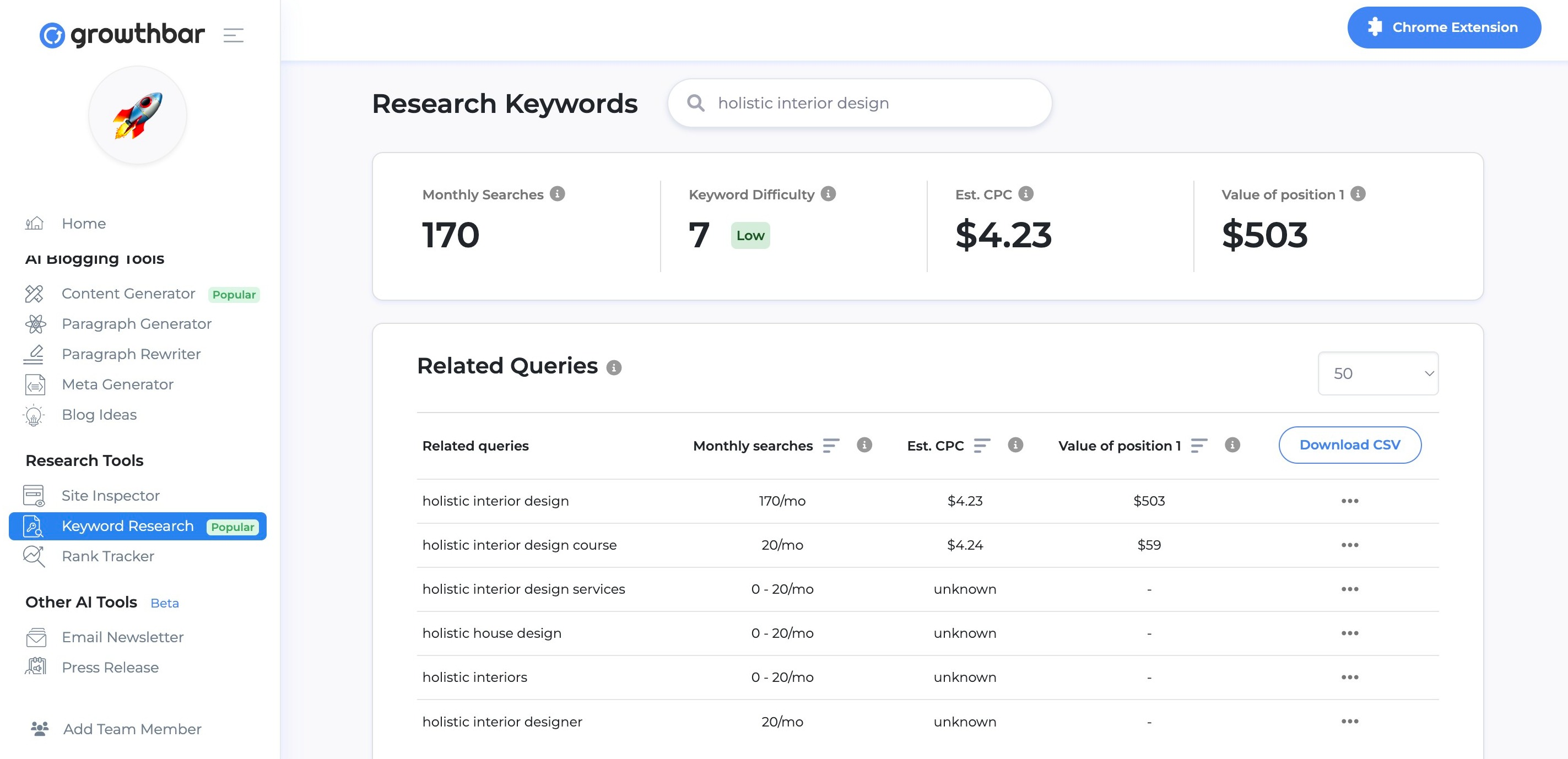 As well as being an effective AI writing tool, GrowthBar has different tools that can help with SEO, including a keyword research tool. This tool allows you to look at keywords and get SEO insights into what search volumes they are receiving and how hard the tool feels it would be for you to rank for the phrase too.
It also gives you some related queries so you can see a list of other keyword suggestions that the tool thinks would be a good idea for you to pay attention to.
Further down the keyword research page, you will also see the top-ranking sites for your selected keyword ideas and their domain authority. This feature is super handy for helping you work out if you can rank for your target keyword.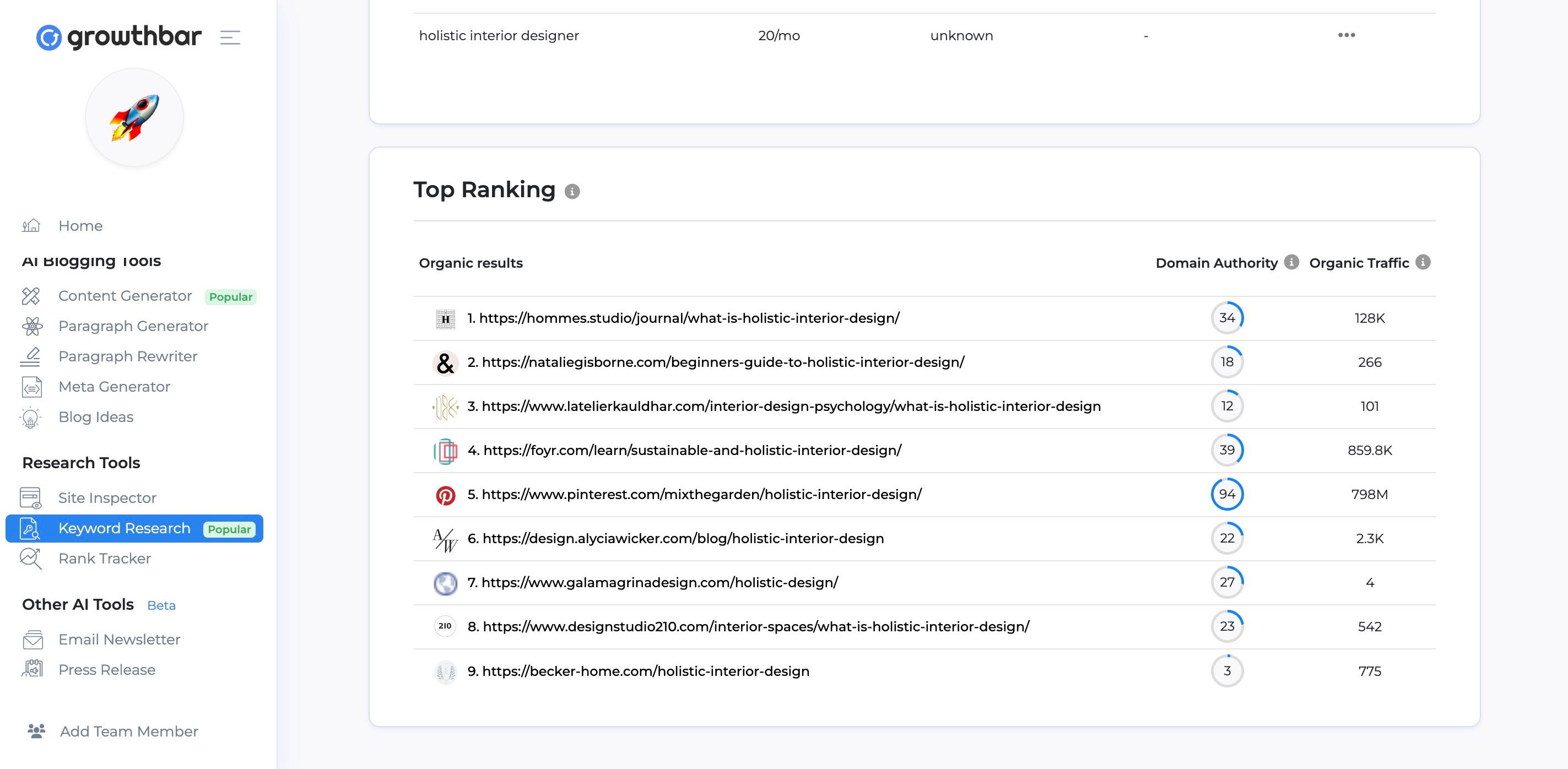 This feature doesn't go as in-depth as tools like Ahrefs and Semrush. However, it's a very good option for basic search engine optimization.
Blog Topic Generator
The blog ideas tool is perfect for bloggers who want to generate good, snappy titles for blog posts on their chosen topic.
You simply type in a word or two related to the topic you want to write about, and it will give you a title idea that you can use on your blog.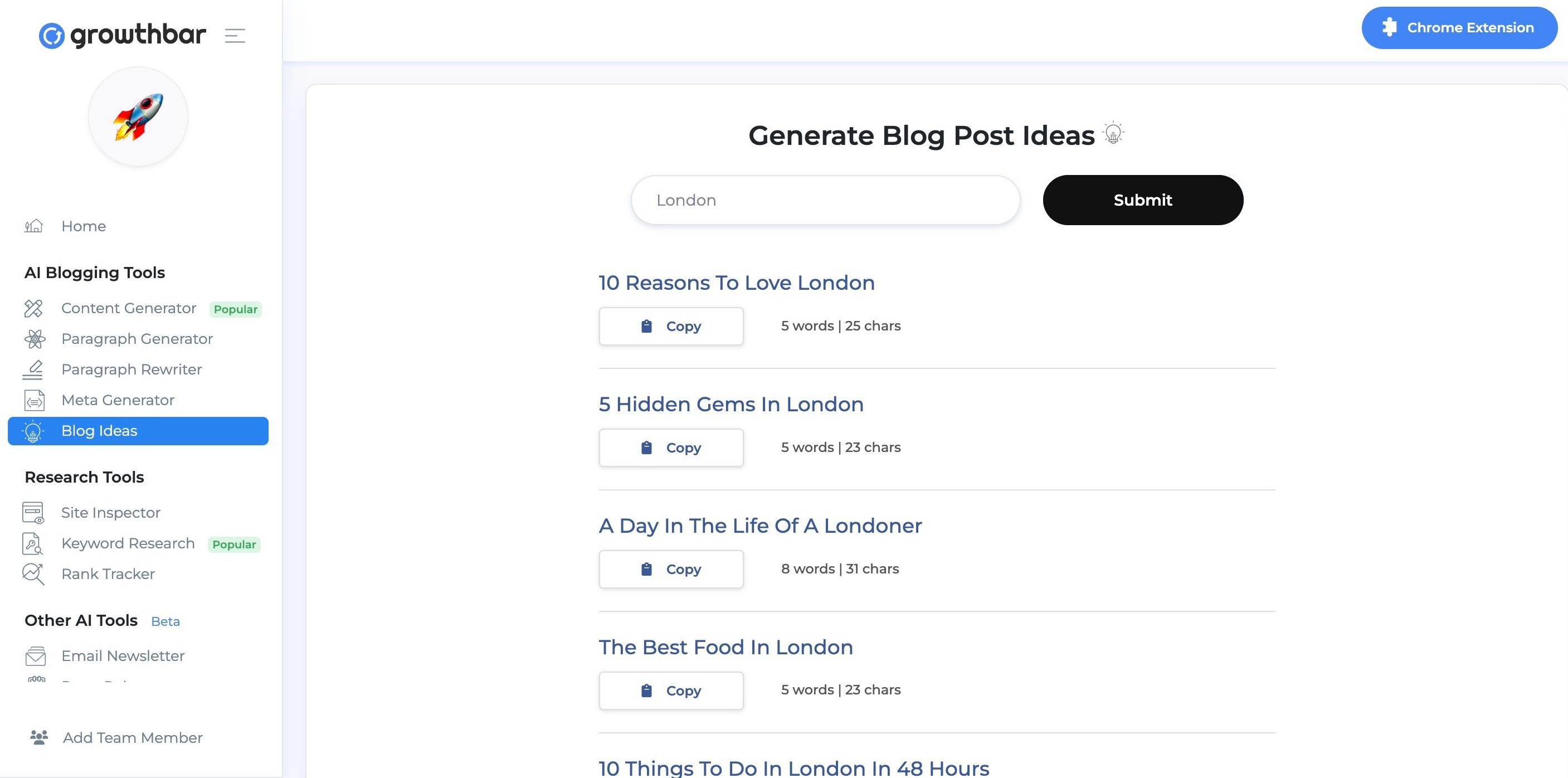 This is great because it means you can have an idea on a rough subject you want to write about - IE London, and the blog ideas tool will give you several related title ideas to help inspire the actual content of the blog post.
Site Inspector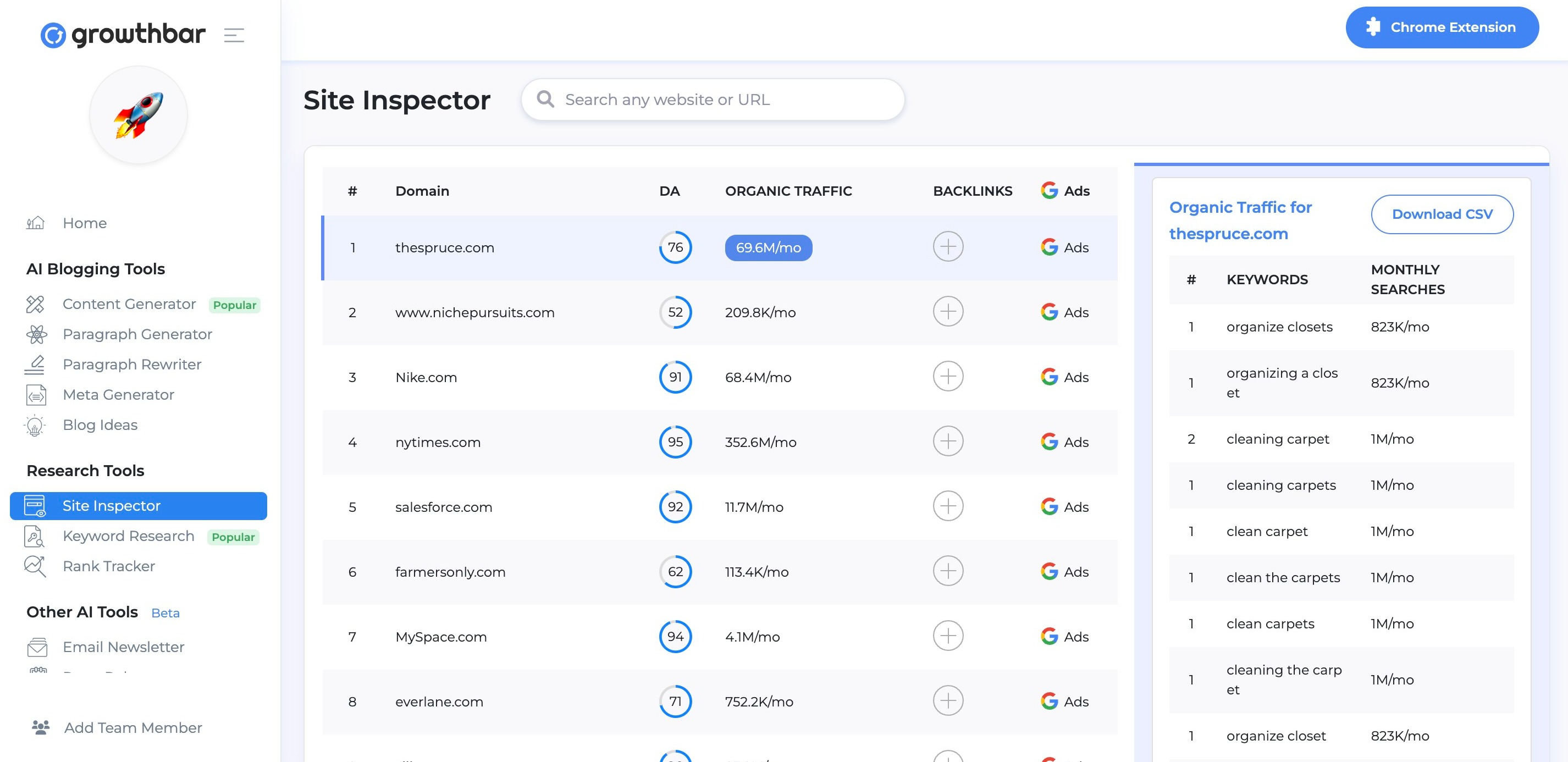 GrowthBar's Site Inspector feature allows you to enter any domain, and view:
Domain Authority
Backlink analysis
Estimated traffic
Ranking Keywords
Paid keywords
If you want to dive a little deeper, click on the plus button, and click 'see more backlinks'. This gives you a full rundown of the website's backlinks. It includes the linking site's domain authority and the total links to your site.
You can use this feature to check your own backlinks, see whether any of them are broken, and see how your competitors perform to get a full picture.
The site inspector also lets you view any Google ads campaigns and their cost-per-click details, as well as a list of keywords the specific site ranks for.
But when compared to an in-depth SEO software tool like Semrush, GrowthBar's ability to provide data and domain analysis is limited. However, it provides the basics in a clear and easy-to-understand way. The backlink list is limited to 500 entries.
The site inspector doesn't help you with broken link building though which is a bit of a bummer, although this can be achieved using apps like Ahrefs and Semrush as mentioned above.
Rank Tracker
With the Rank Tracker, you can enter any domain and add the keywords you want to track. The app will then track how each word is ranked. You will get a monthly estimate of the site's traffic, how high each keyword ranks, and the difficulty rating of how hard it would be to get your site to rank for the chosen keywords.
The rank tracker is useful for gauging your competitor's performance over time and formulating the best approach for you to take to improve your own site's performance.
GrowthBar Chrome Extension
Rather than needing to log into the software every time you want to use it, you can use the GrowthBar Chrome Extension. This is great for seeing SEO results and rankings of every Google search results you make.
For each result on Google it shows you:
The keyword research difficulty scores
Domain authority
Organic traffic
Backlinks
Google ads
Facebook ads
Other related searches with monthly Google search volume and CPC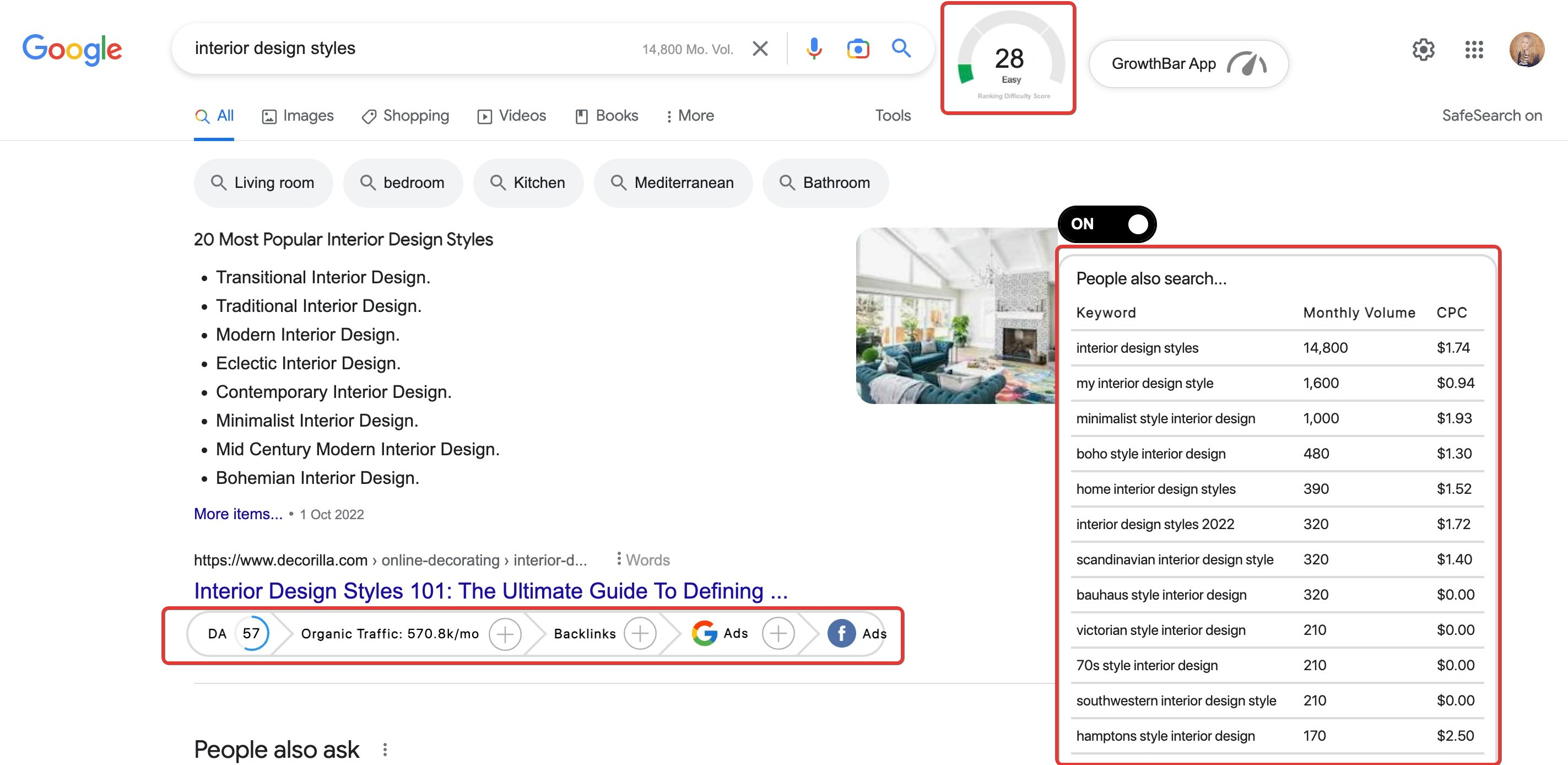 As well as being a vital part of your day-to-day SEO research, it also allows you to write using their AI software directly in WordPress. This is a massive time saver and makes life much easier.
Other AI Tools Included (Still In Beta)
As you might imagine, a piece of software like GrowthBar is always changing the way it works and what it offers. This is great news for consumers because they are always looking for additional features they can add to give better value out of their software.
These are the features available with GrowthBar that are currently still in Beta.
Email Newsletters
Coming up with engaging newsletter content can be tough. This is why GrowthBar is working on a tool to help with this. It's still in Beta mode but is designed to help you easily create wordy but efficient email newsletters.
Press Releases
Whether you want to reach local newspapers or get featured on Google News, the way you put together a press release and the tone it puts across to readers is essential.
Another Beta tool in the GrowthBar repertoire is a press release content creator. Creating the right mix of informative but promotional content generation can be the hardest part of creating a press release. Reliable AI software designed to help with this can only be a good thing.
Sales Emails
Sales emails can be a great way of generating business revenue. But you have to get it right. GrowthBar has a beta version of a sales email content creator, and it's going down a storm with people that have tried it in the early testing stages.
The details are still being ironed out, but additions like being able to email customers if they have left items in their basket or at other touch points of their journey would certainly be welcomed by GrowthBar users.
Product Descriptions
How you describe your products can help make or break someone's decision about making a purchase. As a business, you must get it right. GrowthBar is keen to help with all elements of your content creation and, as such, is developing AI product description options too.
Customer Support
If you want to contact GrowthBar customer support, you can do this via the live chat option on their website. It says a response could take a couple of hours, so it might not be instant.
They also list an email address at the bottom of their front page. However, it doesn't indicate how long you should expect to wait for a response if you do contact them this way.
GrowthBar Review: The Pros and Cons
As with all software, GrowthBar has it's own pros and cons. These are the main pros and cons worth noting from this GrowthBar review.
The basic plan is very affordable
5-day free trial available
Suggests relevant images for your content
Chrome extension available
Write and Optimize content within WordPress
Support for analyzing both Facebook and Google ads
Doesn't work well with Safari

The keyword research features are basic

The AI content generation isn't as good as Jasper
GrowthBar Review: Pricing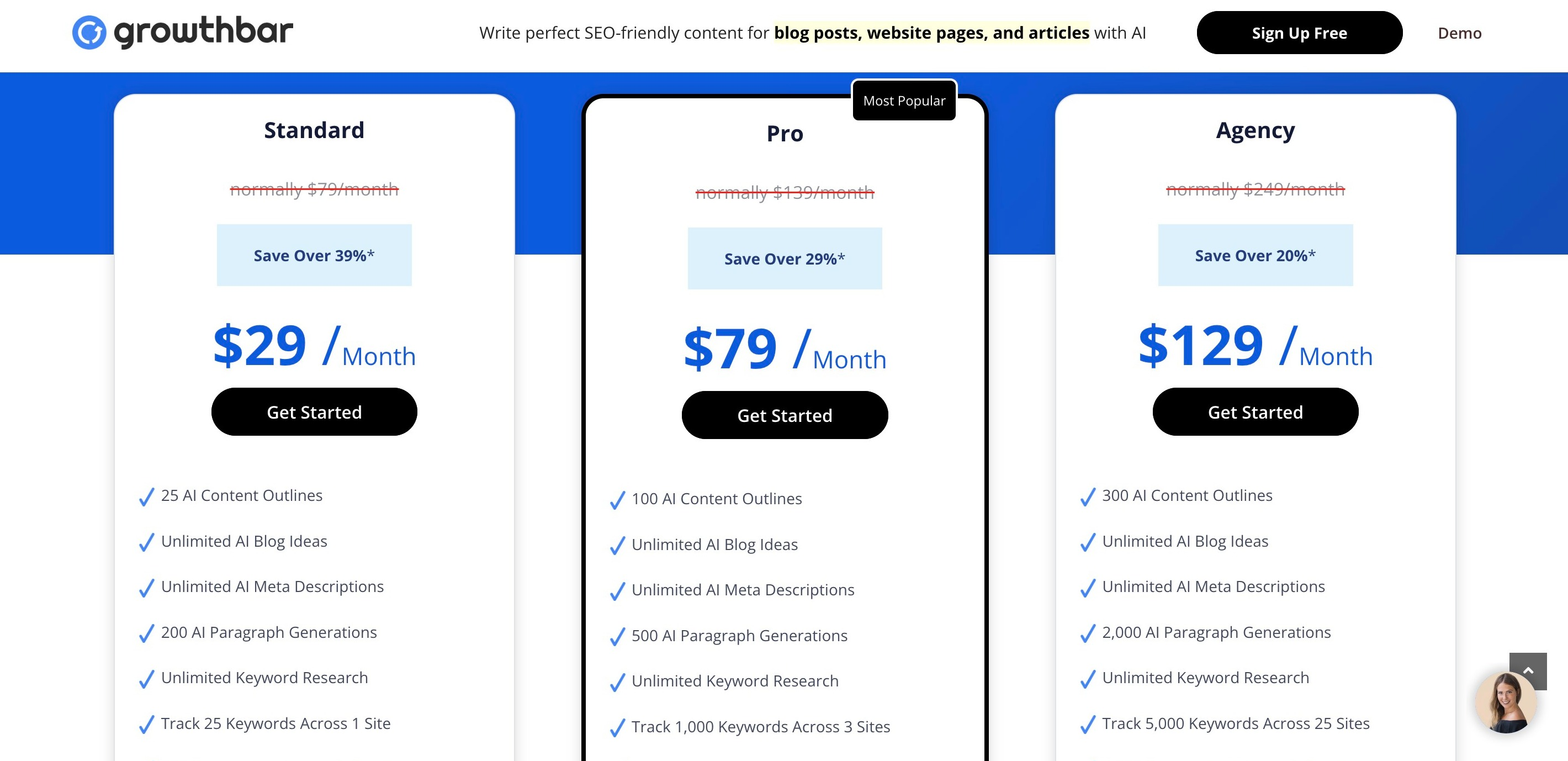 Subscriptions currently start at $29 per month for the standard package. This gives you two user accounts, 25 AI content outlines, and 200 AI paragraph generations. It also allows you to track 25 keywords across 1 Site, 300 competitor keywords, Google ads, and backlinks per search.
The Pro Package costs $79 per month and increases the following. Five user accounts, 500 AI paragraph generations, 100 AI content outlines, and 500 AI paragraph generations. It allows you to track 1,000 keywords, competitor keywords, and backlinks. Google ads query results increase to 1,000.
The Top Agency package is priced at $129 per month. This allows ten user accounts, 300 AI content outlines, 2,000 paragraph generations, 5,000 keywords across 25 Sites, 2,000 competitor keywords per query, 1,500 competitor backlinks, and 2,000 competitor Google ads per query.
All packages provide live support and unlimited Chrome extension use.
GrowthBar Review: Is It Worth The Money?
Hopefully, this GrowthBar review has given you a good idea of what GrowthBar is all about.
Overall, GrowthBar provides excellent value for money and is extremely user-friendly. I would definitely recommend it if you're looking for an affordable AI content tool.
Being able to write and optimize content in WordPress is a great feature. It means you can easily go back through your older content and update it to boost your traffic.
It gives bloggers and small business owners everything they need to create content thats high-quality and well-optimized using AI. The price point means it's a great choice for anyone starting out on a budget.
GrowthBar Alternatives
Not convinced by this GrowthBar review? If you are looking for other SEO tools and AI writing software, then you'll find that there are plenty of different options out there.
Jasper is undoubtedly the best tool for the job if you want to generate AI content. You can read our in-depth Jasper Review for the full lowdown on this AI writing tool.
When it comes to content optimization, there are a few good options to choose from.
Our number one choice has got to be Surfer. It's a tool that we use daily here at Niche Pursuits. Although it doesn't have any AI writing tools included, it does have a native integration with Jasper, so you can connect the two and write high-quality fully-optimized content easily.
Some other tools you might want to check out are:
Want to learn step-by-step how I built my Niche Site Empire up to a full-time income?
Yes! I Love to Learn
Learn How I Built My Niche Site Empire to a Full-time Income
How to Pick the Right Keywords at the START, and avoid the losers
How to Scale and Outsource 90% of the Work, Allowing Your Empire to GROW Without You
How to Build a Site That Gets REAL TRAFFIC FROM GOOGLE (every. single. day.)
Subscribe to the Niche Pursuits Newsletter delivered with value 3X per week