Anyword Review: Is It The Best AI Writing Assistant For Copywriters?
When you buy something through one of the links on our site, we may earn an affiliate commission.
In this Anyword review, we'll examine what this writing tool can do for you and how it can improve your writing results. We'll also do a pretty detailed analysis to help you clarify if it's the best choice of AI writing assistant for you.
Writing content and creating compelling ads all the time is a challenging effort. Thus technologies like Anyword writing tools are helpful. It makes working and finishing tasks that need brainstorming and thought processing easier.
Anyword also makes it easier for marketers and content writers to broadcast their content much faster. The content may even perform well on search engines like LinkedIn, Google, etc.
In this Anyword review, we will take a look at:
An overview of Anyword
Key features
Plans and pricing
Pros and cons
Alternatives for Anyword
Anyword review
Features

Easy of Use

Customer Service

Price
Summary
Anyword is an AI writing tool that helps marketers better target their messages to the right audience. It writes and evaluates copy for landing pages, email subject lines, social media posts, etc. The platform's data-driven authoring tools help you to create top-notch content for various platforms and formats. Try Anyword out here!
Pros
Writes engaging short-form content fast
Has some unique features, such as the Predictive Performance Score
Offers a great free plan
Cons
The focus is more on short-form copy – not ideal for long-form content
No plug-and-play integration tools – uses APIs
Predictive Performance Score and analytics only in the Data-Driven plan
Anyword Overview
Anyword is an AI writing tool using natural language processing to generate and optimize copy for advertisements, blogs, landing pages, emails, SMS, social media, and more.
The predictive copywriting model of Anyword AI may increase conversion rates and draw in more customers. The Predictive Performance Score and A/B testing allow users to see how different keywords can impact the sale of various goods.
Anyword also ensures that the writer's spelling and grammar are precise and clear so visitors may interact with the information effectively.
The platform uses a model trained on millions of marketing text, messages, and historical data to help you produce content across channels and formats.
In a hurry? You can try Anyword out right here!
Anyword Review: Key Features
Anyword accelerates processes by producing several text variations at scale, enabling you to complete more work faster. The ultimate aim of marketing is to increase conversion rates. Doing so will lead to more significant revenue and profits. Anyword makes the rather bold claim that conversion rates can go up by as much as 30% if you use their tool.
Anyword allows you to generate content in various modes. (Conversational, Playful, Confident, List, PAS, AIDA, 5th Grader, and Hard Sell). It also has some excellent features.
The following features of Anyword AI marketing copy-generating software will help you optimize your marketing efforts.
It provides bulk text variation (as per above) to save time. This makes it simple to communicate with the public and conduct ads.
Each message or commercial produced is assessed and evaluated. The performance score rating will let you know how well the message may be received and whether it needs to be improved.
You can add the appropriate keywords to generate text, saving you from having to add them later. You can create a keyword library. This makes it easier to identify the right words or phrases to convey a message. The computer program will provide recommendations.
To get tailored recommendations, integrate Anyword with ad creation tools like Madgicx.
I signed up for the free trial version to test the software for this Anyword review. Anyword's Blog Wizard grabbed my attention first.
Blog Wizard
A blog post requires a lot of work to produce. It takes hours to research, write, edit, and optimize each post you publish. You and Anyword can create blogs quickly using a flexible, user-friendly, and engaging process.
This is How it Works
Click the Blog Wizard tab and start by describing your topic. You should insert at least five words, but the more you use, the better the outcome will be. Anyword also allows you to add custom keywords that will enhance blog targeting.
My topic was "Best Accounting Apps For A Small Business."
You can delete versions, request more, amend them in-line, or type your own. Choosing a version is easy because every line includes Anyword's Predictive Performance Score. Choose the one you like and click the "Next" button.
You'll get your outline (I added it to the outline later). And you'll get your intro paragraph. Once again, you can click to generate more if you don't like it. I chose the one most suitable and clicked to create my blog post. The result was good enough, and the editing required, though rather extensive, was pretty easy. I got something to work on, and that saved plenty of time.
Add, delete, or change if you wish to test out a different set of variations. You can move the blog sections around to get the layout that appeals to you the most. You can also experiment with different paragraph lengths with Anyword. Finally, keep in mind that you can always update the description you created to shift the focus of your blog post.
Anyword Review: My Findings
I tested other topics about climate change and animal habitats. The results were disappointing. However, you must be very specific about your topic, or the generated outline and content will be far too general. There were repetitions and inaccuracies in the content, and I would need to do plenty of fact-checking. But to be fair, I don't know of any AI writing assistants out there that can guarantee accuracy or fact check, not yet anyway.
So, it depends very much on what subject you choose, how topical it is, and what results you'll get. Having said that, Anyword generates long-form copy that you can use as your starting point. You edit, change and add from there and save time.
Ads
With the help of Anyword's content creation tools, SEO markers, page editors, and plagiarism checks, you can create high-performing copy. And you can do it for any channel and format for marketers, affiliates, and publishers.
Ads are grouped under the "Data-Driven Editor." Click on use cases and scroll down to "Ads."
Anyword offers templates for Facebook ads, Google ads, Twitter, LinkedIn, and Pinterest Ads. You can also generate Outbrain Headlines and Taboola Headlines.
For example, you must give Anyword First specific information if you decide to write ad copy for a LinkedIn Text Ad or Single Image Ads.
Enter information such as the Project Name, Industry, or Topic, before clicking "Create Project." You have two options with Anyword for creating ad copy:
Generate New. You can use any of the modes and mention keywords to use in your content. And at the end of your copy, you can also add offers to try and entice customers.
Rewrite Existing. Paste your content with keywords into the box to make optimized copies. You can select demographic criteria to generate content specifically for your target audience.
Once you select the writing style, click "Generate More."
Anyword Tools will provide you with plenty of copies of the ad. Anyword also offers a prediction performance score. This shows how effective your copy might be.
You can avoid any content-related penalties with the help of this AI copywriting tool. Anyword is completely knowledgeable about each platform's advertising standards.
Landing Pages
Your landing page is critically important. When someone arrives on your landing page, you only have a few seconds to catch their attention. Great copy is crucial to accomplishing this. You must create the finest landing page copy possible to try and increase conversions.
It's also exhausting. You need the appropriate copy for every page and every page asset. Fortunately, Anyword Landing Pages gives you the following options.
Landing Page Headline - Create a new landing page headline.
Improve Existing Landing Page Headline - Overhaul your landing page headline.
Landing Page Subheader - Write convincing subheaders to try and draw readers in.
Improve Existing Landing Page Subheadline - Rewrite your landing page subheaders to help capture readers' attention.
Landing Page Call To Action - Create tempting calls to action that will convert.
Benefits - Inform readers of the benefits of using your product.
Features - Create a list of your product's best features.
SEO Meta Description - Generate click-worthy meta descriptions to increase your visibility on Google.
Improve Existing SEO Meta Description - Rewrite your SEO meta description to increase visibility.
For this Anyword review, I tested the Landing Page Headline. My test case business is "Best Plumber in Chicago."
Once I added the relevant information, I asked for three new headlines and hit "Generate."
All three were good enough, but the first one got my attention. Not bad at all, according to the score (81). But when I took it to Headline Studio by Co-schedule, it scored 59, so I wouldn't consider using it. I tested all three with Co-schedule - the second title scored 67 (Anyword gave it 75), and the third scored 66 (Anyword scored - 24).
I also tested the SEO Meta Descriptions for the Anyword review. All you do is add a name and description of your product and hit "Generate."
And two of the three results were usable, but nothing earth-shattering.
Social Media
Social media presence is a requirement for marketers. But each channel has various rules, audience types, and writing styles.
It is a significant challenge to master each channel for your business to excel. And for each channel where you are present, the difficulty increases. Brands find it challenging to post consistently and well as a result.
The following social media capabilities are available:
Facebook Posts
Instagram Captions
Tweets
LinkedIn Posts
Pinterest Pins
YouTube Descriptions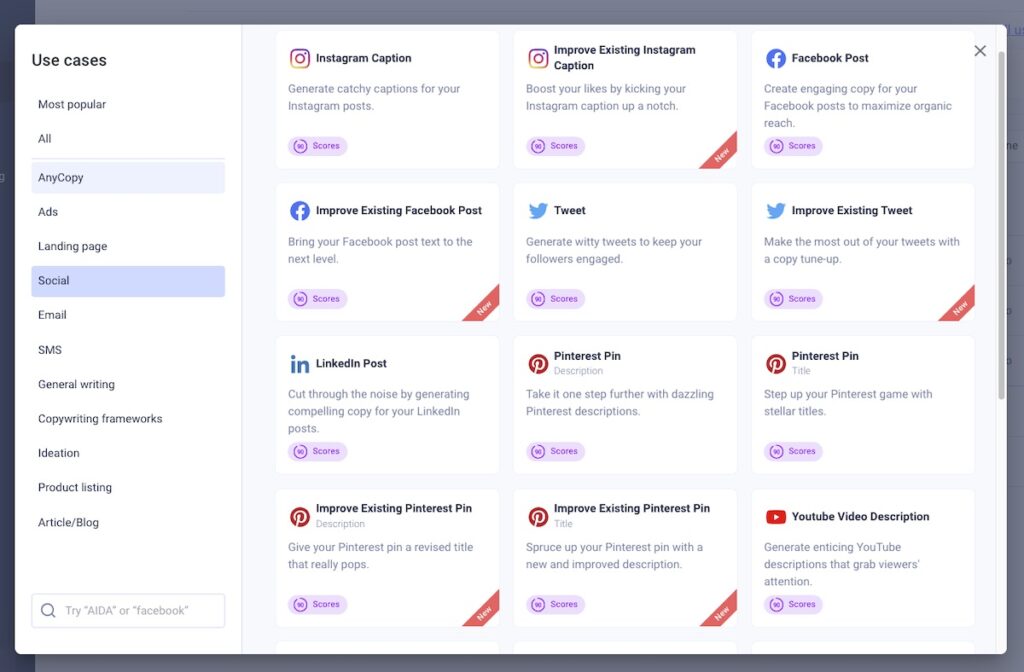 I chose to try "Generate a Facebook Post" for the Anyword review.
I selected a writing style feature next. Anyword offers three options, each with its own method for developing the tone of voice for the post:
Template
Using the description you provide, the default preset automatically creates a copy with a high conversion rate score.
Rewrite
Change the text you've already inserted to the style you like.
Try out various speech tones adapted for gender, age, and the degree of similarity to your description.
Remember that you must stick to the character limits of the channel where you wish to post to use the Rewrite option.
Power Mode
This mode allows you to generate copy variations that conform to your brand's specific style and tone. You can enter brand-specific text examples or import examples directly from your social media ad accounts into the platform. Anyword will then begin to generate different variations in your brand's voice.
Anyword also offers a section where you can add pertinent keywords that should be used in your post.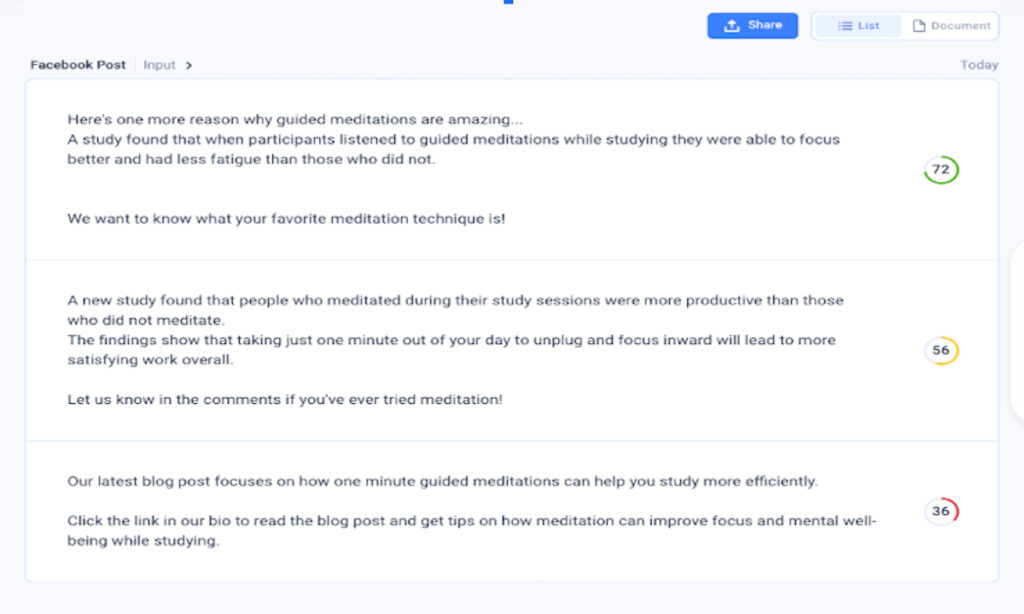 Once you've generated a few variations, changing them in-line, adding to them, or experimenting with various style functions is simple. There is a Predictive Performance Score and Score Panel for every line of content. Below is a closeup of an example of one of the generated posts.
You can always amend the project brief if you want to change the data you used to launch the project.
Emails
Use Anyword to create a brief email subject line to try and persuade your readers to read your content.
I chose to test the "Cold Email" option.
You'll get a page to fill out as much detail as possible to help the AI generate an email that will tempt the reader to investigate further.
The results were concise and to the point for my topic, and I thought the second would work well.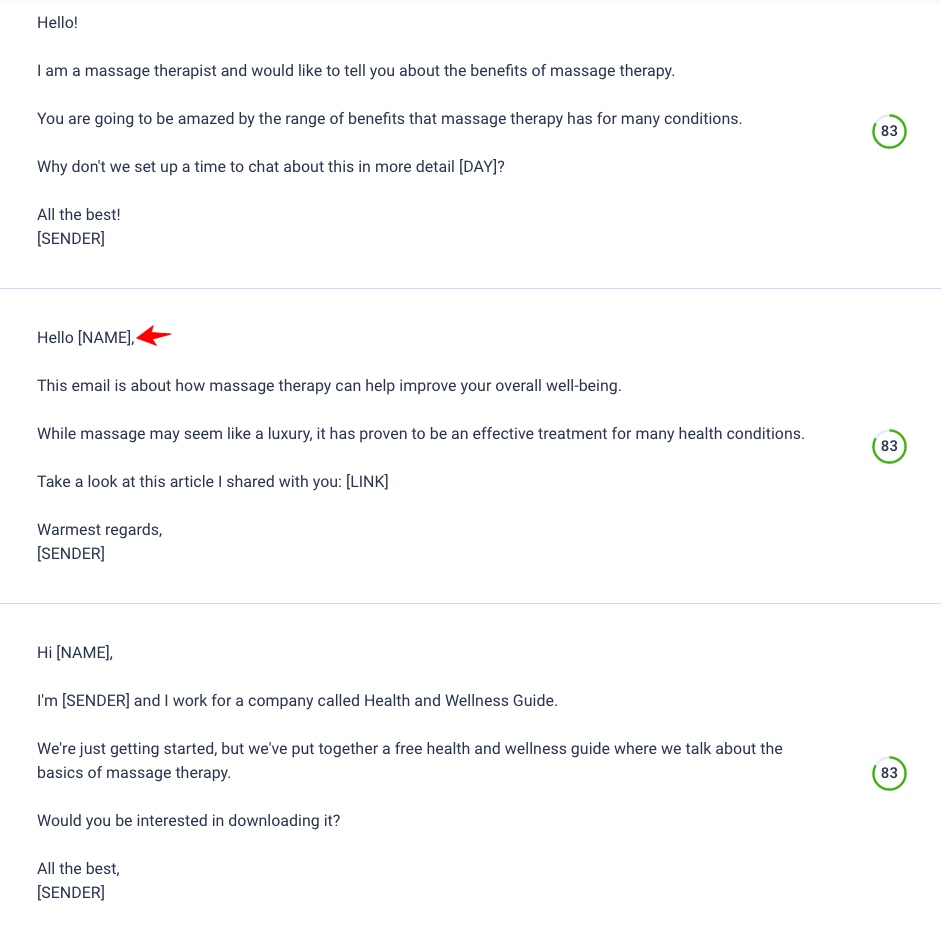 SMS
Anyword assists you in producing compelling, well-designed text messages. These messages should encourage your customers to engage and make purchases.
I tested the Promotional SMS option and inserted my product description and name. (Deep Focus - A mobile app that helps keep you focused while studying and keeps you away from social media feeds.)
Once all the options, such as tone of voice and target, are selected, click the 'Next" tab.
The advertising text for SMS should be brief and direct. I was moderately happy with the first results. I'm sure I would get a better result if I played around with the product description, tone, etc.
General Writing
You can use the following useful templates:
Content Improver
Explain it to a 5th Grader
Sentence Expander
Powerful Bullet Points
Features to Benefits
Value Proposition
Talking Points to Paragraph
Summarizer
Personal Bio
I chose the Content Improver to test. I inserted a piece of content written by a colleague some time ago, which was deemed pretty good. Let's see how much better the AI can do!
You can request three or more variations; I only asked for two.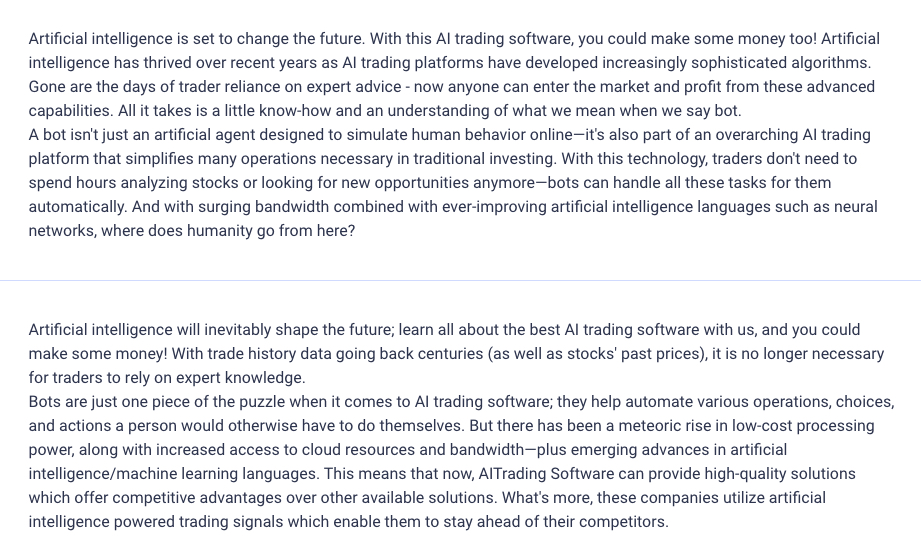 I chose the second option, which was quite good and improved the original.
Copywriting Frameworks
You can specify a writing style in the Anyword AI to get the necessary copy variations. There are three primary modes in total. AIDA, PAS & BAB.
PAS. PAS mode (or the Pain-Agitate Solution framework.) uses pain points to persuade potential customers to click on your adverts and buy your products.
AIDA: Short for the Attention-Interest-Desire-Action framework. The AIDA Mode is preferable for running advertisements directed at new audiences. Meaning those who haven't considered the issues they face or those unaware of the product.
BAB. The BAB formula is a three-step copywriting technique. It outlines the issue (before), the ideal (after), and the solution (bridge). It's based on a specific psychological model. This suggests that your audience would be driven to engage with your product. But only if you can make them feel the pain of the problem scenario and the joy of the solution situation.
Engaging Questions
I had to input quite a few topics before the AI generated any questions - I tried a herbal ointment for cuts and scrapes, and I got a "can't help" message. But when I entered something about software, I got a few good, entirely usable questions.

Ideation
Any writing, by any writer, in any situation can be hampered by writer's block. Writer's block can be crippling, whether coming up with the right idea or writing the next sentence.
One particular facet of this issue affects many writers and marketers; considering that content must relate to your product, which essentially remains the same, it's easy to fall into a repetitive rut.
And here's where Ai writers like Anyword can make a difference.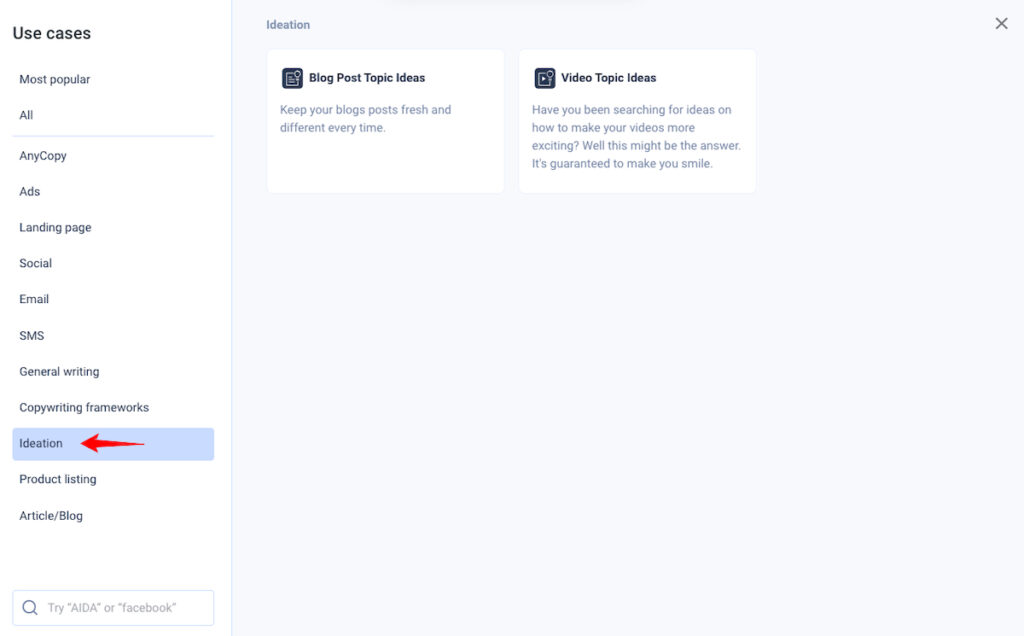 Anyword offers two Ideation options:
Ideas for Blog Post Topics
Ideas for Video Topics
I haven't tested this feature, but when I'm stuck, any new idea can kick me out of writer's block. Even if I don't use the generated copy, it can help ignite my imagination in a new direction.
Product Listings
Anyword's AI can write compelling paragraphs for Amazon, Walmart, and General product listings. It can also review a product. All you need to do is provide the key points you want to cover and let Anyword generate the copy for you.
Website Targeted Messaging
Website Targeted Messaging (previously known as Continuous Optimization). This feature allows you to test high-performing content variations on your landing or product page. Once the most successful gets identified, it's immediately deployed.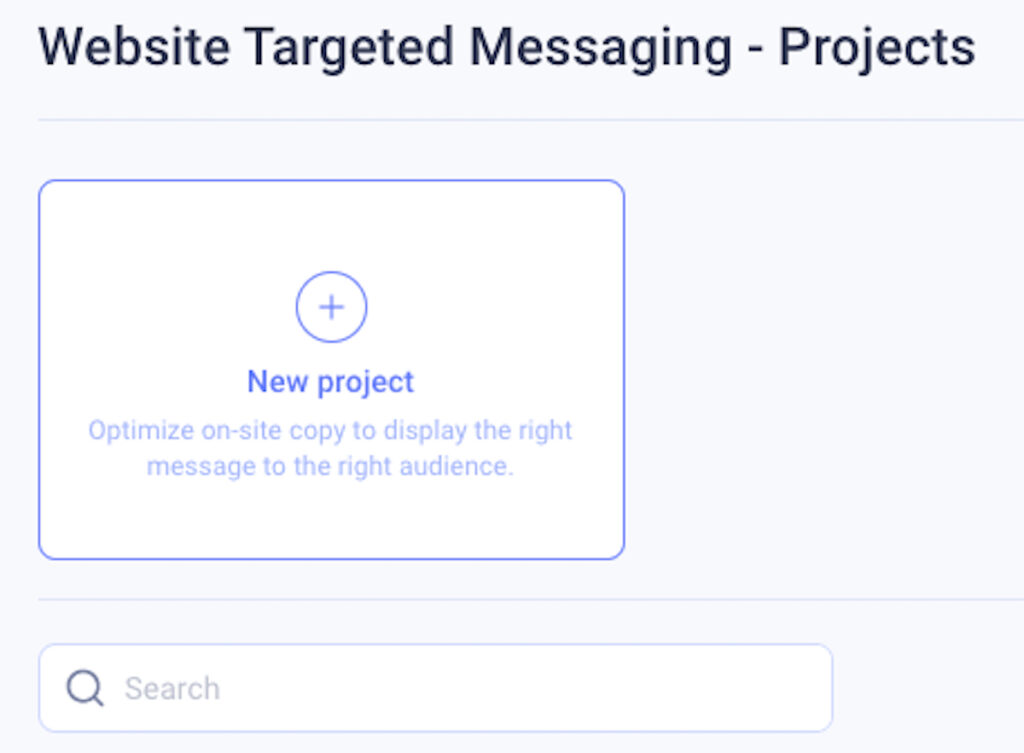 Anyword's Website Targeted Messaging optimizes a website's landing page to increase conversions and sales. It uses pre-existing website assets and Anyword data to create compelling copy for the landing page. Users can preview and update the copy to choose the best solutions while viewing Anyword's Predictive Performance score.
The user can then choose the versions of the copy they prefer, set how frequently each version will display on the campaign website, and specify what action counts as a conversion.
Once the campaign runs, Anyword also produces metrics on how each variant impacts conversion rates, giving the marketer useful, real-time information.
Anyword Review: Pricing
Below are monthly prices for the paid plans - if you choose annual plans, you get a better deal. But for my money, it's better to test the tool first with a monthly plan; if you like it - change to the annual plan.
Both Anyword's Pricing plans work on a sliding scale. So, for example: For $29/month, you get 20k words, but if you move the slider up, you get more words and pay more.
Starter Plan (sliding scale) at $29/month includes 20,000-word credits per month and 100+ AI writing tools, 200+ data-driven ai copywriting tools, blog post wizard, and 30 languages.
Data-Driven Plan (sliding scale) at $99/month includes 30,000-word credits per month and 100+ AI writing tools. You also get 200+ data-driven ai copywriting tools, real-time predictive performance scores, and analytics. Plus, the blog post wizard, and 30 languages.
You can test the software with a free 7-day trial plan that gives you a 5,000-credits limit.
Anyword Review: Customer Support
​​The live chat window appears to be little more than an email form; the only way to contact them is through email.
The FAQ and Getting Started manuals are accessible through the Help Center and online documentation. Additionally, you may use the search bar in the Help Center to enter keywords to find particular articles. Under the comprehensive "Getting Started" section, videos and articles discuss blogs and writing effective ad text with Anyword, in great detail.
Reading articles with graphics might help you find the answers to questions like "What kind of copy can I write?" and "Where can I keep track of my word usage?" Unfortunately, there are very few articles available at the moment.
Anyword has several social media profiles, including ones on LinkedIn, Twitter, and Facebook. It also has a blog that focuses on best practices for copyrighting and artificial intelligence.
If you have any problems with the Anyword copywriting program, you can send in a simple query email and sign up for their new blog posts.
Anyword Review: Pros and Cons
Beginner-friendly interface and easy to use

Has a Predictive Performance Score 

Continuous Optimization

AI text copies generated for different formats

Custom modes

Customized language models
No direct integrations

Long form content can be repetitive and needs editing

You will need to pay much more for all the features 

No Live chat option.
Anyword Review: Alternatives
There are several distinct AI writing assistants available, each with special advantages. Here are two of the top Anyword alternatives.
Jasper ai
Jasper ai has seen a rapid product evolution since its founding in early 2021. It was formerly called Conversion.ai, then renamed Jarvis.ai, and then again to Jasper ai.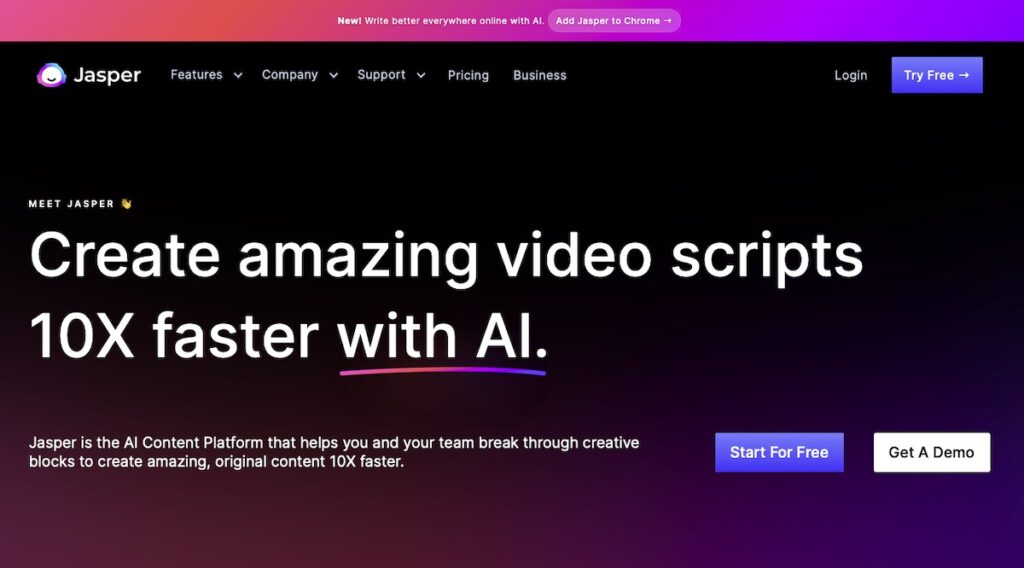 But the quality of this ai writer has stayed constant throughout the rebranding, and the corporation has made a concerted effort to maintain Jasper's market leadership in terms of sophistication and tool selection.
More than 50 unique content creation tools are available through Jasper, which is expected to rise. The AI ensures your content will be imaginative, distinctive, and - most importantly - optimized for SEO.
Jasper ai can pick up your brand voice quite quickly. However, it does not provide the target audience selection or engagement prediction performance score that Anyword does.
Pricing:
Starter at $40/month paid annually, or 49/month for 35k words per month. It works on a sliding scale; the more words you use, the more you'll pay.
To get the features that make using Jasper ai worthwhile, you must sign up for the Boss Mode at $82/month paid annually or $99/month for 100,000 words/month. Again it works on a sliding scale.
Jasper ai offers a 5-day free trial on any of the plans.
To learn more about this impressive tool, read our full Jasper review.
---
Copy ai
Copy ai uses artificial intelligence and machine learning algorithms to produce engaging writing for individuals, business owners, and marketing specialists.
This copywriting generator can help you produce decent-quality content for your website or advertising campaigns effortlessly and quickly.
To quickly create original, high-quality content without worrying about manually writing everything yourself, Copy.ai can automatically generate new text based on existing content.
One of its primary strengths is the capacity of Copy ai to evaluate existing text and use that data for new and similar content generation in terms of style, tone, structure, and topic. This makes it a good Anyword alternative.
It is possible to take an existing blog post or article on a particular topic and analyze the key concepts and points raised in the original work. You can then use those concepts to produce new pieces on the same issue.
Pricing:
Pro plan at $36/month billed annually or $49/monthly, and you get unlimited words.
Copy ai also offers a free plan with a 2,000-word limit.
Want to know more? Read our Copy ai review.
---
Anyword Review: Final Thoughts
My final thoughts on the Anyword Review: Writing articles and adverts for SEO and digital marketing is more complicated than it first appears. Businesses must set themselves apart from their competitors to maximize their advertising efforts. Both individuals and companies can more easily achieve these goals with the aid of technology.
Anyword boasts that its Predictive Performance Score is unique and works to boost content that converts. But how do you test the accuracy of the scores? If you take the headings to Headlines by CoSchedule, Anyword fails miserably. I don't know how one tests the content scores within the tool.
You should be careful of the Anyword AI output that may contain certain repetitive nuances over time. You may need to rewrite the text and get more credits to finish your project. Some users complain about the repetitive content resulting in easily spent credits.
Overall, I thought most of the short-form content Anyword produced was good, usable, and needed very little editing. I found the long-form content generation unimpressive. AI writing software accesses billions of web pages to be able to generate relevant material. But it can't form original insights, opinions, or conclusions, and that's what is needed in long form content.
Is Anyword the best choice for AI writing assistants? AI writing software is meant to be useful; it's not meant to be perfect. And while I don't think, Anyword is the best AI copywriting tool, it does rank near the top. It is a decent choice if you're looking for a good AI writing assistant.
And if you'd like more about this topic, check out other copywriting generators - we discuss nine of the best.
Want to learn step-by-step how I built my Niche Site Empire up to a full-time income?
Yes! I Love to Learn
Learn How I Built My Niche Site Empire to a Full-time Income
How to Pick the Right Keywords at the START, and avoid the losers
How to Scale and Outsource 90% of the Work, Allowing Your Empire to GROW Without You
How to Build a Site That Gets REAL TRAFFIC FROM GOOGLE (every. single. day.)
Subscribe to the Niche Pursuits Newsletter delivered with value 3X per week