Unbounce Review [The Pros & Cons Of This Popular Landing Page Builder]
If you own an online business, affiliate site, or a blog that you're hoping to monetize, chances are you've built a landing page or two. If so, then you know how time consuming they can be to build and how frustrating they are to optimize. In this Unbounce review, we break down one of the most popular softwares on the market to see whether it's right for your business.
Unbounce is a landing page builder that has been around for a while. Whereas most other landing page companies have moved into offering other services and features, Unbounce is dedicated to providing you with the resources to deliver the best landing pages you can in just a few clicks.
But does it stack up? In this Unbounce review, we'll dive into the specifics to help you make the best decision you can for your brand.
Try Unbounce for yourself here!
---
Unbounce Review
Ease of Use -

90

Stability -

85

Customer Service -

75

Price -

80
Summary
Unbounce is a landing page builder for Wordpress. While it doesn't have the secondary features that users have come to expect from their SaaS products, it does create beautiful landing pages for a variety of purposes. The customer support leaves much to be desired, and the price point is higher than direct competitors, but for those who are already familiar with modern marketing methods, Unbounce can be a game-changer. Try Unbounce here! 
Pros
Ever-growing list of templates for wide array of applications
Very easy to use
Pages are mobile-responsive out of the box
Several advanced AI features
Cons
No split testing at lowest plan
Minimal customer support and training
More expensive than competitors
Not as many templates as other landing page builders
---
Unbounce Review: Introduction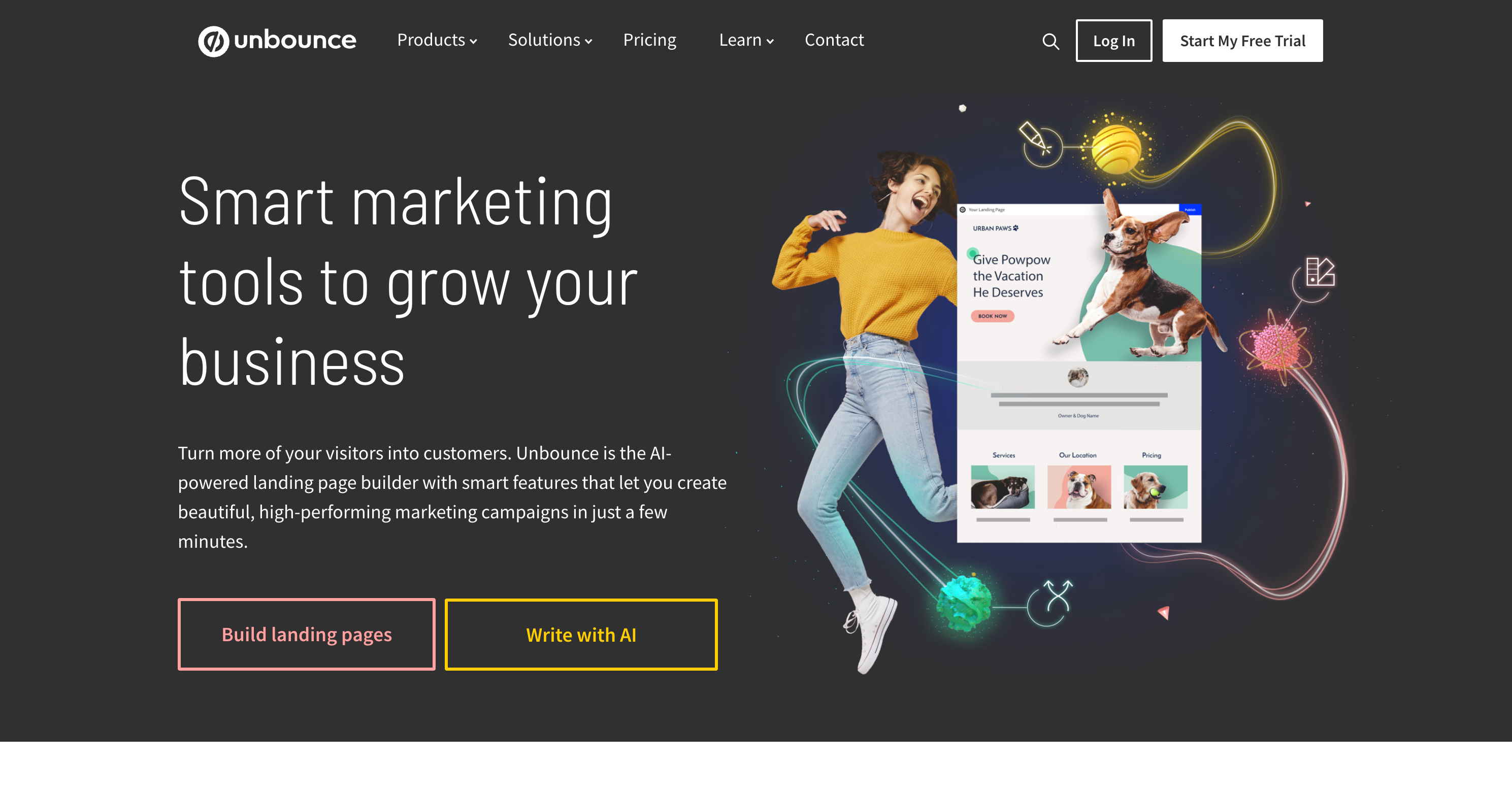 In 2009, co-founder Rick Perrault first had the idea for Unbounce from his own frustrations. All he wanted to do, according to him, was have the ability to develop a landing page for himself from scratch.
At the time, landing pages were built by dedicated web developers, then populated with digital graphics artists and copywriters. They were monitored by marketing teams who could suggest different versions of the page after several rounds of split testing.
Rick's idea was to empower a single person to be able to do all of that quickly and with minimal headache.
Today, Unbounce employs over 200 people and has customers in nearly every country on the planet. They count enormous companies like Amazon and Linkedin as customers, but still choose to focus on the everyday solopreneur.
Unbounce Review: Overview
To put all of the aforementioned marketing power in a single package is a challenge, not the least of which is making the platform accessible. Many users complain about the difficult learning curve associated with other landing page builders, so it's important to make the customer feel like they're capable of success, right off the bat.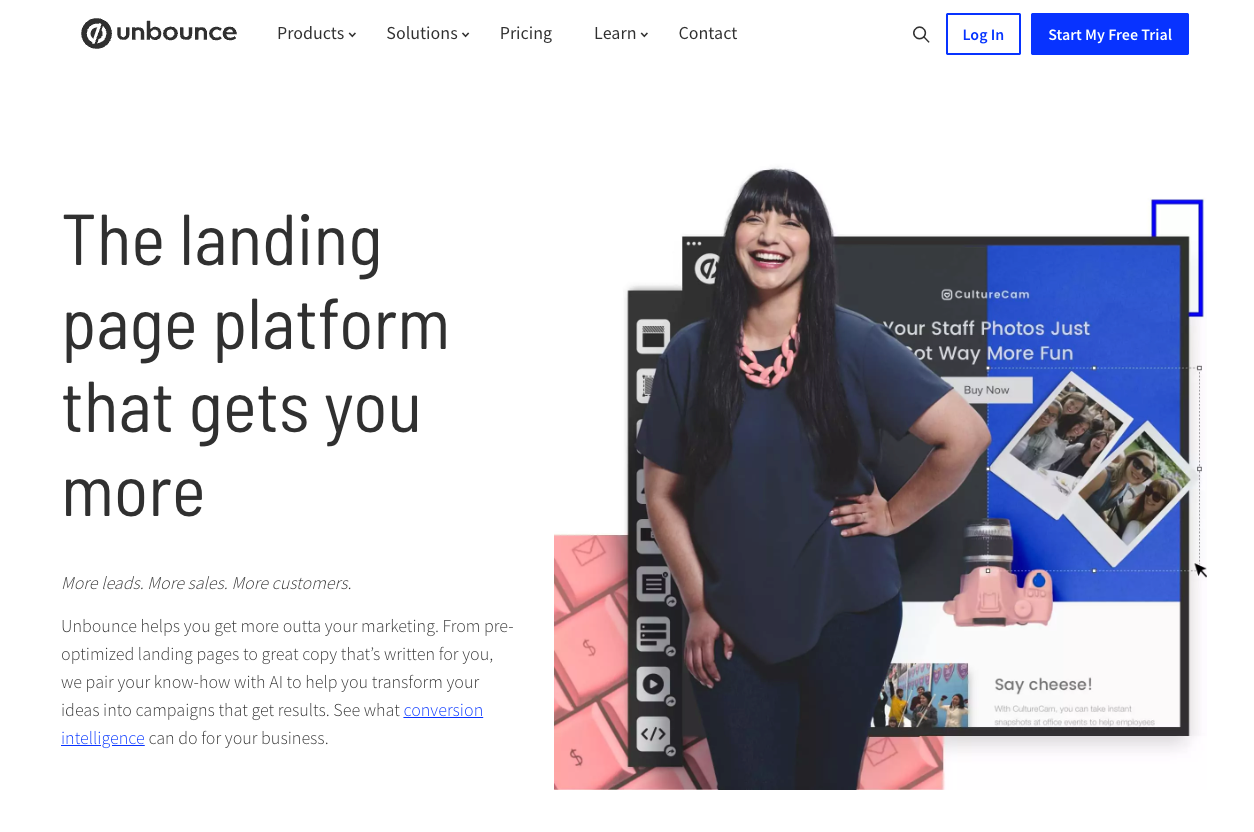 From the get-go, Unbounce does a good job of labelling features and offering support to get you working in a hurry. There's a drag-and-drop builder and easy-to-move blocks that will help you customize just about any element on the page.
If you're feeling especially ambitious, you can even adjust the CSS and HTML coding to make it precisely what you want.
Once it's finished, Unbounce lets you host it on your own website (via a plugin) or publish it directly on Unbounce's platform.
Unbounce is mobile-friendly right out of the box -- an important component considering how the average load time for mobile pages has dropped so much in recent years.
Despite it's easy-to-use features, Unbounce is best used by people who have at least some form of marketing or web design experience. Digital marketing teams, SaaS agencies, and e-commerce sites will be able to really maximize Unbounce's capabilities.
That's not to say that the everyday user can't benefit. In fact, its suite of high-powered capabilities lends itself well to growing with brands who develop their skills over time.
Unbounce Review: Features
It's impossible to list all of the features in a single Unbounce review. The list is extensive (by design), cultivated by years of refining based on customer demand.
Remember that the primary focus of landing pages is to drive ROI. These landing pages can be extremely long, detailing every step of the customer journey, or narrow, giving only a few paragraphs of copy.
To create the best version that will reap the most reward, you'll need a lot of options. Fortunately, Unbounce has several to experiment with.
Drag and drop builder
These days, most landing page builders have a drag-and-drop builder embedded in the program. A lot of people prefer to simply move elements across the screen rather than working with a block editor like on a Wordpress site.
But that doesn't mean that all drag-and-drop builders are created equal. Some are clunky, some don't allow you to move elements very easily, and some crash every time you blink the wrong way.
Unbounce has put a lot of care into creating a stable environment for you to work in. A widget list is static on the left side of the screen, and you just drag any element you want onto the page.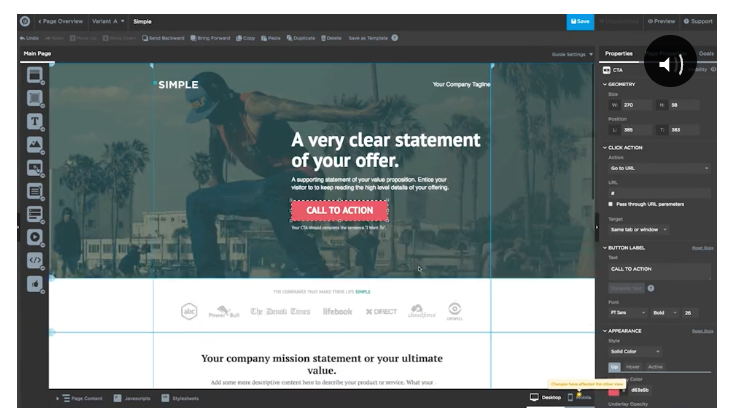 The screen is laid out in a grid pattern so you can see exactly where you're laying out the elements, and every part of the page is malleable. You can move or add entire page sections, text boxes, sticky bars, CTA buttons, and even popups with just a few clicks.
More advanced features include embedding videos and adding lightboxes to the page. And, as mentioned above, the entire page can be manipulated using custom HTML.
Unbounce's drag-and-drop landing page builder does a great job of offering enough features for the everyday person to create landing pages without feeling overwhelming. By the same token, it has enough customization options that even advanced users won't get bored.
Templates
Unbounce claims to have over 100 different templates that you can choose from straight on their platform. Additionally, they also have a couple hundred more Unbounce landing pages that you can buy from Themeforest, although the support for those will have to come from the developer.
The options available from Unbounce are impressive. You can filter by campaign (lead generation, events, or books, among others), or by type (agency, SaaS, etc). You can even filter by special features such as lightboxes, video backgrounds, and parallax effects.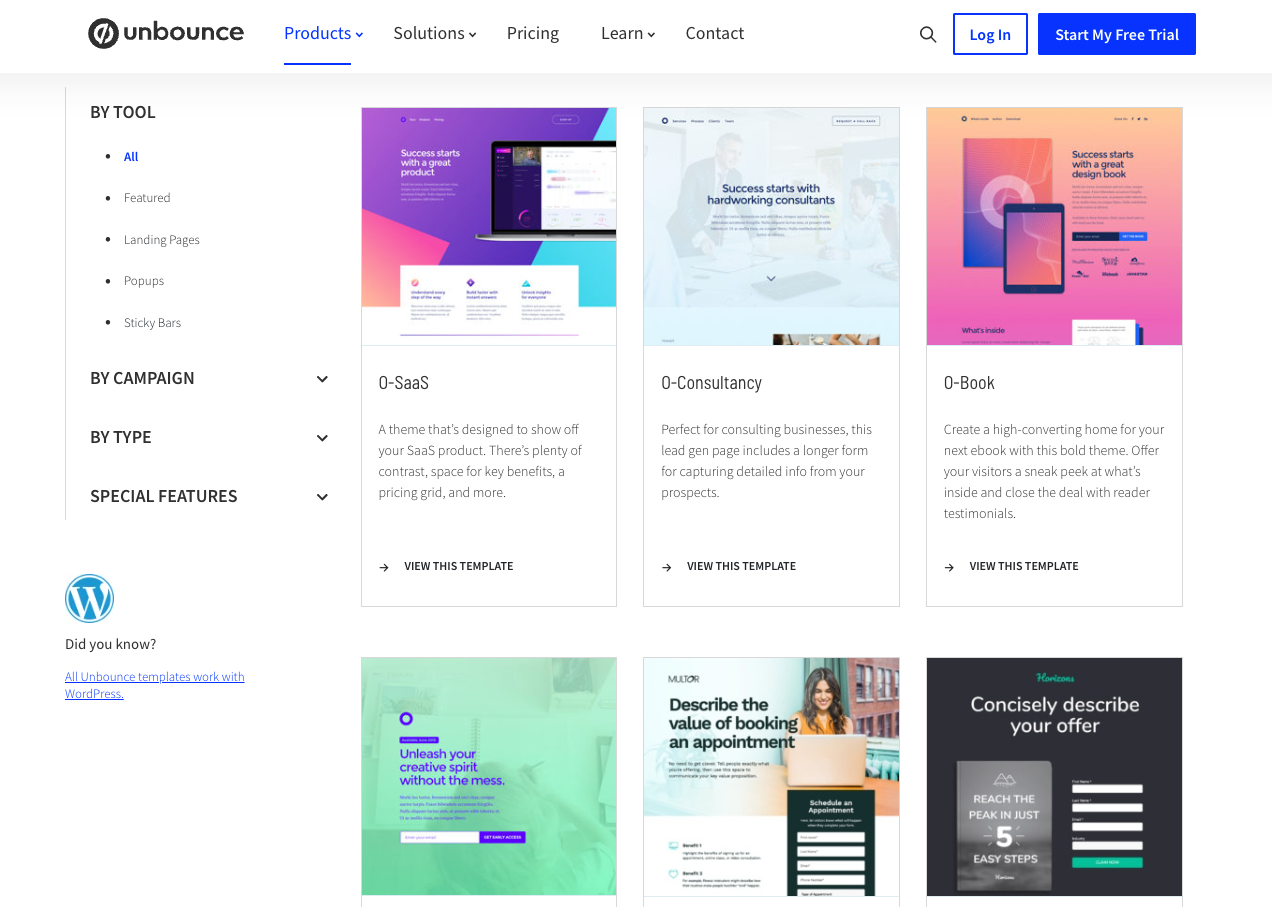 In case you're a little overwhelmed by the sheer volume of options available to you, Unbounce has a "template helper" chatbot that will walk you through a series of questions. Your answers will help them determine the best landing page template for you (although you're obviously free to disagree).
One feature that Unbounce has recently rolled out is their "Smart Builder." More robust than their chatbot, Smart Builder offers you a few prompts, and then builds your Unbounce landing page for you.
Smart Builder is more extensive than just selecting a template, though. It'll add copy, select images, and craft a CTA that it thinks will resonate with your audience. Like all its other templates though, you're free to adjust the elements as you see fit, using their native builder or code.
A/B testing
No landing page would be complete without adequate A/B testing, and Unbounce has a very intuitive and powerful testing set inside its software.
The main drawback? Split testing isn't available on their cheapest plan. If you want to test various iterations of your landing pages (and you should), you'll need to have at least the "Optimize" plan which is $135 a month.
Once you upgrade to the middle plan, you'll also have access to Unbounce's AI split-testing feature: Smart Traffic. As the name implies, Smart Traffic monitors which one of your Unbounce landing pages is performing better and then automatically reroutes the traffic to that page over time.
You can do this yourself inside of Unbounce's platform, but the beauty of Smart Traffic is that it does it for you. This is especially handy if you're managing multiple landing pages or multiple sites.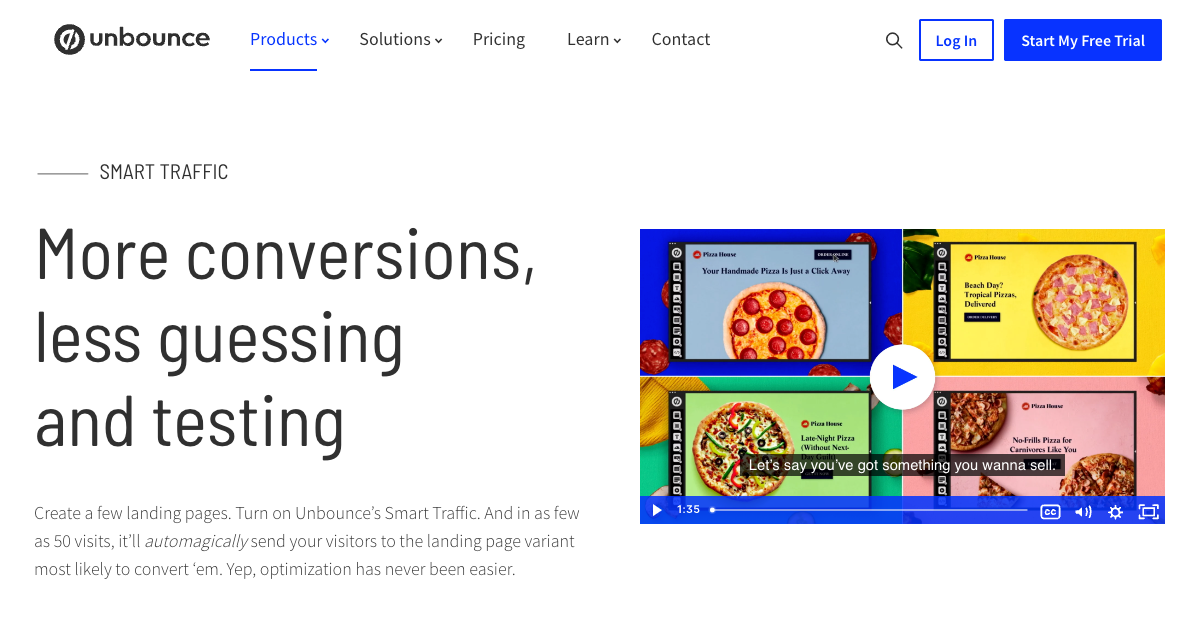 Smart Traffic claims to boost the average client's revenue by as much as 30% compared to the average A/B test. That can make the difference between hundreds or even thousands of dollars in additional revenue.
You don't have to implement this feature -- Unbounce forces you to manually turn it on -- but it's one of the most powerful tools Unbounce offers. Very few other landing page builders offer something that's comparable.
Integrations
A landing page is only as effective as its integrations. You need to connect it with the other tools in your marketing toolbox in order to optimize the customer experience. Sales, lead generation, automation, reporting -- it all needs to be connected in your digital ecosystem.
Unbounce doesn't integrate with every single software on the planet, but it connects with an overwhelming majority of them. Some examples include Drip, ActiveCampaign, Facebook, Hubspot, and Podio. Many of these integrations are compatible with Unbounce's Smart Builder feature too, making the landing page process even quicker.
In case Unbounce doesn't offer a direct integration with your software of choice, there are a few other options to choose from.
The first is by integrating Unbounce with your software via webhooks, which connects to your landing pages, sticky bars or popups. If that doesn't work, you can also connect it using Zapier, which itself integrates with nearly 1,000 apps.
Finally, if none of the above solutions work (which is rare), you can still connect Unbounce to your software using an API. This is a little more technical than some users are ready for, but Unbounce can help facilitate this process for you.
Support team
If there's one major flaw with Unbounce, it's most likely in their support staff. Though the usual contact options are there -- phone, email, chat -- the hours are less than ideal.
During the summer, for instance, Unbounce has announced their support staff will only be available for four days out of the week. Their regular work hours are Monday through Friday 1AM-8PM PST, and on weekends from 9AM-9PM PST. Not quite 24/7, and oddly timed enough that it may cause a headache if you run into any issues with their software.
Unbounce is very open about these hours. They even disclose on their support page that you "may experience slight delays" outside of those work hours. You can always open a support ticket, but again, when that ticket is answered is dependent on the work hours.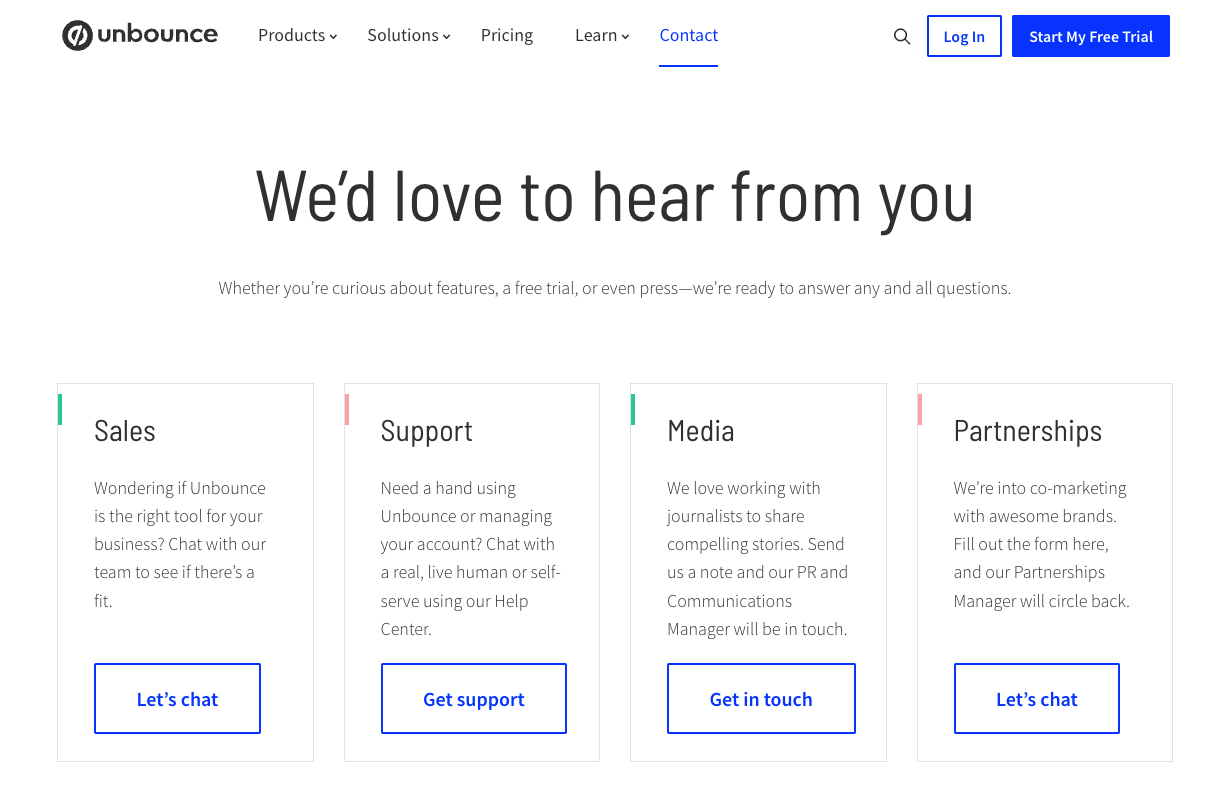 Fortunately, Unbounce has a large community that is ready and (usually) willing to answer your questions. Their messaging board has topics on best practices, Q&A, developer forums, and more, so it's worth perusing to see if you can find the answer to your question.
Unbounce also offers lengthy documentation about their landing page builder, covering everything from building landing pages to their AI features.
Unbounce Review: Pricing
The platform offers three pricing tiers that should be enough for almost everyone.
Their Launch plan is $90 a month, and includes up to 500 conversions on a single domain with a visitor cap of 20,000.
The Optimize plan costs $135 a month, with up to 1,000 conversions across five domains and a visitor cap of 30,000. Additionally, this is also the first tier where Smart Traffic and A/B testing is available.
For businesses that have more needs, the Accelerate plan is $225 per month. That includes 2,500 conversions across 10 domains, a visitor cap of 50,000, and Smart Traffic and A/B testing capabilities.
For enterprise clients that need more bandwidth than that, they have customizable options available on demand.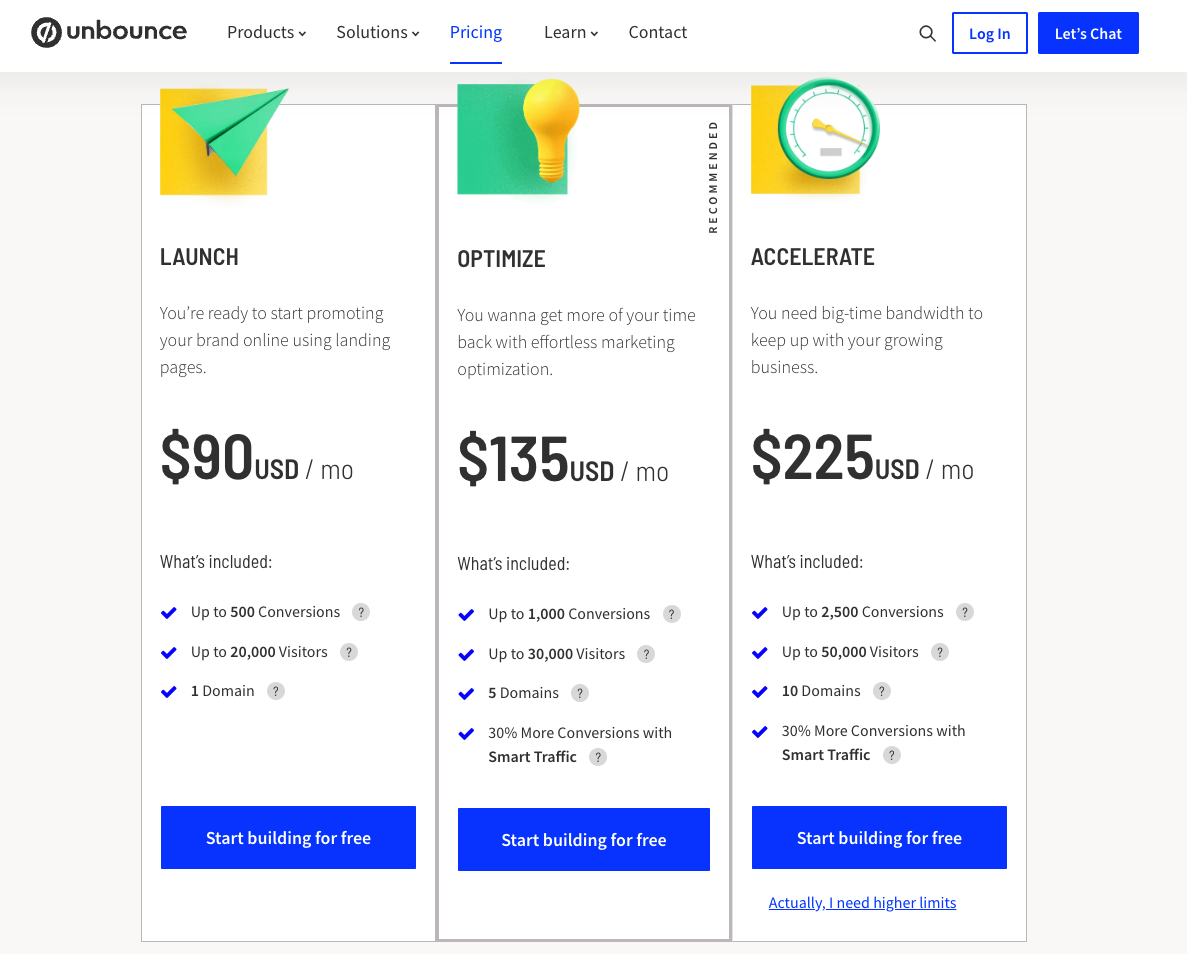 Every plan includes access to all of their native apps, and unlimited landing pages, popups and sticky bars. As mentioned earlier, the main distinction between the three plans is whether or not they offer split testing.
The Accelerate plan is also the only plan that offers advanced targeting and scheduling based on location, cookies, and referral traffic.
If you're unsure whether Unbounce is right for you, they offer a free 14-day trial -- more than enough time to take it for an adequate test drive. All payment plans offer a 10% discount if you pay for an entire year instead of month to month.
How Does Unbounce Work?
Setting up your first landing page is a snap. All you need to do (after you sign up) is head into the dashboard and select a template. You have a choice of either using a pre-made template, or if you want to create a landing page from scratch, you can also choose a blank page.
From here, you have the option to customize different elements: background image, text, other images, buttons, and colors. The drag-and drop-builder makes this step extremely easy, but it's worth playing around for a little bit to get comfortable with the interface.
There are also more specialized elements if you want to create a more focused landing page. On the right, a workspace is opened that will give you options to change colors or the text of each element, add a link (or remove one), and adjust the other aesthetics of the page itself.
Make sure your call to action is prominently displayed as well. Whether you're angling for more leads or sales, you'll want to sprinkle your CTA a few places throughout the page.
Once you're done, just click the "save" button located in the right corner and give your landing page a name. If you don't want to choose a name, it'll default to the name of whatever template you used.
After the landing page has been built, you'll have the option to create various split tests or integrate the landing page with other softwares and websites. This step may be more difficult, but the support documentation should help you get most of the way.
Unbounce Review: pros & cons
No landing page builder is perfect, but as mentioned in this Unbounce review, some come closer than others.
That being said, there are still a few areas that Unbounce can improve. Below is a list of a few places where they excel, and some areas to be aware of if you choose to sign up for their service.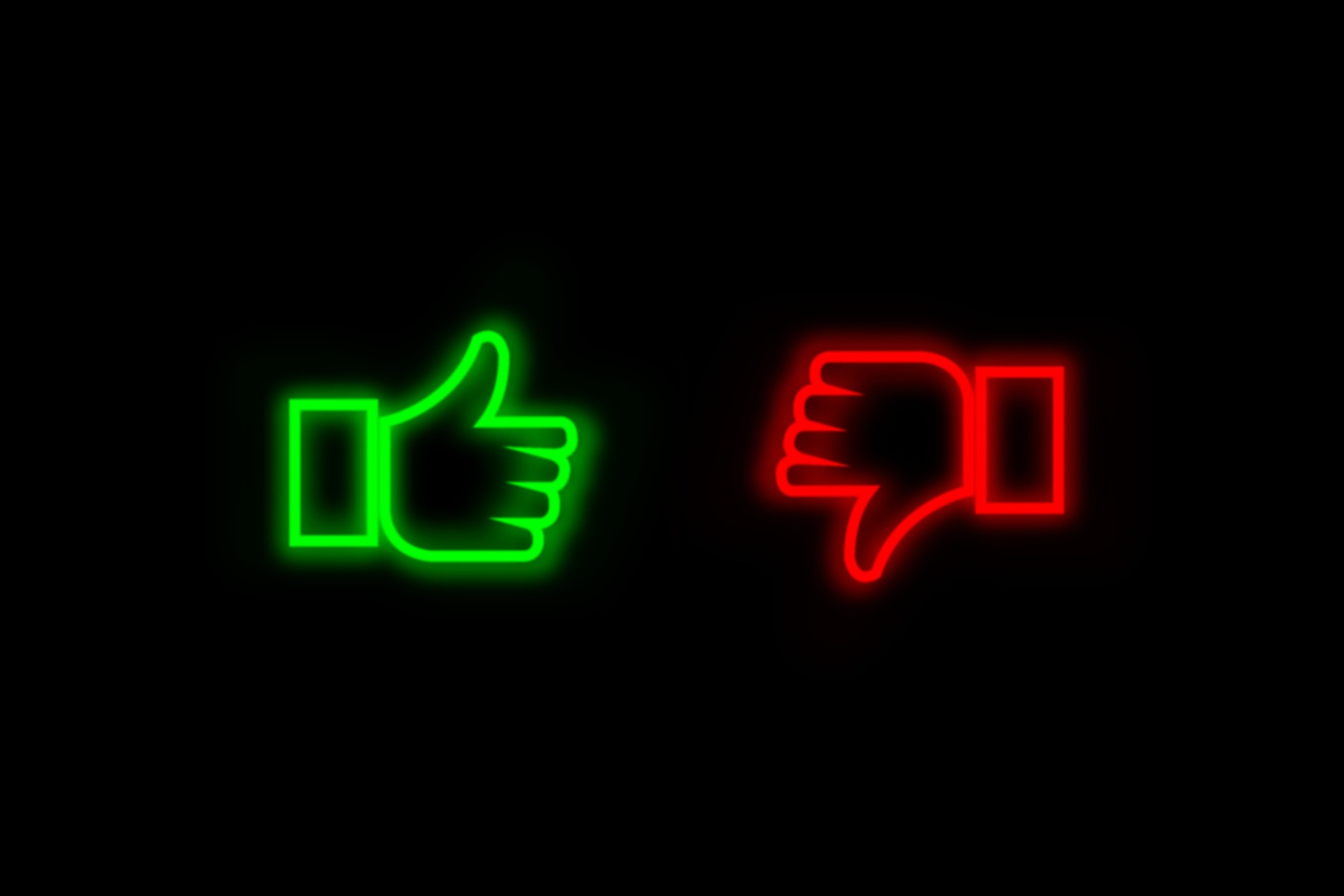 Mobile responsive pages: Every landing page is optimized for mobile right out of the box, so you don't need to do any special adjusting to make it work on smartphones or tablets.
Ecommerce friendly: Since the main point of a landing page is to facilitate sales, it makes sense that Unbounce is compatible with e-commerce stores. Unbounce does this extremely well.
Ease of use: Though you may experience a steep learning curve, Unbounce is mostly intuitive when compared to other landing page builders.
AI features: Smart Traffic and Smart Builder are game changers in the landing page world. These two features alone should justify the price point.
Integrations and Security: With over 100 integrations with the most popular software services and strong native security, Unbounce makes a point of keeping your landing pages efficient.
Expensive: Despite its features, many users complain that Unbounce is too expensive for an entry-level user. It's also frustrating that some of its most basic features, such as split testing, isn't available at the lowest plan.
Limited templates: 200+ templates is nothing to sneeze at, but when compared to other landing page builders, the selection may feel limited. The third-party market is nice but adds to the cost if you have to purchase additional themes.
Poor support: If you have issues with your landing pages, it can be difficult to reach Unbounce. Once you do, it may take even longer to receive a response. This is difficult for people just starting out with digital marketing and landing pages in general.
No split testing: This should be a feature at the lowest level. There's simply no reason why it isn't.
So-so reporting: While you can integrate Unbounce with Google Analytics, many users claim the native reporting features are less than ideal.
Unbounce Review: FAQ
Below are some of the most common questions people have that are not otherwise covered in this Unbounce review.
Is there a "freemium" plan available?
No. There is a 14-day free trial offered to new subscribers, but the base subscription of $90 per month (lower for annual pricing) is the cheapest option available.
Is Unbounce similar to a Wordpress site?
Unbounce can integrate with Wordpress sites, but it is not a website builder like Wordpress. The drag-and-drop builder feels similar to users of website builders like Divi and Elementor, but those are CMSs. Unbounce is strictly a landing page builder -- nothing more.
Why do I need a landing page builder like Unbounce?
The main point of landing pages is to facilitate a call to action, like generating leads or driving sales. They are a part of the overall customer journey, most often used near the end to drive action. Brands may use several landing pages at other stages for different purposes.
---
Unbounce Alternatives
Despite the focus of this Unbounce review being on a single piece of software for building landing pages, there are other options on the market. Not all of them will have the same set of features that Unbounce offers, but then again, not everyone needs all those features.
Look through the options below and find the one that best suits your needs and matches your price point.
OptinMonster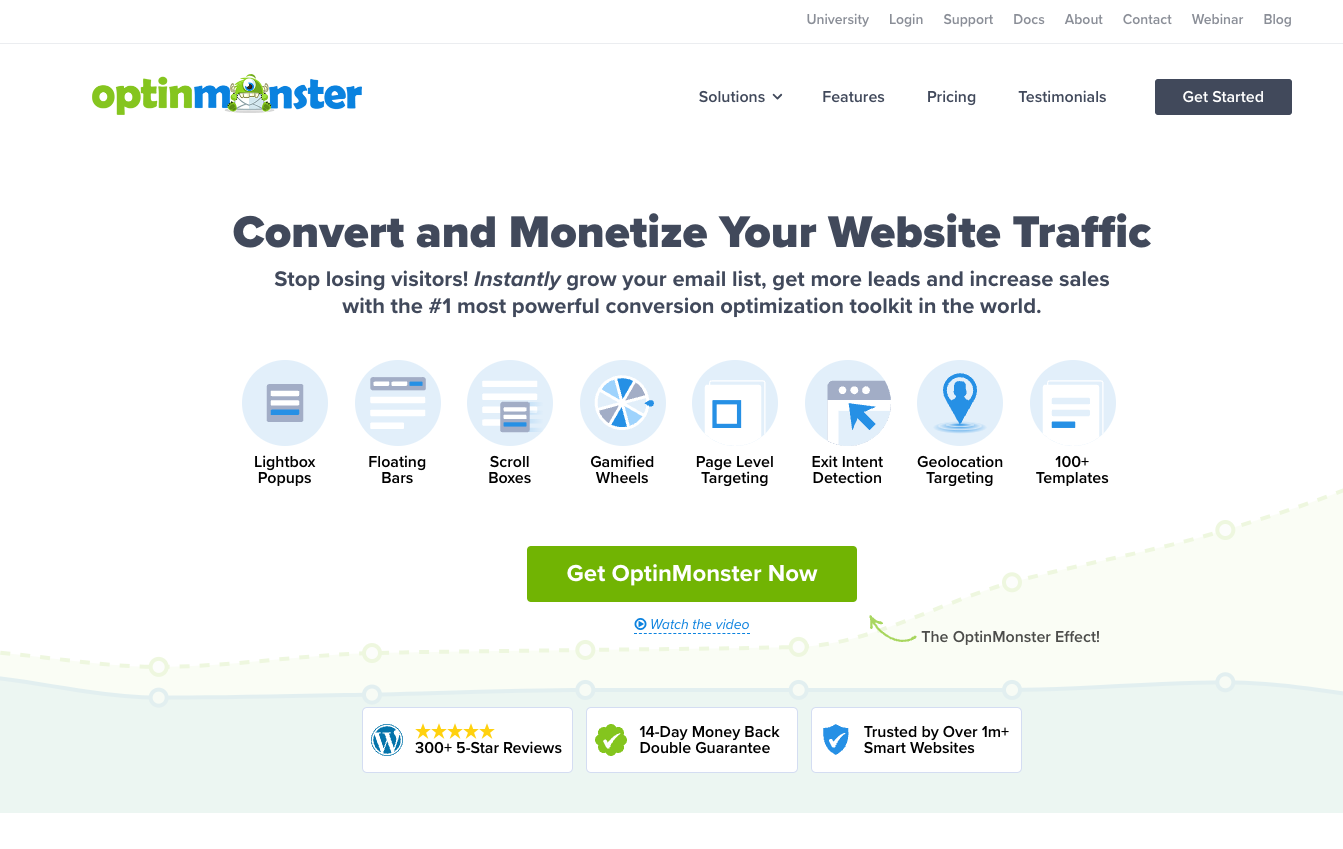 Technically speaking, OptinMonster is a lead generation tool -- not strictly a landing page builder. If you don't need a landing page to drive sales at this point in your business, OptinMonster is a much cheaper alternative. Its base plan only costs $9 a month, though higher plans come with more features.
With OptinMonster, you can create landing pages quickly that can collect leads by way of inline forms, floating bars, or even coupon wheels. They have dozens of templates to choose from and are easily customizable.
Advanced targeting features are available (at higher plans), and the landing pages don't take that long to create. If you're looking for strictly lead generation, give OptinMonster a look.
HubSpot Landing Pages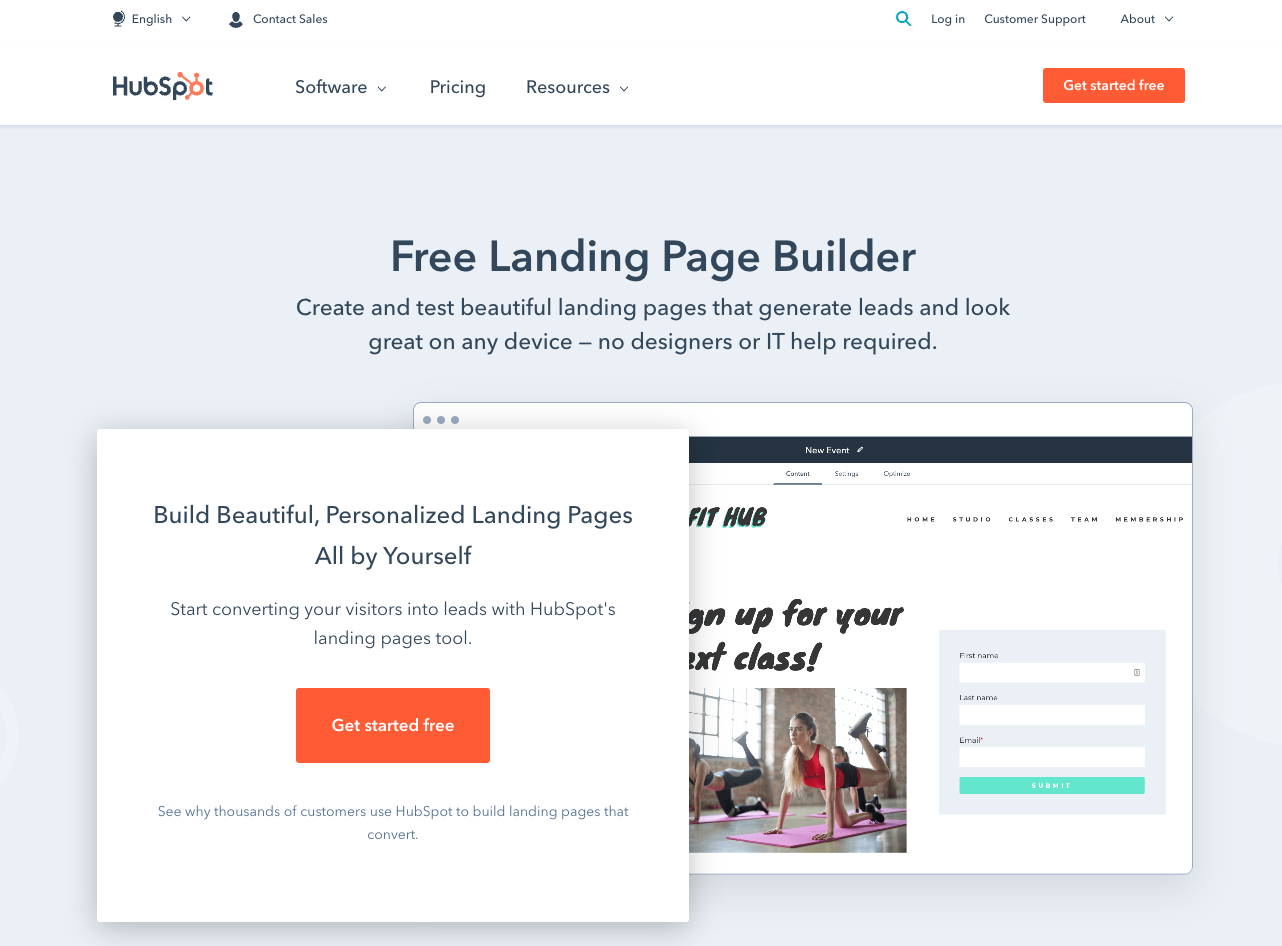 HubSpot casts a pretty wide net over the digital marketing landscape. Most marketers have heard of them, and many have probably used some of their services.
But did you know that HubSpot offers free landing pages? These aren't just for lead generation or sales, but webinar pages and other types of pages as well. All pages are mobile-responsive and are very customizable.
Perhaps best of all, they all integrate with HubSpot's CRM. If you're already committed to them, check out their landing page builder as well. They have a base plan that is free, but paid plans start at $45 per month if you want more features.
LeadPages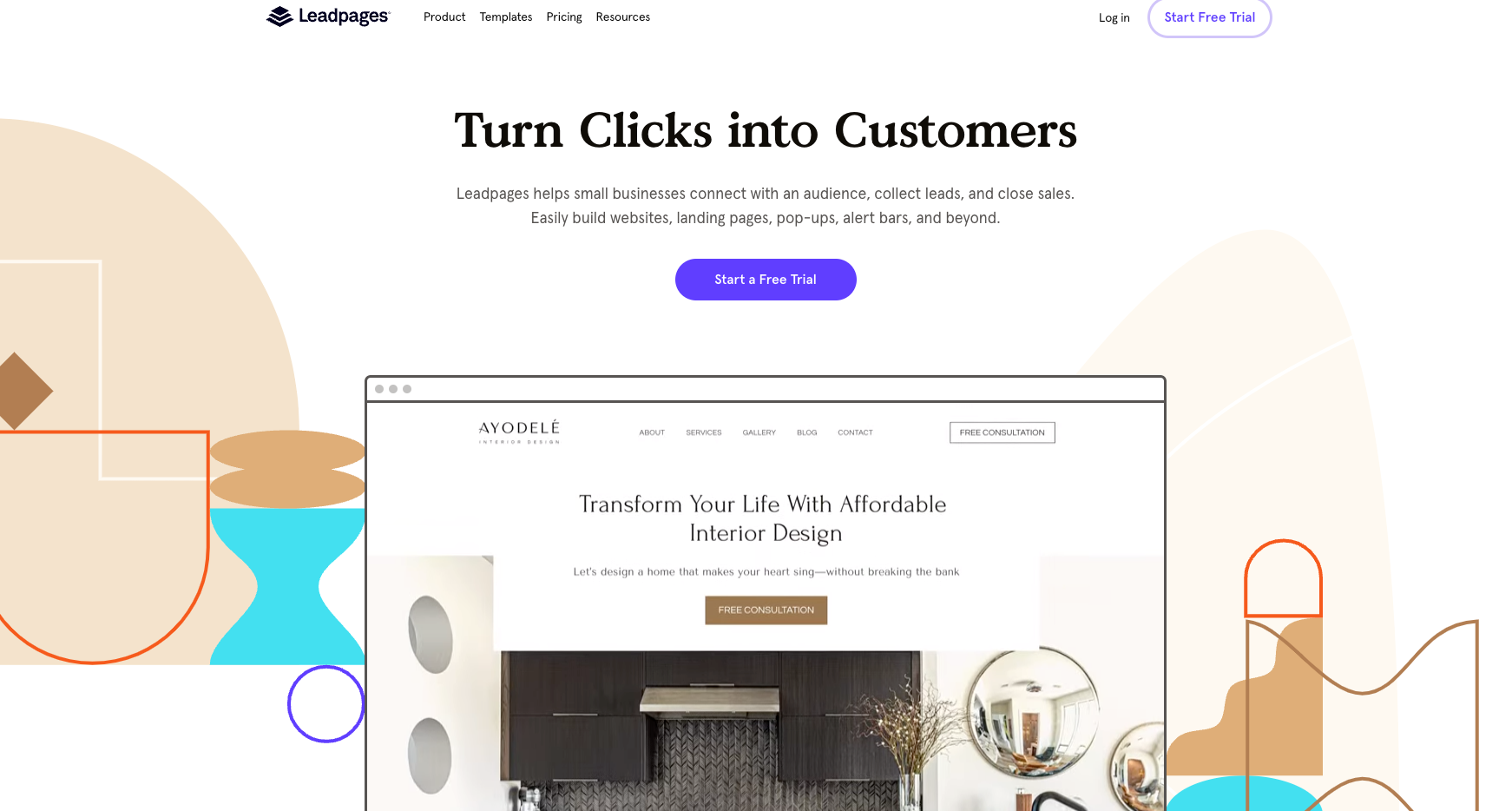 More of a direct competitor to Unbounce, LeadPages is strictly a landing page builder. It lacks a few features that Unbounce offers, but their plans are also half the price: $27 per month for the base package, and $59 for plans with more features.
LeadPages has two different editors: a simple editor for very basic customization (and for beginners) and a more advanced editor if you want more functionality.
The main focus of LeadPages is conversions, whether that's sales or lead generation. It has tons of options for popup forms and alert bars, as well as for templates and integrations. The flexibility of LeadPages is what sets it apart from some of the others on this list.
Thrive Architect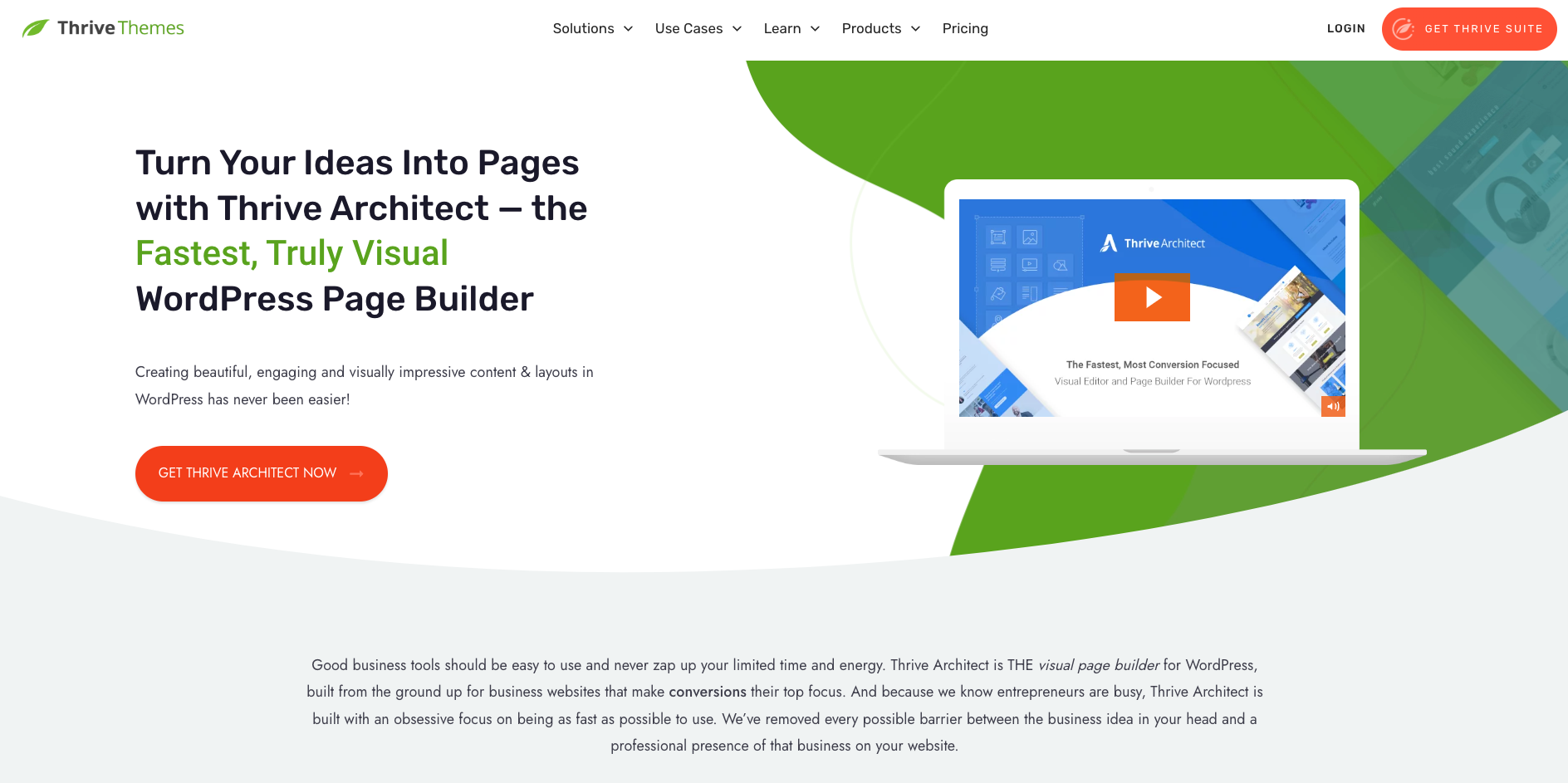 If you're a dedicated Wordpress user and are just looking for your own landing page builder for a single site, you should definitely look at Thrive Architect. The learning curve is much steeper for this software than some others, but once you understand how it works, it's pretty a powerful plugin.
It doesn't really matter what type of page you want to create: homepages, blog posts, sales pages -- Thrive Architect does it all. When you add in that it's only $67 for a single site license ($19 monthly if paid that way), it's a great investment to make for a very targeted group.
Landingi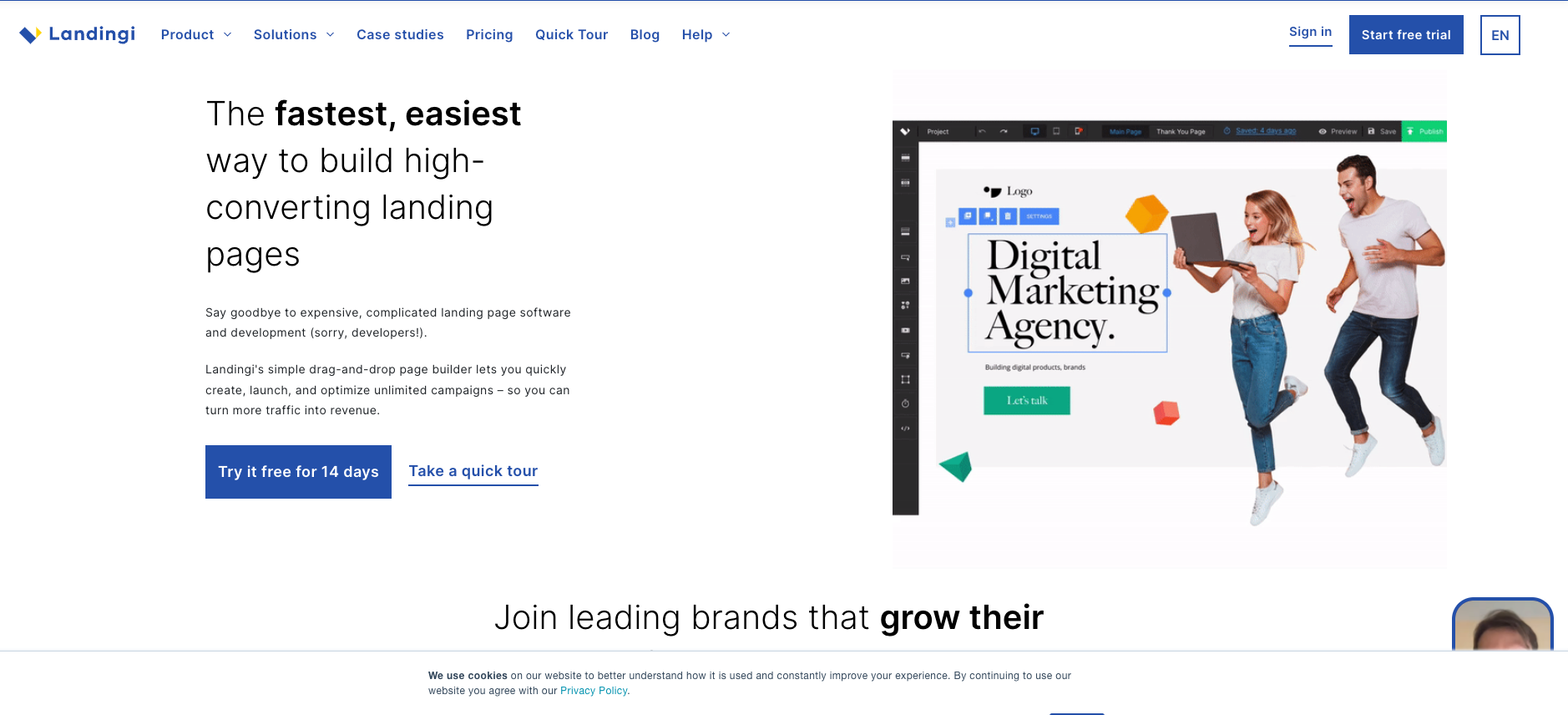 Landingi has been around for nearly ten years, but it still remains one of the simplest options on this list. It doesn't have nearly the capability that others on this list may have, but then again, it's not necessary for everyone. If you're just starting out, Landingi is a good landing page builder to start with.
The basics are all there: A/B testing, popups, funnels, duplicate pages, and options to customize your page further via HTML and CSS. Beyond that, there are a few AI technology options such as their PageInsider technology, but overall, it's a simplistic landing page tool that is designed to be user-friendly above all else.
The basic plan costs $29 per month (billed annually), while other plans are $65, $89, and $109 for the Agency package. All plans offer unlimited conversions and landing pages; the difference is how many unique visits and domains you need. The top plan also offers a white label option, so if you're an agency that wants to offer this service to your clients, take a look at Landingi.
ClickFunnels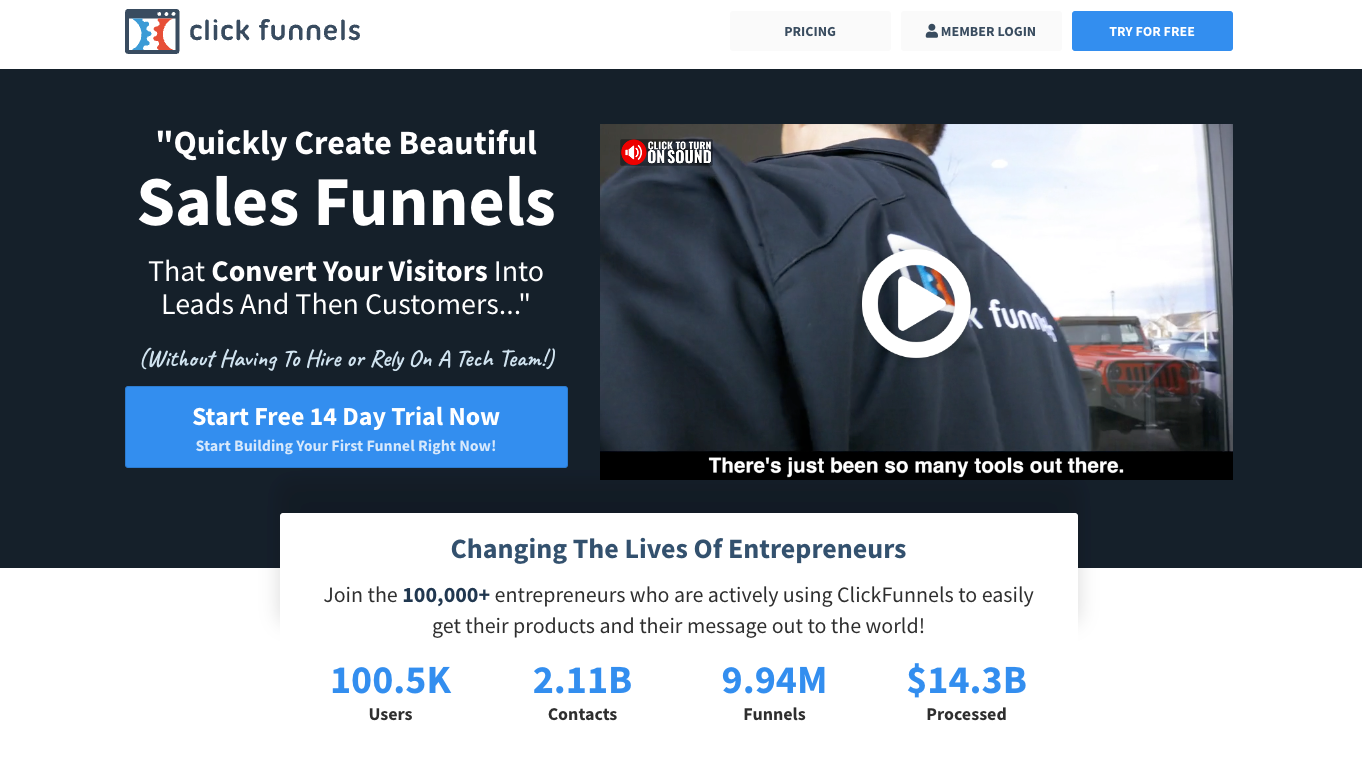 Led by Russell Brunson -- one of the biggest names in the digital marketing world -- ClickFunnels is more than just a landing page builder. ClickFunnels is a software designed to take your customers from the beginning of the sales journey to the other end in one seamless package.
Though it can create beautiful landing pages that are also quite effective at converting visitors, the strength of ClickFunnels is in its support. They have documentation, an active community, daily webinars, support groups and a full training. It's no wonder why ClickFunnels is the first place many new entrepreneurs visit when entering into the digital world.
ClickFunnels is priced very competitively with Unbounce, and has other features that you may be interested in.
SeedProd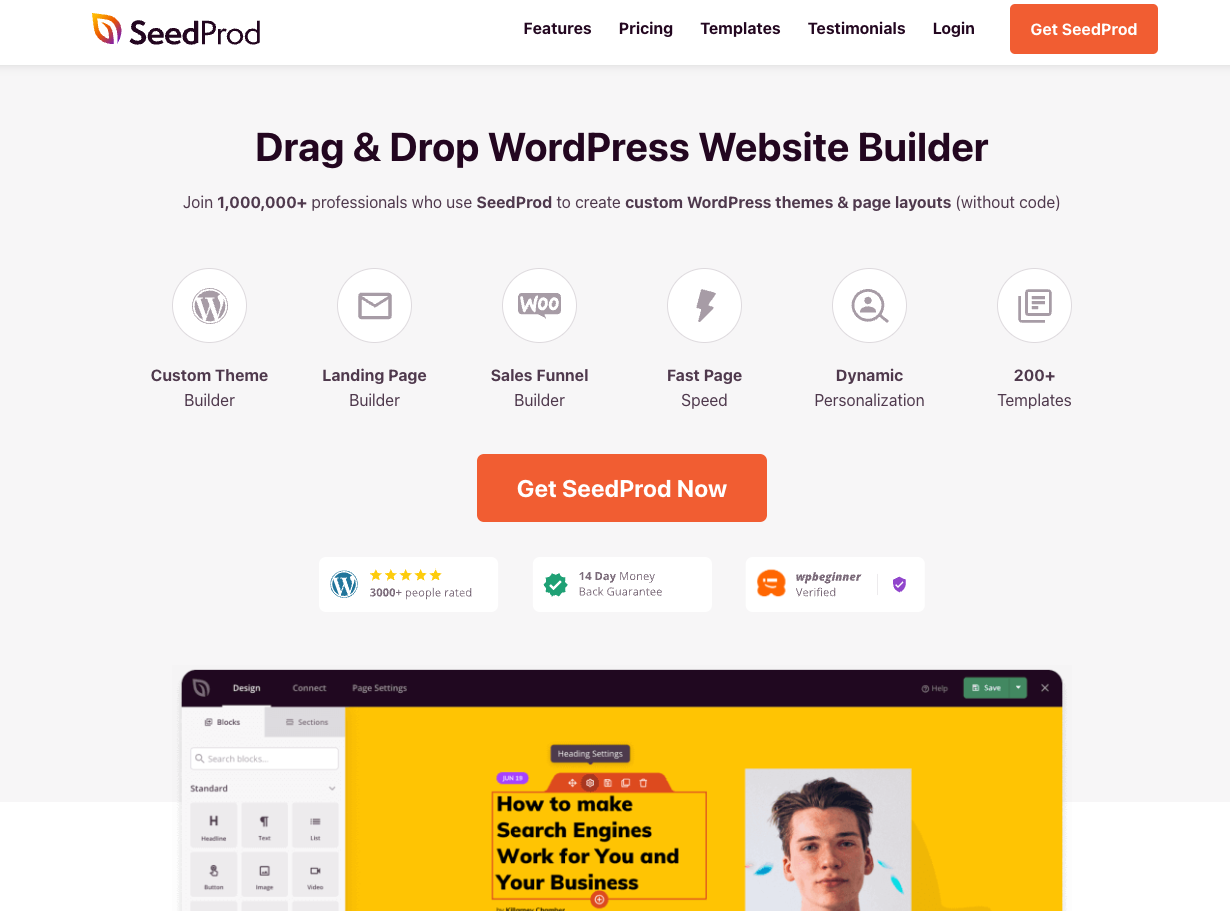 It's hard to find a landing page builder that is strong enough to generate a decent enough ROI but won't cost your entire startup budget just to work properly. SeedProd hopes to toe that line by bringing a state of the art drag-and-drop visual page builder that is lightning quick, easy to use, and ruthlessly efficient.
SeedProd is a Wordpress plugin that can create landing pages with minimal effort. Though some people prefer to create landing pages from scratch using a blank Wordpress page, SeedProd is a great alternative for beginners.
Starting at just $40 per year, SeedProd has an impressive feature list that makes it perfect for solopreneurs. There's also a free plan that is much more basic but still useful.
Some of the features you can expect with SeedProd include WooCommerce blocks, domain mapping, templates, and mobile-responsiveness. With several customization options and "one-click page modes," SeedProd is a turnkey software solution to create beautiful landing pages in minutes.
Instapage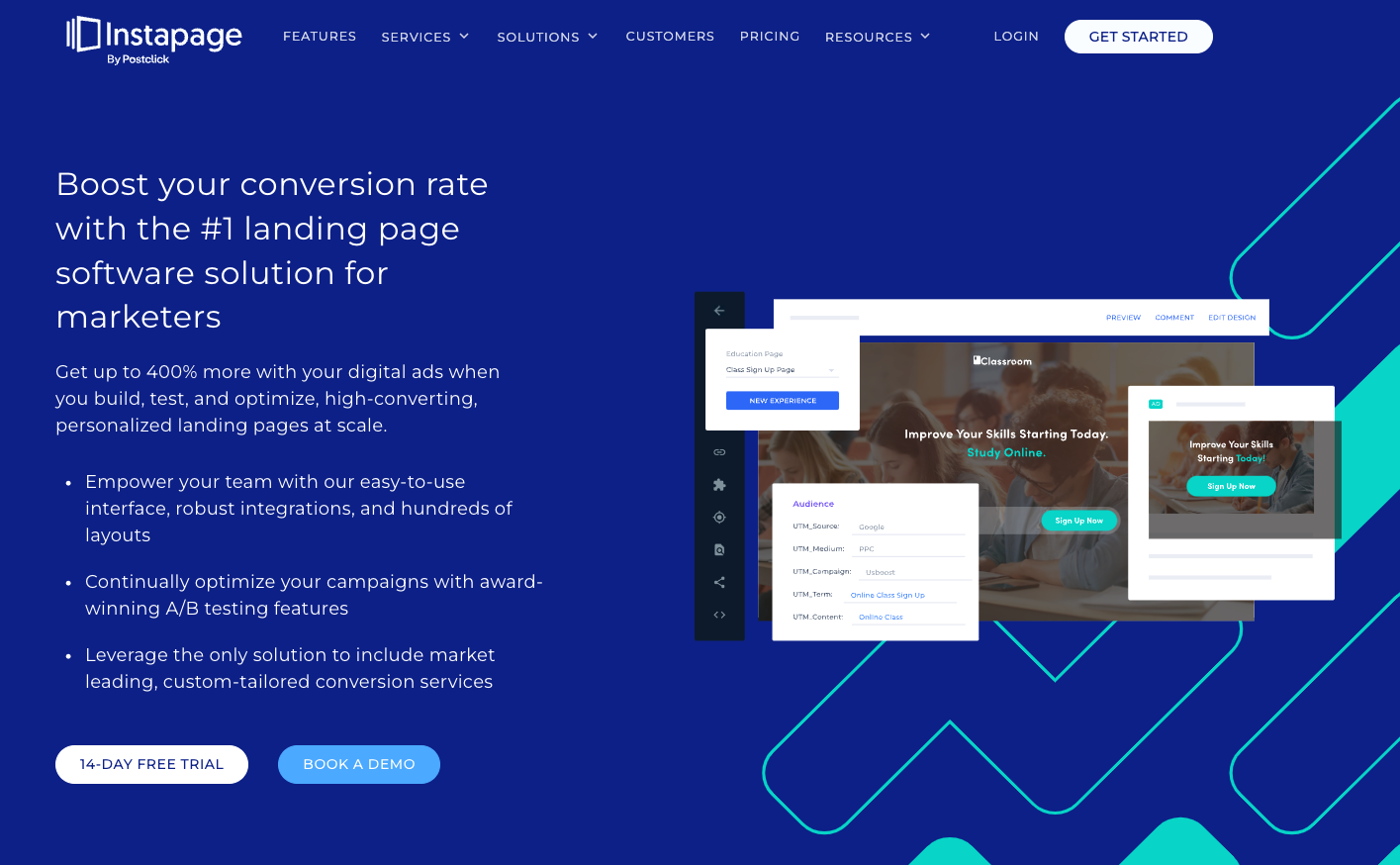 For businesses that need a lot more features than what Unbounce provides (which is already a lot), Instapage might be the right choice. They're more than double the price of Unbounce's cheapest plan -- coming in at $199 a month -- but offer several more features to justify the price: no conversion limits, advanced A/B testing, and unlimited domains, among others.
If that's still not enough, customized enterprise plans are also available.
One of the features that might make it worth it for you is heatmaps. With a single glance, you can tell where people are dwelling on your page, as well as what they skip over. Containing integrations with most of the major SaaS companies, like Hubspot, Salesforce, and Marketo, InstaPage might be the first and last landing page builder you need.
---
Is Unbounce Worth It?
No Unbounce review would be complete without questioning whether or not this particular software is right for you. Unfortunately, that's a question that only you can answer.
If you're needing a powerful landing page builder that won't break the bank and should grow with you as you build your brand over time, take a look at Unbounce.
If you prefer to start with something a little simpler and don't need as many features, consider a free alternative. Just be aware that migrating to another platform will come with its own set of challenges.
Unbounce is a great piece of software, but the only question that matters is whether or not it could increase your ROI. If you think it's the best landing page builder for you, give it a spin.
Want to learn step-by-step how I built my Niche Site Empire up to a full-time income?
Yes! I Love to Learn
Learn How I Built My Niche Site Empire to a Full-time Income
How to Pick the Right Keywords at the START, and avoid the losers
How to Scale and Outsource 90% of the Work, Allowing Your Empire to GROW Without You
How to Build a Site That Gets REAL TRAFFIC FROM GOOGLE (every. single. day.)