Content at Scale Review: Can This AI SEO Content Tool Replace Your Writers?
When you buy something through one of the links on our site, we may earn an affiliate commission.
Are you trying to scale your content with an AI tool, only to consistently fall behind?
Or does your writing team produce inconsistent results and take up most of your budget?
We recently tested an AI tool that supposedly produces entire blog posts in just a few minutes.
I was skeptical.
However, initial results were positive AND surprising.
So, if you're looking for an AI tool that can create content at scale, 10X faster than a human, this might be the tool for you.
Here's what this review covers:
What Content at Scale is and can do for you
A live example of what the AI produced
It's main features (and benefits)
And much more
You can check out Content at Scale here, if you're in a hurry.
Or keep reading to learn more!
---
Content at Scale Review
Ease of Use

Content Quality

Features

Price
Summary
An impressive AI tool that I couldn't tell was written by AI. It also produces entire blog posts in less than 5 minutes with very little input required (just a keyword and some context). I also like that it's created by SEO content marketers who know how to rank content, instead of developers whose expertise is in the technology side of things only. Check out Content at Scale today!
Pros
Content reads like a human writer
Ease of use
Writes 1400 word articles in a few minutes
Created by SEO content marketers
Auto post to WordPress
Built-in plagiarism
Cons
Content generation isn't always perfect (but you get unlimited free reruns)
Can be a bit of a learning curve
It's not the cheapest AI tool
What is Content at Scale?
Content at Scale is a content automation platform driven by AI to produce full blog posts with just a keyword.
Where other tools need a lot of hand-holding and direction to get decent results, Content at Scale requires minimal human intervention.
Moreover, the AI engines running in the background generate SEO content to increase your chances of ranking in Google.
It works by modeling the content that already ranks and producing completely fresh material, with the human touch of stories and natural transitions.
The best part?
What takes human writers hours to create takes Content at Scale minutes.
You'll be able to scale content production at a fraction of the cost. For example, the Content at Scale team can "edit and optimize 30 posts per day instead of 10-15 per month."
Who is Content at Scale For?
Content at Scale is built for SEO blog content, and the AI makes suggestions for word count, the number of headings, and other terms based on what already ranks.
Therefore, if you're a blogger, content marketer or want to increase organic traffic with long-form content, you'll get a lot out of this tool.
Content at Scale Review: A Close Look [+ Live Examples]
I used the tool to create two articles for a tech blog.
Here are the keywords I chose:
how to set up a Youtube live stream
best mics for live streaming
The first one turned out great, but the other wasn't so great.
Let's look at how the first one performed, how to setup a YouTube live stream.
Here's how the article starts:
So far, so good.
Honestly, this isn't a bad introduction, even by human standards. I wonder how the rest of the article turns out?
Let's keep going.
It appears the intro goes straight into the content without breaking up the text.
Even though the content is relevant and informative, I think this whole section could be added to the article's main body.
Next is the Table of Contents, which has jump links to each heading in the post.
The next section lists everything you need to start a livestream on YouTube.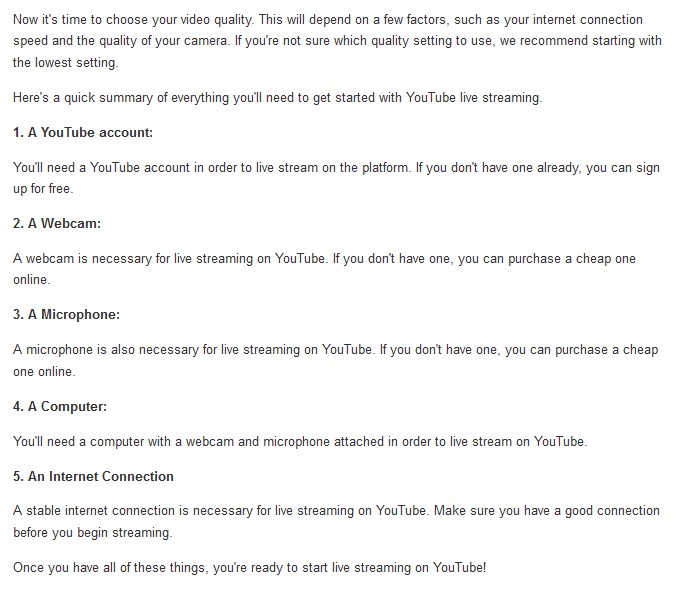 It's impressive how the AI knows how to make many connections from one sentence to the next.
We're further into the content now and getting into the main topic.
There are a couple of hiccups with the formatting, but the instructions still make sense.
The next two sections discuss the benefits and things to keep in mind when going live on YouTube. Both make some interesting points: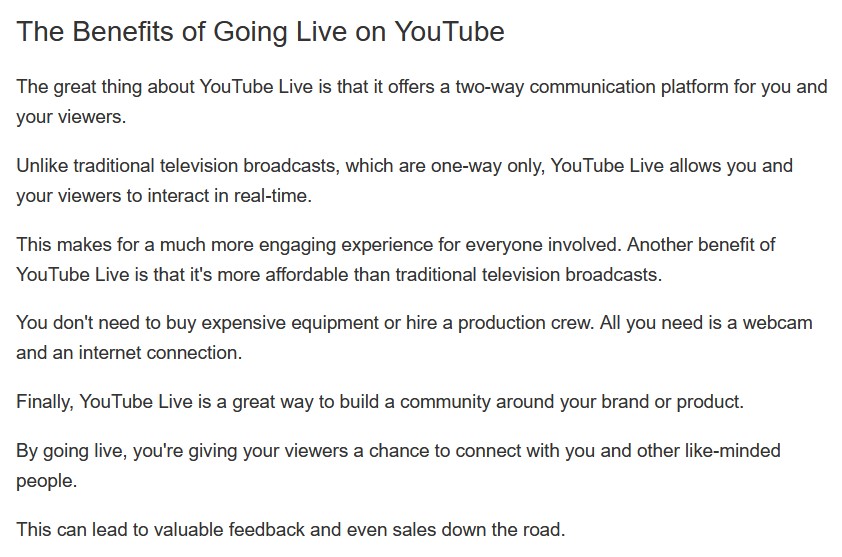 The last section seems a little off. A couple of paragraphs could be flipped around, and there are some more formatting issues.
In summary, apart from a few discrepancies, the content itself is very good. It includes a lot of relevant information and makes complete sense.
It even feels like it was written by a human and has a conversational tone.
My struggles with the second keyword
The second keyword I tested was a bit of a longshot.
I wanted to see if the tool could produce product reviews, so I ran best mics for live streaming through AI.
The first run I did only lists 5 products instead of reviewing them.
The rest of the article was a guide on how to choose the right mic. This part of the post came out well.
However, I wanted to see if I could get better results.
Thankfully, you can generate a fresh post and provide different contexts to get different results. It also doesn't cost any extra credits to perform reruns; you can run as many as you need.
This time round was a little better, but I would need to add way more information to each review if it was ever going to compete in the SERPs.
And unfortunately, as the above image shows, it did miss a product.
My verdict: With a little time and practice at refining the context and choosing the right keywords, I think I could generate better results for review type content.
If I were going to use this tool long term, I would stick to more informational content, as it seems to do a great job with these types of posts.
And keep in mind that if you try out Content at Scale, they offer a money-back guarantee, so you'll get a full refund if you're unhappy with the first five posts it creates.
Editing the content
Before I published the post, I made a few changes, which took me less than 15 minutes, and I'm also documenting the process for this review.
So, if I were only focusing on editing, it would probably only take a few minutes each.
The built-in editor is easy to use, albeit a little dated. If I had to change anything, it would be to update the editor and make the user interface less cluttered.
Once you've made your changes and saved your work, you can change the status to complete.
Another feature I liked is the ability to auto-post to your WordPress site and add a featured image from inside the app.
It even gives you a search feature to find the perfect image without leaving the site.
Content at Scale Live Examples
The following article is live on my tech blog, and apart from a few minor tweaks and shifting a few paragraphs around, AI wrote everything.
You can read it here.
Content at Scale Features
Here's a look at the main features and how you can benefit from them.
1. It's built by SEO content marketers
A big difference with many other AI tools on the market is that Content at Scale is built by content marketers who are SEO experts.
That means the AI produces SEO content that is unique and optimized to rank.
2. Uses a proprietary set of AI engines to produce the best results
Many AI tools today are built on top of GPT-3, which is just one of the main AI engines.
However, Content at Scale has built a system using complex layers of three AI engines and an additional two language processing and semantic analysis algorithms.
This is how the tool can generate an entire blog post in one hit, which sounds like a human wrote it.
And it's fun to check what percentage the AI detection tool OriginalityAI gives your articles.
3. Auto-generated table of contents
Most SEOs know that adding a Table of Contents to your posts helps rank content higher in the SERPs.
And the software automatically adds one for you, complete with jump links to each post section.
Now, there's no need for a separate plugin, so you can truly focus on scaling content.
However, if you want to use your own plugin, you can get the tool to add the shortcode for you automatically.
4. Click to Tweet Box and Key Takeaways
Get some nice touches to each of your posts with a click to Tweet box, which can increase engagement on your posts and help grow your Twitter account.
The Key Takeaways box summarizes the content's main points and helps break up the text for improved readability.

5. Keyword suggestions and an on-page checklist
Keyword suggestions help you optimize your content, and the tool will try to add these terms to the post automatically.
It also sets the post slug and meta description and shows the word count, number of paragraphs, and headings used.
And lastly, there's an on-page checklist to ensure you hit your on-page SEO scores.
6. Project settings and WP connection
The project settings let you set your target audience and the tone of voice of your content.
Second, you can adjust the Takeaways box appearance, label, and icon and add your Twitter account handle.
It also lets you use your own Table of Contents shortcode if you use a plugin.
Third, you can include custom calls to action to the intro and conclusions of your posts.
And last, you're able to connect your WordPress site from the project dropdown box.
This enables seamless posting of your articles once you've edited and completed the content.
7. Built-in plagiarism checker
The built-in plagiarism is really easy to use.
Simply select the tab and click the button:
It'll scan your finished document and give you a percentage of how similar it is to other online content.
You can see that this post scored zero percent:
Content at Scale Pricing
Currently, Content at Scale allows early access to the AI tool at three different price levels.
The more you pay, the more words you get. So the best price is $1,500 for about 100 posts per month, which works out at $0.01 per word.
For a more affordable plan, you can get about 20 posts per month for $500.
This is considerably less than if you were hiring your own writers, and some Content at Scale users even found that the tool produced better results when compared to human writers.
"The output from the AI has beaten 36 out of 40 writers I've hired!"
Content at Scale Review: Pros and Cons
This Content at Scale review wouldn't be complete without highlighting the negatives and positives.
Content reads like a human writer
Ease of use
Writes 1400 word articles in a few minutes
Created by SEO content marketers
Auto post to WordPress
Built-in plagiarism
Content generation isn't always perfect (but you get unlimited free reruns)
Can be a bit of a learning curve
It's not the cheapest AI tool
Content at Scale Alternatives
Here are a few alternative ai writing tools you might be interested in. Each offers a variety of features similar to Content at Scale.
Article Forge
Article Forge is a similar tool to Content at Scale in terms of how much it can write without your assistance.
You can give this ai writing software tool keywords and sub-keywords, and it produces blog posts of up to 1500 words.
Article Forge also lets you enter subheadings manually, which can help direct the tool for better results, and content passes plagiarism tests with Copyscape.
---
Jasper
Jasper is one of the best article generator tools on the market. However, it works differently from Content at Scale.
Where Content at Scale writes the entire article for you, Jasper assists you in content generation by writing sections of your post individually.
Writing an entire blog post quickly is possible, but it needs more direction for long-form content than Content at Scale does.
Nonetheless, Jasper is a great alternative if you're happy being more involved with the blogging process. It's also much cheaper, starting at $24 per month for 20,000 words output.
---
Autoblogging
Autoblogging is another article generator tool that writes entire blog posts with just a keyword and adding subheadings.
A unique feature of this long-form content tool is the ability to add keywords to each subheading you provide, which can help assist the tool in better outputs.
---
Conclusion: Content at Scale Review
That concludes this review of Content at Scale. An AI tool that can literally produce tons of long-form content with very little human input.
I think the more you use this tool, the better results you'll get.
The biggest difference you'll find with Content at Scale and other AI writing tools is that the content is SEO driven and uses multiple AI engines and two language processing and semantic analysis algorithms to produce human-like content.
This means fewer edits need to be made to the content, with more chances to rank in the SERPs.
Want to learn step-by-step how I built my Niche Site Empire up to a full-time income?
Yes! I Love to Learn
Learn How I Built My Niche Site Empire to a Full-time Income
How to Pick the Right Keywords at the START, and avoid the losers
How to Scale and Outsource 90% of the Work, Allowing Your Empire to GROW Without You
How to Build a Site That Gets REAL TRAFFIC FROM GOOGLE (every. single. day.)
Subscribe to the Niche Pursuits Newsletter delivered with value 3X per week