Scalenut Review: One of The Best New AI-Powered Writers?
This Scalenut review will introduce one of the market's latest and best new AI writers. You can write short and long-form content using this tool. But Scalenut is more than an AI writing assistant; it also has a strong SEO component. We will tell you all about it.
Google is a search engine that relies on semantic associations. This means it has to associate a website with a particular topic to consider it a relevant and trustworthy resource and give it visibility for keywords that are part of this topic. In other words, a website should strive to become an authority on its subject. This is where Scalenut can help.
New and existing applications try to help the user by offering seamless content creation processes. Scalenut, one of the young players, took a step forward by adding the "Topics Cluster" module to its existing AI copywriter and the SEO Hub.
Want to know more? In this Scalenut review, we cover (among other things):
What Scalenut is
Scalenut Features
Scalenut Plans and Pricing
Pros and Cons
Scalenut Alternatives
By the end of this review, I am sure you will have enough information to decide if Scalenut is the right tool for you!
Start your free trial for Scalenut here!
---
Scalenut Review
Ease of Use -

95

Features -

90

Customer Support -

80

Price -

95

Likely to Recommend -

90
Summary
Scalenut is an AI-powered writer with solid short and long-form content-generating features and many templates to choose from. Cruise Mode allows you to create long form content effortlessly. In addition, Scalenut has a strong SEO component to help you create content that will outrank your competition. The Cluster Builder helps you to plan content around your main keywords and become an authority in your field. In short, Scalenut has a lot to offer.
Check out the Scalenut site today!
Pros
Well-designed user interface
Attractive pricing
Many short-form templates
Strong long-form content creation
"What Google Loves" clearly shown
Cluster Builder is very useful
Helps to create content that will outperform competitors
Cons
No customizable templates
Sometimes generates repetitive content
Top 30 competitors used in identifying key terms
Not enough tutorials
Scalenut Review: Quick Overview
Scalenut is a one-stop SaaS solution for new and experienced content writers or bloggers; it will create engaging content today using next-generation technologies.
No more writers' block! Write like a professional. You only need to type a keyword or phrase that you want your content to target, and Scalenut will start mining data from articles, blog posts, videos, and more on the topic. From the existing articles on the subject, it'll extract the relevant information "That Google Loves." You just have to compile an outline, and the Ai-copy writer will do the rest.
But other AI assistants offer similar features, so you may ask how Scalenut differs.
Scalenut is not just an excellent AI copywriting platform. It is a powerhouse of intelligence. Its latest features, such as multi keywords content planning and the SEO Hub, will help you get the right message out there quickly and easily.
Scalenut Features
Scalenut's content creation capabilities split into two major applications: the AI Copywriter dedicated to short-form writing with the help of templates and the SEO Hub for in-depth writing such as blogs or articles. Let's first look at the copywriter tool.
The AI Copywriter Tool
Scalenut's templates are easy and intuitive to use.
In the Copywriter, you will find templates sorted into the following categories.
Product Descriptions
Q&A Content
Article Copywriting
Social Media Posts
Copywriting (Frameworks)
Website Copy
Video Content
Email Copywriting
Advertisement Copies
Most templates are similar to those found in other programs such as Jasper and Shortly AI. But we found some new, handy templates like:
First Person to Third Person Converter
Active to Passive Converter
Passive to Active Converter
You can find these in the section "Article Copywriting." These templates are unique to Scalenut.
Choose a template, and you will be asked to input some information and press the Generate button in the bottom right corner. Scalenut will generate several outputs, and you can select the one which, in your opinion, is the most relevant, copy it, and paste it to the Editor. If you are unhappy with the generated content, you can ask Scalenut to create more.

Check Facts
Like in any AI-generated content, it is your task to check and validate the facts in generated content. You may find some points, names, or dates are wrong, and it is up to you to find the correct information.
Let's not forget that GPT-3 was trained up to 2019, and it is not aware that the world carried on turning after 2019 (but GPT-4 has some promising features).
You should not just delete this wrong information from the content. It should be treated as a "hint" from the AI for us to do research and find the correct information. This may lead us to valuable facts which, for example, can be used in citations.
The SEO Hub
The SEO Hub contains all your long-form content documents. In the SEO Hub, you can start creating a new document by entering the keyword(s) that you would like to rank for.
The SEO Assistant does all the heavy lifting in creating an SEO-friendly document. After a few minutes, the Content Brief will be ready; the Content Brief will include all the data scraped by the AI Powered content research engine.
Content Brief
The Content Brief will include all the scrapped data on one screen. With the help of different tabs, one can display various data, such as the outlines of the top 30 sites, the word count of each article, headings, and so on.
Having all that info on one screen can be overwhelming in the beginning. It is beyond the scope of this Scalenut review to dive into each tab, but in summary, we can confidently say one can conclude "What Google loves" from the above data.
Note: I understand that key terms are harvested across the 30 top URLs. In my opinion, it would be better to use only the top ten URLs as it is done in other similar applications. Those are the most important and represent the content we should aim to emulate.
The Content Brief displays the outlines of all 30 top URLs and allows us to select headings, questions, and citations and build the outline of our document.
This is a great time-saving feature. Having the outline, we can advance on to "Create Content."
Content Creation
There are two ways to create content:
Copying the document outline into the editor and using the AI writing tool to write for you is the first option. At any stage, one can use templates, any data scrapped, and monitor the usage of key terms. (The image above shows the editor containing an outline.)
Go into Cruise Mode. This will import the outline automatically and, at your command, create writing points. After compiling the writing points, one can ask the AI writing tool to write the first draft. Just watch out for duplication and remember to validate facts.
The previously created outline gets pulled into the editor automatically, as you can see below.
Writing points are generated for each of the headings.
Content is generated for each writing point.
As Scalenut tells us, the AI content writing tools can create an entire document in five minutes!
Topical Clusters
The latest addition to Scalenut features is the generation of multi-keywords "Topical Clusters."
What is a Topical Cluster?
The most effective way to approach the task of creating enough content for a blog or website is through what SEO specialists call the "Topics Cluster" model. This method allows you to choose a central hub that acts as your main content pillar. From there, you can write articles on each of your site's topics – using related keywords in each piece of writing to help improve search engine ranking and visitors.
Topic clusters will help encourage your users to seek information about your specialization or area of expertise and ensure they remain loyal to you.
Even though they may not be aware of it, they may come back again and again because they'll see themselves as regulars! And since these people are already familiar with your work, revising and honing existing work will make it a point that increases user loyalty.
For example, we have above a topical cluster supporting the keyword "SEO."
The Chrome Extension
The Scalenut Chrome Extension is a powerful tool to help you save time and effort when writing content. This niche tool provides an assistant that will allow you to write content in your browser that reads better than anything you could have ever produced on your own!
The Chrome extension triggers the copywriter and makes it easy to post content to Facebook, Twitter, and LinkedIn. It generates social media posts, advertising copy, blog posts, and more! With a simple push of a button, your content creation woes are over.
Scalenut Support
If you need support, you can find it here:
Articles online
Videos on YouTube
Online chat (which is not 24/7)
The Scalenut Facebook community. The problem is that if you have some urgent issue, you will have to wait for administrators to approve your message before it goes public.
In short, the level of support can use some improvement.
Finding answers to urgent questions is difficult outside of regular office hours. And complicated questions are not always answered satisfactorily.
Scalenut Plans and Pricing
Scalenut is one of the primary software providers for small businesses. They offer various plans and features to benefit your business in many ways. Scalenut provides its clients with valuable features to make their projects more successful.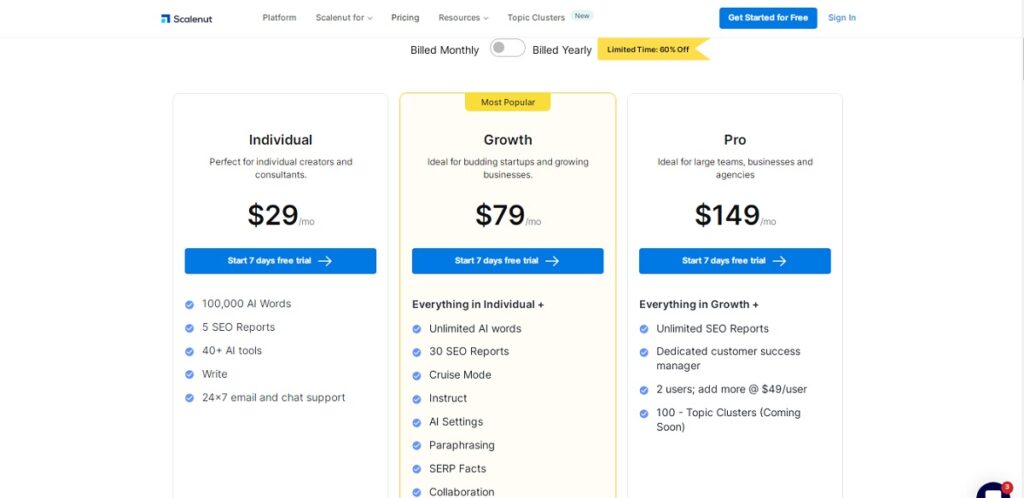 You can try out these plans and choose the one that best fits your business needs by signing up for a free trial where you will be using all of Scalenut's tools!
You can upgrade your plan whenever you feel like it, and as your company grows, so will Scalenut's features.
Their plans are as follows: you can start with a free trial and upgrade to:
Individual plan for $29/mo
Growth for $79/mo
Pro for $149/mo
The seven-day free trial gives you access to all the Pro plan features, including Cruise Mode and Topic Clusters.
You also get 5000 AI words and two SEO Reports daily during the trial period.
This is more than enough for you to get a good feel for the tool.
Pros and Cons
Well-designed user interface leading to a great user experience
"What Google Loves" is clearly presented
Very attractive price
The cluster builder is a nice addition
Many options for generating short-form content and even long-form content
Scalenut can create content that outperforms your competitors
Scalenut AI does not provide you with customizable templates
The AI-generated content can be repetitive (as with other similar tools)
The top 30 competitors are considered in calculating Key Terms
Not enough tutorials
---
Scalenut Review: Alternatives
Now let's look at a few alternatives existing on the market. Some are other AI writers, or content research tools, while others are SEO optimization tools.
But it will be hard to find a good alternative considering Scalenut's affordable price.
Surfer SEO
Pricing starts from $59 a month ($49/month if you pay annually).
Using machine learning, Surfer SEO aims to revolutionize how websites are optimized for search engines. They have been very successful and have become an industry standard for the average blogger.
Surfer SEO is an AI-driven, all-in-one platform that will help optimize new and existing pages with just a few clicks. It helps to make life as an SEO expert much more manageable with suggested word count, terms to include to rank, and more – not to mention helping everyone get their projects ready within record time!
---
Jasper
Pricing: you can get the Starter plan for $49/mo and Boss Mode for $99/mo.
Jasper AI is a writing tool featuring state-of-the-art GPT-3 technology, which means it can write complete, entirely reasonable sentences in just a few seconds using any number of starter words.
It can be used to create all types of content - from product descriptions to articles, news releases, and blog posts. Its command feature (Boss Mode) makes it unique, allowing users to instruct the tool to write content without following a specific template. In addition, Jasper AI is constantly learning from new data and correcting mistakes as it composes more and more content, making it an efficient tool for general use over time.
---
MarketMuse
Pricing starts from US$99/month. It also has a pretty good free plan to get you going.
MarketMuse is an optimization platform with an SEO assistant and content writing tools that helps content creators and marketing teams optimize their content marketing strategy.
The software helps users research, plan, and create optimized content to increase organic search ranking and reach more readers. It does this through artificial intelligence (AI), trend data, SEO tactics, and predictions.
---
Frase
Pricing: You can get the Basic plan for $44.99/mo and the Team plan for $114.99/mo.
Frase is full of SEO and content writing tools. It has an AI writer feature that helps you build better premium content, an intelligent editor, and a brief builder.
Frase will optimize your content to be ranked top by search engines.
---
Outranking
Pricing plans: Solo for $129/mo, Pro for $229/mo, Company for $429/mo, and Enterprise for $999/mo.
Outranking is the best news for anyone trying to juggle between creating content and keeping up with peak rankings for the same.
The tool is easy to use, and if you are new to using this kind of software, Outranking is an excellent platform from which you can learn its ins and outs, and don't miss our Outranking review. The Search Engine Optimization feature is highly effective as it makes things simpler and smoother without much effort on your part.
This content creation software from Outranking can quickly help create long and short-form content.
---
SEMRush
Pricing starts from US$119,95/month.
SEMRush is a major software-as-a-service platform for online visibility management. It includes over 55 products, tools, and add-ons across online visibility management. Plus, tools for search like keyword research, content writing tools, social media, and market research. You also get data for more than 142 countries, seamless integration with Google, and task management platforms.
SEMRush features like the "SEO Content Template" help content writers with recommendations regarding a keyword, content length, semantic keywords, potential backlinks, and more.
The "SEO Writing Assistant" analyses how well the written text complies with Semrush SEO recommendations.
---
Shortly AI
You can choose the Monthly Plan for $79/mo or the Annual Plan for $65 a month billed annually.
ShortlyAI is a content writing tool that lets users create long-form content with just a few clicks.
The interface used to create this machine learning program was shaped in collaboration with several experts with many years of experience in the field. They have used their knowledge to build up an advanced system that may work well as a replacement for your current writing process.
Shortly AI successfully creates long or short form content within seconds. You have control over the output length and a more extensive set of commands than Scalenut to use during the editing process, for example, summarize, rewrite and expend. ShortlyAI was bought by Jasper. One of the main reasons was to include some of ShortyAI's powerful commands in Jasper.
---
Rytr
Pricing starts from $9/mo for the Saver plan, and you can get the Unlimited plan for $29/mo.
Rytr is big on ad copy: Facebook Ads, Google Ads, any social posts, and advertising!
Rytr saves a lot of writing time. One can use it for anything from outlining and writing complete articles or a blog post to story plots and YouTube descriptions; the use cases are only improving.
Rytr gets constant updates from developers and has quite an impressive active community.
They have 1,500,000+ copywriters, marketers & entrepreneurs using it. And it's pretty affordable - a perfect alternative if you are on a budget.
---
Scalenut Review: In Conclusion
Scalenut brings together next-generation technologies like AI writers, NLP, Topical keyword clustering, and seamless content creation processes to help you write quality content, like an SEO friendly blog post FAST. You will rank at the top in Google searches while establishing your site as an authority in its field.
Being an authority, Google looks at the frequency at which you publish articles. Scalenut offers you "Managed Marketplace," a content creation service to keep up. At an affordable price, Scalenut experts will write any content for you, from short to long-form.
Having covered the extensive features of the AI writing and SEO tool Scalenut, let's have a last look at the best Scalenut alternatives.
Surfer SEO
Surfer SEO is a market leader. Its main strengths lie in helping you to optimize new and existing content for the best Google rankings. With Surfer, you can also generate clusters for your main niche keyword and easily develop these into posts.
Read our Surfer SEO review for an in-depth look at the tool.
Jasper
Jasper is tops when it comes to AI-powered content generation. You can write anything you wish with its interactive editor. Instruct Jasper to generate all forms of content and use its powerful command feature to write without following a specific template (see Jasper AI vs Copy AI).
Here is a Jarvis AI review you can read to find out if it is the best AI copywriting tool.
MarketMuse
MarketMuse is an optimization platform with an SEO assistant and a content writing tool. It uses AI, trend data, SEO tactics, and predictions to help you create content that ranks high on Google.
Find out how to use AI for content generation and the future of SEO with Jeff Coyle from MarketMuse.
Frase
Frase is an SEO and AI content writing tool. Its intelligent editor and brief builder helps you build better, SEO-friendly content.
Read this Frase review to learn more about its capabilities.
Outranking
Outranking will help you to quickly create high quality content. The SEO feature is highly effective and helps you to track your content performance against the competition.
SEMRush
SEMRush hardly needs an introduction. But few people are aware of the SEO Content Template, which provides recommendations regarding a keyword, content length, semantic keywords, potential backlinks, and more. The SEO Writing Assistant shows how well text complies with SEMRush SEO recommendations.
To find out more about SEMRush, read this SEMRush review and tutorial.
Shortly AI
ShortlyAI is great at creating short or long-form content within seconds. You have control over the output length and an extensive set of commands to use during the editing process.
Find out here if Shortly AI is the best AI writing assistant on the market.
Rytr
Use Rytr for anything from outlining and writing complete articles and blog posts to story plots and YouTube descriptions. Rytr's strong suit is copywriting.
This Rytr review will help you decide if it is the best content generator for you.
I hope you now have enough information to make the best choice when it comes to writing AI-powered SEO-friendly content!
Want to learn step-by-step how I built my Niche Site Empire up to a full-time income?
Yes! I Love to Learn
Learn How I Built My Niche Site Empire to a Full-time Income
How to Pick the Right Keywords at the START, and avoid the losers
How to Scale and Outsource 90% of the Work, Allowing Your Empire to GROW Without You
How to Build a Site That Gets REAL TRAFFIC FROM GOOGLE (every. single. day.)
Subscribe to the Niche Pursuits Newsletter delivered with value 3X per week