Zendrop Review: Is It Really The Best App For Dropshippers?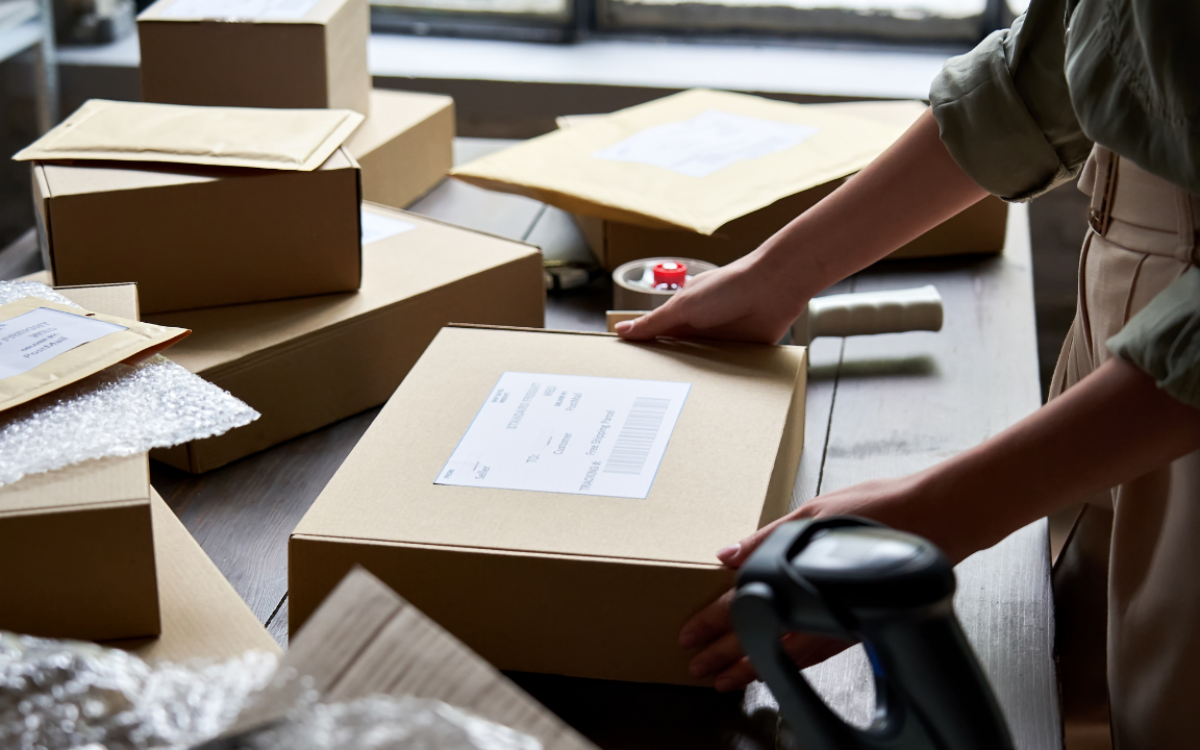 When you buy something through one of the links on our site, we may earn an affiliate commission.
Dropshipping is a great business model, but it's also incredibly hard. You're always at the mercy of your suppliers; if anything goes wrong, it's up to you to make things right. Not only do you have to worry about fulfillment and customer service, but you also have to excel with branding and marketing. That's where Zendrop comes in.
In this Zendrop review, we will dive into what this platform offers for your online store and whether or not it can make your life as a dropshipper easier.
And if you don't have time, you can simply check out Zendrop here.
---
Zendrop Review
Features

Shipping Times

Customer Service

Price
Summary
Zendrop helps e-commerce businesses manage their dropshipping operations. This includes managing inventory, automating fulfillment, and automating communication with suppliers and customers. Get started with Zendrop today!
Pros
Time-saving automation
Ease of use
24/7 Customer Success/Support
High-quality suppliers
Fast shipping
Shopify, Woocommerce, CommerceHQ integrations
Cons
Limited free version
Higher price than alternatives
The Dropshipping Model (And how Zendrop Fits In): Context
For those who may need to become more familiar with the dropshipping model, it's a type of e-commerce where you sell products without keeping them in inventory.
Instead, when a customer places an order, the seller purchases the item from a third party and has it shipped directly to the customer.
Meanwhile, you generate a profit based on the difference in price between what you charge the customer on your online store and what it costs you to purchase the item. 
A dropshipping business is a low-risk, low-investment way to start an online business, but managing all the moving parts can be challenging. Enter Zendrop.
Zendrop Review: Pricing
Zendrop offers three tiers of pricing: Free, Pro, and Plus.

Free
One nice thing about Zendrop is that you can use their service for free if you only have one store and fewer than 50 orders per month. However, if you want access to more advanced features and the ability to connect multiple stores, you'll need to upgrade to either the Pro or Plus plan. All plans offer unlimited product sourcing, 24/7 live chat support, and access to 1M+ products.
Pro
The Pro plan starts at $49/month for stores doing more than 50 orders per month.
You'll have to upgrade to Pro if you want access to automated fulfillment, custom packaging, and express shipping times. Considering how much time it takes to fulfill orders daily manually, you will easily make back that monthly investment in time saved.
Free Trial
For those of you who want to try the premium features before you buy, Zendrop offers a Pro free trial. You can access the free trial within your billing dashboard.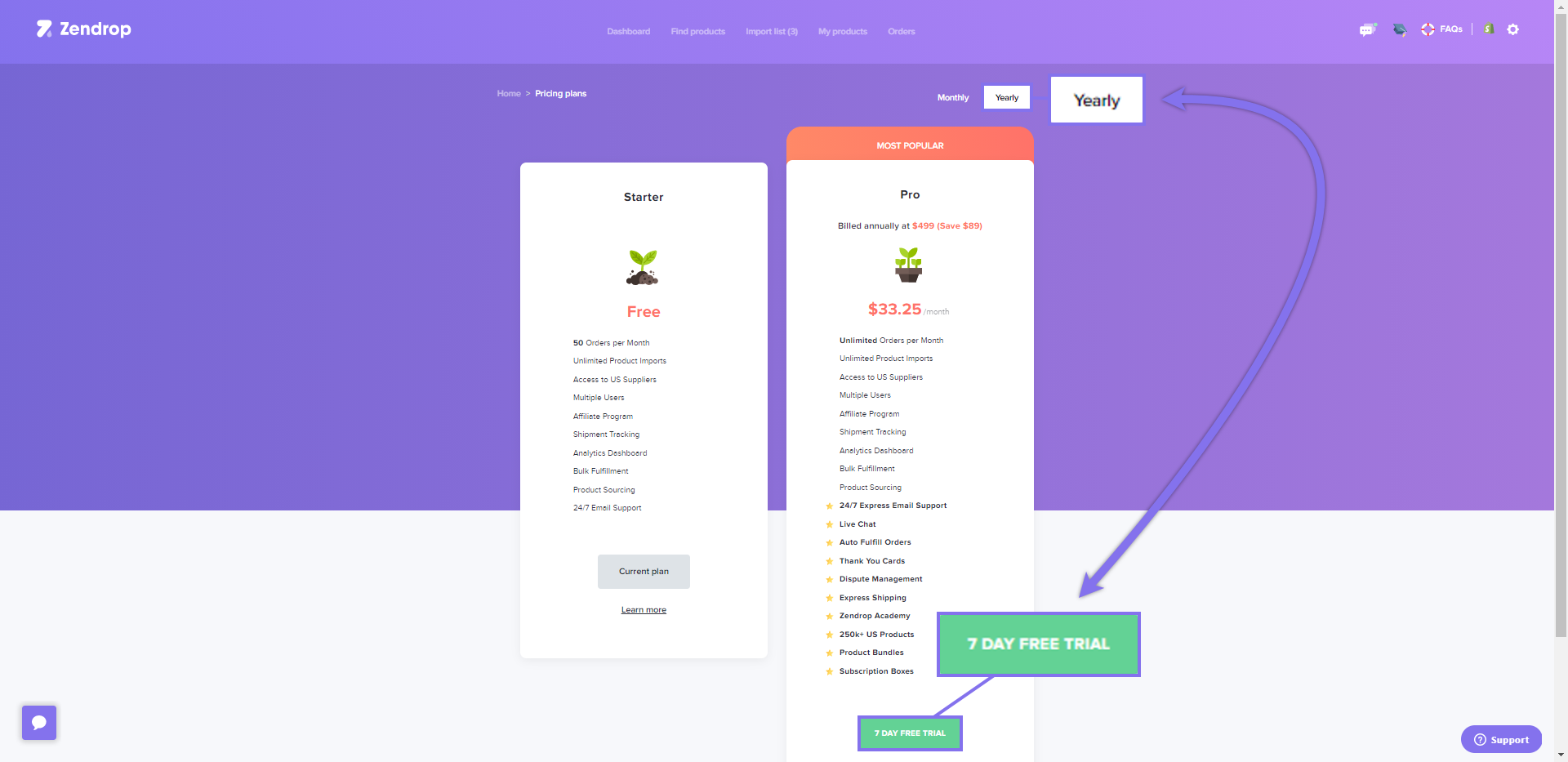 Plus
The Plus plan offers access to Product Bundles and Subscription Boxes, which can significantly increase customer lifetime value and profitability.
The Plus plan is a solid investment if you've already found your winning product and are working towards optimizing and scaling your business. However, if you haven't cracked your first sale yet, stick with the Free plan!
What Does Zendrop Do?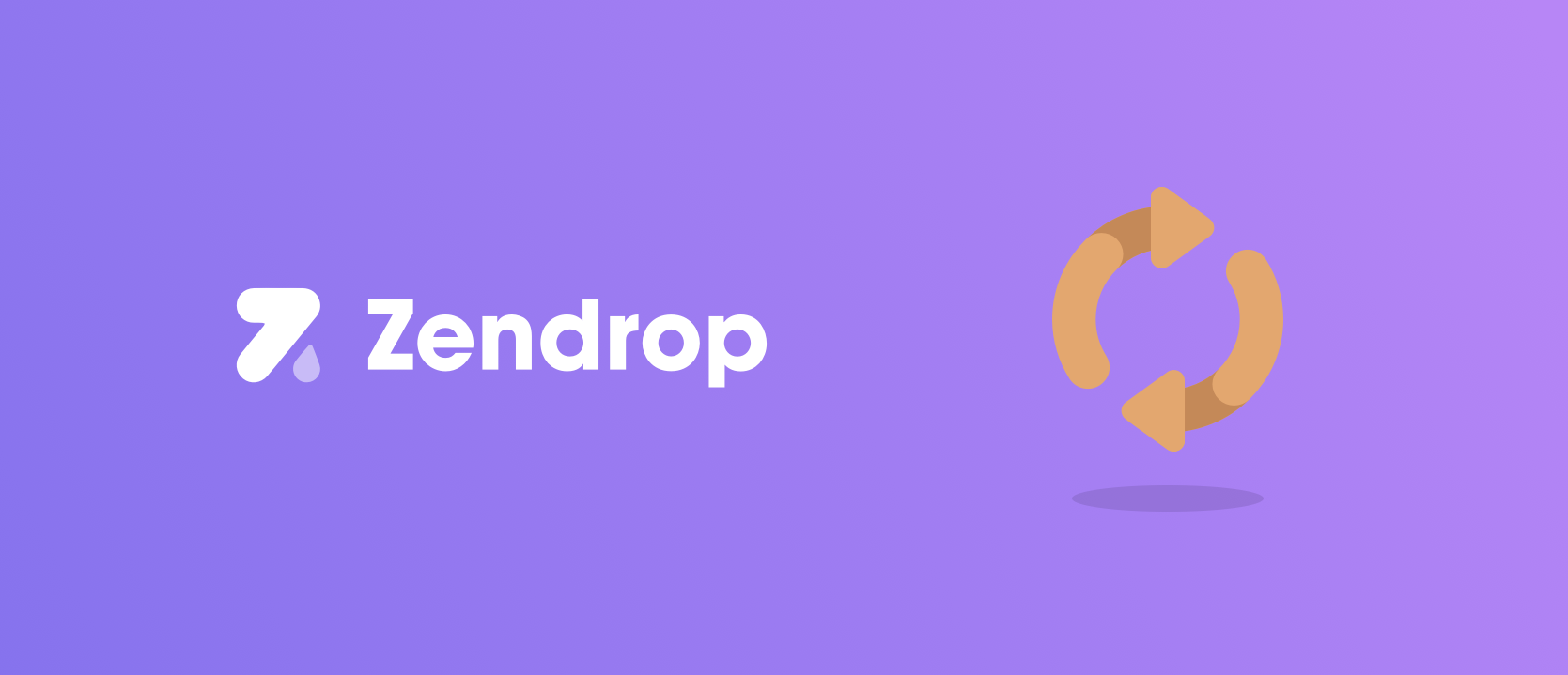 Zendrop connects to your e-commerce store and synchronizes your product information, orders, and customer data.
The Value of Using Zendrop
As any experienced dropshipper knows, having a reliable back-end supplier is essential to sustainable success for your online store. Many of us are savvy marketers, but we can only scale our business with strong operations (suppliers, customer support, transparent tracking, etc.).
After all, if your orders never arrive or are constantly delayed, you'll lose customers and reputation - not to mention money.
Avoiding the Pitfalls of Dropshipping
Imagine you've been running ads for a week, and they seem to be working very well. You're seeing a 350% return on your investment, which is impressive! So you decide to turn up the ads from $50/day to $100/day.
But a week later, you start receiving strange emails from customers.
"Where is my product?" they demand to know. Something is amiss here. You check the order status and see that the orders have tracking numbers.
But then you input a tracking number into the tracking website and realize that the orders still need to ship! So what on earth is going on?
You are working with an irresponsible or negligent supplier. They ran out of stock to fulfill the orders and are awaiting a new shipment from the manufacturer, but they didn't bother to update you! And now, you're stuck with furious customers and wasted ad spend.
This is where Zendrop shines. Zendrop vets its suppliers and only works with reliable, transparent ones.
Once you're working with a quality supplier, it also actively monitors inventory levels and notifies you when stock becomes low so that you can prevent a situation like the one above.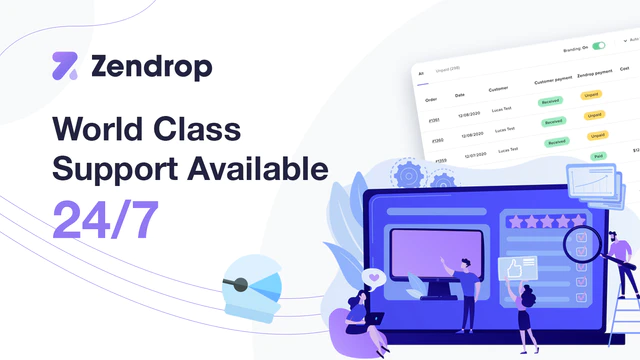 Additionally, Zendrop offers phenomenal customer support 24/7 to you and your customers to resolve any hiccups in the event they arise.
How To Get Started With Zendrop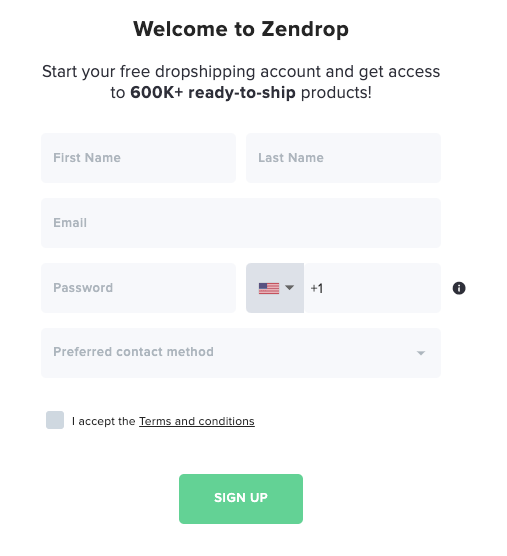 Sign up for a Zendrop account. First, you'll need to provide basic information about yourself and your online store.
Once you're logged in, familiarize yourself with the platform. Take some time to explore the different features and options available to you.
The next step is finding products you want to sell. Zendrop offers a wide range of products from various suppliers. You can browse the catalog and select the products you want to add to your store.
Once you've selected the products, you'll need to create listings for them in your store. This involves adding photos, descriptions, and pricing information.
Zendrop will take care of fulfillment and shipping when someone makes an order in your store. All you need to do is sit back and wait for the money to roll in!
How Zendrop Works
Here's a surface-level walkthrough of how Zendrop works for you.
You select and add products to your store from the Zendrop catalog.
When a customer places an order in your store, Zendrop sends it to the supplier for fulfillment.
The supplier packages and ships the product directly to your customer.
Zendrop automatically updates tracking information and notifies you and the customer of shipment status.
The best part? This all happens without manual work, freeing up valuable time for you to focus on growing and scaling your business.
Now, please continue reading to learn Zendrop's capabilities (and their relevance) below.
Find Products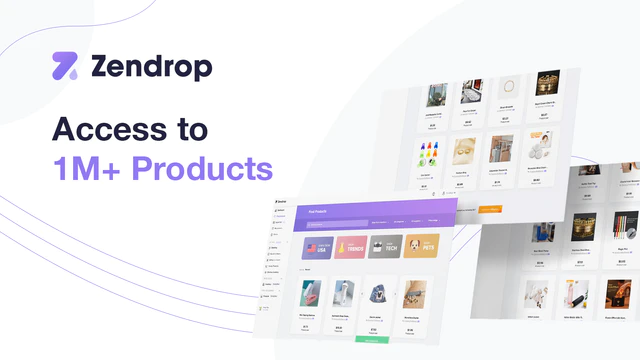 Zendrop's product sourcing tool allows you to search for products from various suppliers and add them to your online store with just a few clicks.
To link a product to Zendrop:
1. Head over to the "Orders" page in Zendrop.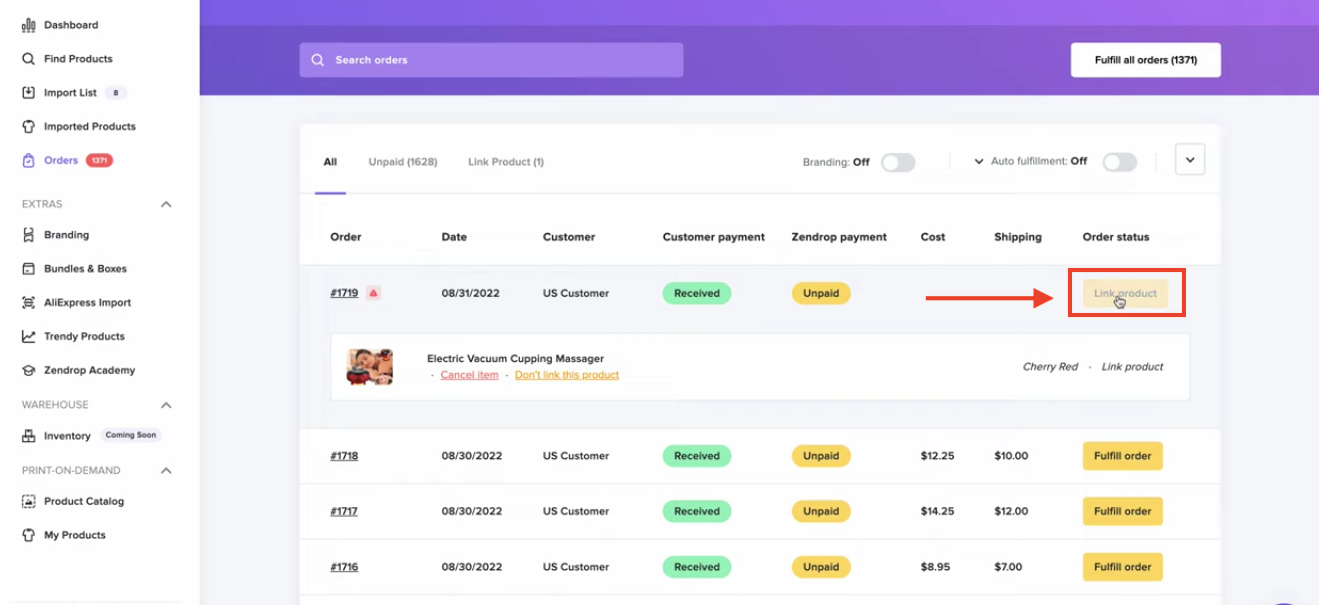 2. Find one of the "Unfulfilled" orders pulled into Zendrop from Shopify.
3. Click the "Link Product" button.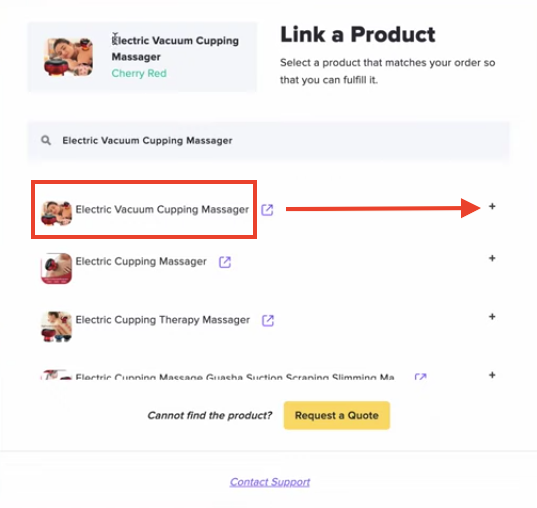 4. Zendrop will automatically pull up products that closely match the product you're attempting to link. Select the correct variant from the list, then click the "Link Product" button.
Inventory Management
Zendrop checks and updates inventory levels, so you don't have to track stock manually for your online store. What does it mean to know your inventory? It means:
Understanding what you have on hand
Where it is
How long will it last
How to replenish it.
It sounds straightforward, but businesses often need more than outdated or manual methods to track their inventory. This can lead to errors, out-of-stocks, and frustrated customers. This isn't good enough in a dropshipping business where margins are tight, and every order counts. That's why having a robust inventory management system is crucial.
Automated Order Fulfillment
Once an order is placed, Zendrop will automatically send the information to the supplier. No need to keep track of stock levels or manually send orders to your supplier.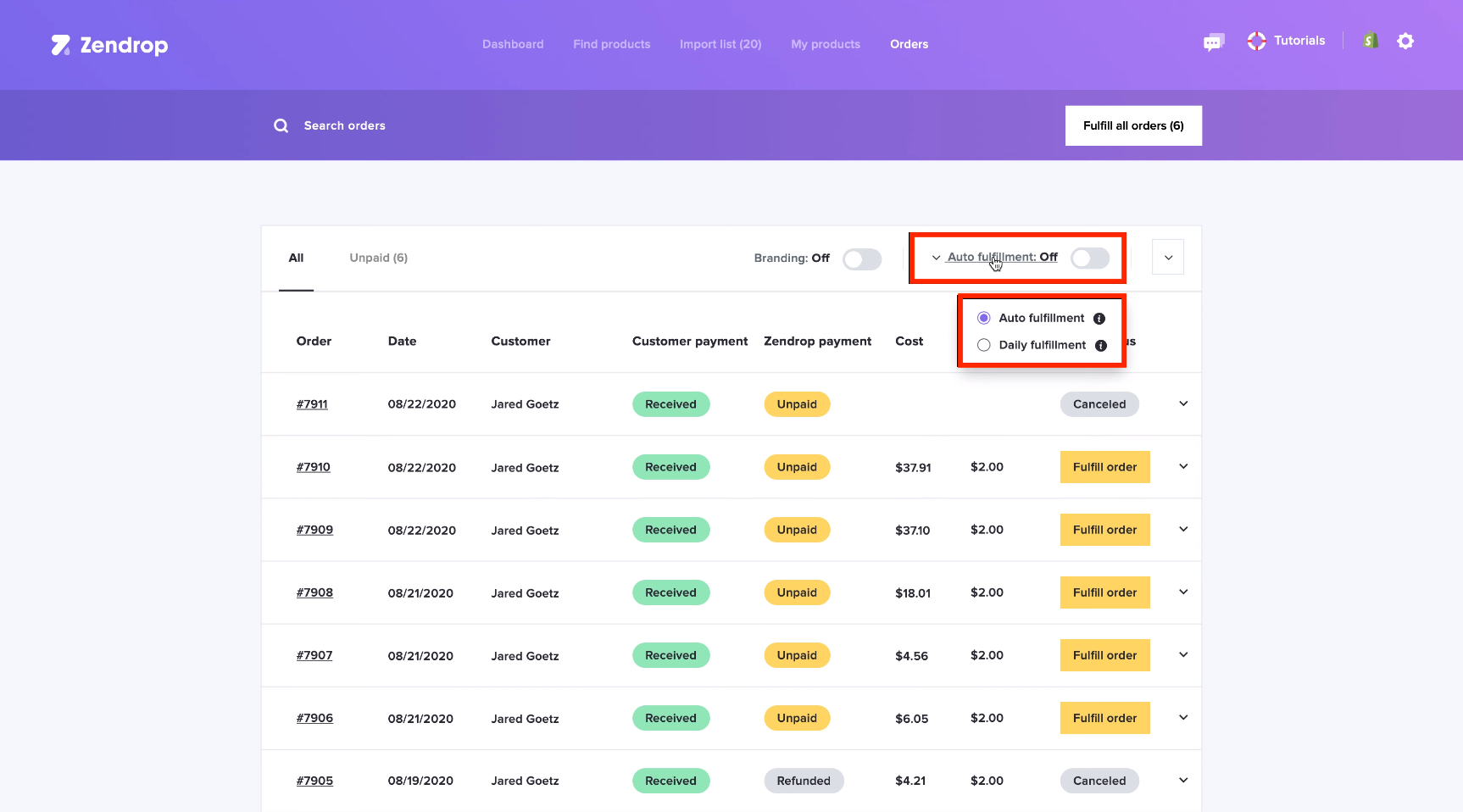 Auto fulfillment is the difference between spending your days tediously going through orders one by one - or even hiring a VA fulfillment specialist to do this for you - and spending your time on more important tasks, like marketing or conversion optimization.
Automated order fulfillment means your orders are automatically placed with your supplier as soon as a customer orders from your site. This saves you time and money but also helps to improve customer satisfaction by ensuring that orders are always fulfilled promptly and accurately.
Customer Communication
Zendrop also automates customer communication, sending out order confirmations, shipment notifications, and tracking information. As a result, customers will receive up-to-date tracking information for their orders from your online store, improving the overall customer experience. Again, this is a life-saver at scale, where manually sending out all of these emails can be time-consuming and error-prone.
Sales Performance Analysis:
Zendrop's sales dashboard allows you to track your sales and analyze trends, helping you make informed decisions about what products to add or remove from your store.
Fast Shipping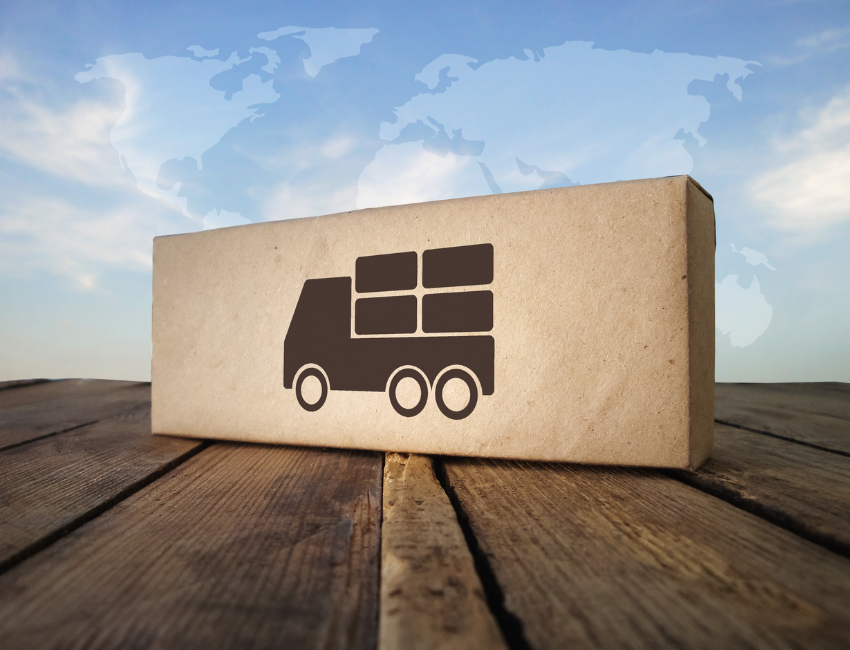 In the age of Amazon Prime, customers have come to expect fast shipping from an online store - and they're willing to pay for it. According to a study by Business Wire, 65% of shoppers are willing to spend more on shipping to get their orders faster.
For businesses that rely on dropshipping, fast shipping is essential to maintaining a competitive edge.
Dropshippers rely on suppliers to ship orders directly to customers, which can often lead to long shipping times.
Zendrop has two shipping options that are the fastest in the industry - just keep in mind you are still shipping from Chinese warehouses. For the most part, shipping with Zendrop will never compare to Amazon Prime (unless you hold stock in US warehouses).
Regular Shipping (10-20 days)
Express shipping (7-12 days)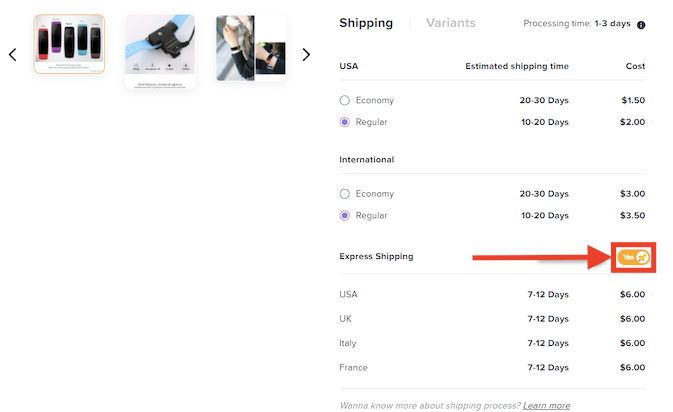 This not only helps to keep customers happy but also helps to prevent chargebacks, cancellations, and returns. In addition, customers with a positive experience with shipping are more likely to place repeat orders and leave positive reviews.
If the order is more than four days late and you refund your customer, they will also refund you!
Custom Branding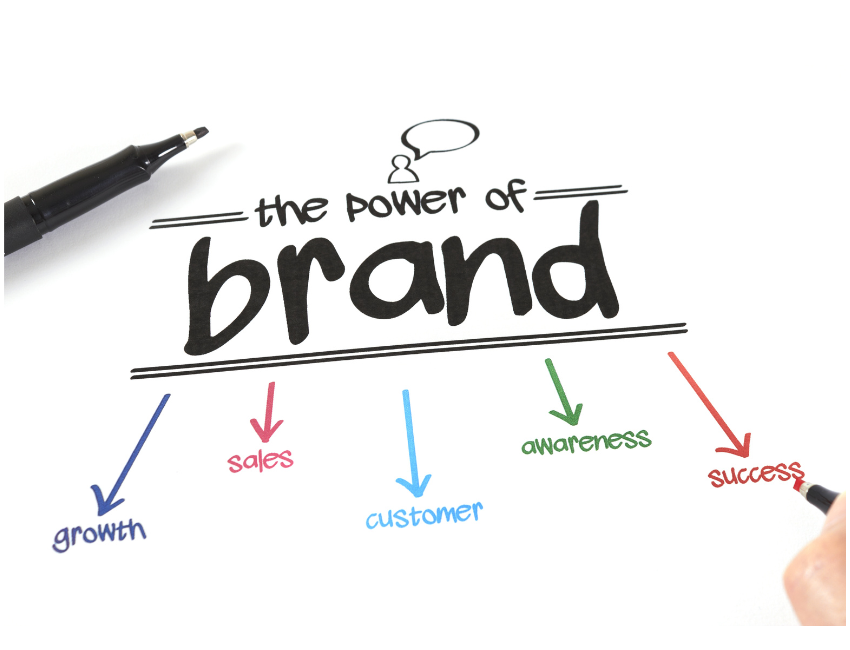 In today's competitive marketplace, ensuring your products stand out from the crowd is more important than ever. That's where custom packaging and branding come in.
Create a moat around your business
By creating a distinctive brand identity, you can create a "moat" around your business - making it harder for scrupulous second movers and impersonators to muscle in on your market share.
E-commerce behemoth Chewey, for example, has built a strong brand identity with its personalized packaging and branding. As a result, customers are more likely to purchase products from brands they recognize and trust.
Anybody can sell dog products from China, but Chewey stands out with its custom boxes and personalized notes.
Branding is the differentiator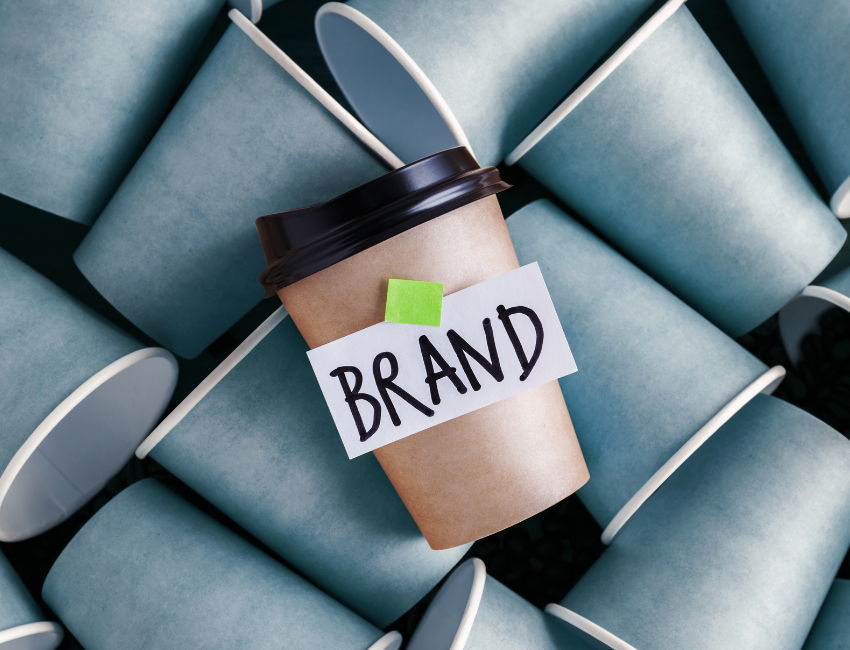 Zendrop offers custom branding services, including branded packaging, inserts, and labels to give your products a professional touch and establish your brand identity.
This is especially useful for dropshippers selling generic products that customers can quickly get elsewhere (you'll probably also be interested to read our Ecomhunt review).
First, you must ask yourself: "why would customers buy from you?" Most of the time strong branding is the answer.
US Fulfillment
With shipping times of just 2-5 days, you can make a significant difference in how your customers perceive your business.
There is a US Catalog of products available for dropshipping, which means that you can offer fast shipping without the added cost and complexity of international shipment.
If the product you want to ship is not in the US Catalog, a minimum order quantity (MOQ) is required, and you will need to hold stock to take advantage of this service. However, if you're already dropshipping and have proven profitability, the additional risk will likely be worth it.
Bundles & Subscriptions
Zendrop's bundling and subscription boxes capabilities are a great way to increase each customer's average cart value and lifetime value. If you're a pet brand looking to improve your average cart value and the lifetime value of each customer, capabilities for bundling and subscription boxes are critical for your online store.
For example, let's say you acquire a customer for $10, and they buy a dog bed for $50. Your product cost is $15, so you profit $25. But your total ROI skyrockets if the same customer buys a dog bed and a non-spill water bowl bundle worth $75.
Furthermore, if that customer keeps returning and buying more products via subscription boxes from your online store, then the lifetime value keeps going up!
Zendrop Review: How to Create a Subscription Box?
1) To get started with subscription boxes, head over to "Bundles & Boxes"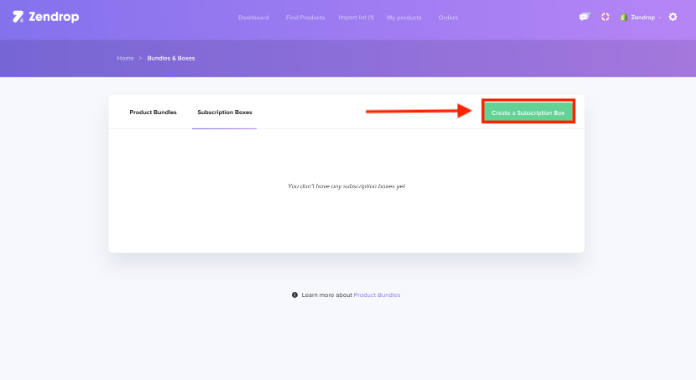 2) Click "Create a Subscription Box"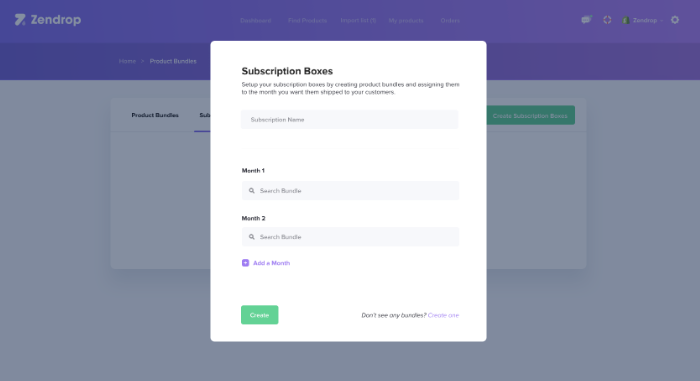 3) Add a Bundle to each month for the length of the subscription. For example, add Bundle 1 to Month 1. Then add Bundle 2 to Month 2. Etc.
Zendrop Academy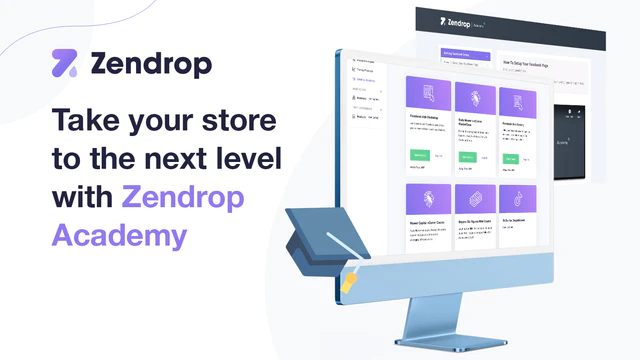 Zendrop Academy is a powerful learning tool for dropshippers. As part of Zendrop's Pro plan, it gives you access to in-depth information about running a successful dropshipping business. You'll learn about email marketing, increasing conversion rates, the Facebook algorithm, and scaling strategies for your online store. Plus, you'll get insider tips on testing methods and how to pick a winning product.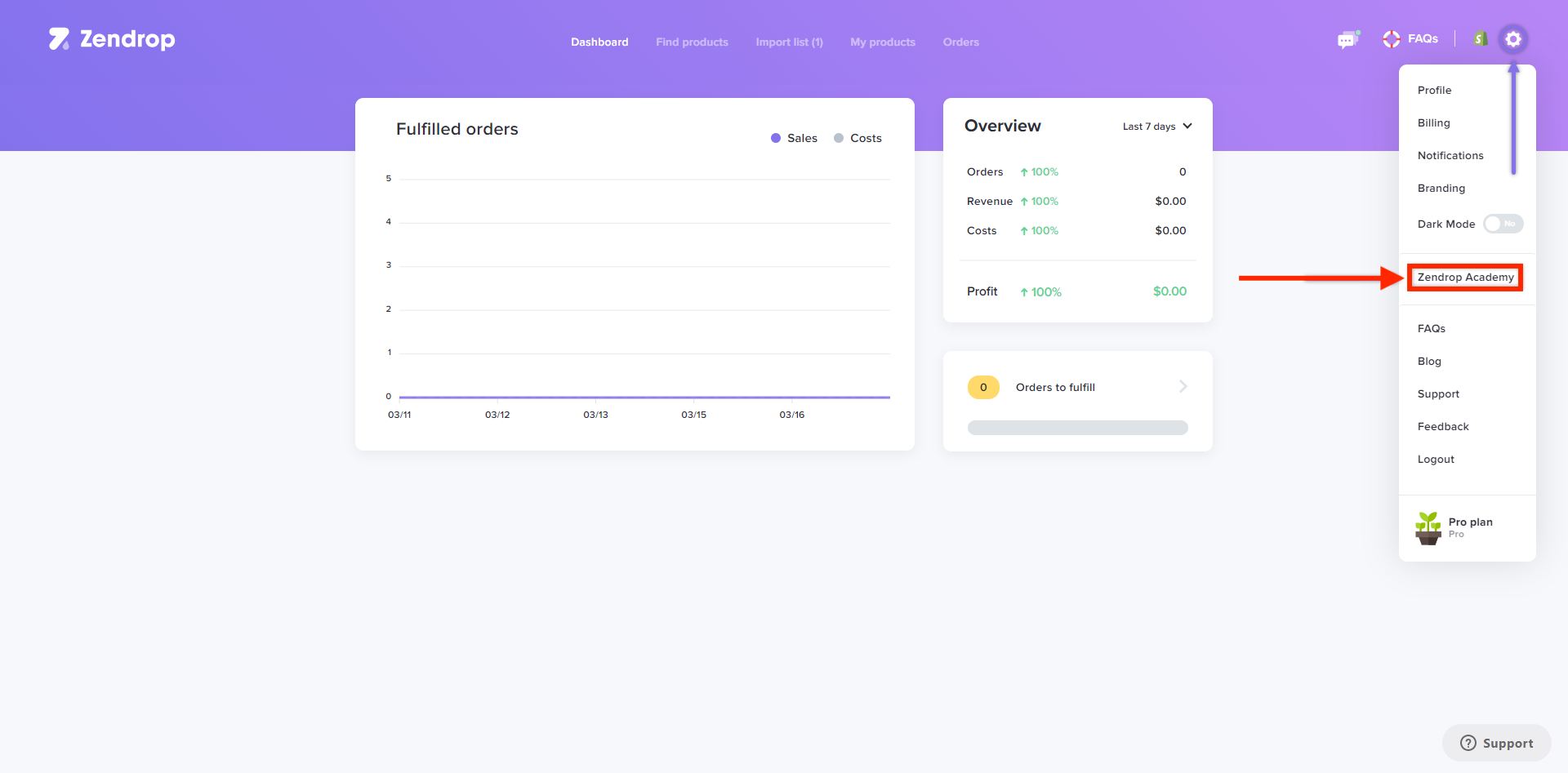 You'll also hear from dropshipping thought leaders Preston Edwards and Jake Tenenbaum, who share their own experiences and offer advice on growing a successful business.
Best Zendrop Alternatives (At a Glance)
Sourcinbox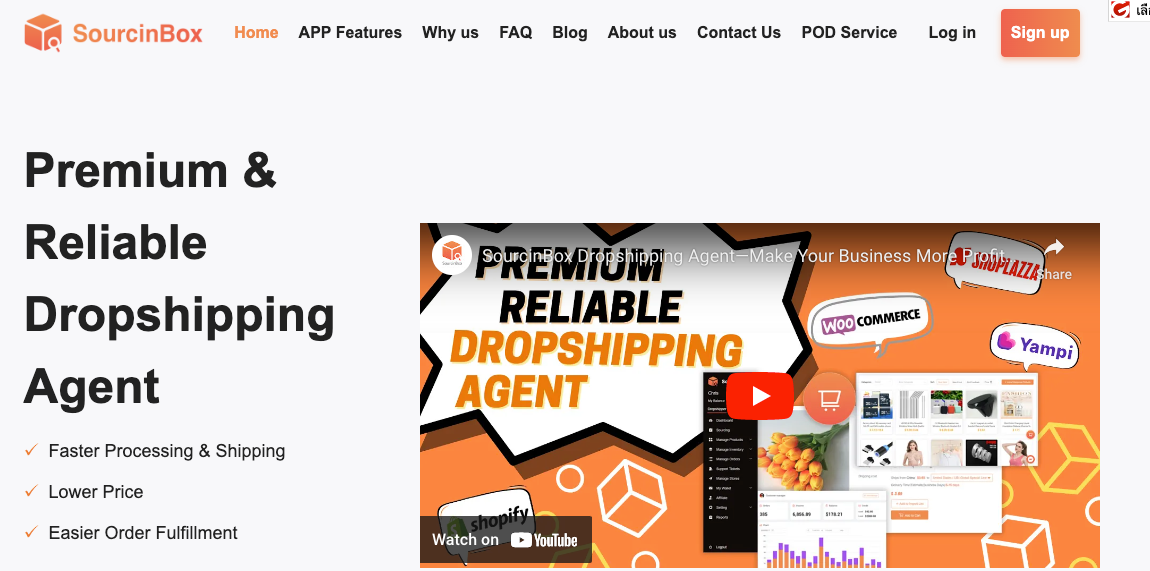 Sourcinbox is a Chinese-based dropshipping service with excellent ratings and efficient, cost-effective, and reliable fulfillment options for online merchants. They can connect with Chinese manufacturers to source products at wholesale prices - which are much lower than those found on AliExpress. This makes it easy to get started selling without breaking the bank. In my experience, they focus more on cost-minimization as opposed to things like branding.
---
DSers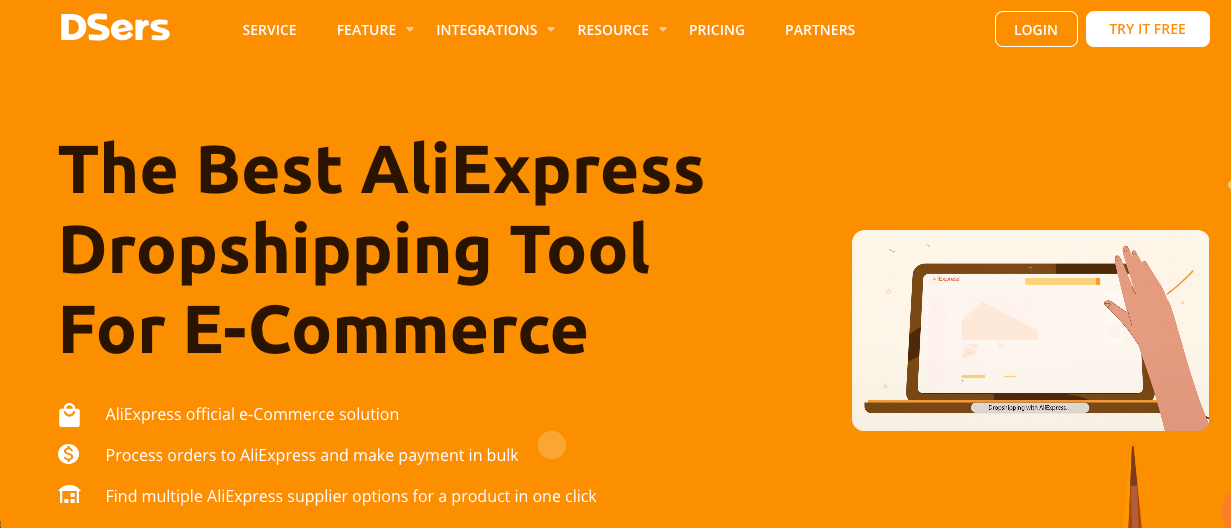 DSers is a dropshipping app that allows you to place orders faster, find and import products, and connect to AliExpress suppliers. While it's convenient to use, you don't get the advantage of working with an agent who orders in bulk, so you end up paying more for your products (since you're still ordering a la carte through Aliexpress). Nevertheless, it's a valuable tool if you're starting dropshipping.
---
Is Zendrop Worth It? Our Verdict
In short: yes. If you're a dropshipper or considering getting into the business, Zendrop is a valuable tool to streamline and improve your operations. It may seem like a luxury to pay for a platform like Zendrop when you can try and tackle everything yourself, but trust me – the time and headache saved are worth every penny. In addition, if Zendrop keeps you from one chargeback or angry customer, it's paid for itself.

They have a 4.8 rating on Trustpilot, with over 1,000 reviews.
They also boast a 4.7 rating on the Shopify app store.
The vast majority of customers are happy with the service, citing the ease of use and the wide range of options for sourcing products. Other customers enjoy the peace of mind that comes with having a reliable partner take care of their fulfillment duties.

In summary, here are a few quick reasons to go with Zendrop:
Regular shipping and Express Shipping options are the fastest in the industry.
Auto fulfillment replaces your fulfillment VA.
Bundle and subscription value-adds increase your average cart value and lifetime customer value.
Zendrop Academy offers valuable education for dropshippers looking to improve their business.
The only downside to Zendrop is the price; however, considering the quality of the service, the value exceeds the price. It's easy to see why Zendrop is quickly becoming the go-to dropshipping platform for entrepreneurs worldwide.
For related reading, check out:
Want to learn step-by-step how I built my Niche Site Empire up to a full-time income?
Yes! I Love to Learn
Learn How I Built My Niche Site Empire to a Full-time Income
How to Pick the Right Keywords at the START, and avoid the losers
How to Scale and Outsource 90% of the Work, Allowing Your Empire to GROW Without You
How to Build a Site That Gets REAL TRAFFIC FROM GOOGLE (every. single. day.)
Subscribe to the Niche Pursuits Newsletter delivered with value 3X per week