Need a Facebook Alternative? Top 14 Social Media Sites to Try Today!
When you buy something through one of the links on our site, we may earn an affiliate commission.
There are plenty of reasons you might be looking for a Facebook alternative. Despite having one of the biggest user bases in the world, Facebook has recently come under fire for a number of issues.
From privacy and data security to increasing corporate interference—you might be wondering if the convenience of Facebook is really worth it.
The problem is, despite the concerns over data collection, Facebook has long been the king of social media for affiliate marketers and niche website builders.
So, is there a great Facebook alternative that makes the switch worth it? In short, no. With just under 3 billion active Facebook users around the world, none of the Facebook alternatives come close to offering the same kind of reach and user convenience.
However, as more and more people abandon Facebook and switch to other social networking sites, this could very well change.
If you want to be ahead of the game and find the best alternatives that work for you and your business, here are our top picks.
1. Top Pick for Affiliate Marketers/Niche Website Builders—Pinterest
Pinterest is a hybrid platform that also acts as a search engine. This platform boasts highly engaged users, which makes it a great alternative to Facebook if you're looking for users to click on links.
In addition, running an ad on Pinterest works out to be more cost-effective. They last longer than Facebook ads and are more targeted. For that reason, Pinterest is one of the best alternatives for independent businesses and small brands looking for marketing outlets.
While other search engines, like Google, have complicated algorithms and rules that impact who sees your content, Pinterest is much simpler.
Understanding the Pinterest algorithm is the first step to using it effectively. Luckily, building a good strategy for Pinterest marketing is relatively easy. It just takes a little bit of patience.
Furthermore, unlike Facebook, your news feed is filled with content that is relevant to you. Facebook's weird algorithms regulate its users, which means you end up missing a lot of content you'd actually like to see.
While it may not be the best alternative if you want to stay in touch with your family members, it's certainly one of the best networking sites when it comes to engaging with your brand/business.
2. Best Platform for Advertising + Runner-Up Pick for Affiliate Marketing—YouTube
While it might seem like more effort to use YouTube than other Facebook alternatives, it is a great option for creative types. For affiliate marketers and niche site owners, the numbers speak for themselves.
Since YouTube is a video-sharing giant, you have to post videos in order to take advantage of the site. This means spending time creating engaging content.
However, videos have become the chosen medium of marketing (check out the best video marketing tools) in the past few years, which makes YouTube perfect for advertising.
Furthermore, with several million users online at pretty much any given moment, it's the top alternative to Facebook in terms of reach.
If you need more convincing, just listen to this podcast with Eric Worral, all about how he makes significant money through YouTube affiliate marketing.
Then follow it up with this quick read about why YouTube is an important platform to take advantage of for your business: Is YouTube Social Media?
Plus, according to YouTube's policy regarding privacy and data collection, they look out for users' privacy. In addition, although they do collect data, they don't sell any of it.
3. Best for Building Brand Recognition—Twitter
Another solid option to consider when looking for Facebook alternatives is Twitter, although things may change now that Elon Musk is poised to take over.
Nevertheless, there are a few reasons to choose Twitter over Facebook to boost your brand or direct traffic to your site.
Notably, Twitter has never had any data protection issues like Facebook, despite being a major player.
While Facebook and Twitter both have mobile apps, Twitter's is far superior. The sheer simplicity of the format lends itself well to being an iOS/Android app with a friendly user interface.
There is a massive community on Twitter (find out how to make a list on Twitter). Facebook may have a lot of active users, but that doesn't mean you are connected to them. In comparison, Twitter has a much wider reach, and there's more chance of going viral.
It's really easy for new users to immediately connect with people that are part of your target market. You can search for users based on their interests, location, schools, etc. Unlike other social media platforms that are limiting in the way they allow users to connect, Twitter is one of the best alternatives for connecting with others in your niche.
Twitter has always been (and as I said, this may change with the Musk takeover) a proponent of free speech. Basically, this means you can use Twitter as a market research tool and find out a lot about your consumers and what they think of your brand.
Ultimately, Twitter is great for brands looking to generate buzz and build recognition.
4. LinkedIn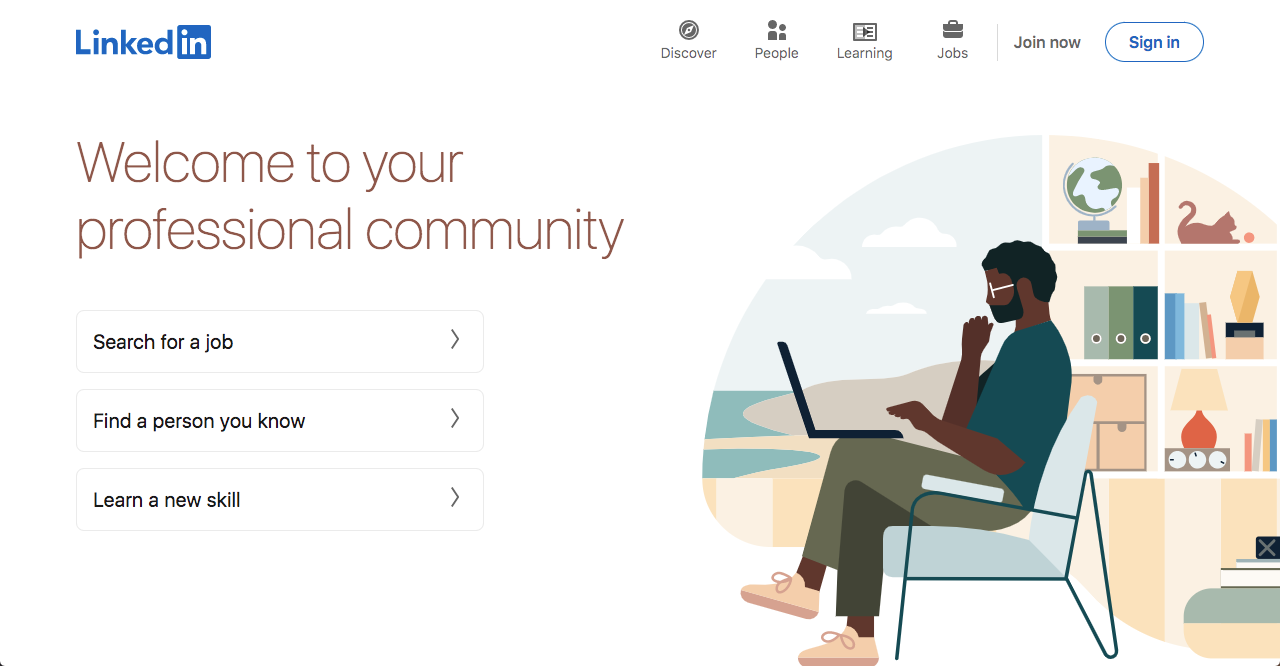 Another household name platform is LinkedIn. Choosing the best Facebook alternative for you really depends on what function Facebook performs for you that you're trying to replace.
LinkedIn is a great social network to consider for most Facebook users because it can replace a couple of different things that you might use Facebook for.
Similar to Facebook, LinkedIn is a community where you can connect with people and brands. Though LinkedIn doesn't have a dedicated messaging app like Facebook messenger, you can still send text conversations and media attachments through the messaging service.
Compared to most platforms, LinkedIn has a more professional reputation and is generally thought to be a non-toxic social network.
LinkedIn's status as a more civilized social network means it is a great way for you to build credibility and a strong network for your business.
You can use a company LinkedIn page for things like recruitment, lead generation, or even sharing content that wouldn't perform as well on other platforms.
One thing worth noting about LinkedIn is that new users should be wary of the connections they start making. It's easy to get mistaken for a bot or spam if you try to add a bunch of people right away that are seemingly unrelated.
Additionally, LinkedIn is an excellent, albeit expensive, social media platform for advertising. Ads are highly effective on LinkedIn, and lots of different ad types are supported.
Unfortunately, the downside of that is that advertising costs are steep for smaller companies, and you need to have a good understanding of how to run an ad campaign.
LinkedIn is also probably the best alternative for job seekers and recruiters looking for an alternative to Facebook Marketplace (but don't miss out on these LinkedIn alternatives).
5. Nextdoor
For local businesses looking to market directly to their community, Nextdoor is one of the best Facebook alternatives you can use.
Think of it as a social network for your neighborhood. It's Facebook with all your neighbors.
Before you start thinking of Jim across the road and write Nextdoor off as a nightmare—stop for a second and think about the direct access you gain to your ideal customer.
Facebook alternatives like some of the ones listed above are great for reaching a wide audience, but if you are providing a local service, Nextdoor is definitely the best alternative for community marketing.
6. Ello
Definitely not your typical social media platform, Ello is one of the best alternatives for artists.
It's the social networking site for painters, filmmakers, photographers, and other creators. 
If your business revolves around the art world, Ello is definitely worth checking out. Their service is ad-free and was originally promoted as a Facebook killer social network.
Right around the time that Facebook changed its policy to ensure users could only register with their real name, Ello exploded. This network thrives on creativity and allows users to register with whatever name they like. They also don't sell your private data.
7. Vero
Arguably one of the coolest alternatives to Facebook on this list is Vero. Until recently, this social media phenomenon was available as a mobile-only app for Android and ios devices. It has now officially launched for Mac and Windows as well.
Vero offers an ad-free chronological timeline that isn't determined by algorithms. You get to see exactly what you've asked to see.
Unfortunately, in order to keep your news feed free from ads, Vero does need to charge for their service. So, keep in mind that this social network app is subscription-based.
Nonetheless, Vero is a viable alternative for staying in touch with friends, family, or clients. You can use their messenger app to send texts or have simple voice conversations.
8. EyeEm
An alternative for photographers and the like is EyeEm. Indeed, EyeEm is actually more like an Instagram alternative. Still, since the latter is owned by Meta (aka Facebook), privacy-focused users might be steering clear of them, too, due to data protection concerns, in favor of other platforms.
EyeEm started out as a mobile-only smartphone app focused on sharing visual content with other users. The platform has since evolved from an app-only service into a hybrid social networking site and stock photo business.
Users can interact with each other's photos by liking and sharing. You can also use the platform to learn more about photography from others and their in-app magazine.
For photographers, EyeEm is a platform for gaining recognition and selling your work. Through EyeEm Missions, you have the chance to get your work seen by top brands like Nikon, Converse, and Apple.
Brands might also be interested in taking advantage of EyeEm's stock photo catalog, where anyone can license photos for use. If you are looking for the right visuals to use for your own marketing or blog, EyeEm promises high-quality, original images.
9. Reddit
Running a marketing campaign on Reddit is a long-term game, as few people trust new users on this platform, which originally started as a social news aggregator. However, once you've been an active member for some time, you can tap into a solid social network market with millions of active users.
Reddit is a strong alternative to Facebook groups because of the way that threads are categorized. It's an easy platform to find people that are interested in your niche and start discussions with them.
10. MeWe
MeWe is an ultra-secure Facebook alternative.
Notably, MeWe charges a low fee to start a business page on their platform.
This is because the service is ad-free, unlike Facebook. Therefore, they need to charge for some optional paid services to make up the cost.
On this next-gen social network, even a few extras like cloud storage, special emoticons, and Secret Chat accounts are considered premium features.
However, there are other ways to use MeWe to promote your business. You can either join or create groups that are related to your niche and grow a following that way.
Once you've established an audience, you can market your own brand from your personal page.
Ultimately, MeWe is one of the fastest-growing social media platforms out there. For that reason alone it's worth marketing yourself on their site and taking advantage of the audience that's already there.
Additionally, you can look at MeWe as your opportunity to stand out amongst your own network. Though Facebook boasts more users, this also makes it harder for you to distinguish yourself from the competition.
Getting started on MeWe now could mean you are well established by the time the platform overtakes Facebook.
11. Yubo
Yubo presents a chance to tap into a very specific market with their unique reimagining of what a social networking app should look like.
Unless you are between 13-25, chances are you might not have heard of this platform. Yubo tries to mimic real-life social networking by allowing you to video chat in rooms. You can create your own room or join friends.
You can also swipe to add friends, similar to how you make matches on Tinder.
For businesses and brands that are targeting a younger market, this app is a great place to connect with your customer base.
There are no ads on Yubo, so you will have to focus on creating content that users are interested in to build an audience. For that reason, Yubo is best suited to building brand recognition, even if that just means promoting yourself.
12. Diaspora
Looking for an open-source decentralized social network? Diaspora is a different kind of platform. Users use the free Diaspora software to create their own "pods" which make up the larger network.
The good news is that since Diaspora is a distributed social network running on your own free personal web server, it is much more private and secure than Facebook. Diaspora is also free of advertising.
However, you can still use this platform to promote your business and boost your brand amongst other users. Plus, it's fairly easy to navigate Diaspora if you're used to Facebook. Connect with like-minded individuals and create interesting content for them to interact with.
13. Mastodon
Mastodon is an open-source Twitter alternative. It is also a good Facebook alternative for those looking to get away from commercial social network platforms.
As a fully decentralized platform, Mastodon is private, secure, and free.
Like other alternatives, you can use Mastodon to build a following and share affiliate links or drive traffic back to your blog/website.
14. Minds
Always one of the better-known Facebook alternatives, Minds has gained a lot of traction quickly.
No need to worry about Minds tracking users and selling their data. The platform is open-source and built on the values of freedom of expression and transparency. It launched in direct response to growing issues surrounding Facebook privacy concerns and data protection.
Minds also has their own cryptocurrency, Mind Tokens, to reward content creators. These can be earned for creating digital content. Mind Tokens are Ethereum-based and can be exchanged for cash or used to boost your content to more viewers.
Of all the Facebook alternatives, Minds is arguably the most similar to Facebook. It functions in much the same way but has the added benefit of no algorithms and the ability to earn Mind Tokens.
Switch to a Facebook Alternative Today
Choosing the right alternative depends on what you are looking for out of a platform. Do you want to use it for affiliate links? For customer interaction? For brand recognition? Or just for dropping a quick message to Mom and Dad?
The top options for affiliate marketing and niche website builders are going to be the ones with more users. That's why my top three best Facebook alternatives are Pinterest, YouTube, and Twitter.
Opting for other alternatives to Facebook only makes sense if it fits your niche.
Want to learn step-by-step how I built my Niche Site Empire up to a full-time income?
Yes! I Love to Learn
Learn How I Built My Niche Site Empire to a Full-time Income
How to Pick the Right Keywords at the START, and avoid the losers
How to Scale and Outsource 90% of the Work, Allowing Your Empire to GROW Without You
How to Build a Site That Gets REAL TRAFFIC FROM GOOGLE (every. single. day.)
Subscribe to the Niche Pursuits Newsletter delivered with value 3X per week