ClickUp Review: Is It The Best Project Management Tool On The Market?
When you buy something through one of the links on our site, we may earn an affiliate commission.
Using a dedicated project management tool can help you streamline your business, minimize stress, and reach your goals more quickly. ClickUp is one of the most popular project management tools, and in this ClickUp review, we'll show you why.
We will walk you through all of the features ClickUp offers and share the pros and cons of this tool, so you can decide for yourself if it's the right project management tool for you.
---
ClickUp Review
Ease of Use

Stability

Customer Service

Price
Summary
ClickUp is a versatile project management tool that makes managing projects and a remote team easy. It has a free forever plan with useful features and affordable paid plans for larger teams and businesses. The wide range of customizable templates means you can create the perfect workflow, no matter what you are working on. Try ClickUp for free here.
Pros
Fully customizable
User-friendly
Easy Team Collaboration
Good Pricing
Free plan available
Real-Time Reporting
Lots of Integrations
Scalable
Manage multiple teams
Cons
The time-tracking feature isn't the best
There is a slight learning curve if you want to use all features
---
What is ClickUp?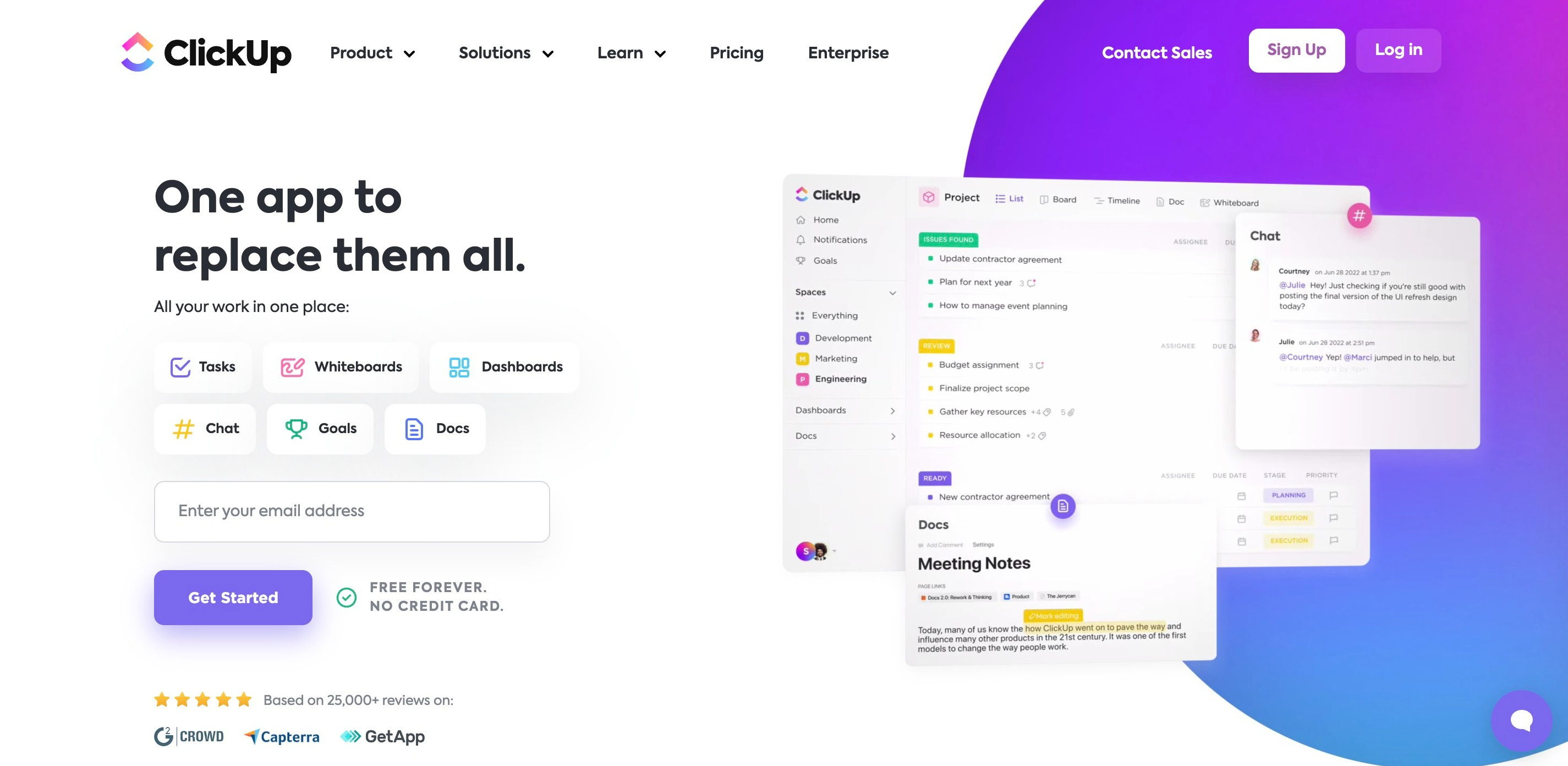 ClickUp is a project management tool that enables you to manage all of your tasks in one place. Whether you need to chat with colleagues, set goals for multiple team members, work on shared documents or simply allocate work to different team members, ClickUp has plenty of useful collaboration tools to make all of this happen. 
ClickUp has several project management tools that users can take advantage of, including task management, goal setting, whiteboards, templates, and even ways for you to be able to automate part of your project to help make life easier.
The idea behind any project management tool is to help you manage a project as efficiently as possible. With real-time updates, ClickUp makes it easy for you to track what has happened so far and exactly where every stage of your project is at. You can also see what you might need to tweak to complete your project on time.
Whether you want help automating tasks, you want to encourage chat between team members, or you simply want somewhere to keep an eye on tasks and track progress, you'll find sections within ClickUp to help.
With a range of features and plenty of customizable options, there is something for everyone and for every project size.
Who is ClickUp Designed For?
ClickUp is suitable for almost any industry and can be used for teams of up to 1000 people. It's also equally suitable for small projects you work on alone or with a small team of independent contractors.
It can be used for:
Project Management. Managing projects efficiently is a must, especially if you have numerous people working towards a common goal. ClickUp's features are designed to make this flow seamless, sending you notifications as things happen, so you are always updated. You can manage tasks, automate how they move onto the next person to be complete, and even set goals to keep everyone on track with ease. 
Remote Work Management. With remote working on the rise, management teams need effective tools to monitor employees and keep in touch with them throughout the day. Setting up a section for your employees so they can be assigned tasks, ask questions, and see how the rest of the project is coming along is very helpful. This can also help with employee motivation as well as project efficiency. 
CRM. As well as helping you manage relationships with the people you're working with, it has an efficient Customer Relationship Management (CRM) tool. Helping you with communication with customers and sales pipelines, ClickUp can help the sales part of your business work much more efficiently.
ClickUp's Main Features
As you might imagine, from a self-confessed all-in-one project management tool, ClickUp has an impressive list of features.
This is great news because it means that whatever you are looking for in terms of team management or project completion, you should be able to find a section within your user panel that has exactly what you need.
With a range of templates, automated options, project management tools, and even ways to encourage communication between your team members, there is something to help every aspect of your project or remote working setup work as efficiently as possible. 
Clickup Review: Project management software
The project management section within ClickUp is pretty comprehensive, with the aim of you being able to plan, track and collaborate on any project.
It is designed to help you to organize all of your projects, as well as collaborate well with other team members working on the project too.
With ways to set goals and track your progress, it helps you keep sight of exactly how your project is performing, with everything visible from one place.
Task Management
ClickUp has a pretty comprehensive section on its website called ClickApps. It gives users access to over 35 apps that help them customize tasks for pretty much any project.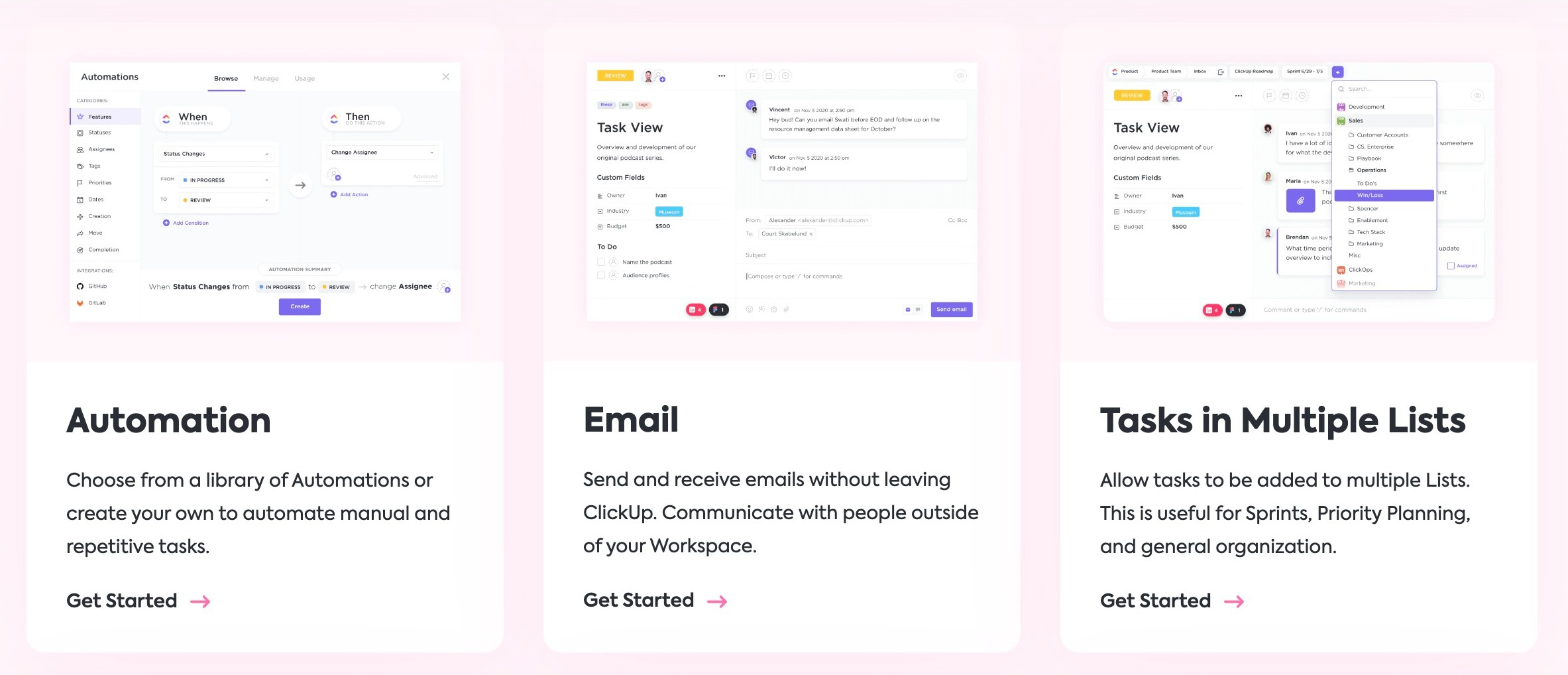 Assign sections to people within the team, screen record and share with team members, and even set reminders. This means you can ensure everyone on the team has the same information - and that no deadlines get missed.
You can also keep an eye on who is doing which task and whether it should move on to someone else has certain sections get completed.
Goals
One of the most important aspects of project management is ensuring that guidelines and goals are set for everyone on the team.
The options for setting goals within ClickUp let you do just this. You can create timelines for everyone, along with measurable targets and even progress tracking that can be automated.
Add different tasks from different teams and change targets as things move along to ensure you can keep the whole project moving as much as possible.
Set team goals and individual ones, as well as be able to share with the whole team with goals have been completed and celebrate when everything to do with your project is on track.
Whiteboards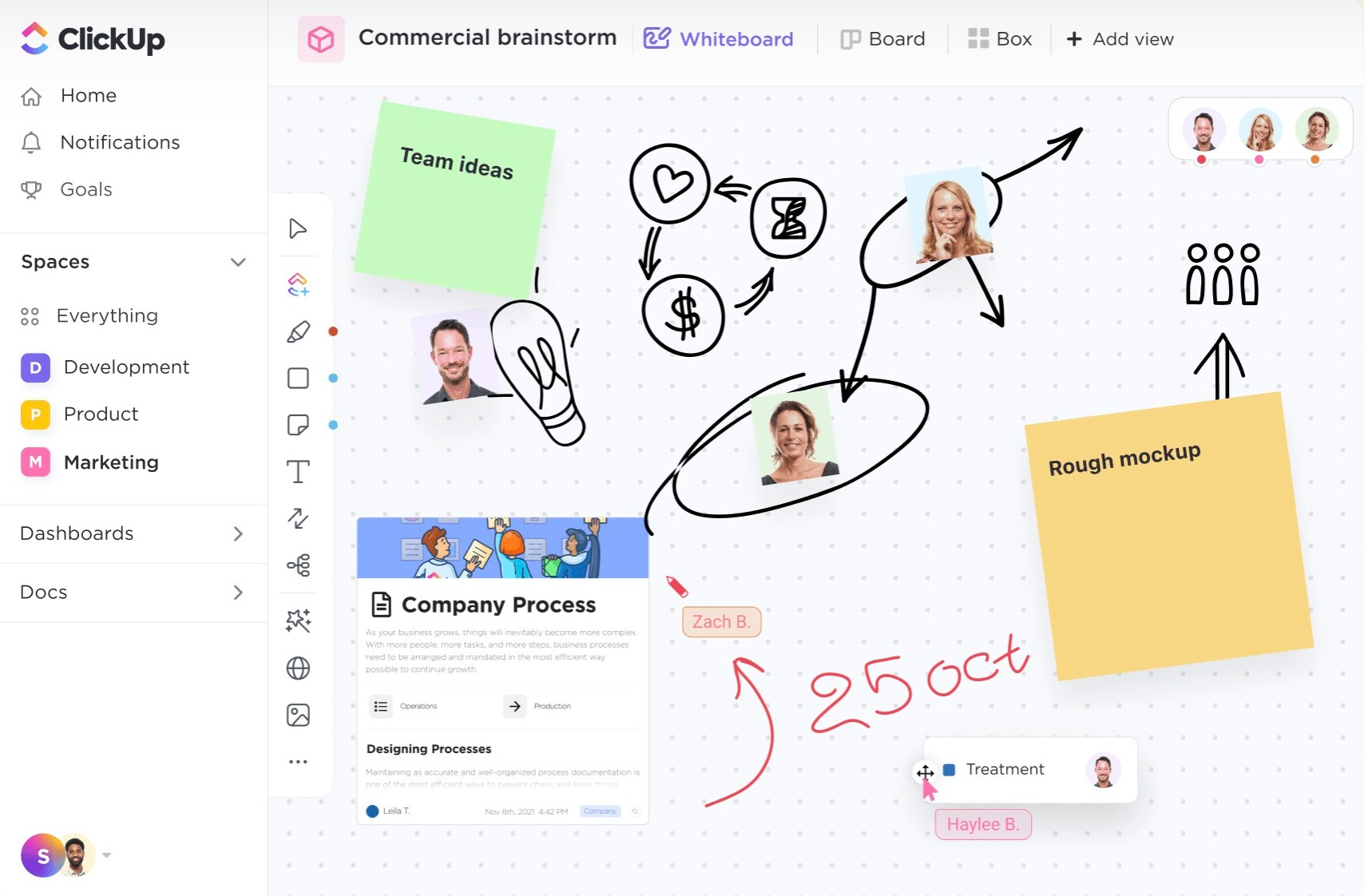 One thing you want to avoid is talking into the void to your team members and them not feeling as though they are being listened to. The Whiteboard section of ClickUp allows you to set up collaborative work areas. This allows everyone to share ideas and chat about how the project is progressing.
It allows you to add folders, lists, and chats between team members to ensure that everyone works as collaboratively as possible.
It's essentially an easy-to-use section to share tricky parts of the project, ask for help and generally interact throughout the project. This can really help with team morale and can help ensure the project is completed as efficiently as possible.
Dashboards
The idea behind Dashboards within ClickUp is to visualize all your project data in one workspace. You can use widgets to create the perfect dashboard for your needs.
It enables you to create sections that you can share with your team so that everyone can see in an easy-to-digest way how each project is performing as well as any sections that may need a little extra work.
Team members can see where their project section falls in with everything else. They can also see whether they are on target or if there is something else they should be doing to keep up.  
Chat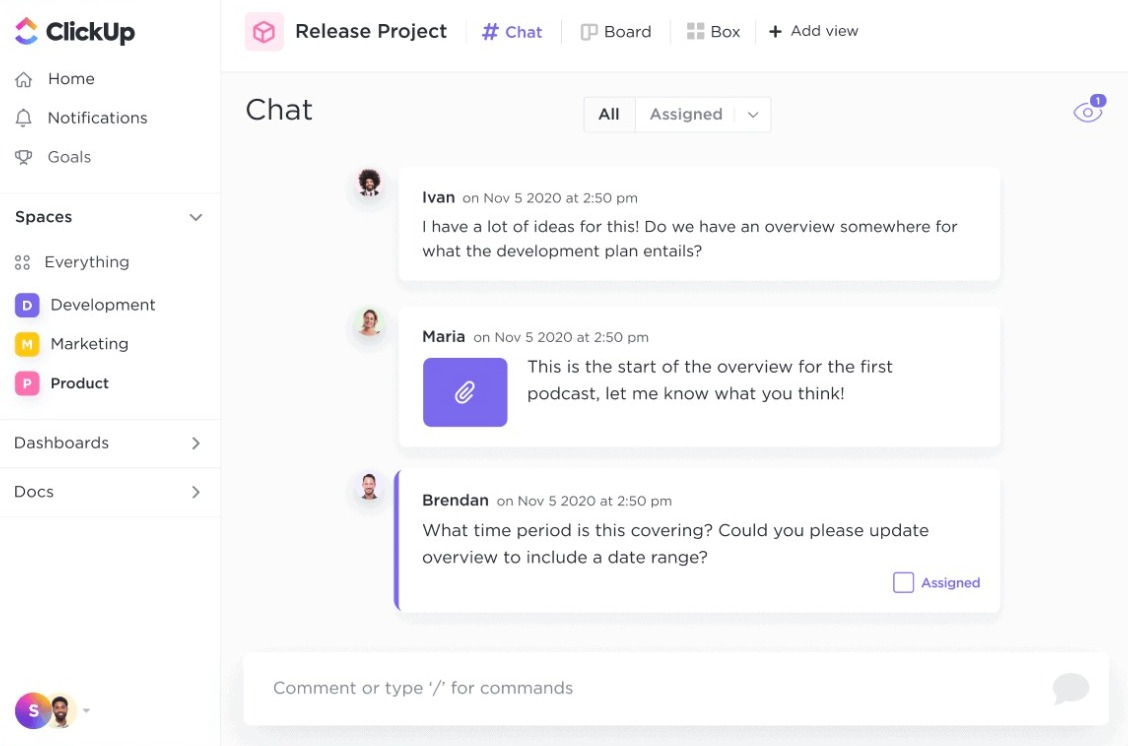 ClickUp's chat feature streamlines communication between you and your team members, whether specific to a project or not.
Set up work conversations, allow people to add comments to any chat, and even use @mention to ensure specific members of the chat have seen what they have said.
You can also:
Add attachments
See who is watching the chat
Share links
Embed videos
Share files
Add a little sense of fun to any conversation with emojis and reactions
Together, the chat features help create a remote team engaged and immersed in every project.
ClickUp Templates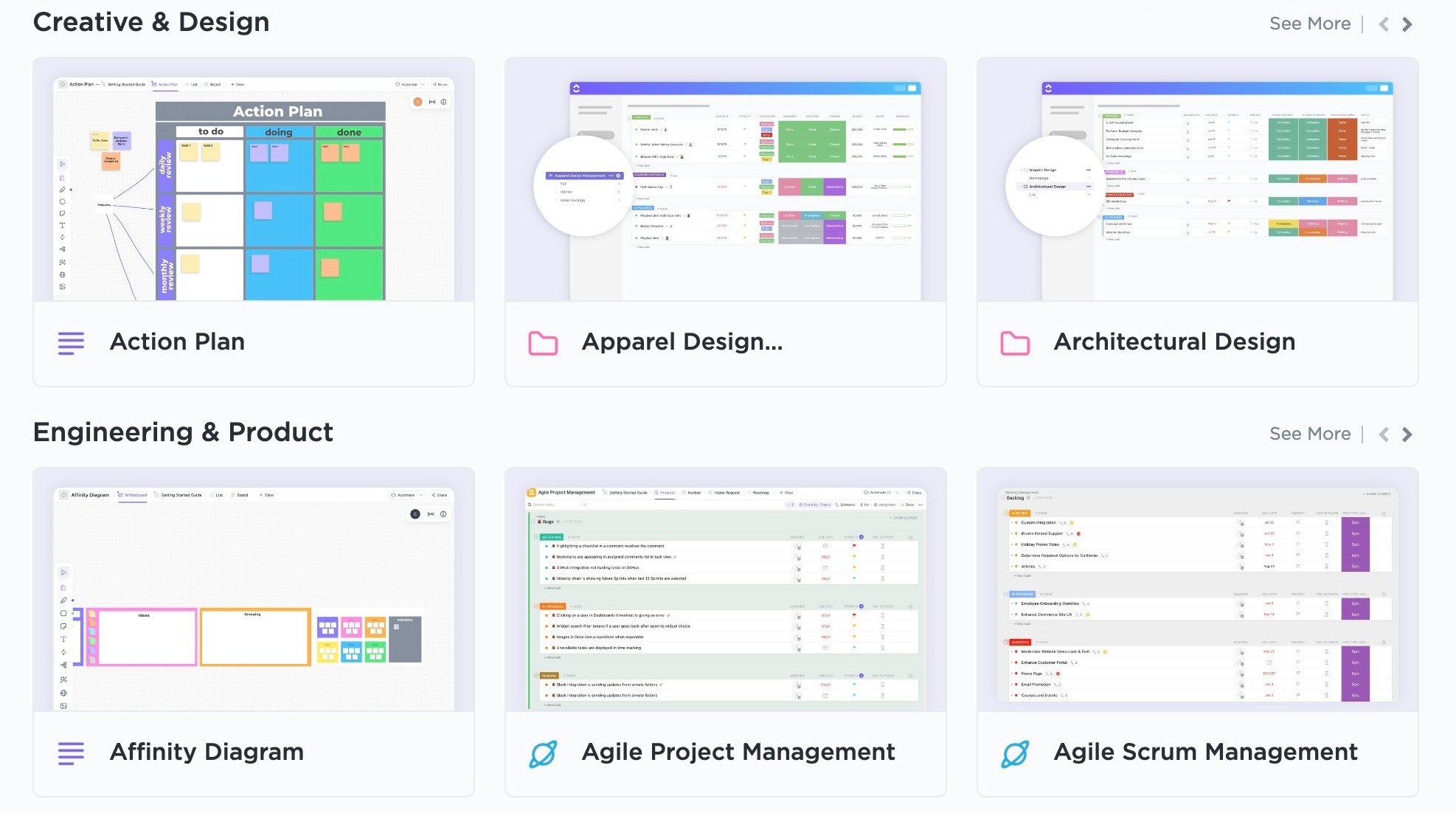 There are many ways that ClickUp claims to be able to make your working life easier and their library of templates is definitely one of those. They have a range of ready-to-use templates that members can take advantage of.
Template types include:
Creative and Design
Engineering and Product
HR and Recruiting
Finance
Accounting
IT
Marketing
Operations
Personal
Professional services
Sales and CRM
Support
And more. All of the templates can be adapted to suit almost any business type, making ClickUp a genuinely flexible tool.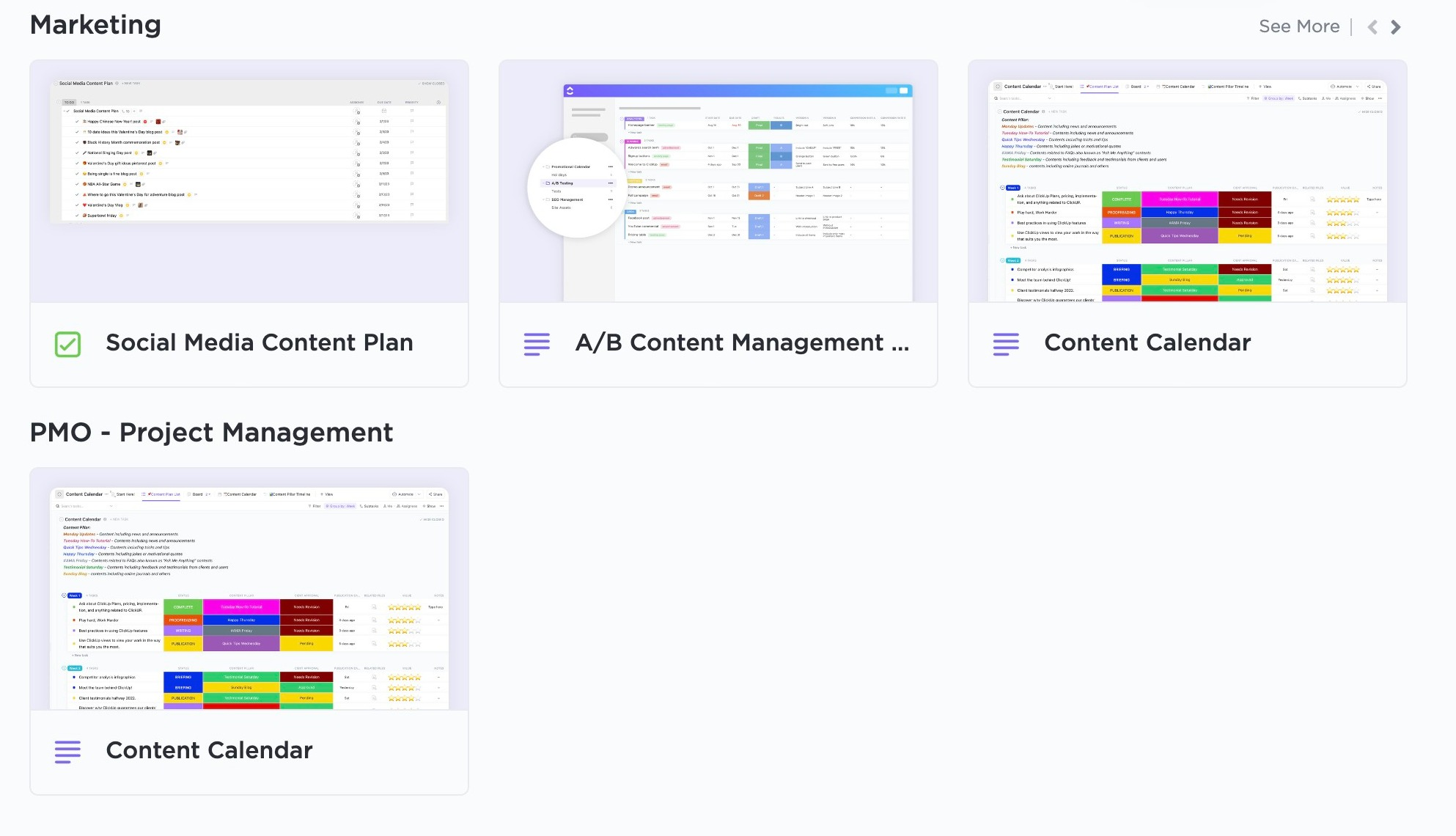 The templates are designed to help you set up the right project management sections for a project. They are customizable, allowing you to add your own data, dates, and even names for specific sections. 
Automations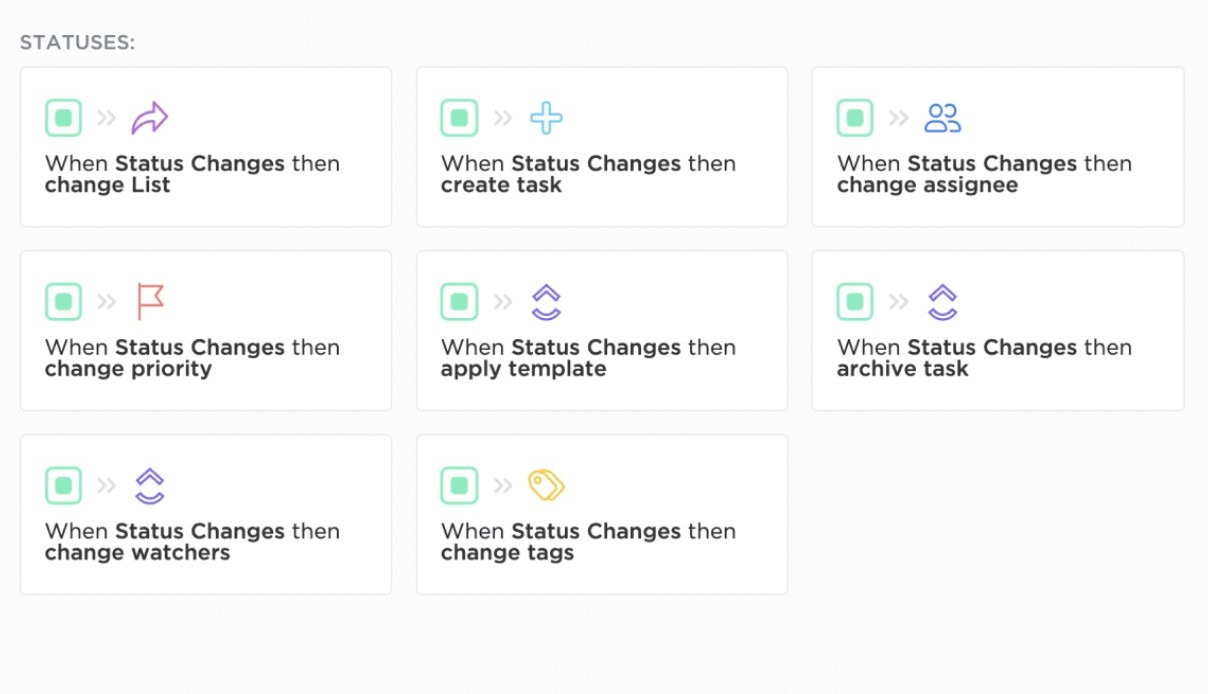 As well as having templates that you can use to help make life easier, you can take advantage of their routines to create consistent processes that can be automated.
By automating certain tasks, you free up your team's time to be able to focus on other sections of the project. Some of it works on an "if this, then that" process. This means it is easy to set up automated reactions to certain tasks.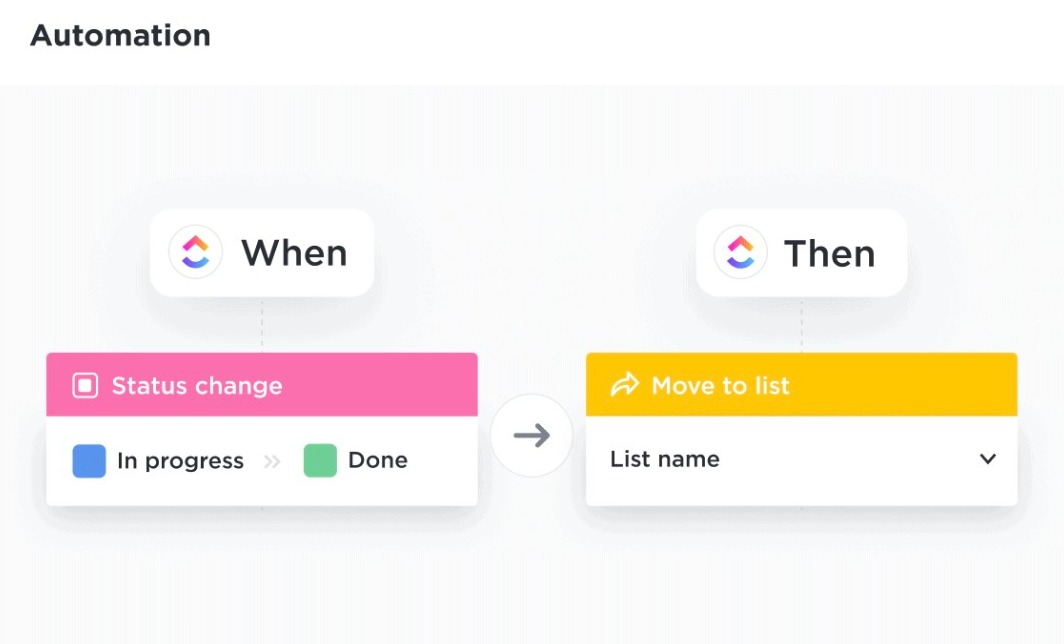 You can also change the priority of recurring tasks and who they are allocated to following other actions being carried out. This can help the whole project move along much more smoothly.
Is ClickUp Easy To Use?
Although how easy project management software is to use can depend on the person, the general consensus is that ClickUp is really easy to get to grips with.
It's super easy to get started with the app, and even setting up widgets and customizing templates isn't too complex.
One of the best things about ClickUp is its huge range of features. This means that adapting it to your needs and ensuring that it meets the needs of your team is pretty easy too.
Of course, it goes without saying that all widgets and customizations will work differently. It's worth looking into them and checking how they work to get the most out of the different available features.
That said, customer reviews generally talk about how easy these are to set up, use, and adapt, so even this part doesn't need to make the process too complicated.
The idea behind ClickUp is that it is cloud-based technology. This allows all of your remote team members to be able to access things like your dashboard, whiteboard, and even goals within the project, so everyone is kept up to speed with the project as things progress.
Integrations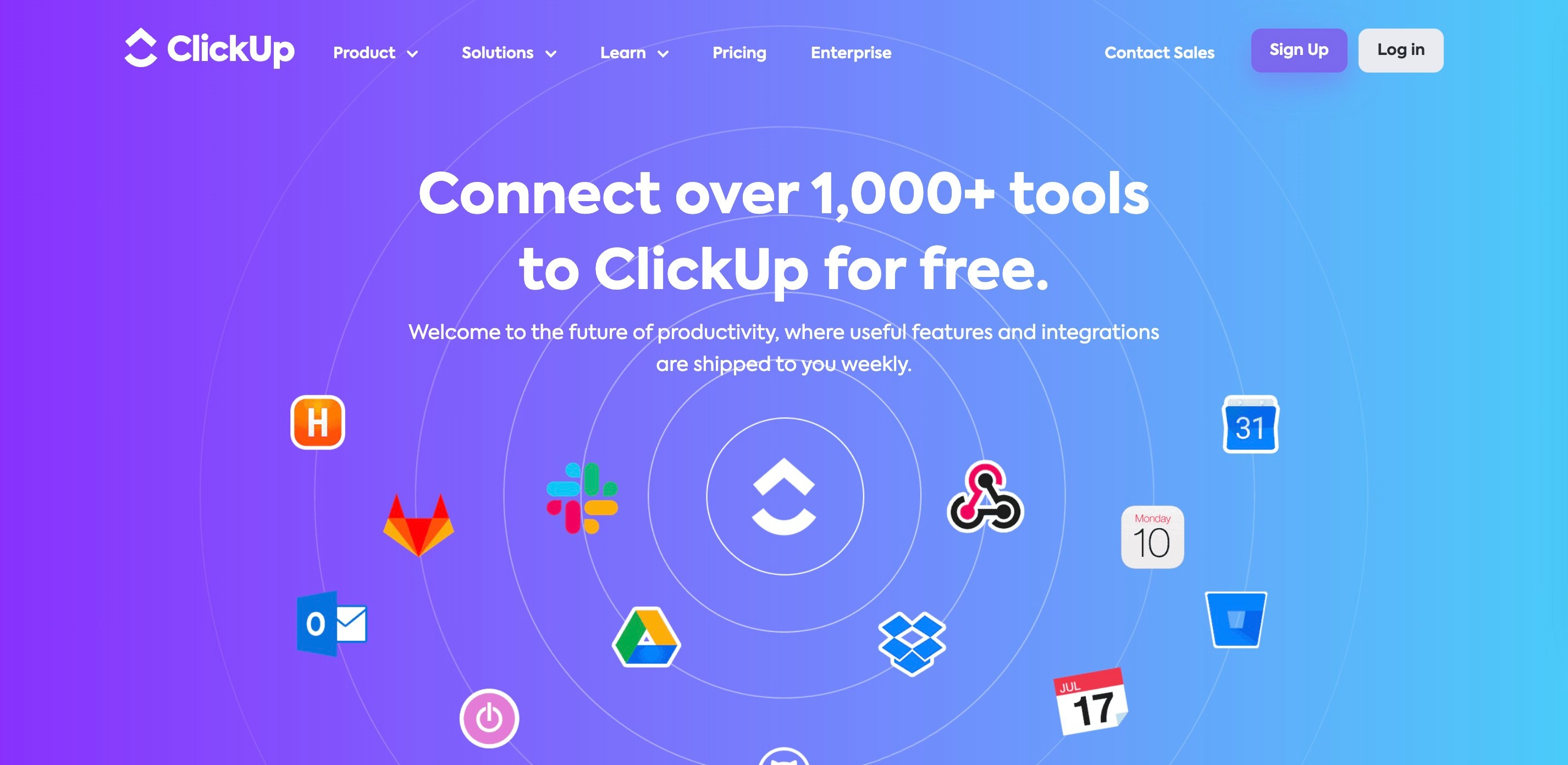 ClickUp integrates seamlessly with various apps, so you can keep using all your favorite tools alongside ClickUp.
ClickUp's native integrations include:
Slack
Dropbox
HubSpot
GitLab
GitHub
Google Drive
Outlook
Google Calendar
Toggl
WebHooks
Everhour
Harvest
Figma
Vimeo
YouTube
And many more.
You can also build your own integrations using ClickUp's public API.
ClickUp Review: The Pros and Cons
As you might imagine, from any piece of software like this, there will always be pros and cons depending on the type of work you are looking to carry out. 
Fully customizable

User-friendly

Easy Team Collaboration

Good Pricing

Free plan available

Real-Time Reporting

Lots of Integrations

Scalable

Manage multiple teams
The time-tracking feature isn't the best

Although it is easy to get to grips with ClickUp, if you want to use loads of the features and integrations, this can be a learning curve. You will need to be prepared to spend some time getting your head around how it all works.
ClickUp Pricing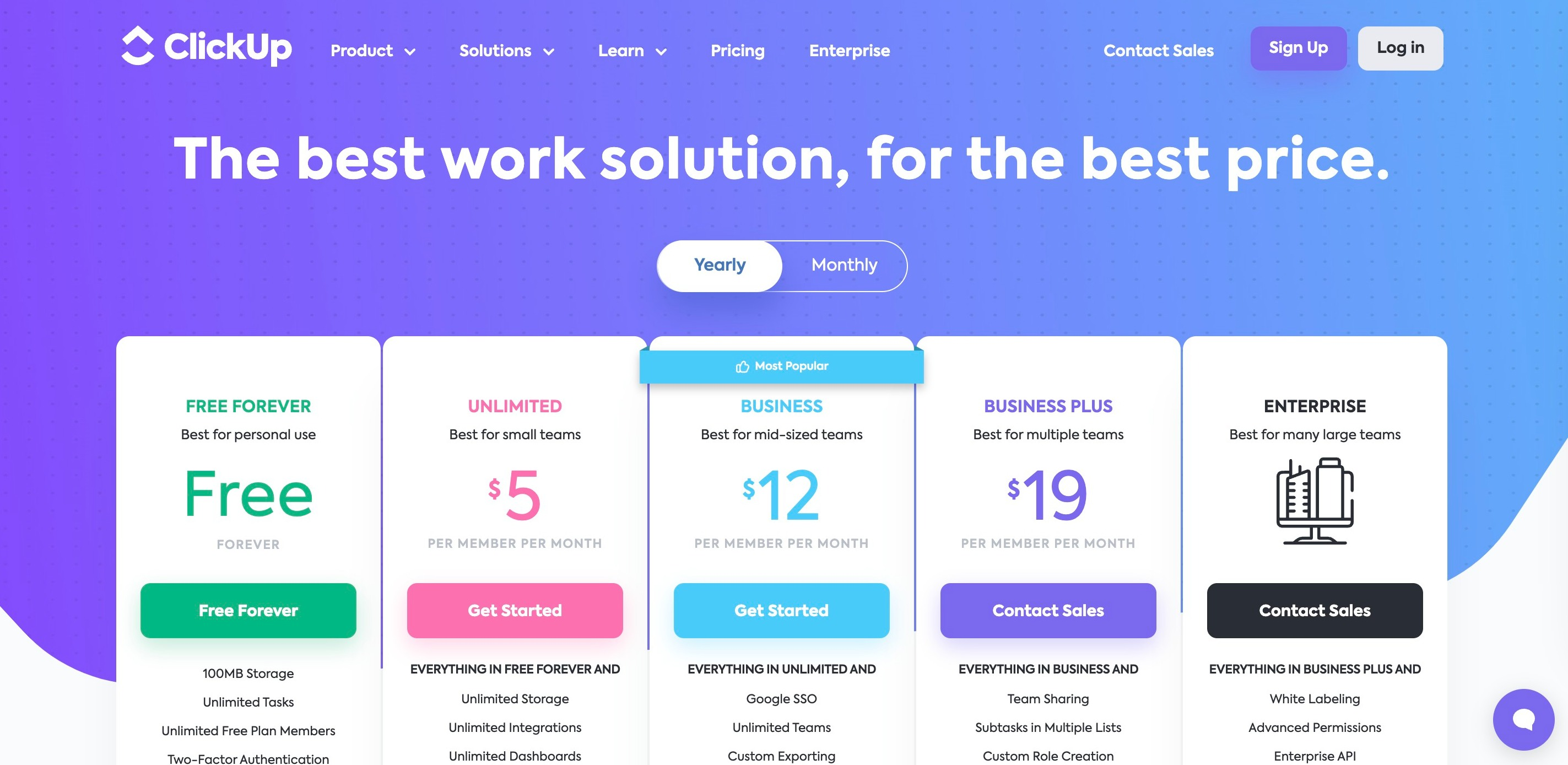 ClickUp has a variety of plans to suit businesses of all sizes.
Free Forever. This plan includes 100 MB storage, unlimited tasks, and the use of various features such as whiteboards.
Unlimited Plan. $9/month (discounted if paid annually). Unlimited storage, unlimited projects, unlimited integrations, dashboards, and the facility to invite guests
Business Plan. $19/month (discounted if paid annually). Advanced features include custom exporting, advanced automation, and effective workload management.
Business Plus. $29/month (discounted if paid annually). Also includes team sharing, subtask facility, and being able to customize role creations.
Enterprise. White label service with a dedicated success manager. Price dependent. 
ClickUp Alternatives Worth Considering
The great news is that if you are looking for a project management tool, there will definitely be software to help you keep track of where you are at and manage your project efficiently. It's simply a matter of reading up on what is available and your choices and then choosing the best option that suits you and your needs.
So, if you are still undecided after reading this ClickUp review, you might want to look at some of these other project management software options.
Asana
Asana is a popular task management tool. It's a simple and straightforward alternative with fewer capabilities than ClickUp. Features it does have include simple collaborations, project timelines, and integrations. However, it is limited in terms of what you can customize to suit your project management needs.
Check out our review of Asana vs Monday to find out more.
Hive
Hive is another popular alternative many people use because of its customizable summary views. It lets you break down what you want to see on your dashboard and only shows you this. Its reporting tool is also highly intuitive, and the team view is something else that ClickUp doesn't offer, so it's worth taking a look if these are features that you feel are important to your project management needs. 
Wrike
Wrike is a slightly more expensive option, but it is one checking out if you're looking for something that offers more comprehensive project management capabilities. Take advantage of features such as a shared team calendar to help keep everyone within the project on track.
Flow
Flow is a project management tool designed to help everything get streamlined into one place. Set up lifecycles for projects and even streamline all the conversations surrounding this to ensure that everyone has all of the same information and your project has the best possible chance of being completed efficiently. 
The Verdict: Is ClickUp Worth It?
So the big question... Is ClickUp worth the money?
The answer is a resounding yes!
It's easy to see why ClickUp is so popular for managing remote teams. It has pretty much everything you could possibly need to manage projects and collaborate with team members in one place. And best of all, it's refreshingly user-friendly and, dare I say it... *fun* to use.
If you're a project manager, it's a no-brainer. If you're unsure, it's definitely worth trying the free version to test the waters and see if it's a good fit for your team.
Want to learn step-by-step how I built my Niche Site Empire up to a full-time income?
Yes! I Love to Learn
Learn How I Built My Niche Site Empire to a Full-time Income
How to Pick the Right Keywords at the START, and avoid the losers
How to Scale and Outsource 90% of the Work, Allowing Your Empire to GROW Without You
How to Build a Site That Gets REAL TRAFFIC FROM GOOGLE (every. single. day.)
Subscribe to the Niche Pursuits Newsletter delivered with value 3X per week