GetResponse vs ActiveCampaign: Is it even close or an easy choice?
When you buy something through one of the links on our site, we may earn an affiliate commission.
Are you trying to choose between GetResponse vs ActiveCampaign for your email marketing automation software? Both are excellent, but ActiveCampaign is the best.
They're both excellent email marketing providers, packed with awesome features. So, the first thing to note is that you have narrowed them down to two of the best, so choosing one over the other wouldn't be a terrible mistake.
However, one will likely be better for you over the other, depending on your circumstances.
It's not an easy choice.
Both have good email deliverability, marketing automation features, SMS marketing, and much more to offer — but how do you choose the best tool for you?
Don't worry; I'm going to help you with this question.
In this GetResponse vs ActiveCampaign review, I will deep dive into the main features, tools, and benefits to help you decide. By the end of the comparison, you will know which email marketing service is best for you and your business.
Let's get started.
GetResponse vs ActiveCampaign: Introductions
Let's start with a brief introduction to both companies.
GetResponse is an email marketing tool launched in 1997 by Simon Grabowski. What started as an email autoresponder service has grown into a complete all-in-one email marketing platform with great features and thousands of happy customers.
They have a 'great' rating of 4.1 on Trustpilot, and most online review sites reflect this score.
GetResponse's selling point is to provide an inbound marketing system to:
Get your business online
Grow your audience
Build your customer engagement
Increase sales
ActiveCampaign offers an all-in-one email marketing tool for businesses of all sizes. They were founded in 2003 by Jason VandeBoom and initially started as a consulting company.
They later moved into software as a service (SaaS) in 2016 and provided email marketing and automation services.
ActiveCampaign has over 150k customers worldwide and regularly wins awards for its service. In addition, their Trustpilot score is 4.3, which rates as 'excellent.'
ActiveCampaign's main selling points are:
 Improve customer experience (CX)
 Audience growth
 Lead nurturing
 Sales engagement
GetResponse Main Features
With the introductions out of the way, let's start looking at the main features for both email marketing services.
We'll begin with GetResponse.
Email Marketing Features
GetResponse (check out our full GetResponse review) offers an email marketing tool for users to build and send emails to subscribers. You can send emails as broadcasts, newsletters, transactional, or as part of an automated autoresponder sequence. 
You get a drag-and-drop email builder to create your emails, newsletters, free templates, and opt-in forms. In addition, you have AB testing (more on this later) and segmentation.
Other email marketing features include:
SMTP emails
Email list management
Analytics
Email preview and testing
RSS to email solution
Personalization
Spam checking tool
The company states that it has a 99% delivery rate regarding deliverability. I checked a test IP address with senderscore.org, and the score came back as 99.
This score points out that the company has low complaints, blocklists, and low spam traps — these metrics indicate an excellent email delivery rate for those using GetResponse and backs up the companies claim of a 99% delivery rate.
Website Builder
A great feature of GetResponse is the website builder available to all users. Using the free-to-host drag and drop builder, you can build a small business website, portfolio, business pages, and more.
The website builder has been created with AI technology and comes with an optional wizard to help get you set up.
You choose your website type, pages, templates, addons, color, text, and images, and like magic, you have your web presence.
The beauty of the web builder is the ease of adding contact forms, popups, cookie bars, and other valuable extras to improve your site.
If you're not code-savvy or knowledgeable about using WordPress, this is an excellent solution for those looking to get online quickly without a learning curve.
Webinars
This feature could be the one that sways it in your decision of choosing between GetResponse vs ActiveCampaign. It's an excellent solution for those who use webinars to sell, pre-sell, or educate their reader base.
However, the webinar feature is only available for those on the 'Plus' plan and above.
Webinars are a great marketing tool and using them with the included tools and features already available, you can boost your marketing results significantly.
You get:
Unlimited webinars
Up to 1000 attendees
The ability to share the stage with two other presenters
Free recordings (20 hours)
Save in multiple formats and screen live on YouTube and Facebook
Screen sharing option
Polls
Call to action buttons
Marketing Automation
GetResponse has automation features such as cart abandonment, birthday emails, purchase emails, push notifications, and so on.
However, this is the primary use of automation, and the beauty lies in the more advanced benefits of automating.
For example, you can nurture your leads with tags and link triggers, and if activated, it targets them with a series of emails. You can use these triggers on emails, landing pages, and websites.
Setting up automation is pretty straightforward. You create a visual workflow, add triggers and filters, and write your emails.
There are plenty of videos and written tutorials available if you get stuck, but honestly, it's not that hard to figure out. 
Paid Ads Tool

If you want to create paid ads for Facebook, Google, and Instagram, you can use the paid ads tool. The paid ads tool has retargeting, pixel adding, analytics, and more.
You select the type of ad you want, set your budget, duration, target audiences, design the ad, and submit it. Another excellent feature of the paid ads tool is sending ad traffic to your webinars and landing pages already created inside the software.
Take a look at the video below, which shows you how to create Facebook ads inside GetResponse.
Landing Pages
Another feature offered is the landing page builder. You get over 200 templates to choose from, and GetResponse will host your landing page for you even if you put it on your WordPress website.
You can split-test, add images, and edit the text to make the web page perfect as it can be.
Overall, it's a good feature that will save you money, but you will need to create both mobile and desktop versions of the landing page, and a lot of people are reporting that the page speed scores are a little slow.
Conversion Funnel
The conversion sales funnel feature enables you to use full pre-designed templates to target your traffic into a marketing funnel. It starts with the landing page and funnels through a series of events to a potential outcome, i.e., a sale or lead.
You have exit popups, sales pages, upsells, abandoned cart emails, confirmation pages, thank you pages, and more. In addition, you can sync with Shopify, BigCommerce, Magnetto, WooCommerce, and Etsy.
There are over 30 funnel templates to choose from, and you can integrate with PayPal, Stripe, Payu, Square, and BlueSnap.
SMS Marketing
Text messaging has a much higher open rate than email, making the SMS marketing feature powerful. You can send an SMS message to your subscribers manually or through automation triggers. 
You can stay compliant with GDPR, track stats, add to current or new workflows, and control the costs involved. It's a helpful tool that can benefit almost any business.
However, you can only get this feature on the custom max plan, which is the most expensive option.
Web Push Notifications
Web push notifications are available for those on the 'plus' plan and above. Push notifications allow you to automate a message sent to a website visitor, even after they have left your website.
You can create as many push notifications as you want, and you don't even need an email address — all you need is for them to accept the notification for messages.
Live Chat
The live chat feature is another excellent option for those on the 'plus' plan and over. You can add the chatbox to your web pages and use instant support to help make the sale or build your email list.
If you're not available, the messages will still get through to you once you log back in, and you can also set pre-defined messages, tags, automated replies, and more.
Analytics and Split Testing
You can view the analytics of your emails and other email marketing campaign metrics within your account. For example, you can view CTR (click-through rates), bounce rates, open rates, unsubscribed, and more.
There are also A/B split testing options available such as testing up to five different subject lines, layouts, images, and call to action buttons.
The only downside is that you will need to keep the same content for each email, although you can send the emails with different subjects lines, layouts, and call to action buttons to additional subscribers.
Apps & Integrations
If you use Shopify, PayPal, WordPress, Various CRMs like Microsoft Dynamics 365 and HubSpot — you can integrate them with GetResponse. There are over 100 integrations available and a free online app for your convenience.
Ease Of Use
GetResponse is pretty easy to use.
If you've used an email marketing service before, you shouldn't have any problems. However, if you're new to email software, you can take advantage of the written and video tutorials available on the website and through their YouTube channel.
GetResponse Customer Support
GetResponse offers fantastic support, and you can contact them in the following ways:
Live Chat
Email
Phone (available on the max plan)
In addition, there is also a dedicated help center available.
ActiveCampaign Main Features
The next part of the GetResponse vs ActiveCampaign review will focus on the main features for ActiveCampaign. Like GetResponse, the email service is another popular option, so let's see what available features they offer.
Email Marketing Features
ActiveCampaign's email marketing features are on par with most top email service providers. They offer broadcast, automated, and newsletter emails as standard.
They also have popular features such as A/B split testing, personalization, segmentation, tags, sign-up forms, and more.
In addition, you have over 125 responsive email templates that cater to both B2B & B2C, such as:
Cart abandonment
Events
Customer service
Seasonal holidays
Feedback
Reviews
ActiveCampaign takes deliverability and inbox rate seriously and provides various tools and helpful advice to give you the best chance of getting your emails through.
For example, you can access spam check, domain verification, email list hygiene, double opt-in, and helpful guides.
They have won numerous awards and have many happy customers (See Trustpilot for proof), which you wouldn't receive if email deliverability were poor.
Automation
ActiveCampaign has a full suite of automation features to use in your email campaigns. For example, you can send out a series of targeted emails for those who click on a link in an email or landing page.
You could also send an abandoned cart email if someone leaves without purchasing — simply set the time to wait before sending. 
A noticeable benefit of automation is time-saving and sending the correct emails that your subscriber is interested in reading. You do this by using a process called lead scoring (more on this below) and adding triggers that spark the automation software to kick into action.
There are over 500 automation recipes available, so you can automate almost anything you want. For example, if you want an automation recipe for blogging, healthcare, travel, or events, there's an automated recipe there to use.
There are also recipes for the following languages:
Spanish
Italian
Portuguese 
French
German
ActiveCampaign CRM
The CRM provides an all-in-one platform for you to save time, increase business, and stay organized. In addition, you can use CRM to get the most out of your subscribers by utilizing contact information, tag management, lead scoring, and more.
A good CRM helps keep your business organized, and you can create pipelines to offer deals. A Pipeline is a journey you want your customer to take from start to finish using tags, data, and triggers.
You can then set up special offers tailor-made for specific customers.
A good CRM is beneficial for any business, small or large, and ActiveCampaign has an excellent CRM for you to use.
Website Chat
The Website chat feature is available to all users free of charge for 14 days and then $19 per agent. In other words, if you only have one person answering the chat messages, it's $19, but for each agent, add $19.
Using the chatbot software, you can increase sales, build your email list, and sync to your Facebook messenger. Besides this, any automation sequences set up can trigger a response from those entering details in the chatbox.
Advanced Reporting
Reporting is available on all plans, but you will need to be on the higher plans for more advanced reports. There are 11 reports displaying data for open rate, bounce rate, clicks, and unsubscribes. 
The more advanced reports are for things like eCommerce and conversations. For example, if you integrate your account with Shopify, you will see information about the revenue generated through your campaigns.
Site Tracking
Site tracking allows you to track what a user is doing on your website. You add a tracking code to your footer and set up automated campaigns to send out messages, discount codes, or offers after the user has read a page, clicked on a link, or filled in a form.
Site tracking is beneficial because you can send a promotional code a few hours after a user has viewed your sales page but not purchased — this promotional discount could make the sale for an offer that will still be fresh in mind.
Lead Scoring
Lead scoring is available for anyone on the 'plus plan' or over, and it helps you target the right people with the correct information and offers.
Let's say a customer has downloaded a free report and purchased from you before to give you an idea of how it works.
Your lead scoring system scores them over 50, so you now know that they are suitable for information (emails or texts) for a particular topic or offer.
It's a great way to target the right people and save time and, in some cases, money.
You score your subscribers based on past behavior. For example, if a subscriber signs up for a free report, 10 points, if they purchase an offer, 25 points, if they attend a webinar, add another 20 points, and so on.
You're then left with a scoring system for each subscriber, making it easier to nurture and target the right people with your automated content. 
SMS Marketing
Like GetResponse, ActiveCampaign offers SMS text messaging for customers on the 'plus' plan and above. The text messages can be set up in an automated workflow and feature notifications, timing, and follow-up messages.
SMS messaging offers fantastic open rates and is perfect for event reminders, sales, and broadcast messages. In addition, you can use the inbuilt software or sync to third-party apps like WhatsApp and Twilio.
You are provided with 25 credits on the plus and professional plans, while those on the enterprise plan will get 1,000 credits. If you need more credits, you can purchase them at an extra cost.
Facebook Advertising
You can integrate Facebook with your account and laser target your content and ads to the correct customer type. This omnichannel strategy will help you get more leads and, ultimately, more sales.
You can add or remove contacts from your Facebook custom audience and send messages based on where they are in your marketing funnel.
Analytics and Split Testing
Split testing is available for the following:
Email subject lines
Sender name
Email content
Call to actions
Images
ActiveCampaign stands out with split testing mainly due to the amount of testing you can do. For instance, you can test up to five emails simultaneously and even complete automation workflows.
Regarding analytics, you can sync Google Analytics with your account and also use the inbuilt options to see open rates, unsubscribes, and more.
In addition, you can see what specific time of the day your emails get opened and receive probability percentages of the best times to target your subscribers and customers.
Apps & Integration
You have access to a highly rated app that you can connect to your customer base and manage contacts, CRM, reports, and more.
Furthermore, there are over 870 integration options available in the following categories:
Accounting 
CRM
CMS
Analytics
Developer tools
Documents 
Databases.
Ease Of Use
If you're familiar with using email marketing software, you shouldn't encounter too many problems, although ActiveResponse is a little more complicated to get started.
The reason behind this is the sheer number of options you have available, and the website seems a little more challenging to navigate. However, it's not a significant issue, and the service does offer excellent support and tutorials.
Customer Support
ActiveCampaign has excellent support, and you can contact them through the following ways:
They also offer a training center and support base.
Who Has The Best Email Deliverability — ActiveCampaign or GetResponse?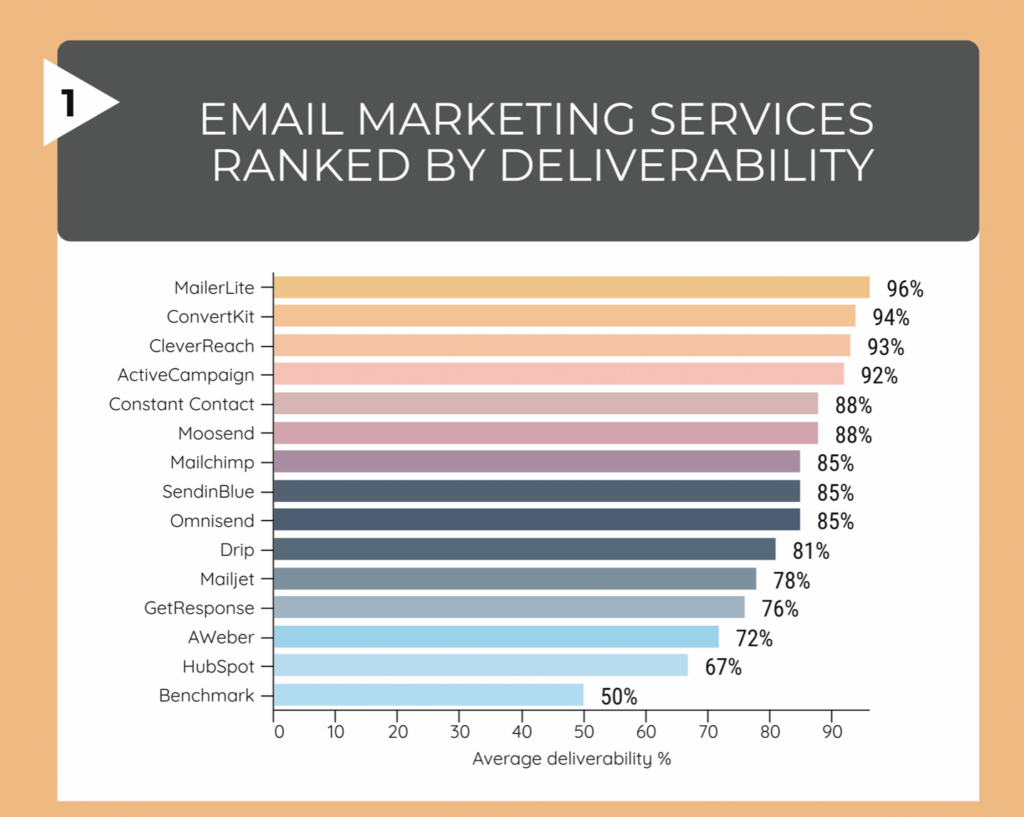 Image Source: https://www.emailtooltester.com
ActiveCampaign has a slightly better email deliverability rate for getting emails into the inbox. However, as long as you don't do anything silly with regards to spam affiliate marketing links, or targeting industries that are high-risk, you should be ok with both services.
Both companies are members of the 'M3AAG', and DKIM email signatures are enabled to help you achieve better inbox delivery rates.
GetResponse vs ActiveCampaign Pricing
We're coming toward the end of the GetResponse vs ActiveCampaign comparison now, so let's talk about the costs involved in using both services.
GetResponse's prices increase for plan choice and also in increments for the following number of contacts:
up to 1000
1001-2500
2501-5000
5001-10000
10001-25000
25001-50000
50001-100000
ActiveCampaign adopts a similar approach for plan prices and also increase the costs for the following number of contacts:
up to 500
501-1000
1001-2500
2501-5k
5001-10k
10001-25k
25001-50k
50001-75k
75001-100k
GetResponse Pricing 
You have five pricing plans and three different pay cycles to choose from when using the software. The pay cycles are monthly, yearly, or biyearly (every 2 years), and the plans are free, basic, plus, pro, and max.
Let's take a closer look.
Free Plan
The free plan will get you 500 contacts, unlimited newsletters, one landing page, and access to the website builder. Other features are available on this plan, but you have limits to bandwidth (on website builder), and many features are disabled.
Basic Plan
This plan costs $15 per month, and you get up to 1000 contacts, unlimited landing pages, more bandwidth, basic automation, autoresponders, and more of the main features are enabled.
Plus Plan
The plus plan is the most popular option and starts at $49. Again, you get 1000 contacts, but extra features like full automation (except push notifications), segmentation, and access to 100 attendee webinars.
Pro Plan
Those opting for the pro plan will be paying from $99 per month. This plan gets you 1000 contacts, unlimited and complete automation, eCommerce features, 300 webinar attendees, and more.
Max Plan
Finally, the max plan gets the same as the pro plan but extra features such as SMS marketing, 1000 webinar attendees, and Microsoft Dynamics 365 integration. The costs are custom prices, so you need to contact them for a personal quote.
ActiveCampaign Pricing 
ActiveCampaign has four pricing plans and two payment cycles — monthly and yearly. Their plans are lite, plus, professional, and enterprise.
Let's break them down.
Lite
For 500 contacts, you get one user, marketing automation, segmentation, reporting, email marketing, and more for $15 per month. If you increased your contacts to over 500 and below 1000, it would cost you $30 per month.
Plus
The plus plan starts from $70 per month for 500 contacts and gets you everything in the lite plan, plus 25 users, landing pages, SMS marketing, content scoring, and more. 
Professional
Those choosing the professional plan will pay $187 per month for 500 contacts. With this plan, you get everything in the plus and lite plans, plus 50 users, split automation, site messages, and various other features.
Enterprise
The enterprise plan starts at $323 per month for the same number of contacts. In addition, you get HIPAA support, custom domain, unlimited users, and various other perks and benefits, including everything in the three other plans.
GetResponse vs ActiveCampaign Key Differences
To help you out in your decision, I have listed below some of the main differences between the two options:
GetResponse has webinars available, while ActiveCampaign does not.
There is a free plan for GetResponse; however, ActiveCampaign only offers a free 14-day trial and no free plan.
Both provide automation, but ActiveCampaign has more automation features.
GetResponse counts contacts as one per list. For example, you are charged for two contacts if you have one email address on two lists. However, ActiveCampaign allows one email on multiple lists and only charges for one contact.
ActiveCampaign offers the cheapest paid plan, but for only 500 contacts. When compared to 1000 contacts, GetResponse becomes the most affordable option.
GetResponse has a website builder.
ActiveCampaign provides more robust reporting.
GetResponse vs ActiveCampaign: Which Email Marketing Service Is The Best?
Now for the big question — when it comes to GetResponse vs ActiveCampaign, which is the best email marketing software?
As mentioned at the start of this article, both services are excellent, so you can't go wrong with either of them. However, there are occasions when you have to choose one over the other.
Suppose you're looking for an overall less expensive option, and you want to use the webinar feature. Then, your best option is GetResponse, but remember, you only get basic email automation on the lower plans, and each email counts towards your subscriber limit for each list it is on.
Try GetResponse
On the flip side to this, ActiveCampaign is the best choice if you want a more advanced marketing automation tool, a more robust CRM, and advanced reporting data.
You need to weigh the pros and cons of each and decide which is the best for you. 
If you want an answer on which service is the best overall, both are excellent, but ActiveCampaign is the best.
If you'd like to compare additional email marketing software with GetResponse and ActiveCampaign, check out our comparisons below:
Why is ActiveCampaign The Best?
ActiveCampaign is the best because it has more automation options, more integrations, better deliverability, and a more robust CRM. 
Get ActiveCampaign
Want to learn step-by-step how I built my Niche Site Empire up to a full-time income?
Yes! I Love to Learn
Learn How I Built My Niche Site Empire to a Full-time Income
How to Pick the Right Keywords at the START, and avoid the losers
How to Scale and Outsource 90% of the Work, Allowing Your Empire to GROW Without You
How to Build a Site That Gets REAL TRAFFIC FROM GOOGLE (every. single. day.)
Subscribe to the Niche Pursuits Newsletter delivered with value 3X per week