19 Best Online Writing Courses: Blogging, Fiction, & Nonfiction Classes to Polish Your Prose
When you buy something through one of the links on our site, we may earn an affiliate commission.
You want to be a better writer but aren't sure where to start. Back in the day, the best way to improve your writing skills was to sign up for a college course and fork over that hefty tuition. Now, there are tons of online options that are affordable and even free to bolster your writing. If you are looking for the best online writing courses, look no further than this comprehensive list.
In this article, we will dive deep into the three main areas of writing: blogging, fiction, and nonfiction. While you should choose classes in subject areas that interest you, there is something to be said for being a well-rounded writer in all these areas. For example, blog writers can benefit from nonfiction writing courses.
Here is what you can expect to learn in each of the top online creative writing classes to trigger your productivity.
But in case you're in a hurry - we highly recommend you check out Income School.
---
Best Online Writing Courses for Bloggers
Bloggers need a unique skill set to help them achieve success and increase organic traffic. They need clear writing skills, SEO knowledge, and keyword research abilities. If you've been thinking about how to improve your blog, the best online writing courses for bloggers below will revitalize your prose.
Surfer Writing Course
Bloggers need certain skills if they want to be found by their audience. Surfer SEO, one of the leaders in optimizing content for search engines, also offers online writing classes geared for both content managers and writers. They boast that their writing class will increase your productivity tenfold.
Some of the topics covered throughout the course material include:
Search intent
Natural language processing (NLP)
Keyword research and evaluation
Competitor analysis
It will guide you through four modules: foundation skills, organizing and optimizing content, favorite tools, and implementation.
Not only does it guide you through writing great content, but it also helps you to optimize your posts after publication. This ensures that more eyes land on your project, as every blogger knows that writing the content is only the first half of the battle.
One of the benefits of signing up for the Surfer SEO writing course is that it gives you a great inside look at the Surfer SEO tool to see if it's the right fit for you before you pay for it. If you've been on the fence about signing up for a Surfer membership, this course will make it clearer if the platform is for you while helping you to bolster your content.
---
Income School
If you haven't already heard of Income School, you're missing out! They offer tips and tricks to help you make a full-time income online through a successful blog. Much like the Surfer SEO online writing classes, you will find that Income School's Project 24 teaches you how to write in a way that gets you:
More traffic
Improved income
Making more money
Growing your business
Collaborating with other content creators
Creators Ricky Kesler and Jim Harmer will guide you through choosing a niche for your blog, selecting the right topics for your content, and executing those ideas the right way. Broken down into a step-by-step process, you'll get everything you need to be a better writer.
Plus, registering for the Project 24 course material gives you access to their online mastermind, where you can ask the community for feedback.
Learn more details about Income School in our detailed review.
Pricing: $449 per year for the first year, $249 for subsequent years
---
Passive Income Geek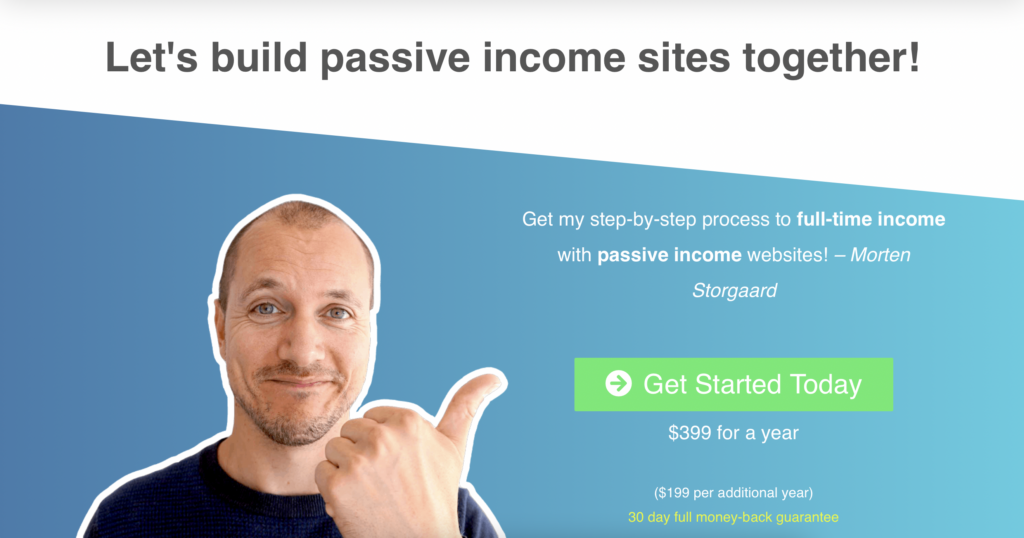 Suppose you want to learn more about how to make your writing assignments shine. In that case, you need to learn how to make a full-time income through Passive Income Geek. Founded by Morten Storgaard, a successful niche site builder, you learn everything needed to make six figures -- and it starts with how to write great content.
As one of the top online courses for making passive income through your blog, you learn skills like:
How to write content that ranks
SEO tips that work
Monetization strategies
Social media guidelines
Research techniques to create better content
If you know you want to run a successful blog, then you need the skills taught in this online course.
One of the benefits of signing up for Passive Income Geek is that it isn't just about the online writing course. You also get access to a top-notch community that can help you solidify those skills. As of the time of writing, there were more than 400 people in this community with personal guidance from Morten Storgaard daily.
The support and encouragement of like-minded peers will spur you to greater success. Keep in mind that this is a forum, not a Facebook group.
Pricing: $399 per year, $199 per subsequent year plus a 30-day money-back guarantee
---
Freedom Machine (for Guest Bloggers)
Freedom Machine is a must-have online writing course for those who want to make a living from blogging. Founder Jon Morrow shares his experience with earning a six-figure income from his blog -- even after being paralyzed from the neck down.
Unlike other writing courses, you'll find this one is uniquely tailored for those who want to make a living through guest blogging. Learn important skills like crafting a great intro and putting together winning pitches.
You'll learn not just incredible writing skills but also how to generate leads and passive income.
At the end of the course, you'll have a certificate that you can use to demonstrate that you have great skills from the best online writing course for guest bloggers.
---
The Blogging and Content Writing Guide to More Traffic - Udemy
If you're looking for affordable online writing courses, you'll need to consider looking at some of the leading classes on Udemy. Known for discount classes with solid content from experienced writers and teachers, you'll find that Udemy has some excellent resources like The Blogging and Content Writing Guide to More Traffic.
The brainchild of Robin and Jesper, their 6.5-hour course will walk you through everything you need to know to become a more efficient writer. Topics include:
SEO fundamentals
Copywriting skills to improve sales
Optimizing your content writing
Keyword research
How to make your content creation as professional as possible
The course also comes with access to 9 articles and 31 additional downloadable resources that you can use to improve your skills and refer back to after the course is over.
---
Blog Post Writing Made Simple - Blogging Methods that Work - Udemy
Learn from a top-selling writer to get ahead with your blog and content creation. Ian Stables has helped more than 100,000 students to bolster their writing skills and has written several bestselling books on Amazon. His Blog Post Writing Made Simple - Blogging Methods that Work course draws upon all of his professional experience.
In this contender for the best online writing course, you will learn:
How to attract readers to your blog (and convince them to stay longer)
The easy way to write quality blog posts
Idea generation
A method to prevent procrastination in your writing
While the class is short at just 90 minutes, you'll get tons of action-packed information out of it that you can refer back to forever. With almost 200 ratings and 9,500 students, this highly-ranked course is a great fit if you want something short and sweet to improve content creation.
---
Blog Writing - Gotham Writers
Gotham Writers is a well-known organization that offers online creative writing courses, and some non-fiction writing classes that cover blog writing. They specialize in teaching the craft of writing, helping you to create conversational prose with an emphasis on clean copy.
They teach important skills like structure, voice, credibility, and even developing a point in your posts.
This writing group also teaches a great nonfiction class that you can use to further solidify your skills as a blog writer. We will cover more details on that course in the final section of this article. If you need more details covering the basics of blogging, they also have a separate class on how to get started.
These online writing classes are offered in four settings: online (accessible anytime), real-time video conferencing via Zoom, in-person in New York City, or as one-on-one tuition. Decide which format best suits your needs and learning style.
Pricing: $319 for online courses, $335 for in-person, $1,195 for one on one sessions
---
Best Online Writing Courses for Creative Writing
While there may be some overlap in blog writing and creative writing, these classes are more geared toward the fiction writing that many authors aspire to. Learn more about creative writing classes in any of these classes.
Masterclass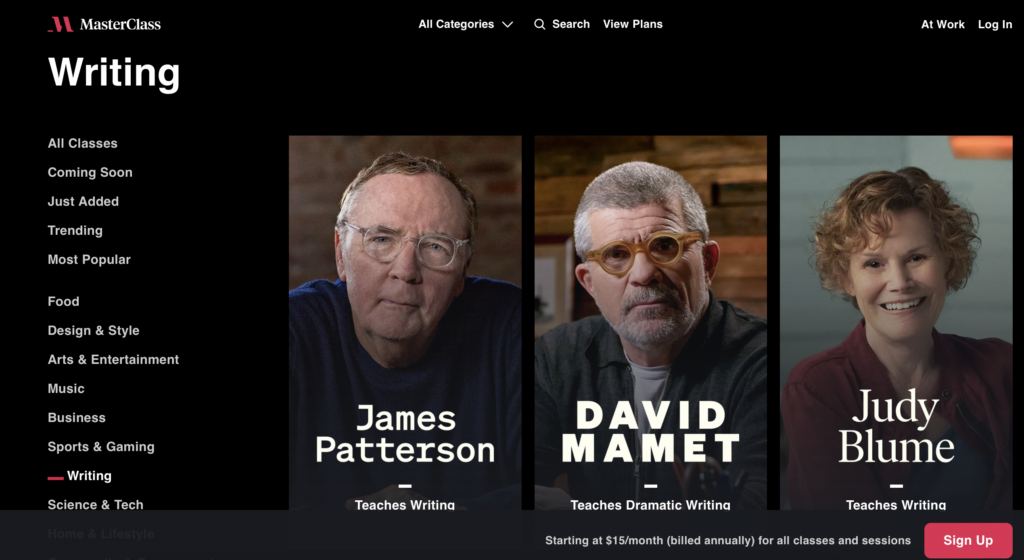 If you want to hear classes taught by leading authors via an online course, then you need to consider signing up for a Masterclass pass. With one membership, you can access unlimited classes that you can peruse at your leisure. Plus, you won't be able to find classes from heavy hitters like these just anywhere. Learn from the best of the best:
James Patterson
Judy Blume
Malcolm Gladwell
R.L. Stine
Margaret Atwood
Joyce Carol Oates
Many people find that their favorite authors and writers end up in the Masterclass program, giving you greater insight into how these authors craft their works. If you've been searching for top-notch creative writing classes, you can't go wrong with the many classes available here.
They even include nonfiction topics, which we'll cover in the next section.
Not to mention, you can learn other topics like acting and cooking as well. If you want to explore lots of areas of interest, you can't go wrong with signing up for a membership with this subscription site.
Pricing: $15 per month, billed annually for one account and one device up to $23 per month billed annually for one account and six devices
---
Writing with Flair - Udemy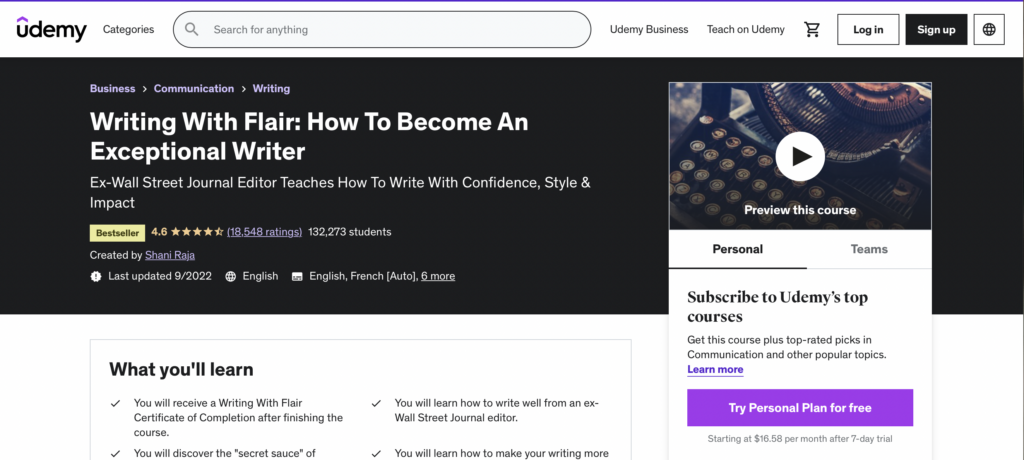 While it may not be the cheapest writing course on Udemy, Writing with Flair really packs in value regarding creative writing. Taught by a former Wall Street Journal editor, Shani Raja provides over 130,000 students with seven hours of on-demand video, three downloadable resources, and four articles.
Best of all, you get a certificate of completion to show off to employers and publications when your creative writing career starts to take off.
The course promises to teach:
The "secret sauce" of good writing
Adding style to all types of writing, from blogs to books
Simple, clear, evocative, and elegant text
Confidence and competence when it comes to writing
---
Creative Writing Specialization from Wesleyan University- Coursera
Do you want to take a college-level course to polish your writing skills without paying hefty tuition fees? Coursera's Creative Writing Specialization offering may be just what you're looking for to write a unique story from beginning to end.
Offered by the renowned Wesleyan University, this course offers a specialization in writing across genres:
Short stories
Narrative essays
Memoir writing
Designed to be completed in just one hour per week, this course is something you'll want to commit to for the long haul. Most people pace themselves through it over six months with a shareable certificate awarded upon completion.
Pricing: Audit the course for free
---
Creative Writing 101 - Gotham Writers
If you think you want to dabble as a fiction or creative nonfiction writer, then Gotham Writers has another course designed for you. In their Gotham Writer's Creative Writing 101 class, you will get the chance to explore different modes of creative writing so that you can learn to read like a writer, boost your confidence, and start to experiment with your own writing.
However, it is important to note that this course does not include workshopping. You will receive feedback on exercises and assignments, though.
You can enroll in this course as either a 6-week class or a 2-day intensive.
Pricing: Six week course pricing: online (anytime or real-time Zoom conference) for $319, in-person in NYC for $335, one-on-one for $1,195; intensive pricing: $165 via Zoom or one-on-one for $350
---
100 Day Book Program - The Write Practice
Maybe you already know that you have a book inside of you instead of an essay or a short story. For those who want to focus on completing longer works, the 100 Day Book Program delivered by The Write Practice will give you the accountability you need to get started at your own pace with creative writing.
In this online writing course, you will get:
Daily writing inspiration
Weekly lessons
A virtual writing retreat
Check-ins with a book coach
Feedback from the community
Plus, as an inspiration to finish your book within 100 days, you'll get $100. All you have to do is hit all of your deadlines and actually finish that book. It's a great discount on the class and gives you an incentive to apply what you're learning.
Pricing: Currently closed for registration but will open soon
---
Creative Writing 101 - Writer's Digest University
For those who want a course from a recognized industry titan, Writer's Digest University offers its own version of Creative Writing 101. It lays the foundation for any story that you want to tell, focusing on:
Character
Stakes and obstacles
Antagonists vs. protagonists
Point of the story
Point of view
Interesting dialogue
Beginnings and endings
Motivation to finish the story
The lessons supplement the curriculum in The Writer's Compass: From Story Map to Finished Draft in 7 Stages by Nancy Ellen Dodd.
Creative Writing 101 is best for new writers, experienced writers who want to brush up on the skill required to be a good writer, and those who need to learn more about story development.
Keep in mind that Writer's Digest University also offers nonfiction writing classes that can be paired with this course to give you a more well-rounded at-home education in crafting compelling writing.
---
Write a Bestselling Novel in 15 Steps - Udemy
Do you have a bestselling novel lurking in the recesses of your mind? Write a Bestselling Novel in 15 Steps from Udemy outlines a clear path forward to help you plot your novel from the opening scene to the final pages in just 15 easy steps.
It focuses on creating an outline, understanding what makes other bestselling story ideas great, how to structure and understand the plot, and how to analyze other great works of fiction to make your own writing even better.
This course has an extremely high rating of 4.7 stars, with more than 17,500 students. When you enroll in this Udemy course, you receive:
3.5 hours of on-demand video
3 articles
6 downloadable resources
Certificate of completion
For writers who know that they have a great book inside of them, this course presents all of the tools you need to get it onto the page. While the certificate is nice to have and can be a great selling feature if you plan to take your creative writing into a professional setting, the framework of this class is ideal for helping to refine your writing process.
---
Best Online Writing Courses for Non-fiction Writing
Maybe telling a made-up story isn't the right avenue for you. Nonfiction ranges from creative nonfiction or memoir writing which tells a true story of something that happened to you, to more journalistic prose. Here are a few of our top choices for non-fiction writers who want to master their craft.
Masterclass
We covered Masterclass in the creative writing classes section, but it's worth touching on it again here. They also offer some great classes for nonfiction writers, from heavy hitters and well-known writers like David Sedaris, Malcolm Gladwell, and more.
Additionally, with a membership, you can learn about other topics that interest you. If you aren't sure what type of writing suits you best, Masterclass is a great option because it covers writing fiction, nonfiction, poetry, drama, television, and more.
Pricing: $15 per month, billed annually for one account and one device up to $23 per month billed annually for one account and six devices
---
If you already have a Skillshare membership, then you'll want to check out the next two courses taught by Roxane Gay and Mary Karr. In Roxane Gay's course, Crafting Personal Essays with Impact, you'll learn alongside 41,000 other students to start formatting your next piece.
Roxane Gay is a well-known writer with plenty of critical acclaim for her novels Bad Feminist, Hunger, and others. You'll want to follow along with her writing assignments so that you can tap into the secrets that make her such a successful novelist when sharing her own stories.
From understanding the reason behind your story to researching to the publishing process, you'll find that this course covers everything you need to write powerful prose.
While this may not be the longest class you'll ever take, clocking in at just a little over one hour, it's a great surface-level course to get you started.
Pricing: Free 1-month trial
---
From famed author of The Liars' Club, Cherry, and Lit, Mary Karr is a force to be reckoned with when it comes to a memoir. Her novels are often called classics when it comes to memoir writing, so it helps to study with one of the best of the best in nonfiction writing.
Much like the course offered by Roxane Gay, Karr's Skillshare classic Writing the Truth is quick and easy to digest with some powerful insights. In less than an hour, you'll cover how to:
Jumpstart memory
Develop your voice
Write with carnality and interiority
Discover the truth of your memory
You will walk away with actionable steps to move your memoir forward, and you'll have plenty of examples to guide you along the process of writing your next creative nonfiction project.
Pricing: Free 1-month trial
---
Memoirama
Another short and sweet class for beginners, writers who are stuck, and even writers looking to have a good time will want to explore the Memoirama class hosted on Podia. In this classic course, you will study for one hour with Marion Roach Smith, a gifted nonfiction writer, and a former staff member at The New York Times.
In this writing course, you'll learn the basics of writing a memoir, how to ask good questions, and how to get started. If you want critiques and feedback from your peers, you can take a more advanced class after finishing this Memoirama class. This program has room to grow, and all classes are reasonably priced.
Class sizes are capped at 30 students each.
The Non-Sexy Business of Writing Nonfiction - Reedsy
Looking for quick and easy chunks of learning that are simple to fit into a busy schedule? The Non-Sexy Business of Writing Nonfiction taught by Azul Terronez and featured on Reedsy, is the perfect jumpstart to putting pen to paper. Terronez is a writing coach, published author, and founder of the Author's Writing Academy.
This course lasts for ten days with a quick 5-minute lesson every day, ensuring you won't get overwhelmed.
Topics covered in this course include:
Getting clear on your vision and purpose for writing
Positioning your story
Writing hacks to help you get started
Organization tips and apps for productivity
How to hook your readers
---
Writing Nonfiction 101 - Writer's Digest University
While many of the options for nonfiction writing courses are meant to be consumed in a short period or in bite-size chunks, you get a much meatier course from Writer's Digest University's Writing Nonfiction 101.
Over 12 weeks, you'll learn how to craft a better nonfiction story based on your research and interviews. Not sure where to get started with those two topics? Good news - this course teaches you everything you need to know! Course topics include:
Basic writing skills and style
Introduction to interviewing
Making a clear point
Polishing your writing through drafts and revisions
Perhaps the only downside to this course is that it doesn't run all the time. The next available session runs from November 17 to February 9, so be sure to put it on your calendar if you want to learn from an expert writer (Mark Spencer).
Best Online Writing Courses: Which Should You Choose?
If you are thinking about taking online creative writing classes, you want to make sure that you are learning from the best of the best. The good news is that you can't go wrong with choosing a writing course from this list.
Whether you want to write better blogs that can increase organic traffic, write the first draft of your novel, or write compelling personal essays, one of these online creative writing classes will help you master the foundational skills needed to polish your prose. Learning writing for the web is always a good start though as it requires short, punchy sentences.
If blogging is your passion and you just don't know where to start, check out our guide on starting a blog alongside some of these online writing curriculums.
Want to learn step-by-step how I built my Niche Site Empire up to a full-time income?
Yes! I Love to Learn
Learn How I Built My Niche Site Empire to a Full-time Income
How to Pick the Right Keywords at the START, and avoid the losers
How to Scale and Outsource 90% of the Work, Allowing Your Empire to GROW Without You
How to Build a Site That Gets REAL TRAFFIC FROM GOOGLE (every. single. day.)
Subscribe to the Niche Pursuits Newsletter delivered with value 3X per week