The Ultimate FlexJobs Review: How to Earn Money from Home with Remote Work
Are you looking for remote work positions and the opportunity to work from home? In the digital age, more employers are offering remote positions than ever before.
The results for employers are clear: fewer interruptions, more focused worktime, and great productivity from employees. Even the employees can benefit from this new arrangement.
According to research, 70 percent of people believe that a permanent remote position would have a greater impact on their mental health.
The question is: where can you find the best and most qualified job postings on the internet where scammers often abound?
In our FlexJobs review, we will be taking a much deeper look at just what you can expect from this job board and whether it could be the right fit for your skills to help you land your dream job working from home.
Ready to learn more about what FlexJobs can offer your professional experience and job search?
Let's dive right in!
Sign Up for FlexJobs Here
---
FlexJobs Review
Ease of Use -

90

Stability -

100

Customer Service -

100

Price -

70
Summary
FlexJobs is a great platform for finding remote positions in various job categories. Whether you are new to freelancing or a seasoned professional, you will find plenty of work opportunities here. Try FlexJobs for your next job search here!
Pros
Easy-to-use advanced search function
Vetted employers to ensure quality job postings
Excellent U.S.-based customer service
Career coaching
Partner discounts
Cons
No free trial or access to apply for jobs
Third-party sites required to submit applications
What is FlexJobs?
Before we get into our FlexJobs review, we need to take a quick minute to discuss what the job platform actually is. Much like other popular freelancing sites, FlexJobs offers a wide variety of job listings for those who prefer to work from home.
For those who have been looking for flexible schedule job listings and dependable remote jobs, this job search site could be a great place to start.
They list remote work opportunities and job postings in top categories such as:
Customer service
Writing
Computer and IT services
Accounting and finance
Marketing
Product management
Administrative work
Health and medical
You can filter your potential jobs to look for remote work, a hybrid work, flexible schedule, or a more traditional schedule that involves coming into the office. There are many opportunities for people who are motivated to find pre-screened job listings from a reputable source.
Unlike some of the other leading freelancing job boards, FlexJobs does charge a subscription fee.
Sign Up for FlexJobs Here
Is FlexJobs a Legitimate Website?
If you are looking for virtual vocations, you might be wondering whether FlexJobs is a legitimate site before you pay their subscription fees.
No FlexJobs review would be complete without considering how reputable the platform and their job postings really are.
FlexJobs has been helping connect workers with employers since 2007, so there is a lot of history to sort through when it comes to considering their legitimacy.
The good news is that FlexJobs is far from a scam. They are rated as an A+ business with the Better Business Bureau and they have a 4.59-star rating based on their consumer reviews.
Looking at other popular review sites like Sitejabber can also provide great insight into how legit this online job board really is. As of the time of this writing, Sitejabber had more than 7,400 reviews for FlexJobs with an average rating of 4.69 stars (out of five).
While they do charge a membership fee, you can rest assured that your money is going to good use. It is used to screen potential job listings so that you can review only legitimate options and stop wasting your time on other traditional job boards.
FlexJobs Review: Pricing
How much can you expect to spend as a job seeker on this platform? FlexJobs has a great pricing structure that allows you to try out the service for minimal cost.
You can gain access to remote work opportunities with the following membership fees:
One week: $9.95
One month: $24.95
Three months: $39.95
One year: $59.95
When you sign up for longer subscriptions, the price per week for access to their job listings will drop dramatically. There is a substantial difference between the one-week membership and the annual membership ($9.95 vs. $1.15 per week).
Your subscription fee gives you access to a multitude of great features on the site, including:
Unlimited access to all jobs and email alerts to new opportunities
Skills testing to prove your expertise to potential employers
Valuable job search tips and resources delivered via email
Custom profile and portfolio to showcase past work
Is There a Free Trial for FlexJobs?
Do you want to try out FlexJobs to see if it is the right fit for you before committing to a paid plan? Unfortunately, there is no way to try FlexJobs for free as there is with other leading sites.
Without paying or making an account, you can browse through available job postings and remote work opportunities. This will allow you to get a glimpse of what is being offered, but the full details of the job won't be visible unless you have a subscription.
For example, you can see a short snippet about the job description, how remote the work will be, the number of hours required per week, and the job schedule. However, you will not be able to access the company name and additional benefits that could be yours if you win the job bid.
They do offer a satisfaction guarantee, though. Under this guarantee, you can browse through the job board with access to the full details. If you decide that the service is not the right fit for you for any reason, you can cancel your current subscription.
Ask their customer service department for a refund within 30 days of the creation of your account or renewal to get your refund processed. You can contact customer service in one of three ways:
How FlexJobs Works
At this point in our FlexJobs review, it's time to consider how the platform actually works for job seekers.
The learning curve for this intuitive website is relatively small, especially if you have ever spent time on any of the other freelancing websites such as Upwork or Fiverr.
Here is a quick breakdown of how it works.
FlexJobs Reviews Posting
According to an annual review from FlexJobs, approximately 20 percent of job seekers have been the victim of a scam stemming from an online job posting. Finding the right virtual vocations can be a challenge as scammers are quite savvy.
FlexJobs does its best to make these potential scams a thing of the past.
They spend a great deal of time researching each company and position that is offered on their job board to ensure that you receive only legitimate offers. They may spend as long as 30 minutes on a single posting.
The amount of time it potentially saves you as a job seeker is substantial, making it well worth the price of the subscription to know that you won't be scammed.
Search for Jobs
Now that you know each job is legitimate, it is time to start the job search for a new remote and flexible work position.
You can access their job search results without paying for a subscription, so take a few minutes to play around with their advanced search settings to see what is available for you before making a financial commitment.
You can filter through jobs using key criteria including:
Type of position (remote, hybrid, no remote work)
Job type (employee, freelancer, temporary)
Schedule
Category
Career level (entry-level to senior-level manager)
Accolades for the company
Title
Travel opportunities and requirements
Keyword
They have featured remote jobs that appear at the top of the results page, followed by the newest listings posted. You can quickly see how long a job posting has been on the board before deciding if you want to apply.
This search function is one of the best features FlexJobs has to offer. It is extremely user-friendly even if you aren't tech-savvy.
Once you know what you want in a new position, it is easy to see if FlexJobs has that type of work available before you spend money on a membership.
Set Up Your Account
Once you have done your due diligence when it comes to making sure that there are some valid and flexible positions that match your skillset, it is time to actually set up your profile. This is what potential employers will see when they review your application.
It is particularly important to build your resume and experience on the FlexJobs platform.
Creating a resume profile is important because it allows you to search for the positions that are best suited to your skills. Completing a resume comes with an array of benefits that can enhance your job search:
Custom alerts that notify you of new job postings in your area of expertise
Creates matches with your desired skill level and job type
Allows employers to see your profile when searching for candidates
Apply for flexible jobs with featured employers
You can also take skills tests to prove your abilities to a potential employer and help set you apart.
How to Apply for Jobs
You won't actually have the opportunity to see full company details or apply for a job unless you spring for a subscription. However, it is important that you know how to apply for a prospective position on FlexJobs as the process is not as straightforward as you might hope for.
On many freelancing platforms, you submit a job proposal or application directly through the site you are on. FlexJobs takes a different approach that is a bit clunkier but still effective.
There are two different types of job postings you might find on FlexJobs: featured employers and external job postings.
Featured Job Postings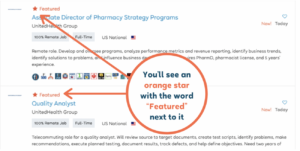 After evaluating the job posting, be sure to pay attention to the orange star that is listed above the position name on the advanced search results page. If it has a star and claims to be a featured employer, then you will have an easy time applying for this position.
All you have to do is click the blue Apply button following the description. FlexJobs will send you directly to the employer's website to fill out their custom application or you may be asked to choose a resume profile.
External Employers
It is worth mentioning in a FlexJobs review that not all job posts originate on FlexJobs. Sometimes, their team of job researchers will seek out potential employers through outside websites and on other online job boards.
You will know that these posts are not exclusive to FlexJobs when they lack the telltale orange star and the "Featured" notification.
If you want to apply for a position with an external employer, it will redirect you to the post they made on their company website.
You will have the option to fill out the application or attach a resume. A copy of your resume profile can be downloaded for use with these applications.
What Kind of Work is Available on FlexJobs?
No matter what your field of expertise or level of experience, FlexJobs has a posting that will seem like it has been tailor-made for you. We already touched on how to use the advanced search feature to narrow down the extensive list of job opportunities found on the site.
Job seekers will want to familiarize themselves with this feature, particularly if they are interested only in remote work and being a digital nomad. However, there are many different ways that you might find a work-from-home job or even a traditional job at a brick-and-mortar office.
The first thing you need to do is select your remote work level. If you want a work-from-home job, then you may choose 100% remote work or the option for remote jobs. Hybrid jobs, flexible jobs, and no remote work jobs are also an option if these are a better fit for you.
They have an extensive list of categories that you can seek employment in, making this a haven for job seekers who have unique skillsets. There are more than fifty categories you can choose from with subcategories for many of them.
For example, you may choose to work in accounting and finance. Under this header, you have the option of working in:
Auditing
Banking
Bookkeeping
There is truly something for everyone on this platform with key areas where you can earn extra money such as:
Account management or customer service
Administrative positions (including virtual assistants and data entry)
Advertising, PR, and marketing
Animals and wildlife
Arts and creative pursuits (writing, graphic design, and editing)
Call centers and communications
Computer and IT services
Consulting
Education and training
Engineering
Government positions
Human services
Non-profit
Research
Sales
Transcription
Translation
As you can see, there is no shortage of career opportunities available through FlexJobs if you are determined to find a new virtual vocation.
Pros and Cons of FlexJobs
Of course, no FlexJobs review would be complete without taking a comprehensive look at how you can benefit from their job opportunity site.
While there are plenty of positive attributes when it comes to the platform, it is important to take a close look at just how you can and cannot benefit from the job search platform.
Pros of FlexJobs
User-Friendly
Perhaps the greatest attribute of FlexJobs is how intuitive it is to use the platform.
The advanced search function is fantastic. It makes it easy for anyone to get started finding positions that are a great fit for their skills and desired employment level.
Better yet, this function can be used before you sign up for a subscription to make sure the site is a good fit for you.
Satisfaction Guarantee
If you are a bit hesitant to sign up for a subscription, rest assured that there is an easy money-back guarantee. Cancel your subscription and let their customer service department know that you weren't satisfied within the first 30 days of signing up. They will refund your payment promptly.
Screened Jobs and Employers
FlexJobs is a great aggregate site for employers who are interested in finding new talent in any given area. While not all jobs are posted exclusively to the platform, it is still a great resource to find flexible jobs that have been thoroughly vetted by their job boards.
You may be wary of applying for jobs online because of the volume of scams that many people fall prey to, but FlexJobs gives you an opportunity to put your mind at ease. They spend valuable time researching every opportunity to give you the best chances of finding legitimate employers so that you can simply apply and put your mind at ease.
Partner Discounts
One thing worth mentioning in a FlexJobs review is that they also offer partner discounts for their members. This can help offset the cost of your subscription with discounts ranging from 10 to 50 percent off goods and services at other merchants.
You may already be paying for some of these services, so the savings negotiated by FlexJobs can be quite beneficial.
Some of their partner sites include:
Dell
Audible
Grammarly
Costco
QuickBooks and TurboTax
Skillcrush
Six Flags
Great Customer Support
Whether you think you might want to take advantage of their satisfaction guarantee or you need help with setting up your profile, put your mind at ease knowing you are in good hands with their customer service department. They never outsource their relationship with you to an automated system.
Instead, all of their customer support representatives are based in the United States and they earn high reviews from those who have had to make use of the services.
You can contact them through several different methods:
Phone (9 AM to 6 PM MT Monday through Friday)
Virtual chat
Mail
Email message
Career Coaching
If you aren't sure where you are going astray with your job search, then it may be time to register for career coaching with FlexJobs.
You can purchase a 30-minute session where you will work one-on-one with an expert for just $89. Fill out the intake form to give your coach all of the details they need to work with you.
Coaching sessions are from 8 AM to 6 PM Eastern Time, Monday through Friday.
Cons of FlexJobs
No Free Access
The only real drawback to the platform is that there is no way to access the details of a job posting for free.
Unlike many of their competitors, you must pay for a FlexJobs membership in order to apply to a new job on their platform. Once you pay, you can apply to unlimited positions, though.
A free trial, even for just a few days or a week, would be a great feature. However, you do have the option to sign up for just a one-week membership to explore the finer details of the site.
How Much Can You Make on FlexJobs?
Work-from-home jobs are an incredibly convenient option, particularly for those who are searching for the perfect side hustle or who are stay-at-home parents and need a little extra income to help with the bills.
The question is, how much can you realistically expect to make on FlexJobs? Our FlexJobs review will give you the answers!
The good news is that your income is completely scalable based on how much you plan to work. FlexJobs has released a list of work-from-home job titles and their annual salaries (for full-time work). Take a look at what you could average on the platform:
Account manager: $54,526
Accountant: $51,388
Client services director: $88,982
Customer service representative: $39,007
Data entry specialist: $36,000
Online tutor: $35,960
Social media manager: $52,339
Virtual assistant: $40,974
Writer: $50,151
The more you want to work, the more money you could potentially be making on the site. Some of these categories can be quite lucrative if you have the skillset and experience necessary to do this type of work.
Alternatives to FlexJobs
Of course, searching for work-from-home jobs is extremely popular in the modern age. This means that there are plenty of competitors that you may also want to research when considering a FlexJobs review.
Upwork
Upwork tags itself as the "world's largest freelance talent marketplace." Their goal is to connect employers with great freelance talent in a variety of niches.
You should keep in mind that while they do have quite a range of job opportunities, they are not nearly as varied as what you will find on FlexJobs.
Popular job categories on Upwork include:
Accounting and consulting
Admin support
Customer service
Data science and analytics
Design and creative (including writing)
Engineering and architecture
IT and Networking
Legal
Sales and marketing
Translation
Web, mobile, and software development
One of the benefits of using Upwork is that there are no fees for their Upwork Basic plan. You can see the full job board and apply for jobs without paying a dime.
The only time you pay is if you win a contract and have earnings. Payment is done on a sliding scale based on the amount of work you do with a client:
$0-$500: 20% fees
$500.01-$10,000: 10% fees
$10,000.01 or more: 5% fees
Keep in mind that Upwork does not do the same kind of research featured by FlexJobs for jobs that are posted on their board.
Sign Up for Upwork Here
Fiverr
Fiverr is a little different than both the Upwork and and what we've highlighted in this FlexJobs review.
On this platform, a freelancer who is looking for a work-from-home job can list a gig that they are interested in completing and their set fee for the service.
While Fiverr used to only list gigs that paid $5, they have expanded and you can now set whatever fee you feel is fair for your services.
For example, you may write a 500-word blog post for $10 with the goal of getting more recurring work from content creators.
You will find tons of job opportunities on Fiverr in several major categories including:
Graphics and design
Music and audio
Business
Writing and translation
Lifestyle
Video and animation
Data, programming, and tech
Digital marketing
Much like Upwork, it is free to use the platform initially. Buyers who wish to hire on Fiverr will pay for their order upfront.
The funds are released to the freelancer upon completion of the service. Freelancers will pay 20 percent in fees once they successfully complete the order.
It can take a lot of advertising and hustle to get an influx of work from Fiverr, but it can be quite lucrative once you are an established freelancer there.
Sign Up for Fiverr Here
FlexJobs Review: The Verdict
FlexJobs is a legitimate job board that encompasses a wide variety of remote work opportunities for qualified individuals.
If you want work life balance but have been on the fence about leaving your traditional 9-to-5 – and didn't know where to start with making money online, FlexJobs is worth the small investment for at least a weekly membership.
Want to learn step-by-step how I built my Niche Site Empire up to a full-time income?
Yes! I Love to Learn
Learn How I Built My Niche Site Empire to a Full-time Income
How to Pick the Right Keywords at the START, and avoid the losers
How to Scale and Outsource 90% of the Work, Allowing Your Empire to GROW Without You
How to Build a Site That Gets REAL TRAFFIC FROM GOOGLE (every. single. day.)
Subscribe to the Niche Pursuits Newsletter delivered with value 3X per week