Why Start a Blog? Here Are 15 Reasons You Need A Blog
When you buy something through one of the links on our site, we may earn an affiliate commission.
If you're asking yourself why start a blog? then you're in the right place.
Is having a blog really all it's cracked up to be? Or are you looking for some inspiration to get motivated?
Common reasons to start a blog include:
To make extra money

Market yourself or business

Share something you're passionate about
And in this post, I'll share the most important reasons why starting a blog is a good idea.
It's true, launching a new blog can be daunting, but having a solid why will keep you driven to succeed faster.
Let's dive in.
1. You Want to Quit Your Job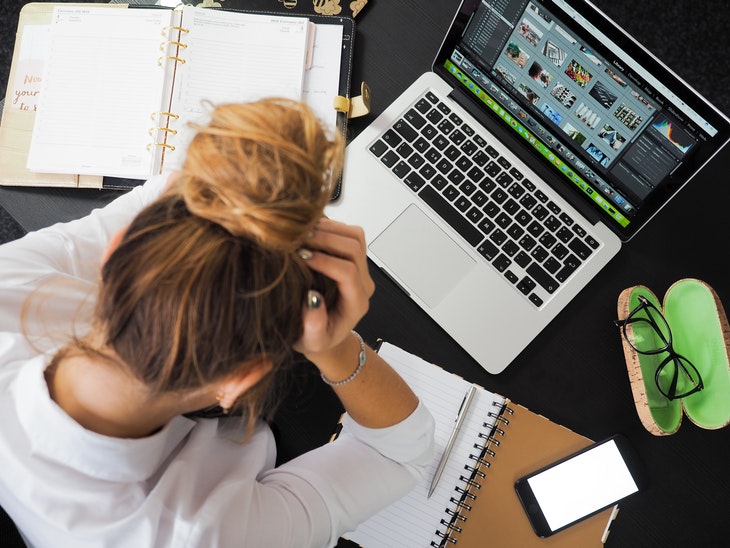 Fed up with your job and want to become your own boss?
Starting a blog could be the answer.
Many people turn to blogging to switch their 9-5 salary to passive income online.
Don't believe me?
Look at these blog income reports. Some bloggers are making a few hundred bucks extra per month, where others are making over $90,000.
Here's the deal:
There are a thousand different ways to make money online and blogging is just one of them.
So, what makes blogging so special?
Think of a successful blog as a means to drive traffic and grow an audience. These are 2 important aspects of generating income online.
When you have those 2 things in place, it's up to you how you monetize it.
You can keep it simple by placing ads on your blog. Or, go as far as developing a course or physical product.
However, how much money you want your blog to make depends on a couple of things:
The amount of content your publish

How much traffic you generate
And if your content is evergreen, meaning it doesn't matter how old it gets, you can keep earning income from articles you created 5+ years ago.
Blogging is also a popular income choice because it's something you can do alongside your job.
You can keep the security of your job while you grow your blog's revenue.
The opportunities are endless.
2. To Build an Asset You Can Sell One Day
Continuing on from the last reason to start a blog, you don't have to stop at just replacing your income.
You can build it into an asset, much like you would in real estate, which is why it's often referred to as digital real estate.
Website flipping is a multi-million dollar industry, with over 300,000 digital assets sold by Flippa.com alone.
Because there is so much demand for buying and selling websites and blogs, more and more website marketplaces are cropping up.
Now you can enter the blogging scene as a hobby or build an asset you can sell one day.
Sites usually sell at around 40x the monthly profit, so if your blog makes $3,500 in monthly profit, you can expect to sell it for $140,000.
The blogging business model has gained a ton of popularity in recent years, because it has low startup costs, yet unlimited potential.
3. It's a Great Business Model
Have I mentioned that blogging is a great business model?
You can get started for as low as $50 and it's really up to you how much you make.
When you learn the blogging process and develop some marketing skills, there's really no end to a blogging business.
Want to focus on writing articles about your favorite hobby and monetize through ads?
No problem.
You can use your blog as a means to share your craft with the world, teach others how to improve their skills, and get paid in ad revenue.
But what if you want to diversify your income?
You can start promoting the products you use and earn a commission every time someone buys through your link.
How about using your blog to sell your own creations?
You got it. Set up an Etsy store and link to your own products from your blog posts and navigation menu.
Thinking about offering your audience an online course? That's a great way to add more value for your readers.
Each of these monetization strategies can be added at any point in your blogging journey.
What if you want to sell your blog one day? That's fine. You can list it on a website marketplace and make anywhere between 35-45 times the monthly profit.
This makes blogging such a great business model, because it gives you multiple ways to make revenue.
You can keep things as simple as possible or go all out and turn your successful blog into an empire.
Many bloggers end up creating a whole portfolio of blogs in different niches so they can capitalize on revenue from different markets.
And each niche teaches you something new about business.
There are endless possibilities.
4. To Learn Marketing and Online Tech
Marketing is one of the best skills to learn to make money online. And having the knowledge of how all the tech works also has its benefits.
If you're someone who has a ton of ideas and can't wait to turn them into reality, knowing how to write content and monetize your traffic means never having to wait for anyone else to do it for you.
But the best way to learn these skills is to get your hands dirty.
You can start off with the basics like setting up WordPress and writing articles.
Once you've got the hang of that, you can use a WordPress plugin to include product images and description boxes on your pages.
Then there's optimizing your blog posts to make them more compelling so people read for longer.
Each piece of the marketing and tech puzzle enables you to leverage more revenue to get the most out of your blogging efforts.
Then, if you feel confident enough, you can develop an online course, create a sales funnel, and send visitors to the sales page.
Understanding the tech behind a digital business brings a level of mastery you can feel proud of.
It provides you with total freedom in being able to take your blog in any direction you like.
And you can provide a seamless and valuable customer experience your readers will love.
5. To Work on Personal Growth
Entrepreneurship, blogging, and starting an online business all require a level of self development if you want to be successful.
You have to face your fears and build confidence in yourself to keep moving forward.
If you don't, you end up spinning your wheels trying to avoid failure and falling into shiny object syndrome.
But, it doesn't have to be all scary.
If anything, blogging is one of the safest businesses to start online, because you can be as active or inactive in your niche as you like.
You can even blog completely anonymously by creating yourself a pseudonym (and using one of these anonymous blog sites).
In all honesty though, if you want to develop yourself, and at your own pace, there's no better way than through starting a blog.
6. You Want to Make a Ton of Money
If your goal is to make money blogging, for whatever reason, then this is also entirely achievable.
As I've already mentioned, blogging provides endless opportunities for growth, both personally and financially.
If you master the skills of entrepreneurship and marketing, you can take your blog to unimaginable levels.
Or maybe you want to be like Jon Dykstra and make $96,000+ per month with simple niche sites.
Blogging can open up a lot of opportunities, such as starting a podcast, starting a YouTube channel, or even launching your own brand.
Working as an employee made no one a millionaire unless they had shares in the company.
If you want to make real, life-changing money, blogging could be your way to fortune.
7. To Develop a Skill or Interest
Apart from learning about marketing and online tech, starting a blog is also great for developing other skills in interests.
Do you want to learn how to write engaging and inspiring content?
Are you trying to understand how SEO works?
Or maybe you like teaching others what you're good at and want to get better?
Whatever skills you have or want to develop, blogging about it will be a tremendous help.
What about things you're interested in?
You don't have to be an expert or have any experience in what you blog about.
Starting a blog about something you're interested in can help you learn about it faster and hold you accountable to keep learning.
You can take the "beginner's mindset" approach to free yourself from getting everything right and just enjoy the process.
Want to learn how to code or knit a blanket? Start a blog and document the process with articles, pictures, and even video.
You can join Twitter or Reddit to get others involved and to motivate yourself to keep publishing.
8. You Want to Work Remotely
Do you want to work from home, in a coffee shop, or from a beach in the sun?
Well, that's entirely possible with a blog.
Gone are the days where you have to be tied to a desk in a stuffy office building that takes a 45-minute commute to get to.
Because a blog is accessible online 24/7 and can be monetized with ads and affiliate products, there's no need for you to be anywhere.
Even other business models would require your presence at times.
A local fitness instructor will need to train their clients. Selling your own products might require warehouse visits. And offering a service can sometimes involve meetings.
Owning a blog that helps people learn and drives a lot of traffic holds a lot of value, which can pay very well.
And that is essentially what any business or job does. It earns money by providing value to the market.
You just have to discover what you value and find interesting enough to share and turn it into a blog.
Doing that will get you closer to being able to work from where ever you want.
Do you love animals? Or plants? Or building things? Maybe you're into helping others improve their lives?
Chances are, you're passionate about something. And you can talk about it with a blog.
For example, let's say you're passionate about plants and decide to start a blog about Succulents.
You might wonder if it's possible to make a blog about plants successful, especially as niche as Succulents.
Well, look at the blog Succulents and Sunshine. This blog has a huge following on social media and ranks for over 40,000 keywords in Google.
With only 84 articles, this blogger has taken their passion for succulents and elevated it to a level of genius.
The brains behind this passion driven blog is Cassidy Tuttle, who uses her blog to sell eBooks, courses, a membership site, and succulent tracker app for android and iOS.
Snappy Pots is an additional brand selling 3D printed succulent plant pots that can be customized with snap-on shapes.
Monetized through digital courses and downloads, affiliate marketing, and ads, this super niche blog made over $100,000 in 2016.
Whatever your passion is, it is extremely possible to turn it into a profitable blog, no matter how big or small the niche is.
10. You Prefer Working Alone
If you've ever struggled to work in a team environment, then you'll love blogging.
You get to work by yourself and be your own boss.
It's like the perfect business for introverts, but even extroverts who prefer working alone will appreciate the flexibility of a blogging business.
Having some networking and communication skills would be helpful, but not essential.
It really depends on how much of the work you want to take on.
At the beginning of your blogging journey, you could do everything by yourself:
Setting up WordPress
Keyword research
Writing articles
…And so on.
Then, if you want to get help with your blog, you can hire some writers to manage the workflow.
The choice is yours. Hiring a team of writers or a virtual assistant for your blog differs greatly from an office of 20 coworkers.
Outsourcing some of your blogging tasks can be as simple as sending a few emails and paying them through PayPal.
Or, you can completely remove yourself from the business if you like and have an entire team of people running things for you.
It's really up to you, but blogging gives you that freedom to choose.
11. It's an Excellent Outlet for Creativity
Blogging is an extremely creative process, especially if you pair it with your own creative projects.
Many people turn to blogging because they love to write. Others blog because they get to share their works of art.
Yes, some forms of creative work might do better on social media, like Instagram or YouTube, but you have to remember…
You don't own these platforms, but your blog is 100% yours.
Lots of people make the mistake of building their creative business on social media and rely solely on those platforms to market their work.
…Only for the social networks to change their algorithms, or worse, delete their accounts.
As scary as that sounds, it happens sometimes.
That's why it's essential to use your blog as the hub of your work.
You can still use other platforms, of course, but use the power of a blog and organic traffic to maximize your efforts.
12. You Can Help People Solve Problems
Like all businesses, a blog helps people solve a problem in a niche market.
This can look like several things:
Saving people time when choosing the best tech products
Teaching people how to gain confidence when dating
Preventing weeds from growing in your backyard
Providing information to help businesses get more traffic
If you want a blog but you have little business knowledge, all you need to do is think of the most common struggles people face in your niche.
Problems really motivate people to take action and buy things.
When you know the needs and desires of your target audience, you can highlight their pain points to motivate them to make a change.
We spend so much time suppressing pain that we end up settling for less and never reaching our potential.
No matter what niche your blog is in, you can increase your chance of success by using the power of content marketing.
Here's what a good blog content strategy would look like:
Content that speaks to the pain: This raises their awareness of what the problem is and why they need to solve it.
Teaches them how to solve the problem: This helps the reader overcome the problems and inspires them for a better future.
Motivates them to buy something: This builds a desire for them to purchase something to get to the outcome faster and with less effort.
When your blog hits all these areas, you'll keep people engaged with your content and build trust with your readers.
You turn your blog into a problem-solving machine instead of regurgitating information that doesn't convert as well.
13. To Become an Expert in Something
We don't need to be a million miles ahead of someone to educate them about something.
To be seen as an expert to a few only requires us to be a few steps ahead of them.
But when we think about being a global expert, it seems impossible to match up to all the other experts in the world.
A blog has a powerful way of positioning yourself as an expert in your niche. And the more niche your blog is, the faster you'll be known as the go-to expert.
For example, it would be much easier to become an expert in Twitter growth for freelance writers than it would be to be an expert in digital marketing.
But establishing authority in a smaller blog niche aligns you with the broader one.
Experts in massive niches don't have time to publish high-quality articles for their blog. They almost always have a team of people writing on their behalf, or they don't even have a blog.
You can take advantage of this by finding out who the experts are who only produce content on social media. Then create blog content that provides more value than they do.
You'll end up with a blog so good, people can't ignore you.
14. Meet Other Bloggers and Make Friends
Let's face it. Entrepreneurship can get super lonely.
This is where a blog can become a powerful way of connecting with others and offer unlimited opportunities.
Collaborations
Partnerships
Events
Or even local meetups for coffee
Reaching out to successful bloggers in your niche might start out as some kind of exchange, but can often lead to meaningful friendships.
If you're not the social type to meet with friends on the weekend, then starting a blog could be a better way to grow your social circle.
15. You Want to Leave a Legacy
I can teach anybody how to get what they want out of life. The problem is that I can't find anybody who can tell me what they want.
You don't have to become the next Steve Jobs to leave your mark on the world.
The problem isn't how you'll make a difference, it's knowing what leaving a legacy looks like to you.
As the quote above suggests, most of us struggle to know what we truly want in life.
We might have an idea, but unless we are continuously growing, creating a significant life can seem impossible.
Starting a blog may not seem significant, but it can be a step towards knowing what you want to create in the world.
Becoming a blogger and content creator requires constant change and a creative mind.
But it's usually the process of starting a blog that sparks our imagination to find out what's possible and what we're capable of.
You can make a difference in many ways, by providing for your family or local community, contributing to your audience, telling stories, innovating change, or transforming an industry.
However big or small your vision is, a blog could be the first step towards leaving your own legacy.
Want to Set Up a WordPress Blog in 5 Simple Steps?
Now you know why starting a blog is a good idea. Here's how you can get your blog up and running as soon as possible.
Step 1. Register your domain
You can register your domain name at Namecheap, but what should you name your blog?
Choosing a domain name doesn't have to be hard.
If you're stuck with your blog name, why not go with yourname.com? If it's not available, add a random word to the end like world, here, place, etc.
Or, if you'd rather not use your own name, go with something obscure. For instance, the website IMPROB is a huge tech review site and Goop is a blog by Gwyneth Paltrow, both of which are highly successful.
Step 2. Choose a web hosting plan
Next, you'll need to choose a web host to install WordPress.
There are tons of web hosts you can choose from, but Namecheap is a great option for a first-time blogger.
Head over to their packages and check out their EasyWP Starter plan. This will give you everything you need for less than $25 for the first year.
Check Out Namecheap
Step 3. Launch WordPress
After you've chosen your Namecheap hosting plan and created your account, you'll be asked a few simple questions to set up WordPress.
First will be your website name and what you want to do with your website:
Then, you can either choose a temporary domain name or select your own:
Next select the WordPress theme (you can change this in the next step):
Skip the WordPress plugins and review the details on the next page:
WordPress will then be installed in the background, and you can access the WordPress dashboard once the installation is complete.
Click on the link to view the home page or the WP Admin button to access the admin:
Step 4. Install your WordPress theme
There are just as many themes to choose from as there are hosting companies.
The best thing to do is go with a free theme. You can always upgrade to a premium theme later.
If you want a one-click solution, Astra is a great option. It's free and has a pro version if you ever want to upgrade.
Check Out Astra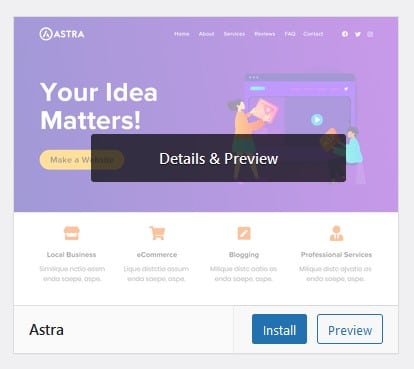 Step 5. Get posting!
Now all that's left to do is get posting. The sooner you add valuable content to your blog, the faster you'll start generating blog traffic and be able to monetize your blog (don't miss all the different traffic monetization methods).
In WordPress, go to Posts > Add New in the sidebar to add your articles.
To really nail this stage, it's a good idea to develop a blogging process to stay consistent.
Why Start a Blog? Conclusion
I hope that answers the question why start a blog? and gives you the inspiration you need to get started.
It doesn't really matter what your why is for starting a blog, as long as you've got one that compels you to take action.
Want to learn step-by-step how I built my Niche Site Empire up to a full-time income?
Yes! I Love to Learn
Learn How I Built My Niche Site Empire to a Full-time Income
How to Pick the Right Keywords at the START, and avoid the losers
How to Scale and Outsource 90% of the Work, Allowing Your Empire to GROW Without You
How to Build a Site That Gets REAL TRAFFIC FROM GOOGLE (every. single. day.)
Subscribe to the Niche Pursuits Newsletter delivered with value 3X per week