15 of The Best Google Keyword Rank Checkers To Help Track Your RESULTS
When you buy something through one of the links on our site, we may earn an affiliate commission.
Critical to all SEOs, affiliate marketers, and anyone else running a website is the tracking of data. You can't improve what you aren't measuring. To help you better check and track keywords, here is a list of the top Google keyword rank checkers on the market.
Best Rank Tracking Software to Check Google Keyword Rankings
One of the key things the top Google keyword rank checkers all have in common is accuracy. These tools churn through tons of data in an attempt to increase data points and improve ranking accuracy.
That said, there is no one-size-fits-all solution and there will be some discrepancies between the actual numbers and the projections from these tools.
1. Google Search Console
At the top of the list is Google Search Console and one that every website owner should be using. Not only is this free, but GSC is also going to give you the most accurate information about your website.
Unfortunately, Google long ago started restricting what data it provided. This cut down the accuracy of third-party rank checkers.
For checking competitors, you will still need to rely on third-party software. For your own website though, the first place you should start is Google Search Console.
Try Out Google Search Console Today
---
2. Semrush
One of the top Google keyword rank checkers on the market is SEMRush. Since 2008, the company has continuously developed its software to offer more features geared toward helping site owners better understand the competition as well as their own site.
Some of the core features of the SEMRush software include:
Competitor analysis
On-page SEO analysis
Rank tracking
Content marketing analytics
These are just a few of the core features but by no means an exhaustive list. In fact, Semrush boasts an impressive 60+ tools for everything from content to social media to SEO.
Try Out SEMRush Today
Learn more about SEMRush in our detailed review here.
---
3. Ahrefs
Tied almost neck and neck with SEMRush is the SEO software Ahrefs, and we have a full comparison of Ahrefs vs Semrush for you. In many respects, Ahrefs is just as effective and feature-rich and even more powerful with some features.
Some of the features that Ahrefs provides website owners include:
Keyword research
Content gap analysis
Total search traffic estimations
Backlink analysis and history
Search engine ranking position (SERP) history
Second to Google, Ahrefs has the most active search crawlers on the net constantly scraping through websites and indexing information to help improve the accuracy of its data.
While that doesn't make the data Ahrefs offers perfect, it does mean they offer robust data sets and extensive historical data.
Try Out Ahrefs Today
---
4. Serpstat
Serpstat is an all-in-one SEO platform offering a range of tools that can make managing SEO campaigns easier and provide you with data for making more informed and effective decisions.
Each of the Serpstat plans includes multiple powerful features that cover each of the core areas of SEO. Some of these features include:
Keyword research
Rank tracking
Website analysis
PPC research
Backlink analysis
Depending on which plan you choose, you can enjoy further benefits such as white label reporting, up to seven team member seats, and up to 25 million export rows for SEO reports.
Try Out Serpstat Today
---
5. Mangools SEO Tools
Mangools offers an easy-to-use suite of premium SEO tools that come in at a lower cost than some of the more robust Google keyword rank checkers like SEMRush.
Their software suite includes everything you need to support your initial SEO research and ongoing efforts, including:
Keyword finder
SERP watcher
Link miner
Site profiler
They also provide a range of courses for both beginner and advanced SEO users to help better use the software.
Try Out Mangools Today
---
6. Seobility
Seobility is another SEO software suite provider that advertises as being an all-in-one SEO solution. They have everything you need to manage your ongoing SEO efforts with a simple pricing structure and a free basic plan.
The software shares many features with the other tools on this list without some of the more advanced options you can find with Ahrefs or SEMRush. Some of the features of Seobility include:
Website audit tool
Website rankings
Backlink analysis
Keyword research tool
Content checker
One feature that is unique to the software is the TF*IDF tool. This stands for term frequency-inverse document frequency and is thought to help with understanding which terms are relevant to a given topic to help with ranking.
Try Out Seobility Today
---
7. Moz Rank Tracker
Moz is another of the most popular SEO tools available. Developed by Rand Fiskin and Gillian Muessig in 2004, the tool and blog have become a go-to resource for both new and experienced digital marketers.
The Moz SEO tool is incredibly feature-rich and a great resource for procuring data. Some of these features include:
Advanced backlink analysis
Keyword explorer
SERP tracking
Website auditing
Link opportunity finder
Aside from these core features, you can easily create custom reports either for yourself or for clients through branded reports.
There are also numerous tools that can aid in your understanding of how well your website performs on a technical level and historical data such as link reports, potential link spam issues, and more.
Try Out Moz Pro Today
---
8. Nozzle IO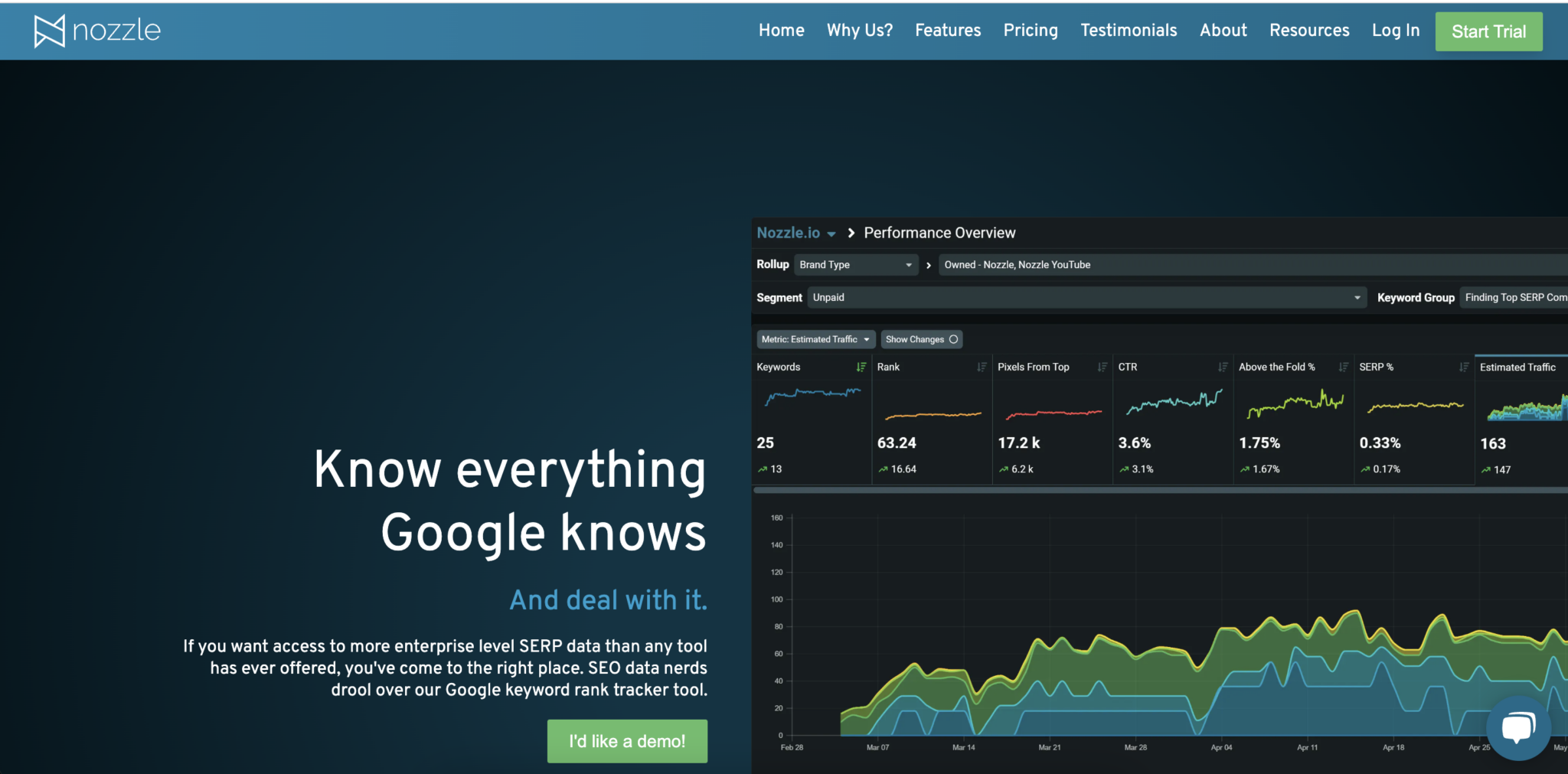 Nozzle is a good tool if you're looking for active brand monitoring across all platforms. Instead of just simple SERP rank tracking, Nozzle can track your brand across social media and domain matching.
Aside from the enhanced brand tracking features, some of the other key features of Nozzle include:
Competitive analysis
Keyword tracking
Agency management tools
Metrics tracking (traffic, search, PPC)
Mobile & desktop ranking
One of the unique features offered by Nozzle is the ability to separate your keywords into buckets for tracking purposes and then schedule how often you want the results updated. So, for example, you could track your money keywords daily and your less important keywords weekly.
Try Out Nozzle Today
---
9. Search Engine Reports
Search Engine Reports is a suite of completely free SEO and content tools that you can use through their website. The site is monetized through advertising and affiliate marketing.
There are almost two hundred different tools to help you with your SEO, content creation, and website management efforts. Some of their more popular categories of tools include:
Keyword tools
Backlink tools
Text analysis tools
Image tools
Website checker tools
Aside from the above categories, Search Engine Reports offers tools spread through ten other categories.
Be aware that you will be unable to save your information and the data they use may not be the most accurate, the downside of free software.
Try Out Search Engine Reports Today
---
10. AccuRanker
AccuRanker is one of the most popular SERP tracking tools around (and we have a full in-depth AccuRanker review). The software offers an incredibly accurate keyword rank tracker that can be updated on-demand, making it easier to understand your rankings and generate more accurate reports.
Some of the features you get with AccuRanker, aside from the core search engine ranking position tool, include:
Ability to segment and filter data
On-demand rank updates
Extensive SERP history
SERP features tracking
Competitor tracking
You aren't just limited to Google, either. With AccuRanker, you can track your rankings on Bing, Google, YouTube, Yandex, and Baidu. There are also integrations for Google Search Console and Google Analytics, Adobe Analytics, and Google Data Studio.
Try Out AccuRanker Today
---
11. RankWatch
Rankwatch provides a reliable and robust tool for checking your data including SERP rankings, backlinks, competitors, and organic traffic stats.
The company provides a range of benefits with each of its tools that will help in your ongoing SEO efforts, including:
Daily rank refresh
Local/city rank trackin
Monitor between 145k and 2 million+ backlinks
Automated alerts
White label reporting
These are just a few of the benefits with features of higher-priced plans including a dedicated account manager and dedicated training.
Try Out Rankwatch Today
---
12. WooRank
WooRank is one of the more basic Google keyword rank checkers with a suite of tools to help marketers and website owners examine their results and adjust as necessary.
The tool provides solutions for a range of roles including sales teams, developers, marketing teams, agencies, small businesses, and data services. Some of the features of the tool include:
Site crawling
Keyword tracking
Competitive analysis
Technical analysis
SEO checklist
For agencies, their premium plans offer white label reporting allowing you to use the tool to generate reports for clients.
Try Out WooRank Today
---
13. SEOptimer
SEOptimer is an SEO auditing and reporting tool that can help website owners to better understand how well their website is performing in the search rankings.
The tool has a basic user interface and straightforward tools. Some of the features of the SEOptimer platform include:
Keyword research tool
Keyword tracking tool
SEO crawler
Embeddable audit tool
Unlimited PDF reports
Overall, the tool is quite basic compared to some of the more advanced options like SEMRush and Ahrefs. However, it does get the job done at a fraction of the cost of these more advanced SEO solutions.
Try Out SEOptimer Today
---
14. The Hoth
The Hoth, which stands for hit'em over the head, is an all-inclusive SEO platform that offers everything from SEO tools to content, link building, PPC, and white label solutions as well as slightly over-the-top commercials.
Some of the features of their SEO tools include:
Rank tracker
Keyword planner
Backlink checker
SEO reporting
There are also features such as domain authority checking if you are keen on these sorts of data.
I would be negligent for not mentioning that some of the services from The Hoth have come under quite a bit of scrutiny from previous customers. While I won't link to them, you can look through communities like Reddit to find many people critical of the company.
The Hoth has high ratings but also actively engages in reputation management to try and minimize the effects of any negative reviews. So, outside of their SEO tools, make sure and do your homework if you choose any of their other services.
Check Out The Hoth
---
15. SEOprofiler
SEOprofiler at one time was a reliable tool that allowed you to check what your SERP rankings were for various keywords. The tool offered various features including:
Link analysis
Keyword research
Mobile rank tracking
Uptime monitoring
Many other features could also be utilized for furthering the SEO efforts of marketers and website owners.
However, as of May 2022, the website featured a popup informing people that the tool had been sold.
It's worth noting that the pop-up indicates the tool will be back up with feature updates. So, it is worth regularly checking back in to see when the new owners have the tool back up and running.
Check Out SEOprofiler
---
What To Look For In Google Keyword Rank Tracking
Aside from the core features which, as you've probably noticed, most Google keyword rank checkers have, there are a few key things to consider.
Pricing
The old adage that you get what you pay for is particularly true when it comes to SEO tools. For most tools, the expensive part is data collection.
There are many sub-standard tools that may be cheaper but offer incomplete and faulty data that could leave you worse than where you started. Try and strike the right balance between the features you need and the price.
Tracking Frequency
The more information you get and the quicker you get it, the better decisions you can make about your SEO strategy. That's why you want tracking frequency to be as short as possible.
It's hard to make accurate decisions with month old information. So, try and look for weekly and daily tracking.
Features
Aside from the core features of keyword tracking, rank checking, and backlink analysis, there are a few other features that can make running an SEO campaign an easier task.
Some of the other tools you should be on the lookout for include:
Any features that make it easier for you to make more accurate analysis and then execute on that information are a benefit.
Historical Tracking
If you truly want to build out effective strategies, information is your weapon, and the more of it you have the better you can strategize.
One other key consideration is how far back the data a particular tool has will go. As with any other strategy, information from the past can help to better guide your future strategy.
Some tools, like Ahrefs, have a wealth of historical data. Many others, however, don't have this level of data. If you truly want to build out effective strategies, information is your weapon, and the more of it you have, the better you can strategize.
How To Use The Information
All of the best data in the world won't help you if you don't know how to use that information for creating comprehensive and effective SEO strategies.
While the topic of how to use SEO information is too broad and in-depth of a topic for just a few paragraphs. So, to help you get started, here are links to our top SEO articles to help you get started:
You can also check out the Niche Pursuits SEO Archive for even more useful information including interviews from some of the top names in the business.
What's The Best Google Keyword Rank Checker?
While there isn't necessarily one Google keyword rank checker that's better than the rest, I personally like Ahrefs.
The tool has a wealth of information that makes it easier to create a more informed and comprehensive strategy. The tool also is continually updating to match the modern SEO landscape.
SEMRush is also a good tool with a ton of features. However, my one gripe is that they make you contact customer support when you want to cancel your subscription. The rest of the tools on this list can also be useful, but if you want a reliable tool that can help you get results, either Ahrefs or Semrush is the way to go.
Want to learn step-by-step how I built my Niche Site Empire up to a full-time income?
Yes! I Love to Learn
Learn How I Built My Niche Site Empire to a Full-time Income
How to Pick the Right Keywords at the START, and avoid the losers
How to Scale and Outsource 90% of the Work, Allowing Your Empire to GROW Without You
How to Build a Site That Gets REAL TRAFFIC FROM GOOGLE (every. single. day.)
Subscribe to the Niche Pursuits Newsletter delivered with value 3X per week