11 Best White Label SEO Tools To Help Grow Your Agency
When you buy something through one of the links on our site, we may earn an affiliate commission.
White label SEO tools are giving agencies an unprecedented ability to scale without having to take on more employees.
Repetitive tasks that used to require hours of manual labor are accomplished in a fraction of the time, making your agency more professional and efficient.
In this blog post, you'll learn about 11 different white label SEO tools that are changing the SEO industry, a brief overview of what each tool offers, and how you can go about choosing the right one for your agency.
In a hurry?
For an intuitive SEO tool that provides you with all of the features you need to help your clients succeed, and the reporting to highlight these wins, Semrush is an easy choice. And you can try for free with a 14-day trial.
The Best White Label SEO Tools
Not all white label SEO software is built the same. Some will help you manage your various SEO platforms from one dashboard, some will help you track specific metrics, and others will audit existing efforts and give insights into what decisions to make next.
Below, you'll find a range of the best SEO tools available, with a full breakdown of the most important features.
White Label SEO Dashboards Tools
Tracking hundreds of data points across various SEO platforms can easily become overwhelming for even the most experienced agencies.
SEO dashboard tools help make the job easier by organizing all your information together, like keyword research, local SEO, and competitor tracking, into one central location.
DashThis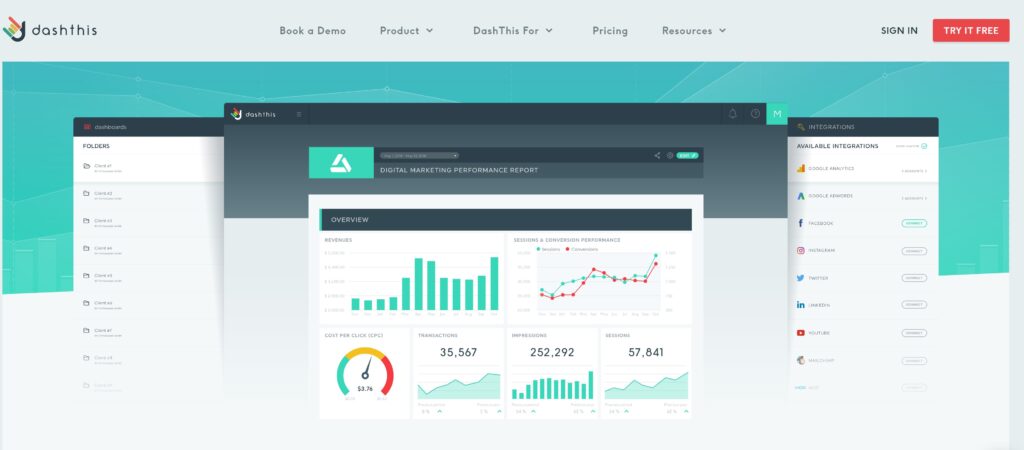 With over 34 integrations, DashThis pulls all your crucial KPIs from various platforms and organizes them into one dashboard.
You don't need to be a technical wizard to figure it out, either. The dashboard includes multiple preset templates to choose from so you can get started without wasting time learning the platform.
Weekly, monthly, and quarterly views are all available, which should help you understand your customer's SEO progress over different time periods.
Digital marketing agencies of all sizes (like we discuss in our WPromote review) can use the tool since it allows multiple colleagues to be added to one account.
Customized permissions are even available to allow employees to edit and create their own dashboards.
Your employees aren't the only ones with access to DashThis, either. Customers can get real-time analysis with the white label SEO reports distribution that sends automatic email dispatches to your client's email address.
Don't miss our full DashThis review to learn more!
Price: Individual – $39/mo, Professional – $129/mo, Business – $249/mo, Standard – $399/mo
---
Agency Analytics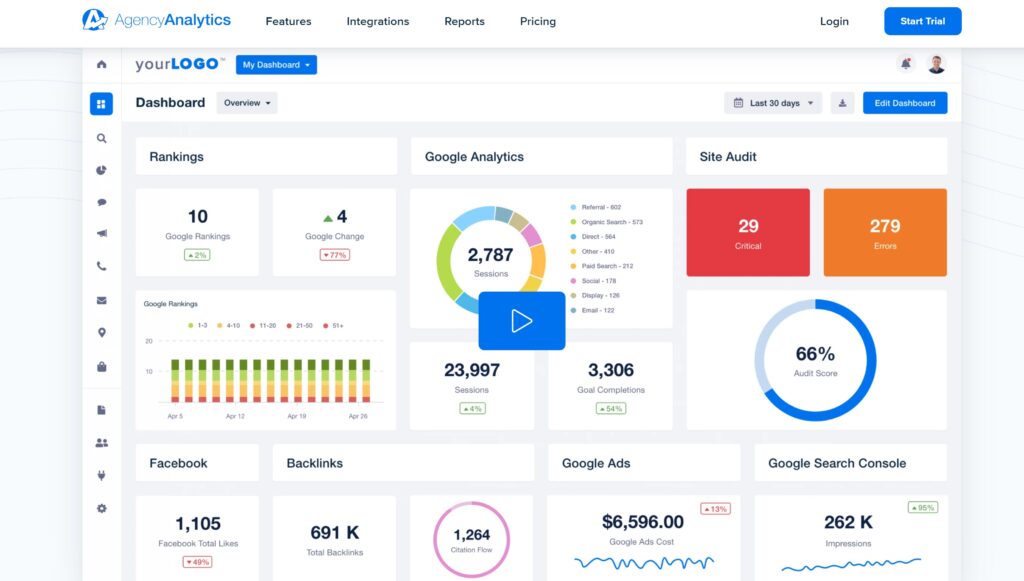 Agency Analytics boasts an impressive 70+ marketing integrations, including Google Ads, Google Analytics, Mailchimp, Shopify, Active Campaign, and more.
It's likely you'll be able to integrate your current SEO services into the dashboard to gather all your client reporting in one place.
Like most other SEO tools, creating your own custom dashboards is easy.
The drag-and-drop builder makes it easy to build, and customizable widgets are all white labeled so all your clients see is your own branding.
That includes uploading your logo, choosing your brand's exact color scheme, and even hosting everything on your own custom domain.
The large number of integrations and full white-label capabilities make Agency Analytics a great choice for agencies who already use a lot of SEO services but want them centralized in one dashboard.
---
Cyfe
Agencies looking for a professional marketing dashboard tool that is easy enough to read for employees and clients will enjoy Cyfe's offerings.
Not only can you integrate regular marketing SEO services like Google Analytics, but you can also integrate social media platforms, sales platforms, and online reviews.
The pre-built template options make it easy for an agency with little background knowledge to create a centralized dashboard.
Cyfe even claims agencies can get started within five minutes after signing up. The templates are customizable, so over time, your team can make adjustments that fit your specific business needs.
Any of the reports are downloadable, but you can also automate sending reports through email, so they never have to wonder what progress has been made.
Cyfe is unique in that it integrates several areas of marketing. Agencies that deal with social media or online reviews will benefit most from the unique offerings.
---
White Label SEO Analytics Tools
Analytics has become the tool agencies rely on to make data-driven decisions about SEO strategies.
Microstrategy's study shows that 65% of global enterprises increased their analytics spending in 2020.
To stay ahead of your competition, here are the best SEO analytics tools that keep your agency informed and ready to help your clients.
SEMRush
SEMRush has become one of the biggest SEO analytics tools in the market, and for good reason. The tool helps you with keyword research, internal link strategies, PPC campaign analysis, organic traffic insights, and even backlinks audits.
With SEMRush, your team can keep an eye on social media engagement and track keywords from all over the world.
Analytics are only useful if you understand them, and that's why SEMRush has made it easier to understand the data.
You can customize reports with your own branding and then add annotations that explain the data to clients.
That way, you don't have to spend time explaining every single metric and number. Instead, clients can go through the report on their own.
SEMRush is one of the easiest white label SEO tools to use for analytics, and all results are color-coded and broken down into easily accessible bits of information.
Agencies that want their employees as well as clients to understand everything that's going on will prefer SEMRush.
---
WooRank
WooRank hosts a suite of white label SEO tools that help you track multiple clients' websites to see crucial metrics.
The competitive analysis feature allows you to spy on your client's competition to create a unique SEO strategy that helps them succeed.
There's also keyword research and tracking that discovers keyword opportunities to make it easier for clients' websites to rank.
Before starting work on your client's SEO, WooRank runs a technical website audit. The tool allows you to analyze thousands of website pages to gain SEO insights that could be impacting visibility.
Your agency can even generate website scores that take into consideration all the SEO issues and potential of a website to send to your clients.
What makes WooRank perfect for agencies is the ability to customize your reports to add your branding. Clients won't even know you used a tool, and your agency can instantly become more professional and credible.
---
Authority Labs
Authority Labs make it easy to track rankings for your clients, no matter what their location, with automated local rank tracking. Results are filtered either by the state, city, or even postal code.
There's also mobile rank tracking since most users will be accessing sites from their mobile devices. Daily reporting gives your agency a hassle-free way to deliver results.
The tool is able to complete your analytics tracking thanks to powerful SEO data APIs and daily SERP data points. All your marketing agency has to do is fill in the domains, keywords, and locations, and Authority Labs can take care of the rest.
If your clients are curious about what the competition is doing to rank well, Authority Labs has a white label domain feature that tracks competition and compares them with your client's own website.
It doesn't matter how big your team is or how many clients you have; everyone can access Authority Labs at no additional cost.
That includes every team member in your agency and every client you have. For agencies that want full transparency with comprehensive analytics coverage, Authority Labs fits the bill.
---
White Label SEO Audit Tools
Information is how your agency will stand out from the competition, and white label SEO audit tools can help power up your analytics.
With these SEO services, it's easy to identify errors in clients' sites by running a comprehensive audit of their websites. That way, your agency can discover problems quickly and let clients know about any needed changes in no time.
Below are three of the best audit tools available and what each one has to offer.
MySite Auditor
MySite Auditor is built perfectly for agencies by letting you embed an audit tool directly onto your website to generate leads.
The audit form has fields for a website domain, a keyword, and an email. As website owners fill out the form and submit it, they will get access to a free audit, and your agency will get a new lead.
The widget is perfect for creating a sustainable funnel for your agency so you don't have to spend more time and energy getting leads and turning them into clients.
MySite Auditor lets you add as many forms as you need, and it includes other forms as well, like a web page auditor.
Your agency can also add its own colors and logos to the form so it looks like your company is in control of the entire process.
Potential clients will be happy because the report only takes 15 seconds to generate, and over 50 different SEO signals are used to track progress. Agencies looking to increase their lead funnel should look to MySite Auditor to get more clients.
---
SEOptimer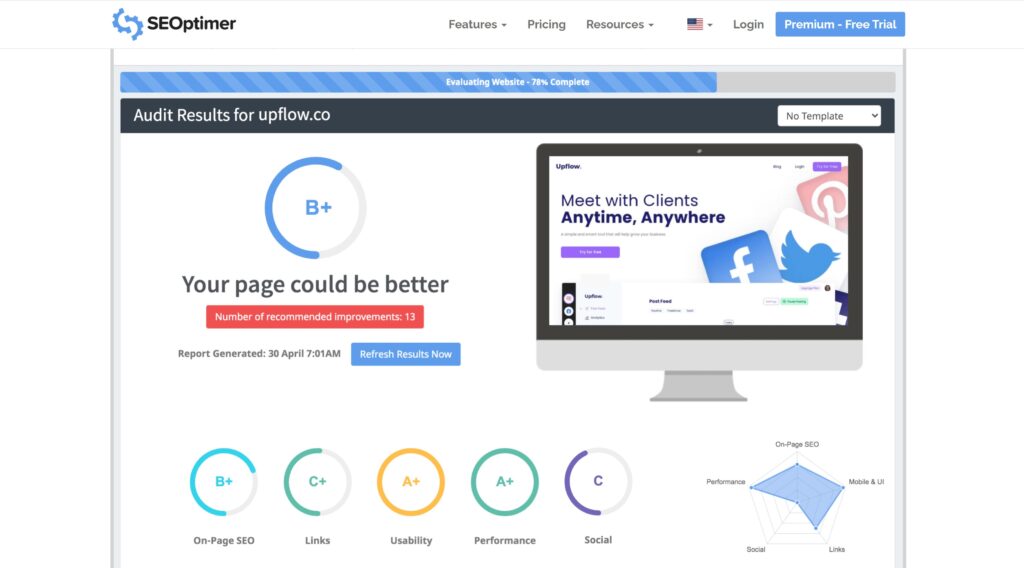 SEOptimer is an easy-to-use SEO audit tool that tracks a number of SEO factors that impact ranking and reviews them to evaluate a website's performance.
The tool then provides actionable insights that agencies or website owners can use to improve performance. The audits that SEOptimer creates are easy to read and look professional.
Your agency will be able to upload its own logo and add company details, colors, and other branding opportunities to make it look like it was created by your own team.
Audits are generated within seconds and come in several different languages, including French, Spanish, German, and more.
Like MySite Auditor, SEOptimer allows your agency to embed an audit tool directly onto your website to generate more leads and interest.
The tool also integrates with popular email marketing SEO services like Mailchimp, Active Campaign, and Salesforce, so you can easily track new leads that come through the funnel.
---
WooRank
Making its second appearance on this list, WooRank is the perfect tool for agencies that want one tool to perform multiple functions for their SEO business.
You can track analytics like mentioned above, but you can also run audit reports for your clients.
The tool is able to look through on and off-page SEO factors to determine what's working and what isn't.
It then provides a score based on the performance of the website and some actionable insights that can be used to improve rankings.
It also includes a number of other features like competitor reports, keyword analysis, link building advice, and more.
The best part about WooRank is that you don't need any technical skills to use the tool.
The interface is incredibly user-friendly, and your agency can customize reports with its own logo, colors, and more. Agencies looking for a comprehensive tool that handles multiple SEO functions can count on WooRank to perform well.
---
White Label SEO Reporting Tools
Although some of the tools above offer SEO reports, they usually involve specific areas of SEO like audits or analytics. The white label SEO reporting tools below give you a fully comprehensive view of multiple data sources, so clients get the full picture of your agency's work.
ReportGarden
ReportGarden has everything your SEO agency needs to produce professional and detailed reports. The tool groups together all PPC campaigns, SEO campaigns, and social media accounts into one place.
There is no shortage of integrations with over 50 different tools you can pull data from, including Instagram, Google Analytics, Facebook, Active Campaign, and more.
It also offers an automated white label SEO reporting feature that aggregates data from any of the tools your clients use and pulls it into one easy-to-read report.
Not only that, but ReportGarden can manage keyword rankings, perform SEO audits, and includes a centralized dashboard with real-time data.
Your agency will even be able to automate the scheduling of reports to keep your progress consistent with clients to build better rapport.
Clients are also able to gain access to their reports for full transparency. With a large focus on PPC campaigns, ReportGarden is perfect for agencies who are looking to generate quick leads for clients while still being able to prove all the results.
---
RankRanger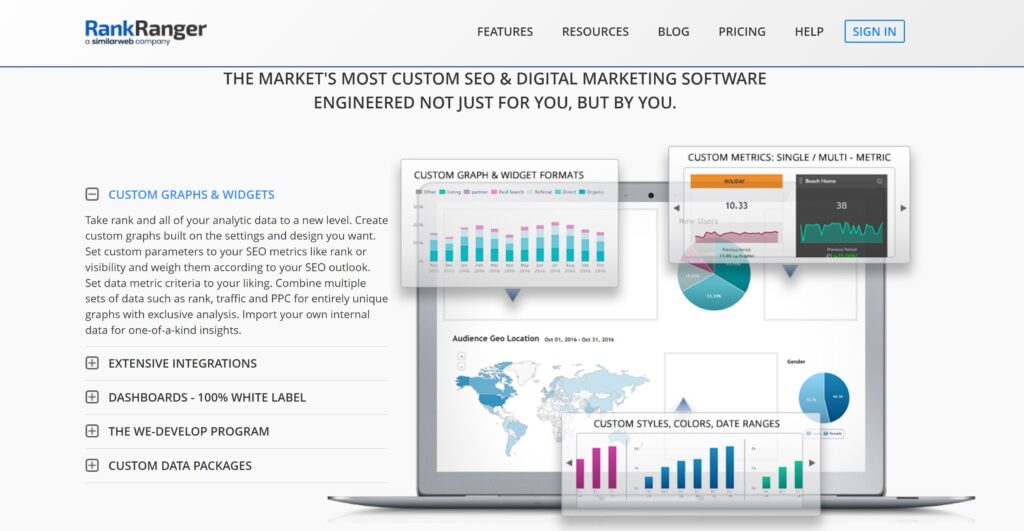 Recently acquired by Similarweb, RankRanger is a powerful white label SEO reporting tool that helps agencies track their client's rankings and performance across search engines.
The tool can pull data from all major search engines, including Google, Bing, Yahoo, YouTube, and more.
RankRanger includes some neat bells and whistles, like automated PDF reports that you can brand as your own with a custom logo, color scheme, and more.
There is also an option to compare rankings between two websites so you can see which one is outperforming the other.
The tracking process is broken down into different time periods, like weekly, monthly, and quarterly, to give the full picture of your SEO progress.
What makes this tool powerful is the customization options for displaying data. Your team can create custom graphs based on unique parameters your agency believes are key to performance.
---
How To Choose The Best White Label SEO Platform
Choosing the best white label SEO platform for your agency can be a daunting task. A range of features for each platform keeps you guessing on which one delivers the most value. To make the decision easier for you, below are the essential features you should be considering for your white label SEO tool.
Customer Support
Digital SEO agencies deal with dozens of clients a year and count on the tools they use to perform well, especially if the tools are white label SEO services. Clients only see your brand and are easy to blame your agency instead of the tool you are using.
That's why it's incredibly important your white label SEO tool have customer support available in case something goes wrong.
The tool you choose should have a dedicated team who can answer your questions quickly and accurately when needed.
Ideally, you want a customer service that is available 24/7 for any issues. This is especially true if you have clients from all over the globe where time zones become irrelevant.
Most white label SEO tools will offer higher tiers of customer support if you purchase higher plans.
Research the different tools you are using and determine if the customer support offered for the plan you want to purchase matches the needs of your company.
Transparency
Working with a white label tool requires a higher level of transparency compared to tools that only appear on the agency side of your business.
You need to be sure your clients can access the data and reports anytime with one click. The best white label SEO tools should provide an easy-to-use dashboard where you, as the agency, control who has access to the tool.
This will give your clients a sense of trust in terms of understanding the progress of their campaigns.
The last thing you want is to have clients asking for reports and data and not being able to deliver in a timely manner. If the white label tool you choose has transparency options, that's a huge plus.
Some of the better tools will include automated scheduling that sends out reports to clients regularly as well as separate logins for the client.
Clients are more dedicated to agencies that develop deeper relationships by allowing them to be a part of the progress. Find a white label SEO tool that facilitates this type of relationship.
Reviews
The easiest way to choose which SEO platform your agency uses is to read customer reviews. Look for user experiences with the tool you are considering to get an accurate picture of what it can do and if there are any limitations worth knowing about.
Reviews also help you understand how other agencies have used this service before so you can be sure it meets your needs.
Popular websites like TrustPilot or G2 can provide insight into the features of the white label SEO tools you are looking at.
Use multiple sources to make sure there is consistency in how people feel about the tool and if they positively recommend it or not.
Knowing this information ahead of time gives you leverage when making a decision on which platform will best suit your needs.
If possible, reach out to other agencies you know and see what their experience has been. Asking questions in real-time gives you immediate feedback and allows you to ask extremely relevant questions.
Cost Analysis
Don't get caught up in the shiny bells and loud whistles when researching different white label SEO tools. Every platform will highlight all the features and advantages your agency will gain, but they will also have a high price tag associated with it.
Make sure you look closely at the total costs of using these services, especially in terms of customer support, training, and implementation.
Even though an SEO tool comes with features that could be beneficial to your business, it doesn't mean you actually need them.
Your best bet to finding a tool that actually helps your business without eating into your budget is to make a cost-benefit analysis of the tools available.
Weighing out the cost versus what features you will use creates clarity and helps you choose a tool that fits both your budget and your needs.
In the end, an effective white label SEO service should help increase revenue for your business while providing excellent services to your customers.
Customization
Sending a client an SEO report that is professional, clean, and looks like you made it in-house is how you retain customers and increase lifetime value.
It builds trust and loyalty to your company and gives you an edge over the competition. The white label SEO tool your business chooses should allow for customization that is unique to your agency.
Your team should be able to quickly and easily customize the look and feel of reports, adding your brand's logo or using custom colors or fonts.
You can even add in automated messages that appear at certain points of the report. These are all ways to create a unique experience for your clients and create a reputation around the quality your brand produces.
If the reports are useful and they look good too, your agency has a better chance of impressing clients and keeping them around.
The Types of White Label SEO Tools
The final consideration when choosing a white label SEO tool is the essential function of the platform. You can find tools that complete a number of functions but most will concentrate on completing specific actions for different areas of SEO. Below are the different types of SEO white label tools and what they mean.
Dashboards
SEO tools that contain a dashboard have the ability to gather data from multiple sources and measure the performance of your campaigns in one place. It provides visibility for your agency's SEO efforts, giving you insight into what is working and where improvements are needed.
Dashboard SEO platforms are able to integrate with multiple marketing tools.
Google Analytics, Mailchimp, and Active Campaign are just a few examples of the platforms you can gather together and organize in one centralized location.
With all the data of your SEO campaigns in one place, your agency will easily produce comprehensive reports that give clients a good overview of the progress being made.
Analytics
White label analytics platforms are focused on gathering as many data points for your agency's SEO efforts as possible. These tools track and analyze data points like clicks, impressions, and social engagement. It's a great way to keep an eye on your SEO campaigns and measure the effectiveness of different strategies.
Much like the other tools, you'll be able to easily show clients what key metrics are improving in a campaign and how it is progressing.
Your agency will be able to use the data to make future decisions about campaigns as well. The added information can help give your agency an edge over other marketing firms that have to manually gather all the data.
Audit
Audit tools take a look at an existing website or webpage and score it based on a number of key SEO metrics. Clicks, impressions, time on page, and other factors are all considered when running an SEO audit. The audit works perfectly for clients who either haven't started to work on SEO, or the efforts they're making aren't producing the results they want.
An SEO audit is really the first step agencies make when working with clients, and it provides an easy lead magnet option for your agency's website. Some of the tools even include widgets you can embed directly onto your website to create lead funnels.
Reporting
White label reporting SEO tools do exactly how the name sounds; they're able to pull data points from multiple sources and compile them into a report. It's an easy way to provide clients with detailed summaries of all the progress being made in their campaigns without having to generate PDFs each time manually.
The reports should be easily customizable, so your agency can add branding elements such as logos, fonts, or colors. You should also be able to customize the reports themselves and include data your agency feels is vital to the SEO campaign.
Conclusion
Agencies that take advantage of white label SEO tools immediately provide professional and reliable reports to their clients without any extra work.
While there are plenty of features inside SEO tools, the type of tool you choose ultimately depends on your business needs and goals.
Regardless of which one you end up choosing, you have the opportunity to make your agency more efficient without adding any extra costs to your business.
Want to learn step-by-step how I built my Niche Site Empire up to a full-time income?
Yes! I Love to Learn
Learn How I Built My Niche Site Empire to a Full-time Income
How to Pick the Right Keywords at the START, and avoid the losers
How to Scale and Outsource 90% of the Work, Allowing Your Empire to GROW Without You
How to Build a Site That Gets REAL TRAFFIC FROM GOOGLE (every. single. day.)
Subscribe to the Niche Pursuits Newsletter delivered with value 3X per week