13 of the Best Free SERP Checkers (That are Actually Free)
When you buy something through one of the links on our site, we may earn an affiliate commission.
If you're looking for the best free SERP checker, you probably want to rank high in the different search engines.
After all, it's what we all want, yeah?
SERPs may not sound too exciting, but there's something undeniably pure about them, and they're essential information that we need to study.
In terms of SEO strategy, whilst the rest of your digital marketing activities work together in the background, the SERPs are where it all comes together. Only on your search engine results pages (SERPs) can you see what's working and what isn't.
That's why it's so important to track your search engine ranking regularly. In a world where two spots on a SERP means your organic traffic is cut in half, every position matters.
Drop too far in the Google search results, and you could be out of the game entirely.
In this article, I will show you 13 free SERP checker tools to consider. They're free to use and offer some great features to help you with your SEO strategy.
Let's get to it.
Best Checker
Because tracking your SERPs gives you such a competitive advantage, there are dozens of services that can help. The vast majority of tools to track your performance with search engines are paid options, but there are also several free versions. Often, these tools will only provide you with basic tracking info. However, sometimes, that's all you need.
Unlike other lists you may find, the ones below are free. That means no free trial or "kinda-free" options — absolutely, 100% free.
You may have to set up an account, but that's the only commitment you'll need to make.
SERP Robot offers a paid version, but the free version comes with ten free keywords and serves up ten results every time. The best part is that this data comes to you in real-time, so you know you're getting only the most relevant information.
The other best part? Unlimited searches.
Some trackers limit how much you can search per day, but SERP Robot allows you to search for free as much as you want. That's very convenient if you're bootstrapping an agency with multiple clients.
One of the significant downsides is that it doesn't provide a SERP tracking history. You'll have to track it yourself somehow (like using the rank tracker spreadsheet listed below).
Curiously enough, SERP Robot also doesn't allow mobile devices or tablet data tracking, only desktop. Considering more than half of all website traffic comes from a mobile device, I'm not sure why this SERP feature was overlooked.
---
SEOquake Extension
SEOquake is not a service per se, but it is a valuable Chrome extension worth a slot on your browser.
For a free SERP tool, SEOquake is amazing. Its primary purpose is to give you a quick look at a website's technicals that might affect how much love it receives from the search engines: on-page SEO, backlinks, and keyword density, among others.
However, for SERP purposes, it also gives you a quick look at a site's page ranking for a specific keyword. Alternatively, you can also see how hard it may be to rank for a keyword which can help with your overall SEO strategy.
The best part about SEOquake can also be its worst. As a search results tracking tool, it's incredibly robust and versatile. For new SEO analysts, though, it can be a little overwhelming.
Still, it's worth taking the time to learn how to use SEOquake properly. Its non-intrusive nature and quick deployment mean you can use it in tandem with other tools to provide a more comprehensive look.
---
What's My
What's My SERP is one of the most well-known SERP checkers (hence, the name), but that's for a good reason: it rocks.
Here's a rundown of all the features that What's My SERP gives you for free:
100 search engine per
Location for local

10 Keywords per day

3-month history

Complimentary browser extension
Seriously, if you only use one SERP analysis tracking tool on this entire list, What's My SERP could be it. It's a tool made by digital marketers, and it shows.
And in case the free tracking tool wasn't enough, you can pay $5 a month to get a few more features, such as more keywords.
You also won't need to input a Captcha form every time, which is worth its weight in gold — I can never find all the boxes that have stoplights in them anyways.
---
Zutrix SERP Checker
Zutrix loves the number ten. Not only do you get ten daily checks on your ten keywords, but you get ten on-demand updates.
Not bad. I would give those features alone ten out of ten stars.
Just as important, Zutrix SERP checker tool offers both mobile and desktop rankings from the search engines, as well as the basics: visibility, traffic, and position changes (learn more in our Zutrix review).
The interface is pretty simple-to-use; create an account, and you get started in minutes.
You'll then have access to one of Zutrix's most unique features: Keyword lab – a keyword research tool. As the name indicates, this is where you can "test" multiple keywords to see how they would impact your search engine optimization strategy. This keyword research is important if you're about to roll out a new content campaign but are unsure what the results will look like.
---
Ahrefs
If you've been in digital marketing for any period of time, you've most likely heard of Ahrefs. "Robust" doesn't even begin to describe it; compared to other tools, it's a heavyweight all-in-one SERP analysis tool capable of powering the SEO strategy of your entire agency.
With that much horsepower at its disposal to website owners, it makes sense that it would have a SERP checker to analyze search results. Their free version is available on their website and doesn't require signup. It's great for doing a website audit.
The amount of information that Ahrefs provides for free is spell-binding. Domain rating, backlink count, organic traffic, keywords — Ahrefs gives it all away, in addition to SERP positioning and history.
The only drawback is that much of this information is limited to free users. The trove of information described above is only available for the first three spots, and overall, SERPs are visible for the first ten.
Still, since Ahrefs pulls data from over 200 countries, it's worth using, especially for global SEO campaigns.
Try the Ahrefs Serp Checker Here or check out our full Ahrefs review.
---
Surf
On the surface, SERP Surf SEO tool isn't much to look at. Its plain white exterior and simple blue boxes are underwhelming, but you shouldn't let that put you off.
SERP surf's strength is in its speed. All you do is punch in a domain name, drop in a few keywords, and it'll spit out the SERP results reasonably quickly.
Unfortunately, there's no keyword ranking history so you'll have to keep search engine rank tracker notes yourself, and it only allows you to search five keywords at a time (most allow up to ten). There's also no paid version either, so what you see is truly what you get.
---
(From Report)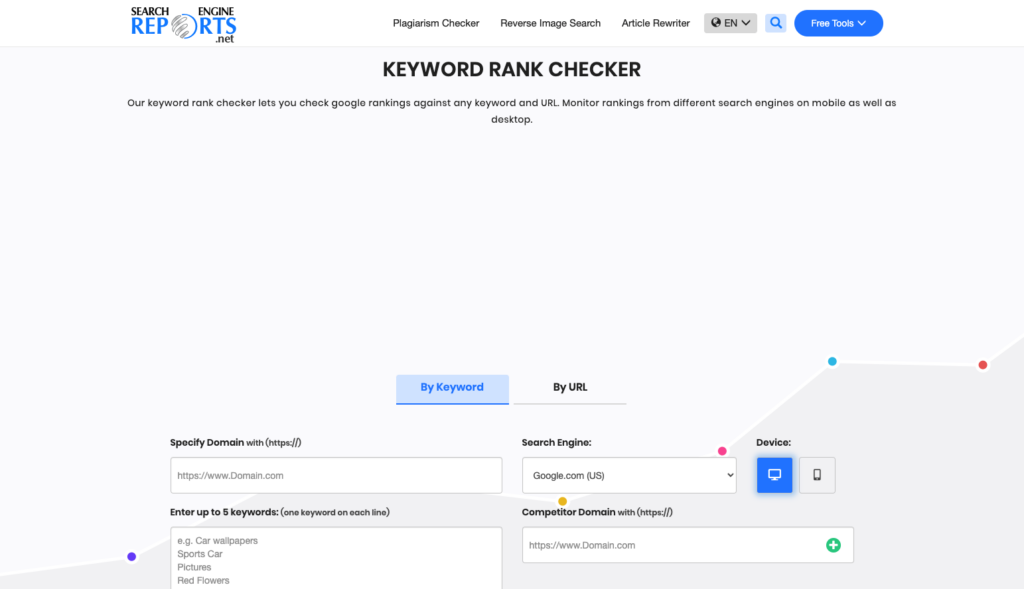 Keeping with the same minimal design, the Keyword Rank Checker from Search Engine Report is another SEO tool worth considering.
The Keyword Rank Checker has all the standard features to analyze your place in the search results: spaces for ten keywords and your competitor's domains, geographic restrictions, and desktop or mobile configuration.
What it doesn't have is not usually necessary. You can't track the rank history (which means you'll have to do it manually), and there's also no ability to export results. This combination means that doing long-term rank tracking as part of your website audit is cumbersome.
Once again, though, speed is the name of the game. The Keyword Rank Checker is fast, efficient, and reliable to analyze SERPs.
What more could you want?
---
UberSuggest
Ubersuggest has been around a while, but it's had a surge due to a recent acquisition by Neil Patel. It has many features, but its SERP checker is one to take note of for checking SEO metrics.
Unlike others on this list, the interface of this SEO metrics tool is bright, slick, and easy to use to analyze your place in the search results. It's incredibly intuitive and beginner-friendly, making it the perfect option for new digital marketers.
As an entry-level software, the amount of info you receive to analyze search results is excellent. Ubersuggest will give you keyword and content ideas, search volume, CPC, and ranking difficulties.
Ubersuggest will track your keyword ranking history to analyze keyword performance over time if you create an account. The only downside is that you only have three searches per day, whether you create an account or not.
---
(From Link Assistant)
The major downside to this SERP tool is that you have to download it. You have to give them your name and email address to do that.
Tedious, I know.
But once you do, you'll have access to more tools and resources than most other paid services. That's right, not just free SEO services but paid resources.
Here's a list of what you get for free:
Unlimited number of websites

Unlimited number of keywords

comparison for two sites

500 URL crawl audit

1100 backlinks

Competitor for one
Organic in 300 search engines
Plus much more
If you can stomach downloading software to your hard drive, Link Assistant's Rank Tracker should be high on your list.
Try the Link Assistant Rank Tracker Here
---
Thruuu SERP Checker
Thruuu has a funny name, but its purpose is straightforward. It has space for up to one hundred pages of search results, with SEO metrics information on article length, meta description, and publication date.
In addition to that, you also can search via desktop or mobile, then export it when you're done.
Best of all? It's 100% free.
Thruuu has two significant downsides, however. First, you can't search your own domain, which limits research. Second, you can only search one keyword at a time.
While it's not the most robust — Thruuu is still a reliable and straightforward SERP tool to aid your SERP efforts.
---
Seobility
Seobility is another SERP rank checker worth investigating. With space for up to ten keywords at a time and import/export options, it's handy for long-term search engine ranking research.
Competitor analysis is also relatively robust. You set the primary domain (you), then type in three of your competitors' domains. From there, you can monitor where your website position stacks up against them in the search results over time.
The keyword ranking is similarly stout. Not only can you see where you line up on the SERPs for relevant keywords, but you'll also get information about traffic and paid competition.
Unfortunately, there's only one search per day for the free version.
Try SEObility Rank Tracker Here
---
Tools

) (From Small
There is a lot to love about the Keyword Rank Checker from Small SEO Tools.
First, there are numerous features. You can track ten keywords and gain insight into their position, search volume, and search results. Furthermore, each search term returns an unlimited number of results.
The only drawback is the lack of competitive intelligence. Most free trackers let you see your domain compared to others, so it would've been nice to see that here too.
---
Search Console
This one could be considered cheating, but it fits the two primary criteria for this list: It's a Google keyword rank checker, and it's free.
Of course, you can only use Google Search Console on websites you own, but the amount of info you get is unparalleled.
Which makes sense, considering it's their information, to begin with.
You can see the average ranking of your website, identify the most visited pages (and least), and even determine your CTR. Historical data is almost a given. Everything you want is right at your fingertips.
Think of GSC as the nervous system of your site; you name it, and you can learn it. Of course, that means you'll have to look elsewhere for competitive analysis, but no SEO toolkit is complete without GSC.
What is a ?
Now that we've covered all the best free SERP checkers, let's ask the obvious:
What is a SERP?
SERP stands for Search Engine Results Page. It's what everyone sees when they input a query into Google. The list of results is a SERP.
Why does it matter?
As stated above, where you rank for a keyword is indicative of how much traffic you'll receive. Rank near the top, and the sky's the limit. Rank near the bottom, and you might as well be invisible.
Not everyone needs to rank for every keyword, but you need to rank for high-value keywords in your niche. If you sell BBQ grills, for instance, you'll want to rank for "best BBQ grills." The affiliate sales off of that word alone could be enormous.
How Can a Help You?
SERP checker tools are valuable because they allow you to track your progress over time. You can see where you're at in real-time and measure it up against the traffic you know you're receiving.
If you're lower, you can work on your SEO. If you're higher, write adjacent content.
It's all about gaining intelligence on your current positioning, and in SEO, knowledge is everything.
How to Manually Track Your SERPs
If you don't want to pay for a SERP checker tool to keep tabs on your place in the search results and don't like any of the free resources above, you can do this for free. You may have to anyways if none of the trackers provide historical data.
Tracking your data is simple.
Create a Spreadsheet. Either Excel or Numbers (if you're a Mac person) will work fine. Or, if you want it to be shareable, use sheets. A basic draft will do fine.

List High-Value Keywords in Each Row. Put all of the keywords you want to rank for in the left column. Choose as many as you want, but the more you pick, the more work it'll take to track.

Record Dates Over Time. At the top of the page, put consecutive dates across the top. This can be spaced out weekly, monthly, or quarterly, but find a cadence that works for you. Record the ranking (on an incognito or private window) for each keyword on each date.
Which One Fits Your Needs?
Determining the best free SERP checker to check out your search results is a personal decision. Each has its unique features but seeing how they complement each other is where the real work begins.
As you'll soon find out, you don't need to pay a ton of money for SERP analysis features you may not need. Most digital marketers can get started analyzing their search engine results for free, provided they're willing to put in a little extra time to dig through the free services.
Want to learn step-by-step how I built my Niche Site Empire up to a full-time income?
Yes! I Love to Learn
Learn How I Built My Niche Site Empire to a Full-time Income
How to Pick the Right Keywords at the START, and avoid the losers
How to Scale and Outsource 90% of the Work, Allowing Your Empire to GROW Without You
How to Build a Site That Gets REAL TRAFFIC FROM GOOGLE (every. single. day.)
Subscribe to the Niche Pursuits Newsletter delivered with value 3X per week