AccuRanker Review: Is It Good For More Than Rank Tracking?
When you buy something through one of the links on our site, we may earn an affiliate commission.
This AccuRanker review examines whether the tool is essential in the arsenal of an SEO practitioner.
Keywords are still an important factor in the efforts of SEO professionals to rank a website page as high as possible.
As a solo entrepreneur or even part of an agency, you must have complete information about every keyword for the success of your campaign. And AccuRanker is one of the tools that can give you that information.
This AccuRanker review will cover:
What AccuRanker is
AccuRanker features
Pricing
Pros and cons
Alternatives
After reading the article, I hope you'll be able to make an informed decision about whether or not AccuRanker is the right tool for you. Or the more likely case of which of the alternatives better suite your needs!
---
AccuRanker Review
Value for Money

Ease of Use

Features

Customer Support

Likely to Recommend
Summary
AccuRanker is a great tool for rank-tracking, but it is costly. It would be best to remember that you will still need an extra tool like Ahrefs or SEMRush for more complex SEO tasks. However, AccuRanker is the right tool for SEO professionals or agencies. Try AccuRanker here!
Pros
Easy to use
White label reports
Very good as a ranking tool
Wide range of integrations
Good support
Cons
Very expensive as a ranking tool
Data refresh can take a long time
What is AccuRanker?
AccuRanker is a great rank-tracking tool on the market when it comes to tracking multiple keywords in an instant. With its help, you can save time and make informed decisions based on data rather than guesswork.
In this article, we'll review all the features that make AccuRanker stand out from the competition and provide a detailed review of the tool.
No time to read the whole article? You can go straight to AccuRanker here.
AccuRanker Review: The Best Alternatives
AccuRanker Features
To run an effective SEO campaign, you need a tool that will help you track all of your websites, keywords, and rankings across desktop and mobile devices. This way, you can see how your SEO strategy is performing and make the necessary changes to improve your results.
Tracking keywords is the pillar function of Accuranker.
Keyword Rank Tracking
AccuRanker is a keyword rank-tracking tool that is used by many companies all over the world to improve their organic search performance. The resulting insights from keyword performance on Google, Baidu, Bing, Yandex, and YouTube help with optimizing.
Getting started with AccuRanker is extremely simple. All you have to do is add your domain, target keywords, and competitors.
AccuRanker is an excellent tool for tracking your performance in both Google and Bing for mobile and desktop.
One thing to remember is that AccuRanker counts the same keyword being tracked for both Google and Bing, or desktop and mobile, as two separate keywords. In other words, tracking the same keyword on both search engines and both devices will count as four keywords towards your subscription.
You can add competitors to AccuRanker to monitor their performance relative to your business. This way, you can keep tabs on your competition and see how they are faring. The competitor data will also be available in Share of Voice. Undoubtedly, you can easily track their progress related to your keywords.
Other reports and metrics include:
Share of Voice: The "Share of Voice" metric measures the percentage of clicks your site receives for the keywords it ranks for in Google.
Top Competitors: The "Top Competitors" report shows you which other websites are ranking in the top 10 results for your keywords.
Ranking Distribution: The "Ranking Distribution" report splits your keywords into six groups based on their ranking position, so you can see how evenly (or unevenly) your website is distributed across those groups.
Winners and Losers: The "Winners and Losers" report lets you see how many of your keywords moved up or down in rank over a given time.
Average Rank: The "Average Rank" report shows you your website's average ranking for all its keywords on a given day.
Share of Voice is an AccuRanker metric adapted from the field of Marketing Analytics. This metric allows you to compare your brand's popularity to that of your competitors.
Share of Voice (SoV) is a performance indicator that shows how well your most important keywords are doing.
It's calculated using all the keywords that rank between positions one and twenty. The average CTR for each position is multiplied by the keyword search volume, so you can see if high-traffic keywords are losing or gaining ground.
Keyword Analysis
AccuRanker is an excellent tool for tracking all your keywords and automatically updating them. For local SEO, you can add the location to your search. Additionally, you can view results from either Google or Bing (or both), depending on your preference.
To narrow down your results even further, you can select mobile, desktop search, or both. You can also create tags for specific keywords. This makes it easier to organize your results once your list gets longer.
To save time manually importing keywords, you can use tools like Google Search Console and other third-party tools to automatically import them, saving you hours.
Competitive Performance Analysis
AccuRanker's competitor analysis features enable you to rapidly determine your most significant competitors and study their on-site content. Understanding what content works for them allows you to adjust your content strategy to improve your SEO rankings.
AccuRanker's Share of Voice metric is a great way to estimate the percentage of clicks you receive for specific keyword searches. By entering your competitor's data into the system, you'll see how your Share of Voice compares. This is a valuable metric to track because it can help determine if you're gaining or losing visibility in the SERPs.
The Winners & Losers report is a valuable tool that lets you see how your competitors' keywords perform over time. This can help you adjust your keywords and strategies to stay ahead of the competition.
The competitor ranks tab provides a list of the keywords entered into AccuRanker. It shows how well competitors perform for those keywords.
Report Builder
With AccuRanker, you can create fully customized reports to share with whomever you choose - your team or your clients. If your clients don't have much SEO knowledge, you can make these reports as simple as possible by including only the need-to-know information.
Reports can be scheduled daily, weekly or monthly, giving you one less thing to think about. There's also the option to have these reports automatically emailed to specific email addresses on your schedule.
You can choose four report types: PDF, CSV, Excel, or a Google Sheet.
The tool also provides four templates for selecting:
Keywords with search volume
Keywords only without search volume
Standard report with search volume
Standard report without search volume.
Depending on what data you want the report to portray and how you want the report to be organized, you can add various filters to the report.
Integrations
AccuRanker offers quick and easy integration with:
To view the standard and advanced integrations available, click on the "Integrations" tab on the left-hand toolbar.
Search Console is a powerful tool that allows you to track your website's performance in Google search results. AccuRanker's Search Console integration lets you view a website's search data directly on the AccuRanker platform. This data includes the website's click-through rate (CTR), impressions, and average position.
AccuRanker Customer Support
AccuRanker offers impeccable customer support to its users. You can choose to receive assistance via live chat, phone, or email - whichever is most convenient for you.
Live chat support is ideal if you need a quick answer to your question. The support team is available 24/7, so you can immediately get the help you need.
Phone support is another excellent option for getting immediate assistance. However, it's only available to US, UK, and Denmark residents for now.
Emailing the support team is always an option, and you can expect to receive knowledgeable, in-depth responses to your questions within 48 business hours.
On top of all of the above, you can find helpful video guides on the site, Youtube, and articles regarding AccuRanker features.
Google Grump Rating
The Google Grump rating shows how much unrest there is in Google's algorithm. The grumpier the mood, the more significant the fluctuations in rankings. You can use the filters below to see how these changes vary by country and device.
Chilled tiger: There's nothing to worry about here. Everything seems calm.
Cautious tiger image: This is a regular activity. If ratings show an upward trend over the next few days, Google's mood is probably about to change.
Grumpy tiger image: Google's in a bit of a grump today. Rankings are changing more than usual.
Furious tiger image: Google is angry today, with rankings fluctuating at high speed. An algorithm update is likely taking place.
AccuRanker Pricing
Pricing is based on the number of words you want to track per month, starting from 1000 keywords at $129/mo, 2000 keywords at $249, 10K keywords at $849/mo up to 50k at $2769/mo.
If you prefer to pay a year in advance, a 10% discount will apply.
AccuRanker Review: Pros and Cons
Easy to use

White label reports 

Very good as a ranking tool

Wide range of integrations

Good support
Very expensive as a ranking tool

Data refresh can take a long time
AccuRanker Alternatives
You can find many alternatives that will do the same job and much more at the same price or lower. If you are prepared to search, you will find a simple keyword rank tracking tool for as low as $5/mo.
Here we discuss some popular alternatives to AccuRanker.
SEMRush
Did you know that SEMRush does more than improve your website's ranking on search engines?
SEMRush's main features include:
Search Engine Optimization: Boost your organic traffic with easy-to-use SEO tools and workflow. Discover millions of national and local keywords with SEMRush magic tools, analyze any domain's backlink profile, run technical SEO audits, and track your SERP positions daily.
Content Marketing: SEMRush is also a comprehensive content marketing suite that can help you better manage and strategize your content marketing efforts and your paid advertising campaigns. Content marketing is just one part of the platform's complete marketing stack!
Market Research: Analyze your competitor's digital marketing strategy. Knowing their tactics will give you insights on how to better market your own product. Additionally, you can analyze website traffic and see where your competitors are getting their traffic from. By understanding your competitor's campaign strategies, you can adjust your strategy to get more market share. Finally, you can improve your SEO and increase organic traffic to your website by uncovering keyword and backlink gaps.
Advertising: How can you reach more prospects without breaking the bank? First, research and find the best keywords for your PPC campaigns. Secondly, look at your competitor's ad copies and landing pages to see what's working well. You can also try to optimize your advertising spend at a local level. Lastly, don't forget to analyze your Google Shopping ad campaigns to see where you can make improvements.
Social Media: Build your most effective social media strategy by scheduling post content on social media and analyzing your posts' performance. You can also track and analyze competitor campaigns and create optimized social ads.
Get the full picture with this SEMRush Review.
Pricing Plans: Pro $119.95/mo, Guru $229.95/mo, Business $449.95/mo.
---
Serpstat
Serpstat is the perfect tool for SEO growth. It offers keyword ranking, backlink analysis, on-page audits, and competitor research.
Position tracking: With the rank tracking tool, you can monitor your web page ranking and your competitors daily. You'll see where your keywords rank in Google and Yandex for any country you select. Here, you have an opportunity to make changes and improve your SEO strategies.
Keyword research: Serpstat's keyword research tool is a powerful asset for finding high-performing keywords related to your SEO and PPC campaigns. Enter a keyword into the search tool, and you'll be given a list of organic keywords or key phrases to choose from. The keyword difficulty for each word is displayed, so you can select the less competitive words that still receive an excellent monthly search volume. This tool will help ensure that your campaigns are successful by helping you target the right keywords.
Site Audit: The on-page audit feature is like having an SEO expert analyze your page and give you a report of what needs to be fixed to optimize your on-page SEO. This is highly beneficial because you can find and fix any issues before they become problems. Additionally, by looking at your competitor's domains, you can get ahead by finding opportunities they're missing out on.
Other important features offered by Serpstat are competitor analysis and backlink Analysis.
To improve your knowledge, join the Serpstat Academy.
Learn more about the tool in our Serpstat review where we discuss its features, pros and cons, and alternatives.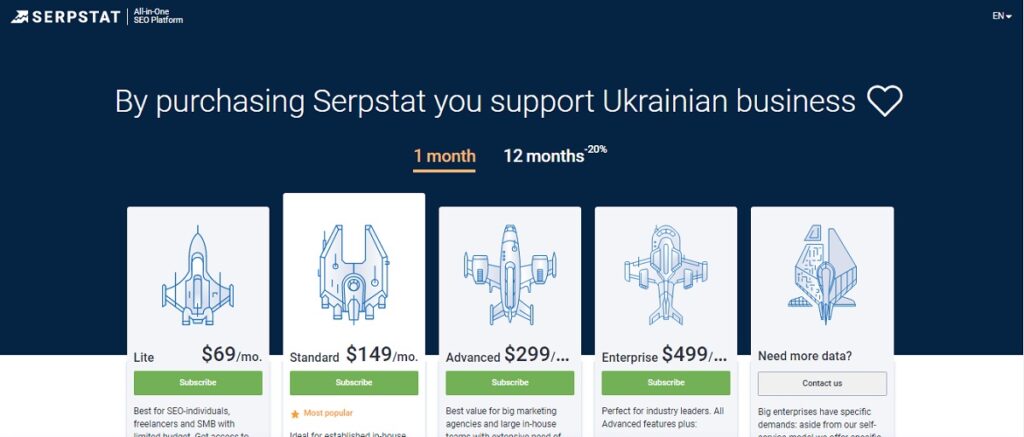 Pricing Plans for an annual payment include:
Lite $55/mo
Standard $119/mo
Advanced $239/mo
Enterprise $399/mo
Custom upon contact
---
SE Ranking
SE Ranking is a cloud-based SEO software that helps you with various tasks, such as website analysis, backlink tracking, keyword discovery, social media management, and report generation.
With SE Ranking, you can easily track your website's SEO progress, filter and disavow backlinks, find the right keywords, and stay on top of your social media presence.
You can also generate branded reports on a scheduled basis to keep your SEO progress in check.
Pricing depends on the number of keywords, the frequency of checks, and your subscription period. The following prices are based on a daily check paid monthly:

Plans:
Essential: 250 keywords at $39/mo
Pro: 1000 keywords at $89/mo
Business: 2500 keywords at $189/mo
You can also contact SE Ranking regarding a custom plan.
Learn more about SE Ranking features, pros and cons, and alternatives in this SE Ranking review.
---
MOZ Pro
Moz is a platform that provides a wide range of digital tools for SEO and local marketing, rank tracking (keyword tracking), keyword research, link-building analysis, website auditing (site audit tool), on-page optimization, and performance reporting.
You can build your most effective social media strategy by scheduling and posting content on social media, analyzing the performance of your posts, tracking and analyzing competitor accounts, and creating and optimizing social ads.
Here are some of the robust MOZ features:
Rank tracking: Moz can help you track your website's weekly ranking on various search engines like Yahoo, Bing, and Google. You can see where your site ranks for different keywords across more than 200 countries. You can also segment your keyword tracking by labels, marketing campaigns, and locations. This data can help you make informed decisions about your marketing strategy and where to focus your efforts.
Keyword research: Moz is known for its excellent keyword research capabilities. The Moz keyword explorer evaluates several factors to generate insights on related keyword targets.
Link Explorer: Link Explorer is an excellent tool for boosting the number of backlinks to your website. It assesses your competitor's backlinks and then looks for opportunities to build links (link building).
Optimization: Moz has been designed to help your web page rank well on search engines. It audits your content and provides suggestions on how to improve it. The Moz suite also has a site crawler tool. It scans your web pages to identify possible issues affecting your SEO performance.
Pricing Plans: Standard $99/mo, Medium $179/mo, Large $299/mo, and Premium $599/mo.
---
Ahrefs
Ahrefs is a fantastic tool for those who want to increase their website's traffic but may not have much SEO expertise. With its focus on free learning materials and community support, Ahrefs is designed for all experience levels.
It offers a site explorer, keywords explorer, site audits, rank tracking, and a content explorer - all of which are features that can help users understand their website's traffic more and make the necessary changes to improve it.
Site explorer: Enter a URL, and you will get the site's backlink profile, paid keywords research, and organic traffic research.
Keyword explorer: The strongest feature of Ahrefs, with filters to dig deeper, autocomplete suggestions, and questions that include your keyword and latest discovered queries.
Site Audit: The tool crawls each page on your website, checking for performance issues, HTML tags, social tags, content quality, and incoming/outgoing link problems.
Rank Tracker: The rank tracking tool is essential to monitor your Google rankings. You can use it to track your progress on desktop or mobile devices which is very useful for campaign planning.
You can never guarantee that a post will succeed, but with the right tools from Ahrefs, you can give your content the best chance of success. It is no secret that many say Ahrefs is the number one SEO tool.
Read all about it in our Ahrefs Review: Keywords, Backlinks, and Ranking made easy.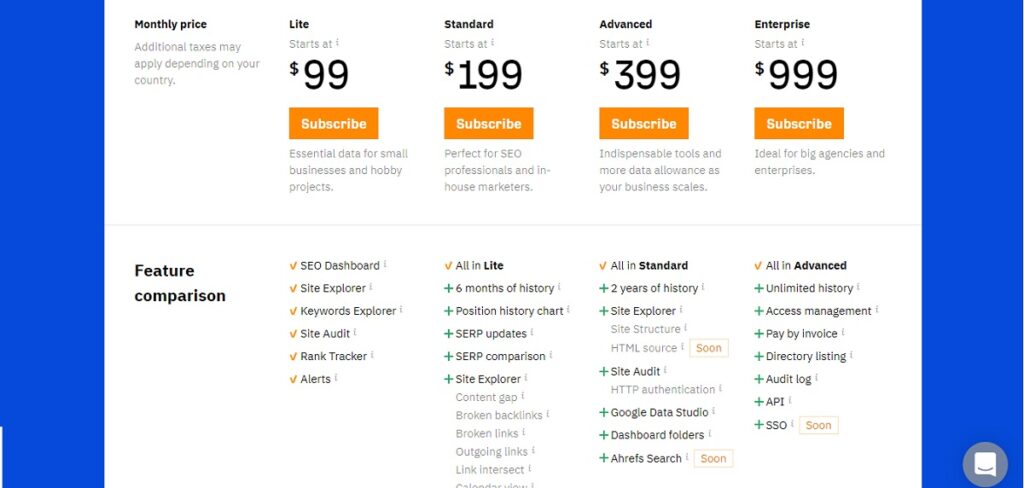 Pricing Plans: Lite $99/mo, Standard $199/mo, Advanced $399/mo, and Enterprise $999/mo.
---
SpyFu
SpyFu was introduced to the market in 2006 as a solution for helping marketers improve their PPC and SEO strategies. In the years since, SpyFu has become a leading player in keyword research and keyword planning.
To achieve this, SpyFu offers information and tools for paid ads, organic search, and competition intelligence - not just keywords and search trends.
The interface is simple: enter a domain address in the search bar and hit search.
You'll receive data about backlinks, organic ranking history, Adwords history, recommended Adwords purchases, top keywords, shared keywords, keyword difficulty, competitor analysis, and monthly domain authority overview. This information will help you make the right decisions about your website.
Pricing Plans: Basic $39/mo, Professional $79/mo, and Team $299/mo.
Find out how to get a real advantage and dominate your competition in our SpyFu Review
---
AccuRanker Review: In Conclusion
AccuRanker is the perfect rank-tracking tool. The UI is easy to use, and the tool has good support. But it is rather pricy when compared to more comprehensive SEO toolsets.
It will best serve SEO agencies and SEO professionals.
AccuRanker does not offer a complete set of SEO tools. As it only tracks keywords, you will need other tools. For most people, the answer is SEMRush. Try it - I am sure you will not be disappointed.
Related articles you should check out:
Want to learn step-by-step how I built my Niche Site Empire up to a full-time income?
Yes! I Love to Learn
Learn How I Built My Niche Site Empire to a Full-time Income
How to Pick the Right Keywords at the START, and avoid the losers
How to Scale and Outsource 90% of the Work, Allowing Your Empire to GROW Without You
How to Build a Site That Gets REAL TRAFFIC FROM GOOGLE (every. single. day.)
Subscribe to the Niche Pursuits Newsletter delivered with value 3X per week