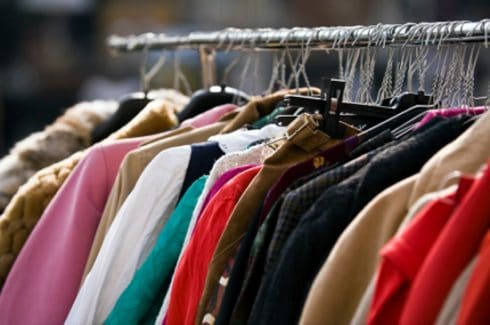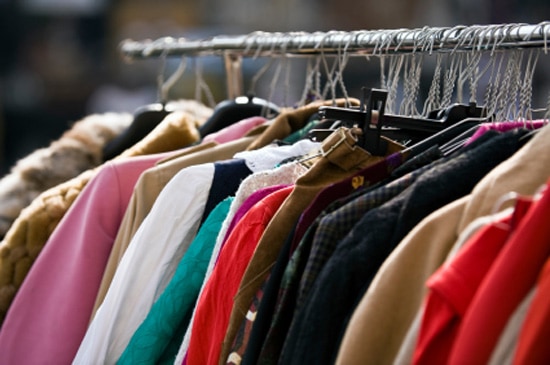 One of the niche pursuits that I have tried out in the past in selling used clothes online.  Don't ask me why, it just happened.  I saw an opportunity and took it!
I suppose it all started as I was looking through eBay one day and was surprised to see that used clothes were selling quite well.  I had never really considered this before.  In particular, any name brand or higher end clothes were selling very well.
I don't personally own any name brand clothes, its just not me.  I buy the brand of jeans that no one has heard of for $5 on the discount rack.  I think I paid $25 for a shirt once and I felt guilty about it (kinda expensive for me).  I'm pretty cheap when it comes to clothes for myself.  The reason for this is because this is the way I was raised (large family with hand-me-downs).  Plus being in business, I also know that the EXACT same material is used to make the cheap clothes as is used to make the designer stuff.  So, when someone pays more, they are not get a better quality product, they are getting a tag with a brand name on it.
Anyway, I could go into a bunch of details as to why people buy high end clothes, but lets just say that people do, and there is money to be made because of it.  Essentially, perception is reality for people. (Even though clothes are made out of same material as cheap clothes, they perceive they are getting better value due to the brand name…even though they are not).
Where to Get Used Designer Clothes?
So, if I don't have my own used clothes to sell, where can I get designer clothes?  There really are lots of places like flea markets, garage sales, Craigslist, or other people or community sales.  However, my main source was Thrift Stores.
Second hand stores like Goodwill or Salvation Army are constantly getting a new supply of clothes donated to them.  You can often find name brand or designer labels on these racks.  The great part is that these Thrift stores are not in business of trying to appraise what everything is worth, they are just trying to move the merchandise as quickly as possible.  As a result, they usually price everything right around the same.  So, all mens shirt might be around $2 for example.  Or all women's jeans might be around $4 to $5.  It will vary from store to store, but everything is usually pretty cheap.
Lots of brands of jeans for example can sell for over $50 a piece on eBay even though they are used.  However, its pretty rare to find something of this value.  However, being able to buy a piece of clothing for $5 and selling it for $15 to $20 is certainly not that unusual.
For example, if you look at some of the completed listings on eBay for used True Religion jeans, or Prada, or Diesel, you will see many of them going $50 to $100 or maybe even more.
Know the Resell Price Before You Buy
However, as I quickly learned, the key to being successful in selling used clothes is knowing what will sell before you buy it.  This can be a very difficult task because there are literally hundreds of brands.  Also, some brands tend to do well with women and others do well with men.  So, you really have to do your homework.
Because I knew absolutely nothing about name brands (because I've never owned them), I spent hours of research on the eBay completed listings trying to figure out what sold well.  I was able to write down 20 or 30 brands or so that I should keep an eye out for.
So, when I went to the thrift shop, I smuggled in my list of name brands and starting hunting through the racks.  As I recall, I could have purchased a lot more than I did, but I think I ended up with 7 or 8 articles of clothing on my first trip.  This would give me a good idea of this stuff would sell.
So, I went home and started taking pictures of the clothes.  After that, I simply listed them up on eBay and waited for the bids to come.  Oh yeah, one important thing that I did was to make the minimum price the profit margin that I needed.  In other words, if I bought the jeans for $5, then I might have made the minimum bid $12 or something.  Used clothes is not something that is going to start a bidding war (unless they are vintage or collectible for some reason).  So make sure your minimum bid is high enough to get the profit you want to achieve.
Profit Potential?
In addition, the buyer will pay the shipping costs, so make sure you don't underestimate how much it will cost to package and ship or you will start eating into your profits.
Out of the 8 articles of clothing that I first listed, I think 4 sold right away.  The others I had to re-list to get any bidders.  Its unrealistic to think that all of your merchandise will be sold; especially, when you are first getting started out.
I made a profit on my little niche business of selling used clothes; although it wasn't much.  I didn't spend more than a couple of months trying it out.  I really think that I could have done better the more I learned and worked out a business system.  However, I learned enough to know that there really is potential in selling used clothes online.
However, if you really want to make decent profits selling used clothes, you will probably need to open a retail location.  If you can get a store front and sell used designer or vintage clothing to customers in person, you can easily double the price that you would charge on eBay.  Part of the reason is that people won't have to pay a shipping charge which obviously means they are willing to pay a higher price for the product.  In addition, when you can touch and try on a pair of jeans, you are more likely to buy it as well.
So, if you are looking for some side income perhaps you should try buying and selling used clothes online.  Then if you get good at it, you can open up a retail location and really increase your profits.
What do you think?  Is selling used clothes online in otherwise a viable small business option?  Is it something you want to see me try out and document on this blog?  I'm interested in hearing your thoughts!
---