How to Sell Used Clothes Online: 5 Great Platforms for Reselling Old Clothes
When you buy something through one of the links on our site, we may earn an affiliate commission.
One of the niche pursuits that I have tried out in the past is to sell used clothes online. Don't ask me why. It just sort of happened. I saw an opportunity and took it!
I suppose it all started as I was looking through eBay one day and was surprised to see that people were selling clothes online, particularly used clothes and seemingly making good money. This was an idea I had never really considered before. In particular, name brand or higher-end clothes were selling very well.
For the right brand or designer clothing, some people were willing to pay a lot for their favorite brands or luxury items.
I don't personally own any name brand clothes, it's just not my personal style. I buy the brand of jeans that no one has heard of for $5 on the discount rack. I once paid $25 for a shirt and felt kind of guilty about it (kinda expensive for me).
I'm pretty cheap when it comes to clothes for myself. The reason for this is because this is the way I was raised (large family with hand-me-downs).
So the idea of spending a lot of money on designer items at a clothing store just wasn't a thing. We were all about the thrift store, the consignment store, and secondhand items.
But it turns out that some secondhand clothes can have impressive resale prices. You can sell clothes online and make good money.
Plus being in business, I also know that the EXACT same material is used to make the cheap clothes as is used to make the designer stuff. So, when someone pays more, they are not get a better quality product, they are getting a tag with a brand name on it.
And that's okay because it means there's a way we can sell clothes online and profit!
How To Sell Used Clothes Online
There are a wide number of options when it comes to selling clothing online. The best options can depend on a variety of factors, but there are many types of clothes in high demand. Things like vintage clothing and designer clothing like Louis Vuitton are safe bets.
Figure out what you can get ahold of, what you're most interested in, and what's selling for the best prices.
If you do these things and match old and used clothing to the right potential buyer then you have a chance to sell clothing on an online store and make extra cash or even significant profit.
Where to Get Used Designer Clothes?
So, if you don't have your own used stuff lying around to sell clothes online, where can I get these designer clothes? There really are lots of places like flea markets, garage sales, Craigslist, Facebook marketplace, or other community sales. However, my main source was thrift stores and online consignment stores.
Second hand stores like Goodwill or Salvation Army are constantly getting a new supply of clothes donated to them. After all, one person's trash is another person's treasure. And you can often find name brand or designer labels on these racks.
The great part is that these thrift stores are not in business of trying to appraise what everything is worth, they are just trying to sell clothing, home decor, wedding dresses, maybe even fine art as quickly as possible.
As a result, they usually price everything right around the same. So, all men's shirt might be around $2 for example. Or all women's clothing like jeans might be around $4 to $5 – even designer items. It will vary from store to store, but everything is usually pretty cheap.
Lots of brands of jeans for example can sell for over $50 a piece on eBay even though they are used. However, its pretty rare to find something of this value. But regardless, being able to buy a piece of clothing for $5 and selling it for $15 to $20 is certainly not that unusual.
For example, if you look at some of the completed listings on eBay for used True Religion jeans, Louis Vuitton, Prada, or Diesel, you will see many of them going $50 to $100 or maybe even more. Mass market brands, designer clothing, and top selling brands are valued high because of demand.
I searched for "used diesel jeans" and here's what I got: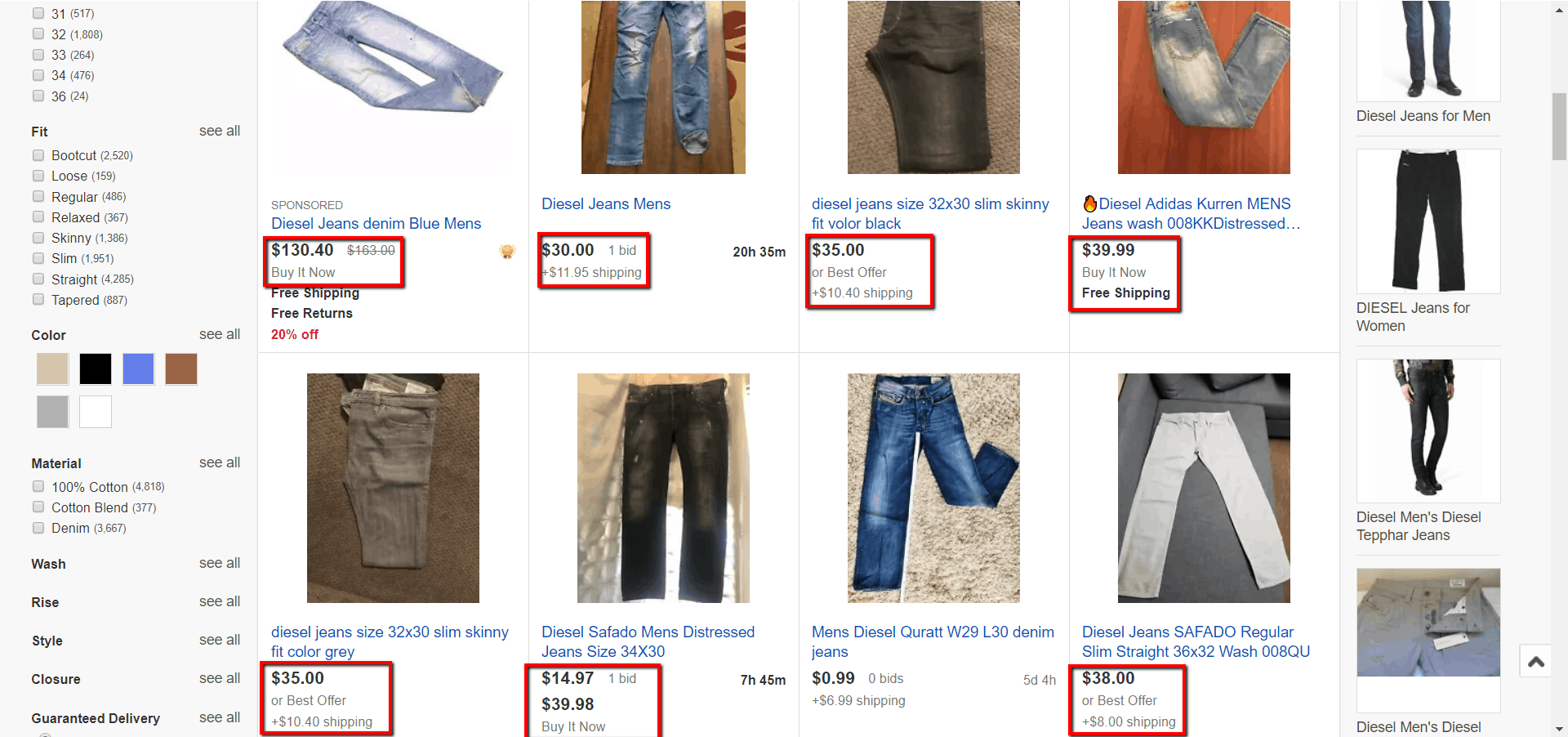 If you can buy $10 jeans from designer brands at a consignment store and resell them for $30, that's a 200% return on investment! Good luck getting that through your typical mix of stocks and bonds.
Know the Resell Price Before You Buy To Sell Clothes online
However, as I quickly learned, the key to being successful in selling used clothes is knowing what item sells before you buy it. This can be a very difficult task because there are literally hundreds of brands. Also, some brands tend to do well with women and others do well with men. So, you really have to do your homework.
Because I knew absolutely nothing about the fashion industry or name brands (because I've never owned them), I spent hours on eBay researching completed listings trying to figure out what sold well. I was able to write down 20 or 30 brands or so that I should keep an eye out for.
So, when I went to the thrift shop, I smuggled in my list of name brands and starting hunting through the racks.
As I recall, I could have purchased a lot more than I did, but I think I ended up with 7 or 8 pieces of gently used clothes on my first trip – not a huge bag.
But this would give me a good idea of this stuff would sell.
I went home and started taking pictures of the clothes in natural light. After that, I simply listed them up on eBay and waited for the bids to come.
One important thing that I did was to make the minimum sales price the profit margin that I needed. In other words, if I bought the jeans for $5, then I might have made the minimum bid $12 or something accounting for seller fees.
Used clothing is not something that is going to start a bidding war (unless they are vintage or collectible for some reason). So make sure your starting price for a minimum bid is high enough to get the profit you're wanting to sustainably sell clothes online.
Profit Potential?
In addition, the buyer will pay the shipping costs, so make sure you don't underestimate how much the cost to package and ship or you will start eating into your profits. There are also buyer protection rules in place in most places to sell clothes online so make sure to take your own photos in natural light and present accurate details.
Out of the 8 articles of clothing that I first listed, I think 4 sold right away. The others I had to re-list to get any bidders. It's unrealistic to think that all of your merchandise will be sold; especially, when you are first getting started out.
I made a profit on my little niche business of selling used clothes; although it wasn't much. I didn't spend more than a couple of months trying it out. I really think that I could have done better the more I learned and worked out a business system.
There are lots of consignment stores to scope out, lots of places to sell clothes online, and lots of tests to get the right resale price for items.
However, I learned enough to know that there really is potential in selling used clothes online.
A Great Side Hustle
I think this potential is even better if you're just looking for some part time income. There's a great opportunity here for ambitious college students, stay-at-home parents, or people on the hunt for a job.
If you're just wanting to get your feet wet into entrepreneurship, this is as good of a start as any.
However, if you really want to make decent profits selling used clothes, you will probably need to open a retail location. If you can get a store front and sell items like used designer or vintage clothing to customers in person, you can easily double the price that you would charge on eBay to an international audience.
Part of the reason is that people won't have to pay a shipping charge which obviously means they are willing to pay a higher price for the product. When you factor in the shipping process like cost of shipping label or even prepaid shipping label and everything else, a higher fixed price in your own shop will work out to be about the same.
In addition, when you can touch and try on a pair of jeans, you are more likely to buy it as well.
So, if you are looking for some side income perhaps you should try buying and selling used clothes online.
Then if you get good at it, you can open up a retail location and really increase your profits.
What Are the 5 Best Apps for Selling Used Clothes online?
When you learn how to sell used clothing online for a profit, you'll find pretty quickly that online consignment shops and used clothes selling apps pretty much go hand in hand. But while there are plenty of options, that doesn't mean all of them will work for you and your goal to sell clothes online.
Do your research and find out where you can make the most cash or store credit (if you'd ever even want store credit that is) as a used clothes seller.
Make sure to at least check out these options as you start as a seller:
ASOS Marketplace
The ASOS marketplace has quickly gained a huge following in the world of used clothes. They take a flat commission fee of 10% off the sales price, but also create a marketplace where people are looking to buy. That means better prices.
ASOS focuses heavily on vintage clothes as well as retro clothing. While there are other types of used clothes there, you're going to have the most success on ASOS focusing on the vintage or old school clothing.
However, if you have a lot of unwanted clothes that fall into this category, then ASOS is a place worth selling on.
eBay
Look, eBay isn't just the best place online to find good deals buying vintage or designer clothes cheap. Depending on what you have you can also get good prices selling there, as well. This is a place you should be checking out both to buy and sell clothes online.
Poshmark
A clothes selling app that gives you access to a large marketplace that may want your used clothes. They take a 20% cut of whatever sale price you manage to get.
This is an active marketplace and still offers plenty of options for selling.
In general designer clothes or designer items are the main focus here. And not only do they offer free authentication on these designer items but they also offer buyer protection and a prepaid shipping label.
Tradesy
Tradesy is another online site where you get to set your own prices on your own listings while accessing an active marketplace looking to buy your used clothes.
Instead of a percentage commission, Tradesy takes a flat commission fee based on how much your used clothing sells for. They also help this by helping you optimize your listing price based on smart data.
And they also make the shipping process easier than most resale sites and places to sell goods by providing a 'Shipping Kit' complete with a prepaid USPS label (with a box and shipping label).
Like other resale shops you can either redeem your earnings in cash or store credit to buy and sell more!
Etsy
An interesting option but if you're creative and like home decor or like dressing up old clothing in unique ways, or can create that vintage look that's popular. Going with an Etsy store could be a very intriguing option for increasing your revenue as you sell clothes online (Etsy is legit). It's particularly one of the best places to sell women's clothing. They make everything easy and you can set your own price. And while seller fees are lower just be aware there is a 3% payment processing fee.
Learn how to make money on Etsy here.
Best Place To Sell Clothes Online
It used to be that eBay was by far the best place for buying and selling clothes online. Now, there are a couple more places you can try to consign online. I would recommend trying out the best one or two and then mastering those before moving elsewhere. You can always re-up your inventory by going for store credit and you can also take advantage of the prepaid shipping label most platforms provide.
When I tried out this side hustle, the best two places to sell clothes online are eBay and Amazon. It wasn't even close. Both allow you to list your products, set your price point, and get your stuff out to buyers.
Amazon even has an area now where you can create and sell your own brand of clothes. It's called Merch by Amazon.
Now there are many options for selling your secondhand clothes, but do any of them beat eBay or Amazon? In general, I'd say no, but depending on what you specialize in when you sell clothes online you should give them a look.
Especially if you specialize in a certain type or style of clothes like old clothes, vintage clothes, designer clothes like Louis Vuitton, men's clothes, women's clothes, or children's clothes. The truth is that there are always apps or sites looking to carve out a niche and build an active community through things like providing a prepaid shipping label, clean out kit, or even free in home pickup.
Keeping an eye out on who is doing what is crucial to making good money selling clothes online.
Even if a platform doesn't last for the long-term, taking advantage of good selling terms while they last can help you make more off each and every clothing item you sell.
Selling Used Clothes FAQ
Q: What is the best way to sell my old clothes?
A: Selling clothes online like even if just the Facebook marketplace will give you more opportunities than traditional garage sales or consignment shops. If you hit the right apps or the right online store you can turn a pretty decent profit from your second hand clothes.
Q: Where can I find in-demand used clothes for cheap?
A: I still stand by eBay as being one of the best options out there. Among online options this is probably your best bet but you never know what designer brands you might find in-person at a local garage sale, thrift store, online flea market, local consignment stores, or even online consignment stores.
Q: Where are the best sites for selling used clothes?
A: There are many online consignment shops like Le Prix, Tradesy, Poshmark that focus on used clothes. However, for many people eBay and Amazon are still some of the best options out there. The ASOS Marketplace is another name that comes up and has some pretty positive reviews from users. It is definitely worth checking out. And Facebook marketplace can also be good as there are no seller fees.
Q: Is it worth it to sell clothes online with ThredUp?
A: The general consensus seems to be no. The waits are long for all the clothes to be sold. They do send you a bag and shipping label known as a 'clean out kit' to ship your items. But it seems like a huge number of reviews from users highlight surprise at just how little cash came back. While it might work for some especially those selling children's clothing and kids items, the general consensus seems to be that this isn't the best option for selling used clothes. Especially if you're hoping for some solid profit numbers.
For help with naming your online fashion venture, we have a list of over a thousand boutique name ideas to help you get inspired.
Are You Going To Sell Clothes Online?
There are now more options than ever to sell clothes online since I originally published this blog post. Is selling second hand clothes a side income you're interested in pursuing? Do you think the new tools available mean more opportunity to make money online while helping to avoid unnecessary textile waste?
What do you think? Is it worth selling used clothes online as a viable small business option? Is it something you want to see me try out and document on this blog? I'm interested in hearing your thoughts!
If you are looking for other side hustle ideas or would like to get notified when I write about additional ways to make money online, be sure to join the Niche Pursuits Newsletter here.
Want to learn step-by-step how I built my Niche Site Empire up to a full-time income?
Yes! I Love to Learn
Learn How I Built My Niche Site Empire to a Full-time Income
How to Pick the Right Keywords at the START, and avoid the losers
How to Scale and Outsource 90% of the Work, Allowing Your Empire to GROW Without You
How to Build a Site That Gets REAL TRAFFIC FROM GOOGLE (every. single. day.)
Subscribe to the Niche Pursuits Newsletter delivered with value 3X per week